This post contains affiliate links which means that I will make a small commission if you purchase a product after clicking on any of them, at no extra cost to you.
Note: this is a sponsored blog post but all opinions are my own.
Midtown Tampa is an area that is rapidly growing and becoming one of the hottest new destinations in Tampa Bay! I am so excited to watch this area flourish. In this post, I am going to give you the rundown on staying at the Aloft Tampa Midtown. Everything from the rooms, to the amenities, to the on-site dining (spoiler alert, it's amazing)!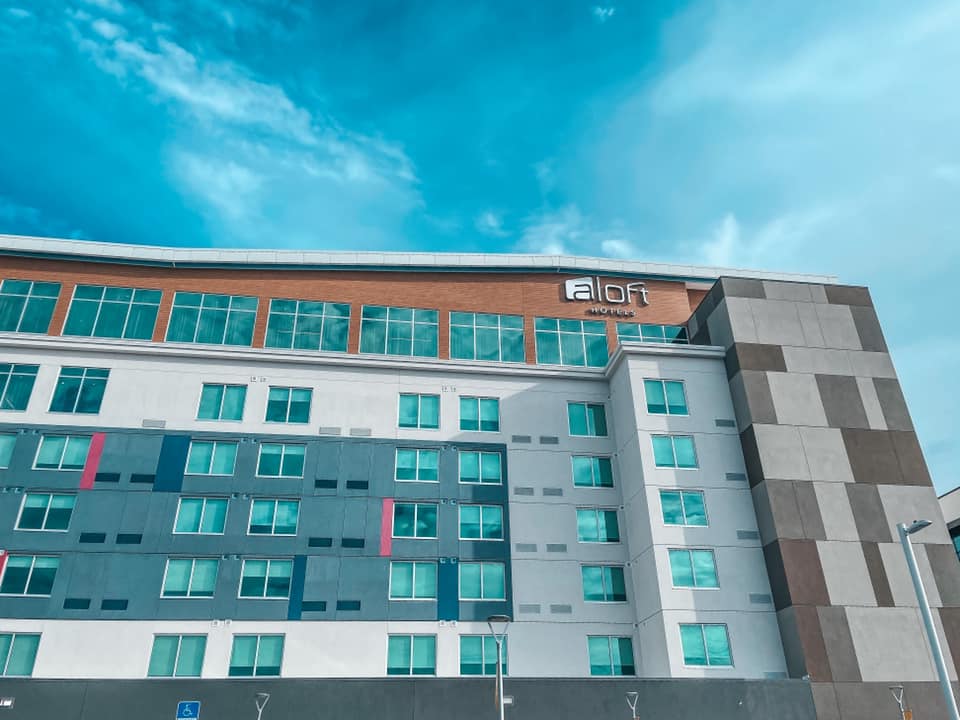 Where is Midtown Tampa?
First things first, maybe you're visiting the area and wondering, "Where exactly is Midtown Tampa?" It's located in the heart of Tampa between downtown Tampa and the airport, making it a great central location.
If you're staying at the Aloft Tampa Midtown you'll be less than 10 minutes from:
Tampa International Airport
International Plaza and Bay Street (a gorgeous shopping center)
Armature Works and other awesome downtown Tampa spots!
Raymond James Stadium
Related read: Check out my ULTIMATE Tampa, Florida guide for the best restaurants, things to do, and more.
Aloft Tampa Midtown Hotel Overview
The Aloft Tampa Midtown Hotel is a new 111-guest room 7-story modern luxury hotel. It is combined with The Element Hotel, which has 115 rooms. Both hotels are Marriott hotels so you can book with points if you're a Marriott Bonvoy card holder! Check out my complete guide to travel credit cards to learn how to use the perks for free nights and free flights!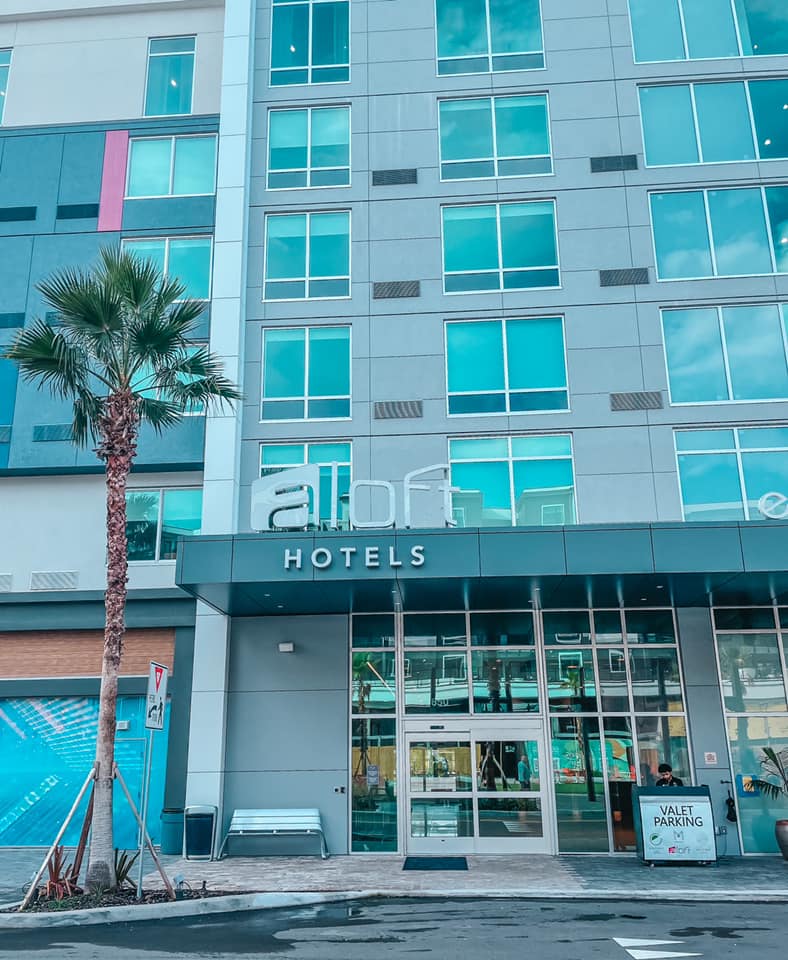 Aloft Tampa Midtown Hotel rooms and amenities
There are two types of rooms in this hotel: the Aloft King with one king bed, or the Aloft Queen Queen with two queen beds.
I stayed in the Aloft King, and found it to be very spacey! There was a little nook area with a table and bench by the window which can easily be used as a workspace. 
The rooms have mini-fridges with some complimentary water bottles, a coffee maker, 
65-inch LED TVs (with access to cable, HBO, and Netflix), full-size conditioner and shampoo, and, the highlight for me, the comfiest bed with foam pillows (anyone else dislike the feather pillows hotels usually give?!).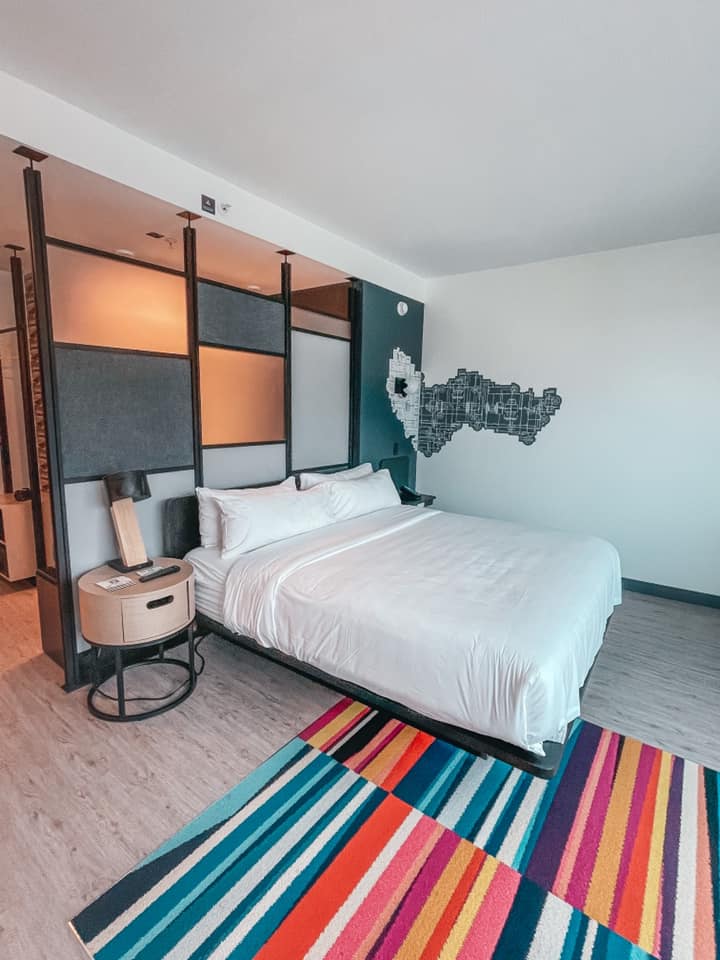 For amenities, there is a gym on-site, a pool table in the lobby/lounge area, free high-speed internet, a heated rooftop pool that's open 6:00 AM – 11:00 PM, and they're pet friendly! Also, outside of the hotel they have 24,000 square feet of street-level retail.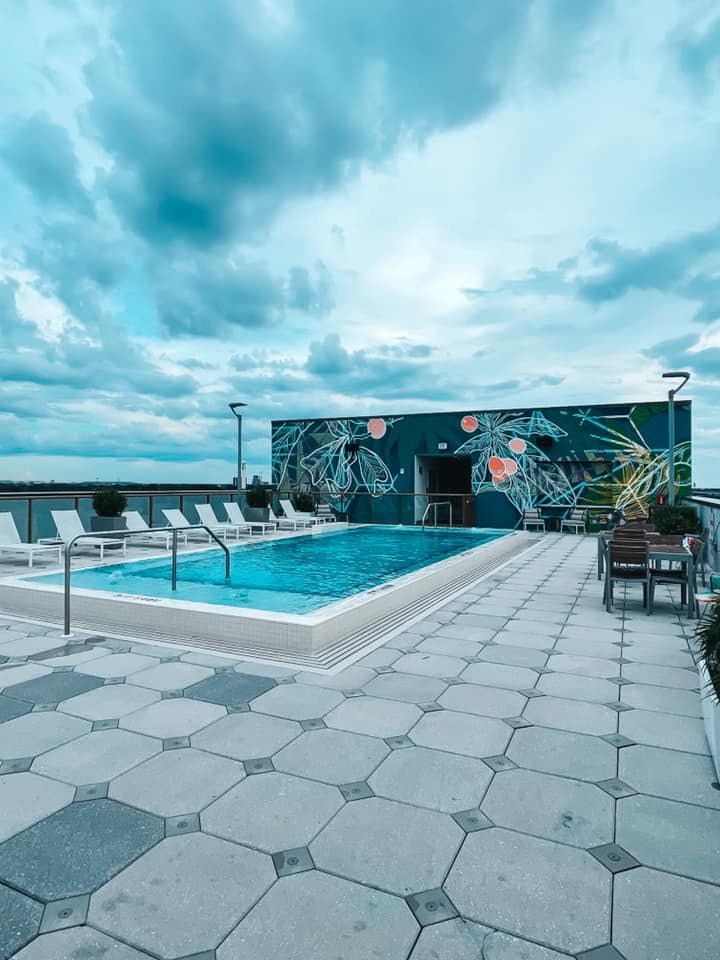 Aloft Tampa Midtown Hotel on-site dining
You have a couple of different options here. There is Re:fuel which is a 24-hour pantry, WXYZ Bar where you can mingle and enjoy a craft cocktail, and my personal favorite, Sal Y Mar.
When you walk in Sal Y Mar you feel like you're being transported to Tulum. The interior design is breathtaking, and oh my gosh just wait until you get to the food and drinks! The menu showcases fresh, local ingredients and has tapas such as citrus crab cakes, Cajun shrimp corn fritters, and carne asada street tacos to name a few.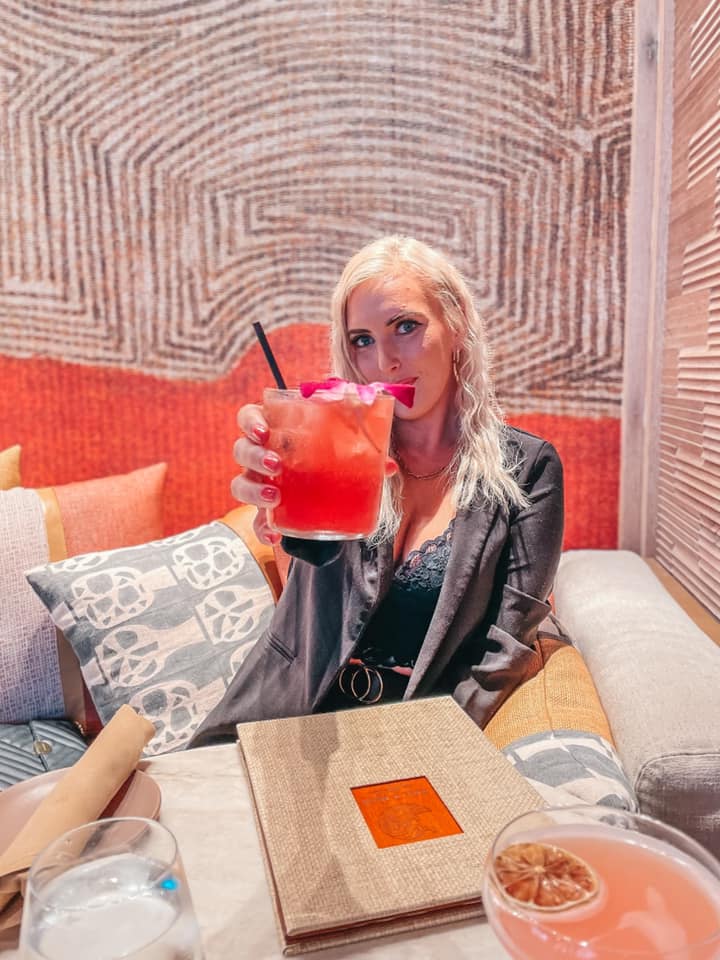 When it comes to entrees Sal Y Mar takes dishes that are familiar (pan-seared grouper, filet mignon, pan-seared scallops, etc.), and then totally puts their own spin on it! And it's AMAZING. This is hands down one of the best restaurants in Tampa for date night or any other occasion IMO.
Everything was cooked to perfection, and the flavors were out of this world. There was nothing boring about this meal. Even the veggies left me feeling inspired.
Even if you aren't hungry, Sal Y Mar is a rooftop bar as well so enjoy an amazing cocktail with a view! I had the Love You More and a Mezcal margarita, and both were delicious and left me wanting more.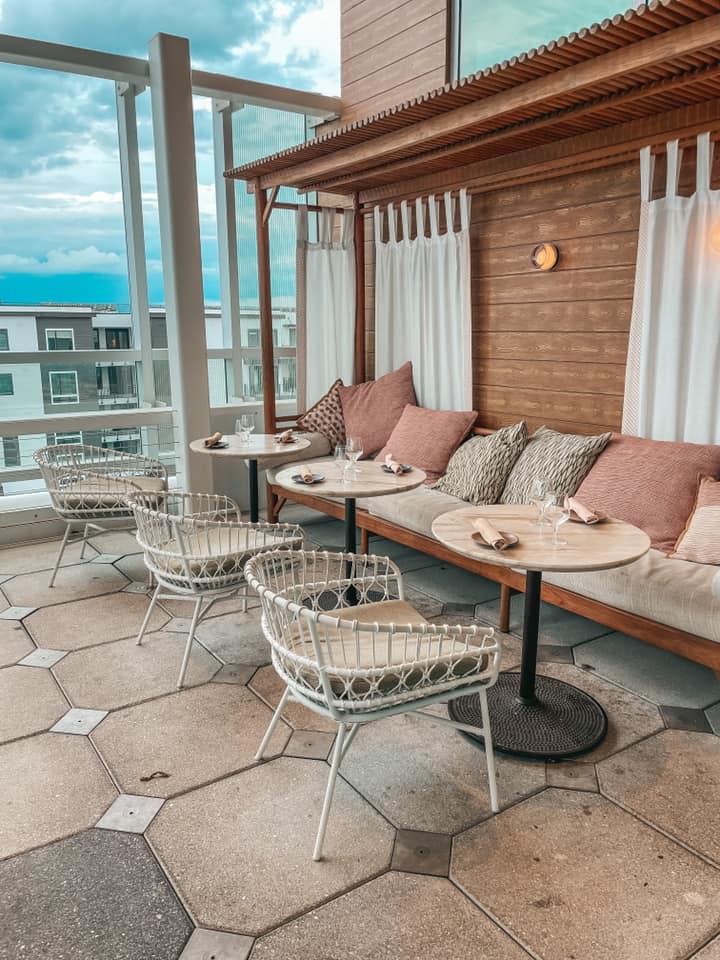 My experience with Aloft Tampa Midtown
I really enjoyed my stay at the Aloft Tampa Midtown. The beds were super cozy, I loved the layout, and the location was great! It was really nice being close to all of the happenings in Tampa. You truly are just minutes from endless entertainment, restaurants, and bars. That being said, personally, I was totally happy as a clam spending all night sipping and nibbling at Sal Y Mar enjoying the sunset.
I think that this location is going to be especially perfect for business travel, those in town for events at Raymond James Stadium, or a local like me just wanting a little staycation! Make sure you grab coffee from Joffrey's in the AM, it's one of my favorite coffee shops in Tampa!
Have you explored Midtown Tampa yet?
If you're visiting Tampa be sure to check out my post on the best free things to do in Tampa!
If you like this post don't forget to like and share! 🙂