This post contains affiliate links which means that I will make a small commission if you purchase a product after clicking on any of them, at no extra cost to you.
Seminole Heights is a vibrant and diverse neighborhood nestled in the heart of Tampa, Florida. Known for its rich history, tree-lined streets, and charming bungalows, Seminole Heights has evolved into a food lover's paradise, boasting a variety of delicious spots. Let me tell ya, these Seminole Heights restaurants really know what they are doing!
Along with great restaurants, there are also plenty of great dessert spots, fun bars, and adorable coffee shops in Seminole Heights that need to be on your list of places to check out too! Whether you're a local seeking a new culinary adventure or a visitor eager to experience the flavors of the community, this blog post will guide you through some of the best restaurants Seminole Heights has to offer.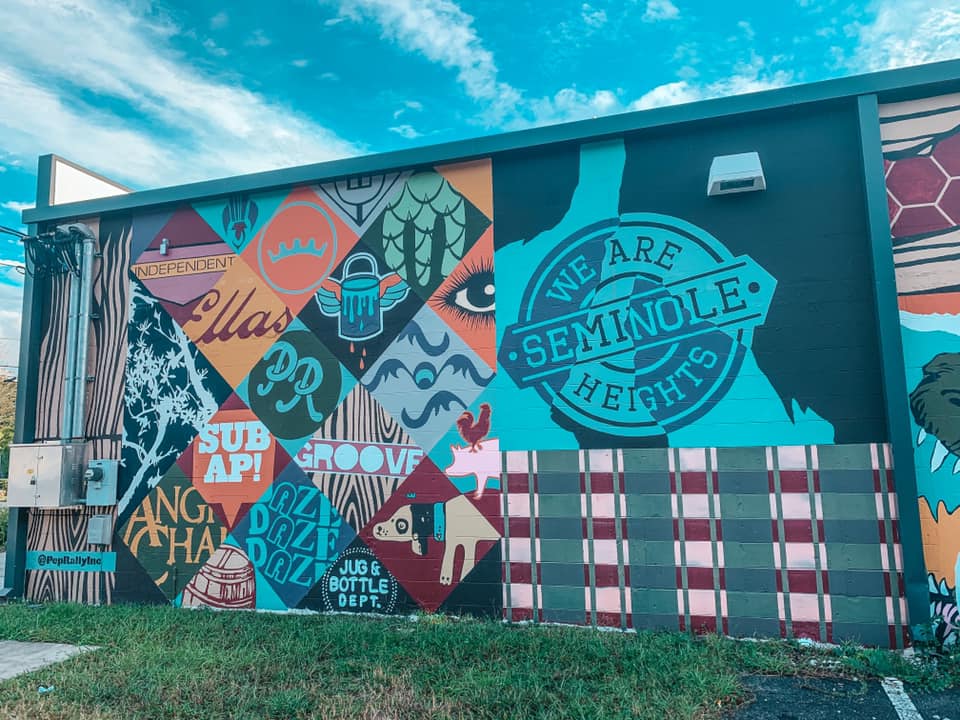 Best Seminole Heights Restaurants
Wicked Oak BBQ
Wicked Oak BBQ offers a mind-blowing BBQ experience. From the tender and lean meats to the creamy sides and delightful sauces, Wicked Oak BBQ guarantees an unforgettable culinary journey that will have you planning your next visit before your current meal is even finished!
For the indecisive foodie, the must-try combo platter is the perfect solution. This delightful platter includes two meats, two sides, and two sauces, allowing you to savor a variety of flavors in one meal. Our choices of pulled pork, pulled brisket, mac and cheese, and coleslaw proved to be a victory.
The coleslaw, finely chopped and creamy, provided a refreshing balance to the rich meats, while the gooey and cheesy mac and cheese served as the epitome of comfort food perfection. To elevate the experience, the Wicked mango and sweet BBQ sauces stole the show with their delectable flavors.
And of course, the piece of garlic toast that accompanies the meal is not to be forgotten. Crispy, buttery, and packed with flavor, this simple addition, yet still a game-changer!
This is definitely one of the best Seminole Heights restaurants for when you're recovering from a hangover 😉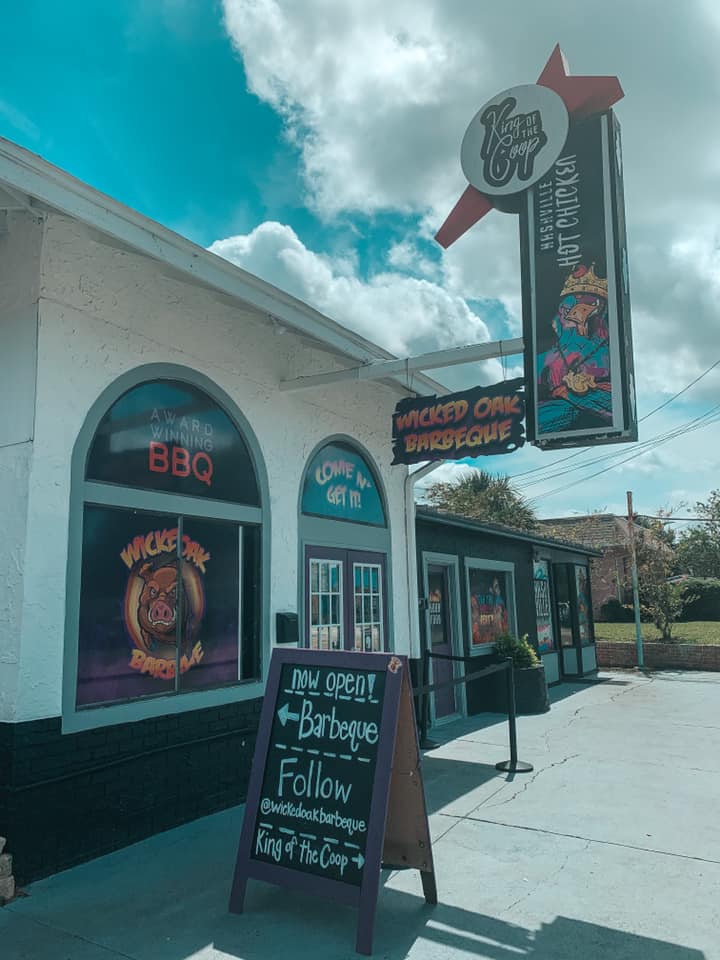 Gangchu Chicken & Beer
When it comes to exploring the best restaurants in Seminole Heights, do not overlook Gangchu Chicken & Beer!
Their crispy chicken sandwich is prepared with a unique twist. They use a kimchi-brined chicken breast which is perfectly complemented by their tangy Gangchu ranch and pickled daikon. Tossed in their mouthwatering honey chili garlic sauce, this sandwich elevates the concept of a fried chicken sandwich to new heights!
As a self-proclaimed food enthusiast, I can confidently say that this dish stands out as one of the best fried chicken sandwiches I've had in Tampa Bay!
We also loved the Beef Bulgogi, which is thinly sliced marinated ribeye, combined with onions, sesame seeds, and steamed rice. The combination creates a harmonious flavor profile that is both savory and subtly sweet. Accompanied by the banchan plate, featuring kimchi, bok choy, marinated cucumbers, and daikon. The burst of flavors and the quality of ingredients truly make it memorable.
For cocktails, we loved The Clifton, a refreshing concoction of gin, citrus soju, almond, passion fruit, and lemon. It was truly a delightful blend of flavors. The Minnehaha, on the other hand, offers a unique combination of vermouth, rum, triple sec, lime, almond, and ube extract, taking your taste buds on an exotic journey. These craft cocktails perfectly complement the vibrant atmosphere of the restaurant.
What sets Gangchu Chicken & Beer apart from other restaurants in Seminole Heights is its array of fun features. Tuesday nights come alive with trivia. Thursdays, the restaurant transforms into a game night hub. And for those who love to showcase their vocal talents, the karaoke room is the perfect setting. It also is perfect for birthdays in Tampa!
Flocale
Flocale is a food hall that houses King of the Coop, Rock Brothers Brewing (an Ybor City staple), and Westshore Pizza. Each of these eateries brings its own unique flair to the table.
King of the Coop, a renowned Nashville hot chicken spot, takes center stage with its mouthwatering offerings. While their sandwiches are a popular choice, we decided to order the hand-breaded chicken tender basket, paired perfectly with hushpuppies.
The experience became even more exciting with the option of choosing from six heat levels, ranging from the mild Naked to the fiery Coops Fury—a blend of Nashville Hot and Habanero powder. Opting for the Midway heat, which sits right in the middle, we were had the ideal balance of spice. The chicken itself was crispy, juicy, and bursting with flavor.
While we haven't yet sampled Westshore Pizza's pizza, we can vouch for their garlic knots—some of the best we've ever tasted! The best part? These mouthwatering knots come at an affordable price, making them an irresistible treat.
What truly sets Flocale apart is the convenience of sitting down and ordering from multiple spots at once. This feature is a blessing, especially when dining with a group of friends who can't seem to agree on what to order. Embracing the diverse range of flavors and cuisines available in this food hall, everyone can find their perfect match.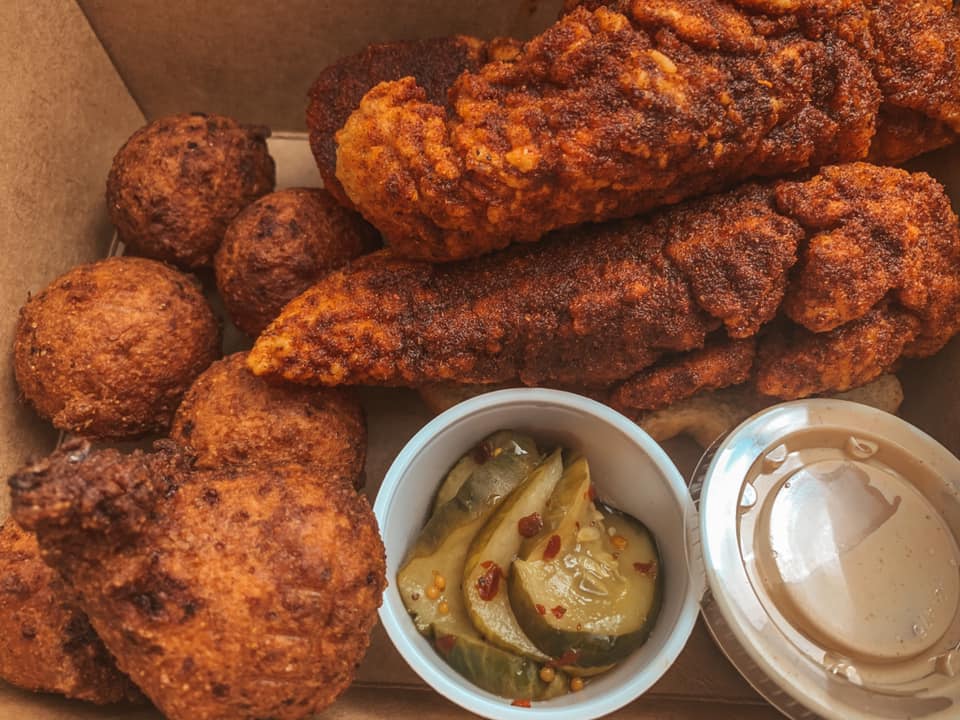 Bamboozle
Bamboozle is one of the newest additions to the vibrant Seminole Heights restaurant scene. This super adorable eatery offers a delightful blend of flavors from Vietnamese cuisine.
When we visited, we couldn't resist trying their chicken pho, a classic Vietnamese dish bursting with aromatic herbs and savory goodness. Additionally, we opted for the red curry with rice instead of noodles. This bold and flavorful choice definitely had a kick, which I enjoyed as I love spice. We also added shrimp for an extra protein boost, making the dish even more satisfying.
One of the highlights of Bamboozle is its inclusivity, with dedicated menus for vegans and those seeking gluten-free options. This thoughtful approach ensures that everyone can savor the delicious offerings without any limitations.
To complement your meal, dive into Bamboozle's diverse drink selection! Whether you get one of their Vietnamese-style fruit smoothies or a milk tea and boba concoction, they're sure to add a touch of indulgence to your dining experience.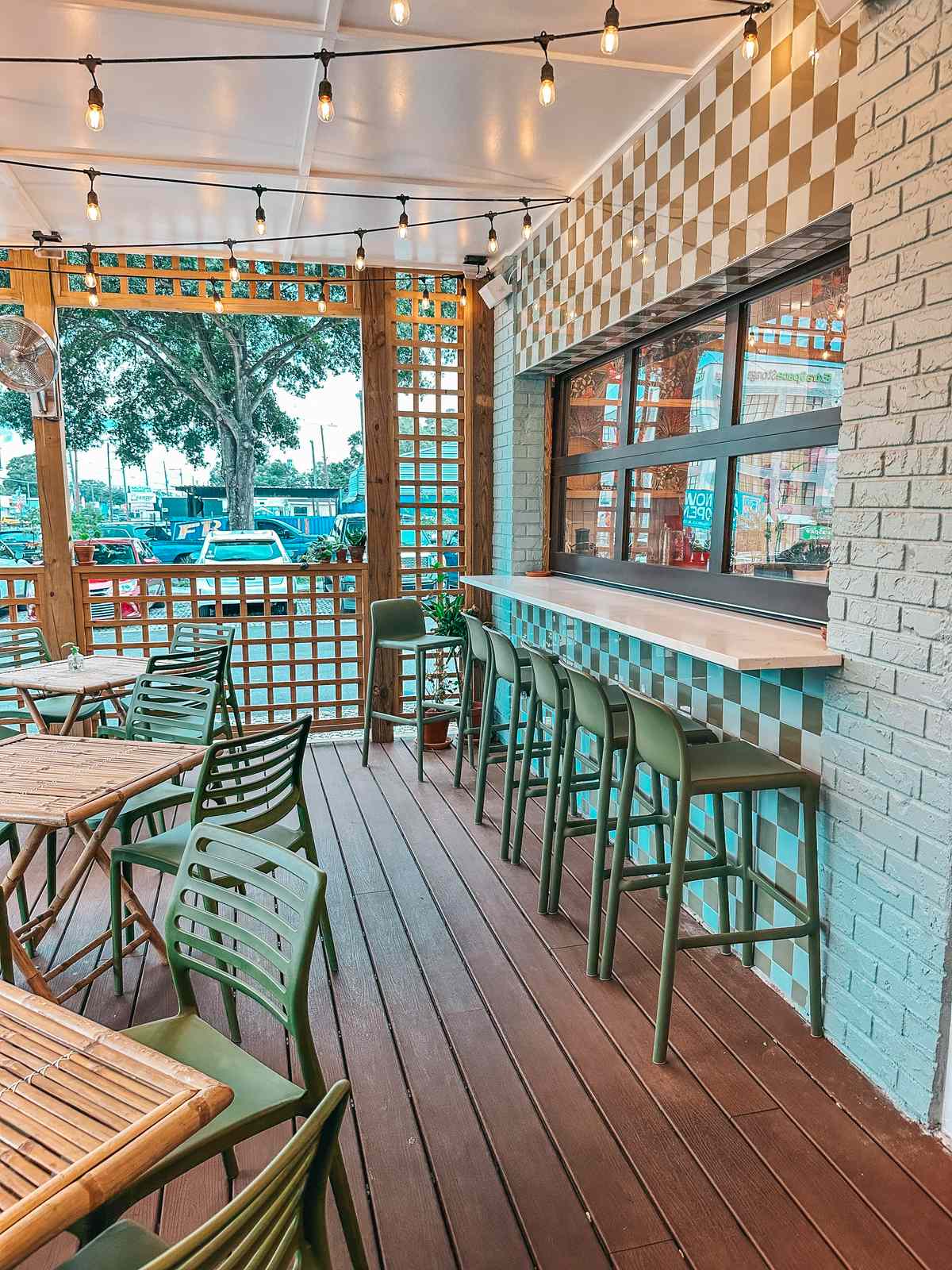 The C House
The C House: Champagne | Charcuterie | Cheesecake. Notice a trend? This place is so fun and clever— take note of how every menu item starts with a C! We went for a Sunday brunch and it was bustling. We even arrived before they were open and there was already a line!
The hostess advised making reservations on busy weekends for a guaranteed spot.
Despite the crowd, the service was top-notch. With a light appetite, Remi and I decided to share the chicken euphoria—utterly euphoric indeed! The french fries were a surprising hit, fresh, crispy, and seasoned to perfection. For those with sensitive taste buds, a light seasoning request is recommended as a little goes a long way.
The housemade pumpkin cheesecake was a dream come true, and we couldn't resist taking the last three bites we couldn't fit in our stomachs home.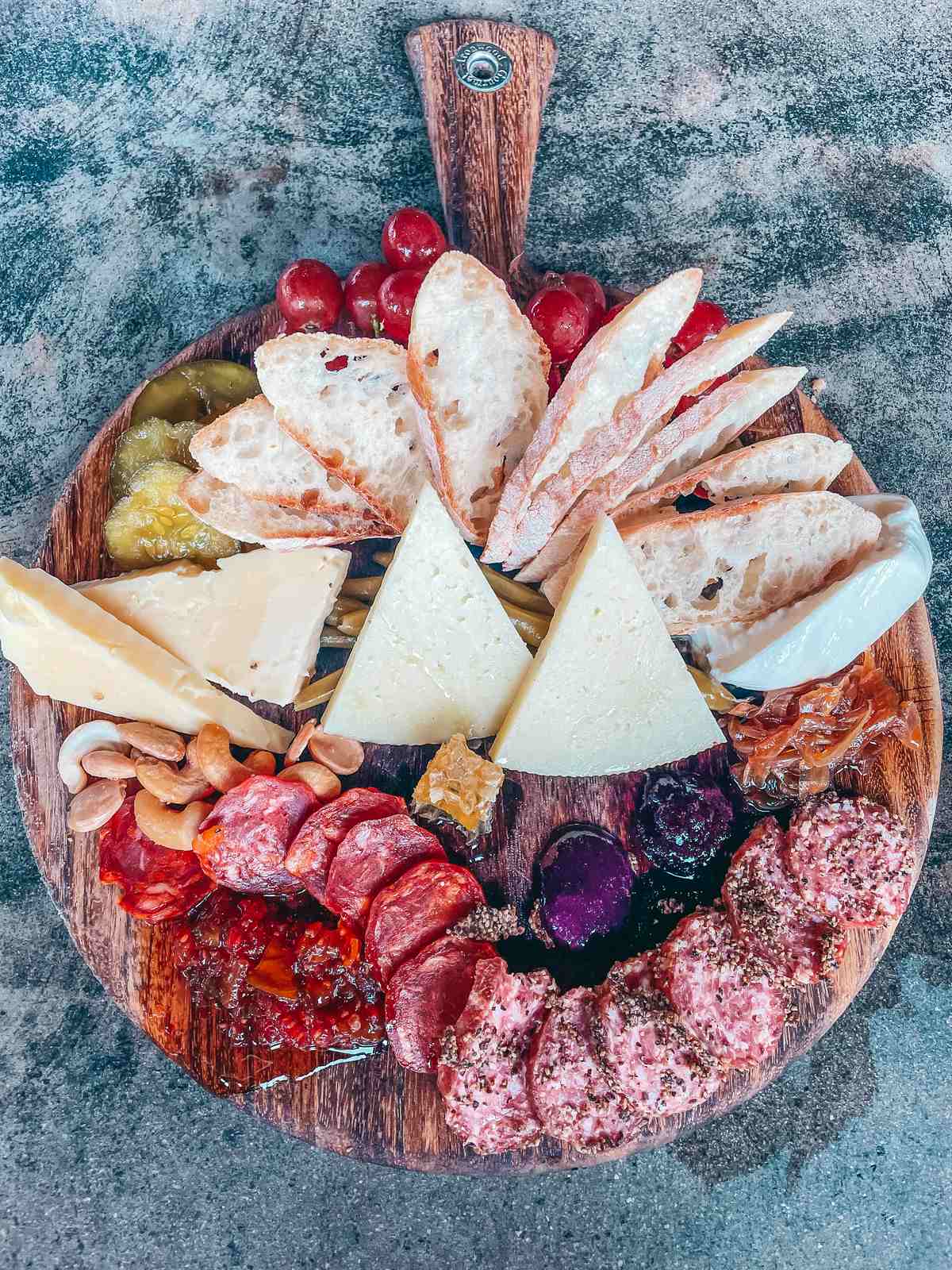 They had live music on the weekends which is always nice and enhanced the overall ambiance. As for cocktails, I relished the well-balanced Bloody Mary with its flavorful garnishes, while Remi enjoyed the refreshing Comeback Kid (tequila, fresh lime juice, guava nectar, ginger bitters, and fresh mint). The C House is an all-around winner, but it's especially perfect for brunch seekers like us!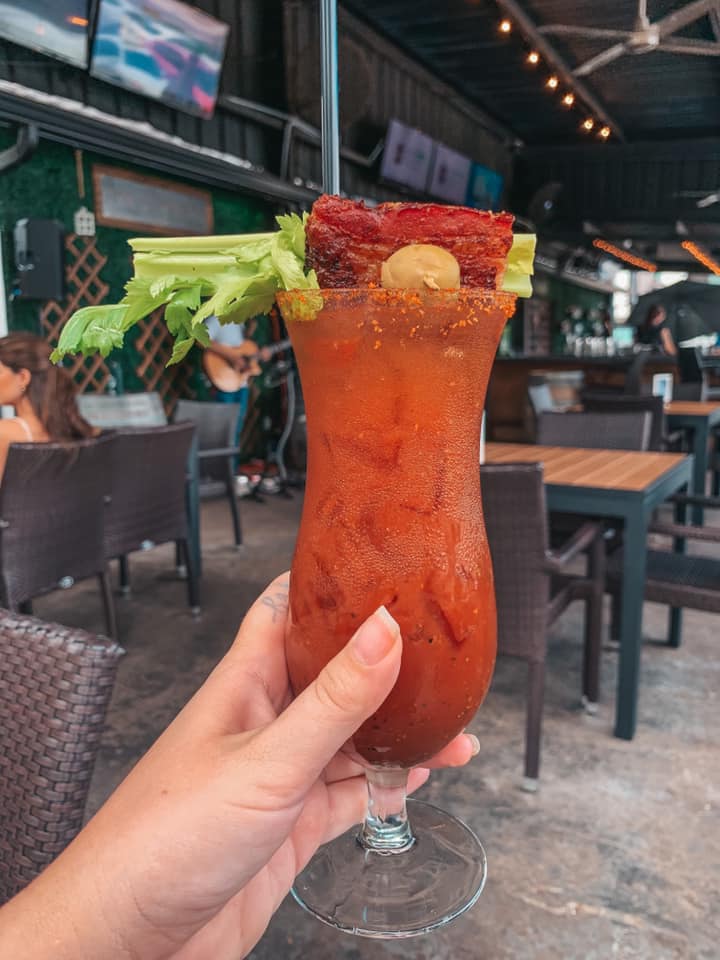 Mekenita Cantina
At Mekenita Cantina, prepare to embark on a culinary adventure like no other, inspired by the rich traditions of Oaxaca and fresh Pacific ingredients. From captivating cocktails to a dynamic food menu, this eatery offers a truly unique and exciting dining experience.
While Oaxacan cuisine was not my usual go-to, Mekenita Cantina completely swept me off my feet. It's no wonder this gem finds its place on the list of the best Seminole Heights restaurants! For a refreshing cocktail, I went for the Black Lavender—New Amsterdam vodka, muddled blackberries, lime, lavender flower, lemongrass, and bubbly.
The true star of the show, though, was the grilled citrus chicken & plantain nachos. Bursting with freshness, each bite felt like a healthy indulgence. The nachos come with a pineapple papaya salsa and a passion fruit serrano citrus sour cream that will leave you practically drooling with anticipation!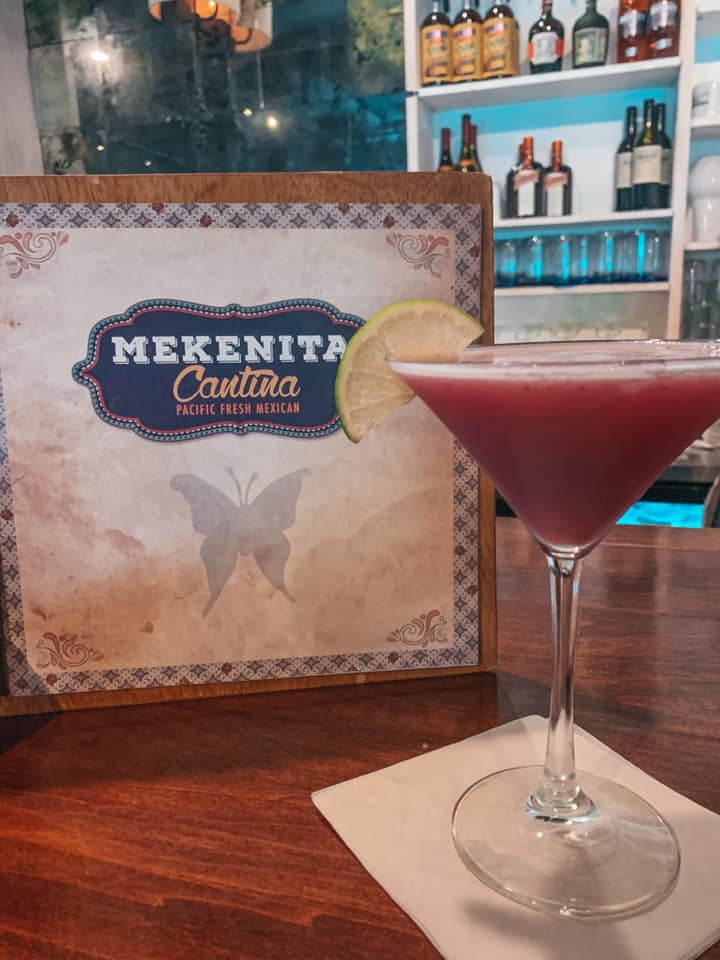 Harvest Bowl Eatery & Market
Harvest Bowl is the perfect Seminole Heights restaurant for those on the go! It's a fast-casual dining experience that doubles as a market. You'll find bowls that are healthy, hearty, and fresh!
If none of their signature bowls pique your interest, you can always create your own. They have vegan and vegetarian options as well. While it is fast-casual, I found the vibe to be adorable and inviting if you want to dine in.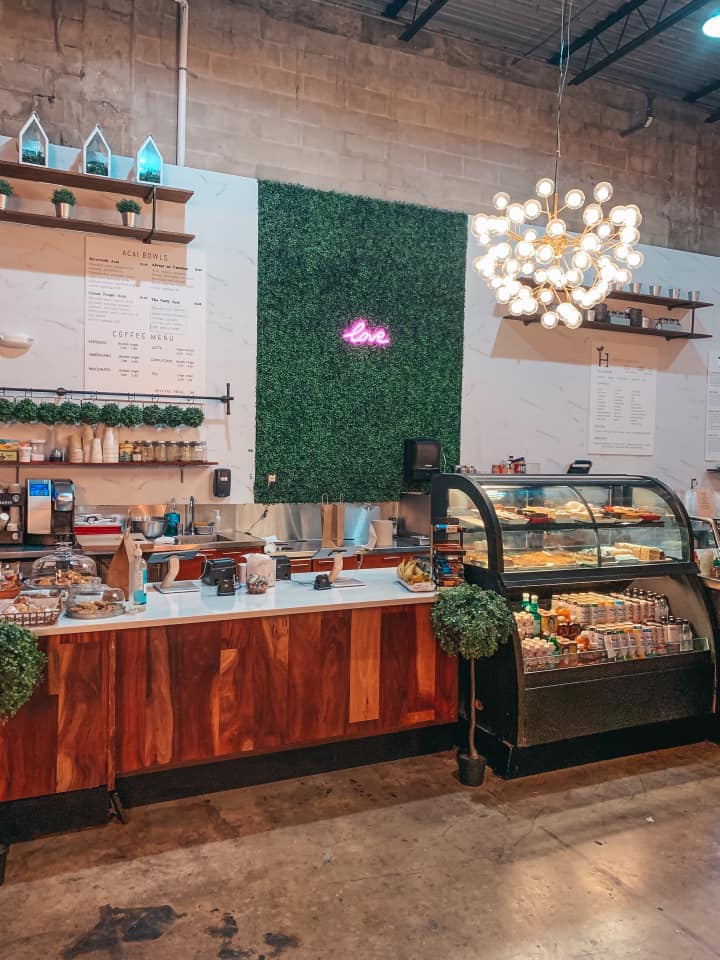 While I absolutely loved my bowl, every menu item sounded and looked so good I don't think you can go wrong! Remi and I shared the surf & turf (that way we had room for their Riverwalk acai bowl). The surf & turf is brown rice, mixed greens, green beans, grilled mushroom, sweet potatoes, filet tips, and grilled shrimp (I subbed broccoli for the sweet potatoes).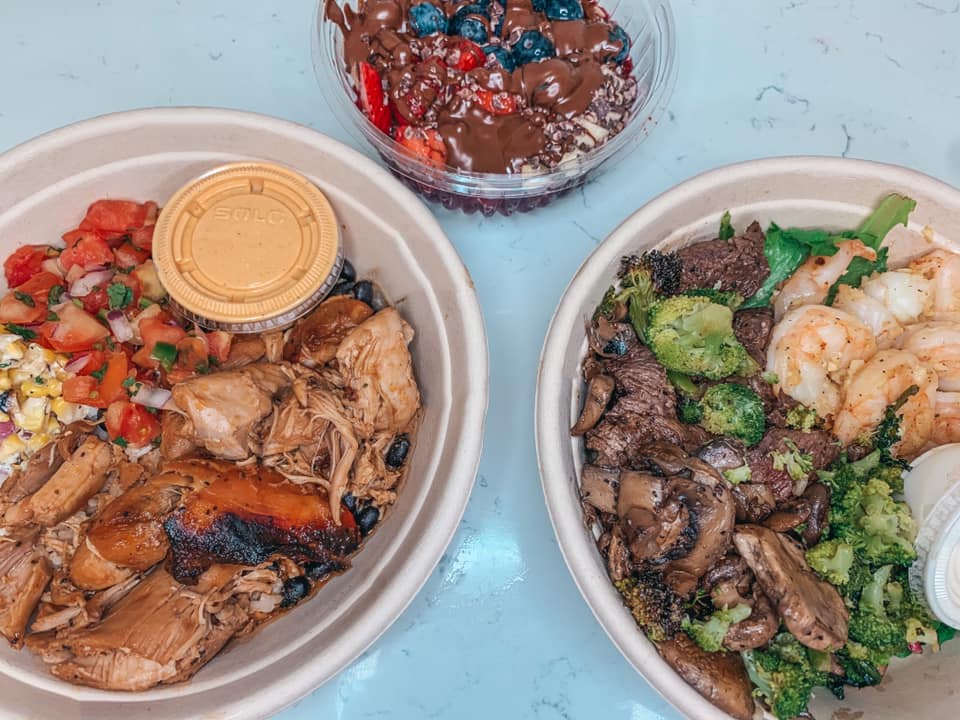 Armature Works
Technically in Tampa Heights, Armature Works is undeniably an awesome spot, especially for those of us who struggle with making decisions! It's one of my top recommendations in Tampa, and I fondly refer to it as a boujie food hall.
The variety of food options here is mind-blowing—from delectable pizzas to mouthwatering sushi, BBQ to vegan delights. Whether you prefer fast-paced dining or a leisurely sit-down experience, Armature Works has got you covered. And to top it all off, you can even enjoy a rooftop bar with sweeping views of the city.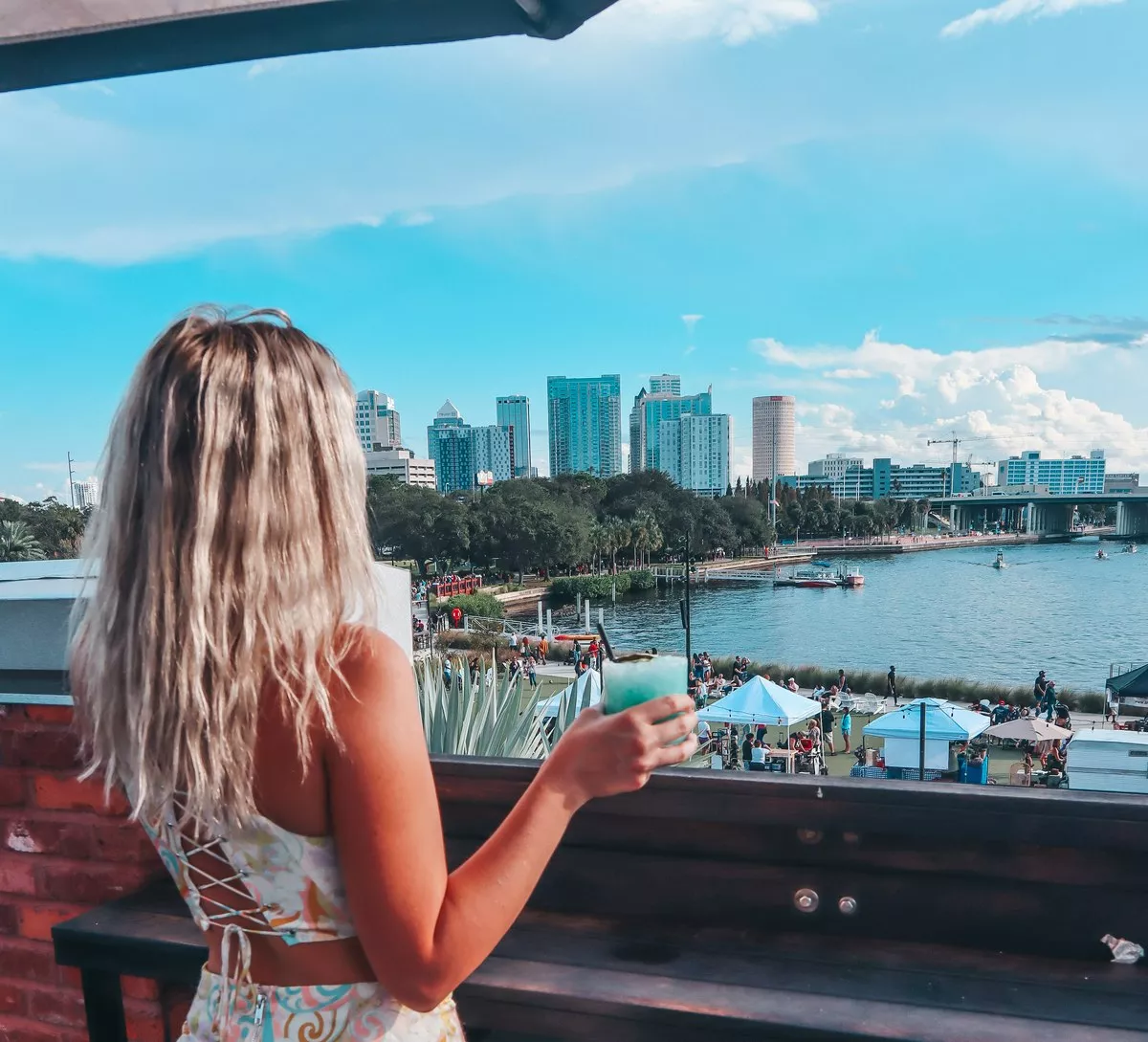 What sets Armature Works apart is the abundance of activities to complement your dining experience. If you're feeling adventurous, Urban Kai offers SUP rentals, classes, and tag-along adventures. Or, if you prefer a leisurely pre-meal activity, take a scenic stroll along the Riverwalk, one of my favorite free activities in Tampa!
Having explored this food haven, I've had the pleasure of enjoying most of its vendors. My favorites? Muchachas quesatacos and street corn offer an explosion of flavor. Or if you're seeking a unique take on a Cuban sandwich, head to Empamamas for their Tampa Girl, which is hands down one of the best Cubans in Tampa Bay.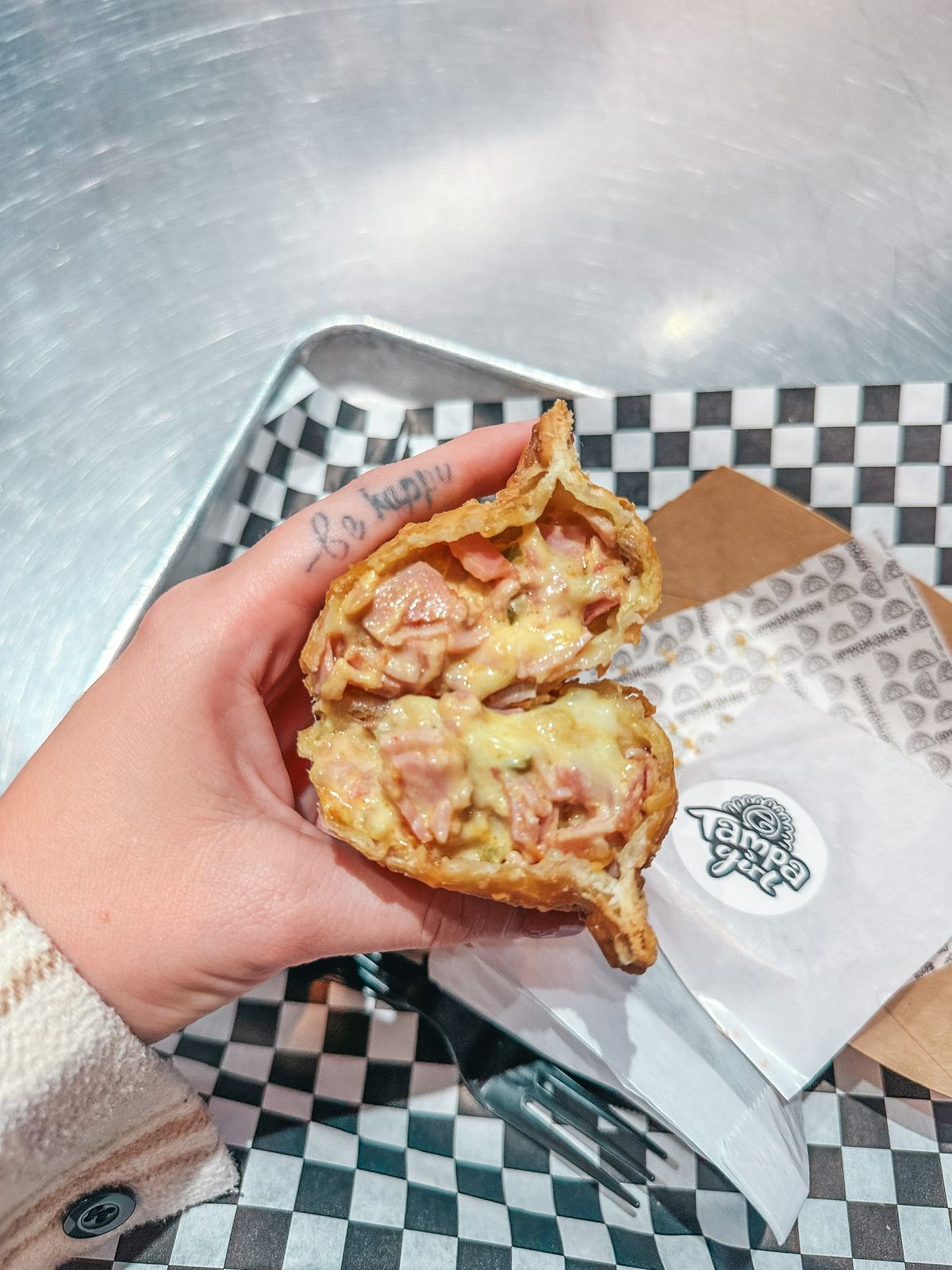 Best Dessert Spots in Seminole Heights
Sea Maid's Creamery
Prepare to be enchanted as you arrive at Sea Maid's Creamery, an adorable ice cream shop in Tampa bursting with character and color. This delightful gem is a treat for the eyes and the taste buds, offering an array of endless and delicious dessert options.
As you step inside, you'll be greeted with a vibrant and fun ambiance that sets the stage for a memorable indulgence. They offer an assortment of cookies, cupcakes, brownies, and even the coveted hot cocoa bombs! And let's not forget their star attraction—ice cream.
During my visit, I couldn't resist trying their Spongebob ice cream in a waffle cone that was dipped and coated with fruity pebbles. This delightful creation featured cookie dough ice cream with a twist—it was as pretty as it was delicious, thanks to its vibrant yellow color!
With plans to return, I am eager to go BIG and indulge in one of their mouthwatering milkshakes. Sea Maid's Instagram is a treasure trove of beautiful shakes, sundaes, and concoctions that will leave you craving dessert in an instant.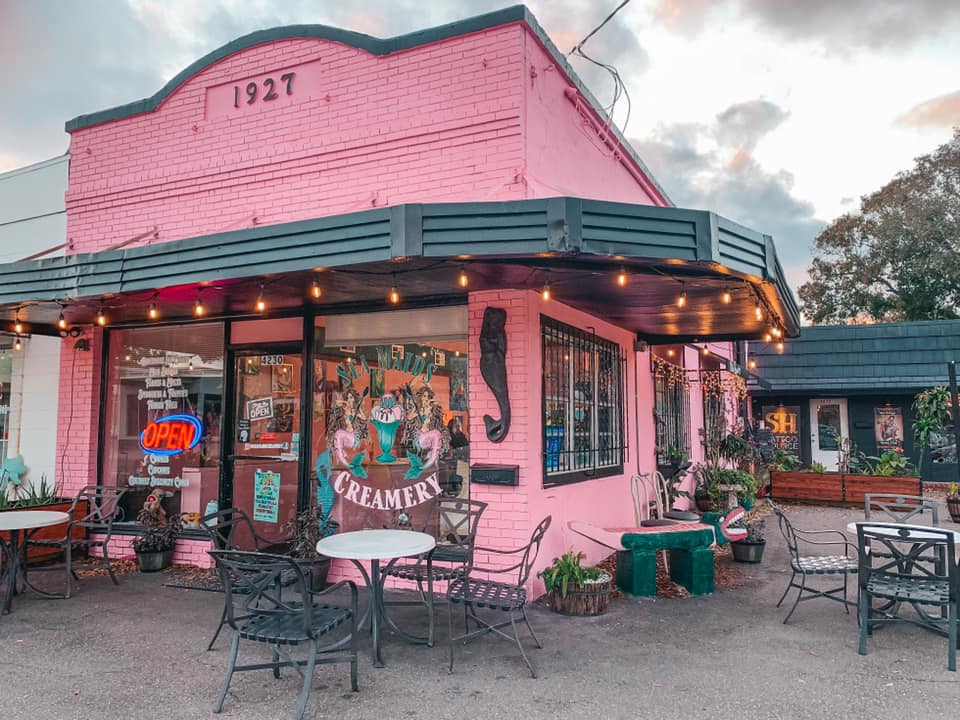 Bo's
Indulge in a heavenly treat at Bo's Ice Cream, a true Tampa treasure. One bite of their thick and chunky strawberry shortcake, and you'll understand why this dessert is truly something to write home about. The delightful combination of flavors and textures creates a symphony of delight with every mouthful, making it an unforgettable indulgence.
Conveniently located right next door to Bamboozle, Bo's Ice Cream is the perfect spot to complete your culinary journey. After savoring a delicious meal, be sure to save room for dessert and head to Bo's for a sweet finale.
They have soft serve, hard ice cream, and even sherbert. And if you want a quick dessert on the go, they even have a drive through so you can grab your sweet treat and go.
If you enjoy this post, check out my ULTIMATE Tampa, Florida Guide with the best things to do, restaurants, coffee shops, and more!
Best Coffee Shops in Seminole Heights
Chocolate Pi
Chocolate Pi technically serves as an awesome dessert spot and Tampa coffee shop. It's a haven where cakes, pies, tarts, coffee, ice cream, and more converge to create an unparalleled bakery experience. But don't be mistaken; this is no ordinary bakery. At Chocolate Pi, every detail is a work of art, designed to delight both your eyes and your taste buds.
Savor the magic of their lattes, masterfully topped with colorful sprinkles and dried strawberries, while others resemble galaxies adorned with shimmering glitter. These stunning creations aren't just perfect for capturing the perfect pic for your Instagram; they are truly a treat for your senses.
As you immerse yourself in the beautiful aesthetic of this charming spot, antique furniture adds to the ambiance, creating a cozy and inviting atmosphere. Whether you're catching up on work or simply enjoying a leisurely moment, indulging in a specialty latte becomes all too easy here. Beware, though; you may find yourself sipping down three lattes before you even realize it, so irresistibly delicious are they.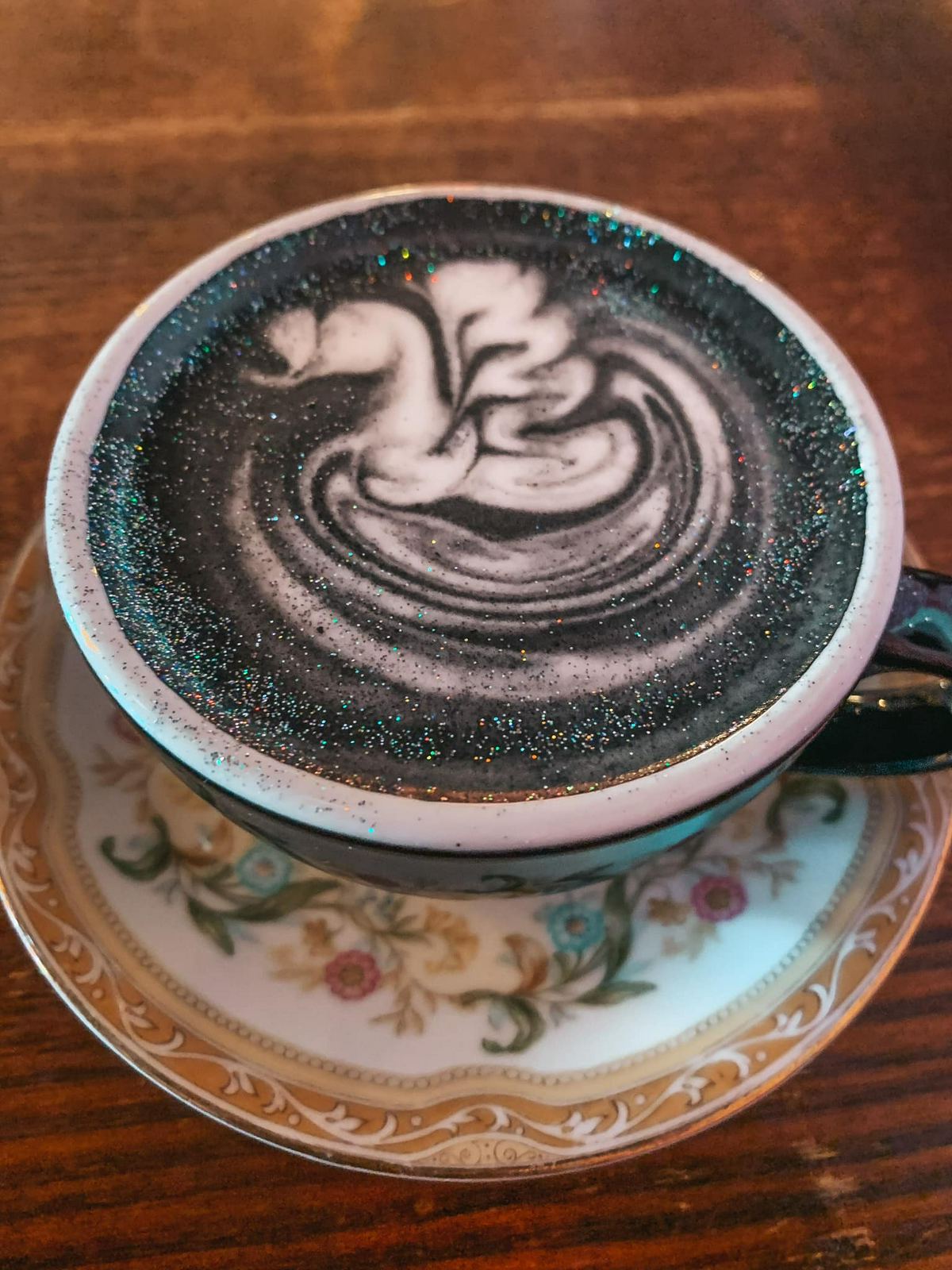 King State
King State is the perfect coffee shop that checks all the boxes. With its delectable-looking food offerings and craft beers, this place is a haven for those seeking a cozy yet vibrant hangout spot.
The moment you step in, the aesthetic of King State captures your heart with all the elements you'd desire in a coffee shop. From the warm ambiance to the inviting atmosphere, it's a place that instantly makes you feel at home.
During my visit, I couldn't resist trying their vanilla cappuccino—a delightful blend of flavors that earned bonus points for its cute presentation. Each sip was a taste of pure bliss.
Whether you're looking to kick back with a cup of expertly crafted coffee or indulge in their mouthwatering food options and craft beers, King State has you covered!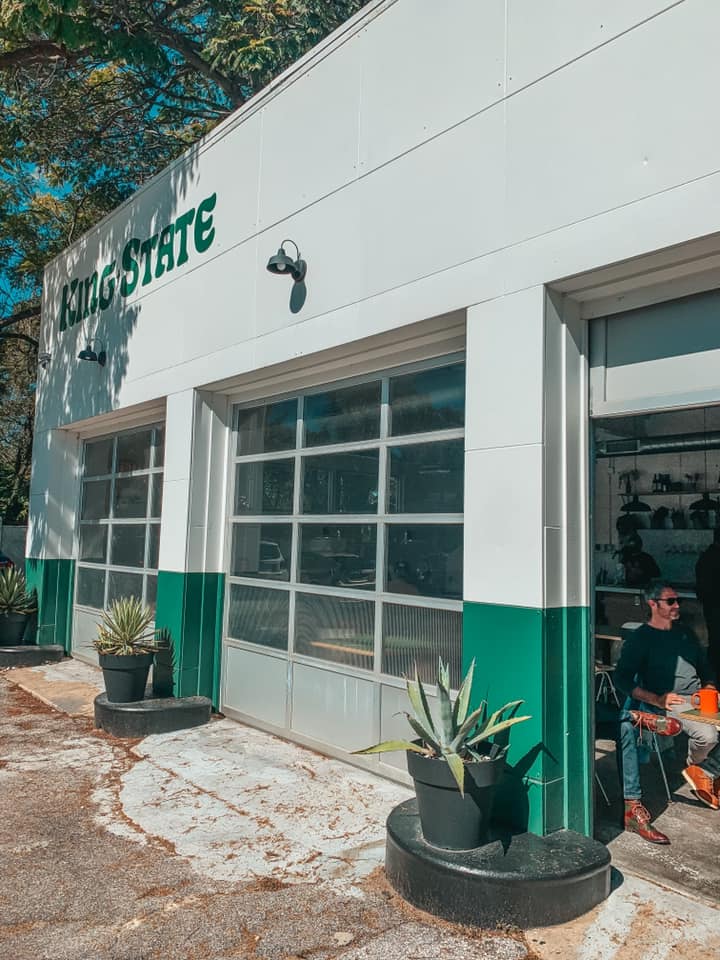 Spaddy's Coffee
Spaddy's Coffee is the perfect oasis to savor your morning coffee outdoors. The adorable patio area offers an idyllic setting, especially during Florida's pleasant fall weather that graces us around mid-November.
At Spaddy's, you'll find all your favorite coffee classics prepared to perfection. I had the pleasure of trying their cold brew, made even more enjoyable with a splash of half and half and a dash of pumpkin spice. The result was a tantalizing concoction that perfectly captured the essence of the season.
What's more, Spaddy's also has a location in South Tampa, ensuring that coffee enthusiasts across the city can savor their exceptional brews.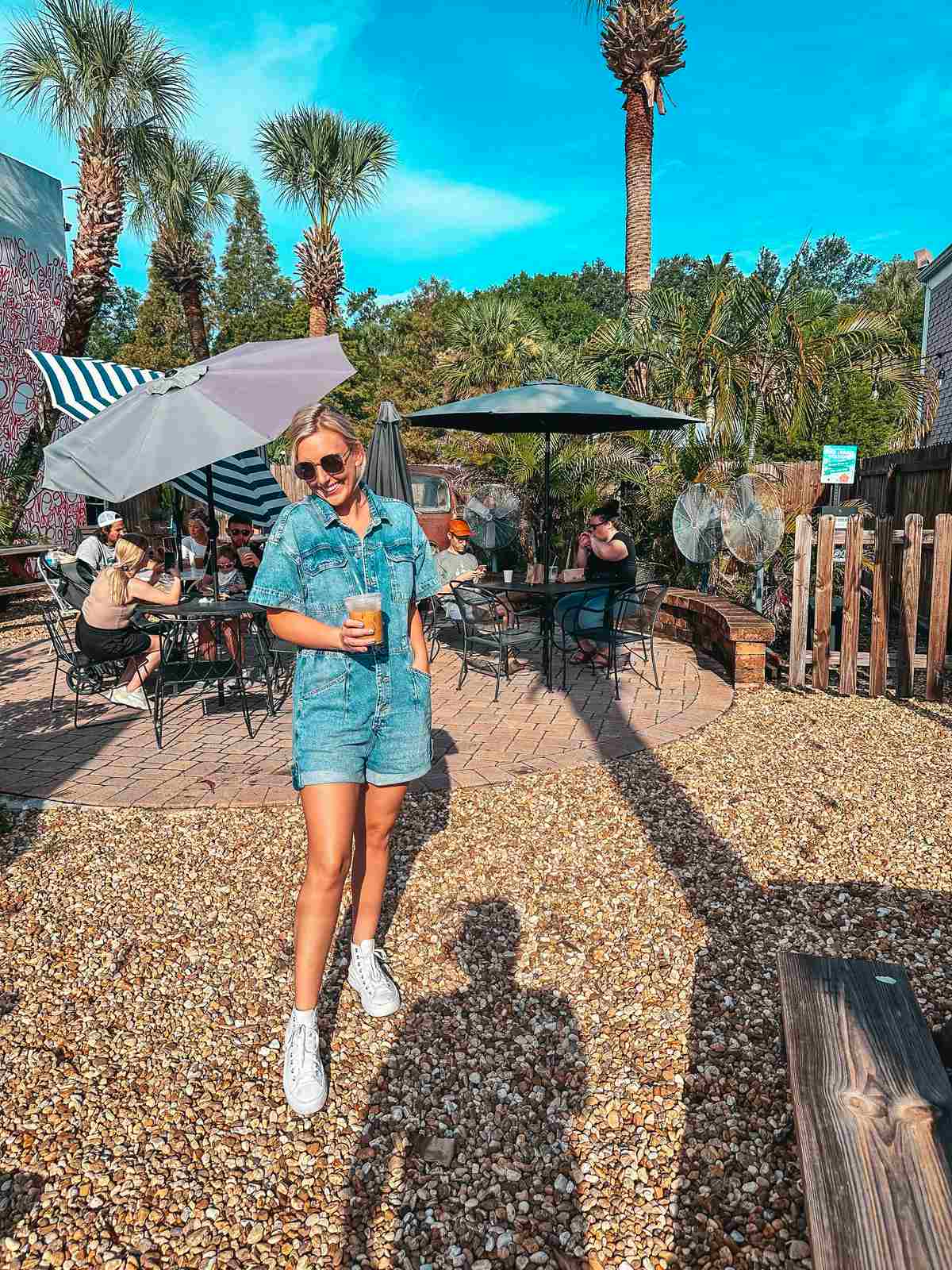 The Lab Coffee
The Lab Coffee is the latest addition to the Seminole Heights coffee scene, but is the coffee shops second location. True to its name, this coffee haven constantly introduces new and exciting coffee offerings to keep your taste buds intrigued. Embracing their passion for coffee, The Lab Coffee encourages conversations with their knowledgeable baristas, allowing you to craft a personalized daily drink or embark on a journey to expand your coffee knowledge.
Whether you crave a sweet and creamy cold brew or wish to indulge in one of their ever-changing espressos, The Lab Coffee has the perfect cup waiting for you! Their commitment to quality and innovation ensures a memorable coffee experience every time.
Be sure to bring your appetite too! The breakfast bagel sandwich, served with a side of Sriracha mayo, is a flavorful treat. But don't stop there—make sure to try their Cuban and guava cheese pastry on your next visit for another burst of culinary excellence.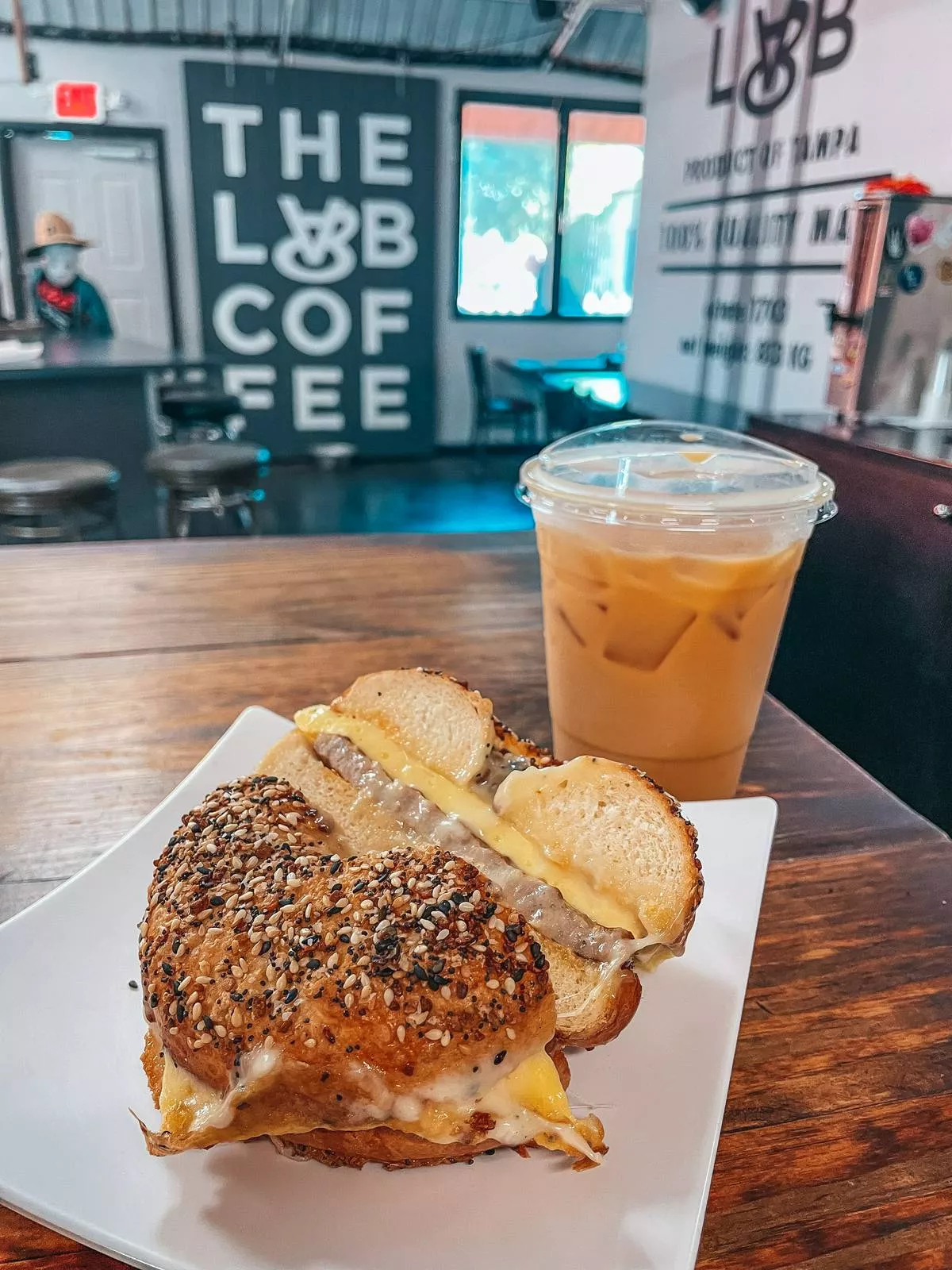 I hope you found this list of the best restaurants in Seminole Heights enjoyable and helpful. Whether you're craving BBQ, international delights, delectable desserts, or exceptional coffee, Seminole Heights has something to satisfy your need. Happy dining!
If you check out any of these spots be sure to tag me @guidedbydestiny on Instagram so I can share it with my followers 🙂
Check out some of my other local guides before you go:
Best date night restaurants in Tampa Bay