This post contains affiliate links which means that I will make a small commission if you purchase a product after clicking on any of them, at no extra cost to you.
If you're looking for the perfect getaway, 2 weeks in Hawaii is the answer! With its tropical climate, stunning beaches, and vibrant culture, it's no surprise that Hawaii is a top vacation destination.
If you want to explore all that the Hawaiian islands have to offer, this itinerary will give you the perfect mix of adventure, relaxation, and exploration. I've put together the ultimate island hopping itinerary that will help you make the most of your 2 weeks in Hawaii.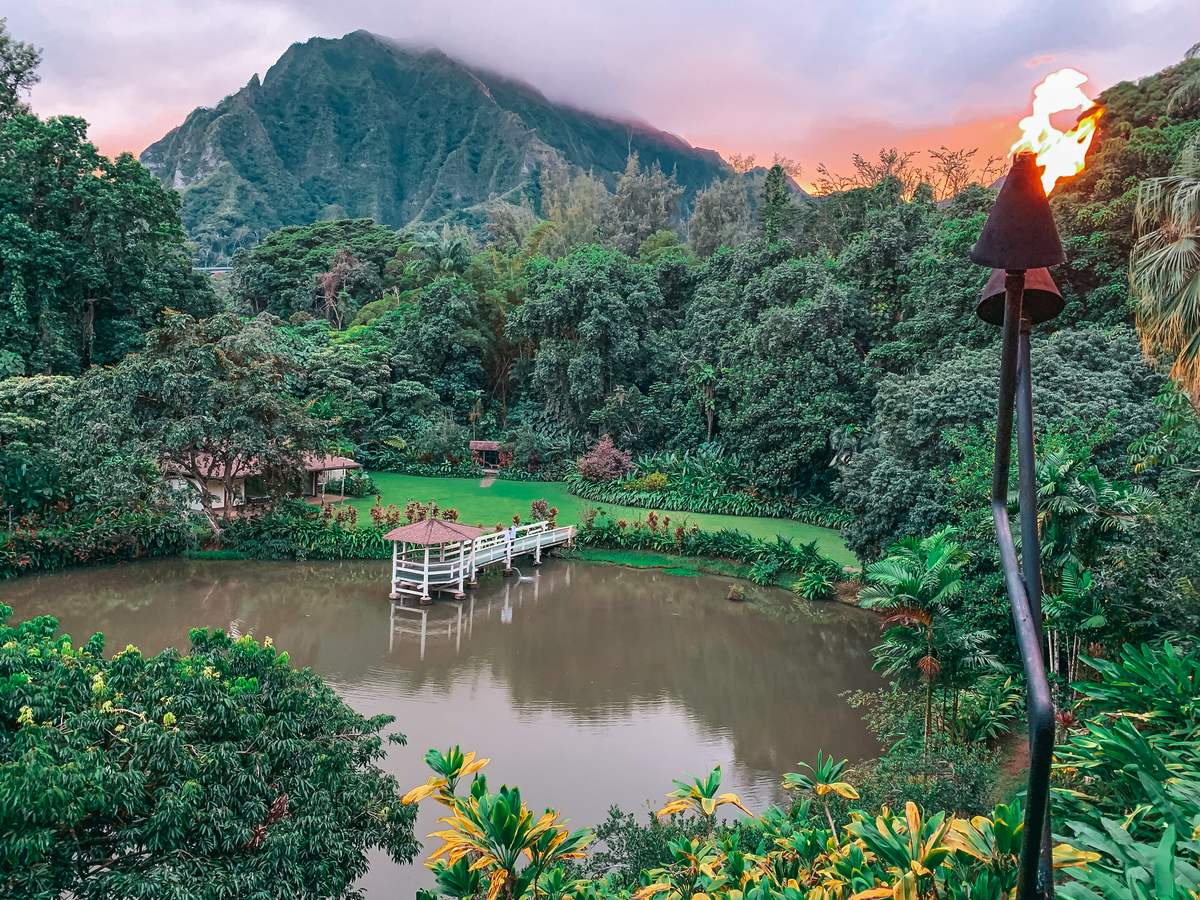 Planning your 2 weeks in Hawaii
The first question you are probably asking yourself is how do I decide which islands to visit and how long do I visit them each for? The truth is there is no right or wrong answer!
This suggested itinerary provides you with the opportunity to explore all four of the main islands. However, if you find yourself more attracted to one island over the others, don't hesitate to curate your own personalized itinerary, or even add a few days to explore a specific area more thoroughly.
As I mentioned, Hawaii is made up of four main islands – Maui, Big Island, Oahu, and Kauai. Each island is unique and offers its own special attractions and experiences.
When planning your trip, it's important to note that the average temperature in Hawaii ranges from 75°F – 85°F. Rainfall is most common during the winter months but there are plenty of sunny days year-round.
Make sure to book your accommodation and rental cars in advance as prices tend to be higher during peak season and holidays. I highly suggest a rental car on each island unless you want to stick to one area. Also, plan your activities accordingly as many popular attractions require advance reservations.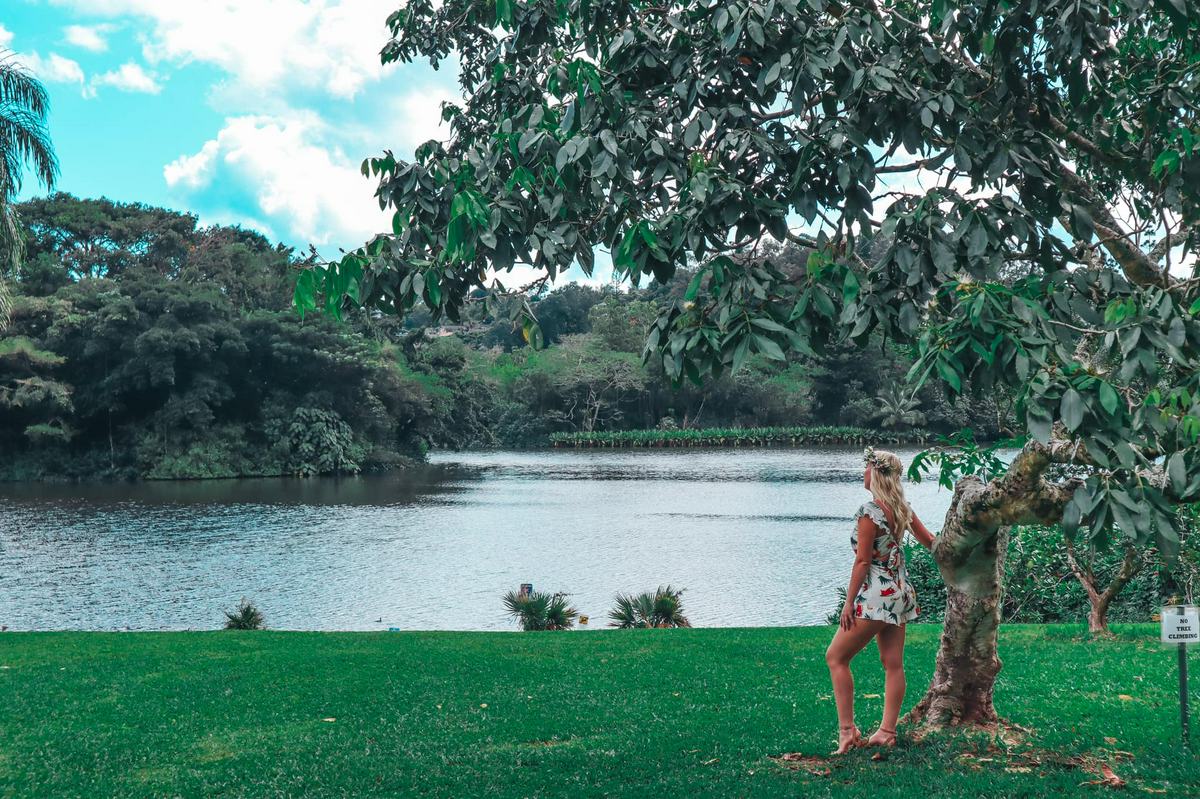 Day 1-3: Maui
Maui is the perfect place to start your Hawaiian adventure. This island is known for its stunning beaches, such as Kaanapali Beach and Wailea Beach, as well as its world-class golf courses and luxury resorts. But Maui is more than just a beach destination – it's also home to the majestic Haleakala National Park, which features a 10,000-foot-tall volcano and the island's highest peak.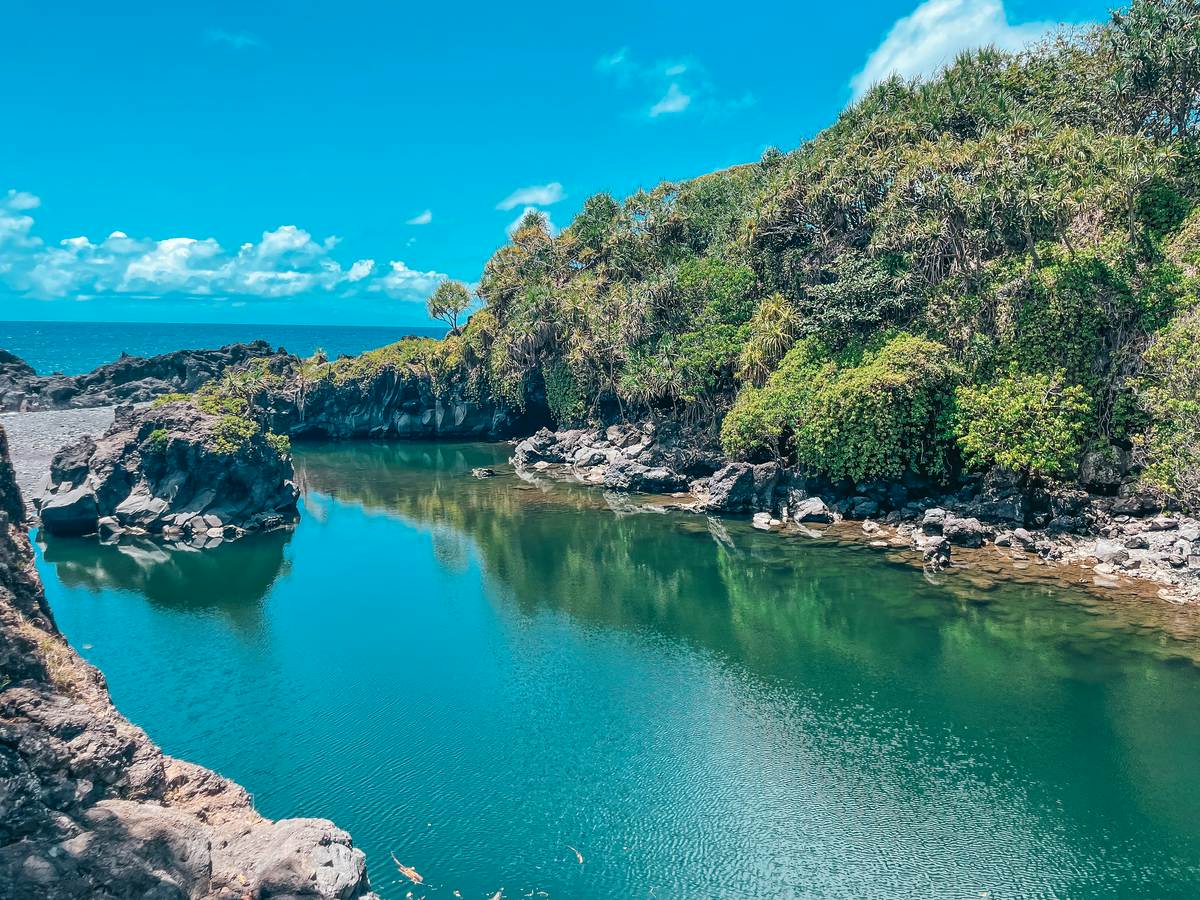 Where to stay in Maui
Lahaina, Kaanapali, and Kapalua are the most popular areas to stay in Maui, each area offering its own unique experience.
It's hard to find cheap options in Maui, but if you book in the off-season, or the further in advance you book, you may have a better chance at snagging a deal. Some of the lower-priced options I found were Aston Kaanapali Shores, Royal Lahaina Resort & Bungalows, and Aston Maui Kaanapali Villas.
Hana-Maui Resort by Hyatt Residence seemed to have the most availability if you are waiting to book, but Heavenly Hana Paradise is a little more affordable and has excellent reviews! If you're traveling with a small group, Hana Bay Oceanfront Elua Cottage is a 2-bedroom house that has the DREAMIEST views and design.
The only thing I would've changed if we were staying one more day is I would've liked to do one night in Hana so we could've taken our time even more with the Road to Hana. Hana is quite small, and there aren't too many options for lodging so if you would like to do a night or two here be sure to book soon!
Maui day 1
On your first day, take some time to relax and acclimate to island life. Head to do a tour and tasting at Ocean Vodka Organic Farm and Distillery. It's just a short 15-minute drive from the airport. They have epic views and an amazing restaurant where each dish and cocktail incorporates fresh ingredients from their farm.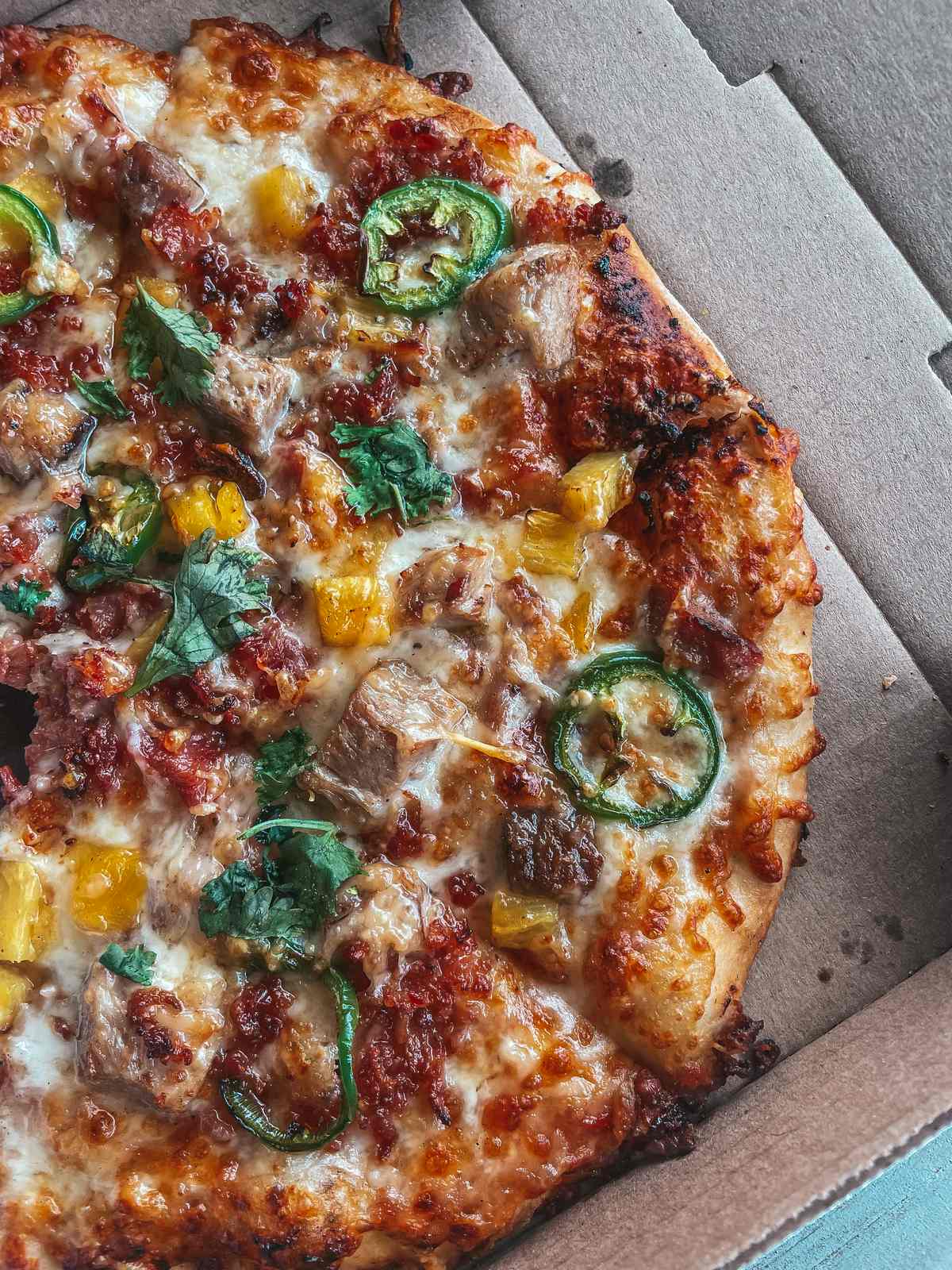 Another thing that is amazing about the farm and distillery is it sits atop a mountain and allows you to take in the most stunning, epic views while you enjoy your food and drink. Especially if you arrive on a weekend evening and don't have dinner reservations anywhere, this is the perfect spot to head.
We checked in and relaxed after this because day 2 is a big one.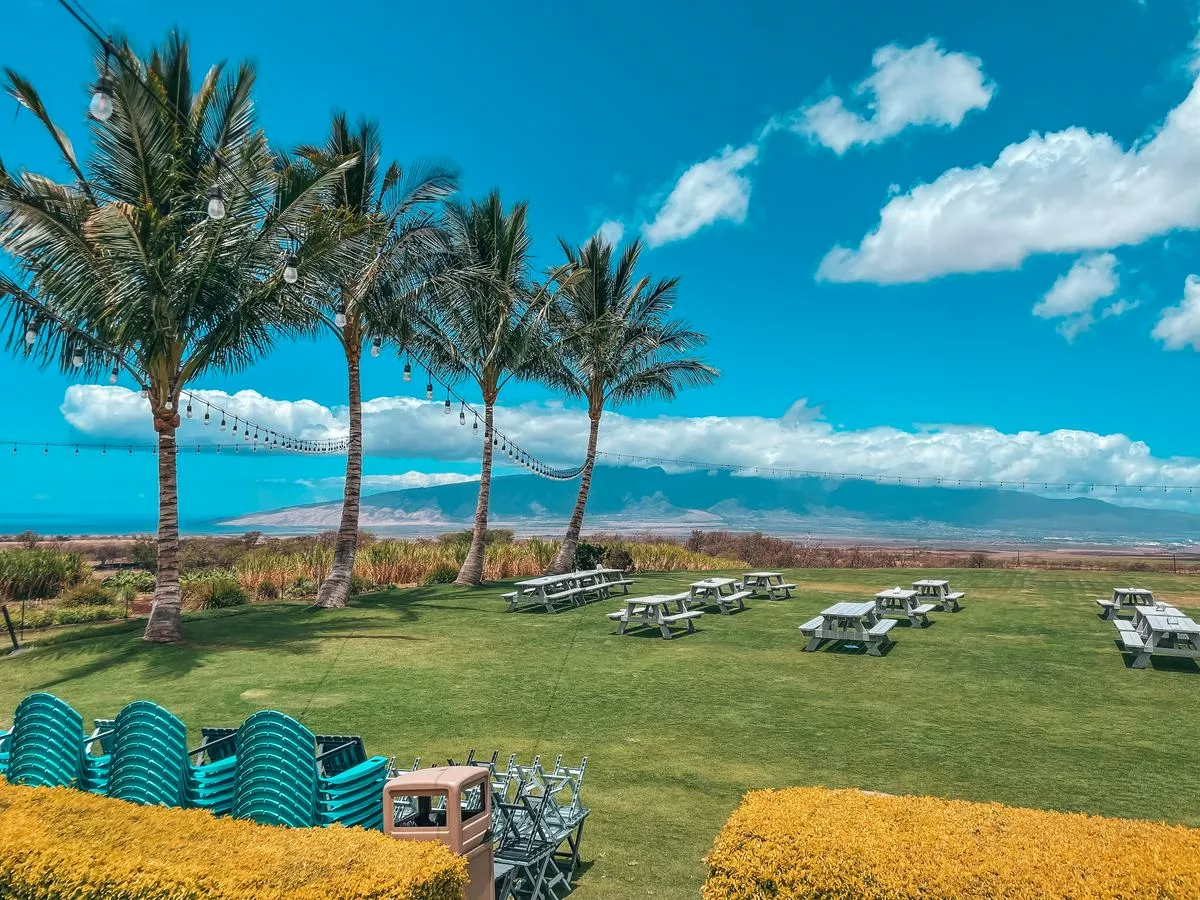 Maui day 2
On the second day, wake up bright and early (4:30 am!) to take a scenic and adventurous ride along the Road to Hana which is famous for its winding roads and incredible views of rainforests and cascading waterfalls. There are 3 different route options, we went with the "reverse" Road to Hana which covers the entire route. If you choose this route as well it will take you the majority of the day.
My biggest piece of advice is to download the Shaka Guide app prior to hitting the road and purchase the tour for whichever route you decide you're going to be taking. They actually have an app for each individual island, as well as Utah, Arizona, and Nevada!

Having your own personal, local tour guide costs less than $20 and it was so helpful and informative! The app goes off of your GPS, and you can download it so it works offline. It tells you the best stops, and which ones you can maybe skip if you're in a rush or getting tired.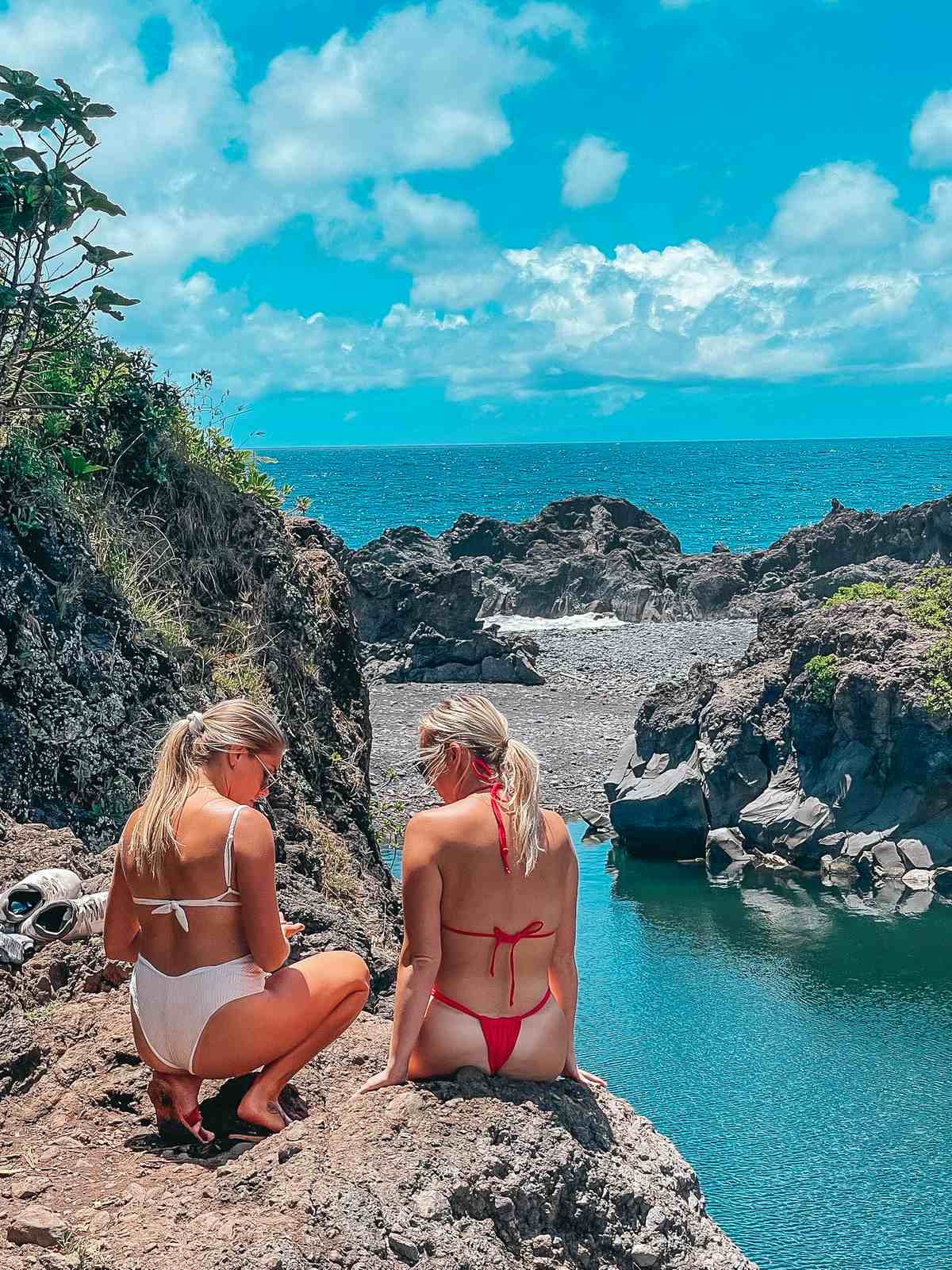 At the end of the route stopping at Mama's Fish House is a non-negotiable. They serve fresh locally caught seafood dishes and some of the most delicious tropical drinks. This place books up months in advance so be sure to make a reservation ASAP if possible. We were lucky enough to snag some bar seats when we went without a reservation.
For all of the details on which Road to Hana stops to make, what to order at Mama's Fish House, and my favorite coffee shops in Maui read my full 3-day itinerary for Maui.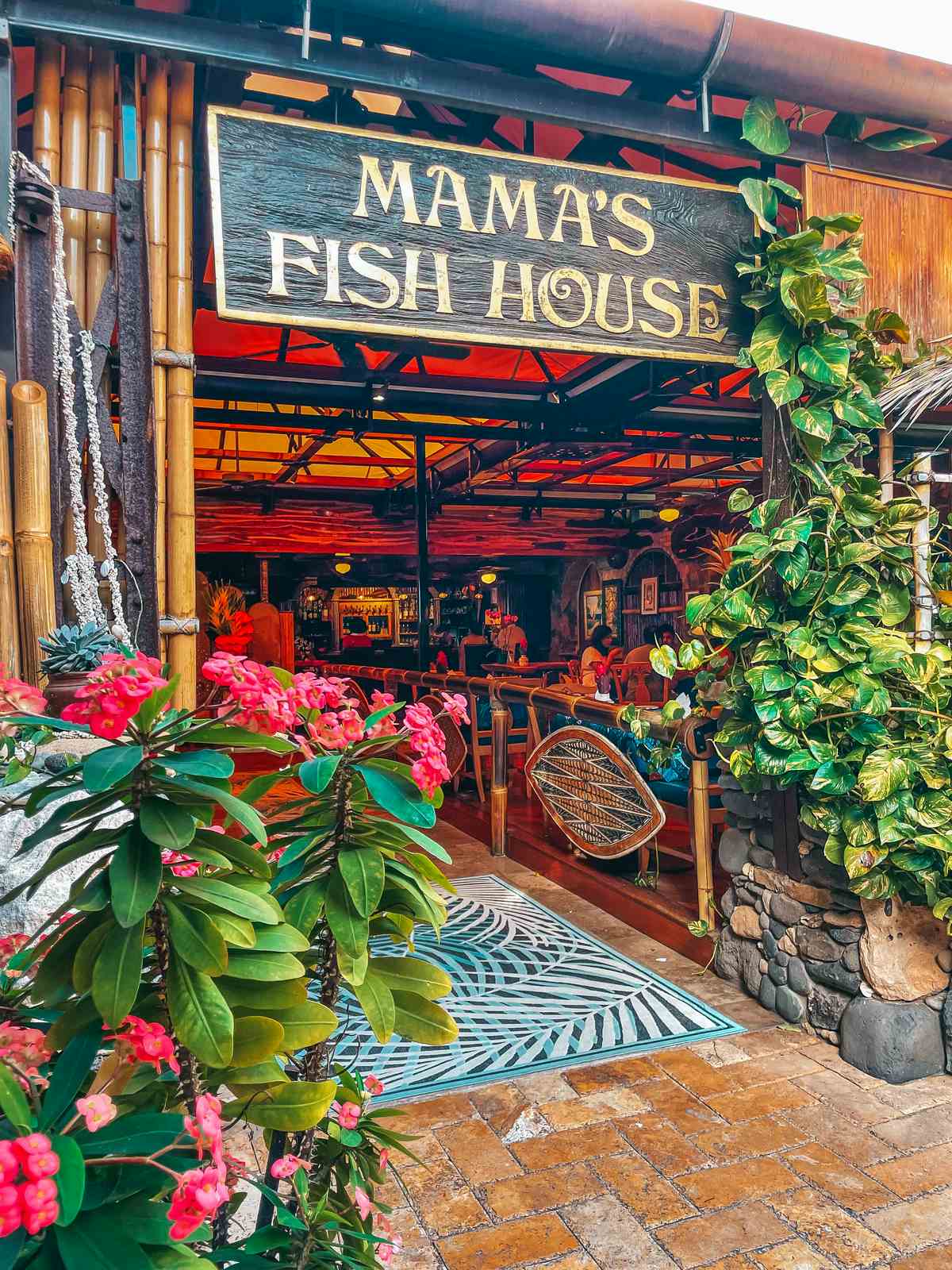 Maui day 3
Haleakala National Park offers amazing hikes and views of the crater, but we were, unfortunately, unable to get reservations for sunrise when we went. Definitely plan ahead and look into it for your trip! It can easily be squeezed in the morning on day 3. You can go after sunrise without a reservation, but we were also a little tired of driving from doing the Road to Hana.
If you are unable to get a reservation for Haleakala National Park start your morning with coffee from Badass Coffee and brunch at Down the Hatch in Lahaina. From there, experience some of the best snorkeling at Kapalua Bay.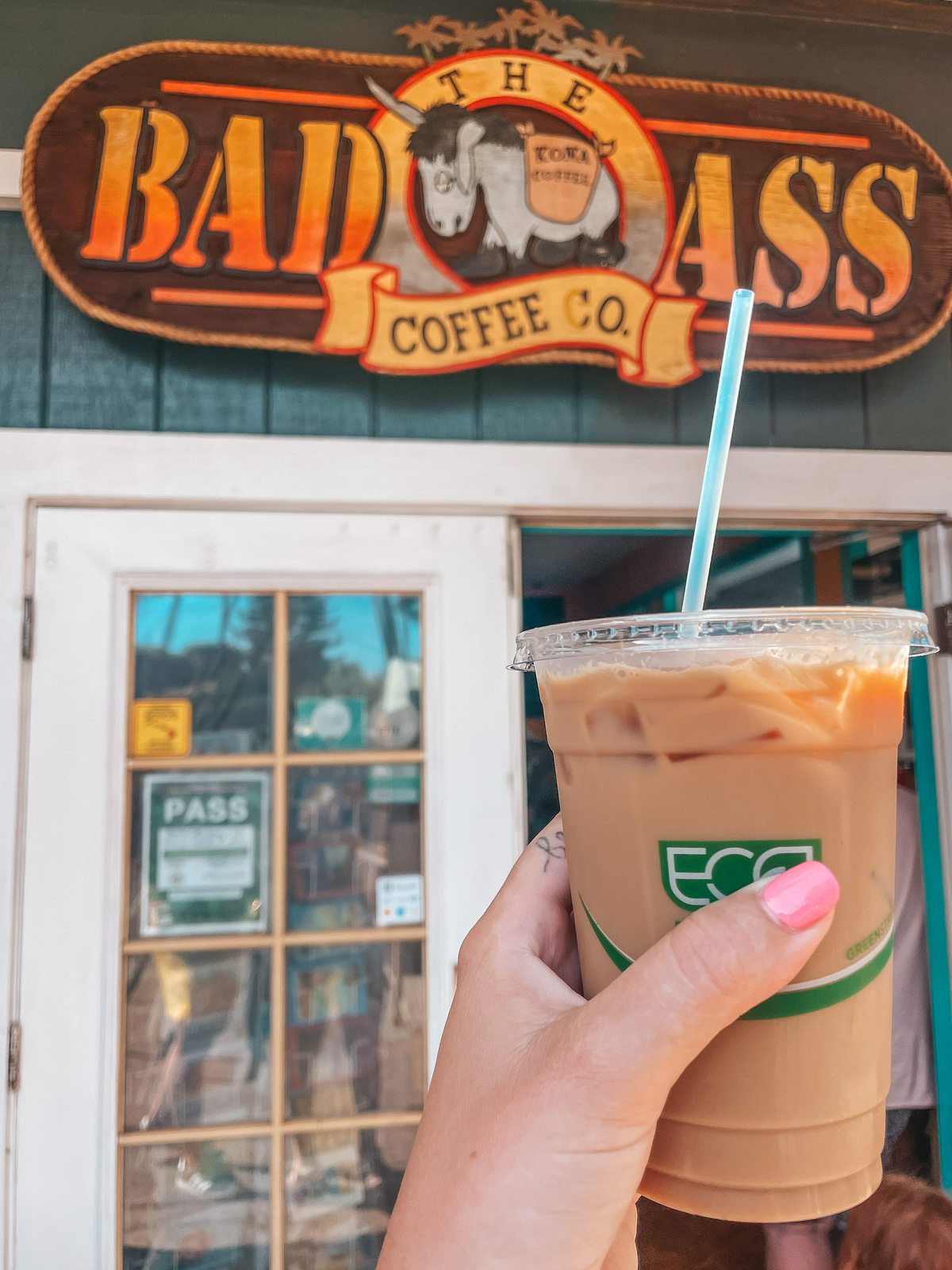 You'll find a large coral reef teeming with fish and other marine life like turtles, eels, dolphins, and more! We saw SO MANY turtles it was insane! This was honestly the best place that I have ever snorkeled without having to take a boat.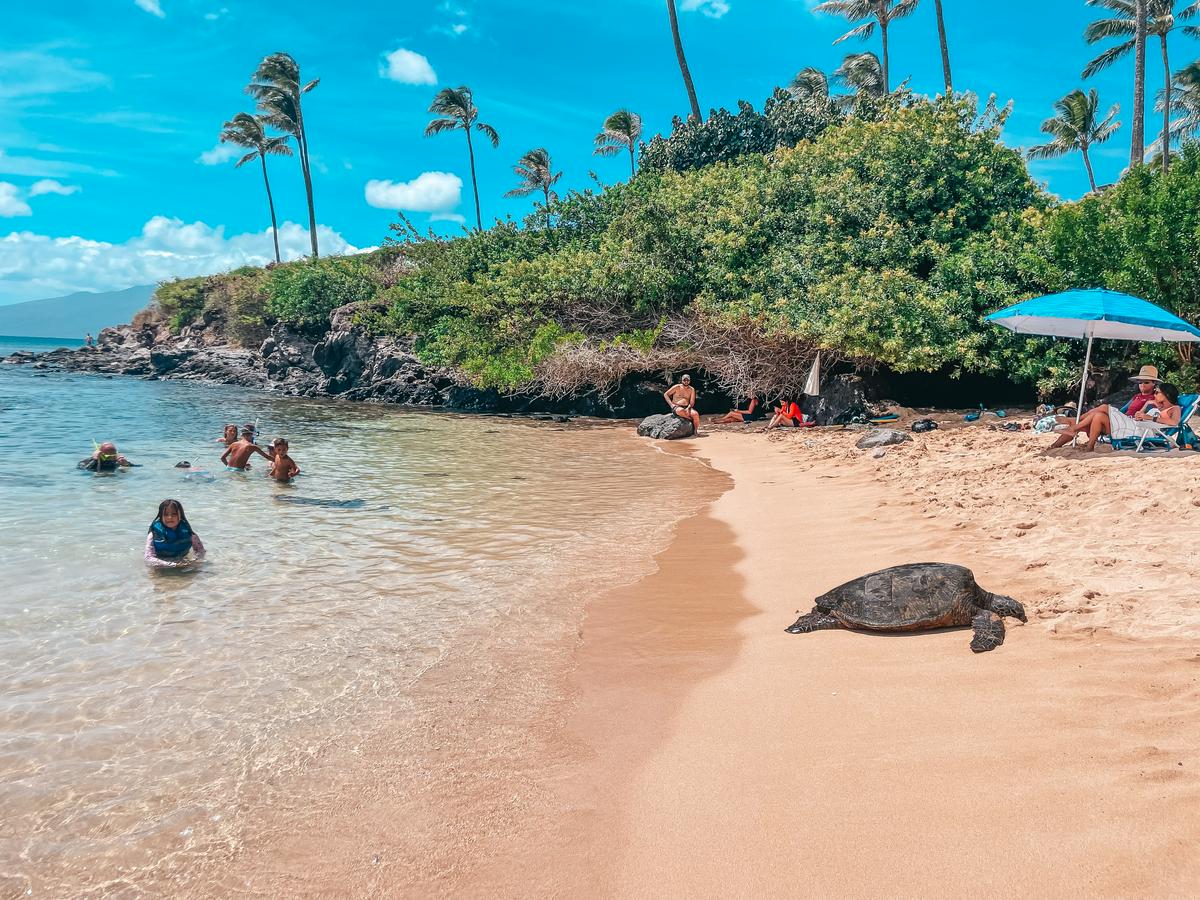 After working up quite the appetite from snorkeling all day we decided to head back to the hotel to get ready for a nice dinner and drinks. We went to Whalers Village which has plenty of options. Because it was a Sunday evening and we had no reservations we tried to go around happy hour time in hopes of fighting a little less of a crowd. Monkeypod and Hula Grill are both awesome options.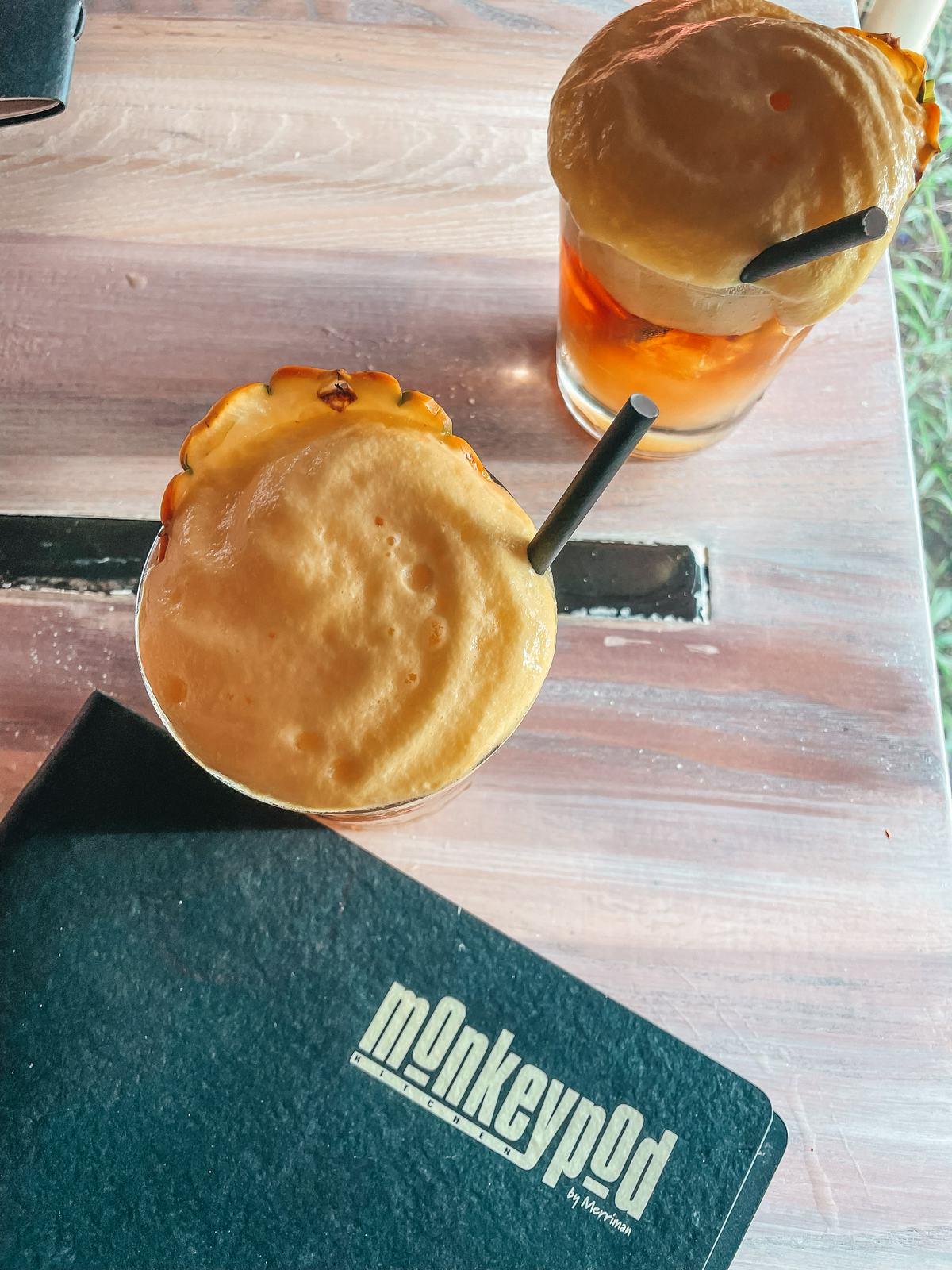 Day 3-7: Big Island
After three days on Maui, it's time to head to the Big Island. The Big Island of Hawaii is one of the most beautiful and diverse islands in the world. During your 4 days here, you'll get a taste of everything that makes it so special. The Big Island is divided into two sides; Hilo, on the rainy side of the island, has a more tropical feel and Kona, on the dryer side of the island, has a more touristy feel.
I suggest spending 2 days in Hilo to start. Here you can explore waterfalls, lava tubes, and Volcanoes National Park. After that, spend the last half of your trip in Kona. Here you can relax with waterfront happy hours, go snorkeling, visit Pu'uhonua O Honaunau National Historical Park, and go night swimming with giant manta rays.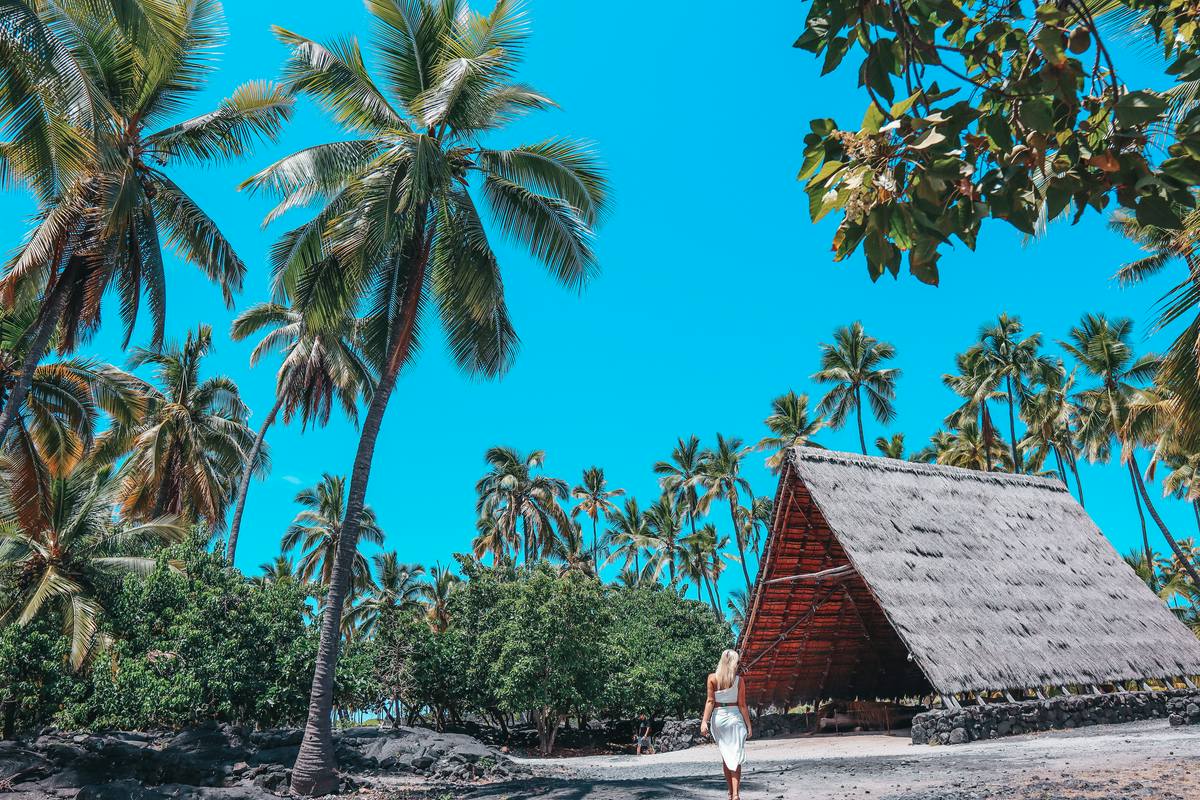 Where to stay on the Big Island
The Big Island of Hawaii offers a variety of accommodations to suit different preferences and budgets.
In Hilo, a couple of popular options for accommodations are the SCP Hilo Hotel and Castle Hilo Hawaiian Hotel. Both offer stunning ocean views, a variety of amenities, and are centrally located in the heart of Hilo. Check out all of the accommodation options for Hilo here.
In Kona, the Royal Kona Resort is a great choice for those looking for a beachfront hotel with a variety of amenities such as a pool, spa, and restaurants. Another popular option is the Kona Seaside Hotel, which offers comfortable rooms and easy access to the beach and the town's many shops and restaurants.
For a more luxurious stay, the Four Seasons Resort Hualalai at Historic Ka'upulehu is an excellent choice, it's located in the north of the island and offers stunning ocean views, world-class amenities, and a variety of activities such as golf and tennis. We stayed at the Holiday Inn Express in Kona just because we were able to book with points.
Check out all of the accommodation options for Kailua-Kona here though!
Big Island day 1
We flew Southwest from Maui to Kona on the Big Island and then drove to Hilo. We used points to book and it was insanely cheap (like 5,000 points cheap). Hilo does have its own airport, so if you can get a direct flight it may be worth looking into (we couldn't). Once we landed we grabbed a bite in Kona because there were pretty much no food options on the route.
There's a little area right inside Kona that has just about every type of food you could want. Hot chicken, poke, sushi, Kona Brewing, and more are there. We grabbed Willie's Hot Chicken just to switch things up, but we ate in this area several more times once we came back to Kona and tried several of the restaurants.
Our Airbnb was in between Hilo and Volcanoes National Park, which worked out really well for us and our itinerary. On our first night, we arrived around 8 PM after our 2-hour drive. We were pretty pooped so we rested up for our first full day on the Big Island.
Big Island day 2
This day is not for the weak! We crammed so much into this day, I'm honestly shocked. Many of these mini-adventures are pretty close to one another as you'll see, making it easy to cover a lot of ground in a short amount of time!
Start with coffee and breakfast from Just Cruisin Coffee (I love a good Hawaiian coffee shop).
For convenience's sake, I am going to bullet point everything we did this day, but check out my 4-day Big Island itinerary post for more in-depth details for each activity!
Akaka Falls State Park— a short little paved trail (0.4 miles) and 30-minute adventure that leads you to Akaka Falls, a 442 ft waterfall.
Hilo Farmers Market— pop in to get some fresh fruit, they even cut it for you so you can eat it on your walk.
Rainbow Falls— an 80 ft waterfall that cascades over a lava tube and is all a part of Wailuku River State Park. This isn't even a trail, you just pop out of your car and you'll see an overlook and viewpoint of the falls.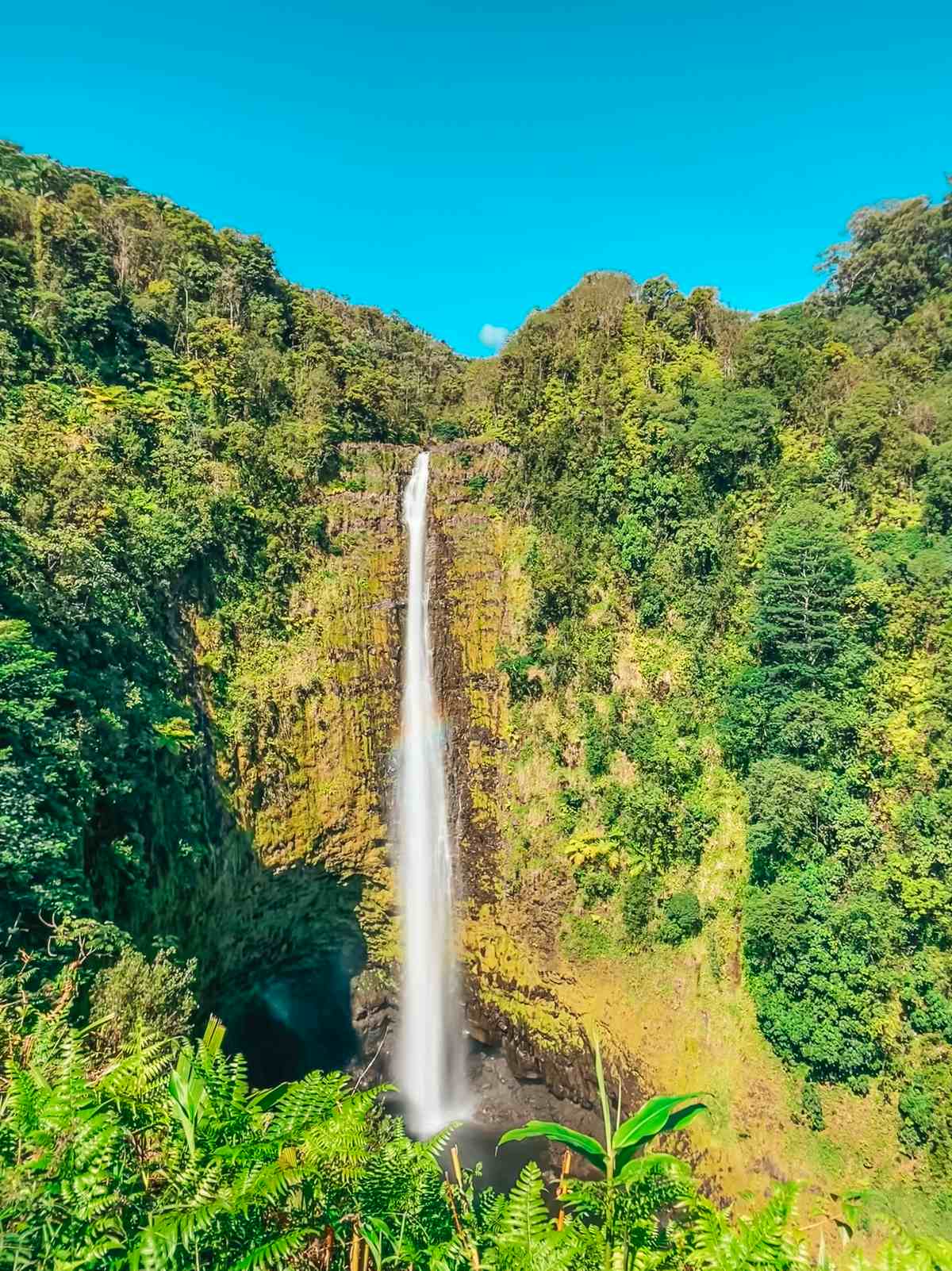 Boiling Pots and Pe'epe'e Falls— similar to Rainbow Falls it's just a quick little stop and overlook. When we went the waterfall seemed a little dry, but I can imagine during rainier seasons it probably looks much cooler.
Kaumana Caves— explore a huge lava-tube cave that Mauna Loa created in 1881. It's pretty insane! And another great thing to do on the Big Island for free.
Volcano Winery— stop here and snag a wine flight.
Thai Thai Bistro & Bar— get a quick lunch before heading into the park.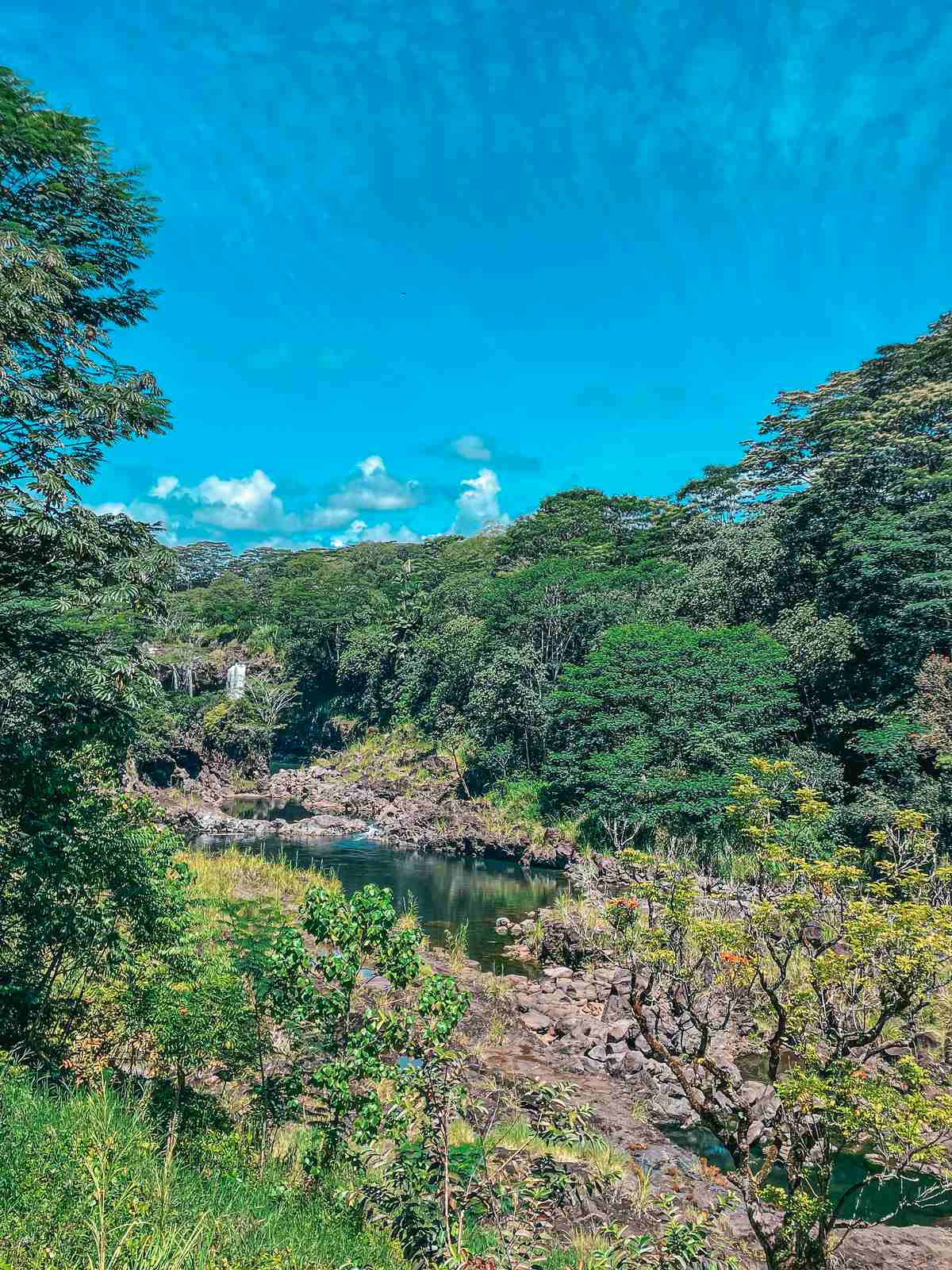 Now it's finally time for Volcanoes National Park! Again, all of the details for Big Island and Volcanoes National Park can be found here.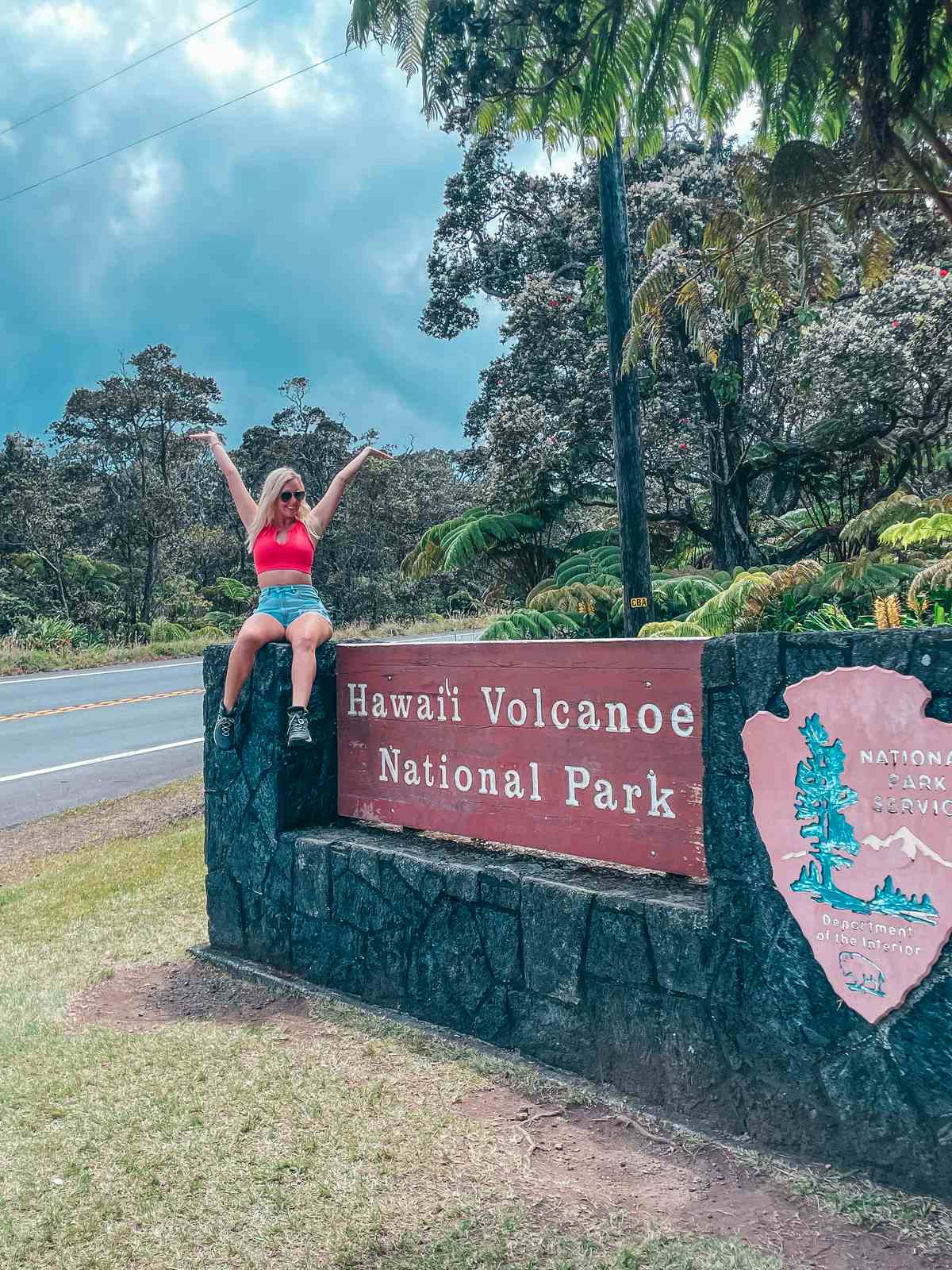 Big Island day 3
For the start of day 3 of your Big Island itinerary, you can either finish up whatever you couldn't get to from yesterday's road trip or just hit the road and start making your way to Kona.
Before the 2-hour drive, we made a pit stop at The Sippin Siren for some coffee and breakfast. It really hit the spot if you're looking for an easy stop on the way out.
Once we got to Kona we kind of just explored a little and got our bearings. We checked out Ola Brew for one of their cider flights and then had some lunch at Umekes. I found their Kona gold pineapple and dragonfruit lemonade cider to be unique and delightful.
Umekes was SO good, and the seafood was so fresh that we had it TWICE during our time in Kona. Poke is a must-try food in Hawaii, and Umekes was easily some of the best poke I've had.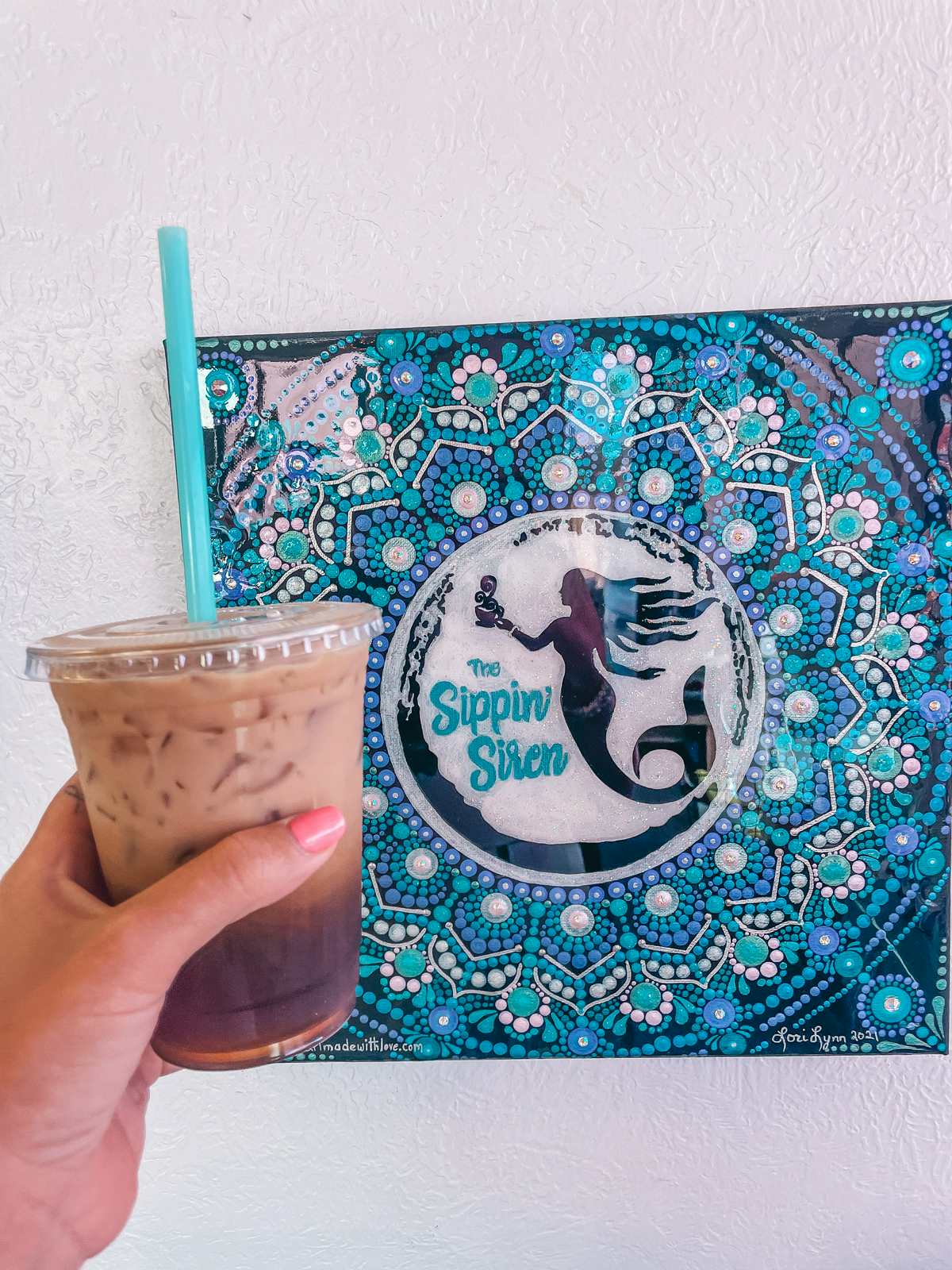 If you're feeling the exhaustion from the day before sink in (so were we), don't worry. This day is all about relaxing. We took a nice little nap in our suite before heading out to experience some local happy hours.
Huggo's on the Rocks was our first stop. This waterfront spot had unbeatable views and a nice relaxing vibe. Oh, and did I forget to mention they have $6 happy hour mai tais? And they were good!
Next, we headed to Don's Mai Tai Bar. It's located inside the Royal Kona Resort. We got some coconut shrimp and a couple of $10 lava flows— pina coladas with an additional flavor of mango, strawberry, guava, or lilikoi! The perfect vacation drink.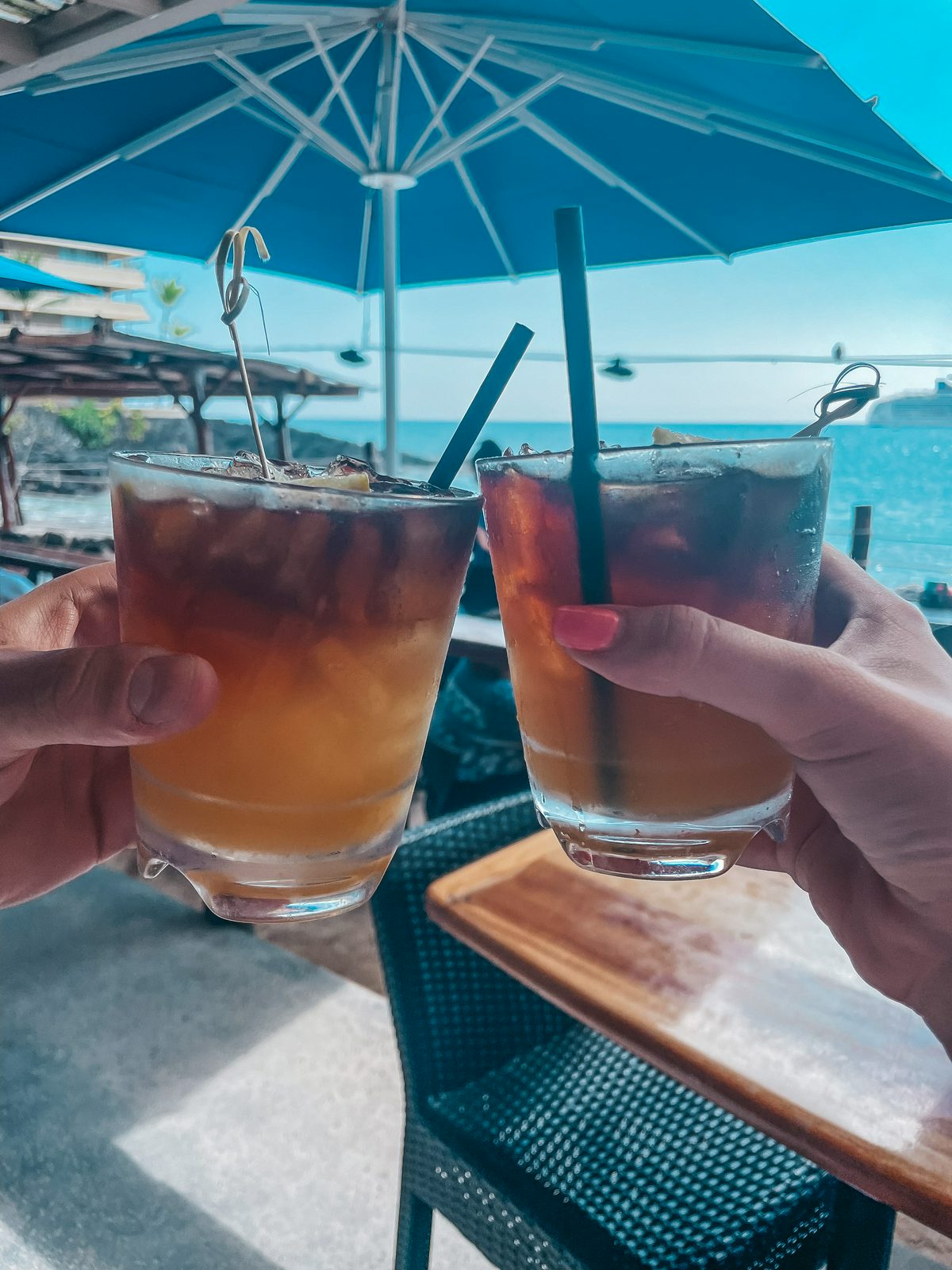 Big Island day 4
Wake up and get your morning started with an ube latte or cold brew from HICO Coffee. From here you can begin to make your way with your snorkel gear to Pu'uhonua O Honaunau National Historical Park.
We spent a little over an hour here, but you could easily spend more or less time depending on your itinerary and interest. There is parking here, and we just left our car parked here while we went to Two Step. It costs $20 per vehicle to enter the park, but again if you have the National Parks Pass it's free!
Right next door to Pu'uhonua O Honaunau National Historical Park is Two Step. It's a pretty popular snorkeling spot with hardly any sand, but that doesn't stop visitors from setting up camp and laying out right on the lava rocks.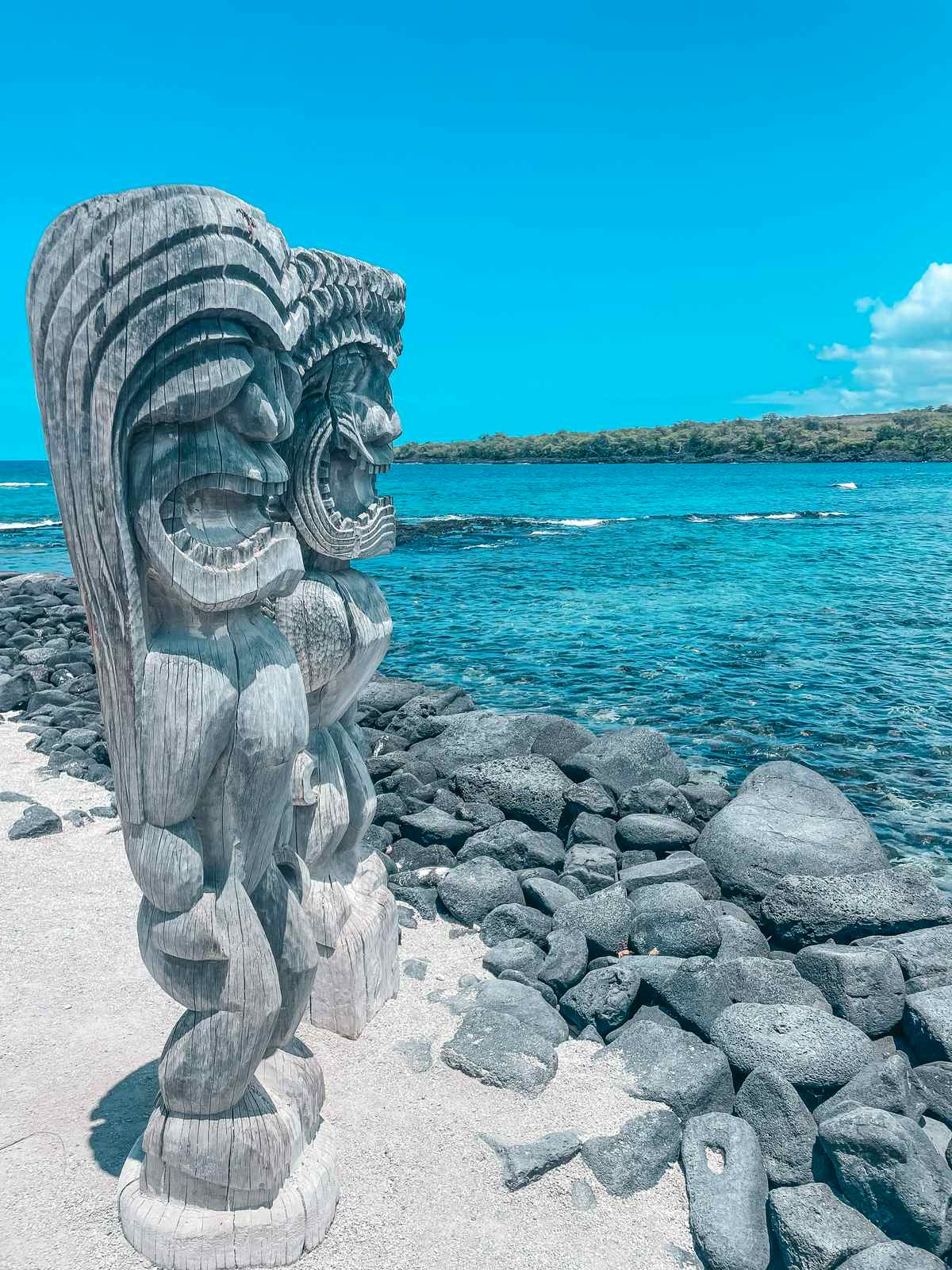 If you're hungry after this, Kona Brewing is an absolute must! They have great beers, and the food is so much more than your average pub fare. We did their roasted garlic and pizza rolls with homemade ranch, but everything from their wings to pizza looked and sounded amazing.
Now it's time for one of the coolest experiences you can possibly have— swimming with giant manta rays! Hawaii is one of the best places in the world to have this opportunity. While there are a few areas you can up your odds, off of the Kona Coast at night gives you the best chance.
This experience was truly so epic! Watching the manta rays do flips and tricks, and glide through the water is something you will never forget witnessing. I can assure you of that. Book your tour here!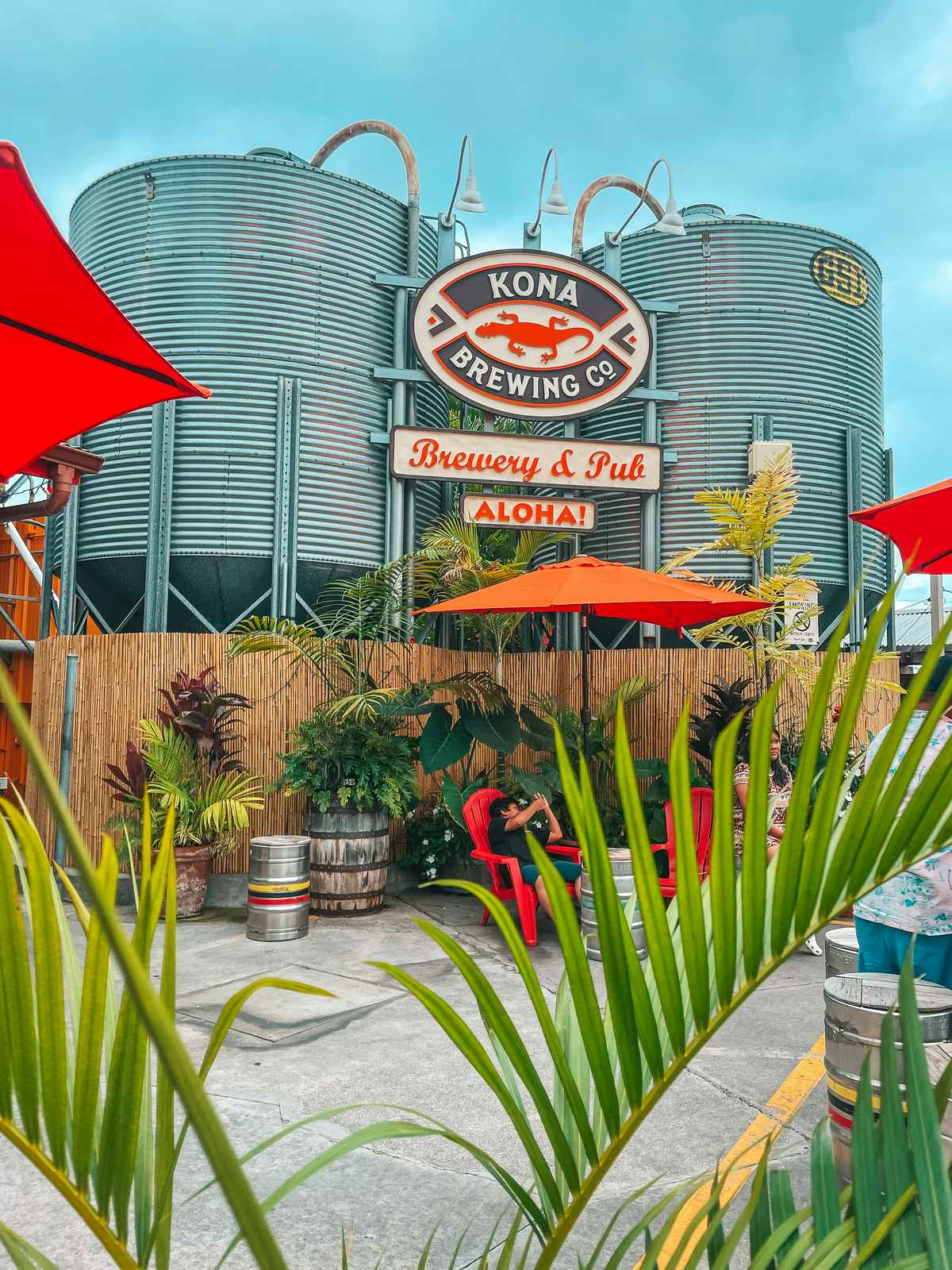 Day 7-11: Oahu
After four days on the Big Island, it's time to head to Oahu, the most populous island in the state and home to the capital city of Honolulu. Oahu is known for its beautiful beaches, such as Waikiki Beach and Kailua Beach, as well as its vibrant nightlife and cultural attractions.
I have been to Oahu 3 times, and spent a total of 2 1/2 months there, so it's honestly a little hard to break this up by the day. Instead, I am going to break it up by area and give you some of my favorite things to do and places to eat in each and let you create your own adventure!
I will say I suggest breaking your trip up by staying on the North Shore for half of your time, and either Kailua or Honolulu for the other half.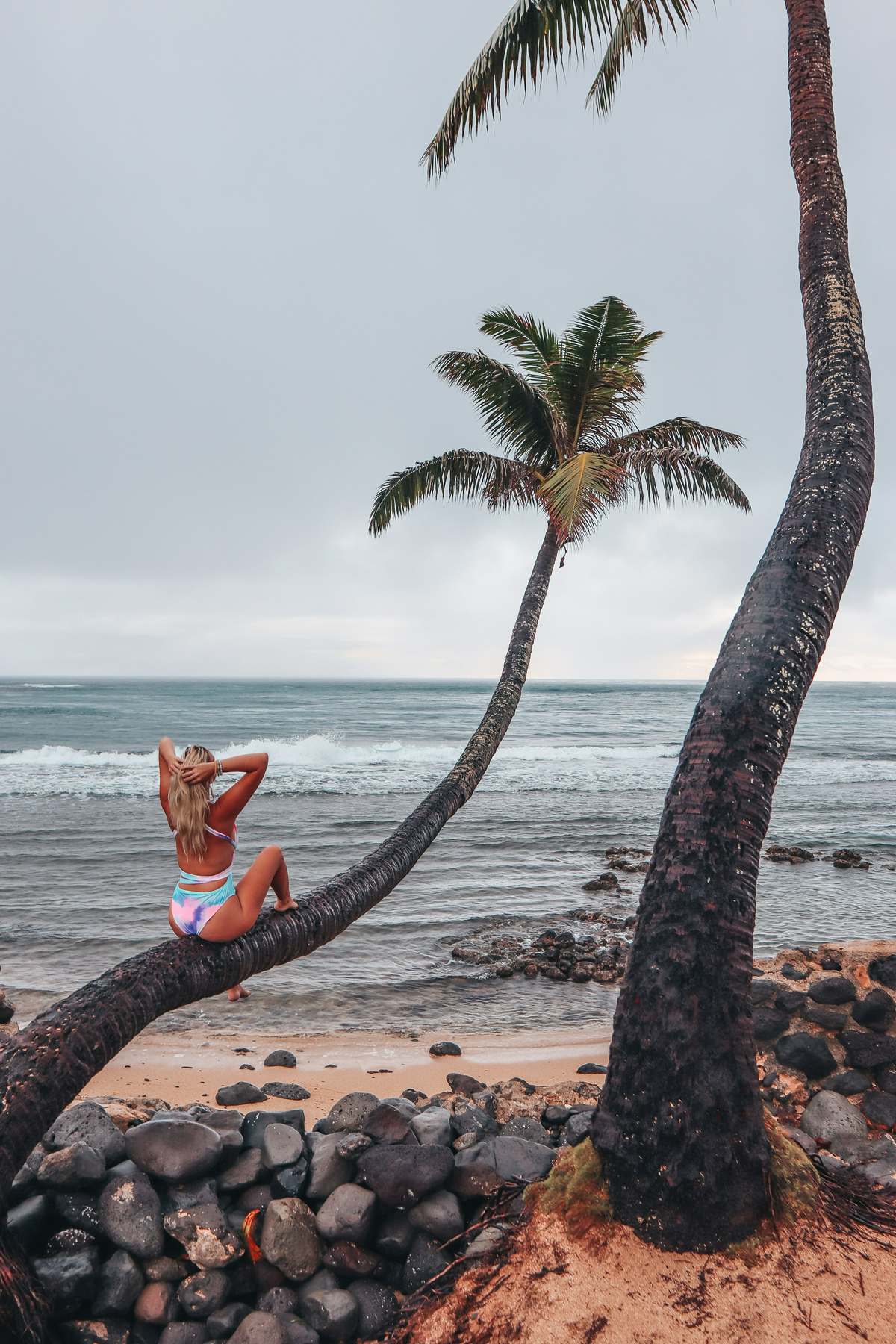 Where to stay in Oahu
In Honolulu, you'll find a wide variety of hotels, resorts, and vacation rentals to choose from. Some popular choices include the Royal Hawaiian, Moana Surfrider, and Sheraton Waikiki. For those looking for something more budget-friendly, the Holiday Inn Express that you stayed at is a great option, with its prime location, free breakfast, and fun rooftop games.
Another great option is the Ritz Carlton Waikiki, which offers stunning views of the ocean and the city. We stayed here a couple of years ago and we loved it!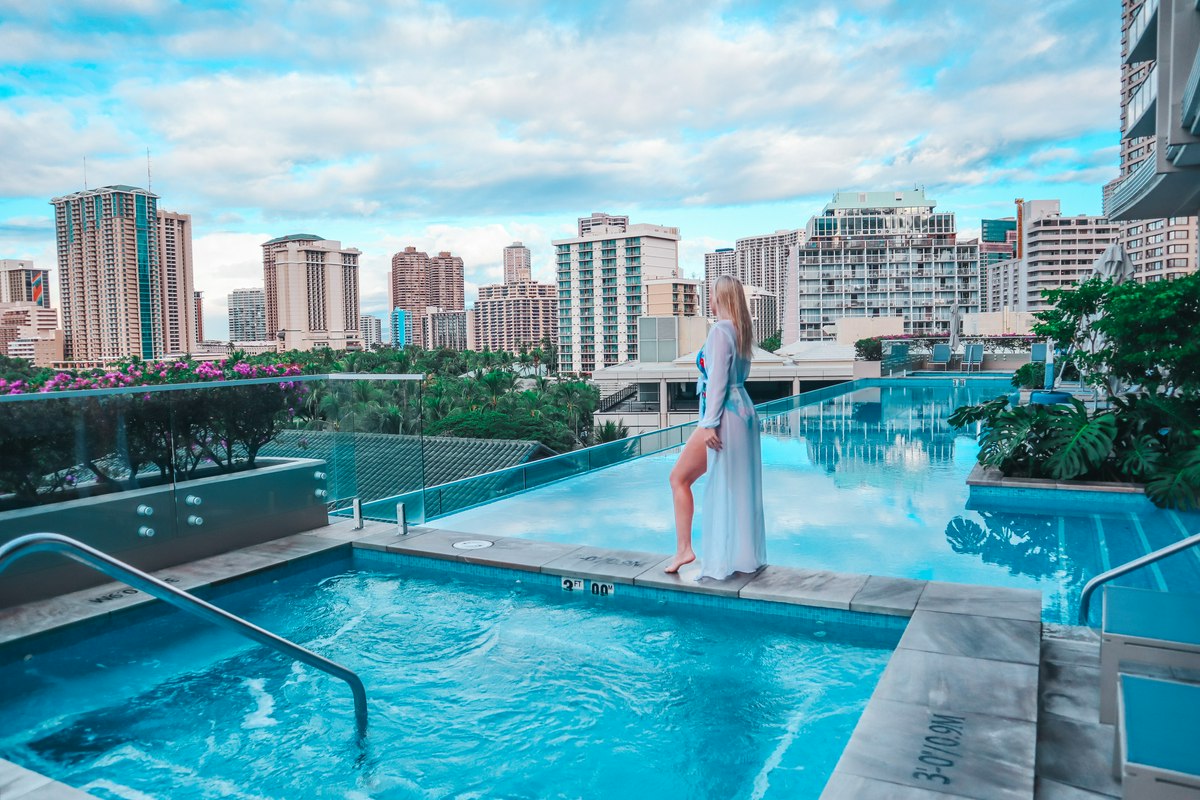 The downfall to staying in Honolulu is most places have resort fees and parking charges additionally.
The North Shore is a great place to stay if you're traveling with a group, as many rentals are houses that require longer stays. However, if you're looking to stay on the North Shore as an individual, it can be more difficult to find a place to stay. Check out your options for Haleiwa town here.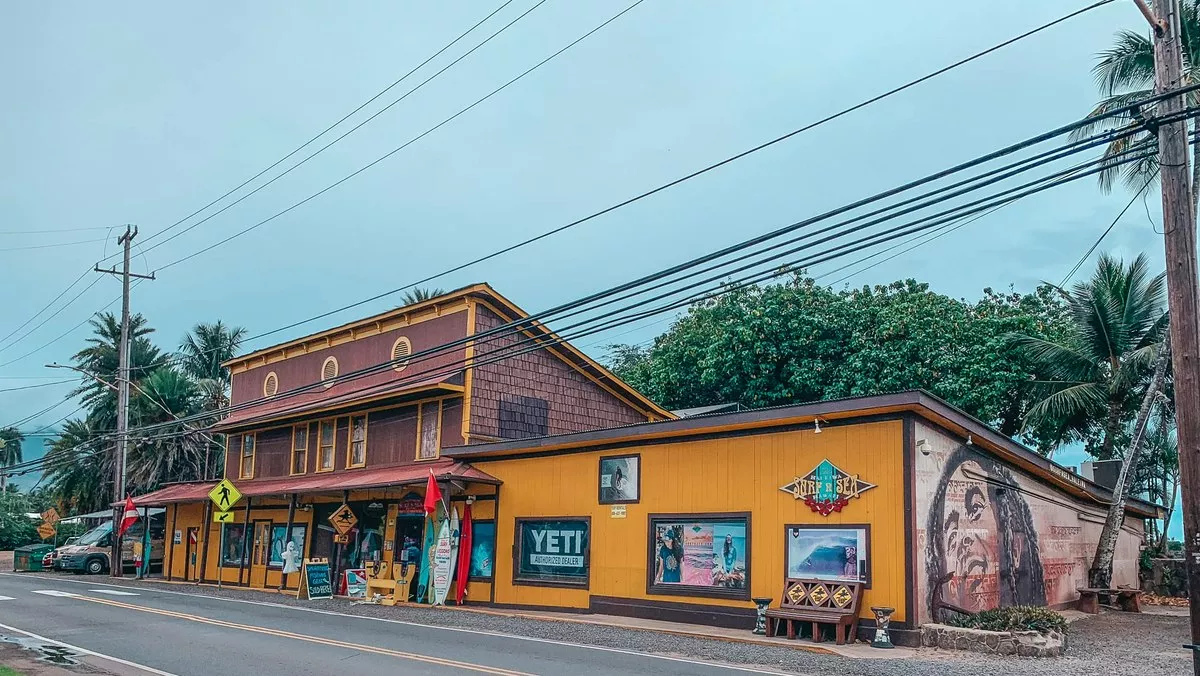 Kailua and Kaneohe don't really have any hotel options either, but there are some accommodations. If you plan on staying here, be sure to book in advance because the options are so limited. Check out your options for Kailua and Kaneohe here for free cancellations on most bookings.
Lastly, if you're interested in van life, it's worth noting that it's not technically allowed on some parts of the island and can come with some anxiety. However, it's a great way to experience the island and can offer a unique and memorable experience.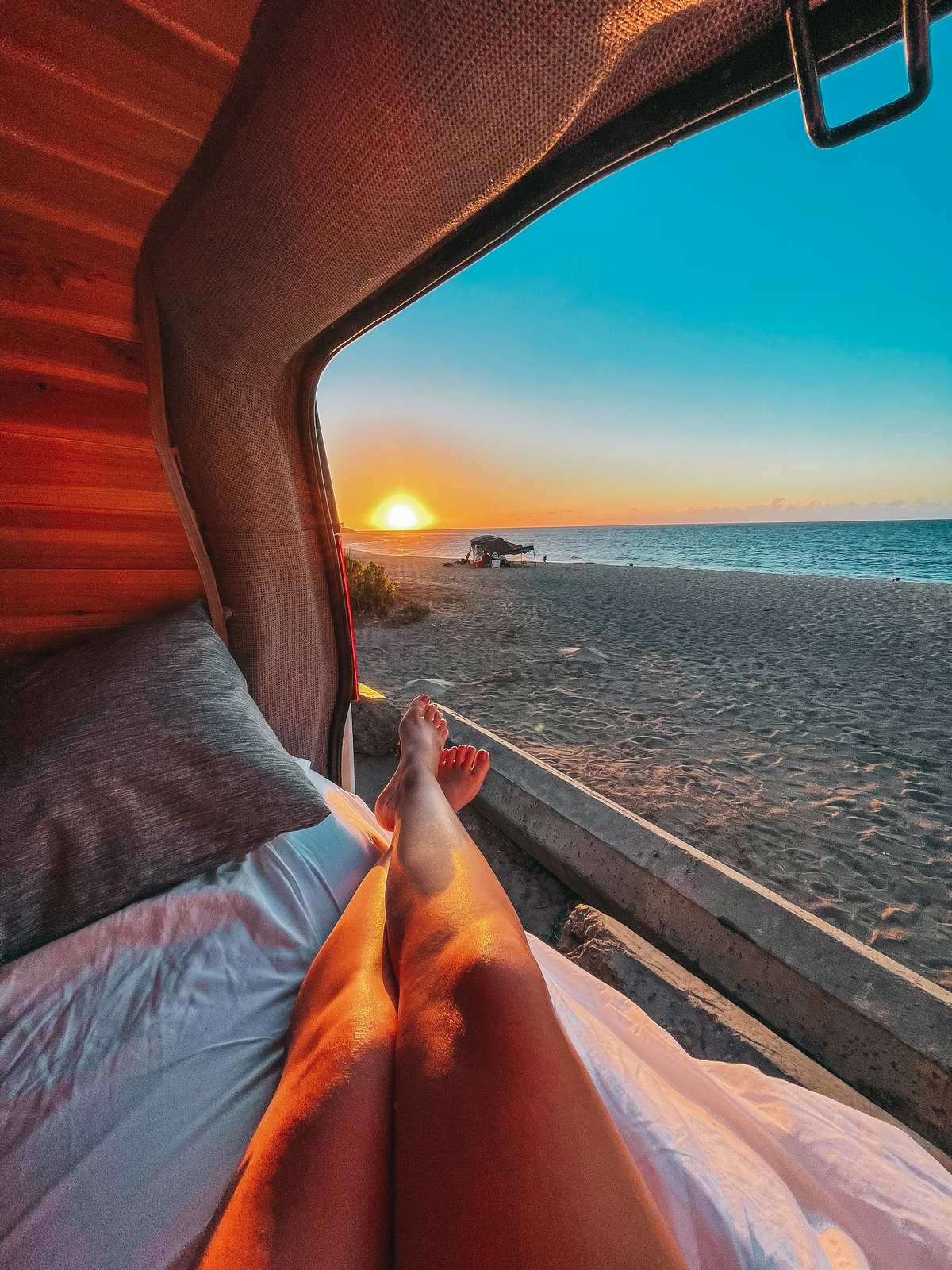 North Shore
Oahu's North Shore is known for its beautiful beaches, world-class surf spots, and laid-back atmosphere. The area offers a wide range of activities such as swimming, sunbathing, snorkeling, and hiking. The North Shore is also home to several historic sites, including the Polynesian Cultural Center, which offers a glimpse into Hawaii's rich cultural heritage.
It is particularly famous for its massive winter waves, which attract surfers from all over the world to compete. Overall, the North Shore offers a unique blend of natural beauty, adventure, and culture.
Toa Luau— There are tons and tons of luaus to choose from, and I researched a lot before deciding to go with Toa Luau. They had great reviews and the price was good for what was included. You even get free admission to Waimea Valley!
Go cage diving with sharks— Nothing like waking up at the crack of dawn to go cage diving with sharks, right? I have done this excursion twice when visiting Oahu, and the last time I went I finally got to experience swimming with sharks without the cage (peep the video here)! It was absolutely terrifying, but I would do it again!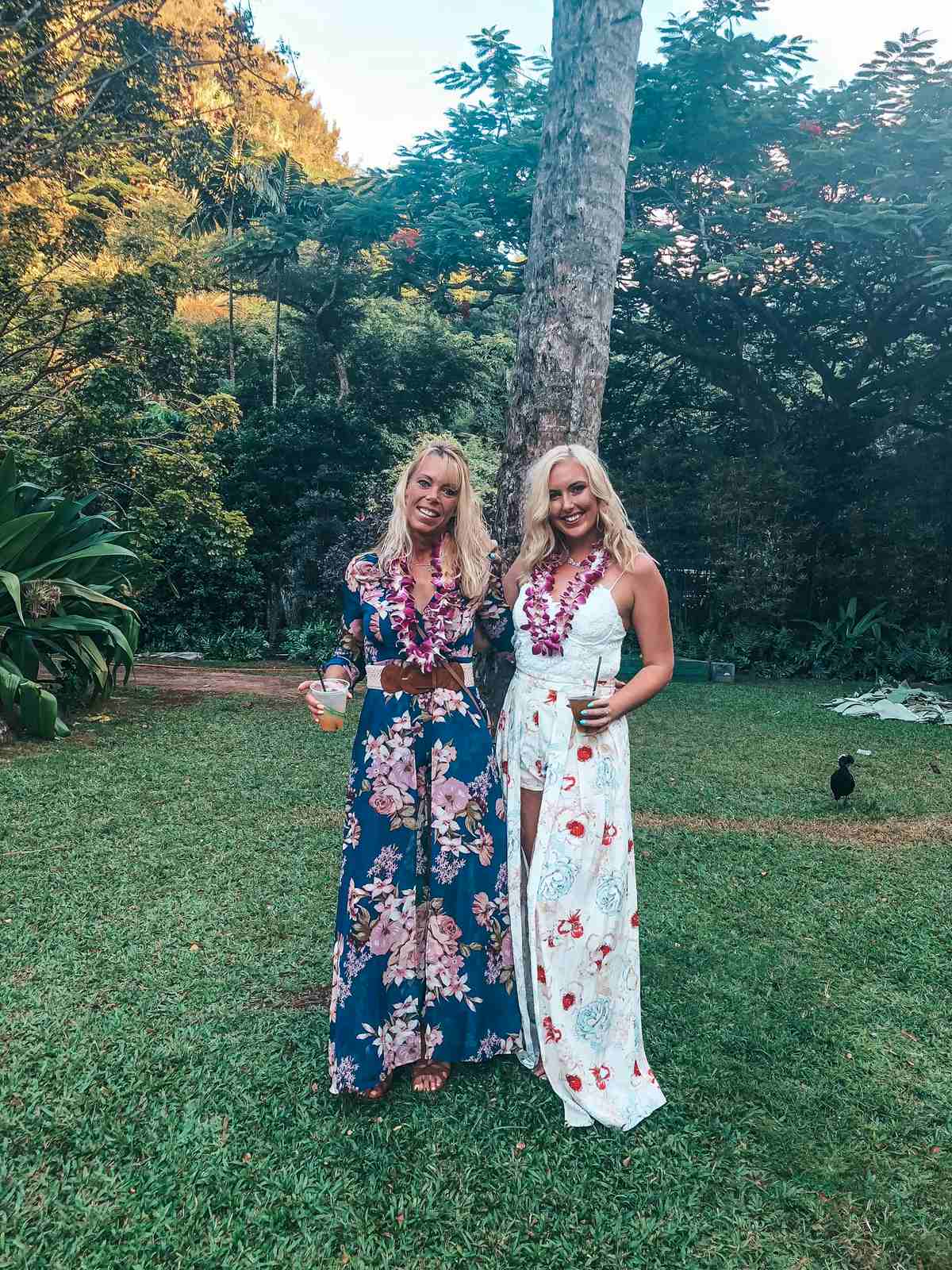 Cliff jumping at Waimea Bay— Even if you don't want to cliff jump, you should still go to Waimea Bay.  This beach is absolutely breathtaking. The gold sand and blue waters are beyond epic! Not to mention it was much more chill than the beaches we visited around Waikiki.
Surf lesson— Taking surfing lessons is definitely one of the most epic things to do on the North Shore of Oahu. This excursion includes a 2-hour surf lesson where they provide your surfboard and other necessary equipment along with a free 15-minute basics practice before hitting the water and turtle tour.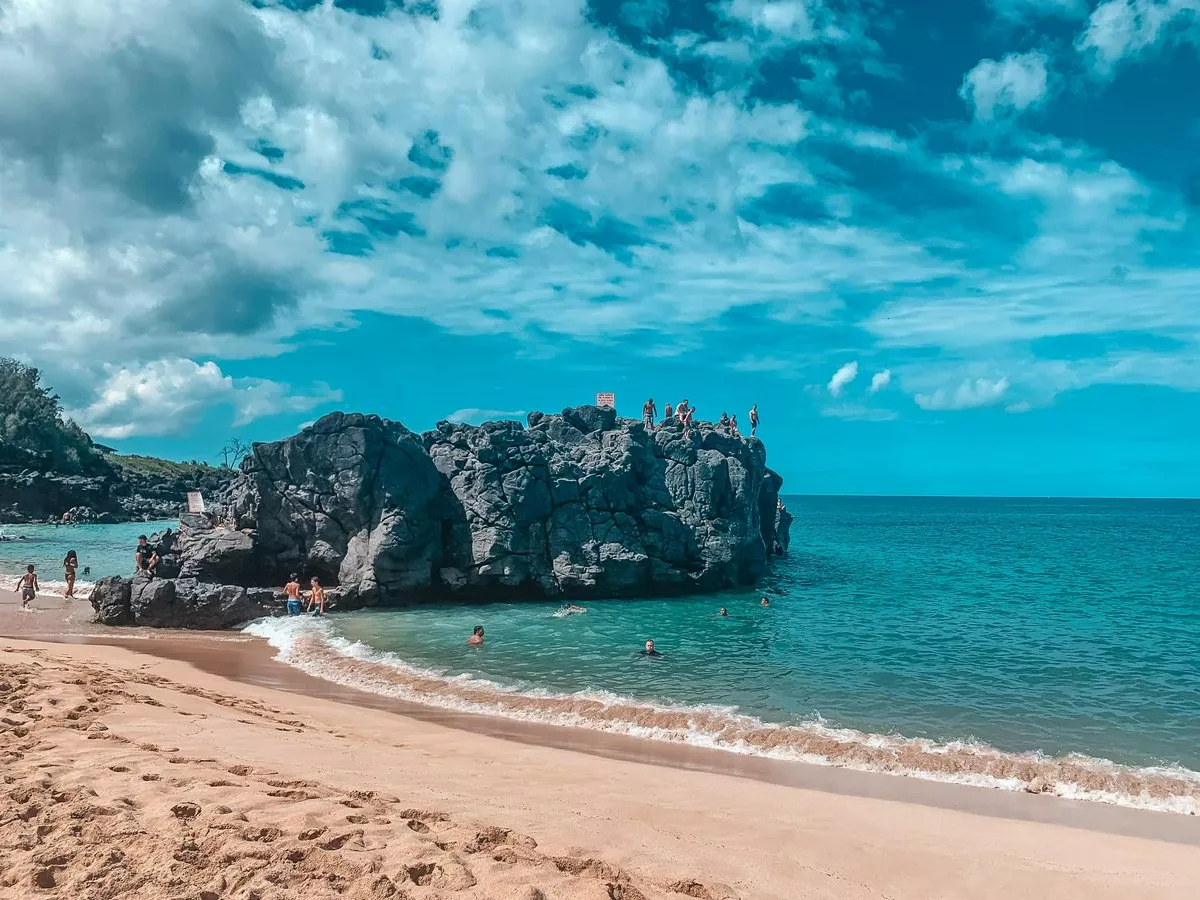 Banzai Sushi— This is truly some of the best sushi I have ever had. I highly recommend the California tempura roll. I mean, the whole roll is deep-fried — need I say more? Aside from the food, Banzai has a unique atmosphere and offers traditional floor seating if you choose.
Kono's North Shore— Konos has several locations on the island (we actually visited them all, because we liked it that much!), so no matter where you are, you can most likely find their heavenly Kalua pig plates, breakfast bombers, and milkshakes.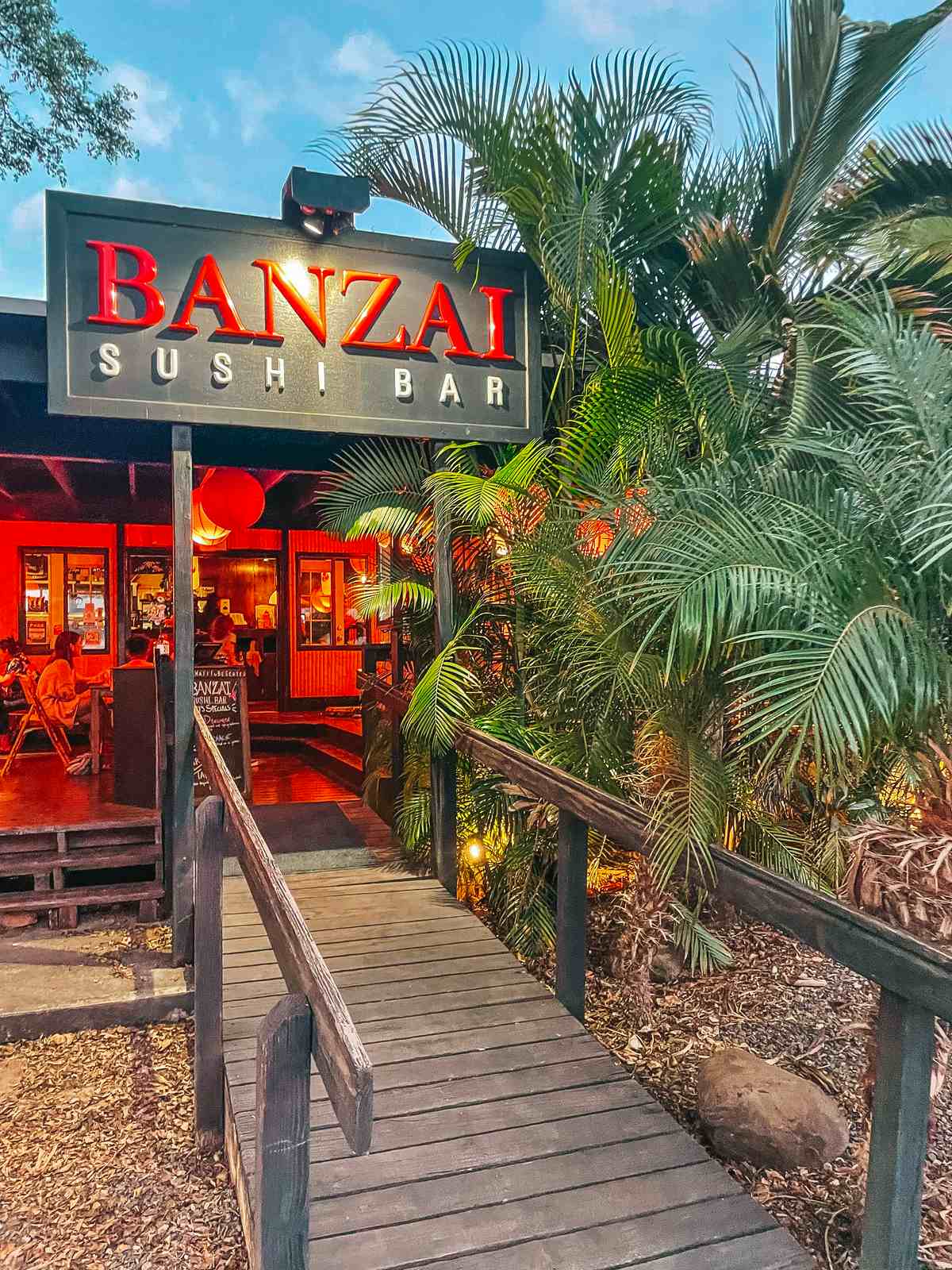 Farm to Barn— Farm To Barn is a healthy cafe located just a short distance from its own organic farm and serves cold-pressed juice and tasty, reasonably priced farm-to-table meals. Their acai bowls are amazing!
Food truck fare— Having at least one food truck experience while you're on Oahu's North Shore is a must! The Aji Limo truck is one of my faves.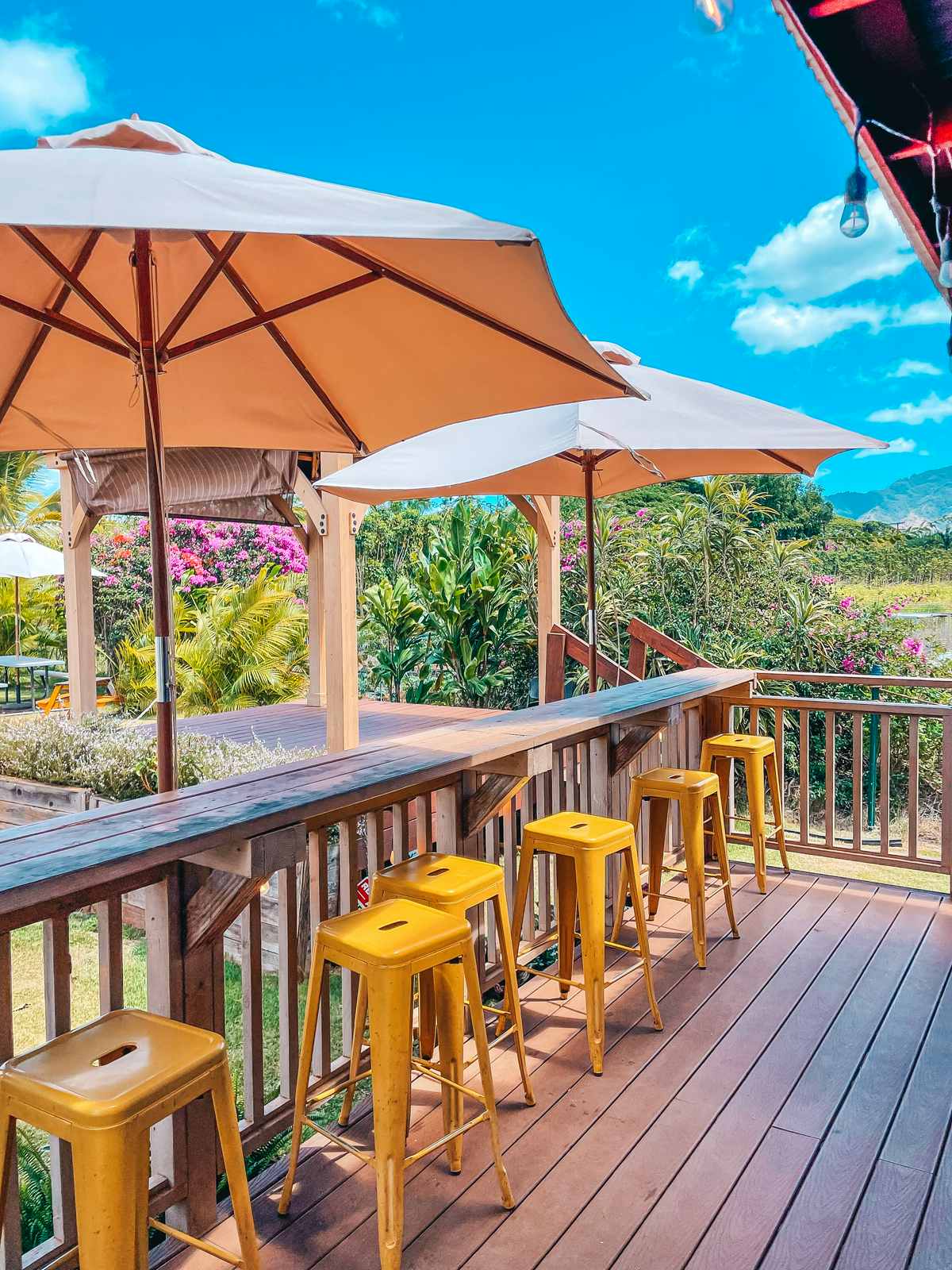 Kailua and Kaneohe
These two towns are located on the windward side of Oahu. Kailua is a charming coastal town with a small-town feel, offering a variety of outdoor activities such as kayaking and stand-up paddleboarding in the crystal clear waters of Kailua Bay. The town is also home to the serene and picturesque Lanikai Beach, which is often ranked as one of the best beaches in the world. It also has a bustling shopping and dining scene, with many local boutiques, cafes, and restaurants.
Kaneohe is a suburban town that is home to the largest freshwater marsh in Hawaii, Kaneohe Bay, which is a popular spot for fishing and boating. Both Kailua and Kaneohe are relatively less crowded compared to other tourist hotspots on the island and offer a more laid-back and authentic Hawaiian experience.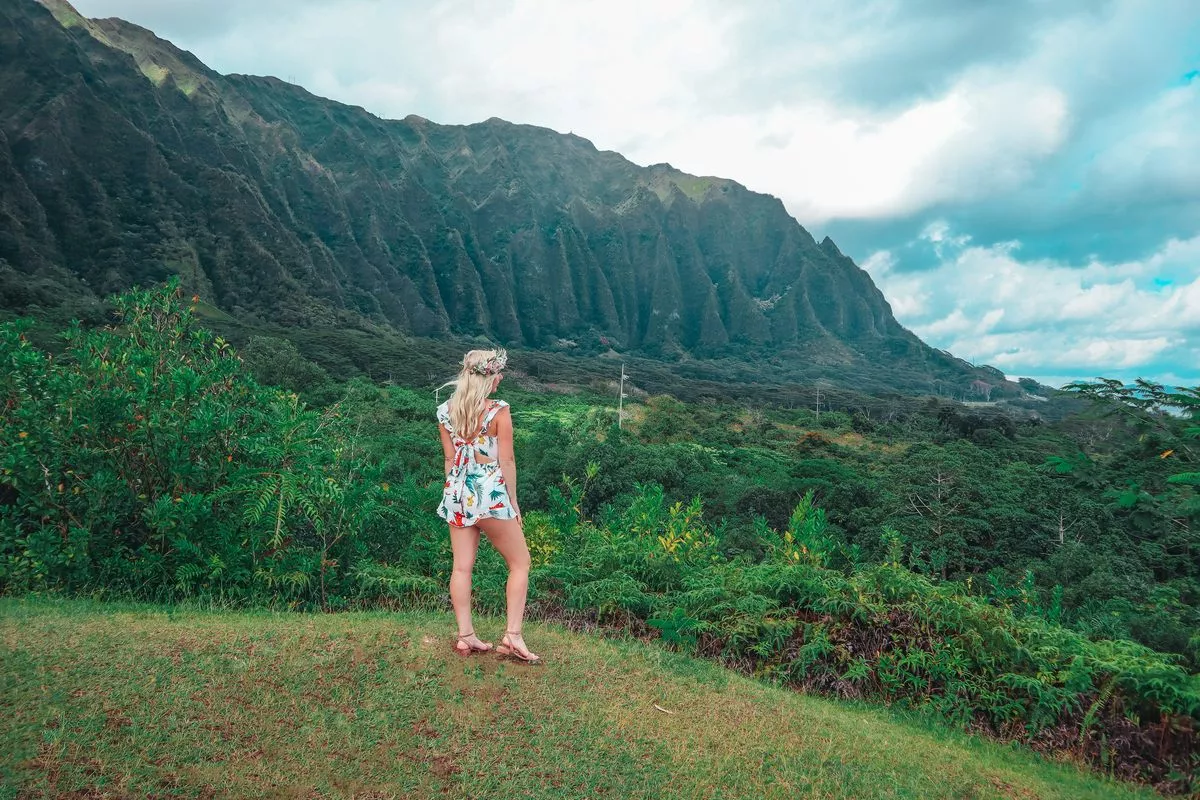 Lanikai Pillbox hike— This is one of the best hikes on Oahu, and I honestly think it's one I will do every time I visit. The best time to do the Lanikai Pillbox hike is at sunrise. It's absolutely magical.
Kayak at Kailua Bay— Kayaking around the beautiful beaches is easily one of the best things to do in Kailua. With Kailua Beach Adventures you can choose between a guided or self-guided tour that takes you on a half-day eco-adventure.
Snorkel at the Kaneohe Sandbar— Kaneohe Sandbar is an excellent spot for swimming and snorkeling, however, it's tricky to get there without your own boat. That's where Captain Bruce Private Yacht Charters comes in!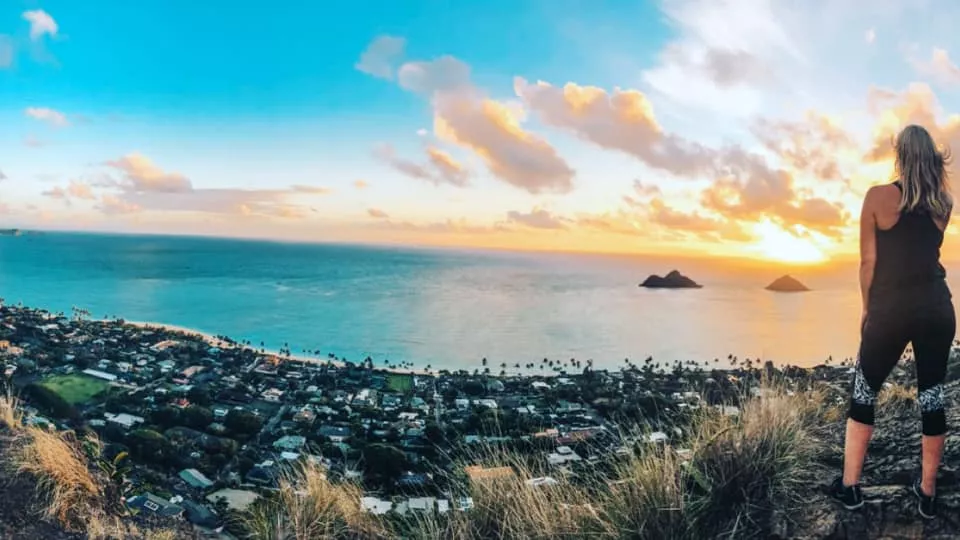 Byodo-In Temple— The Byodo-In Temple in Oahu is a smaller-scale replica of the over 950-year-old Byodo-In Temple in Uji, Japan. Admission is only $5, and you can even call ahead to reserve a guided tour if it interests you.
Ho'omaluhia Botanical Garden— Once you're done at the Byodo-In Temple, you may as well head 20 minutes south to check out the Ho'omaluhia Botanical Garden. Naturalists will especially enjoy this location— it truly makes you feel like you're in paradise.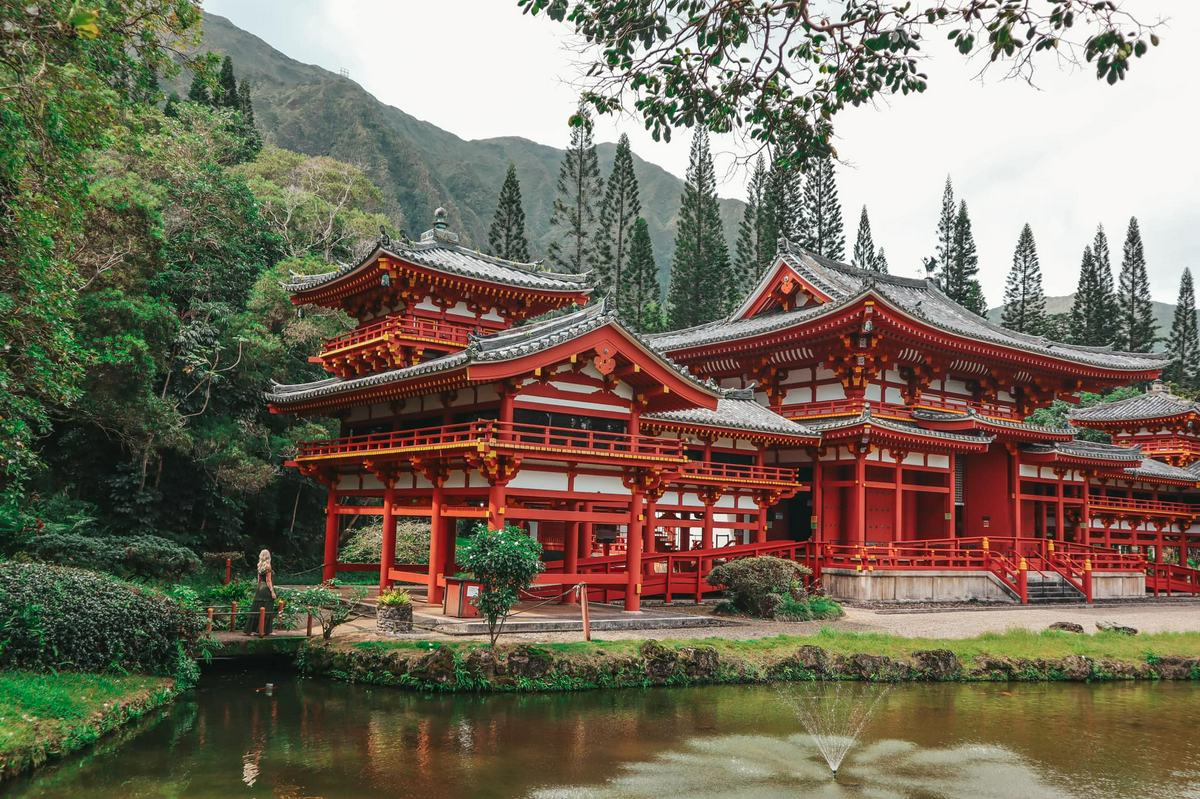 Haleiwa Joe's— Haleiwa Joe's is hands down the best restaurant experience you will have on Oahu. The views are breathtaking, the food is immaculate, and the drinks set a gold standard. We went here several, and I can't wait to experience this place again when I go back.
Taqueria El Gallo Rosa— Taqueria El Gallo Rosa had some of the best tacos I found on the island! I enjoyed their pork carnitas and Baja fish tacos, and both were bursting with flavor!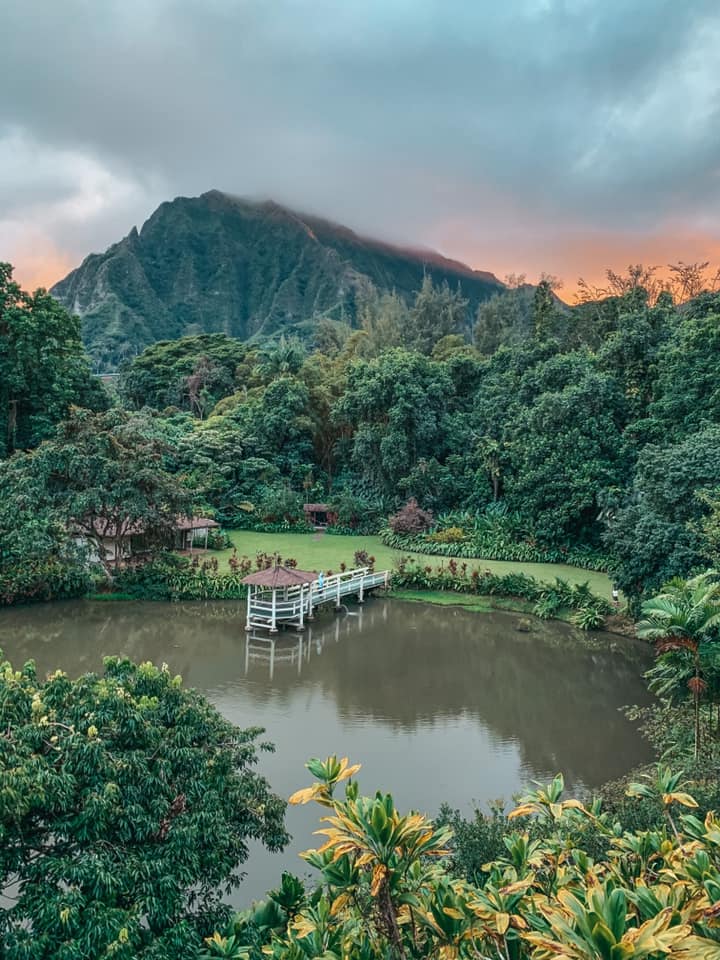 Kailua Town Pub and Grill— I love the casual atmosphere of Kailua Pub, and the prices are extremely reasonable. They have seafood, pizza, soups, sandwiches, and other general pub fares.
Boardroom— The Boardroom uses freshly chosen, pressed, and prepared items that are locally sourced and handcrafted. The creative and delicious libations served here are enough to keep you hanging out all night long but don't leave without sampling something from their tapas menu.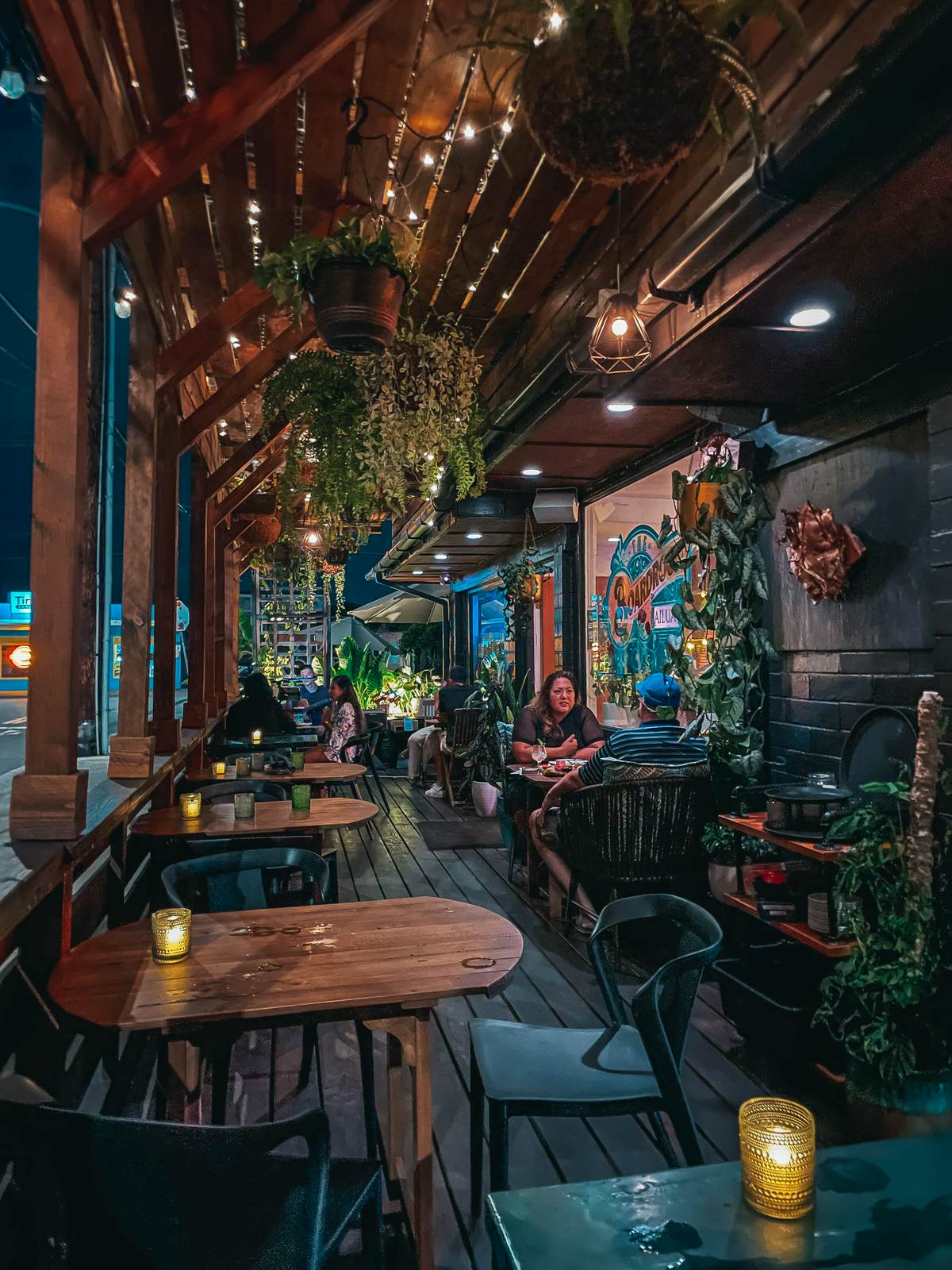 Honolulu/Waikiki
Waikiki and Honolulu are two popular tourist destinations located on the south shore of the island of Oahu, Hawaii. Waikiki is a neighborhood within the city of Honolulu, known for its beautiful beaches, world-class hotels, and vibrant nightlife. The area is a popular destination for tourists from around the world, partially because it is home to the iconic Waikiki Beach.
Honolulu, the capital of Hawaii, is a bustling and cosmopolitan city, offering a mix of urban and natural attractions. The city is known for its rich cultural heritage, as well as its modern amenities. Visitors can experience the city's history at sites like the Iolani Palace and the USS Arizona Memorial, or take a stroll through the historic neighborhoods of Chinatown and Kakaako.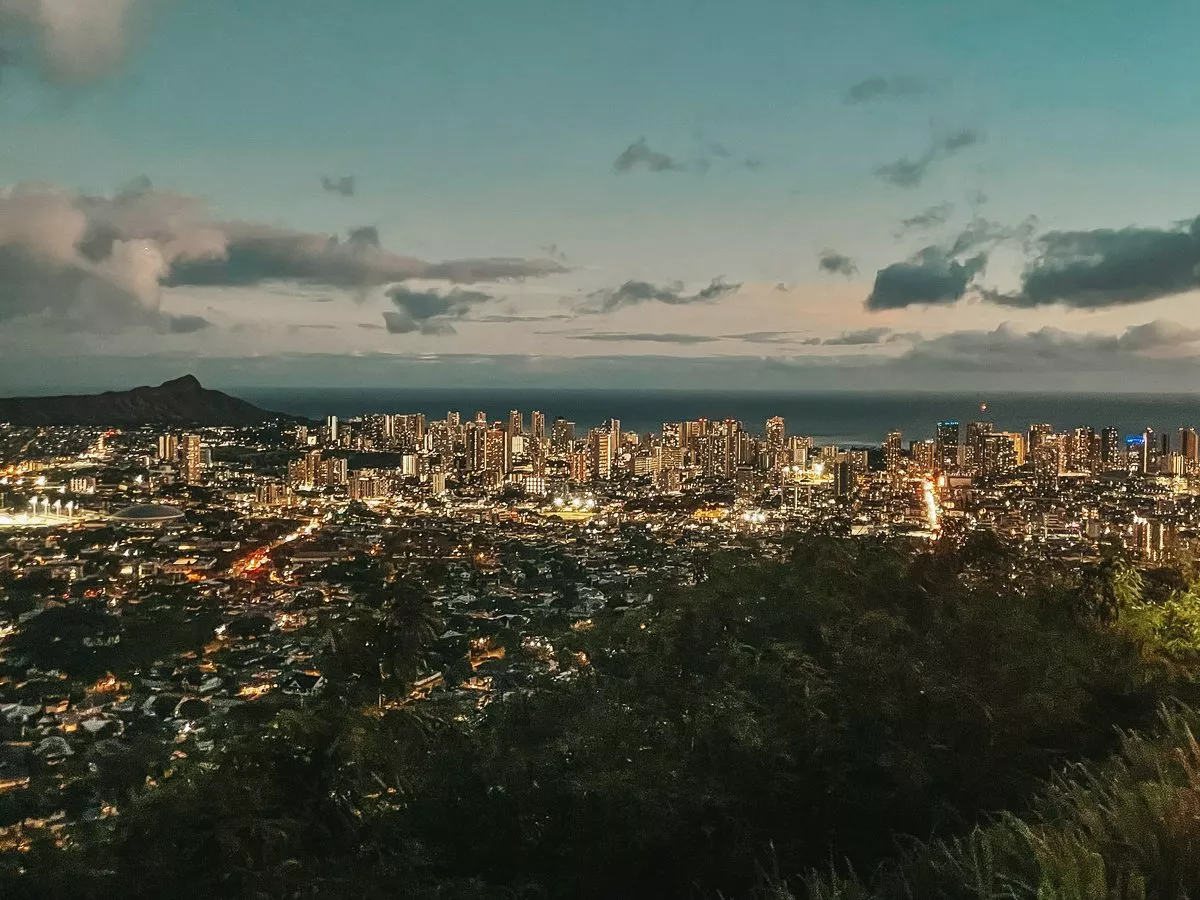 Some of the best things to do in Honolulu/Waikiki:
Watch the sunset at Tantalus— Tantalus Lookout may just be my favorite free thing to do in Oahu! If you are looking for the perfect place to enjoy the sunset on Oahu with minimal effort, this is it. Take in stunning views of the Waikiki skyline and Diamond Head volcano cone from this scenic overlook.
Check out the fireworks in Waikiki— You don't need to wait for the Fourth of July to see fireworks in Hawaii! Every Friday the Hilton Hawaiian Village Waikiki Beach Resort showcases a spectacular firework show free to the public.
Diamond Head— Diamond Head is probably the most photographed attraction in Hawaii. Hiking to the summit of this saucer-shaped crater is one of the most famed activities on the island and it offers the most astounding views of Waikiki.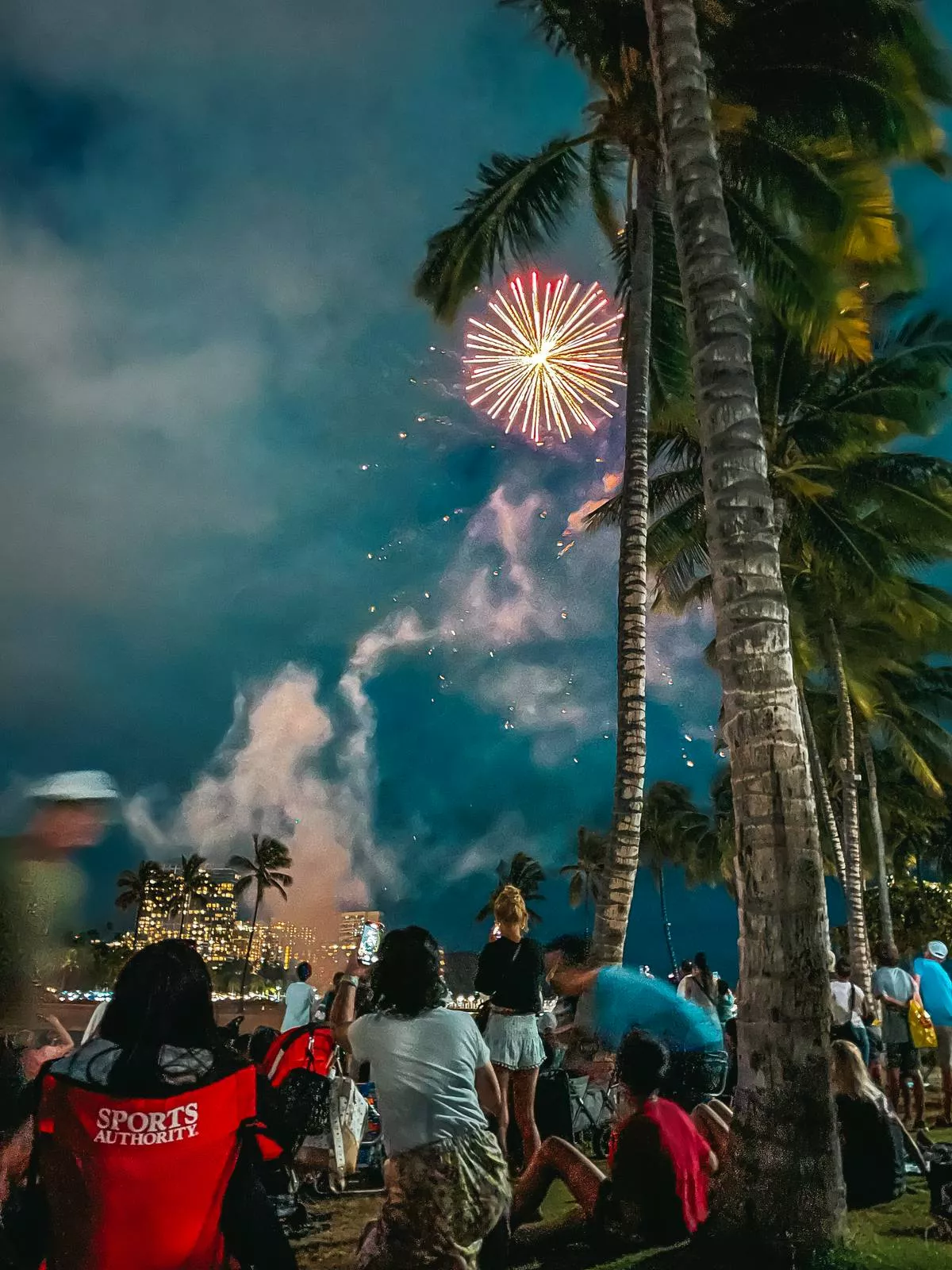 Whale watching tour— Out of all the time I have spent in Oahu I have unfortunately never been here for whale season! If you are here during this time I highly recommend doing a whale-watching excursion.
Lively sunset cruise— The sunset cruises out of Waikiki are so much fun! This cruise has a DJ and dance floor. Or you can go on a cruise that has an open bar. If you want more adventure, there is an awesome daytime snorkel cruise to Turtle Canyon as well.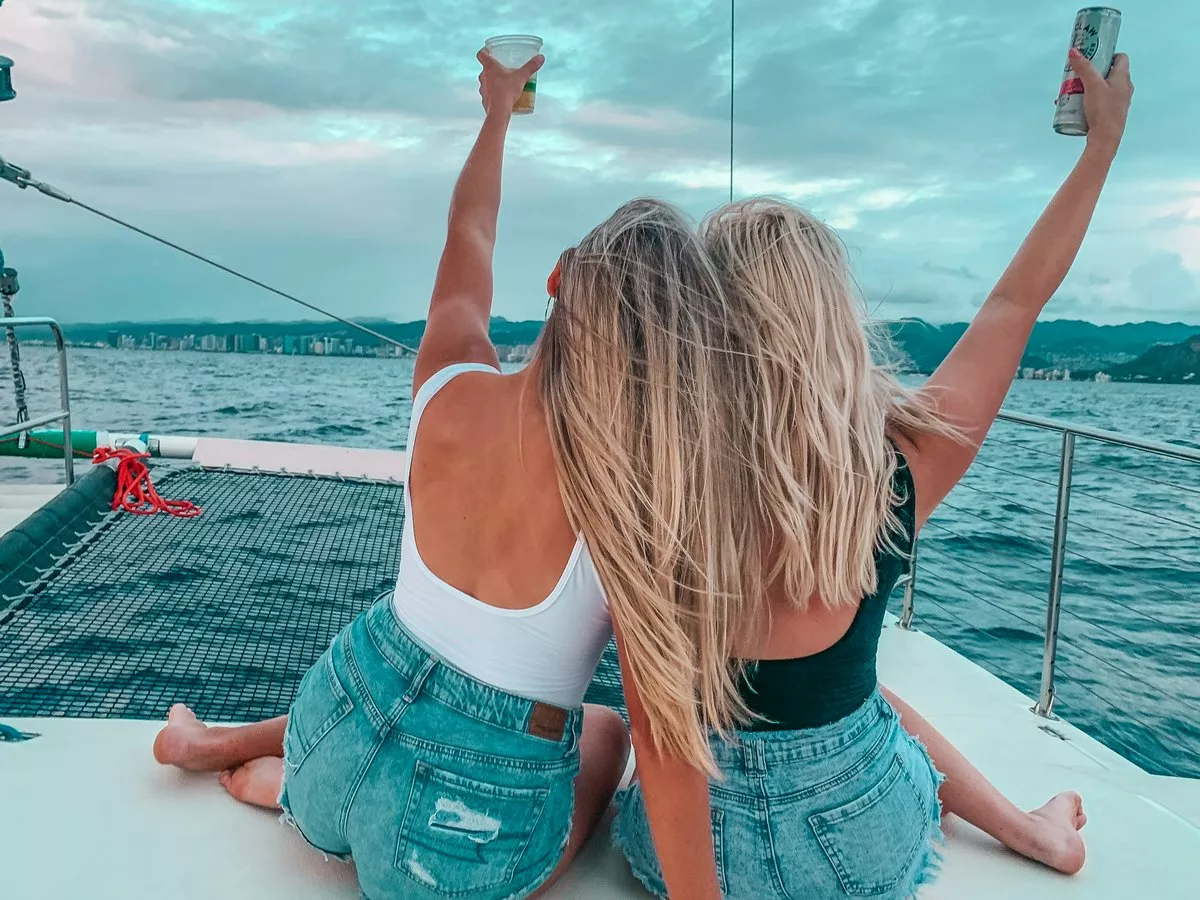 Some of the best restaurants in Honolulu/Waikiki:
Dukes— Dukes is a popular restaurant known for its beautiful oceanfront setting and classic Hawaiian cuisine. The menu features fresh seafood and local ingredients, as well as classic dishes such as poke bowls and Hawaiian-style BBQ. It's a great spot for a romantic dinner or a casual lunch with a view.
The Surfing Pig— This trendy gastropub in the heart of Waikiki serves up delicious comfort food with a Hawaiian twist. The menu features a variety of dishes that are perfect for sharing, including their famous pork sliders, poke nachos, and truffle fries.
53 by the Sea— This upscale seafood restaurant located in the heart of Honolulu is known for its stunning ocean views and modern seafood-centric menu. The menu features creative dishes such as lobster risotto and sous-vide fish. It's a great spot for a special occasion or a romantic dinner. (Peep my TikTok here.)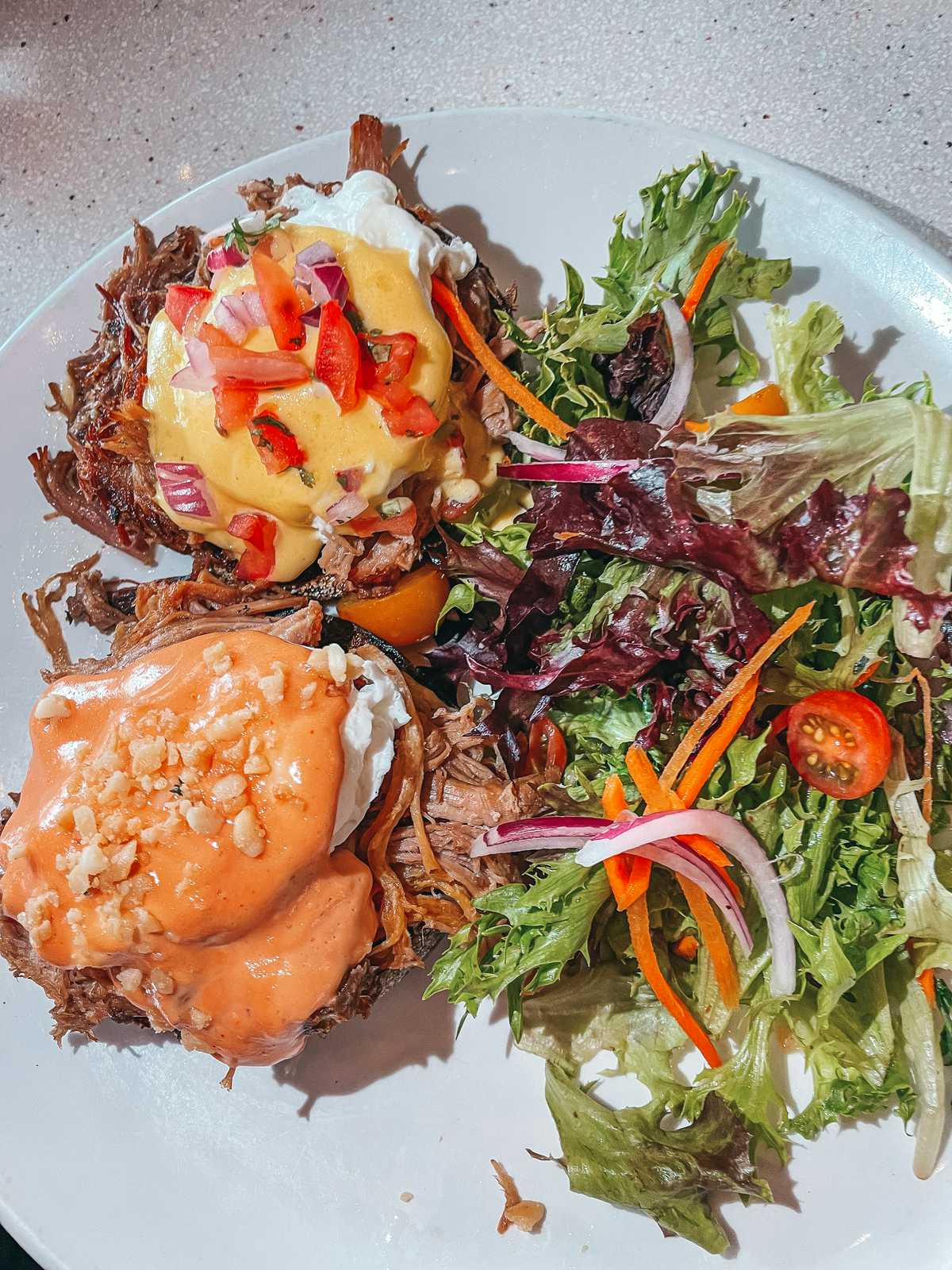 Moku Kitchen— This farm-to-table restaurant located in Kakaako serves up delicious and locally-sourced cuisine with a Pacific Rim twist. They have a great happy hour, and some of the best mai tais on the island!
Red Fish Poke— Red Fish Poke serves up delicious poke bowls made with fresh, locally-sourced seafood. They have a variety of bowls to choose from, as well as build-your-own options. This was my second favorite poke bowl spot from our entire 2 weeks in Hawaii! (Umekes on Big Island was my first.)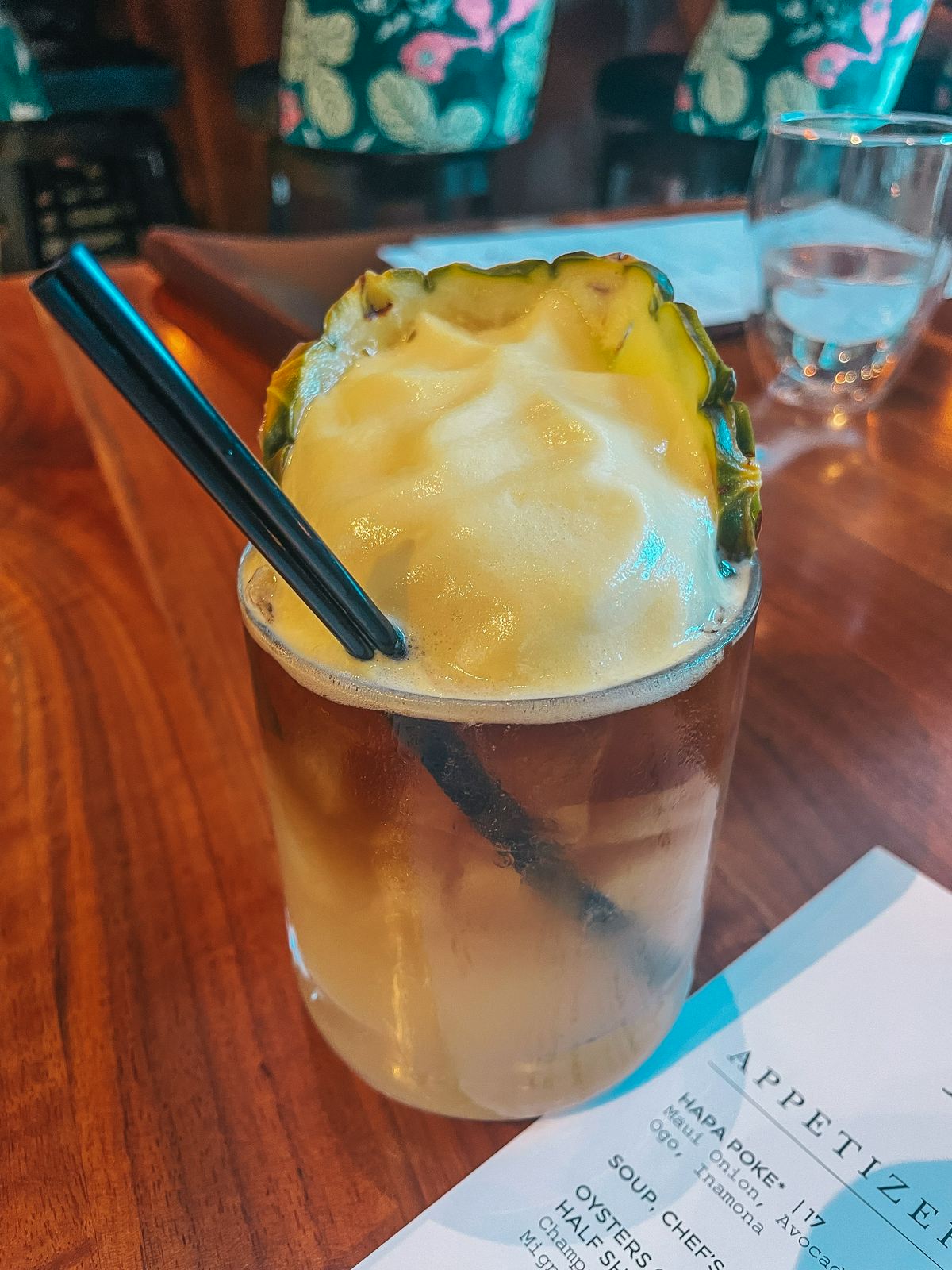 Day 11-14: Kauai
Your final stop on this two-week Hawaiian adventure is Kauai, the "Garden Island" of Hawaii. This island is known for its beautiful beaches, such as Poipu Beach and Hanalei Bay, as well as its stunning natural beauty, including the Waimea Canyon and the Napali Coast.
Kauai is known for its rugged cliffs and lush jungles. One popular attraction is Waimea Canyon, also known as the "Grand Canyon of the Pacific." You can also visit the Napali Coast, a stretch of sea cliffs that can be seen by boat or by hiking the Kalalau Trail. The Fern Grotto is also a must-see, it's a natural lava cave surrounded by lush vegetation.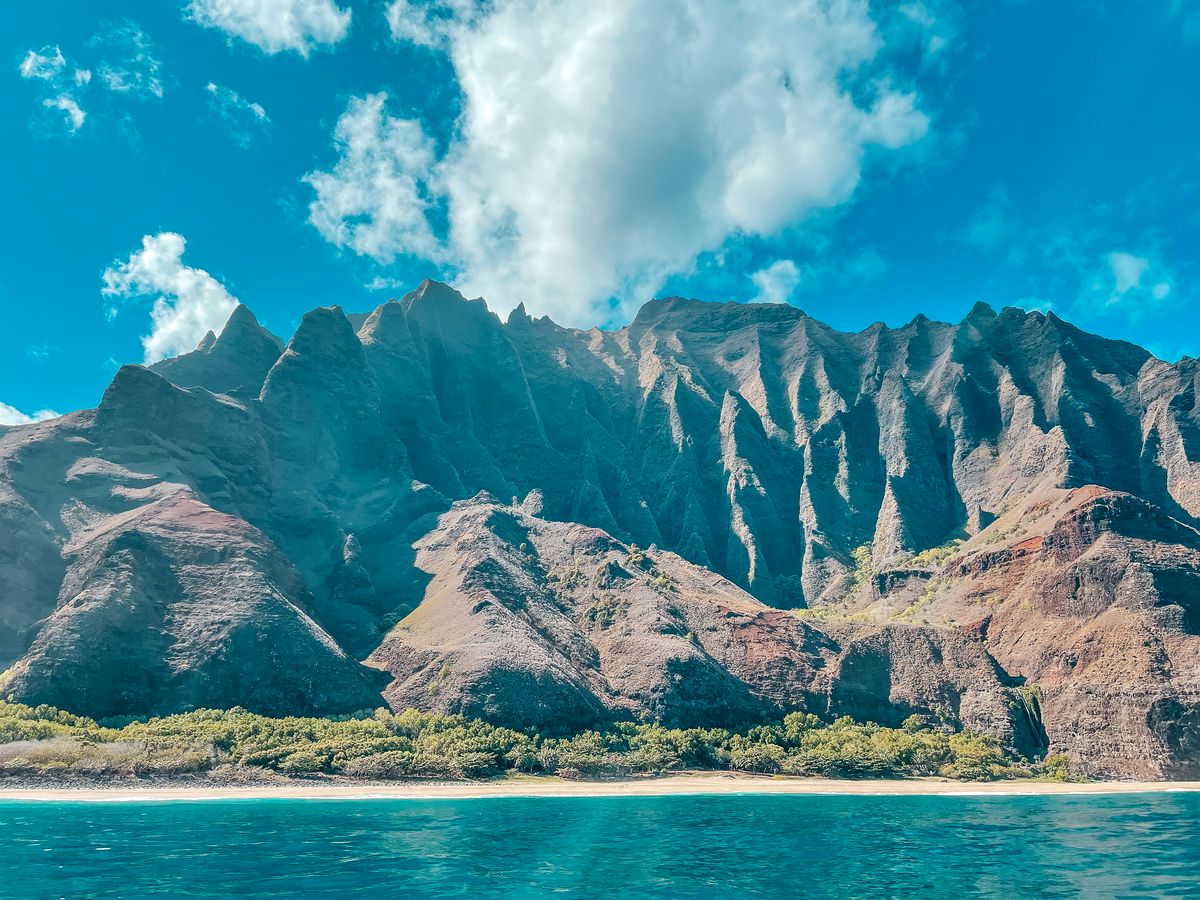 Where to stay in Kauai
If you're looking for a great place to stay in Kauai, I highly recommend the Kauai Shores Hotel. I stayed there during my 3-day trip and found it to be perfect. The hotel is located right on the beach, just minutes away from some of the most beautiful and popular attractions on the island. It's also conveniently located in the middle of the island in Kapaa, making it easy to explore all the different areas of Kauai.
At Kauai Shores Hotel, you'll get all the perks you expect from a top-notch hotel, such as free Wi-Fi and a comfortable pool area. But that's not all – they also offer free bikes to explore the island, morning yoga classes, and an amazing onsite restaurant: Lava Lava Beach Club. It's one of the few places in Kauai that offers everything you need for an amazing vacation. Whether you're looking for a romantic getaway or an exciting adventure, Kauai Shores Hotel is the perfect place to stay.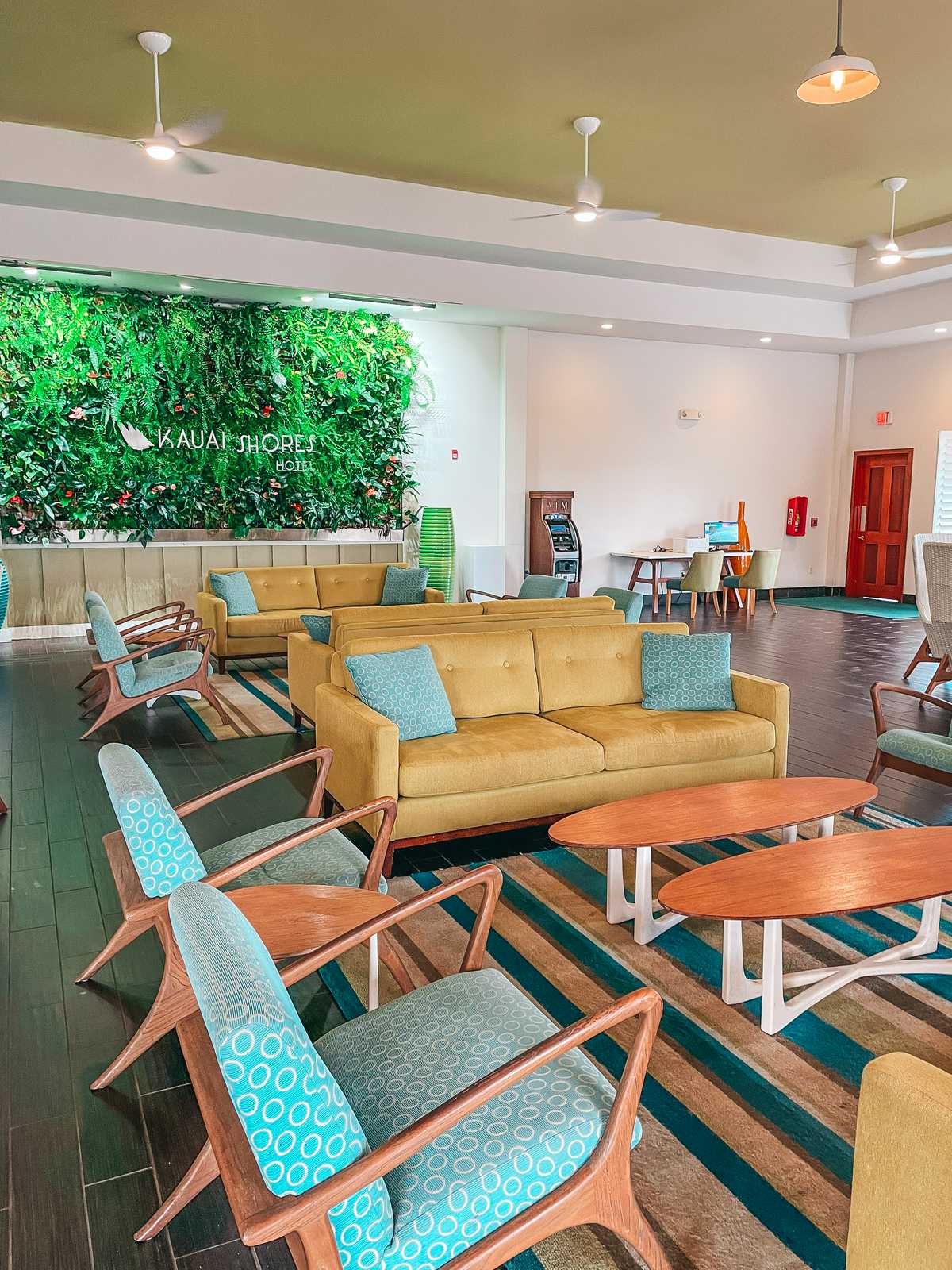 Day 1 in Kauai
Pack plenty of snacks to bring with you on this adventurous day! Start your Kauai adventure by taking a thrilling raft tour with Go Blue Adventures! You'll explore the Na Pali Coast by zipping through caves and waterfalls while appreciating the view from the ocean. This was one of my favorite activities from our 2 weeks in Hawaii!
Check out my Hawaii packing list recommendations!
I recommend doing the 7 am tour so you can get your day started bright and early! The excursion is 5 hours and includes some time for snorkeling and snacks. We were able to jump off of the raft multiple times and encountered dolphins, tropical fish, and sea turtles. The tour guides are absolutely hilarious and full of knowledge and fun facts!
If there's one thing you absolutely have to have on your Kauai 3-day itinerary, it's gotta be this.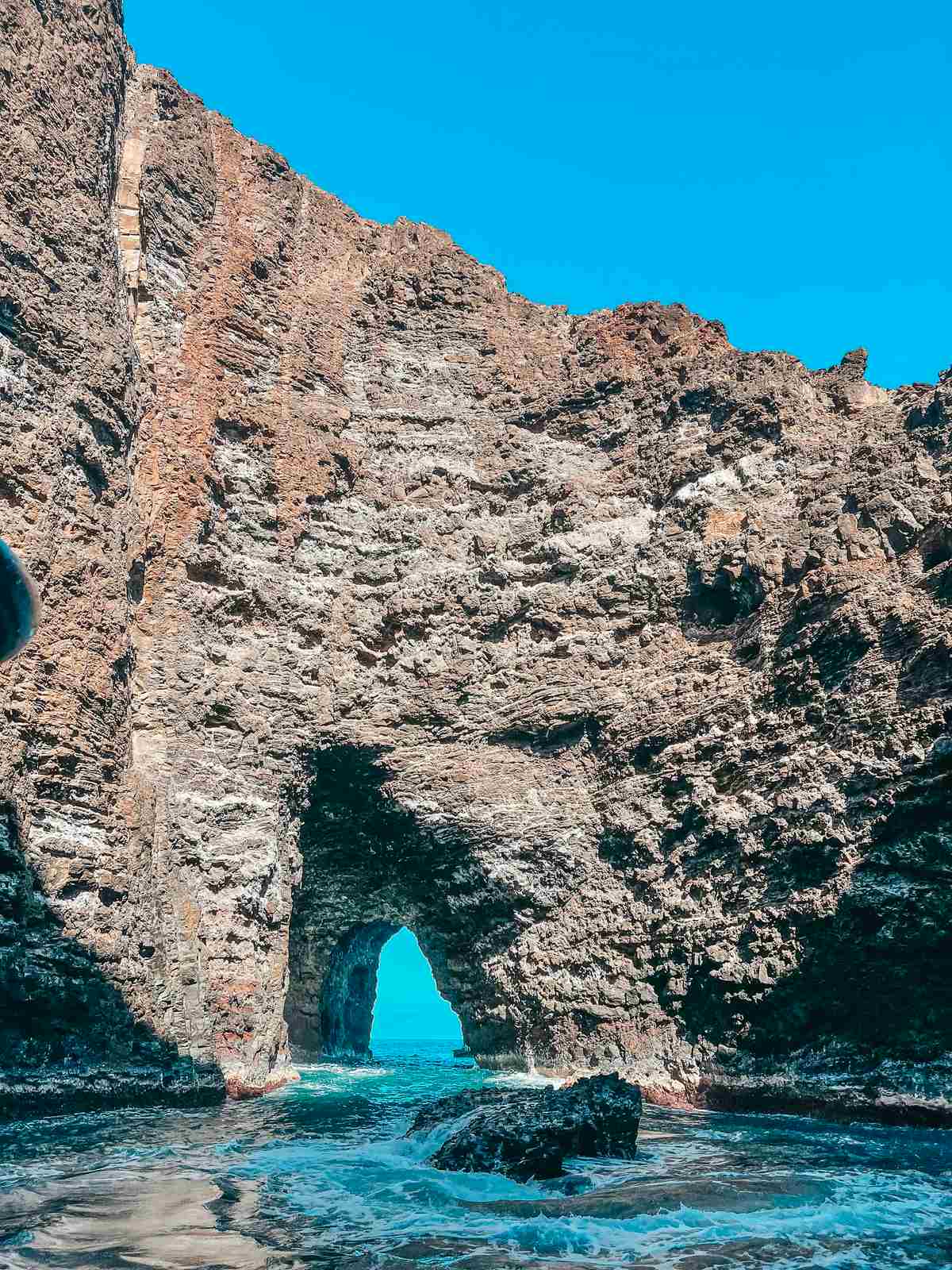 After the raft tour, you may be a little bit beat, but I recommend taking some time to explore Waimea Valley (it's right in the same area). This stunning valley is home to some of Kauai's most beautiful natural scenery, exciting hikes, and historical sites.
You can spend several hours here doing hikes and hitting all of the stops along the way, or you can spend less time and just do a driving tour stopping at lookouts. I highly recommend downloading the Shaka Guide app which is super helpful for anyone looking for an adventure-filled day here.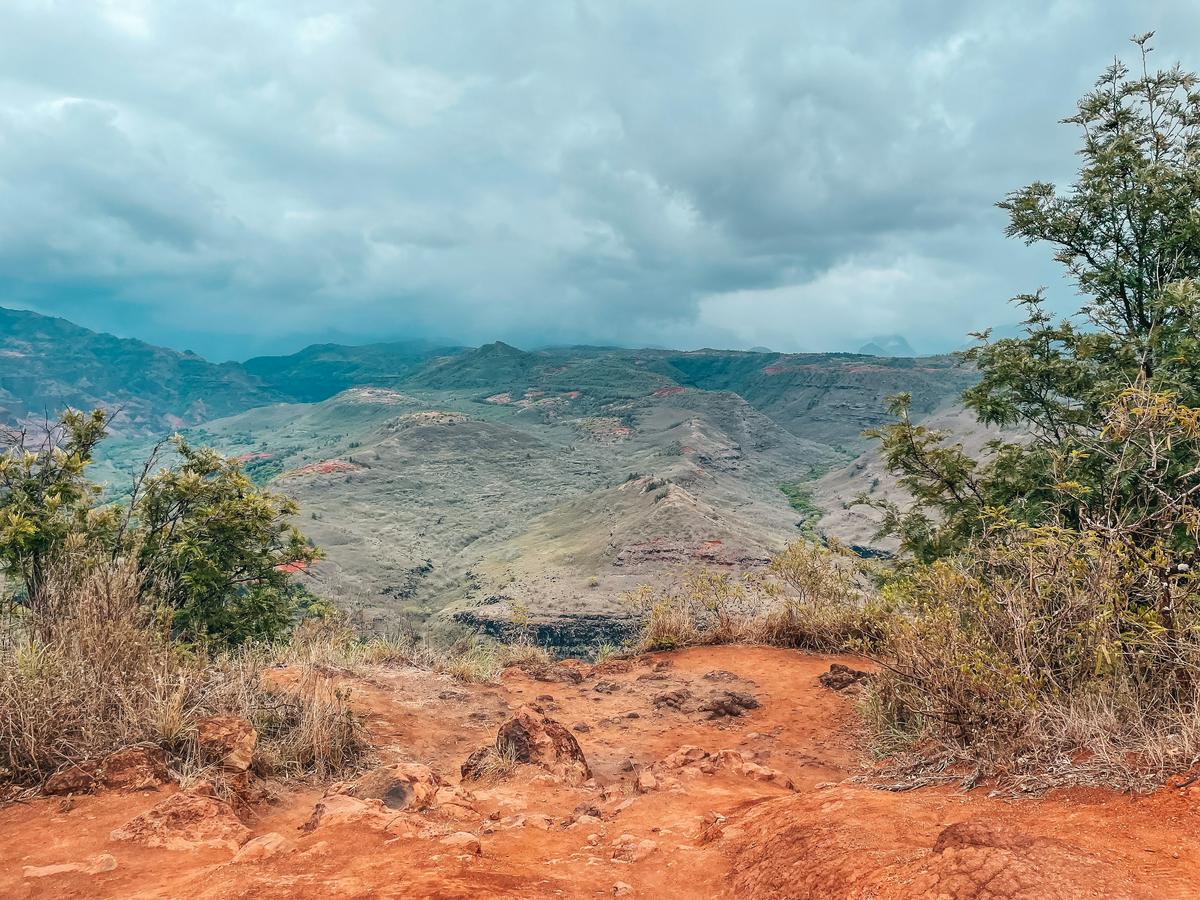 Now it's time to go relax at Lava Lava Beach Club for an unbeatable oceanfront dining experience. This tropical beachfront restaurant serves fresh seafood and a selection of delicious cocktails. We loved it so much we ate here a few times!
After dinner, rest up! You have another big day ahead of you tomorrow 🙂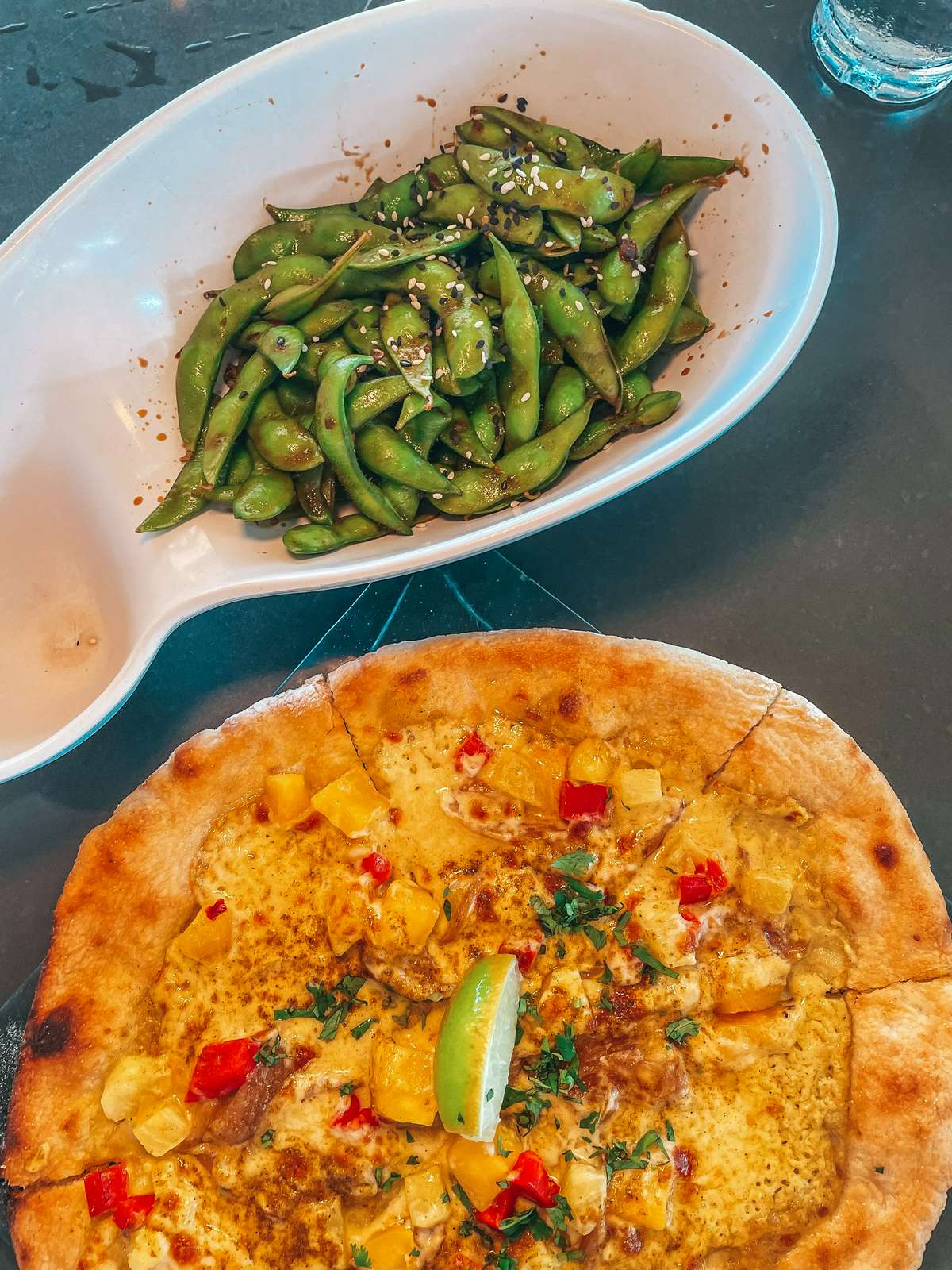 Day 2 in Kauai
For day two you will be embarking on another little road trip. This time you're off to explore Kaui's North Shore! The north shore of Kauai is a sight to behold. With its lush greenery, beautiful beaches, and amazing waterfalls, it's no wonder that this is a popular tourist destination.
Grab Java Kai for some coffee and breakfast before your explorations. Here are some spots you will want to be sure to check out during your mini road trip:
Hanalei Valley Lookout— this picturesque spot offers stunning views of the magnificent Hanalei Valley.
Waiʻoli Huiʻia Church—this historic church is the oldest functioning church in Kauai and dates back to 1834.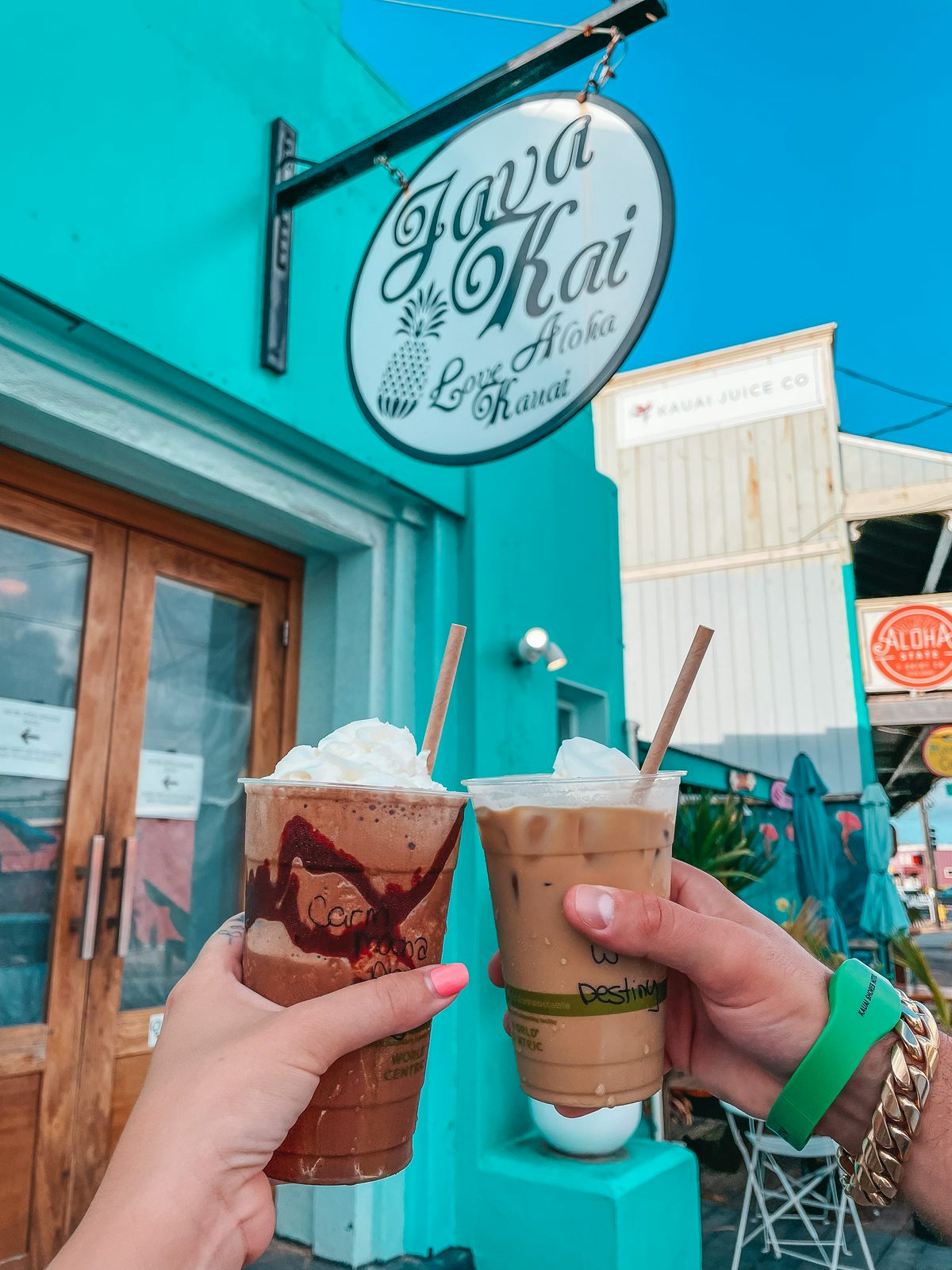 Tunnels Beach— a well-known beach noted for its world-class snorkeling and beauty. The beach has a safe inner reef that is great for beginners and kids and a challenging outer reef for more experienced snorkelers.
Hanalei Town— go shopping and grab lunch at Hanalei Poke
Queen's Bath— a lava rock-enclosed tidal pool perfect for swimming, snorkeling, and exploring marine life. Make sure you're wearing your bathing suit if you plan on swimming because there aren't any facilities to change in. There is a short but steep hike down to the pool (about 0.5 miles).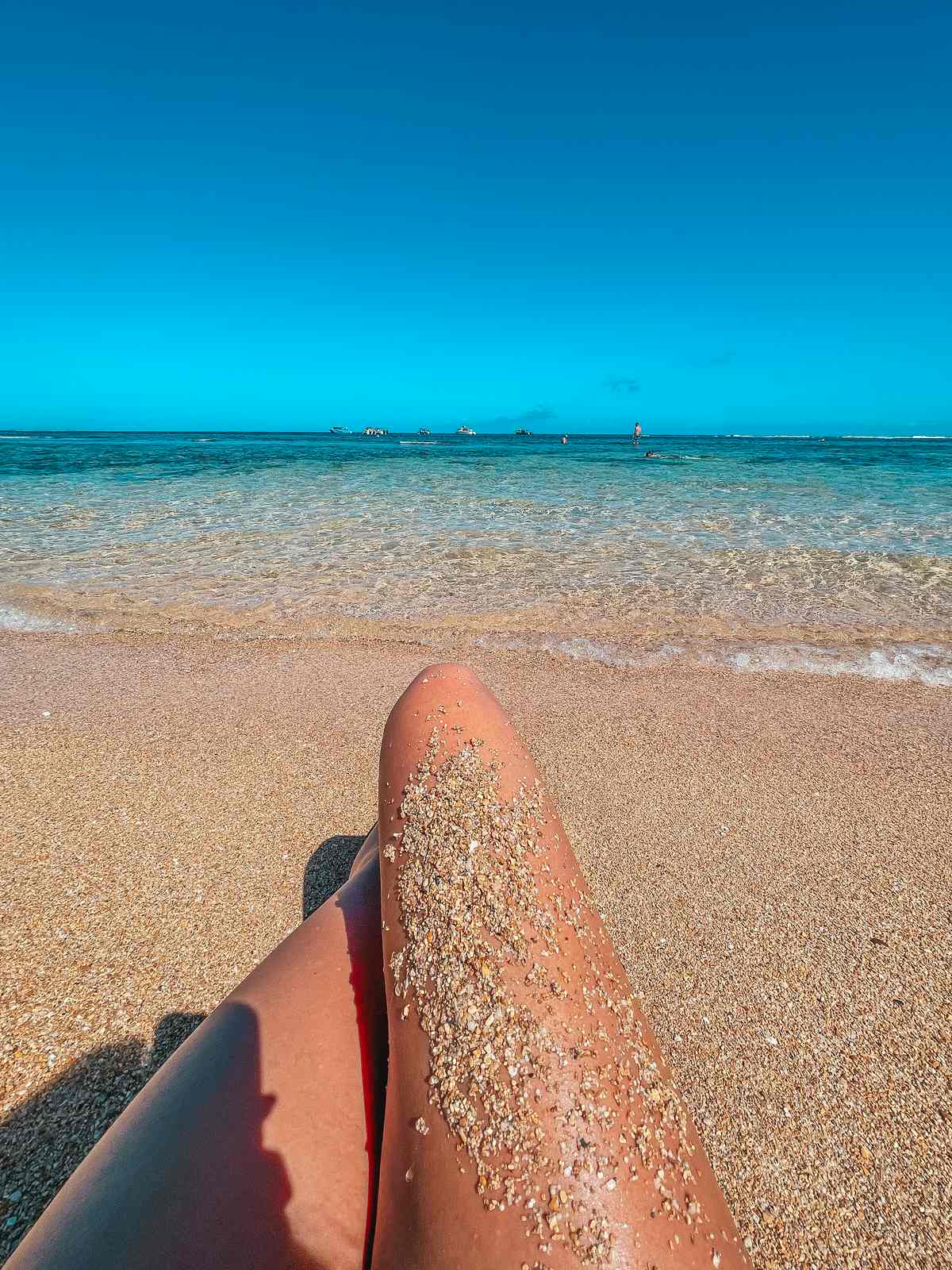 Once you're done adventuring get ready for a lovely surf and turf at Oasis on the Beach. It's located beachfront at the Waipouli Beach Resort and offers a variety of delicious dishes and wonderful service. To give you the greatest and freshest ingredients, they work directly with Kauai's farmers, ranchers, and fishermen and source over 90% of their ingredients locally.
For more specifics on each spot be sure to check out my full Kauai 3-day itinerary!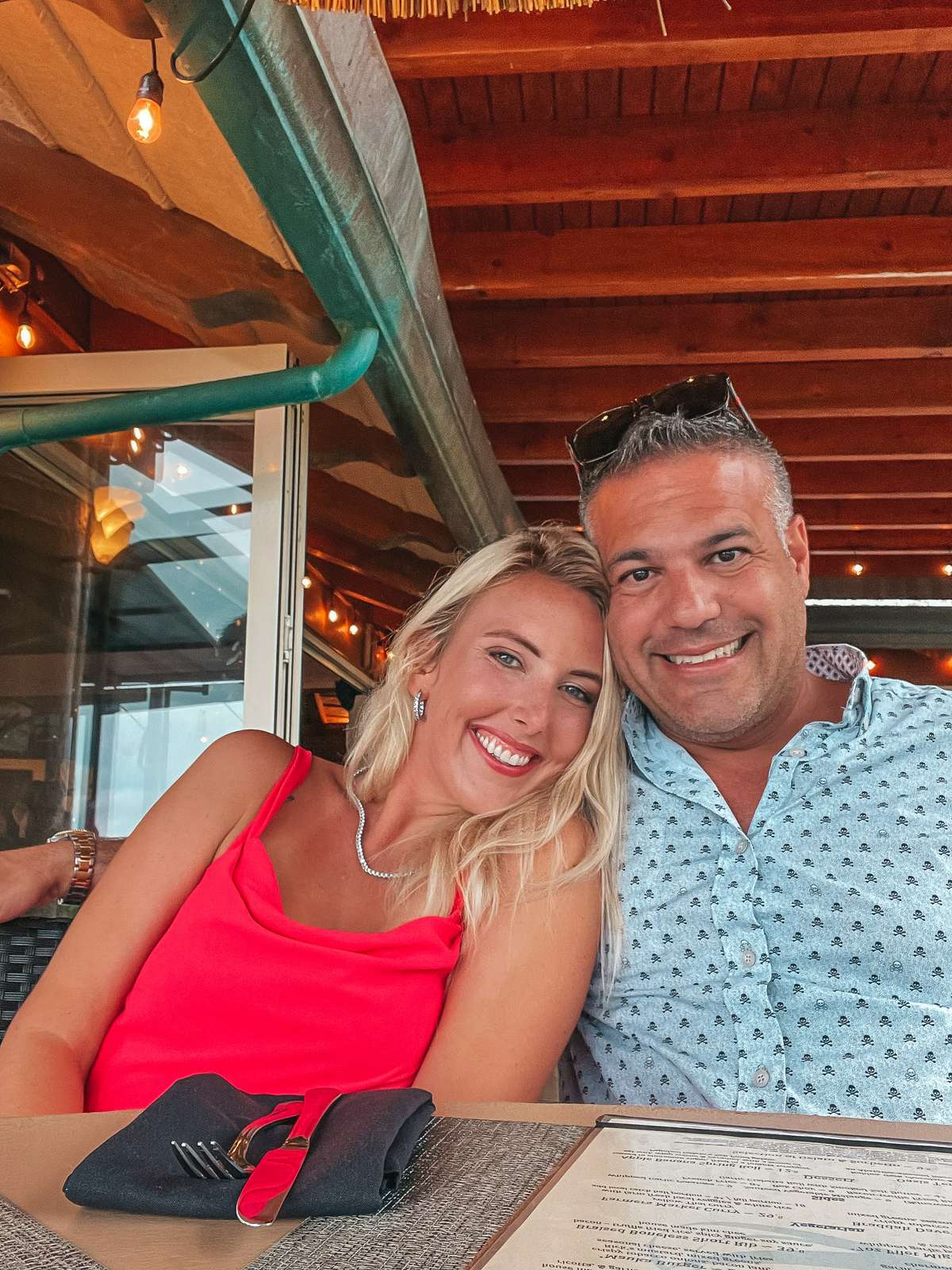 Day 3 in Kauai
If you are staying at Kauai Shores Hotel, start your final day in Kauai by waking up bright and early (7 am) to grab one of their free bike rentals to explore Kapaa. The Kapaa bike path goes along the beach for several miles.
Once you're done riding make your way to Kauai Coffee Company. For my coffee lovers out there, visiting Kauai Coffee Company is a must for your Kauai 3-day itinerary! It's one of the largest coffee producers in the United States and is the perfect place to learn about the coffee industry and sample a variety of different coffees from the region.
Next stop at the Makauwahi Cave Reserve, a living museum dedicated to both preserving the past and native species conservation. As Hawaii's largest limestone cave, it is also home to the richest fossil site in the islands, as well as a uniquely preserved archaeological site. You will need to do a short self-guided trail that is less than 0.5 miles to get to the cave.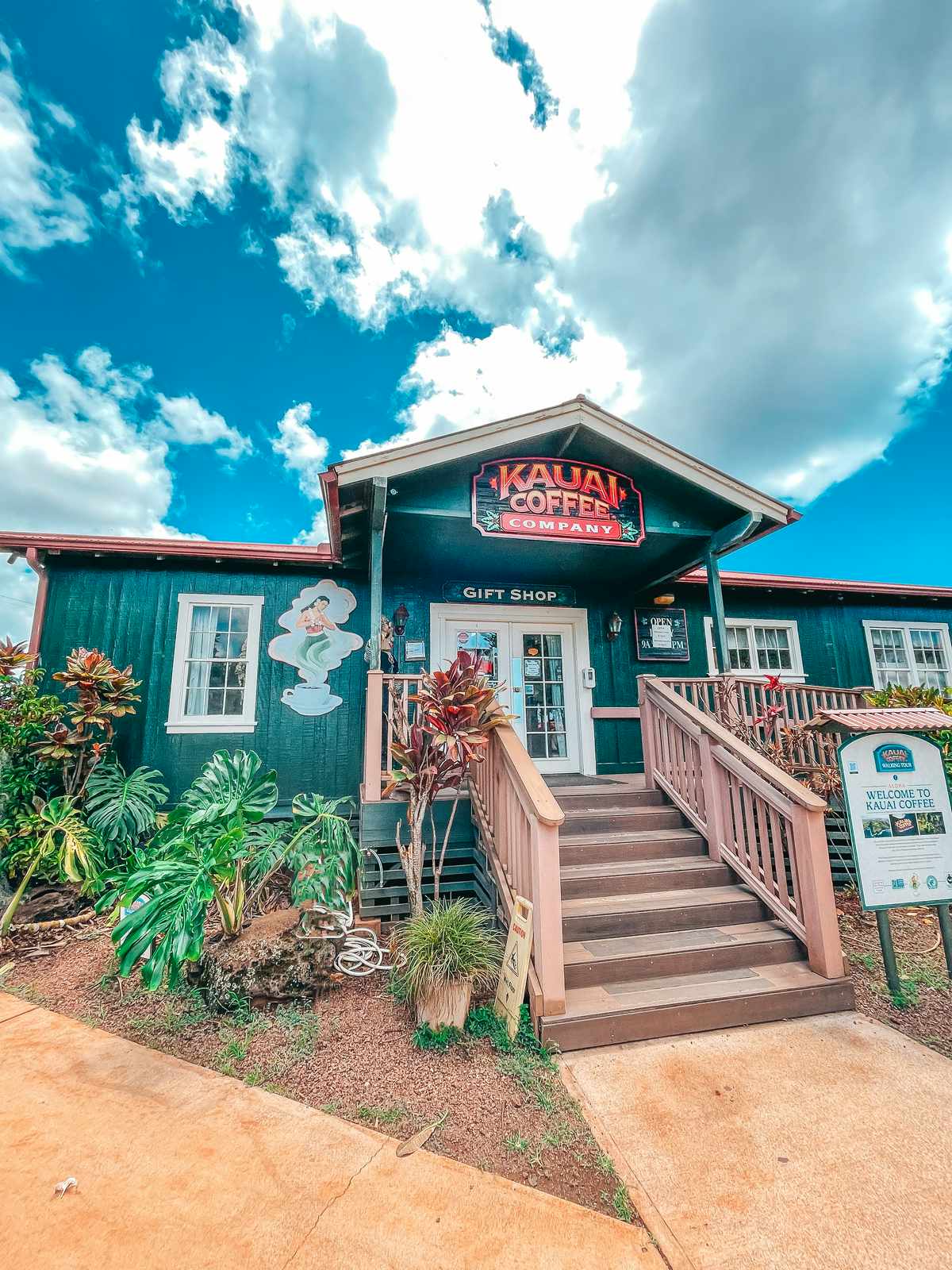 For lunch, you gotta enjoy one last poke bowl before your trip is up! The Fish Express serves Hawaiian plates and fresh Hawaiian fish lunches, but their specialty is poke bowls and their topping bar with a full-service seafood counter.
After you have a nice foundation make your way to Kōloa Rum Company, the first licensed distillery on the island of Kauai.
The rum tasting is free but it is a first-come, first-serve experience so it's best to get there early to secure a spot. During the tasting, you'll have the chance to sample a variety of flavored rums including coconut, lime, and pineapple.
We had an evening flight and we were able to squeeze all of these activities in before making our way back to the mainland!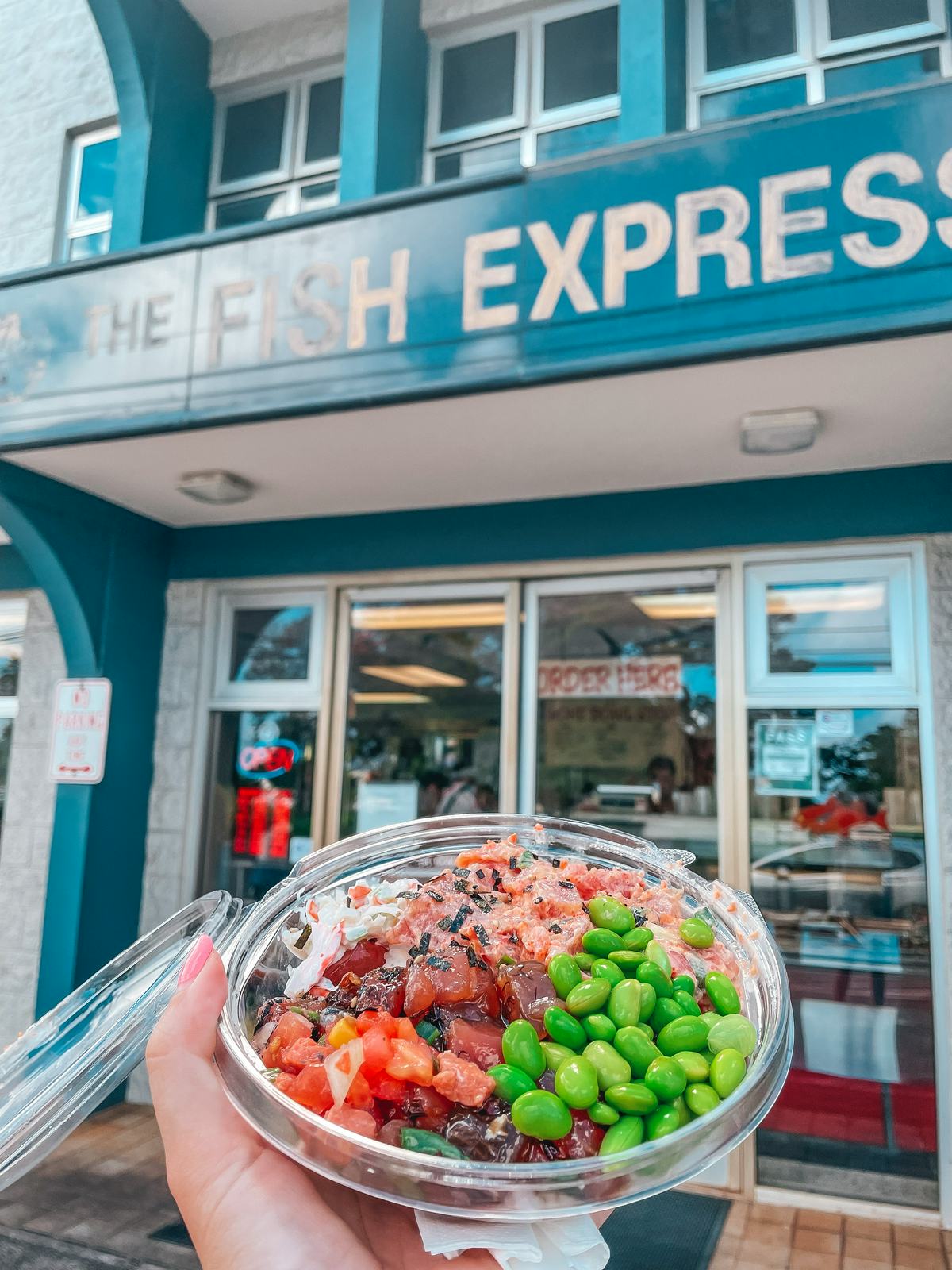 Traveling between the islands
Another important aspect of planning your trip is transportation. The easiest way to travel between the islands is by plane, which takes about 30 minutes to an hour. There are many flights daily between the main airports, so it's easy to find a schedule that works for you.
The main airports for inter-island travel are Honolulu International Airport (Oahu), Kahului Airport (Maui), Lihue Airport (Kauai), and Kona International Airport (Big Island). When booking flights, keep in mind that the flight between islands can take about 30 minutes to an hour, so you'll want to schedule enough time for that as well.
There are two popular airlines that offer flights between Hawaiian islands, Southwest and Hawaiian Airlines. I personally prefer flying with Southwest, as I am a Southwest cardholder and usually book my tickets with points. The Southwest Rapid Rewards program offers many perks, like complimentary checked bags and points towards free flights, making the airline the perfect option for island hopping in Hawaii.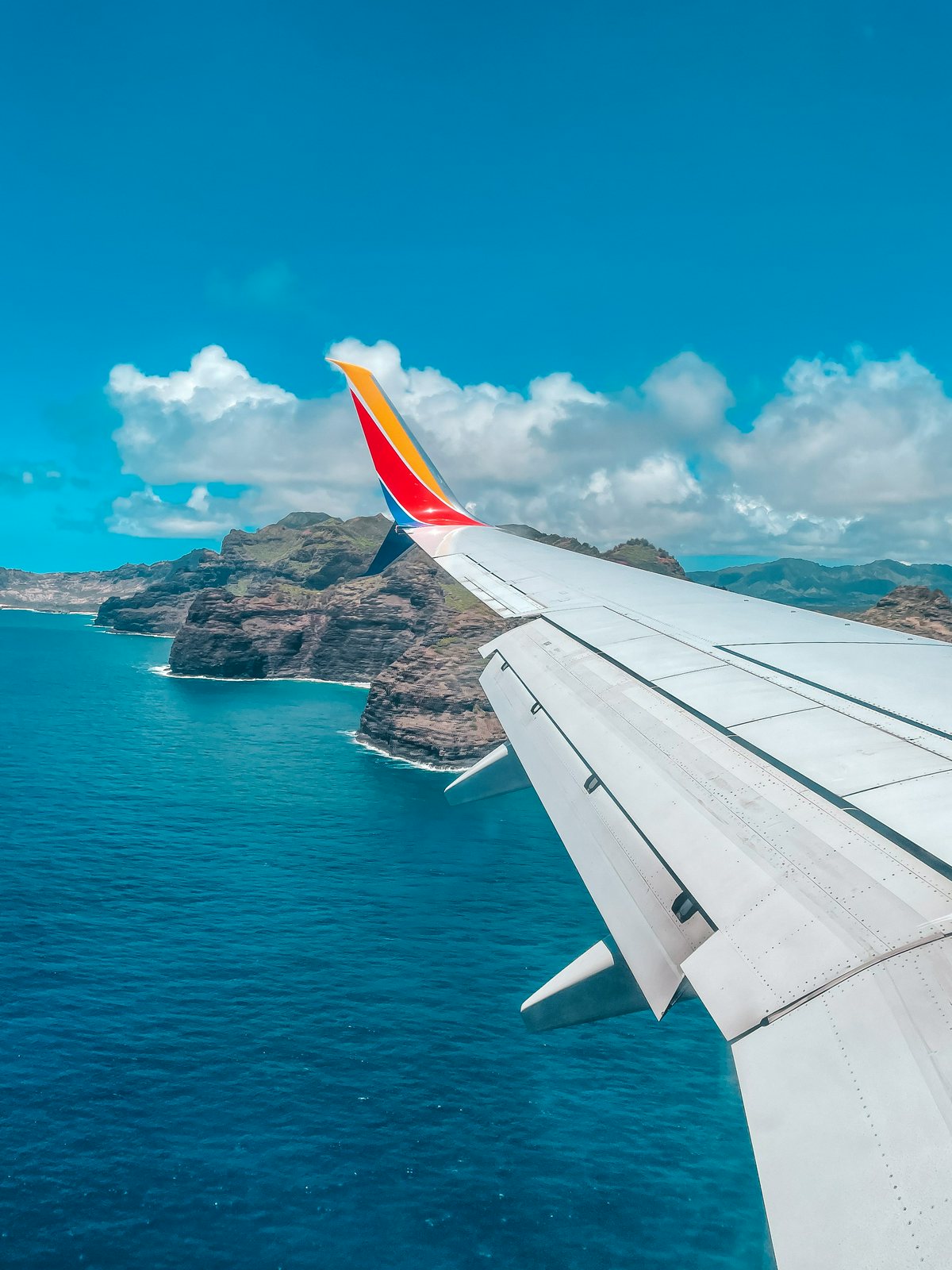 That's it – your 2-week Hawaiian adventure is complete! With this itinerary, you'll get to experience the best that each island has to offer, from the stunning beaches and natural beauty to the rich culture and history of the Hawaiian Islands.
Check out some of my other Hawaii posts and my Hawaii Insta guide before you go!