This post contains affiliate links which means that I will make a small commission if you purchase a product after clicking on any of them, at no extra cost to you.
Indian Rocks Beach is Clearwater Beach's quieter cousin. It's not too quiet, but it definitely gives off much more of a local vibe. I used to be lucky enough to live right across the bridge from IRB, and it was the beach I most frequented. In this guide, I'll spill on the best things to do in Indian Rocks Beach!
Also, if you live in the Tampa Bay Area, or if you are visiting for an extended period of time, I highly recommend taking some time to explore all of the other fun beaches in this area! St. Pete and Clearwater are the better-known ones, but along IRB there's also Indian Shores, Redington, Madeira, and Treasure Island to name a few more!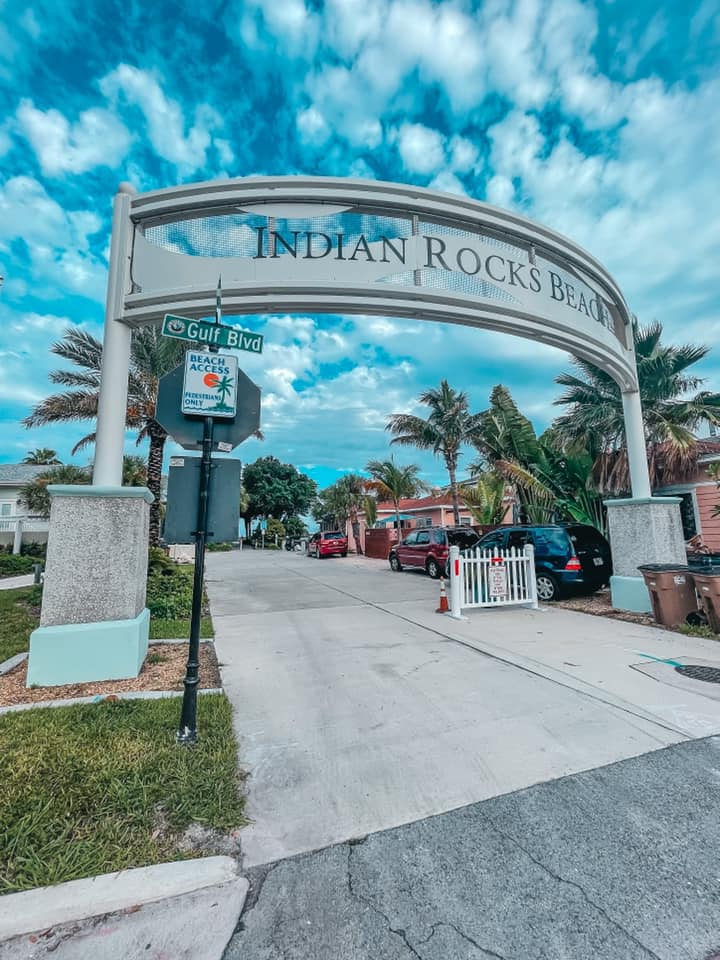 Fun things to do in Indian Rocks Beach, Florida
Relax at the beach
The beach is really the main attraction here. We went during the week and didn't struggle to find an area that gave us plenty of space. Enjoy the white sand and clear waters with half the crowd of Clearwater. Find the adorable (and important reminder) sign pictured below at the 5th Avenue Beach Access Park.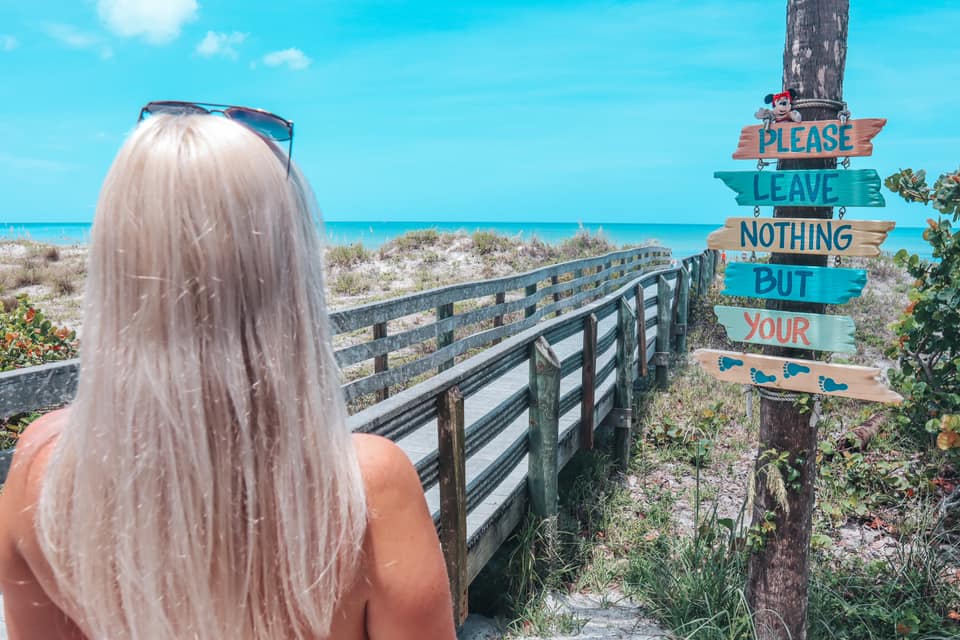 Do a private boat tour with A Boat Day
If you're looking for an EPIC boat day in Indian Rocks Beach, you gotta check out A Boat Day. They have a few different options for the type of boat you can rent. Select either one of their deck boats or a funship and rent them anywhere from 4-8 hours. I highly recommend choosing one of their funships which includes a waterslide!
The boats occupy anywhere from 6-10 people and the charters are private meaning it's just you, your crew, and your captain (we loved our captain— shoutout to Captain Marcos).
Spending a day with A Boat Day was truly one of the funnest boat days I've had. I was worried I would be scared to do the slide, but once I did it I didn't want to stop! Aside from the waterslide, you can island hop, go shelling, snorkeling, or just cruise for dolphins!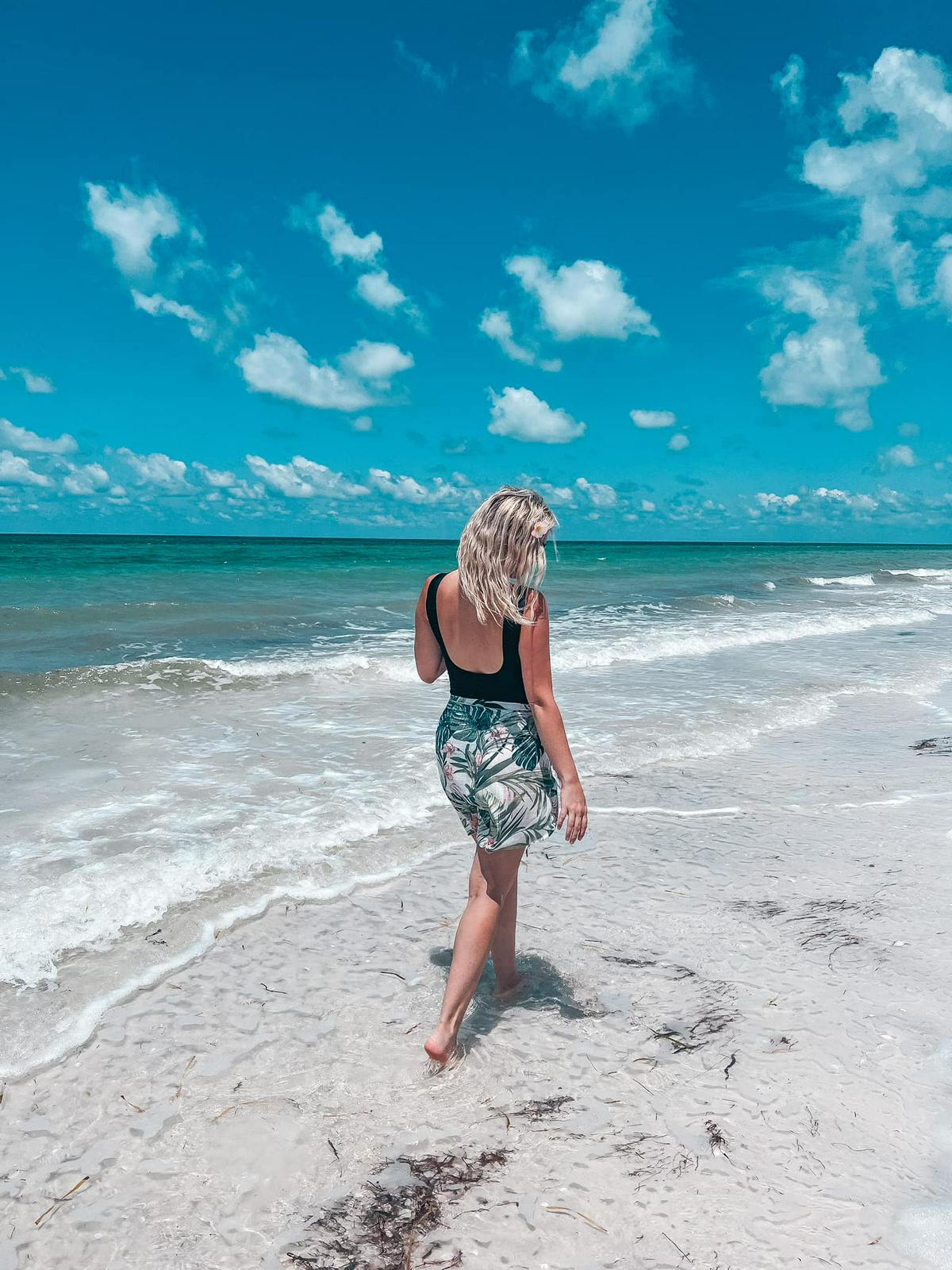 Rent a yacht
Life is just better on a boat. We had SO MUCH fun chartering Magic Moment through Florida Yacht Life I don't know that I'll ever be over the day.
Magic Moment is a 75 ft. luxury motor yacht that offers 2, 4, 6, and 8-hour charters for up to 12 people. This is especially perfect for bachelor/bachelorette and birthday parties, but truly no occasion is too small for a fun day on the water with your crew.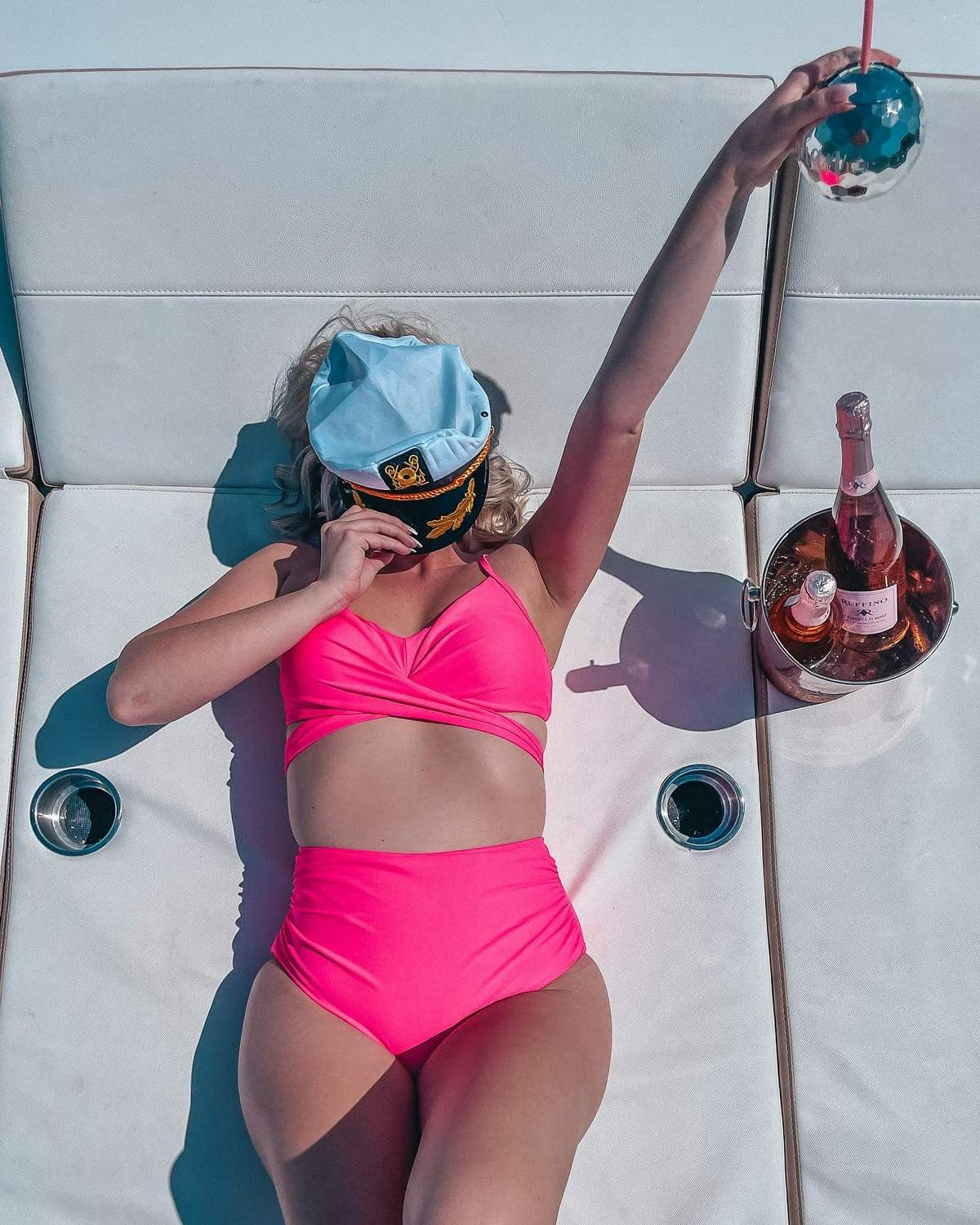 They have so many add-ons too if you want to take the experience to the next level. From DJs to bartenders to a private chef! They even can have Pop, Sip, & Celebrate Planning deck out the boat for your special occasion!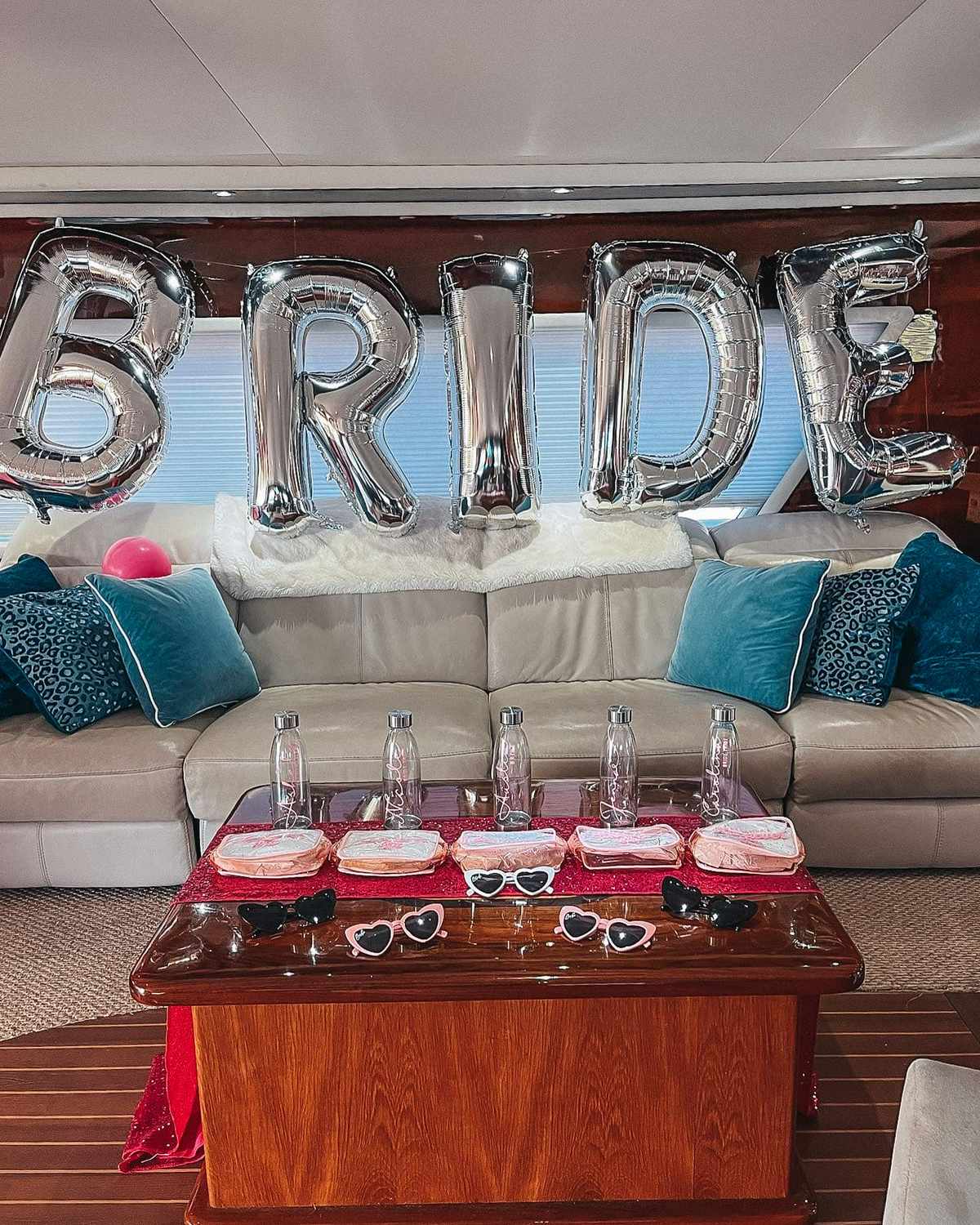 Have a beach picnic
I think everyone should have a beach picnic at least once in their life! After ours, I'm honestly about to have one once a week because it was so amazing!
Picnics Perfected did such a wonderful job of setting up the dreamiest picnic for our girls' night. We had wine, charcuterie, and a beautiful sunset. She has everything you could need from games to blankets.
As a bonus, you can have a photographer (Aleisa Sigmon is AMAZING!) capture your moments. This is great for special occasions of course, but it's also great on just a random Tuesday evening 😉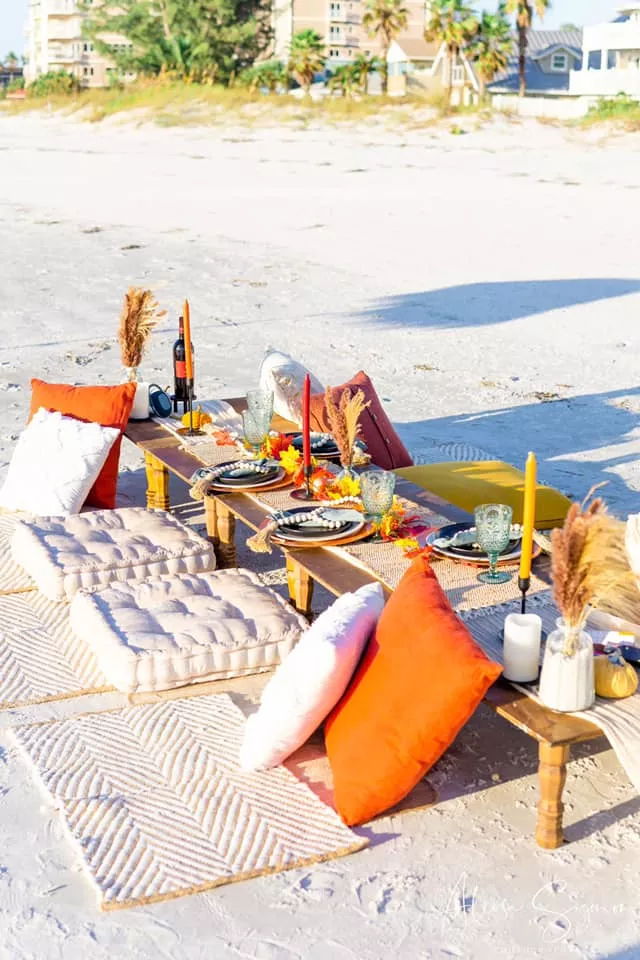 Do a day trip to Clearwater Beach
Take a day trip to Clearwater Beach, and start at one of their amazing breakfast spots.
IRB does have some boat tours and water activities, but Clearwater Beach does have a lot more options. And if you're in the area and have never been, Clearwater Beach is worth spending a day at! Check out this post for all Clearwater Beach activities!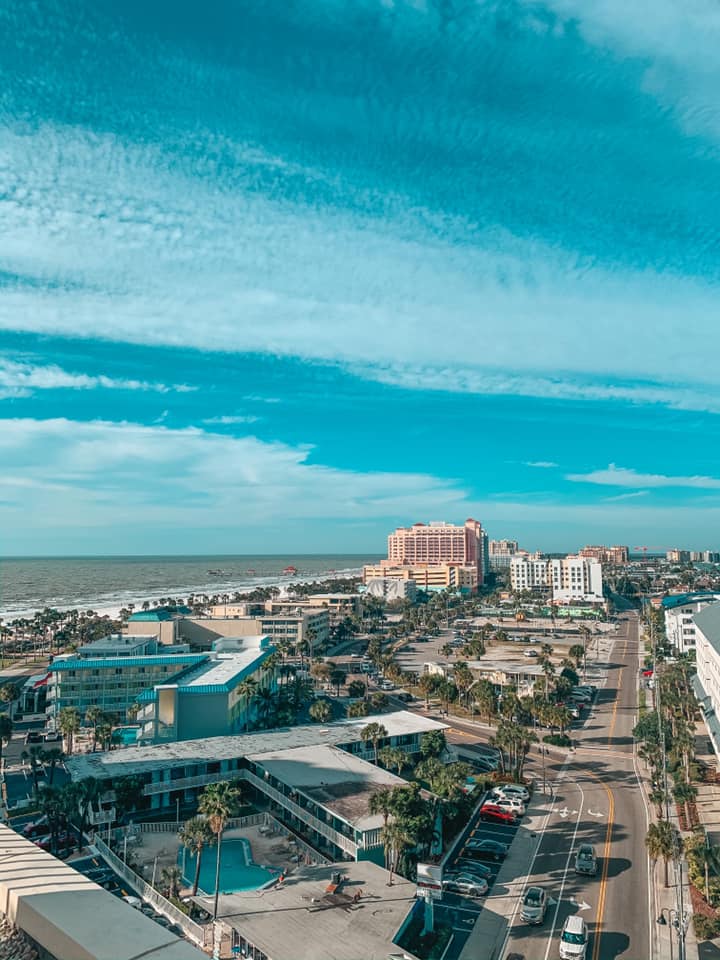 Yoga on the beach
I don't know about you, but doing yoga on the beach has been on my "things I want to do" list for quite some time now! We unfortunately weren't here the days they have classes, but I'm going to try to make my way over!
Classes are every Tuesday and Thursday at 6 PM, and Saturdays at 9 AM. After the Saturday class they even walk to a nearby cafe afterward to enjoy coffee and a bite together. And once a month they also have a potluck after yoga and watch the sunset with food and wine— how fun!!
Grab a brew at Anecdote Brewing Company
Anecdote Brewing Company is an awesome family-friendly brewery in Indian Rocks Beach. They have quite a variety of brews, sure to suit anyone's fancy. I did a flight and tried their Blackberry Gose, guava Gose, and "That Morning Taco" which was a flavored lager.
I don't typically do lagers, but how could I resist with a name like that? That particular beer was brewed with lime, cilantro, and smoked ancho peppers! The flavors were subtle and nice. My favorite was definitely the Pink Paradox though (the guava Gose)!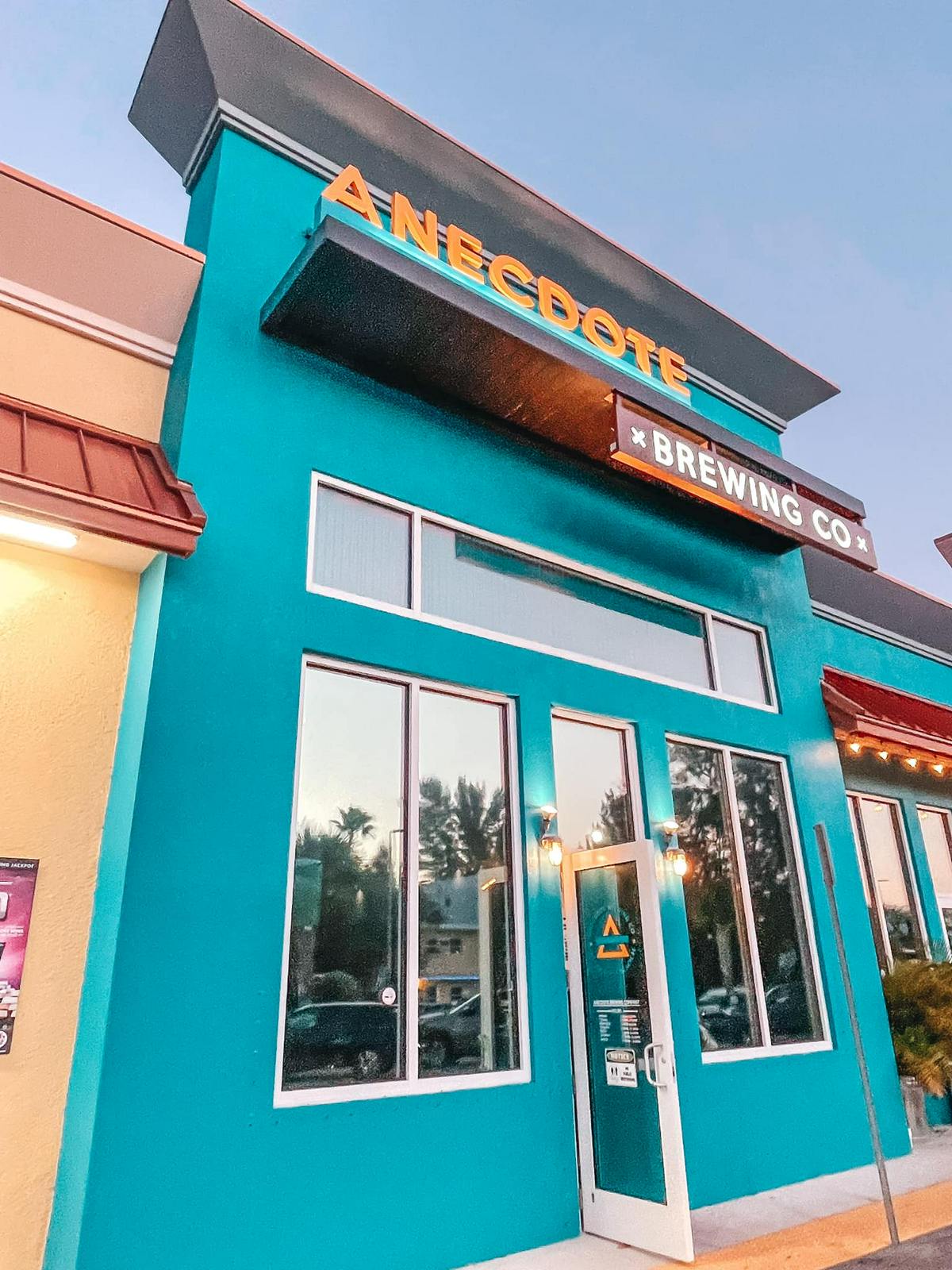 Indian Rocks Beach Nature Preserve
This cute spot just gives a nice change of scenery. It's located right by Kooky Coconut! It's a scenic little half-mile boardwalk trail that takes you through mangroves and out to get views of the intercoastal.
You may even see some cool birds, reptiles, and crabs along your walk! If you want something a little more naturey, you can always take a little drive to the Florida Botanical Garden in Largo, which is absolutely gorgeous, and it's free!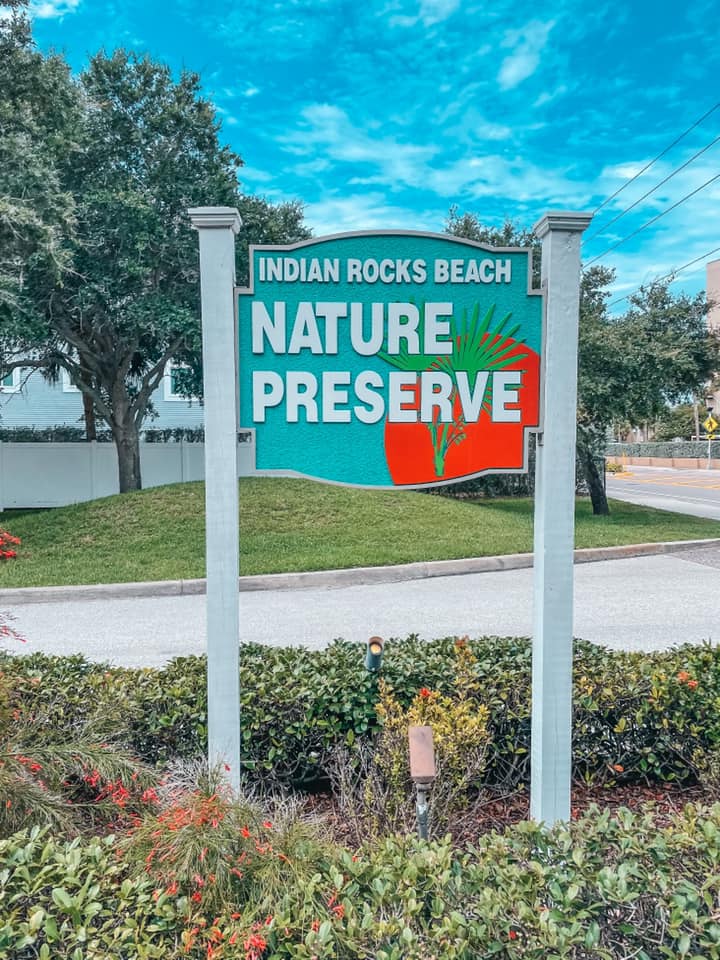 Splash Harbour Waterpark
This is the waterpark that's located adjacent to the Holiday Inn. Yeah, it's a great family-friendly activity. But as an adult, they had me at lazy river and rum buckets. If you're staying at the Holiday Inn you get a discount on admission. Aside from the lazy river, they also have a couple of water slides, a splash zone, and a blue lagoon (pool) area.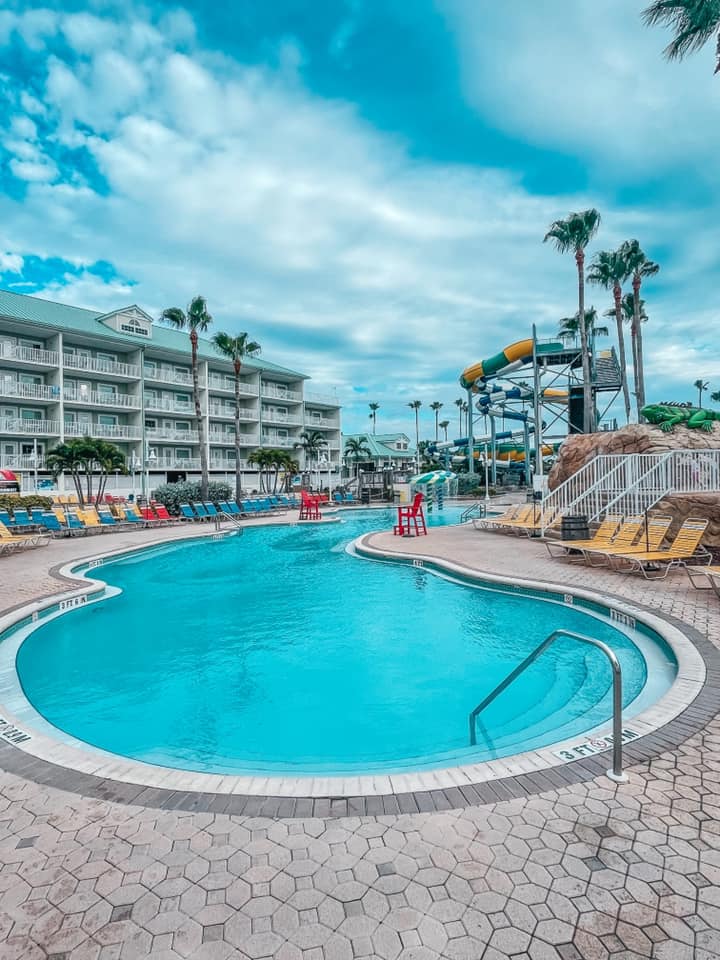 Let Island Marine Rentals take care of all your aquatic needs
Rent a boat, kayak, or SUP! (They also have bike and scooter rentals as well). You can rent kayaks and SUPs anywhere from 1 hour to 1 week.
Along with that, they provide transportation straps in case you want to take them to a local park or a different area, as well as a Dollie for you to transport it to the beach down the road.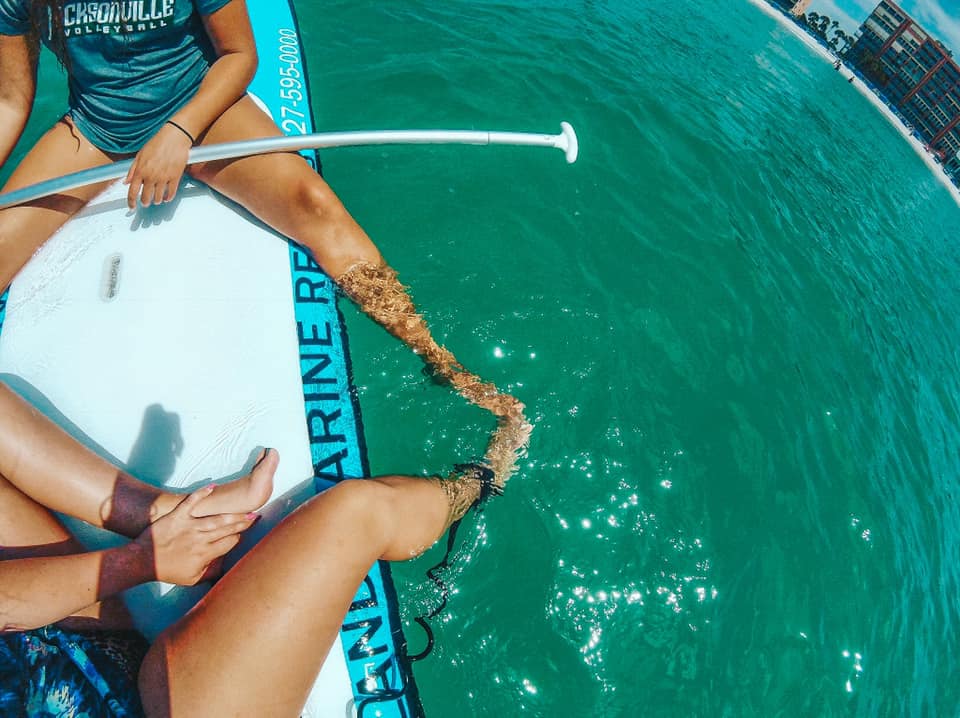 Enjoy fresh seafood
There are plenty of amazing Indian Rocks Beach restaurants to choose from! Guppy's on the Beach is one of my favorite lunch spots, Crabby Bill's is great for a lively atmosphere, live music, and fresh seafood, and PJ's is a great option if you're looking to have a seafood feast!
If you want to switch things up, get one of the best Cubans in Tampa Bay from the Kooky Coconut! And be sure to get coffee from Pipo n Betty's.
And if you don't mind heading a little further down the beach, check out the restaurants in Belleair, or Sweet Sage Cafe on Redington Beach it's the cutest, most whimsical, eclectic cafe. Who doesn't want to enjoy their breakfast in a garden oasis? To see more of this spot's charm click here.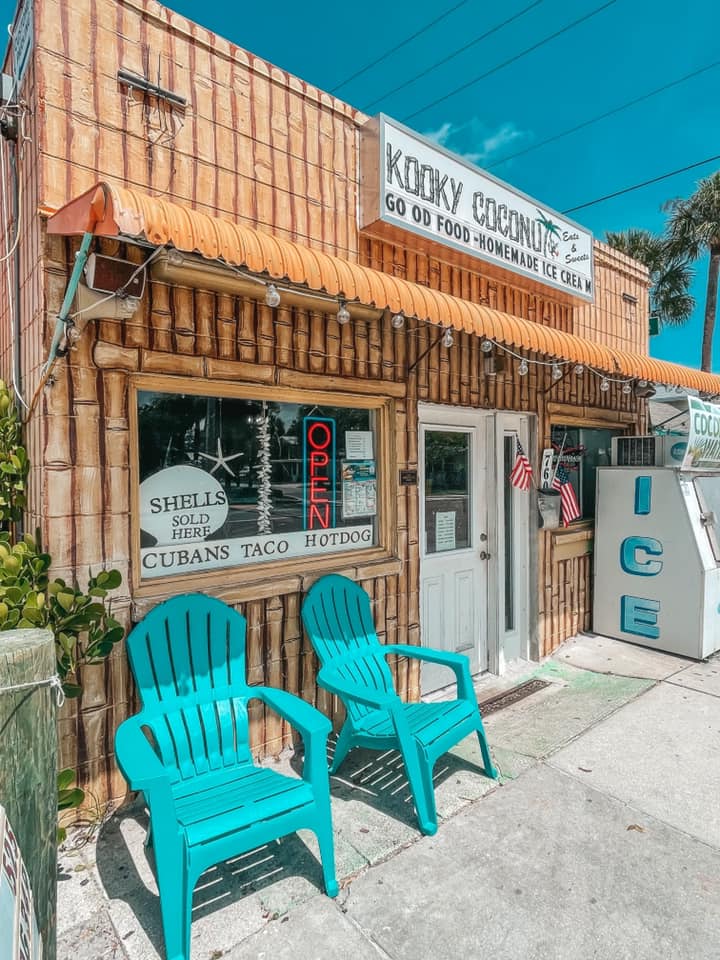 Where to stay in Indian Rocks Beach
Because this is more of a local's beach, the accommodations in this area are often a little… dated. Some of my favorite rentals in the area can be found here! The home is absolutely stunning and modern, plus it has 5 bedrooms and can sleep a larger group, which is perfect for bachelorette parties.
Click here for some hotel options.
Holiday Inn
We actually really enjoyed our stay here. The location was perfect (tucked right behind Crabby's), and it had putt-putt, a waterpark, and a restaurant in it. Putt putt and Jimmy Guana's (the restaurant) came in handy for when it was raining! The rates were also affordable. (I really just love staying at IHG hotels, as I usually am able to book with points from my IHG rewards card!)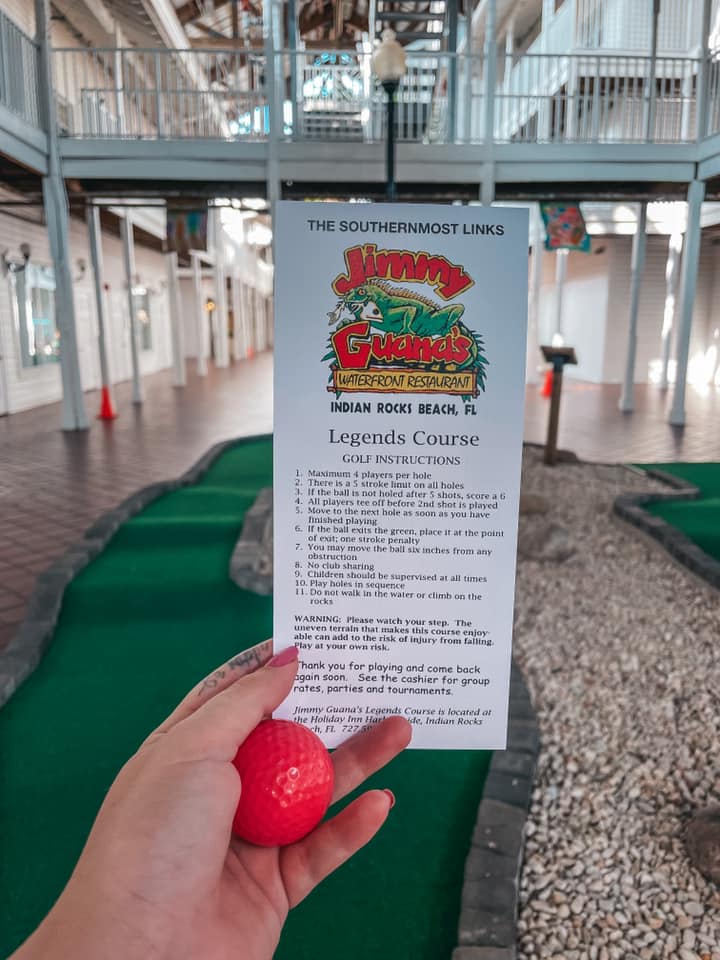 I hope you enjoy your visit to Indian Rocks Beach! Let me know which Florida beach I should check out next in the comments below! And don't forget to follow me on Instagram @guidedbydestiny to see more Florida adventures 🙂
Check out my storefront Florida packing list and some other posts before you go:
Best restaurants in Clearwater Beach