This post contains affiliate links which means that I will make a small commission if you purchase a product after clicking on any of them, at no extra cost to you.
The Big Island of Hawaii is one of the most beautiful islands in the world, and it's also one of the most diverse. You'll find mountains, volcanoes, waterfalls, and beaches on every corner! This 4-day itinerary will give you a taste of everything that makes this island so special.
This itinerary is for the traveler who wants to see and do it all. We will be experiencing both sides of the island, which are both very different. Hilo is on the rainy side of the island (although we lucked out with no rain during our trip), and because of that has a more tropical feel. Kona is a little more touristy, and the town feels a little less antique than Hilo. It's also the drier side of the island.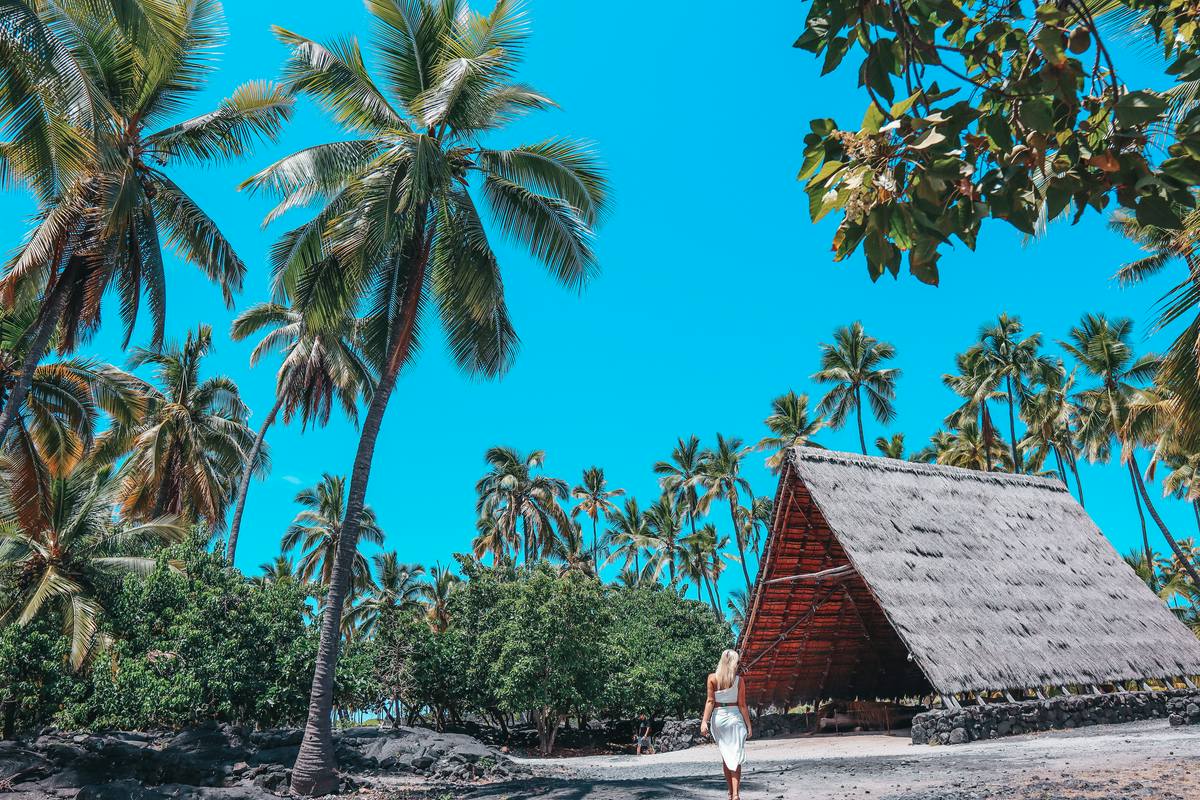 4-Day Big Island Itinerary
Day 1: Drive from Kona to Hilo
We flew Southwest from Maui to Kona on the Big Island and then drove to Hilo. We used points to book and it was insanely cheap (like 5,000 points cheap). Hilo does have its own airport, so if you can get a direct flight it may be worth looking into (we couldn't). Once we landed we grabbed a bite in Kona because there were pretty much no food options on the route.
There's a little area right inside Kona that has just about every type of food you could want. Hot chicken, poke, sushi, Kona Brewing, and more are there. We grabbed Willie's Hot Chicken just to switch things up, but we ate in this area several more times once we came back to Kona and tried several of the restaurants.
Our Airbnb was in between Hilo and Volcanoes National Park, which worked out really well for us and our itinerary. On our first night we arrived around 8 PM after our 2-hour drive. We were pretty pooped so we rested up for our first full day on the Big Island.
Quick links for your Big Island Hawaii trip
🏨 Accommodation
Easily compare prices, secure great deals, and enjoy the added benefit of flexible cancellations up to 24 hours in advance for the majority of hotels with Booking
🎟️ Tours and tickets
Discover your next adventure with ease by using Viator which allows you to explore a multitude of local tours, ensuring you find the best experiences at the best prices.
🚘 Car rental
Rentalcars is the best tool for comparing prices for your date amongst the most popular rental car companies!
Day 2: Hilo, waterfalls, and Volcanoes National Park
This day is not for the weak! We crammed sooo much into this day, I'm honestly shocked. Many of these mini-adventures are pretty close to one another as you'll see, making it easy to cover a lot of ground in a short amount of time!
We woke up and started our morning with Just Cruisin Coffee (I love a good Hawaiian coffee shop). It's a drive-thru, and the line may be a little long, but it was certainly worth the wait. We tried their cappuccino and cold brew and both were so full of flavor! A little on the sweet side, which is exactly what I prefer. Their breakfast sandwiches were also great.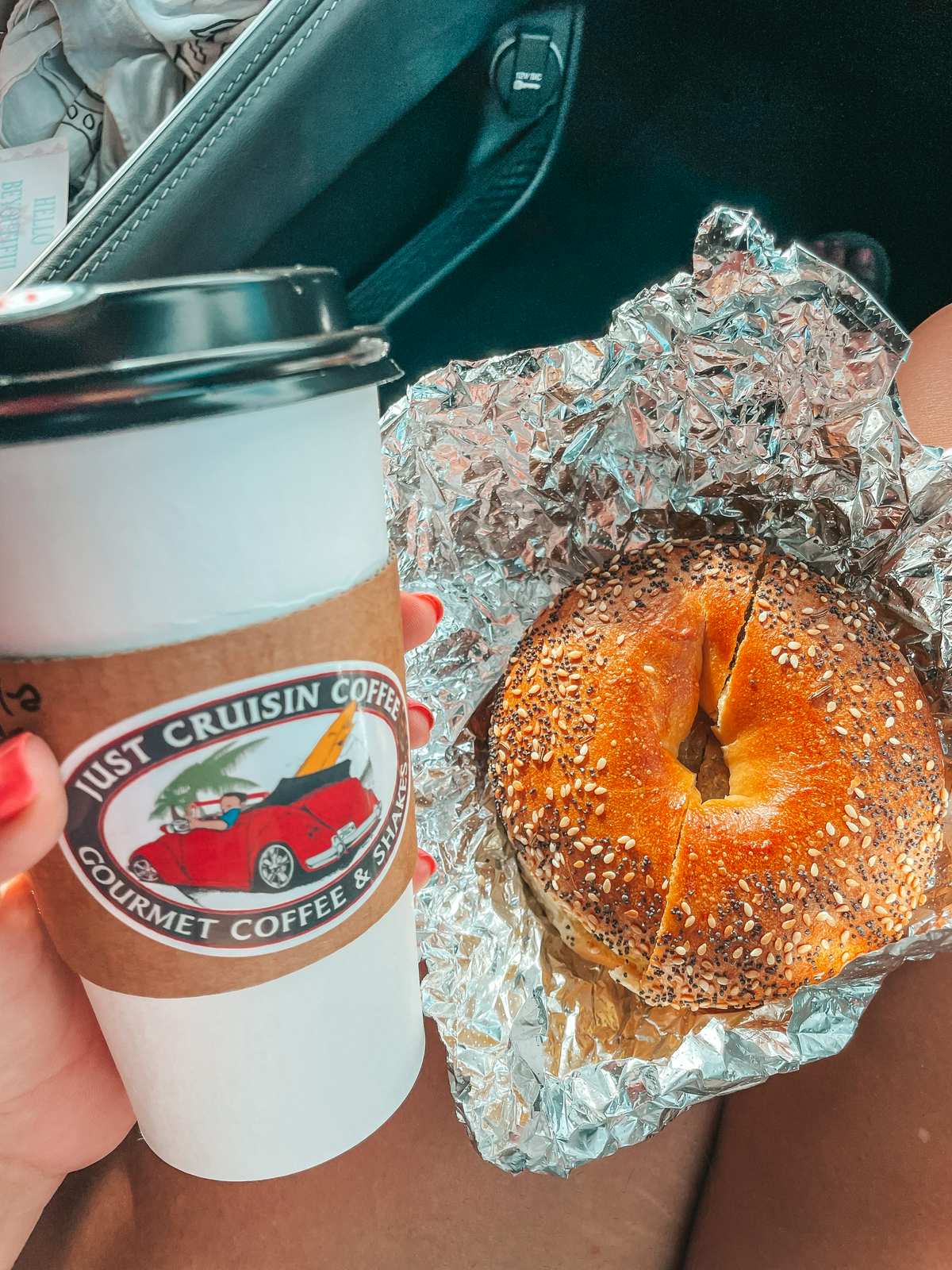 Exploring waterfalls and lava tubes
Next, we embarked on a 30-minute drive to Akaka Falls State Park. If you park within the park it costs $10 and is $5 per person. There did seem to be parking just outside that you could utilize to save a few bucks, but we didn't realize until it was too late.
This is a short little paved trail (0.4 miles) and you can plan to spend a little over a half an hour here. The trail is tropical and surrounds you with lush rainforests, wild orchids, bamboo, and a few waterfalls. The most impressive waterfall is Akaka Falls. Akaka Falls is a 442 ft waterfall, and Kahuna Falls which is also on the trail is 100 ft. Akaka Falls was our favorite waterfall of the day, and if you plan to only squeeze in one out of the ones that I mention I suggest it be this one.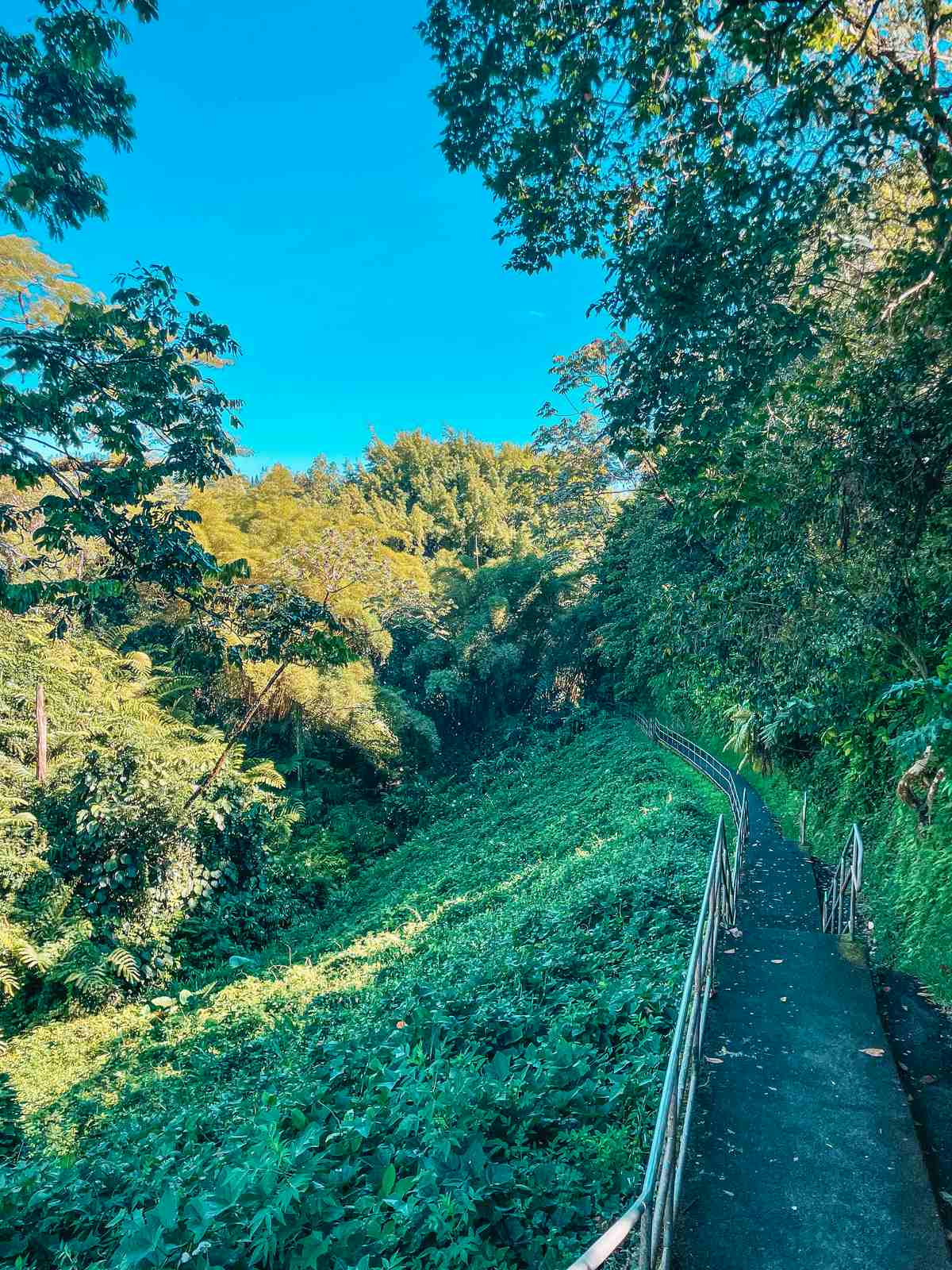 After this, we headed back towards Hilo. We decided to make a pit stop at the Hilo Farmers Market which is open 7 days a week. We popped in to get some fresh fruit and they even cut it for us so we could eat it on our walk.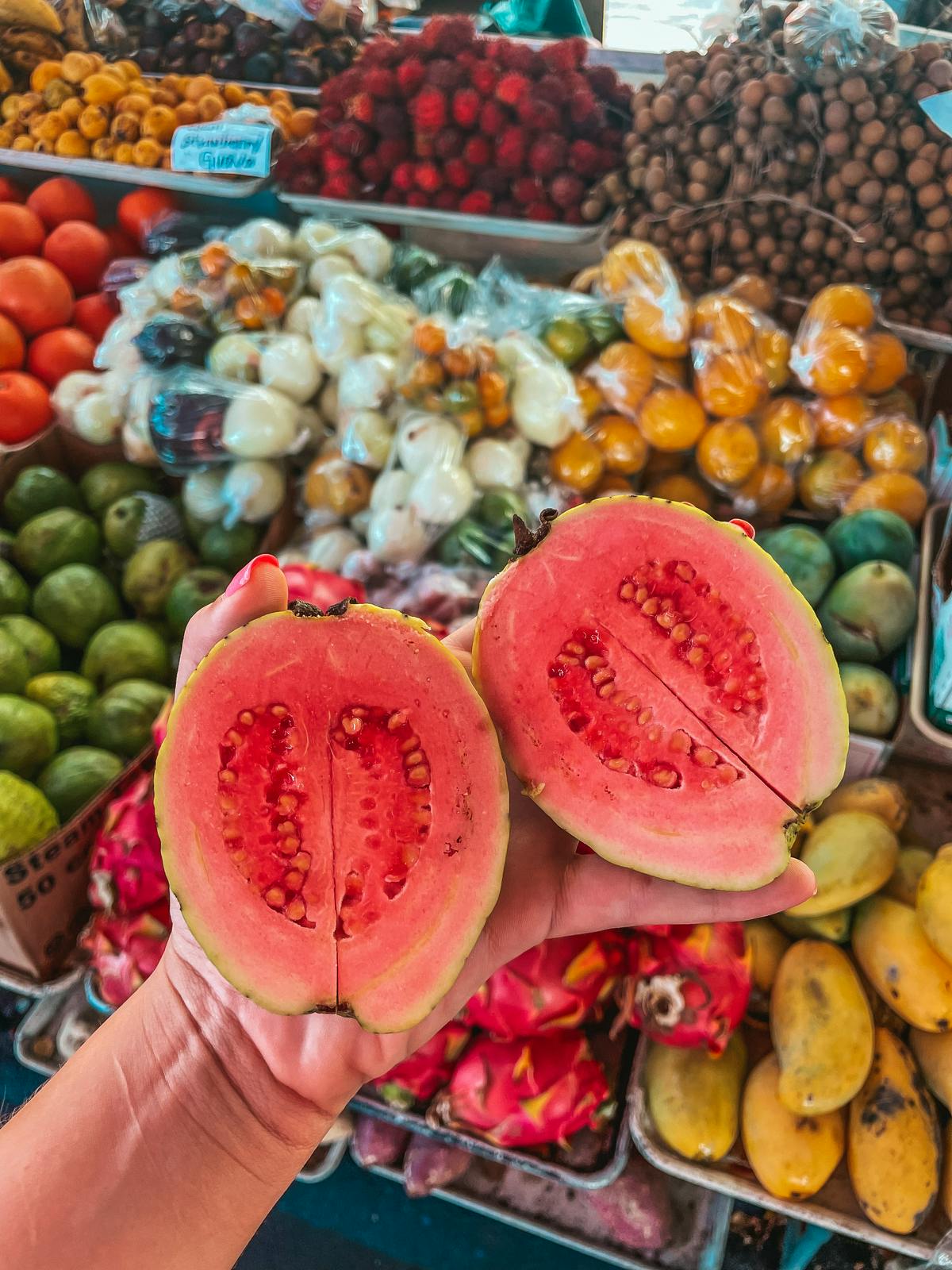 Next, we drove about 10 minutes to Rainbow Falls. Rainbow Falls is an 80 ft waterfall that cascades over a lava tube and is all a part of Wailuku River State Park. This isn't even a trail, you just pop out of your car and you'll see an overlook and viewpoint of the falls. It's great if you have people with you who aren't able to hike but want to experience some waterfalls! You can plan to spend around 5-10 minutes here before heading to your next spot.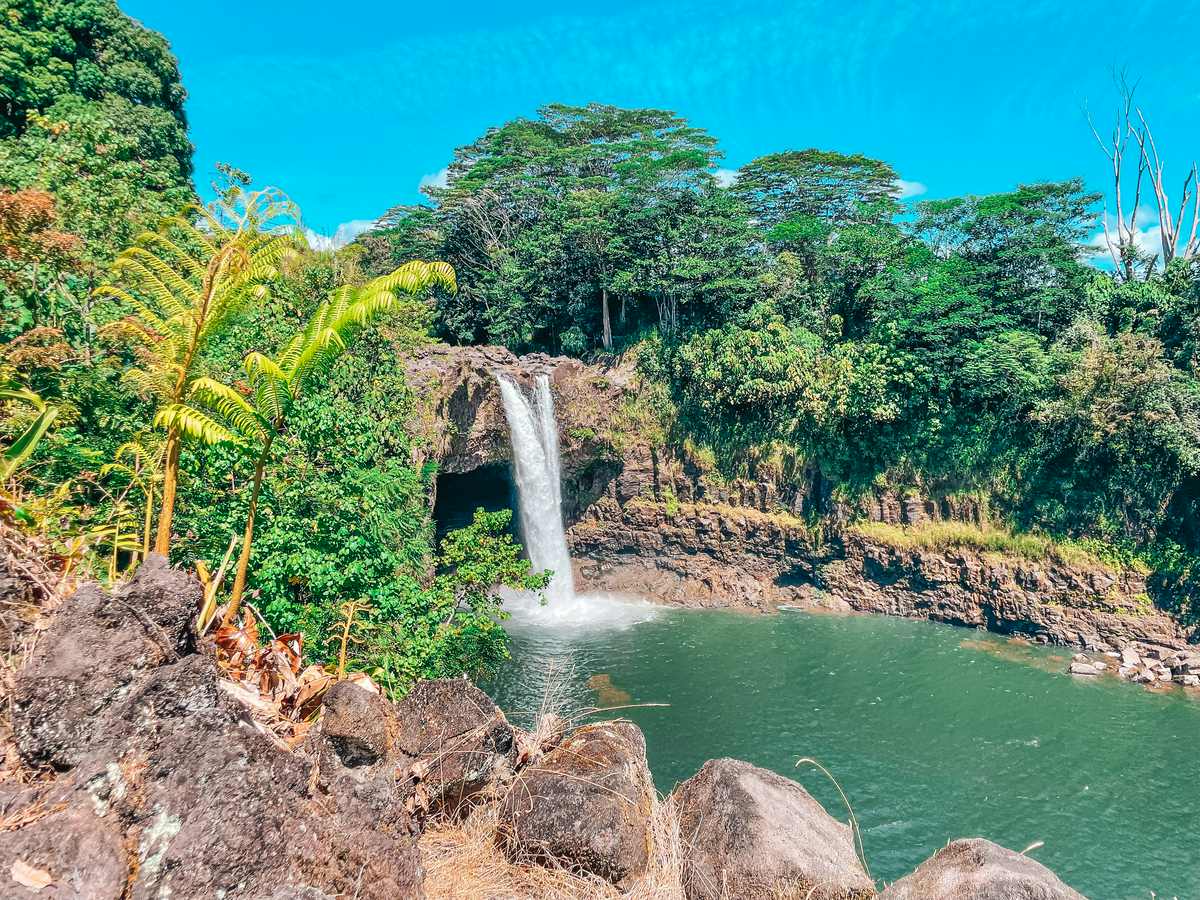 Boiling Pots and Pe'epe'e Falls are also a part of Wailuku River State Park and are just a little over five minutes away. Similar to Rainbow Falls it's just a quick little stop and overlook. When we went the waterfall seemed a little dry, but I can imagine during rainier seasons it probably looks much cooler.
Boiling Pots is a series of several pools along a river that when heavy rainfall occurs appear to be boiling because of how turbulent the waters become.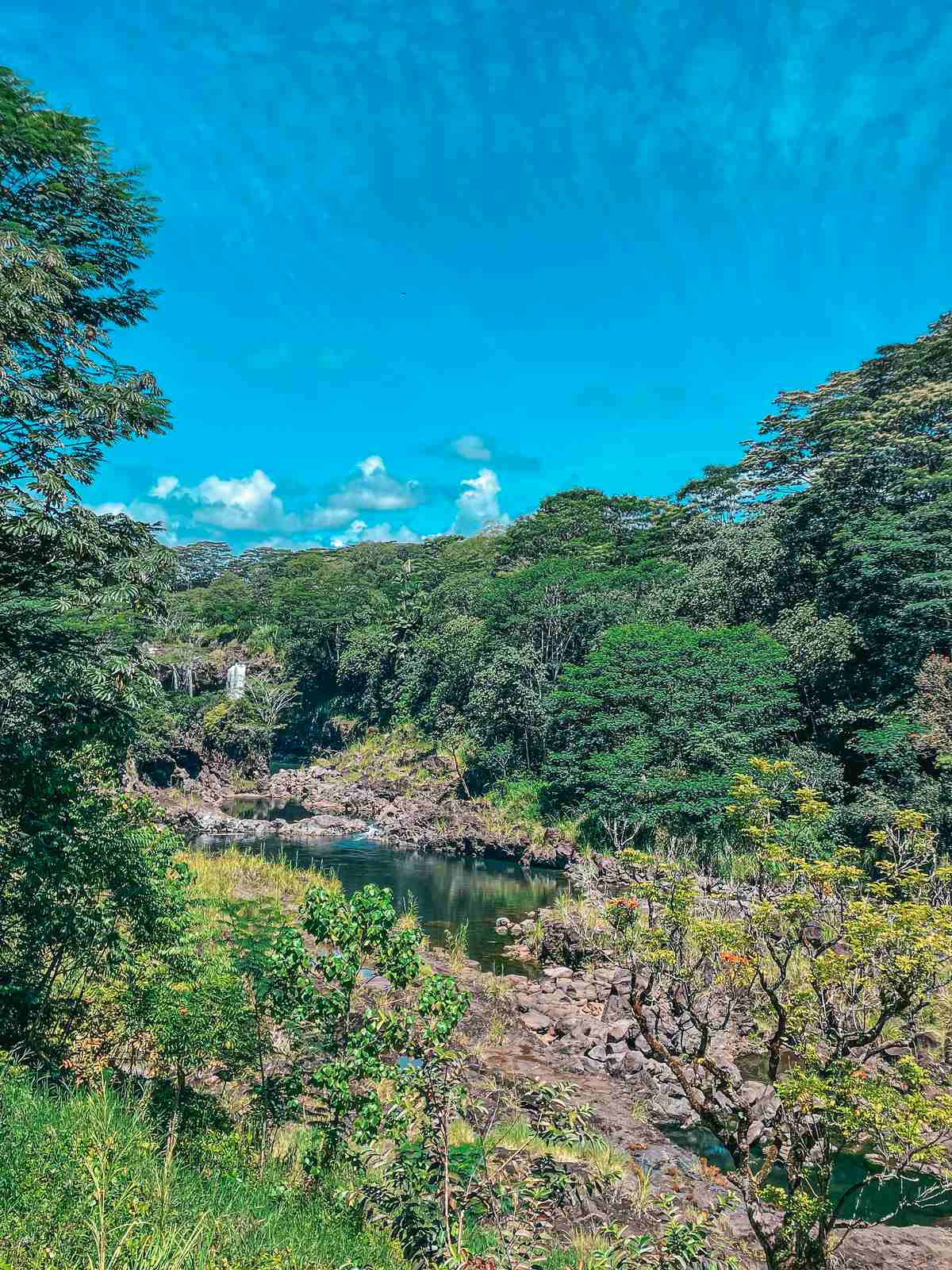 After the Boiling Pots, you'll hop back in your car for an 8-minute drive over to Kaumana Caves. Kaumana Caves allows you to explore a huge lava-tube cave that Mauna Loa created in 1881. It's pretty insane! And another great thing to do on the Big Island for free.
We checked out a lava tube on the Road to Hana in Maui, and this one was on a much larger scale.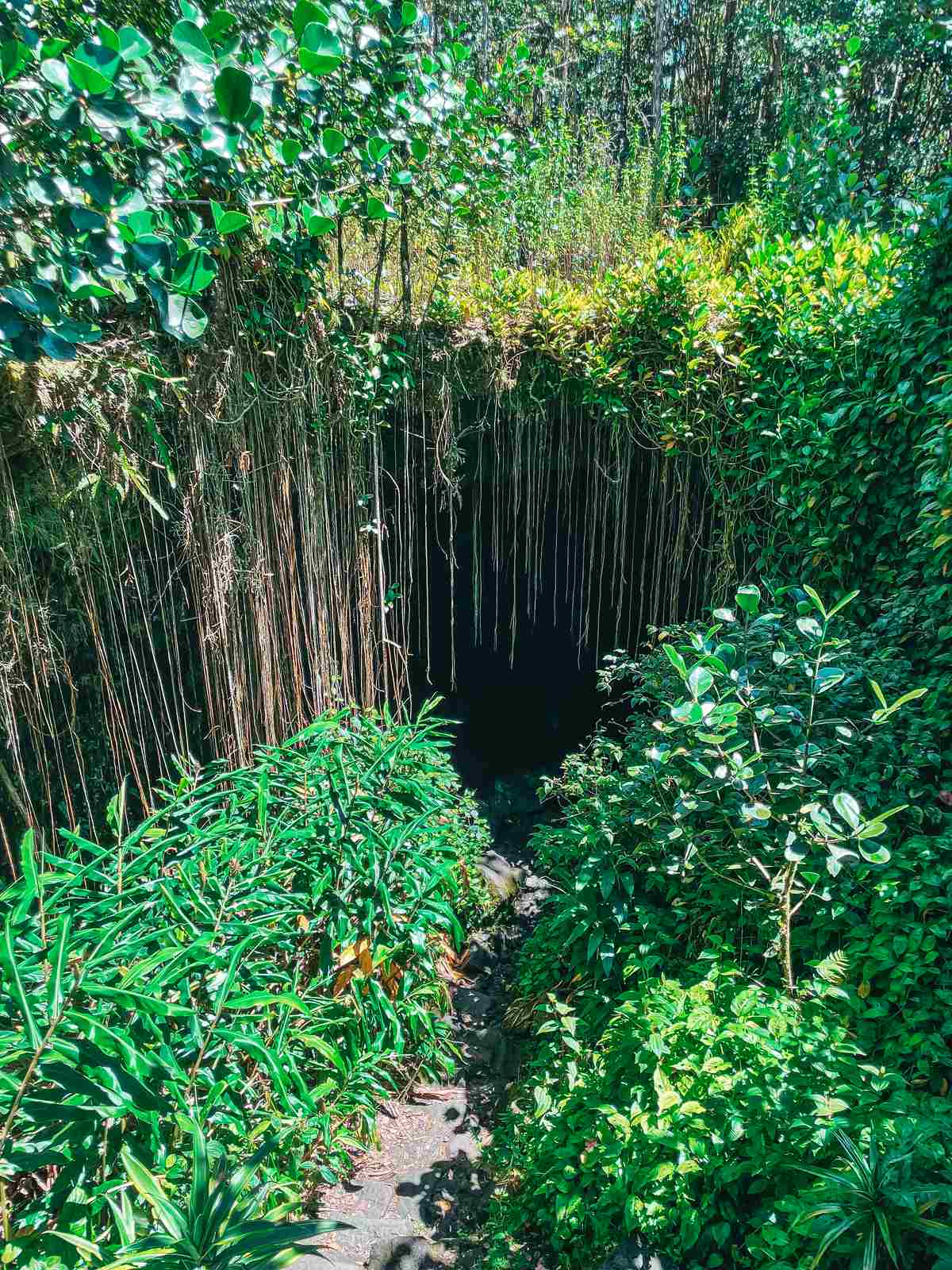 Winery, Thai food, and Volcanoes National Park
The next part of the road trip was a little bit further of a drive. You're 45 minutes from the start of Volcanoes National Park. Since we figured we'd spend a few hours in here we snagged some lunch before entering. Oh, and we stopped at Volcano Winery, which was an excellent decision.
Volcano Winery has a pretty unique assortment of wines and even a couple of meads. We of course did the tasting so we could experience each one. They offer a pinot noir, a Volcano red, Volcano blush, Hawaiian guava-grape, macadamia nut honey mead, and an infusion tea wine mead.
I occasionally enjoy meads, but I often can't do too much of them because of their thicker, more syrupy consistency. Volcano Winery's meads were a pleasant surprise. The flavor of the macadamia nut honey mead was so good, and the consistency was light. We actually snagged two bottles to bring home with us!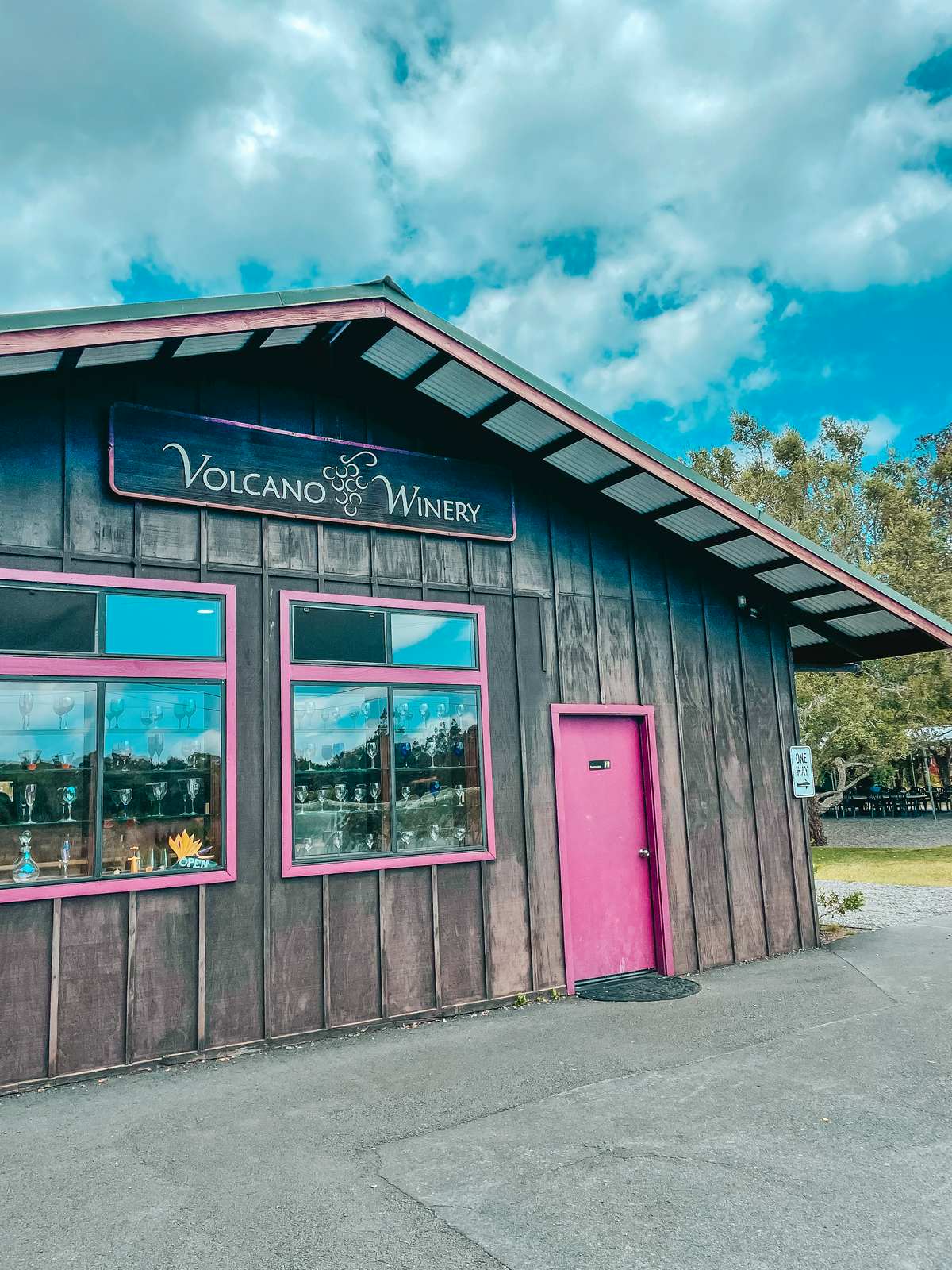 After you enjoy your samples, head over to Thai Thai Bistro & Bar. As with most Thai restaurants, the portions are plentiful. Remi and I shared an order of their Thai Thai special curry with shrimp. It was stellar! And it kept us full for several hours, even after splitting it.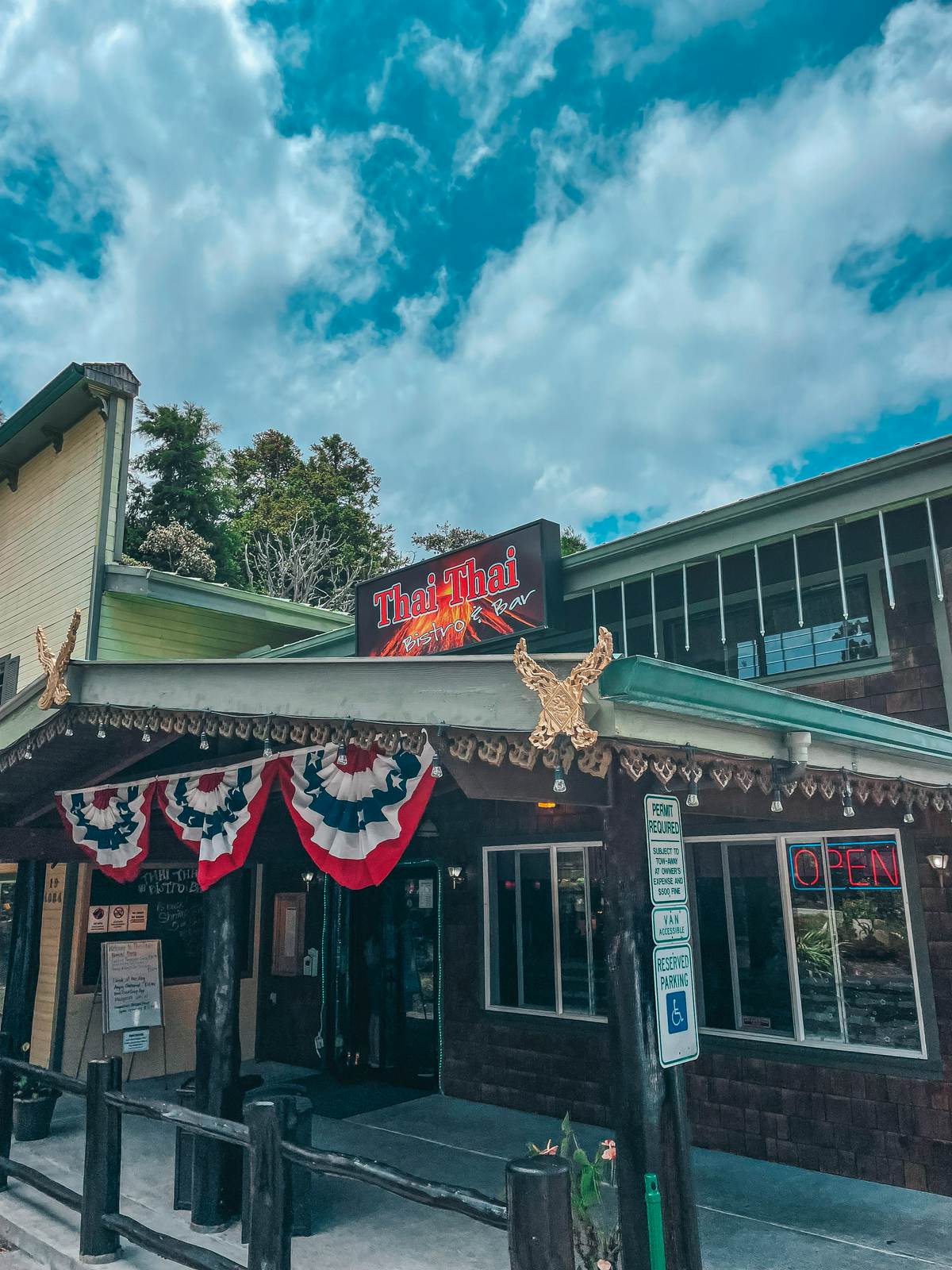 Now that we're full, and had a few sips of wine, it's finally time for Volcanoes National Park! Entry typically costs $30 per vehicle and is good for 7 days. However, if you have the National Parks Pass it's free! There are two National Parks on Big Island, and one on Maui. If you plan to visit all three it's definitely worth getting the pass.
Some of the most distinctive geological, natural, and treasured cultural landscapes in the world are protected by Hawai'i Volcanoes National Park. The park, which includes the peaks of two of the most active volcanoes in the world, Kilauea and Mauna Loa, stretches from sea level to 13,681 feet. It has been declared an International Biosphere Reserve and a UNESCO World Heritage Site.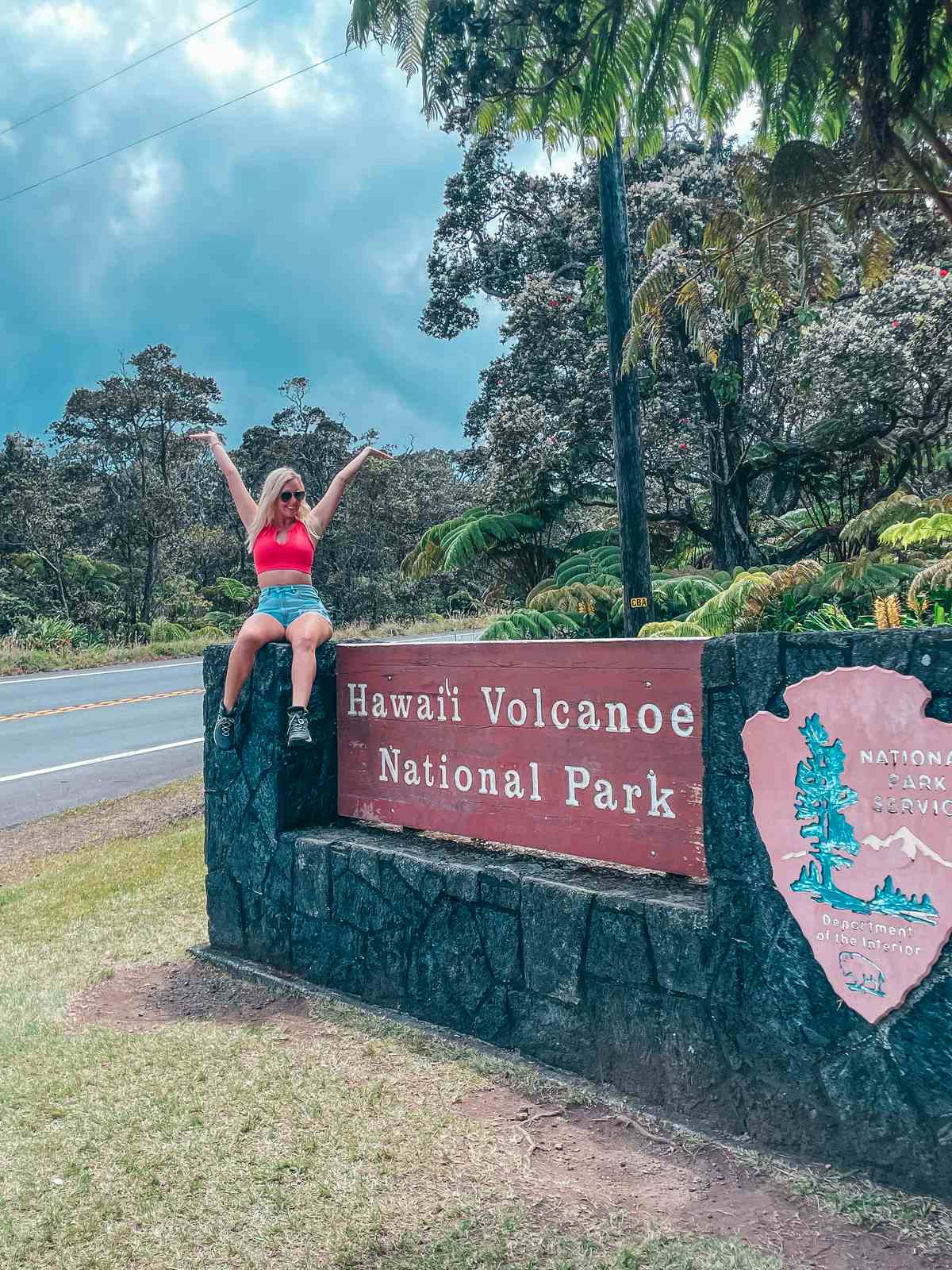 Prior to heading here I highly recommend downloading the Shaka Guide app and purchasing the Hawaii Volcanoes Nat'l Park Tour. It costs less than $20, and was so helpful and informative! We loved having our own personal local tour guide in the car with us.
The app goes off of your GPS, and you can download it so it works offline. It tells you the best stops, and which ones you can maybe skip if you're in a rush or getting tired.
We first found this app when we did Road to Hana, and I really wish I would've known about it when we did last year's Arizona and Utah road trip because they have tours for those states as well (plus Nevada)!

In case you don't want to purchase the app, here are a few of our favorite stops:
Volcano steam vents
Sulfur banks hike
Devil's Throat Crater
Pauahi Crater
Kilauea Iki Overlook
Muliwai O Pele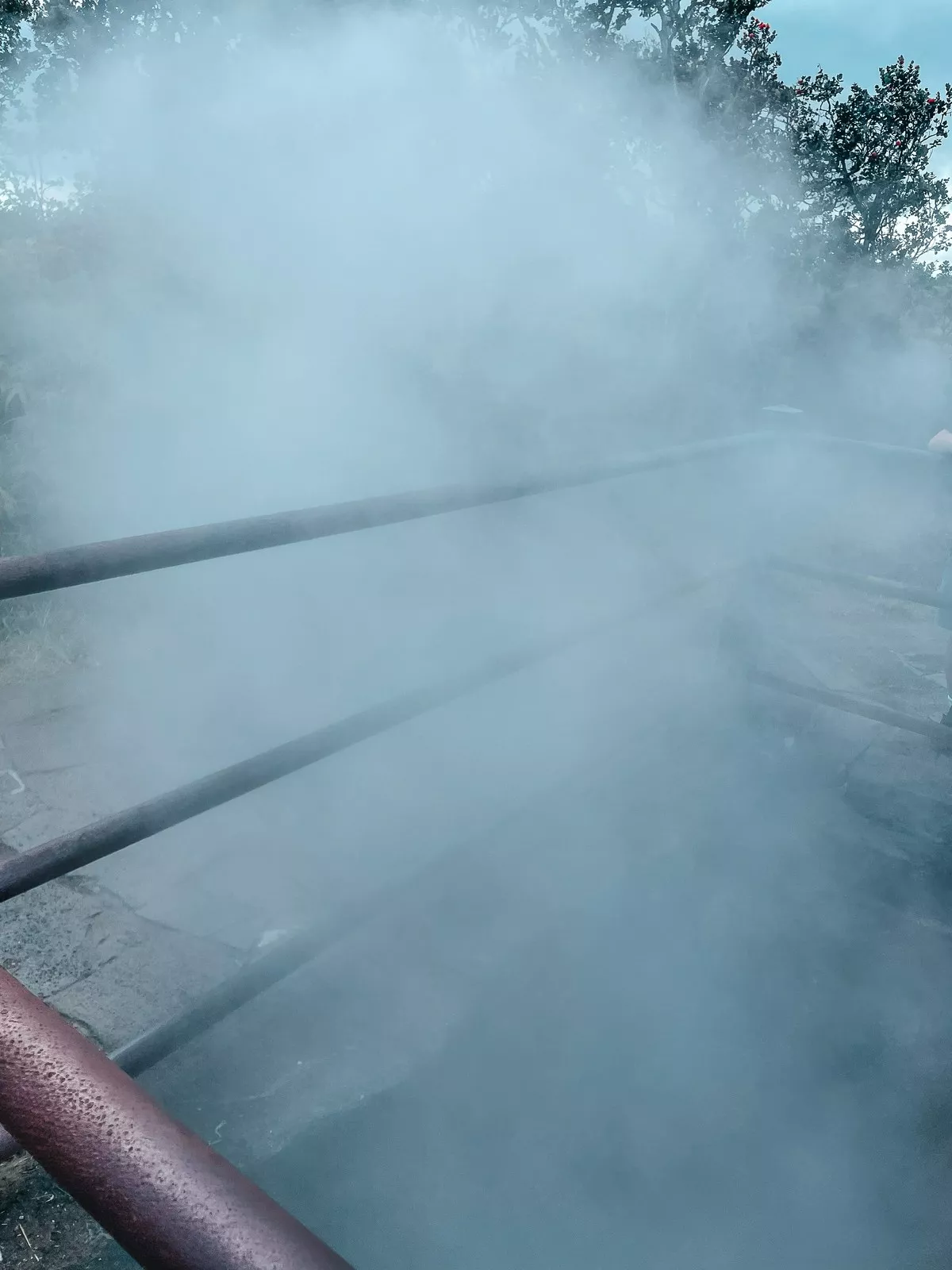 Unfortunately, the Thurston Lava Tube and Puhimau Crater were closed when we visited which are two of the most popular parts of the park. So if they are open during your visit, be sure to check them out.
We ended up going back to our Airbnb for a little nap. We were so pooped from a full morning and afternoon of exploring, and honestly, once we laid down it was pretty hard to get back out. But I will say experiencing Volcanoes National Park at night is an absolute must.
This National Park is open 24 hours. There are a few eruption viewpoints the park rangers discussed for viewing the lava. The stop right past Devastation Trail was the best viewpoint, but it includes a 1-mile hike (it took us 20 minutes to walk there). Bring a headlamp or flashlight if you have one.
We went around 9:30 PM on a Tuesday and it was still a little crowded. So surely the later you can manage to go, the better.
If you only want to make the trip to the park once, I suggest going for sunrise so you can see the lava flow while it's still dark, and then check out the rest of the park once the sun is up, or just go at night. Witnessing it at night was such a "WOW" moment that I will truly never forget.
On your walk to the eruption site, turn off your light for a moment and look up to enjoy the magic of the night sky without all of the light pollution. It's so beautiful and clear that you can actually see the Milky Way!
If all of this seems overwhelming to you, you can easily do some of these adventures the next morning before heading to Kona.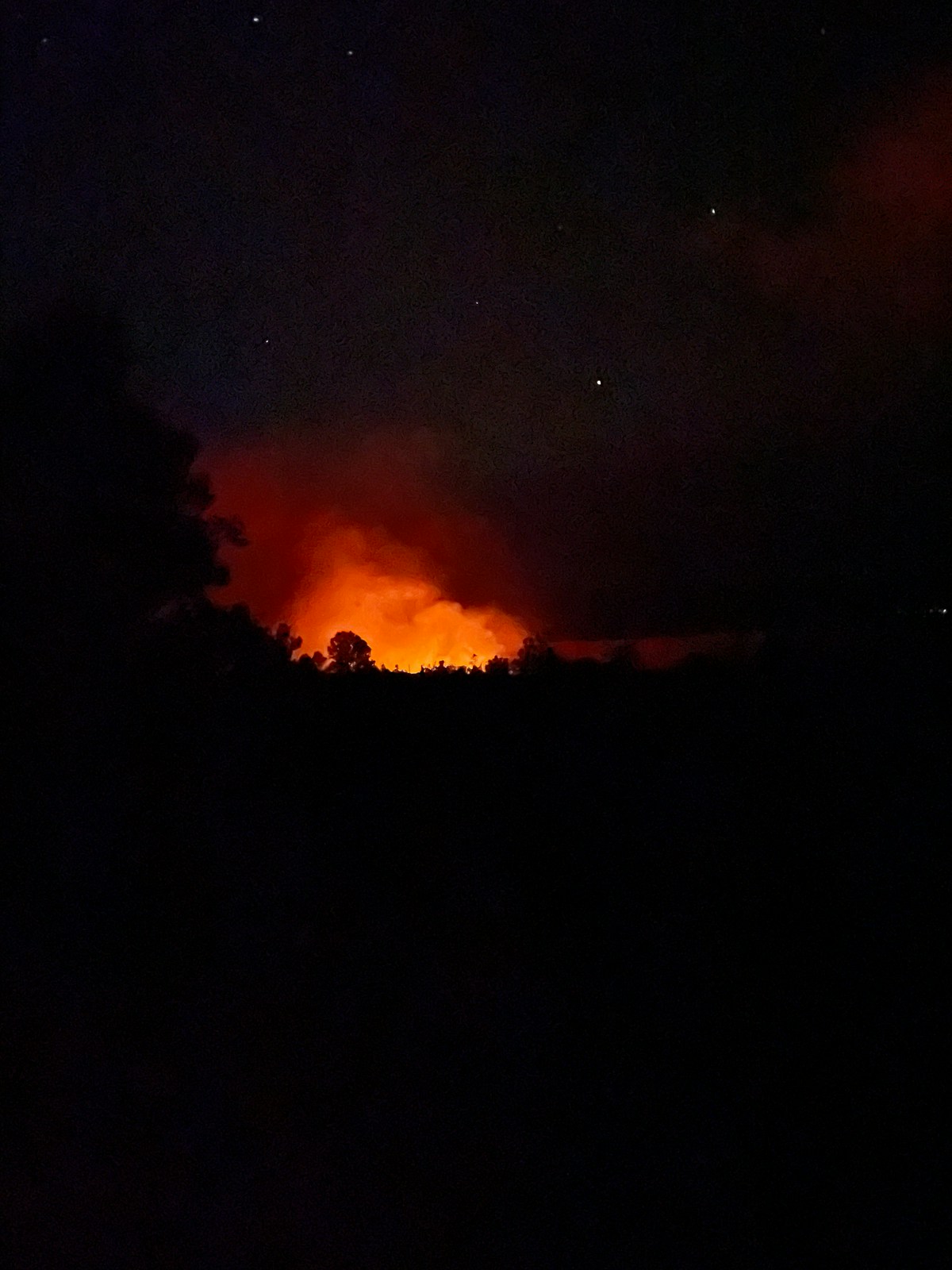 Day 3: Drive from Hilo to Kona and relax with ocean views and happy hours
For the start of day 3 of your Big Island itinerary, you can either finish up whatever you couldn't get to from yesterday's road trip or just hit the road and start making your way to Kona.
Before the 2-hour drive (2 hours from our Airbnb in Keaau, 1 ½ hours from Hilo) we made a pit stop at The Sippin Siren for some coffee and breakfast. It really hits the spot if you're looking for an easy stop on the way out.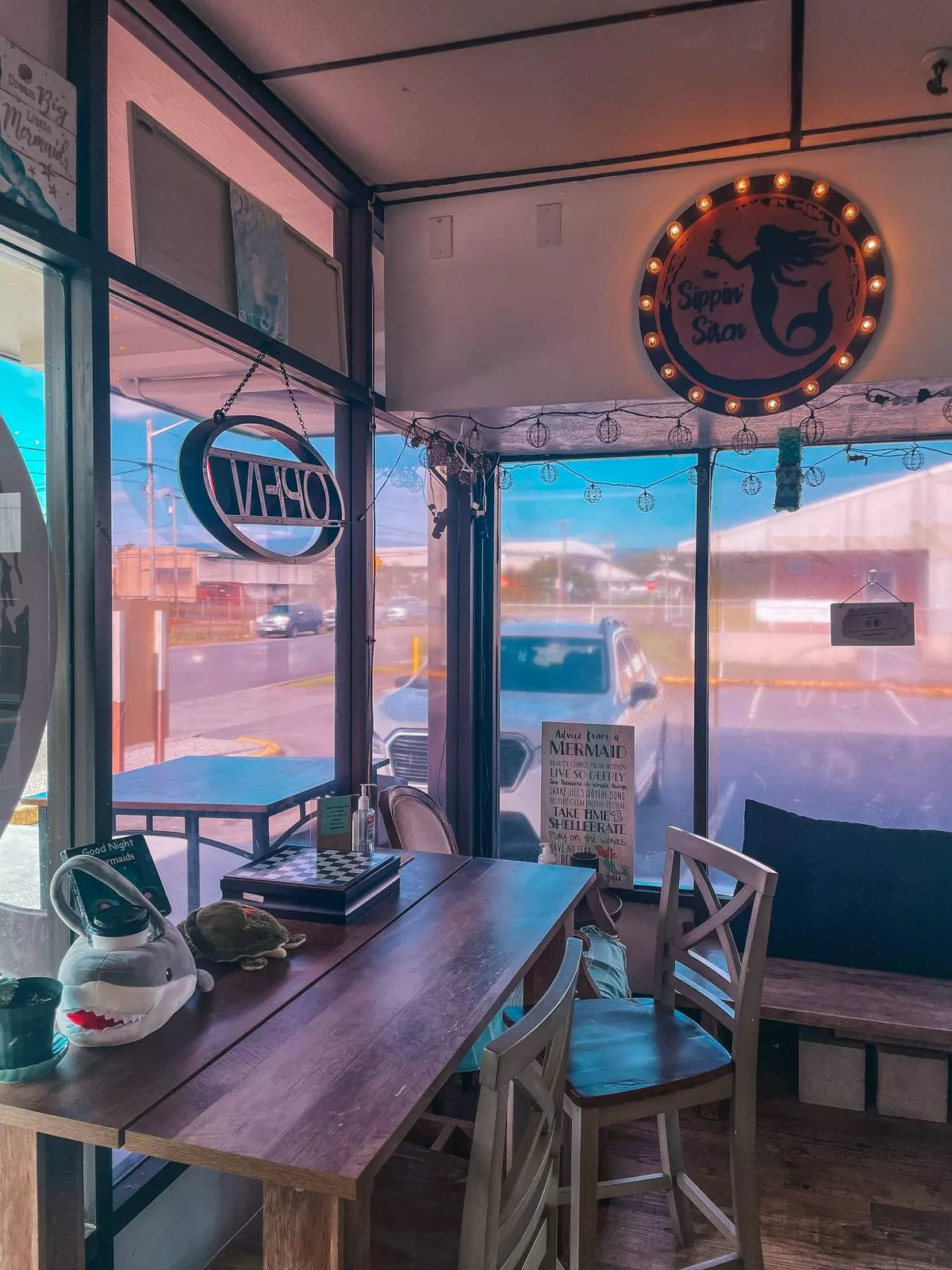 This is the day you'll have time to relax and enjoy your time on the Big Island. You'll drive through some amazing landscapes, so enjoy the views on your drive.
Once we got to Kona we kind of just explored a little and got our bearings after checking into the Holiday Inn Express just because we were able to book with points. Check out all of the accommodation options for Kailua-Kona here though!
We checked out Ola Brew for one of their cider flights and then had some lunch at Umekes. Ola Brew also has a Hilo location if you have more time to check them out there! I found their Kona gold pineapple and dragonfruit lemonade cider to be unique and delightful.
Note: These spots are all around the same area as where we visited the first night before heading towards Hilo.
Umekes was SO good, and the seafood was so fresh that we had it TWICE during our time in Kona. Poke is a must-try food in Hawaii, and Umekes was easily some of the best poke I've had. Remi and I shared the Big Boy plate which comes with two types of poke, two servings of rice, and two sides. It only cost $26! We couldn't believe it.
They have so many different types of poke to choose from. We did the Da Avo, Hottie, and their poke of the day. I don't think there's a wrong option. They also had nice cocktails, including their fake crack which was a delicious mezcal drink.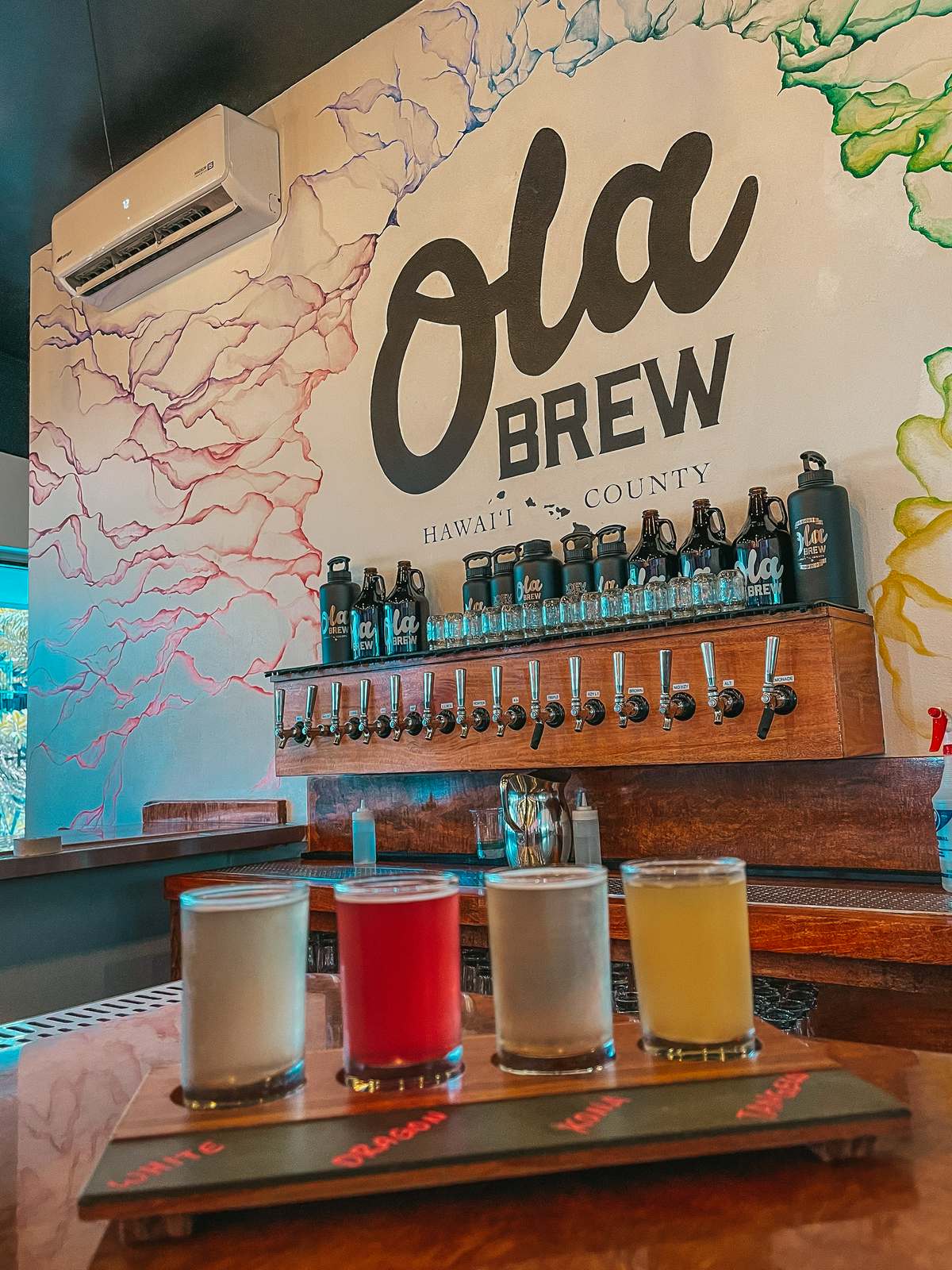 Relaxing with oceanfront happy hours
If you're feeling the exhaustion from the day before sink in (so were we), don't you worry. This day is all about relaxing. We took a nice little nap in our suite before heading out to experience some local happy hours.
Huggo's on the Rocks was our first stop. This waterfront spot had unbeatable views and a nice relaxing vibe. Oh, and did I forget to mention they have $6 happy hour mai tais? And they were good!
They also have a Hawaiian rainbow for $6 on happy hour, but while it looks beautiful it was a little too sweet and artificial tasting for me. They also have some pupus on their happy hour menu as well.
Next, we headed to Don's Mai Tai Bar. It's located inside the Royal Kona Resort. We got some coconut shrimp and a couple of $10 lava flows— pina coladas with an additional flavor of mango, strawberry, guava, or lilikoi! The perfect vacation drink.
If you aren't exhausted and want to keep on exploring I have some other suggestions for you at the end.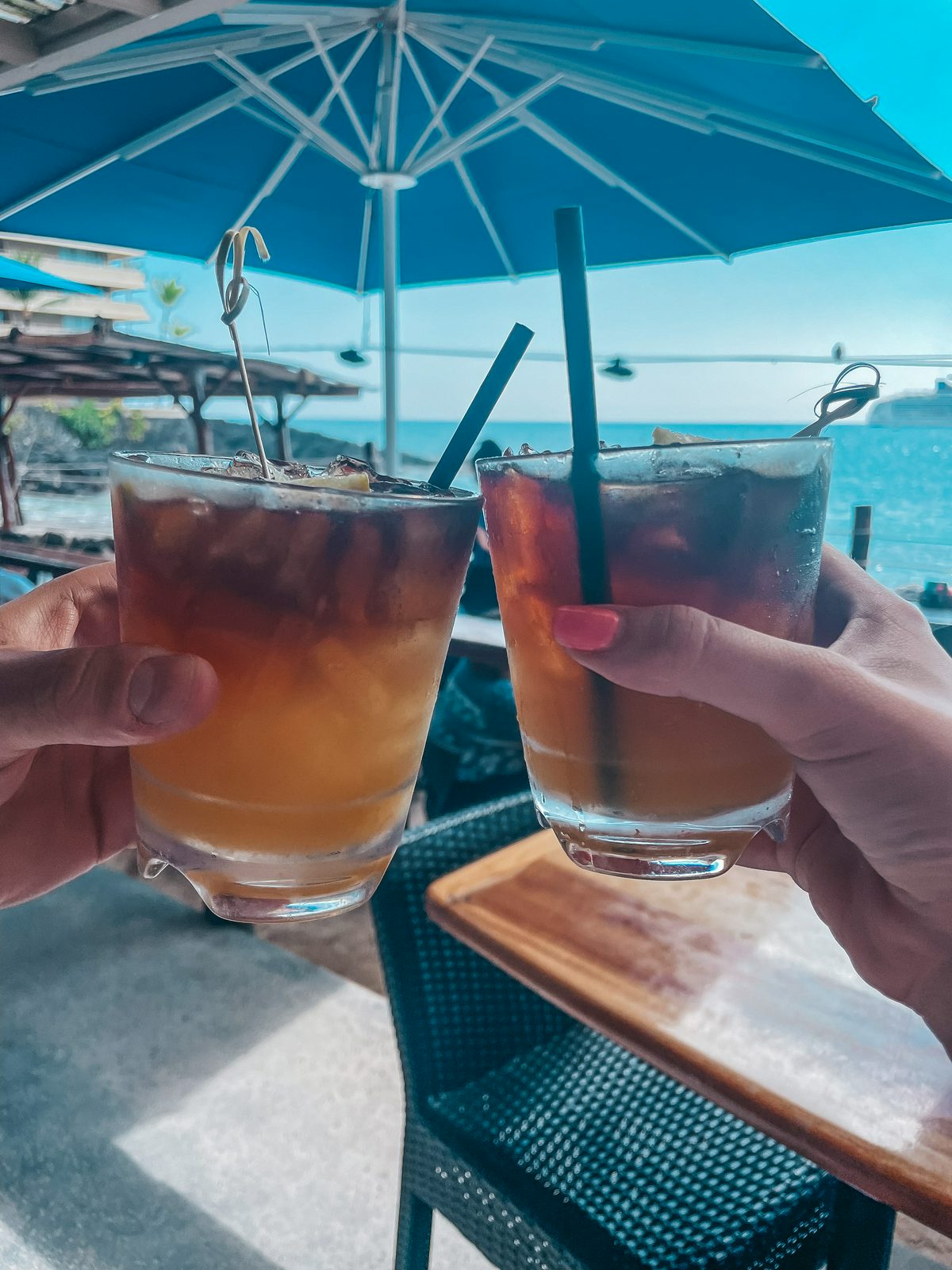 Day 4: Pu'uhonua O Honaunau National Historical Park, snorkeling, and manta rays
Wake up and get your morning started with an ube latte or cold brew from HICO Coffee. These drinks are lovely, but if you like sweet drinks you're going to want an additional flavor. Ube is a purple yam, and it's very popular in Hawaii, so I'd say it's worth trying.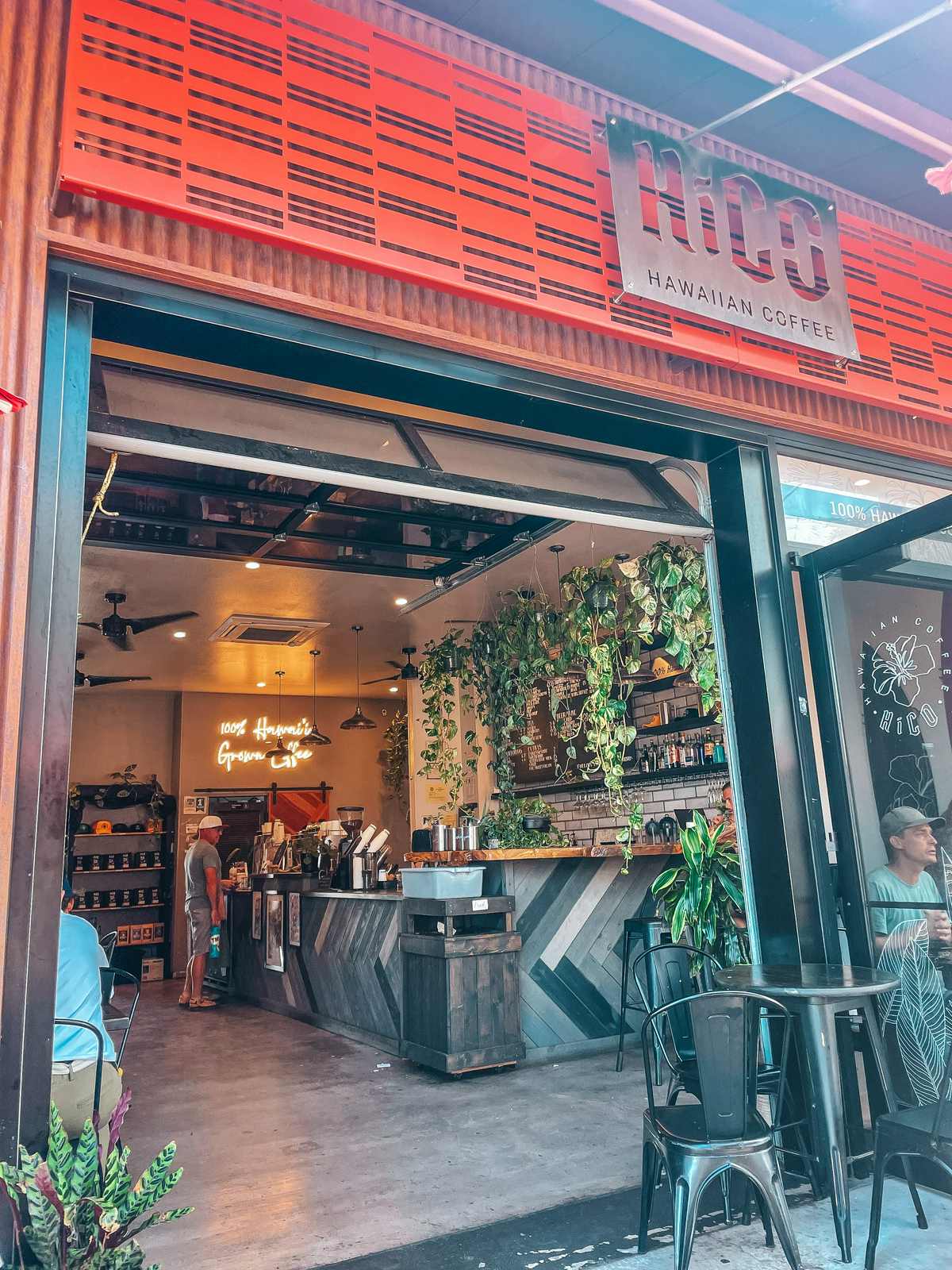 Pu'uhonua O Honaunau National Historical Park
From here you can begin to make your way to Pu'uhonua O Honaunau National Historical Park. Bring your snorkel gear, because there's a great spot right next door to check out after!
This place has been considered a sacred place since ancient times because it was used as a refuge by those who broke kapu (taboo) rules or were exiled from their home islands. In addition, many families lived here when they were forced out of their homes due to famine or other natural disasters like hurricanes and tsunamis.
We spent a little over an hour here, but you could easily spend more or less time depending on your itinerary and interest. There is parking here, and we just left our car parked here while we went to Two Step.
It costs $20 per vehicle to enter the park, but again if you have the National Parks Pass it's free!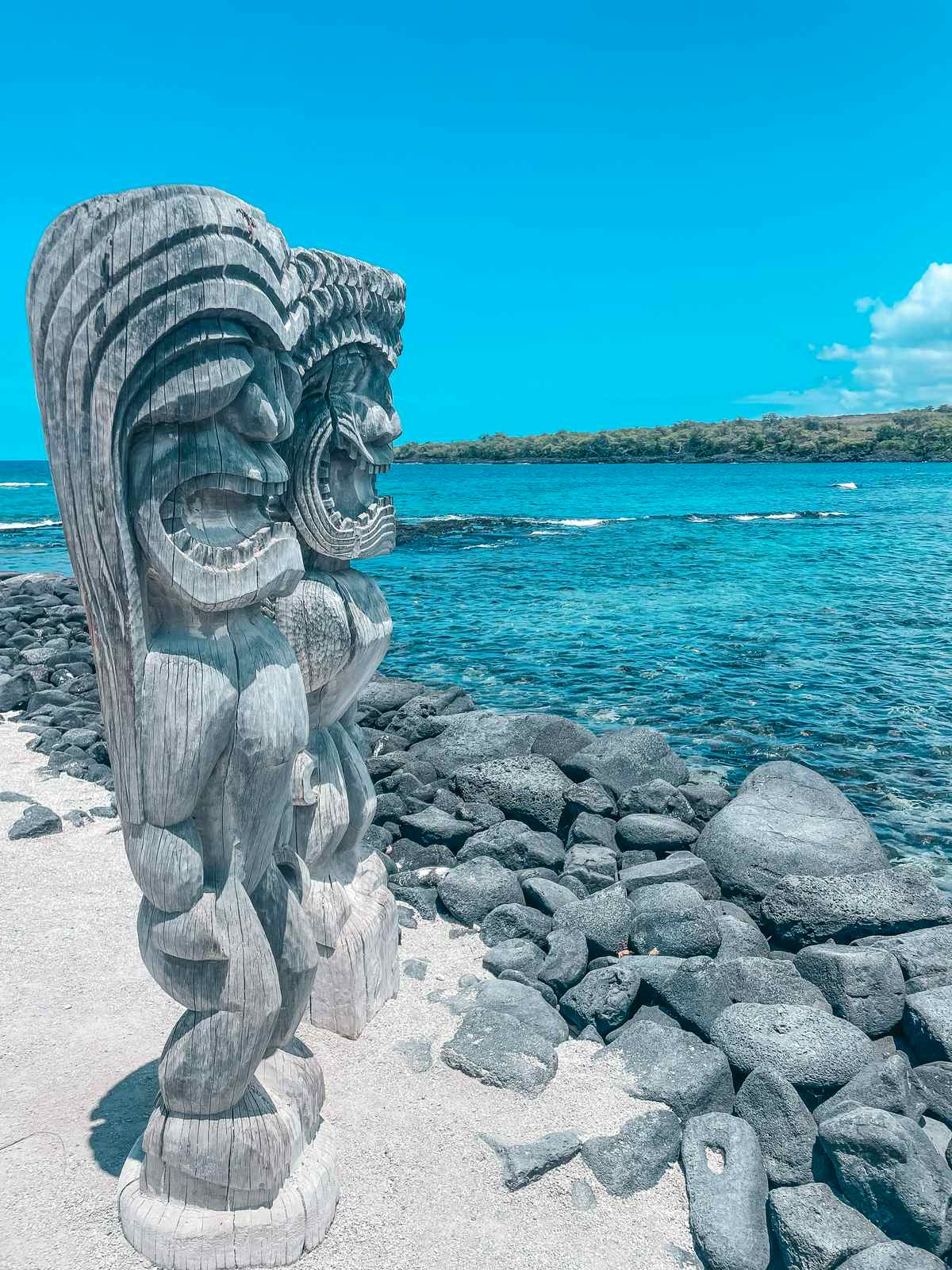 Snorkeling at Two Step
Right next door to Pu'uhonua O Honaunau National Historical Park is Two Step. It's a pretty popular snorkeling spot with hardly any sand, but that doesn't stop visitors from setting up camp and laying out right on the lava rocks.
There are plenty of tropical fish to check out, and if you go early in the mornings you can often expect to encounter sea turtles and even dolphins!
Kona restaurants and bars
On your way back to your hotel you can stop at Kona Grill House for a snack. Remi and I just split a lobster crab cake meal, and a slice of lilikoi strawberry cheesecake to hold us over until Kona Brewing later.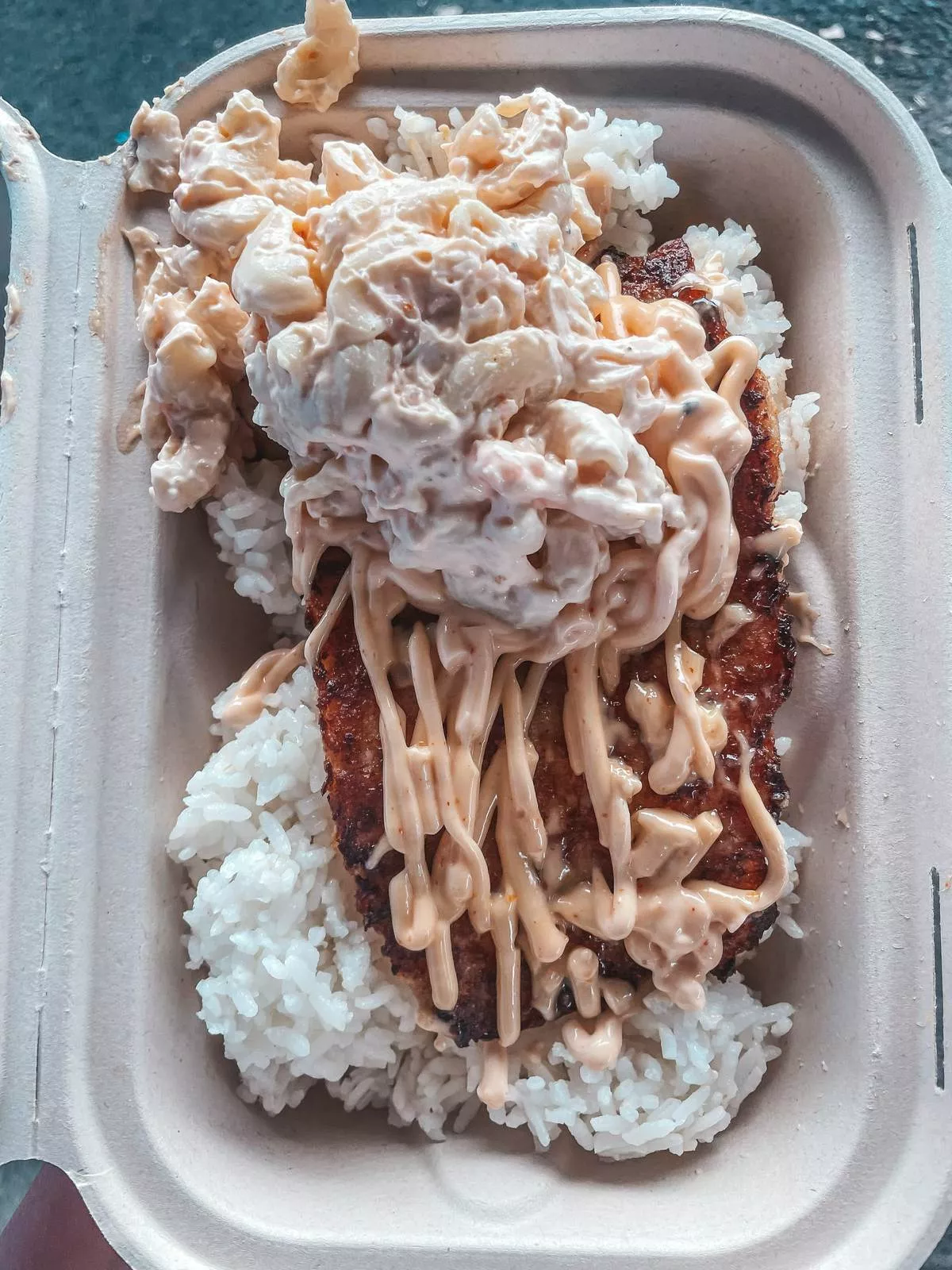 This stop is right on your way home, and it was quite delicious, and unique! We went back to the hotel to rinse off and change before stumbling on this great dive bar— Mad Marlin. I think it's almost impossible for Remi and I to travel somewhere without finding a spot with games.
So we played a few games of pool and darts, and enjoyed cheap, stiff drinks! They had $6 Tito's drinks! Then once I was done embarrassing myself at pool we headed over to Kona Brewing.
Kona Brewing is an absolute must for your Big Island itinerary. They have great beers, and the food is so much more than your average pub fare. We did their roasted garlic and pizza rolls with homemade ranch, but everything from their wings to pizza looked and sounded amazing.
They have a great selection of brews from IPAs to light, crisp ales. The brewery itself is gorgeous, and if you have the time they offer 1-hour tours Tuesday through Saturday for $20.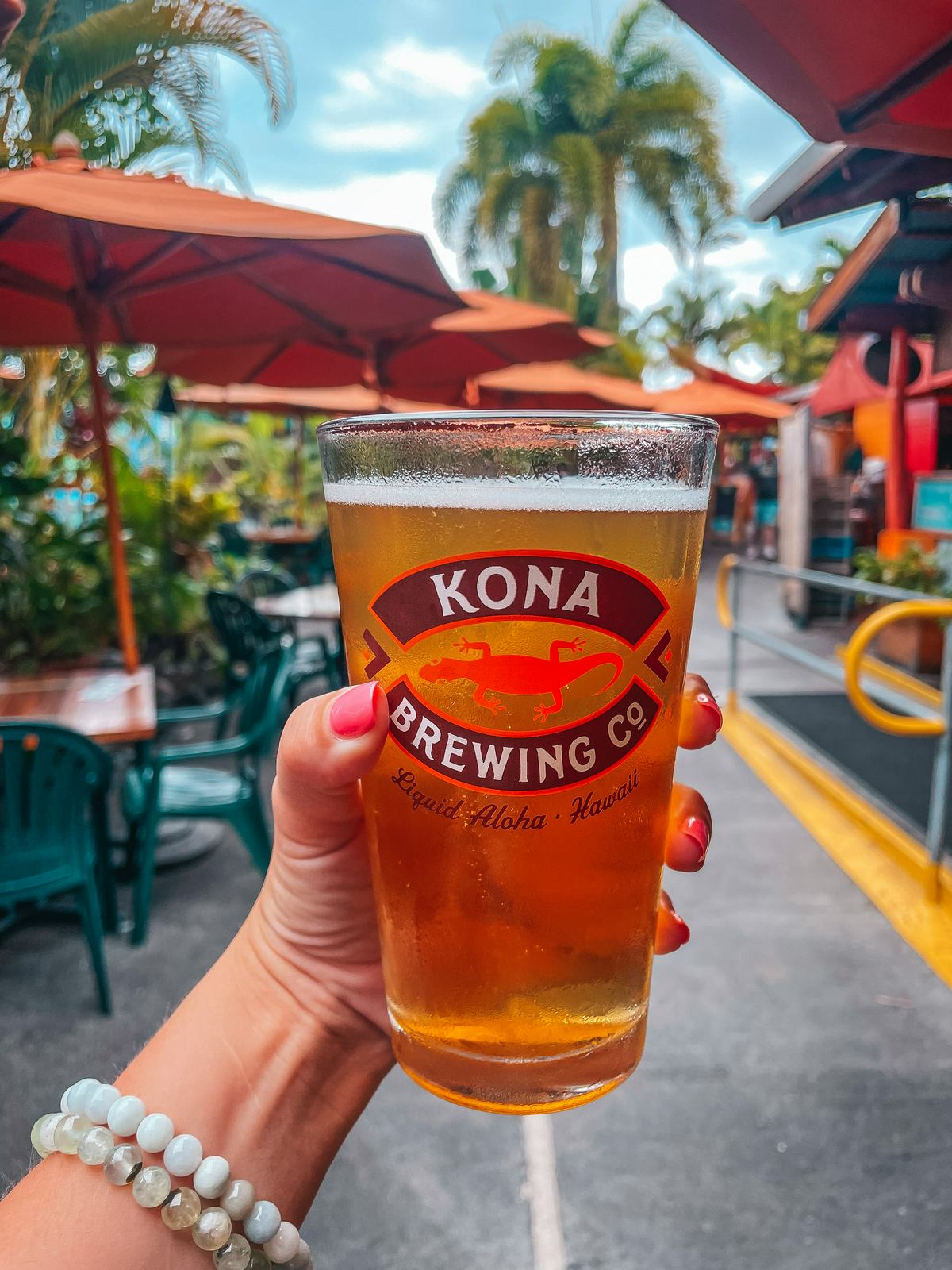 Night Swimming with manta rays
Now it's time for one of the coolest experiences you can possibly have— swimming with giant manta rays! Hawaii is one of the best places in the world to have this opportunity. While there are a few areas you can up your odds, off of the Kona Coast at night gives you the best chance. If you go with a tour group, you have a 99.9% chance of seeing them.
The mantas come here for the plankton, which is their main food source. Plankton is drawn to light, which is their food source. So when you go with these tour groups you are holding onto a board that has a light in the center which draws the plankton, which then in return draws in the manta rays.
This experience was truly so epic (peep some of the experience in my Big Island recap video)! For your tour, you will hop on a boat ride that gives you just a short 5-minute ride out to your snorkeling spot. You will hop in the water with your guide and you will have around 25 minutes to be in the water with these gentle giants.
If you are nervous about snorkeling at night, the water is not too deep here at all! Plus, there are several other tour groups in the same area so dozens of other people are around you.
🤿Ready for the best Big Island activity?🤿
Witnessing the manta rays do flips and tricks, and glide through the water is something you will never forget witnessing. I can assure you of that!
Click herе to book
This experience was as exciting and less terrifying than swimming with sharks on Oahu's North Shore.
This was the perfect nightcap for our last day in Kona. Now it's time to go back and rest up for tomorrow's flight, especially if you're moving on to another island!
Before heading out we enjoyed some cold brew from Kona Coffee and Tea, and had to get Umekes one last time!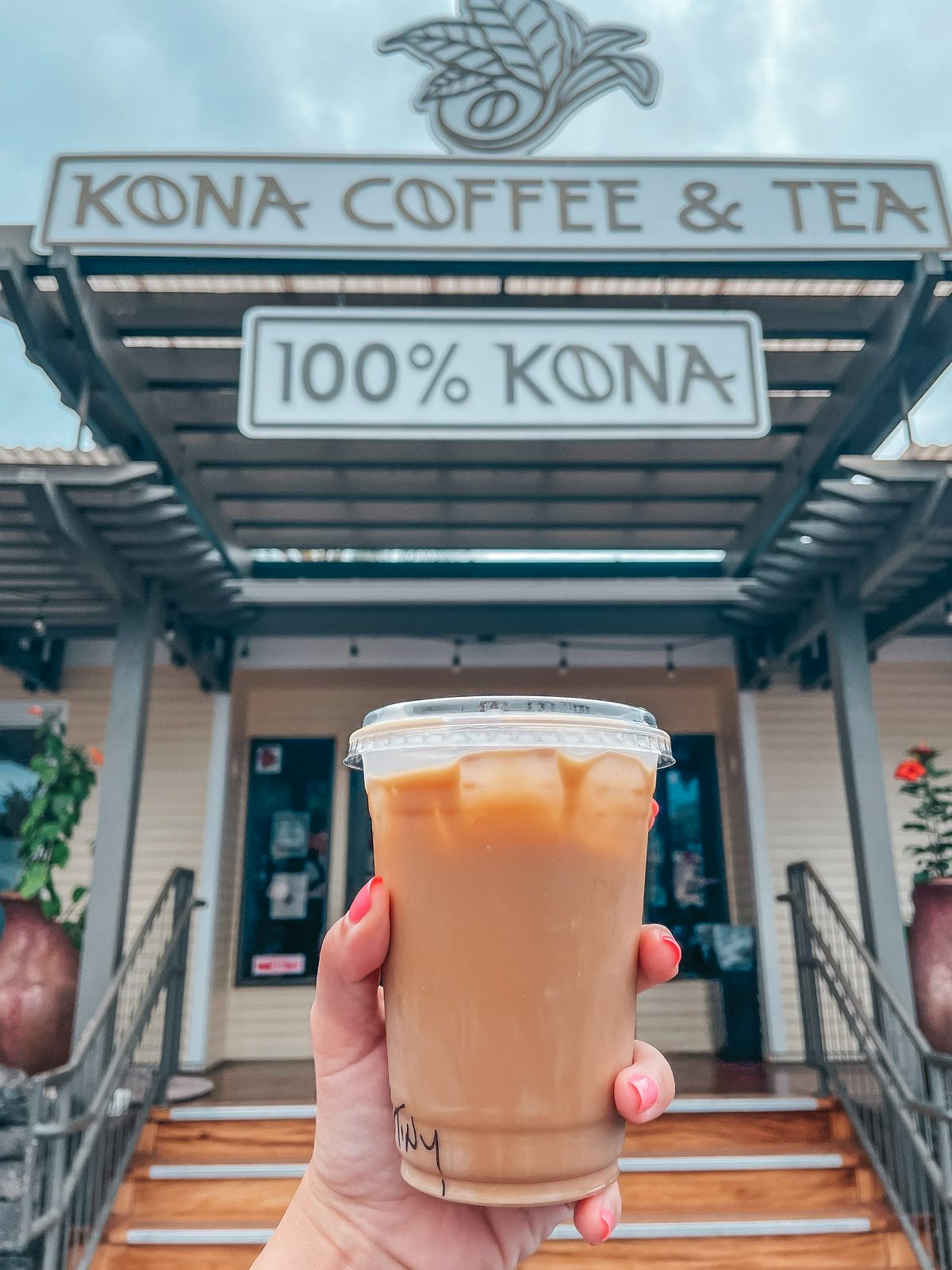 Additional suggestions to add to your Hawaii Big Island itinerary
These next few additional suggestions are all for Kona. So if you plan on spending more time in Kona, or want to do something more exciting than relaxing and happy hours here are a few bonus top-rated tours in Kona:
Atlantis submarine— Ever wanted to experience what it's like being in a submarine? This is your chance! You'll get to descend 100 feet below the crystal clear waters of Kona and watch marine life enjoy a 25-acre natural coral reef. From fishies to dolphins, this is an aquatic adventure you'll be sure to remember.
Kona coast helicopter tour— Seeing any of the islands from an aerial view is going to be a breathtaking, magical experience. Kona's helicopter tour takes you over beaches and bays for a lovely 30-minute ride. Big Island tours are typically over $100 cheaper than the tours on Kauai! That being said, if you are island hopping and the price difference doesn't matter to you, save this experience for Kauai.
Whale watching tour— If we were visiting during whale season this would've been on our itinerary! This catamaran tour only takes place from December through March, but they guarantee you whale sightings, or you get to ride again for free.
Kona snorkeling tour— In case you want to beat the crowds of some of the offshore snorkeling spots this tour provides transportation via Zodiac raft. Because it's smaller than most boats it allows you to get to places other boats can't. They take you to Kealakekua Bay where they provide snorkeling gear, reef-safe sunscreen, lunch, water, and soft drinks. Plus, these tour guides know the best spots, and typically even encounter dolphins (and whales in season!).
If you're going to be island hopping in Hawaii or have limited time to explore the Big Island, it's a good idea to have an itinerary that will keep you organized. I've put together this 4-day Big Island itinerary that covers all the major sights on the island and gives a great variety of sights and activities, but is easily customizable to your preferences!
If you have any questions about the places or activities I've suggested feel free to reach out to me on Instagram at @guidedbydetiny 🙂 Check out my other Hawaii posts if you plan on island hopping!