This post contains affiliate links which means that I will make a small commission if you purchase a product after clicking on any of them, at no extra cost to you.
While Hawaii has a reputation for being an expensive destination, there is plenty of fun to be had even for budget travelers. From hiking trails with stunning views to beaches with crystal-clear waters, there's no shortage of fun and free things to do on Oahu!
In this post, I'll share my top picks for budget-friendly activities, along with tips for traveling to Oahu without breaking the bank. Whether you're a solo traveler, a couple, or a family, Oahu has something for everyone. So pack your bags (I suggest Level8 😉) and get ready to experience the beauty of Hawaii on a budget!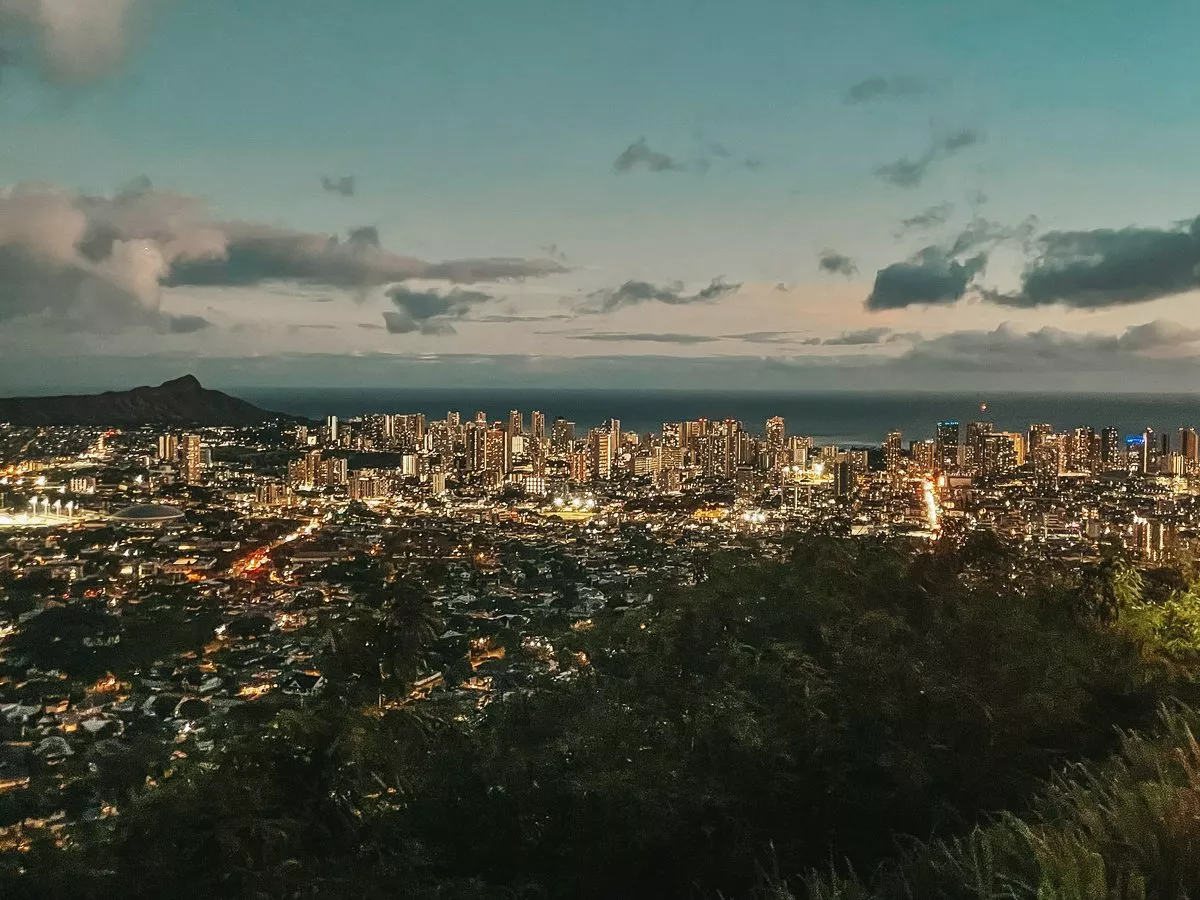 Free things to do in Oahu
1. Cliff jumping at Waimea Bay
Not only is this one of the best free things to do in Oahu, but it's also one of the most thrilling!
Even if you don't want to cliff jump, you should still go to Waimea Bay.  This beach is absolutely breathtaking. The gold sand and blue waters are beyond epic! Not to mention it was much more chill than the beaches we visited around Waikiki.
I wouldn't say I'm terrified of heights, but climbing to the top of the cliff and looking over the edge knowing I was about to take that leap definitely shook my nerves a bit.
Even so, the adrenaline I had when shooting out of the water after the jump was so exhilarating that I had to do it several times.
Be sure to check the water conditions before entering. There will be signs along the beach, and this beach does have a lifeguard.
There is a designated parking lot, but it can fill up quickly (especially on the weekends), so be sure to arrive early. This is a North Shore activity you're not going to want to skip!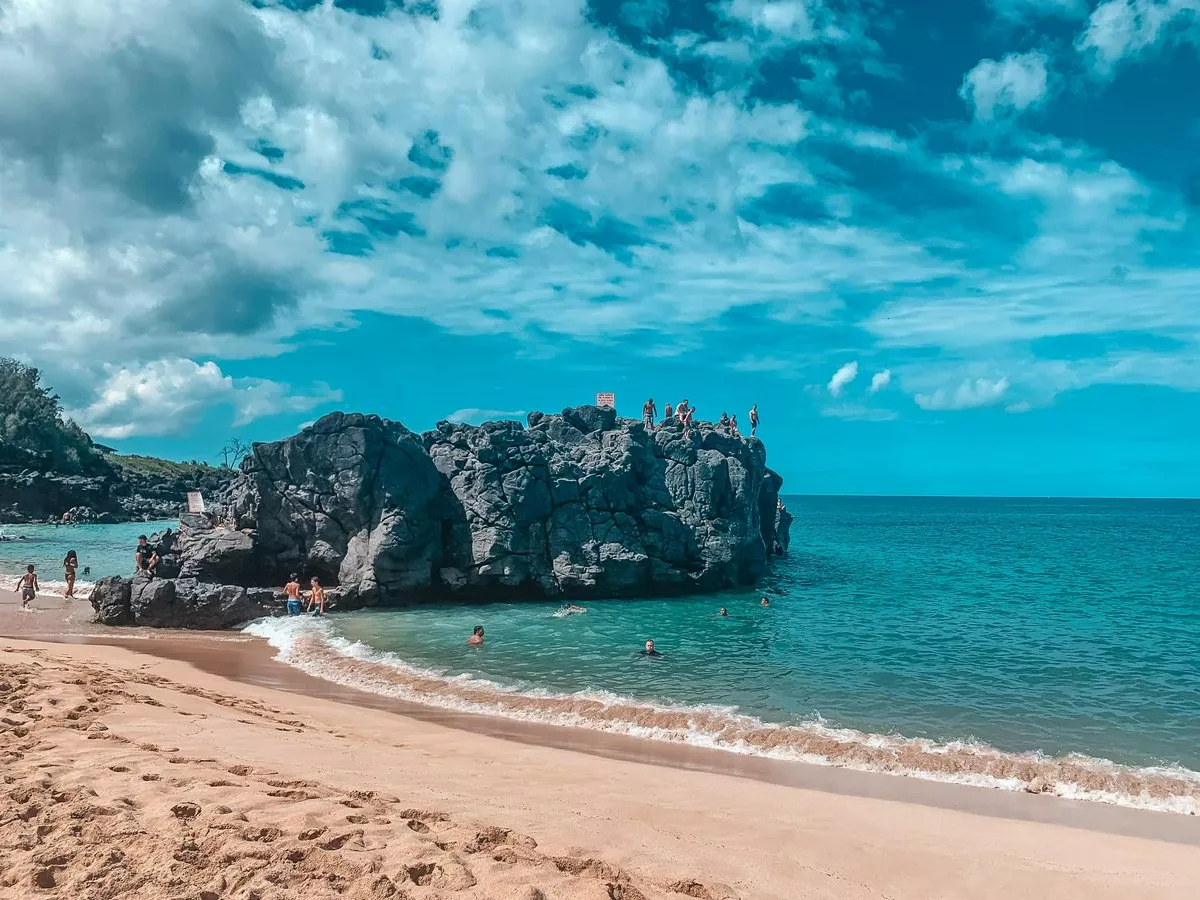 2. Watch the sunset at Tantalus
Tantalus Lookout may just be my favorite free thing to do in Oahu! If you are looking for the perfect place to enjoy the sunset on Oahu with minimal effort, this is it. Take in stunning views of the Waikiki skyline and Diamond Head volcano cone from this scenic overlook.
To make taking in the views even better take a bottle of wine and a blanket and enjoy a picnic. There is limited parking (around 10 spots), so try and get there at least an hour before sunset. The views are truly incredible, and I could've stayed here all day, except the park closes at 7:45 PM. The rangers will lock the gate at this time so make sure you head out at this time.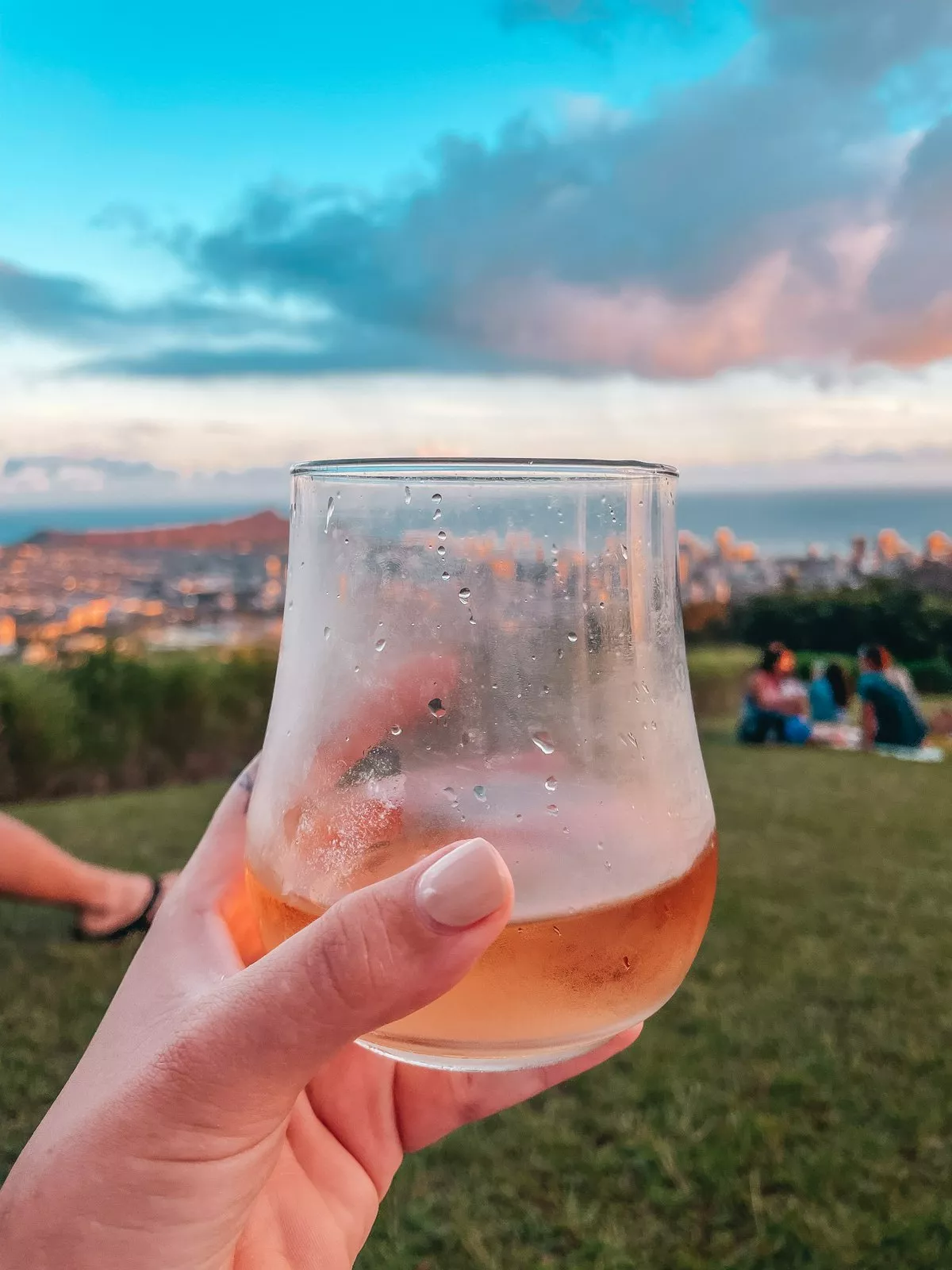 3. Watch pro surfers at Banzai Pipeline
If you aren't quite up for getting out on the water yourself, it's still really cool to watch surfers do their thing! The Banzai Pipeline is a surf reef break located on the North Shore. It's known for massive waves that break in shallow water just above a sharp and cavernous reef, forming large, hollow, thick curls of water that surfers can tube ride.
The months between November and February are ideal for seeing large wave surfing. The waves may rise to thirty feet or more. In January the Billabong Pipeline Masters is held here!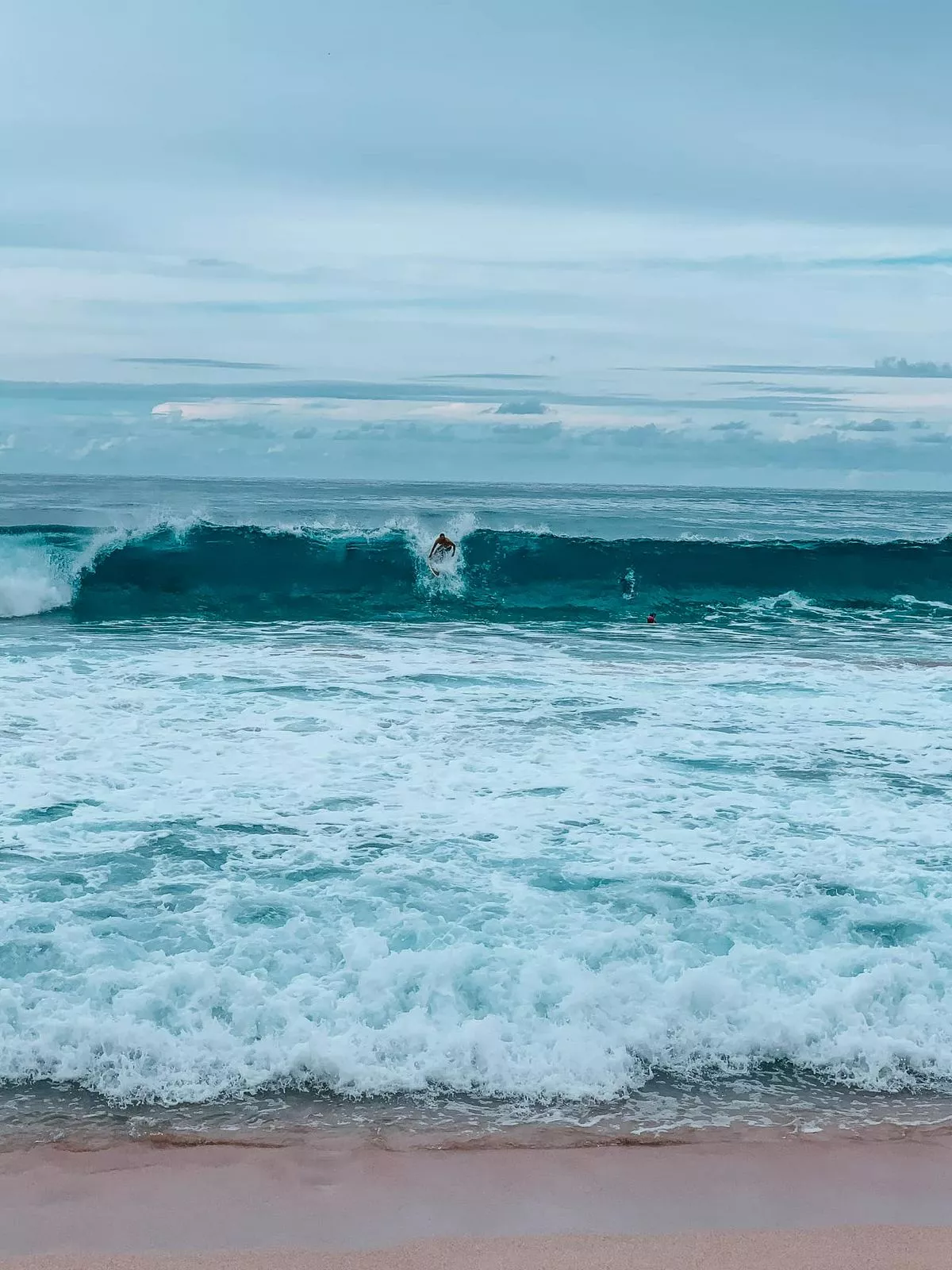 4. Check out the fireworks in Waikiki
You don't need to wait for the Fourth of July to see fireworks in Hawaii! Every Friday the Hilton Hawaiian Village Waikiki Beach Resort showcases a spectacular firework show free to the public. We spent the evening surfing (okay, attempting to surf) in Waikiki and watching the sunset from our boards, and paddled in to enjoy the firework show. That's a hard evening to beat!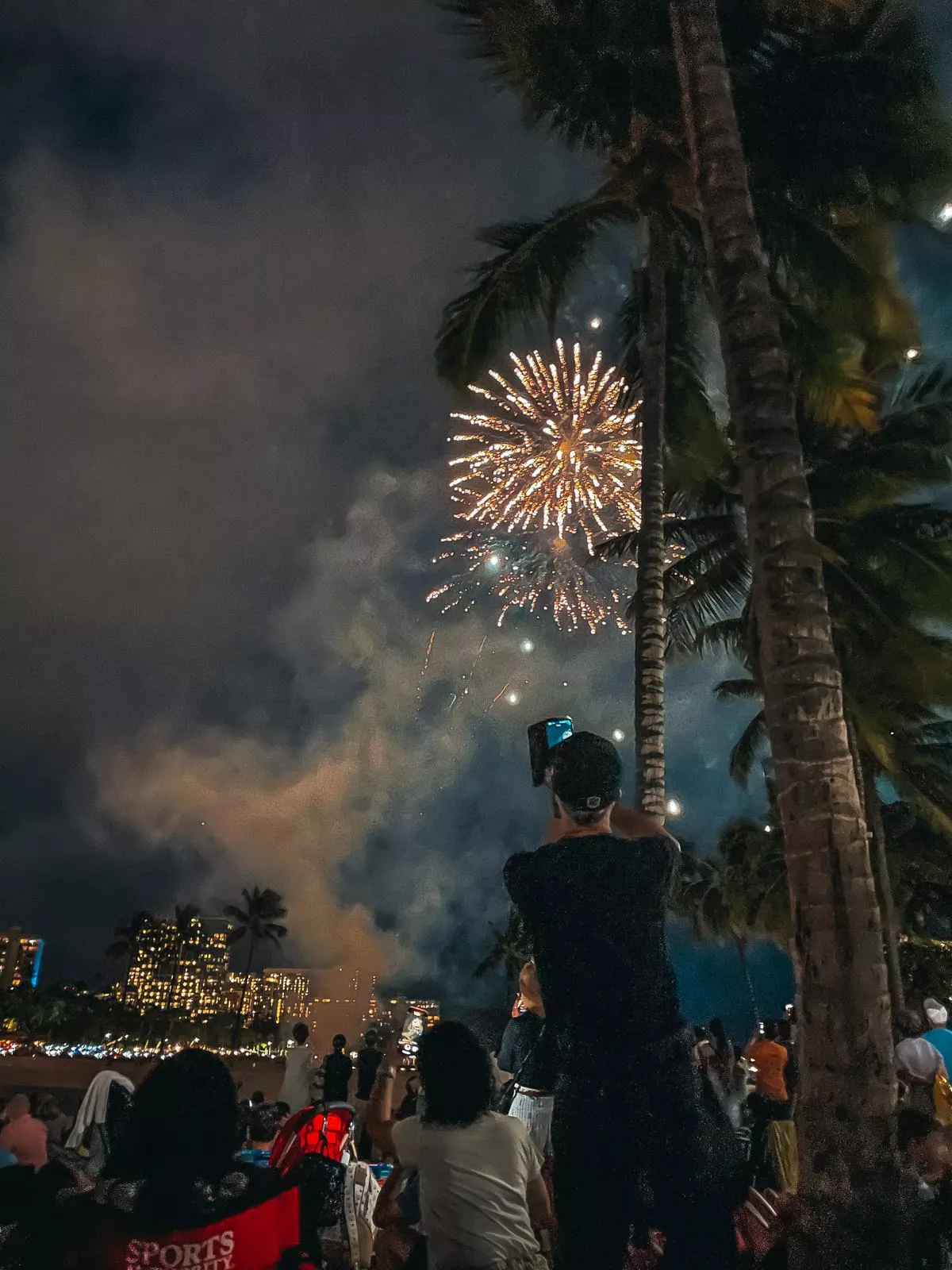 5. Do a ridge trail hike
I did the Wiliwilinui Ridge Trail and the Kuliouou Ridge Trail, both were beautiful and provided totally different experiences and views! While the day got cloudy, it was such a cool experience being in the clouds like that. The clouds waited until we were pretty close to the top too, so we had some epic views on the way up.
Wiliwilinui is a 4.7-mile out-and-back trail that's considered moderate. Towards the end especially there's a bit of steep uphill climbing and stairs. Be sure to wear good hiking shoes for this hike (I'm obsessed with these ones from Columbia which come in several colors).
It typically takes around 3 hours to complete. To get here you'll enter through a gated community. The guard will write down your license and give you a parking pass. Bring plenty of water, and put on sunscreen and bug spray
It had rained days before, and it began to rain a little while we were at the top so it ended up being one of the muddiest hikes I've ever done. I don't recommend doing this hike after or during a rain, it will get slippery. Check out our experience here!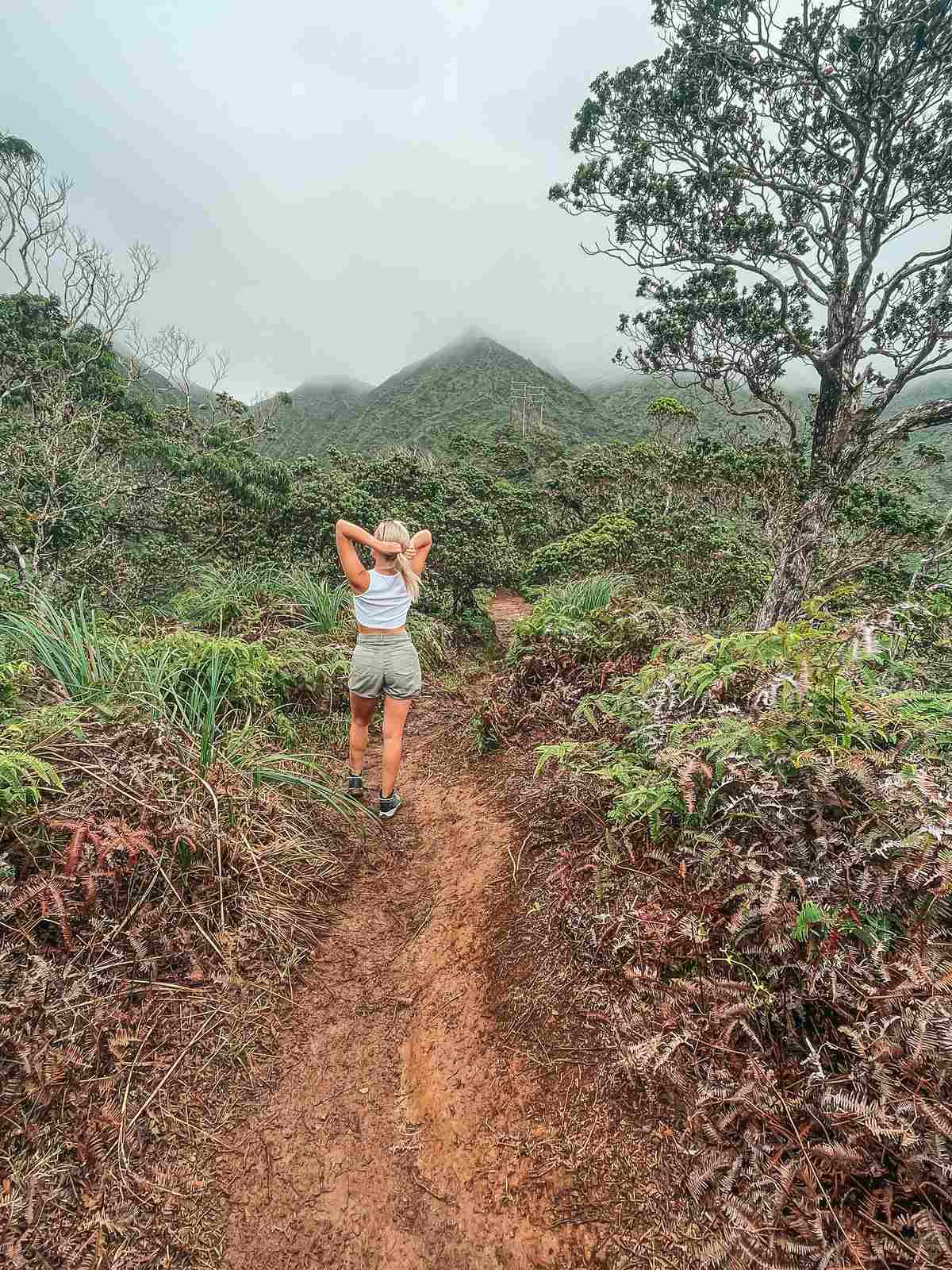 I was expecting Kuliouou Ridge Trail to be pretty similar to Wiliwilinui, but the views and trail were completely different! Not to mention we got to experience this one on a clear day.
The trail is 4.7 miles out and back and takes around 3 hours to complete. Wear sunscreen and bug spray as some of it is through wooded areas and some of it is open.
You will work up a sweat on this moderate hike, especially at the end where you have a few sections of stairs. At the top, you'll be rewarded with epic views of Hawaii Kai, Koko Crater, Waimanalo Beach, and more.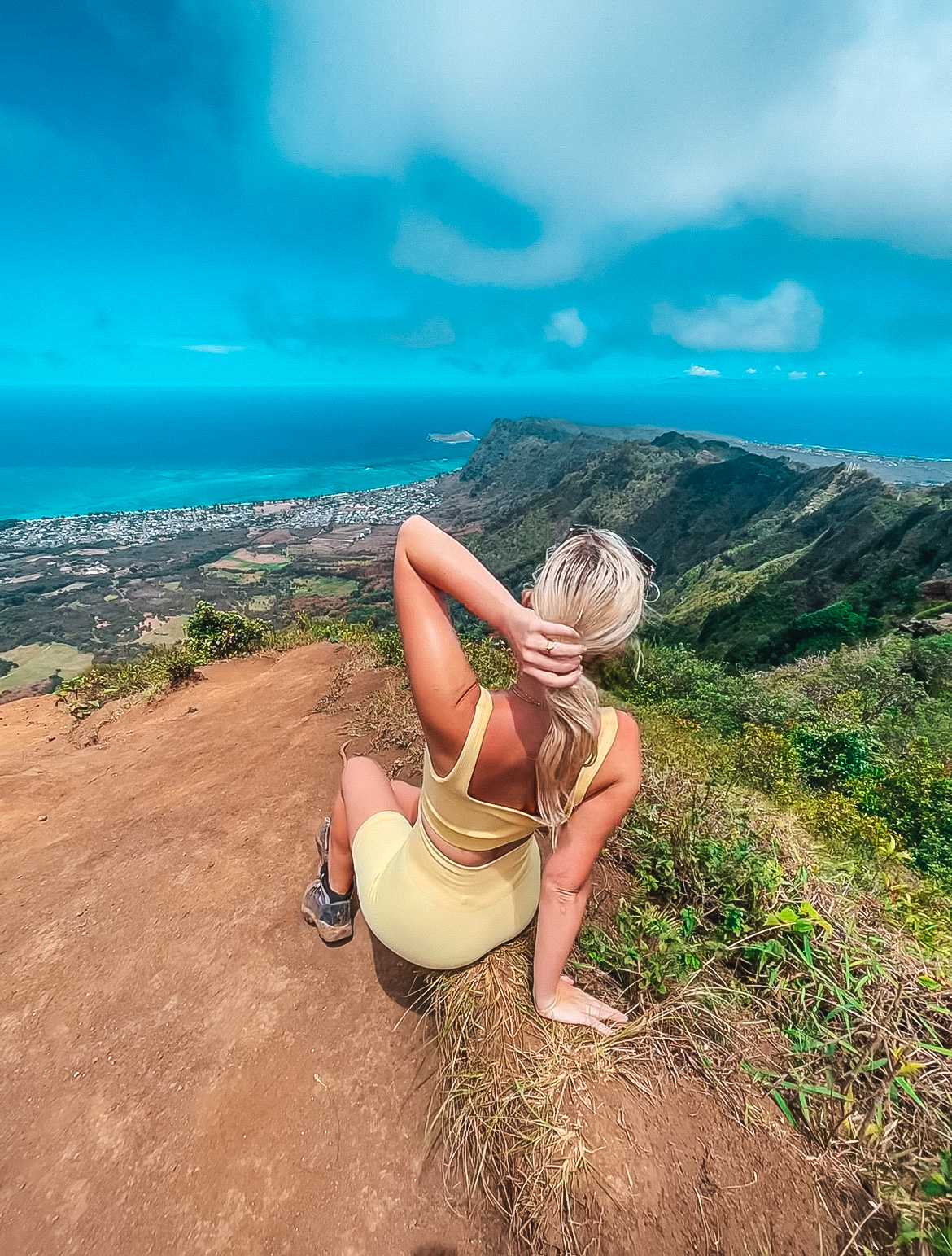 6. Sharks Cove
Don't worry, Sharks Cove doesn't get its name because you'll find sharks here. But it is one of the best spots for snorkeling in Oahu! And it has a fraction of the crowd that Hanauma Bay gets (plus there's no admission fee!).
It's a lava-rock beach known for its underwater rock formations and diverse marine life. The water is pretty shallow throughout and you can plan to see tons of tropical fish, and maybe even a turtle! It's best to go here during the summer months as that's when the water is calmest and best for snorkeling.
We took these snorkels with us and LOVED them! 10/10 recommend. I also recommend having a good pair of water shoes and reef-safe sunscreen.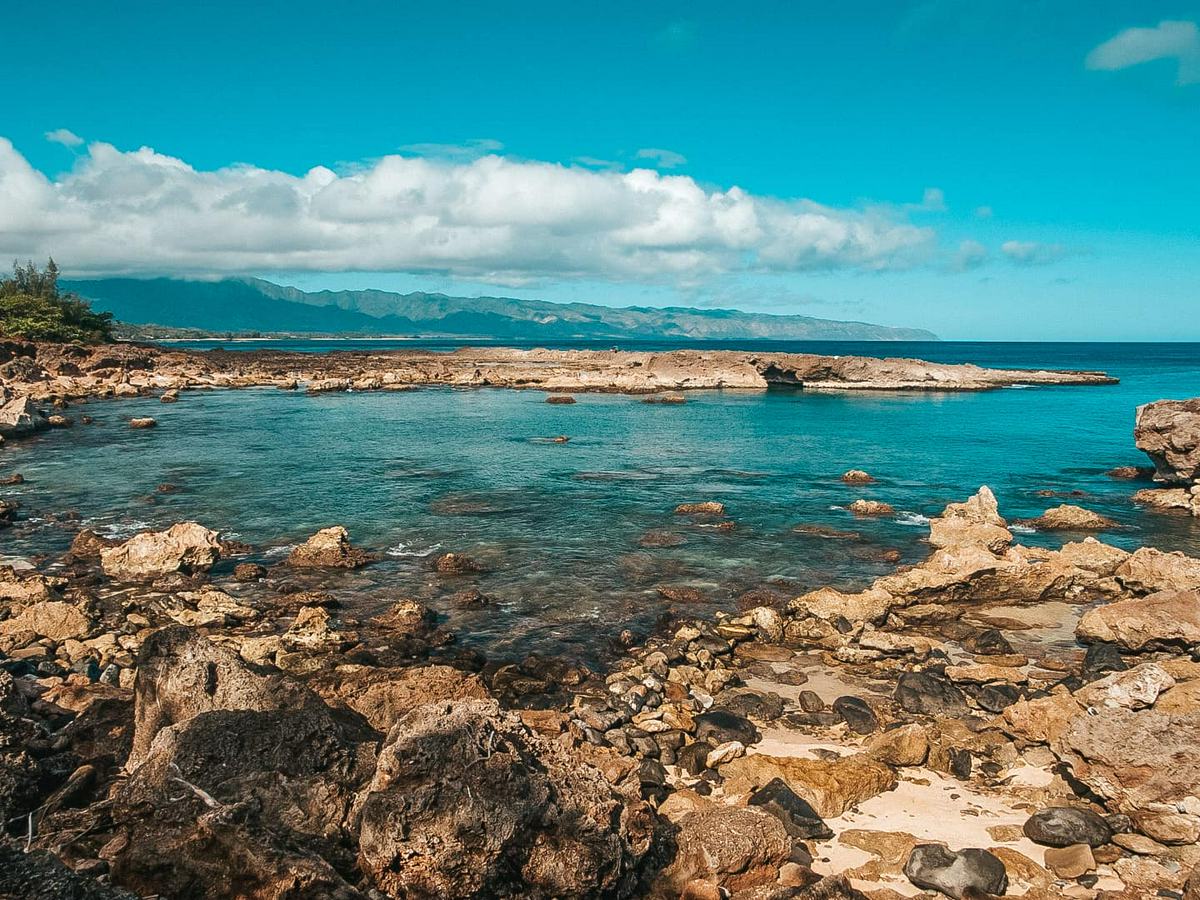 7. Dole Plantation
In case you didn't know, the Dole Plantation is located on Oahu! Explore on your own for free, or you can get a tour, take a train ride, or experience the world's largest maze. 
I just went for the Dole whip and chocolate-covered pineapple! While those aren't necessarily free, they sure are worth it!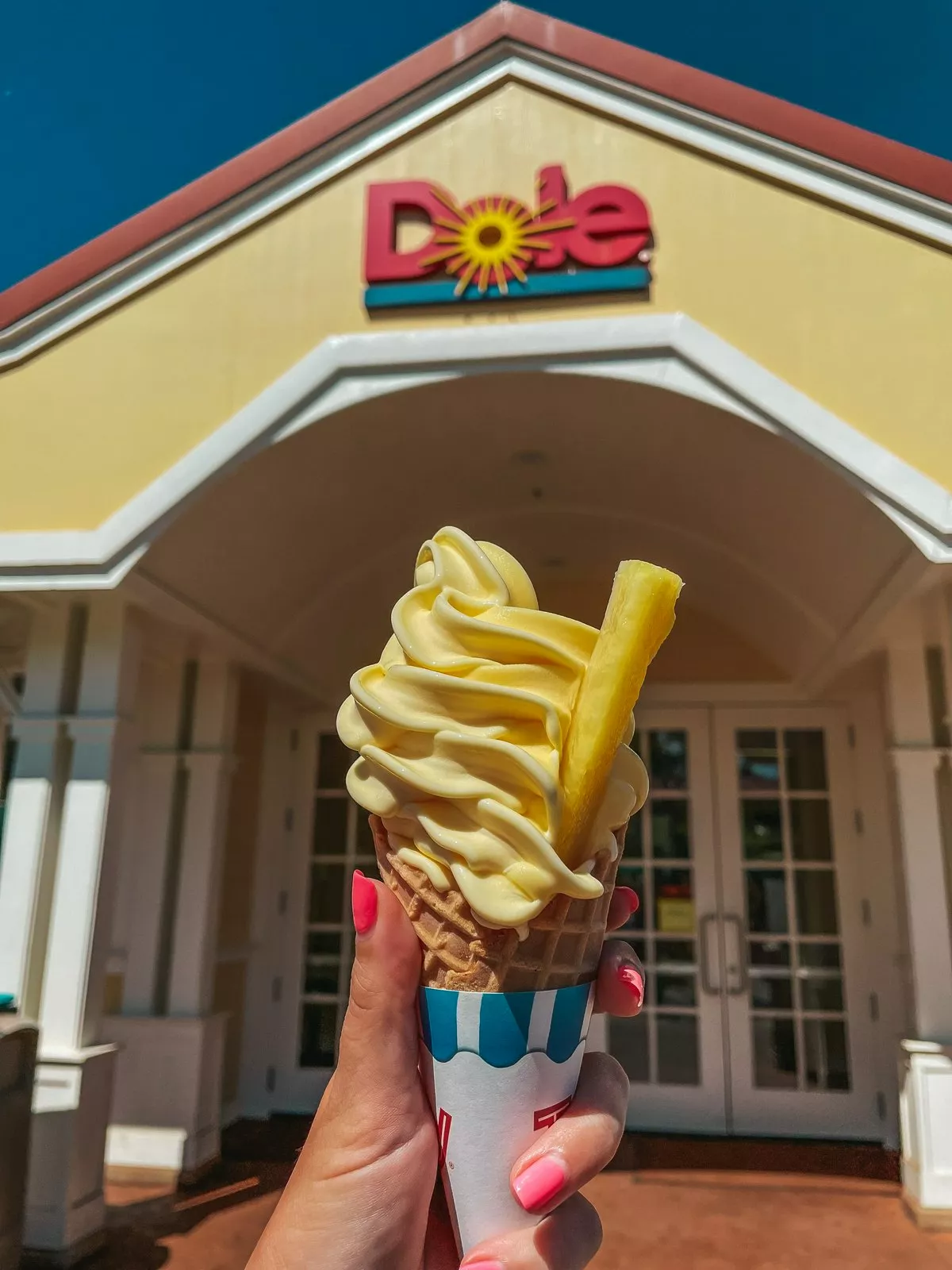 8. Lanikai Pillbox Hike (aka Kaiwa Ridge Trail)
The stunning views you get from this hike make it top the list of the best free things to do in Oahu! Along with that, I would even say it is one of the best hikes on Oahu. I honestly think it's one I will do every time I visit.
The best time to do the Lanikai Pillbox hike is at sunrise. It's absolutely magical.
I am sure the view is beautiful no matter what time you do this hike, but I really hope you do get to experience a sunrise here. This means waking up well before the sun comes up and factoring in drive time and initial hike time to make it to the top while it's still dark.
This hike is a 1.8-mile out-and-back trail, and I'd describe it as moderate. If you're doing it to watch the sunrise, then it's going to be dark on your way up, so be sure to bring a headlamp (check out my other Hawaii packing list recommendations)! With the rocky path and some of the climbing you're going to have to do, your phone flashlight just isn't going to cut it.
Related read: If you are island hopping check out my 3 Day Maui Guide and 4 Day Big Island Itinerary
Once you reach the top, there are a couple of military bunkers you can climb on that give you an even better view, and they're a nice spot to chill while you wait for the main event. Including the 30 minutes of us lounging around the top enjoying the view, it took us about an hour and a half round trip. 
Your GPS is most likely going to take you to the trail entrance right by the Mid Pacific Country Club, where there is usually (or has been both times I went) a security guard letting you know you can't park there. Finding parking along the streets has been easy enough in the early mornings!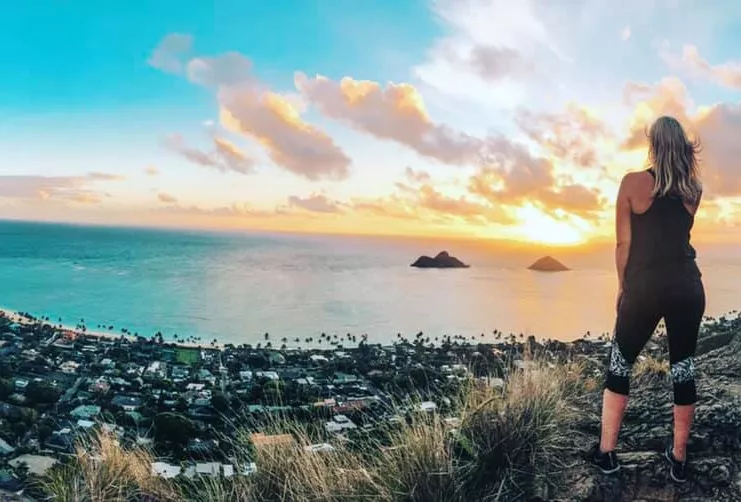 9. Byodo-In Temple
I still can't get over that this is in Hawaii! The Byodo-In Temple in Oahu is a smaller-scale replica of the over 950-year-old Byodo-In Temple in Uji, Japan.
It was established in 1968 to commemorate the 100-year anniversary of the first Japanese immigrants to Hawaii. It is one of the most unique things to do in Kaneohe (and it's really affordable)!
While it's not totally free, admission is only $5, and you can even call ahead to reserve a guided tour if it interests you. I promise you the sights here are well worth the $5 spent!
We spent about 45 minutes walking around. The grounds are extremely pleasant and peaceful.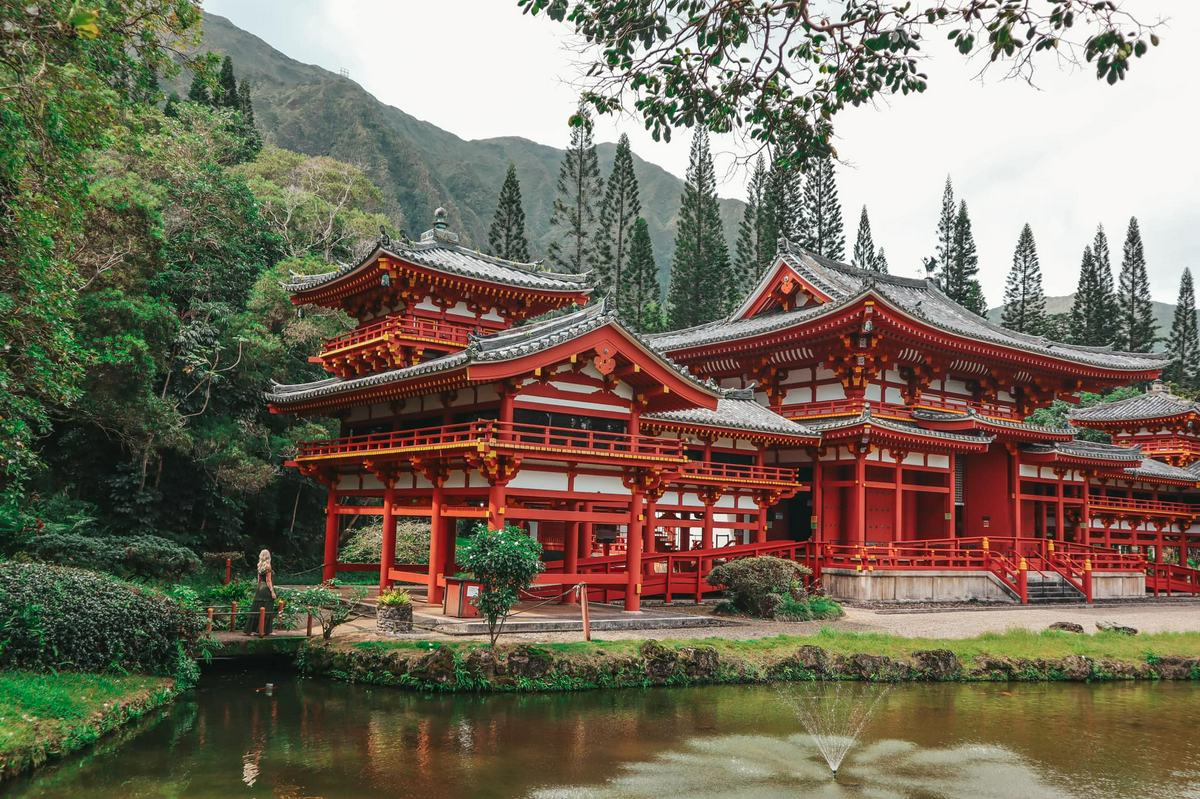 10. Ho'omaluhia Botanical Garden
Once you're done at the Byodo-In Temple, you may as well head 20 minutes south to check out the Ho'omaluhia Botanical Garden. Naturalists will especially enjoy this location, it truly makes you feel like you're in paradise.
You are in a lush rainforest garden, surrounded by the most majestic mountain ranges. And some days there is even this fog that somehow makes the scenery even more dramatic and beautiful.
There are lakes, trails, and camping areas here as well. The garden has plants from key tropical locations around the globe, organized into various collections focusing on Africa, Hawaii, India, Sri Lanka, Malaysia, Melanesia, the Philippines, Polynesia, and the tropical New World.
Plants native to Hawaii and Polynesia, as well as Arecaceae, aroids, and heliconias, are given special attention.
This is a must-see that should be at the top of your list of things to do in Kaneohe!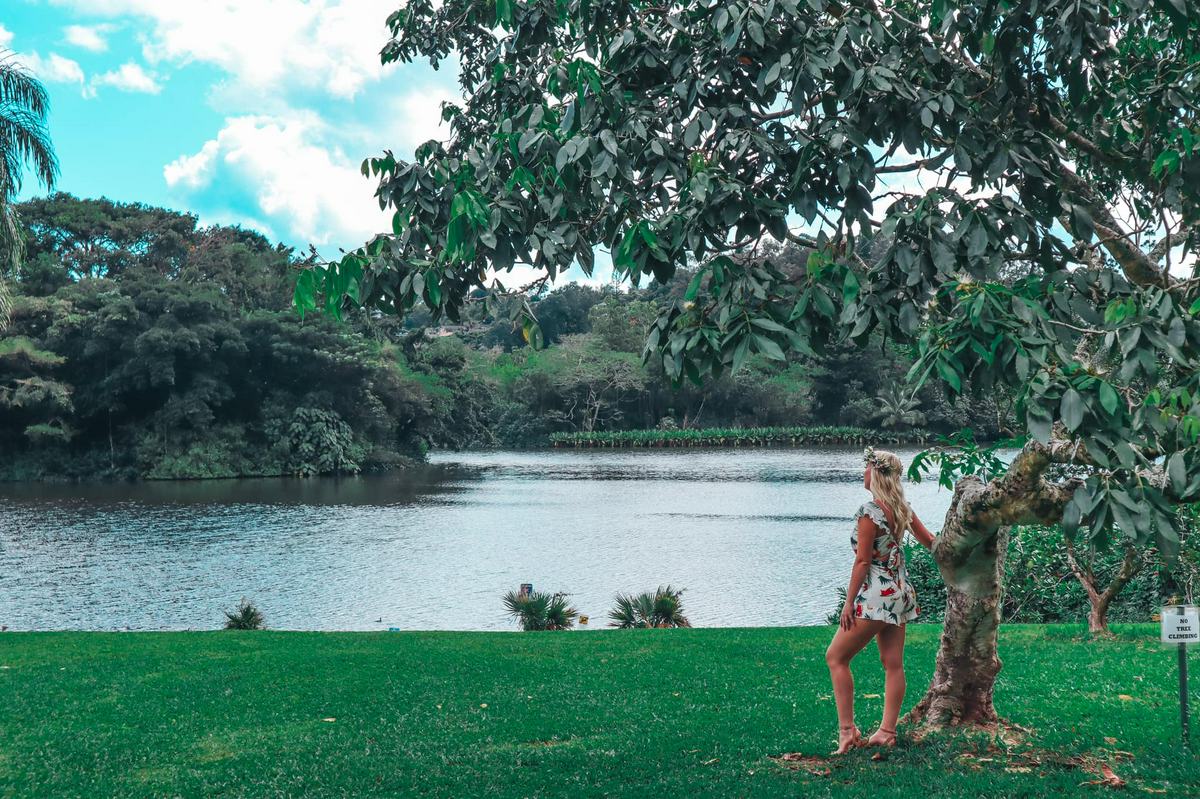 11. Friendship Gardens Trail
Friendship Gardens Trail is a nice, leisurely loop trail. It's even kid-friendly! The trail is just .5 miles, however, it is a part of a larger loop that you may accidentally stumble upon.
We actually did this and ended up hiking well over the .5 miles, so I definitely recommend downloading the map from Alltrails. I believe the bigger trail is marked by pink ribbons, so if you stumble on those, turn back.
This hike usually has very little traffic, which is nice. It's very green, lush, and mostly shaded aside from the beautiful lookout spot. Meaning you should definitely bring bug spray! This trail can also get pretty muddy, so don't wear anything you don't mind getting dirty.
As for parking, it is limited. There are about 3-4 spots, but they are literally right at the head of the trail which is nice. We were the only car when we went around noon!
If you aren't that lucky, park at the bottom of the hill and walk up.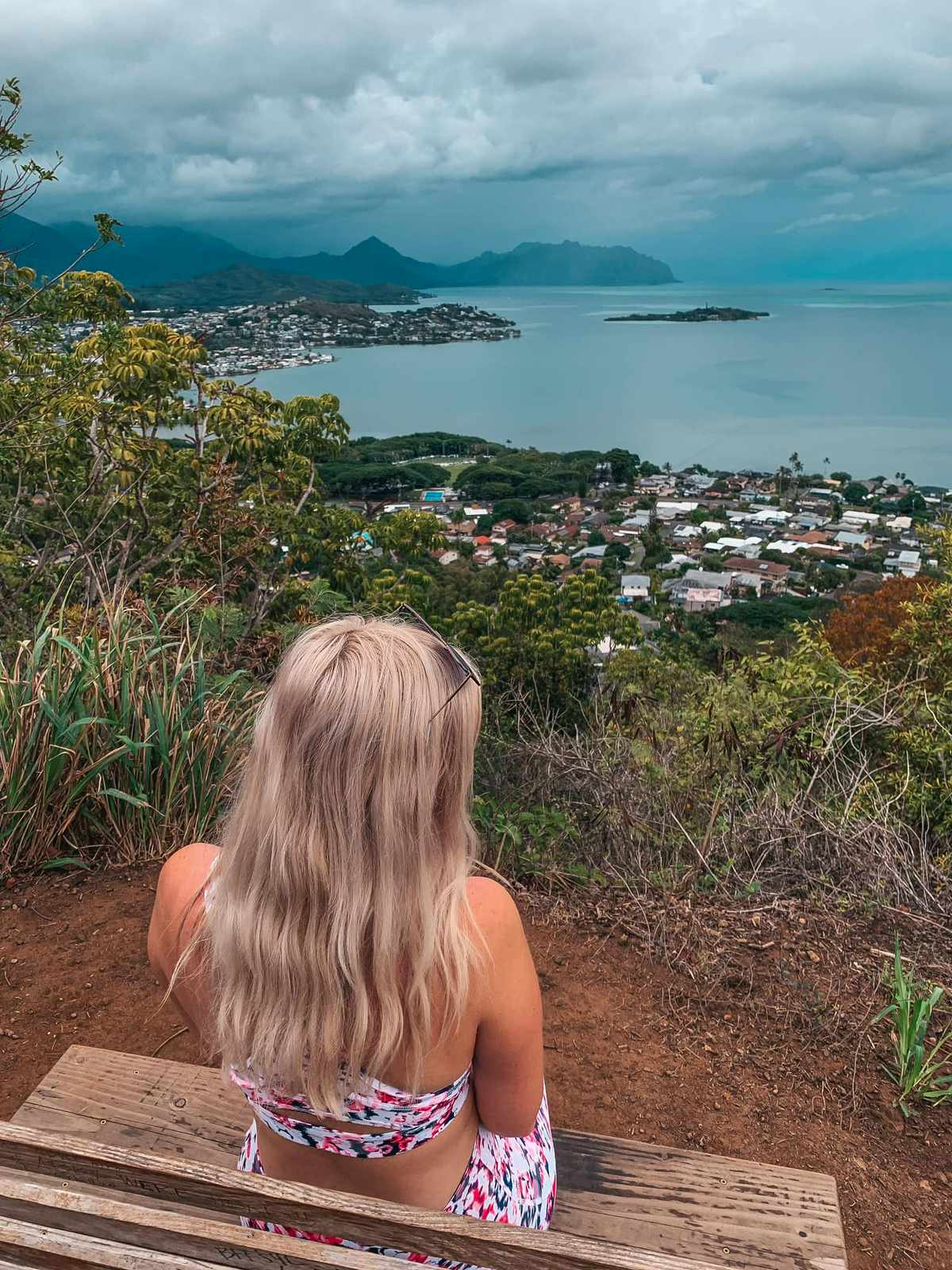 12. Crouching Lion
This hike is about 25 minutes outside of Kaneohe. If I had to pick a runner-up for the best hike on Oahu, this is it! The views are unbelievable for this short, yet somewhat challenging, trail.
Crouching Lion is a .4-mile out-and-back trail that is short, but steep. Be sure not to go after or during rain, as it can get dangerously slippery. There are danger signs when entering the trailhead and you really do want to be careful as there are steep drops at the top.
It took us a little over an hour to complete this trail, but we spent a good chunk of that time just in awe of the panorama we were witnessing from the top. We found parking just off the side of the road, and there was plenty of it when we went on a Tuesday afternoon.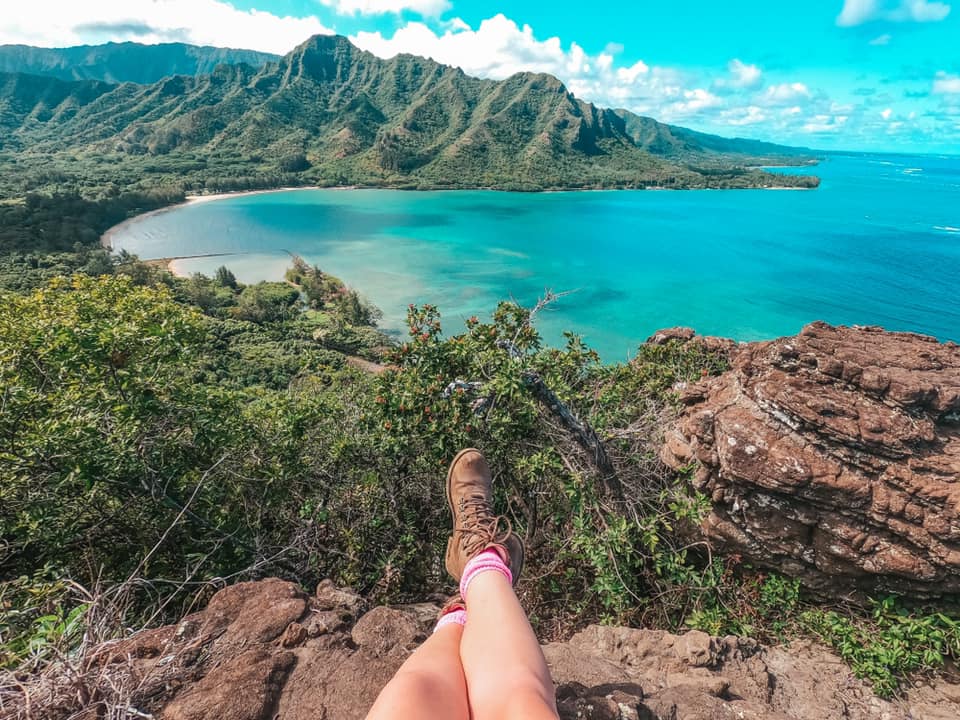 13. Diamond Head 
Popularly known as Lē'ahi, especially by the Native Hawaiians, Diamond Head is probably the most photographed attraction in Hawaii. 
Hiking to the summit of this saucer-shaped crater is one of the most famed activities on the island and it offers the most astounding views of Waikiki. 
In addition to the picturesque views of the coastline, Diamond Head gives you a glimpse into the geological aspect of the crater plus its military history. This 0.8 miles trail is considered a moderate hike and you can easily get to the summit within an hour or less if you're in reasonable shape.
You can also do the hike all by yourself without a tour which makes it one of the most rewarding activities if you're exploring Hawaii on a budget.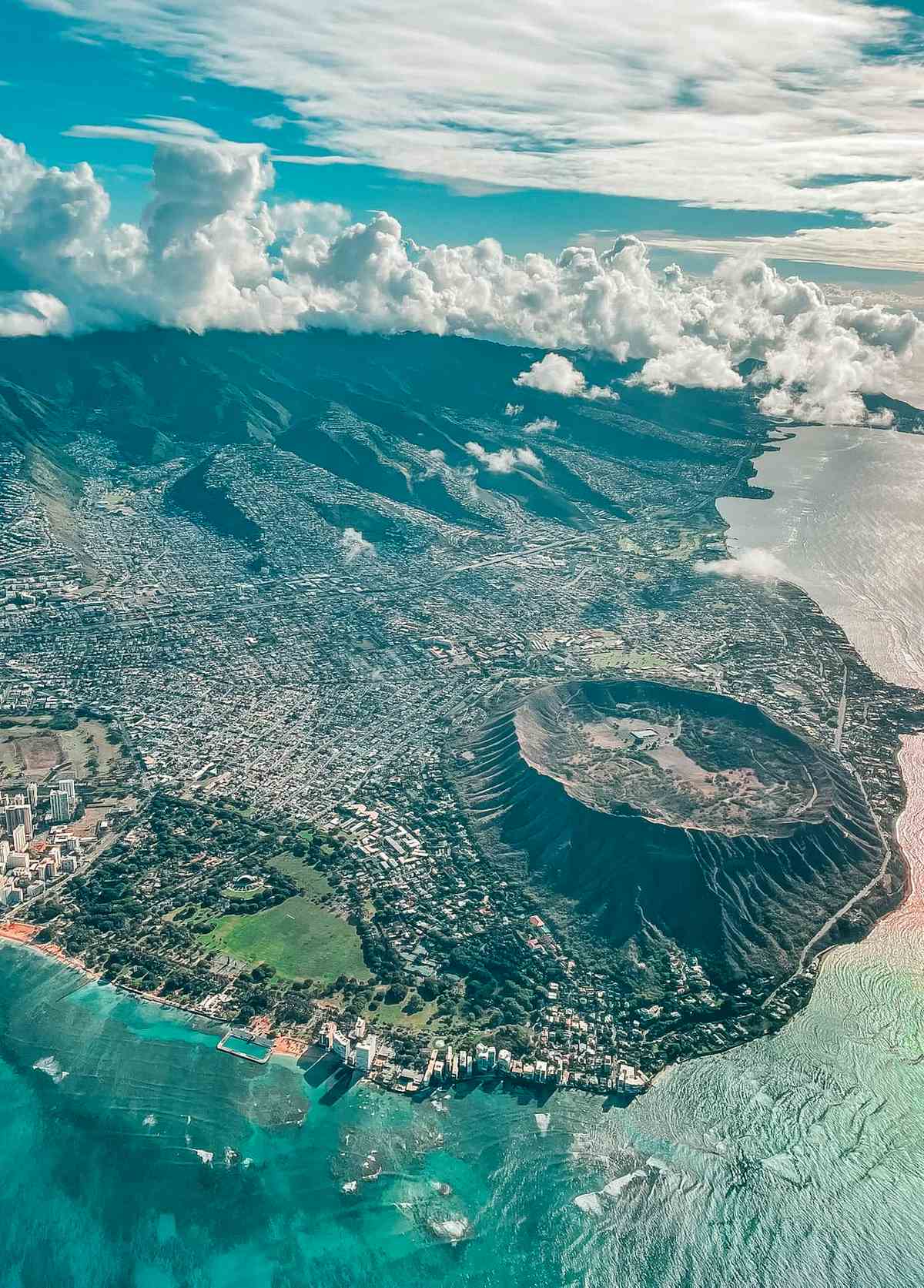 14. Hit the beach (Waikiki Beach, Lanikai Beach, and Electric Beach)
No Hawaii vacation is complete without a visit to the beach. Boasting over 112 miles of stunning coastline, this island offers a wide variety of awesome beaches to choose from.
With warm, clear, turquoise blue water and golden/white sandy shoreline, Oahu beaches get packed with swimmers, kayakers, snorkelers, and even sunbathers every peak season.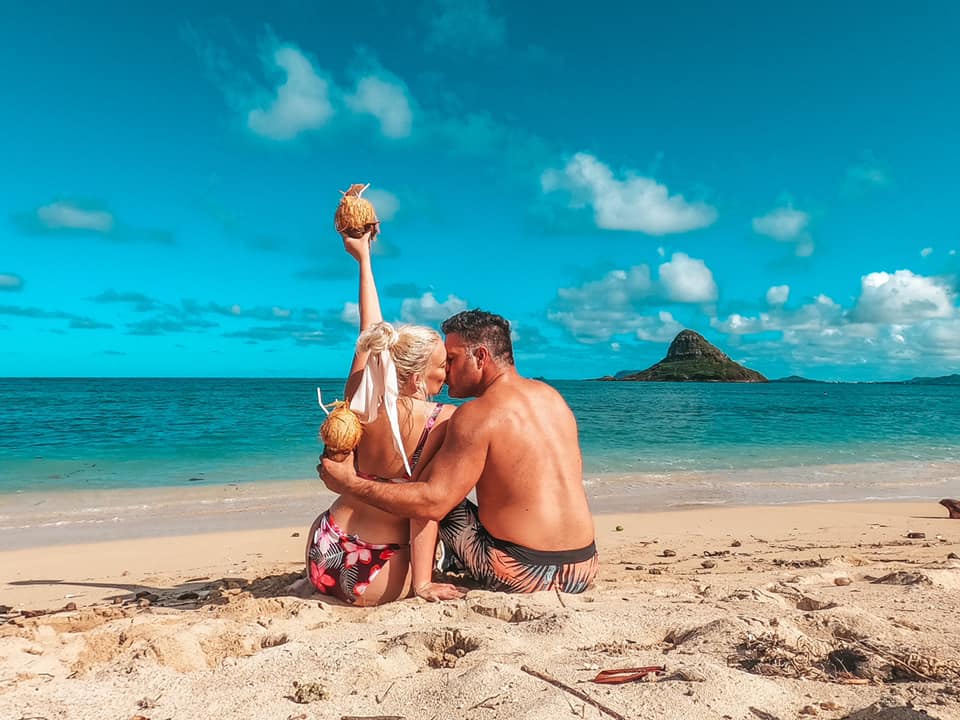 Visit Lanikai Beach for magical sunsets and also consider exploring Kailua town which is small, and charming but bustling.
Laniakea Beach, also known as Turtle Beach, is an amazing opportunity to see sea turtles. The Hawaiian green sea turtle actually frequents Laniakea Beach more than any other spot on Oahu!
I've stopped here several times just because as we were passing I saw turtles at the beach from the road. There's usually parking across or along the street.
Waikiki is one of the most iconic beaches in Hawaii and it's famous for its proximity to Honolulu downtown, great surfing spots as well as the bewildering views of the Diamond Head.
Electric Beach conversely is known as a popular snorkel place.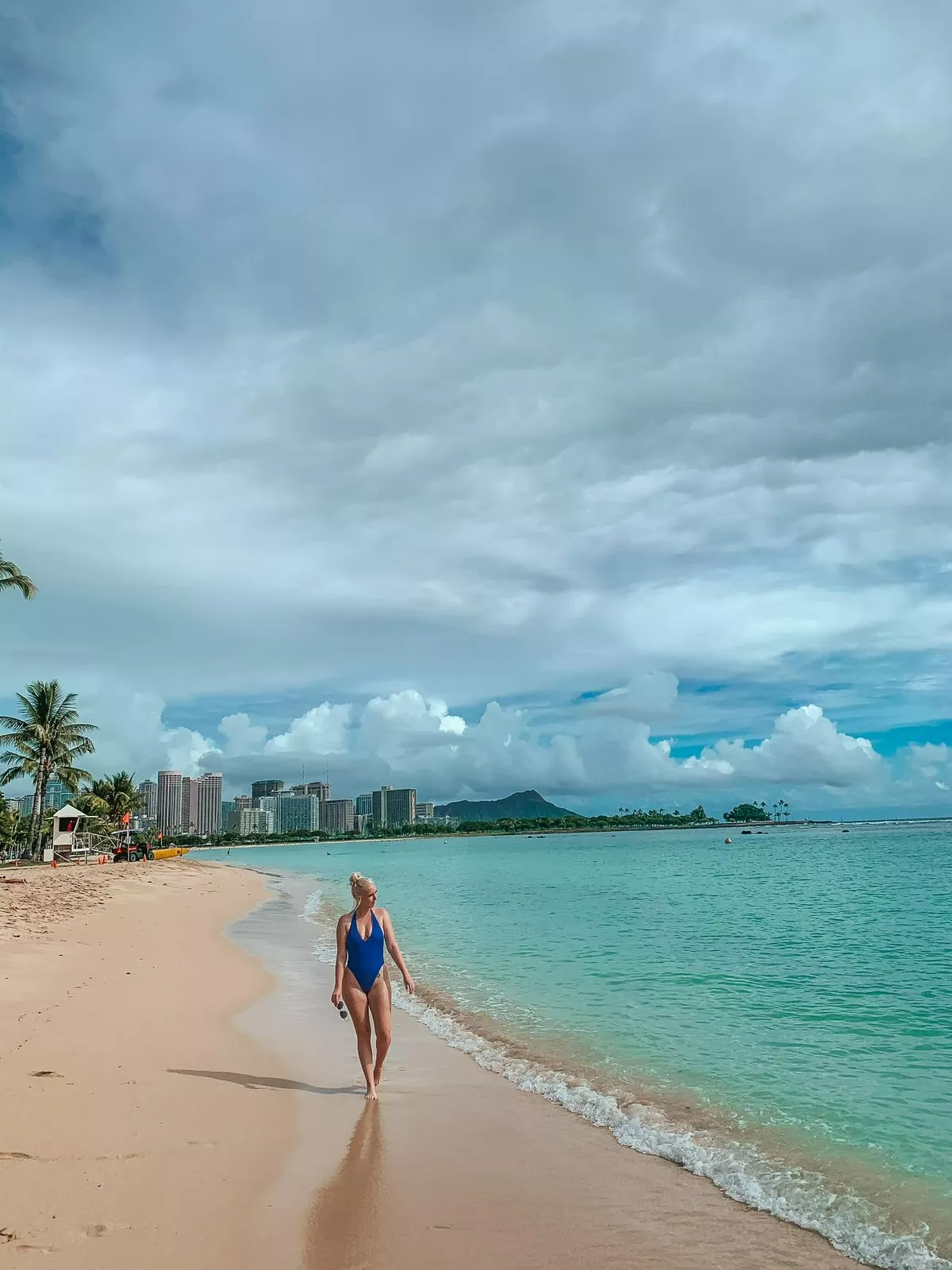 15. Cockroach Cove
Nestled between Hanauma Bay and the fascinating Halona Blowhole, Cockroach Cove is still one of the best-kept secrets on this island and one of the best free things to do on Oahu. 
In addition to its near-perfect swimming spots, this cove beach gives you an opportunity to have an up-close experience of the Halona blowhole.
Cockroach cove is slightly hidden as you'll need to go through a narrow staircase that descends to the cove, but the photo ops are unlimited and the pristine beach is worth the hassle.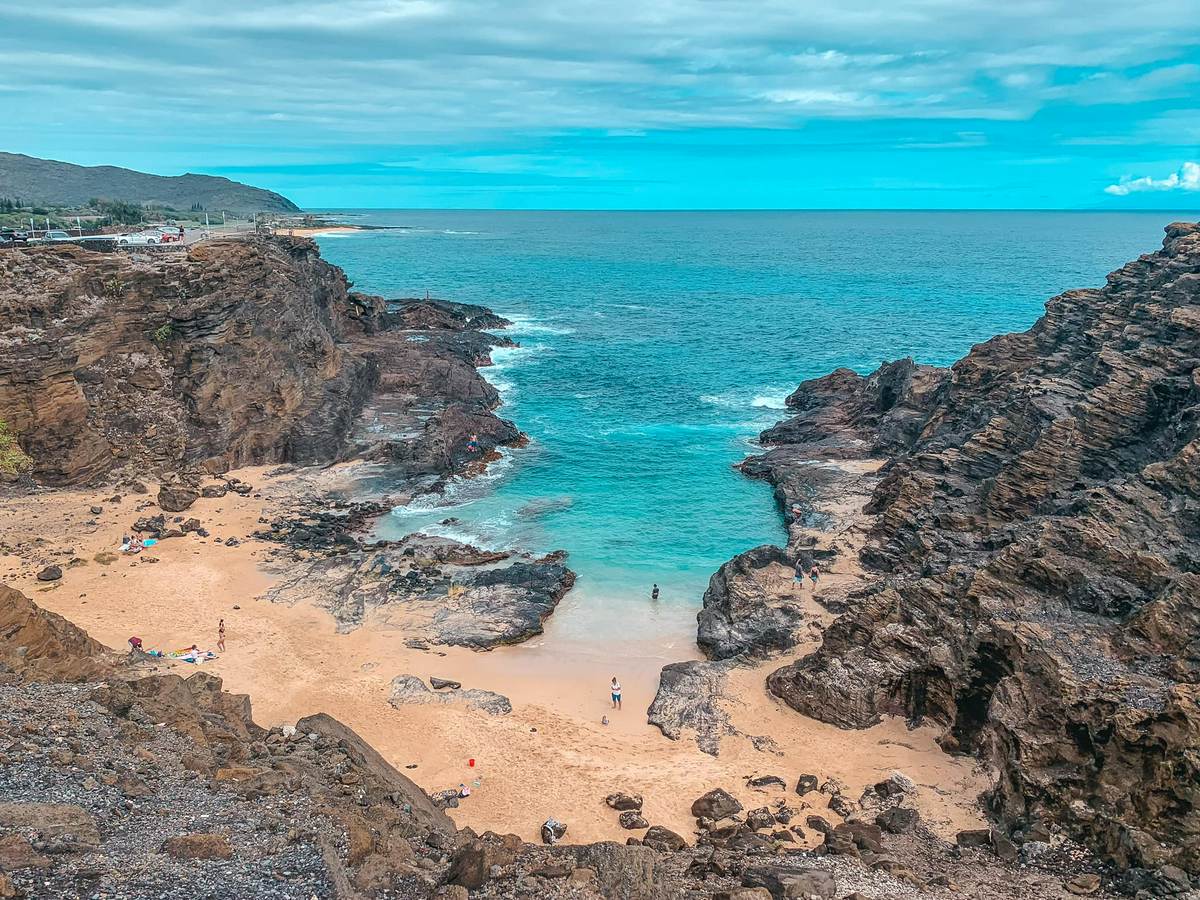 16. Pearl Harbor
Since 1941, Pearl Harbor has acted as a somber reminder of the Japanese devastating attack that led the US to enter World War II. 
With over a million visitors each year, this active military base is among the most visited sites in Hawaii.
Although there are about four places you can visit within Pearl Harbor, the USS Arizona Memorial which is the final resting place of the many souls that perished in the attack, is seen as the center of attraction so it draws the most crowds.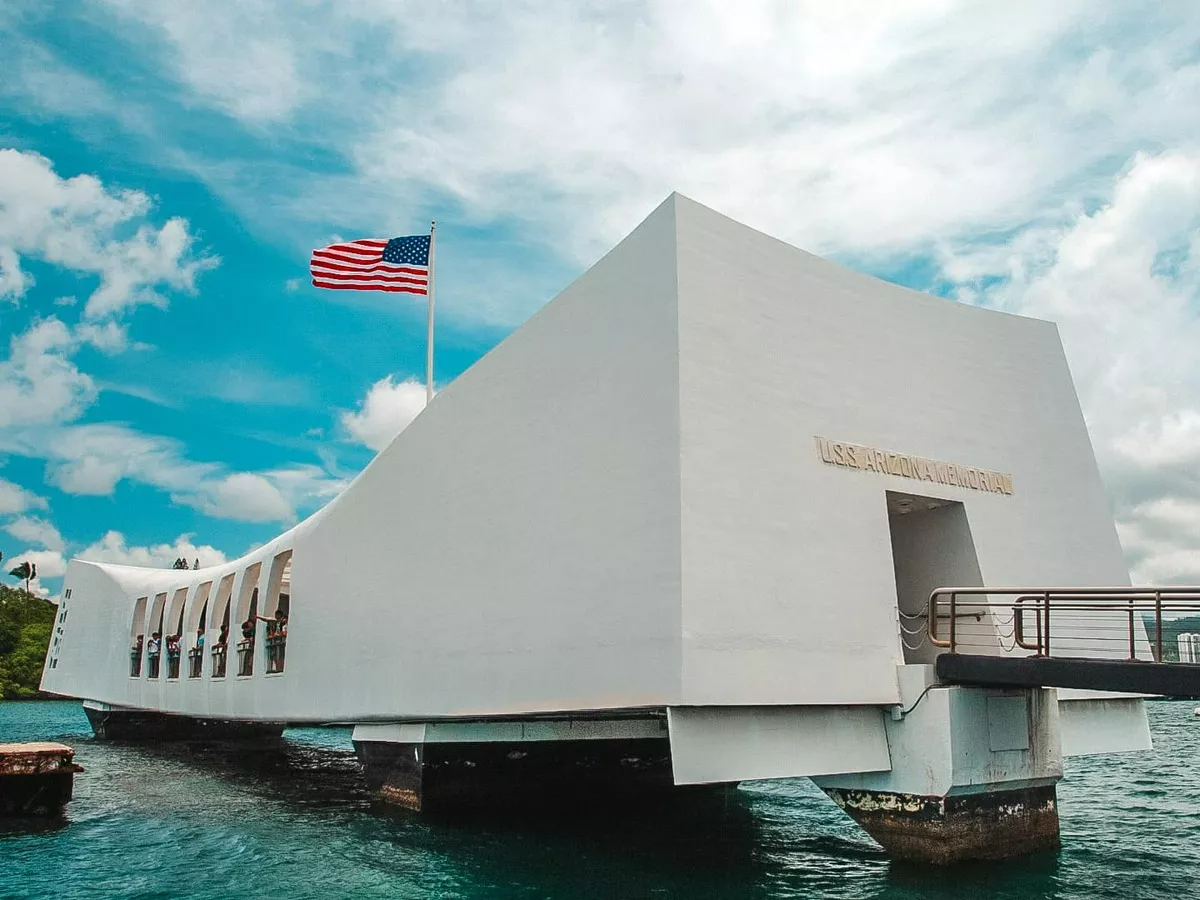 Budget-friendly places to stay in Oahu
Your best bet is to book as far in advance as you can in order to get the most affordable rates.
Contrary to popular belief there are some affordable places to stay in Oahu. It's just going to depend on the time of year you go, and if you book in advance.
The places below have great reviews and can all be found for less than $100/night!
Quick links for your Oahu trip
🏨 Accommodation in Kailua
Kailua is a great area to stay in where you can often find affordable rentals through Booking
🏨 Accommodation in Waikiki/Honolulu
Discover your next adventure with ease by using Viator which allows you to explore a multitude of local tours, ensuring you find the best experiences at the best prices.
🏠 VRBO RENTALS
VRBO offers amazing (and even affordable!) homes for rent! Be sure to check availabilty and compare rates
I hope that this guide showed you Oahu is not out of reach and can be done on a budget! There are so many amazing free activities in Oahu you are sure to enjoy your island vacation regardless.
For more Hawaii content, be sure to check out my Oahu guide, as well as some other Oahu blog posts:
7 Best Coffee Shops in Honolulu