This post contains affiliate links which means that I will make a small commission if you purchase a product after clicking on any of them, at no extra cost to you.
Downtown St. Pete is full of fun things to do, the most adorable coffee shops, amazing breweries, and some of the best restaurants. I absolutely love visiting the downtown area, and it never gets old having an endless list of new, hot places to check out!
It's a pleasure doing the research for you 😉 I will be sure to keep this list updated, as downtown St. Pete evolves. But I think you will be very satisfied with each and every restaurant on this list of the best St. Pete downtown restaurants. There's Italian, surf and turf, sushi, and more. You're craving it? I'm covering it! Happy eating 🙂
Best Downtown St. Pete Restaurants
Best Italian restaurants in downtown St. Pete
Il Ritorno
Il Ritorno is a culinary masterpiece that marries the rustic with the contemporary, inviting guests on a remarkable journey through modern Italian flavors. With its rustic-industrial ambiance, the restaurant serves as the perfect backdrop for a culinary adventure that showcases the delicate balance of tradition and innovation.
During our visit, we were enamored by the symphony of flavors that unfolded on our plates. The octopus, tender and artfully prepared, was a stand-out appetizer.
As we ventured further into their menu, the Tallegio Agnolotti emerged as a revelation—a dish where crispy lamb belly blended with charred leeks and chive oil, raising my culinary expectations. I wouldn't have ordered that typically, but I trusted the guidance of our server, and the dish proved to be an unforgettable work of art that showcased the chef's mastery.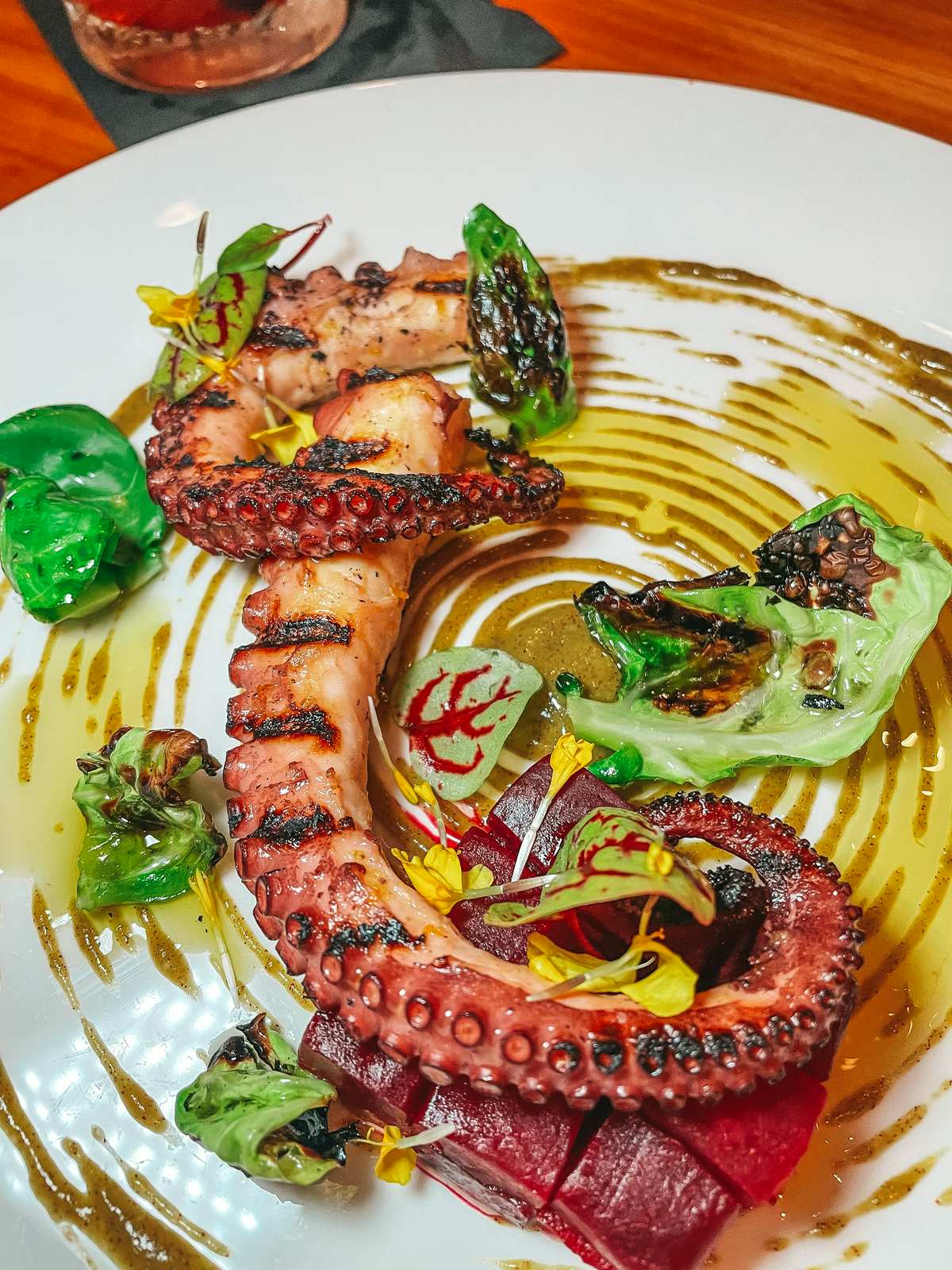 Jay Luigi
Jay Luigi offers a fast-casual Italian dining experience that artfully marries modern innovation with timeless Italian flavors. With an inviting and relaxed ambiance, they create an atmosphere where guests can savor the rich tapestry of both contemporary and traditional Italian cuisine.
From handcrafted pastas to naturally fermented, wild yeast Roman and Neapolitan-style pizzas, their menu reflects a devotion to quality without compromise. During our visit, we were lured in by the allure of the "Mary" pizza—a delicious combination of mozzarella, ricotta, meatballs, caramelized onion, parmesan, and basil that was nothing short of perfection.
Surprisingly, it was our encounter with the "Don't Kale My Vibe" salad that truly stole the show, a refreshingly flavorful creation that left an unforgettable mark on our taste buds! This Italian restaurant's mastery extends from the pizza to the salad, making Jay Luigi a must-visit St. Pete downtown restaurant for those seeking an authentic and unforgettable journey through Italian cuisine.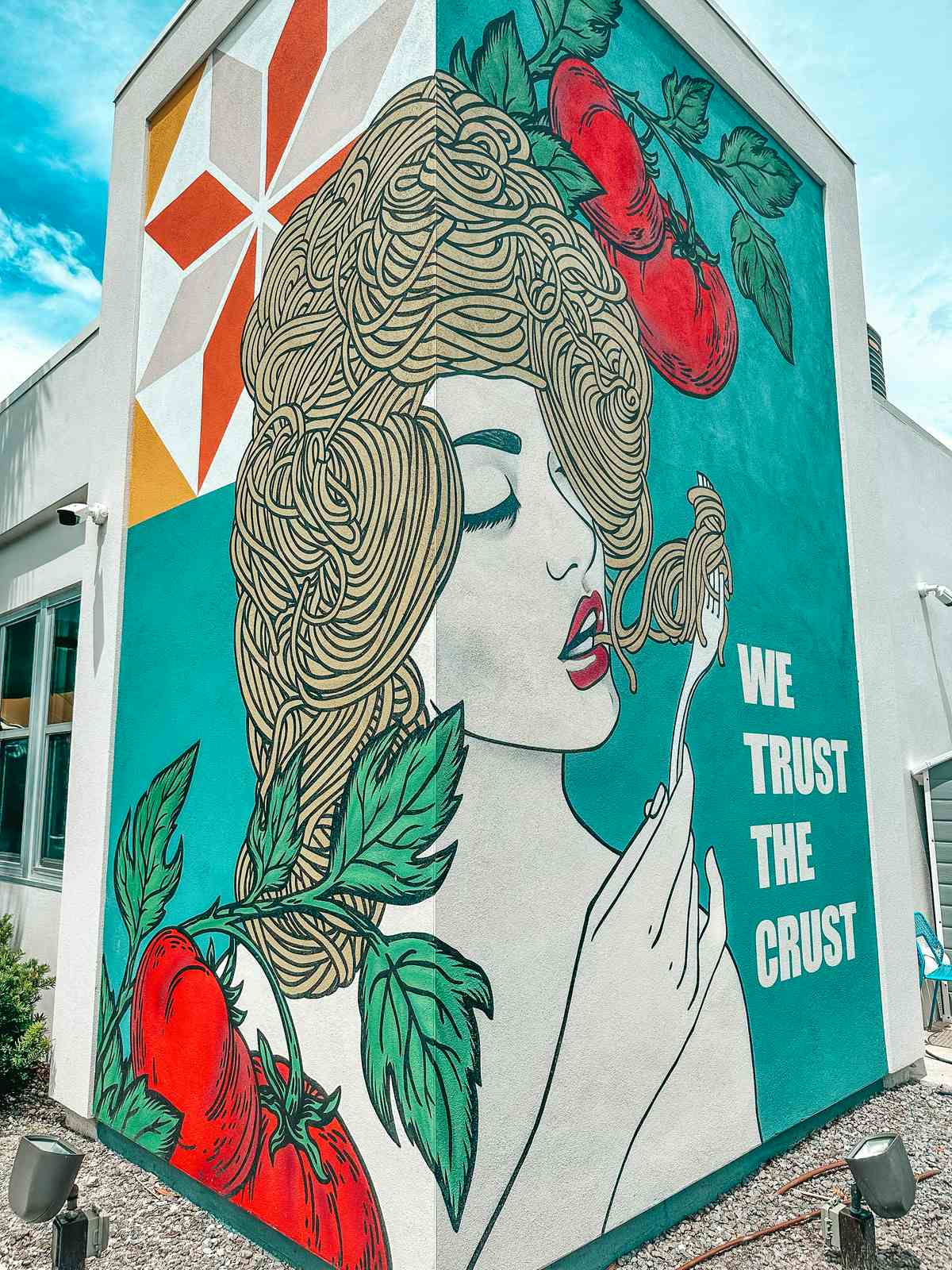 Gratzzi Italian Grille
If you want good Italian food, this is the spot. Gratzzi has indoor and outdoor white tablecloth seating available. They have your favorite classics alongside their own unique creations. If you order the cavatelli bada bing (which I highly recommend), you get dinner and a show as they prepare the dish tableside.
Whatever you do, you absolutely cannot leave without ordering a piece of their limoncello cake! It's so light and fluffy, with just the perfect amount of sweetness and lemon flavor.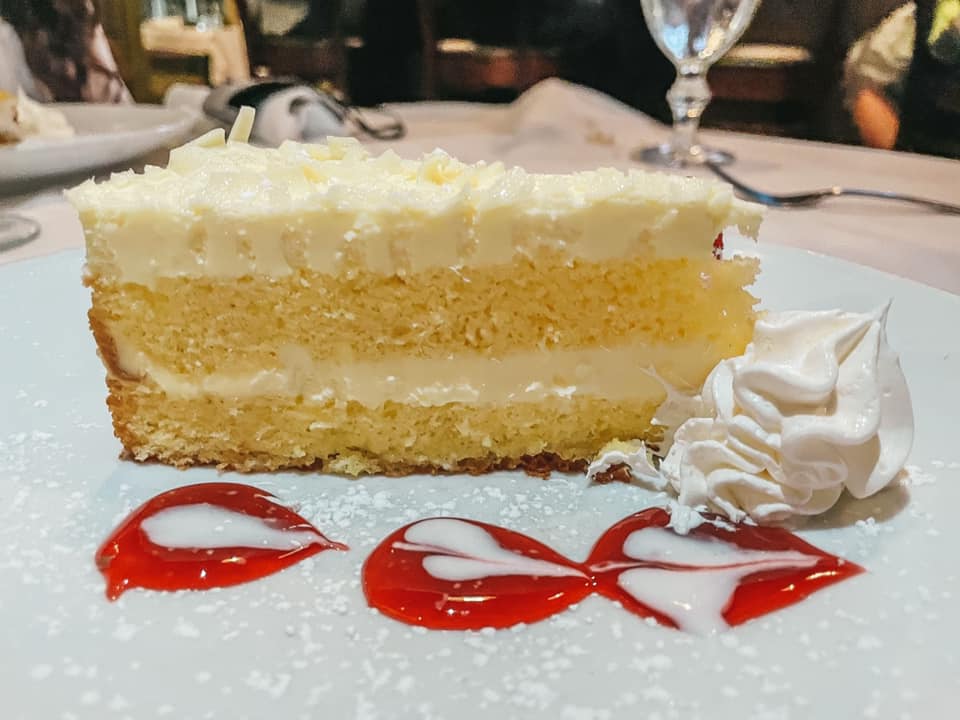 Aside from having amazing food, when COVID hit Chef Tony closed his doors to the public, but offered free meals Monday through Friday to hospitality employees who were left jobless. He gave nearly 8,000 complimentary meals to those in need and even gave out gift cards for people to get groceries, so go show some love to Chef Tony and his staff!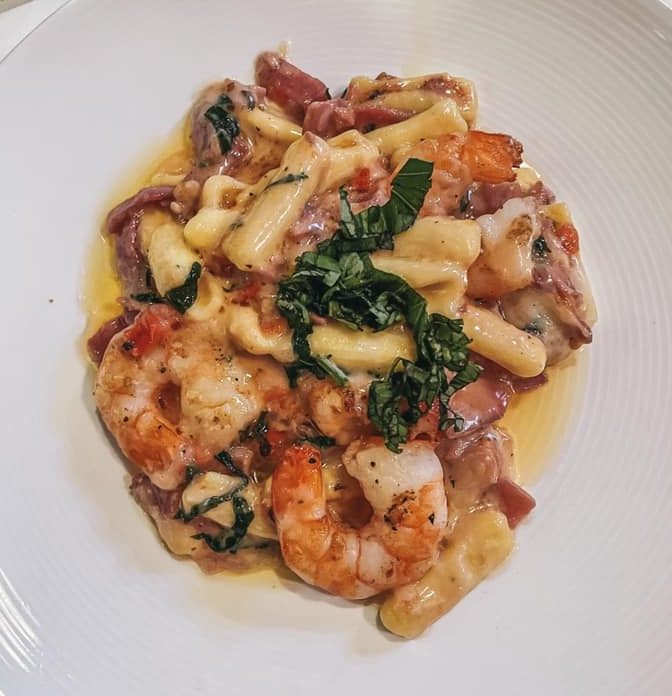 Best restaurant for seafood and views in downtown St. Pete
Fresco's Waterfront Bistro 
You will not be short of options here! Fresco's provides you with an extensive food (and cocktail) menu. I always try something new and have yet to be disappointed.
Their blackened grouper and Ahi tuna are at the top of the list. No matter what dish you try, start with a cup of their lobster bisque— so light and rich with flavor.
Having good food and interesting cocktails would be enough, but Fresco's goes the extra mile and provides you with waterfront views as well, making this a great lunch or sunset dinner spot.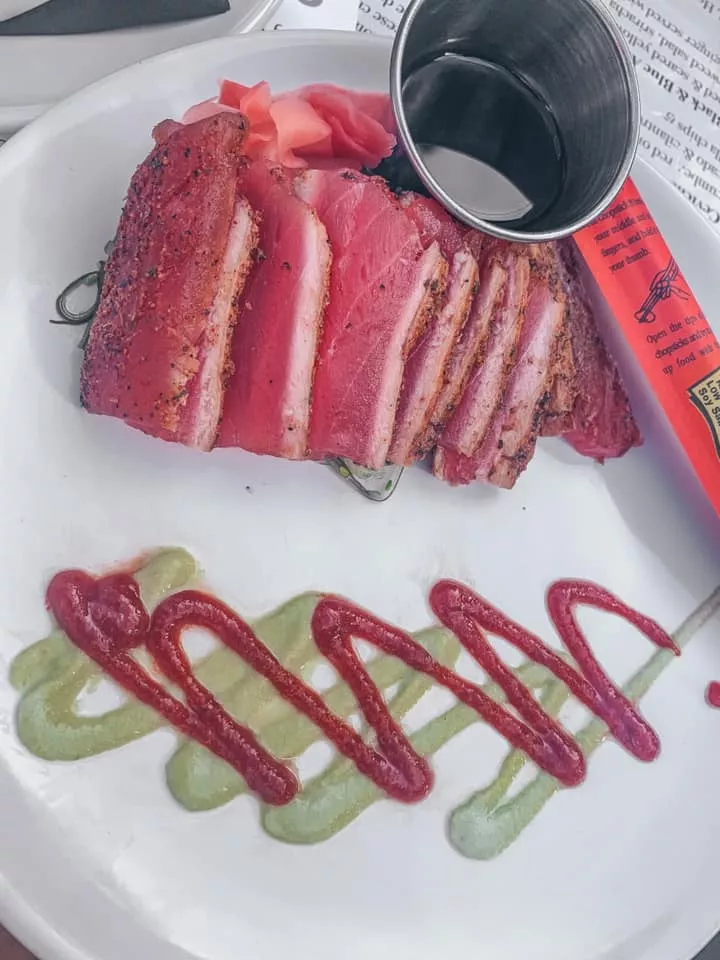 Best Mediterranean restaurant in downtown St. Pete
Allelo
Elevating the culinary scene in downtown St. Pete, Allelo stands as a premier dining destination that effortlessly weaves together exquisite flavors, stylish ambiance, and a touch of enchantment. Allelo offers a feast for the senses, boasting a meticulously curated selection of wine by the glass and masterfully crafted cocktails.
Beyond its delectable offerings, Allelo transforms dining into an experience with its captivating themed Wine Nights—an evening of indulgence where a prix fixe menu is thoughtfully paired with exquisite wines from different regions, transporting you to the vineyards of Spain, Portugal, or elsewhere without leaving your seat.
With its fashionable flair and dedication to providing more than just a meal, Allelo allows you to savor the art of culinary craftsmanship in a way that is both tasteful and captivating—a testament to their commitment to making every visit a remarkable journey of the senses.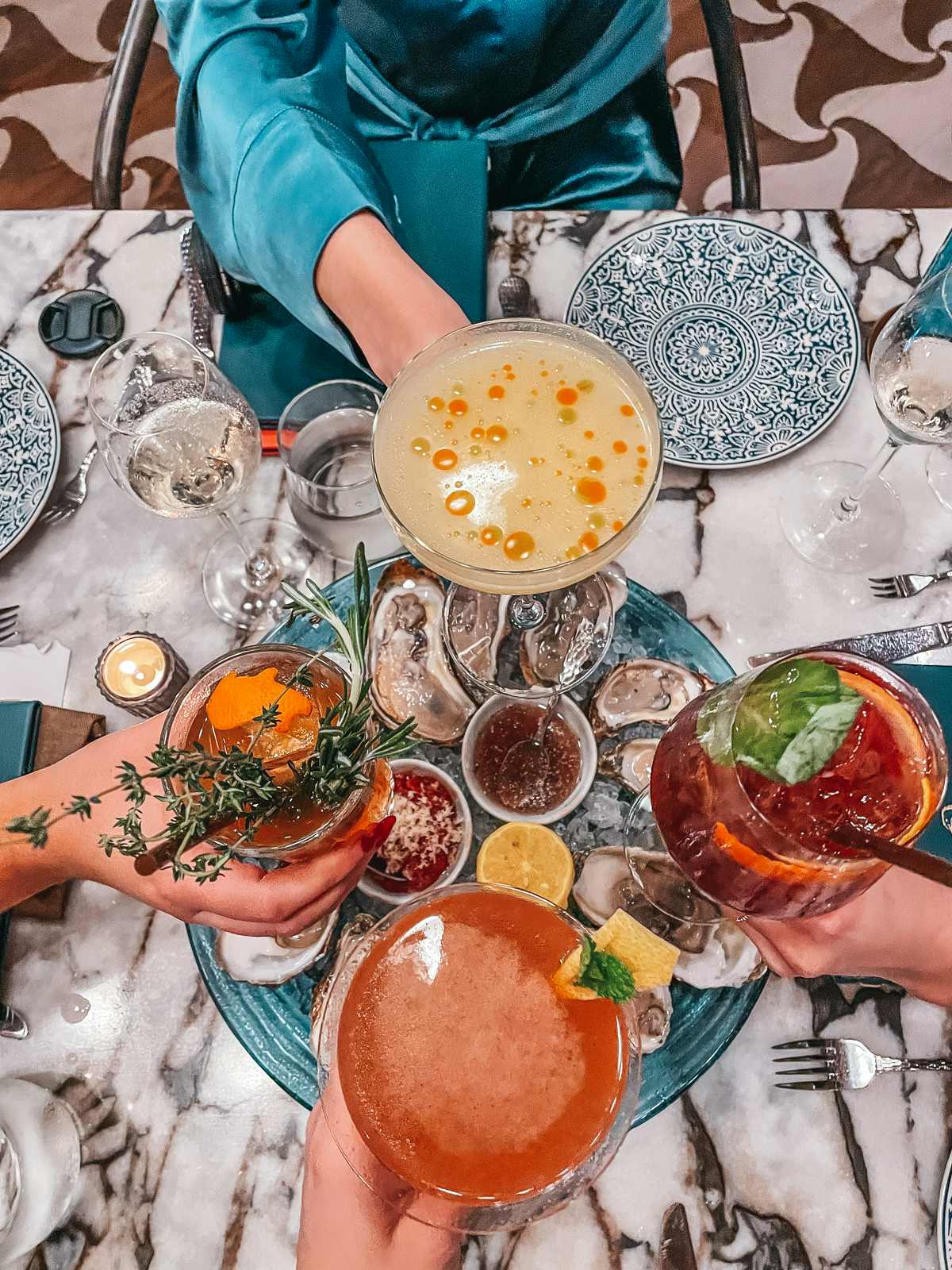 Best sushi restaurant in downtown St. Pete
The Lure
In the mood for sushi? Get over to The Lure. The vibe here makes you just want to hang out and chill, maybe even shoot some pool (they have a table!).
But, back to the sushi— I highly recommend the Vesuvius aka Volcano roll. It has crab, cucumber, and cream cheese inside and is topped with avocado, baked dynamite, eel sauce, and spicy mayo. They had me at baked dynamite.
There is plenty of variety with rolls to choose from (all with notably fun names), but they also offer tapas and other internationally-inspired cuisines too!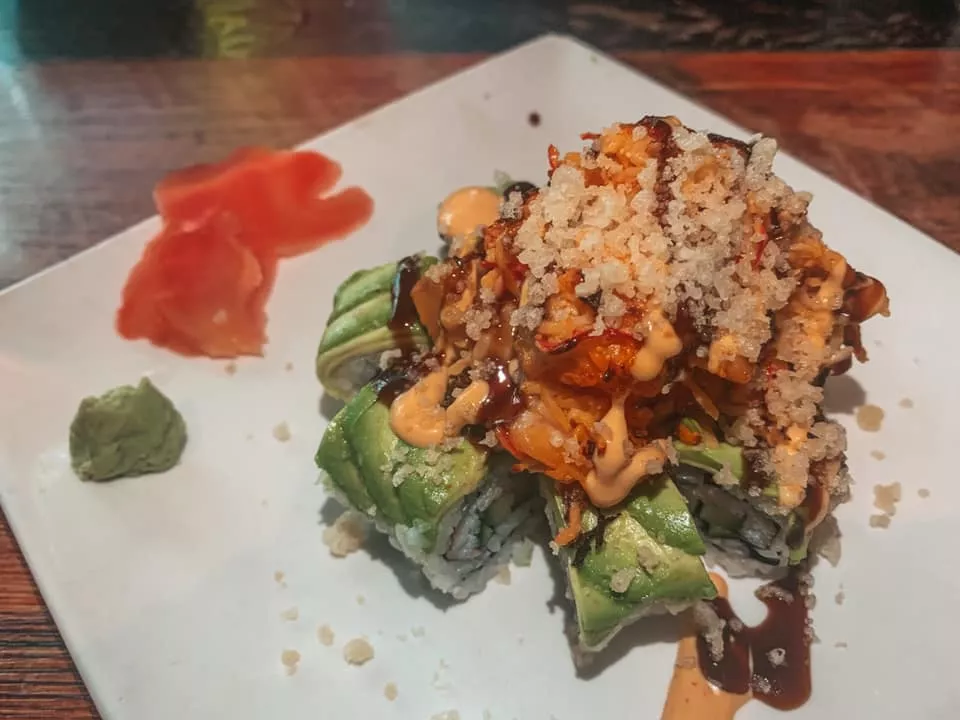 Best Mexican restaurant in downtown St. Pete
Red Mesa Mercado
Red Mesa is a great option if you're craving some Mexican eats. I'll be honest with you, Mexican food isn't really my thing. Taco Bell was pretty much the extent of my cravings for Mexican food (shush, I know most people hardly consider it that) until I found Red Mesa.
Red Mesa Mercado's taco salad was a spiritual moment when the first bite passed my lips. The chipotle Caesar dressing they top the salad with has just the right amount of kick. And BONUS: they always have a lovely seasonal sangria to pair with whatever dish you choose.
If you do enjoy good Mexican food, you also need to check out Casa Tina's in Dunedin!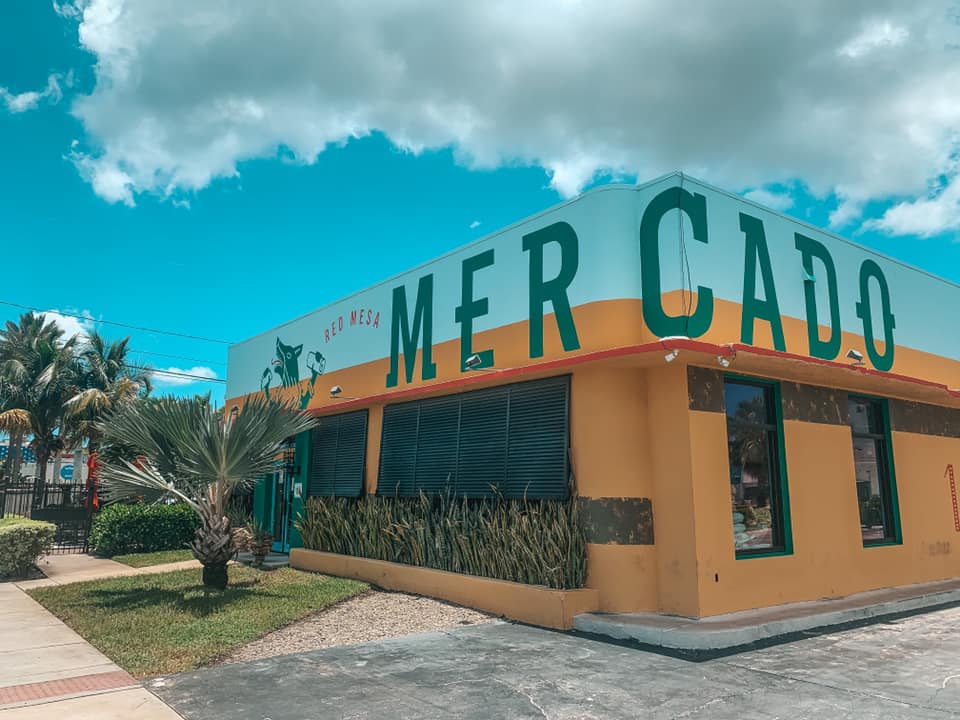 In Between Days
In Between Days is probably one of the most unique (and mysterious) dining experiences you can have in downtown St. Pete. If you go to their website and socials you'll notice they give no indication of what you can expect for the environment, food, or cocktails!
What I can tell you is you are going to fall in love with this Tokyo-style listening bar and craft sake house. The menu has changed since I last visited (which means I need to go back ASAP), but each dish I had was full of delightful Asian flavors. Their sake cocktails also blew me away!
Aside from the food and drinks, you will be mesmerized by the attention to detail. Part of the intrigue with this awesome downtown St. Pete restaurant is the mystery. So I don't want to give away too much of the location, you're going to have to visit for yourself!
If you enjoy mystery and secrecy, be sure to check out some of St. Pete's fun speakeasies as well!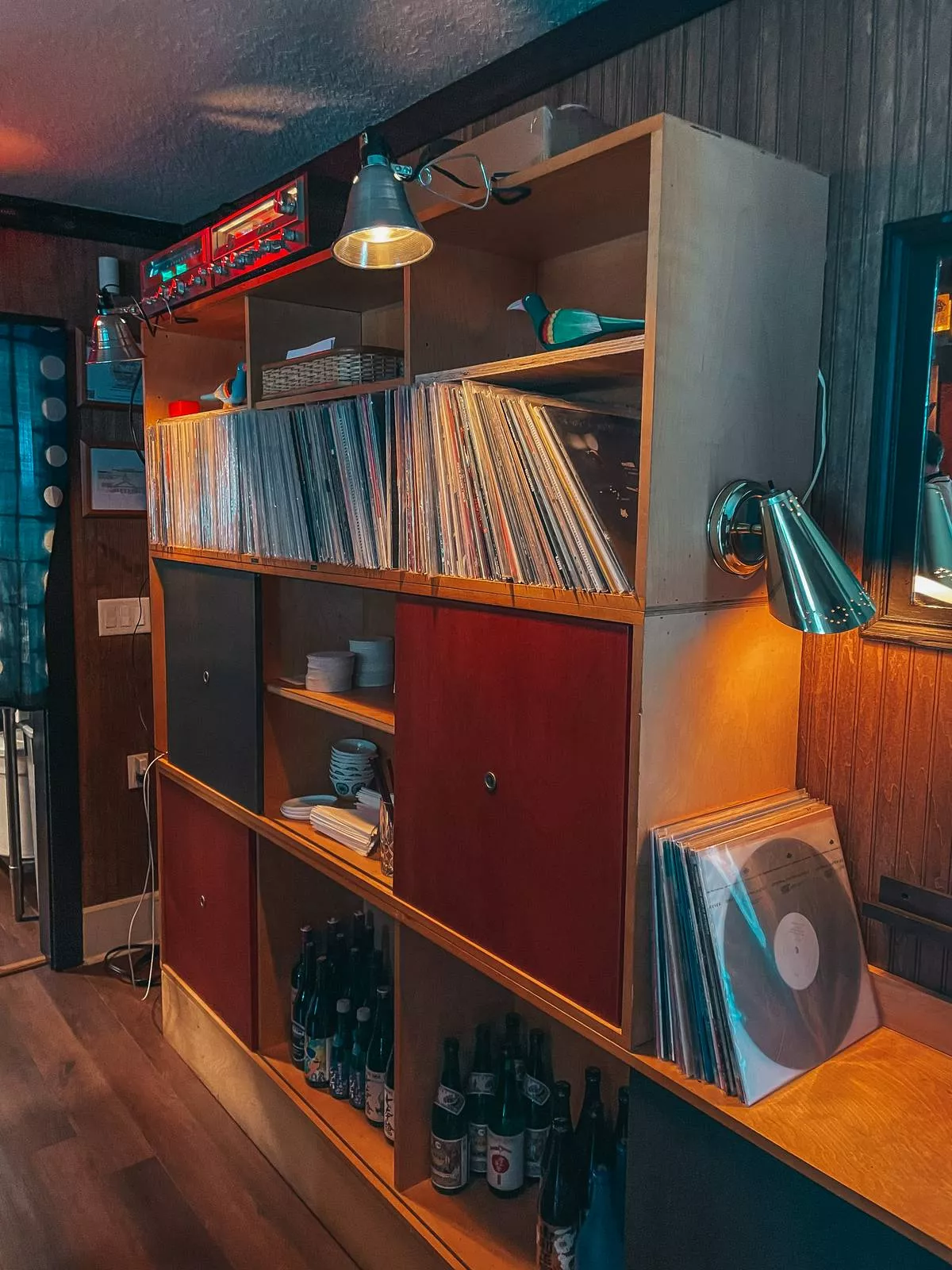 Left Bank Bistro
Enjoy French cuisine on Left Bank Bistro's quaint patio. Sitting outdoors, you will definitely get Parisian bistro vibes. Plenty of land and sea (and vegetarian!) options to choose from.
If you aren't too familiar with French cuisine (like myself), no worries— the staff is extremely helpful in guiding you on what may be the best dish for your palette. The environment is classy, yet warm and inviting.
I can personally attest to the French onion soup and bouillabaisse. Our server recommended a French martini (not on the menu) when I didn't see a drink that caught my eye, and it was right up my alley! It includes vodka, pineapple juice, and Chambord (a raspberry liqueur). So if you don't see anything you like, don't be afraid to ask for suggestions!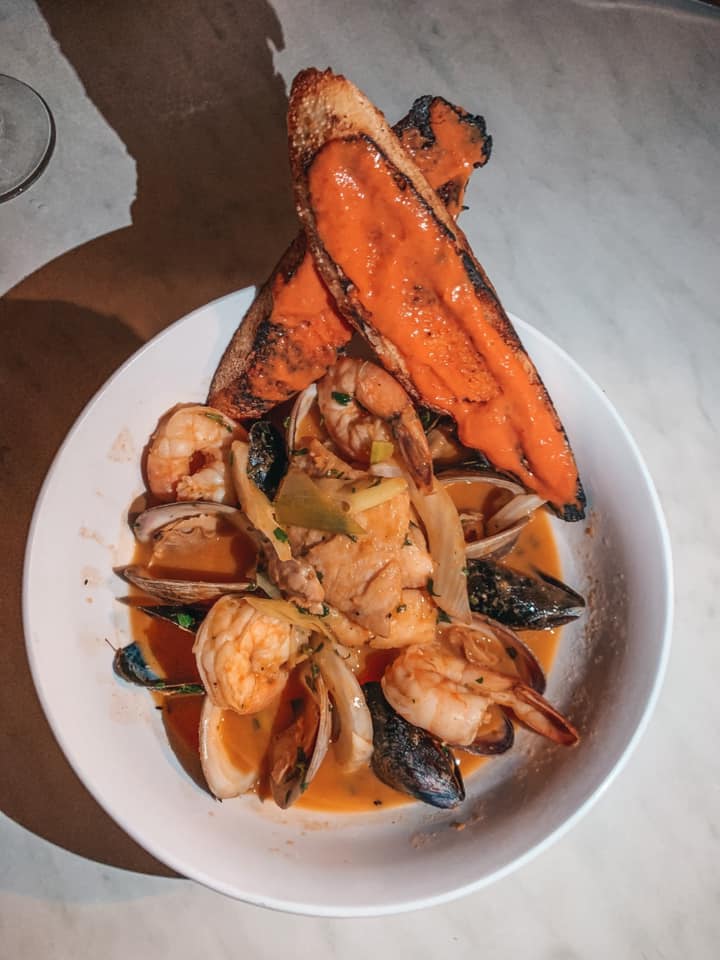 Tropez
Internationally inspired shared plates that are SO unique! Items like mini Cuban fritas and "French onion soup" dumplings (SO GOOD) are two of my favorites from their eclectic menu. If you're looking for a fun twist on your favorite dishes, definitely make sure to check Tropez out!
They also have beautiful, fun cocktails! Their signature drink, The Tropez, was my favorite. You can also find them on my list of best bars in downtown St. Pete 😉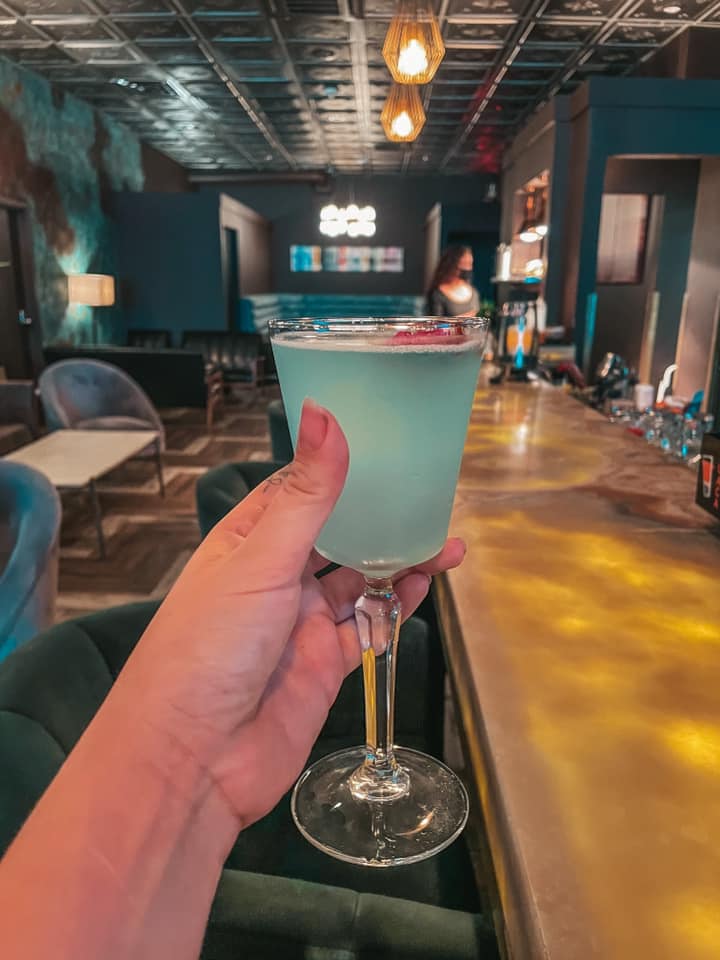 Best date night restaurants in downtown St. Pete
Parkshore Grill
If you've been here before, you know exactly why it's on the list of best downtown St. Pete restaurants. Pretty much any holiday, birthday, or date night out we are going to be in the St. Pete area for, we want to go to Parkshore Grill. Located right on Beach Drive, it's such a beautiful spot to enjoy the patio for dinner (indoor seating is available as well). It's definitely one of my favorite date night restaurants in Tampa Bay!
Their menu is contemporary American cuisine, and they always have interest-piquing specials. But, if you like surf 'n' turf you need to get "The Parkshore." It comes with a filet and lobster tail. Their lobster is extremely tender, and their lemon caper butter sauce takes it to another level (truly the best I have ever had). 
One of mine and Remi's favorite things to do here is try an appetizer and/or a small salad, and then we split "The Parkshore." Something that I love about this place is that they are always so kind to split the meal for you and bring you each your own plate.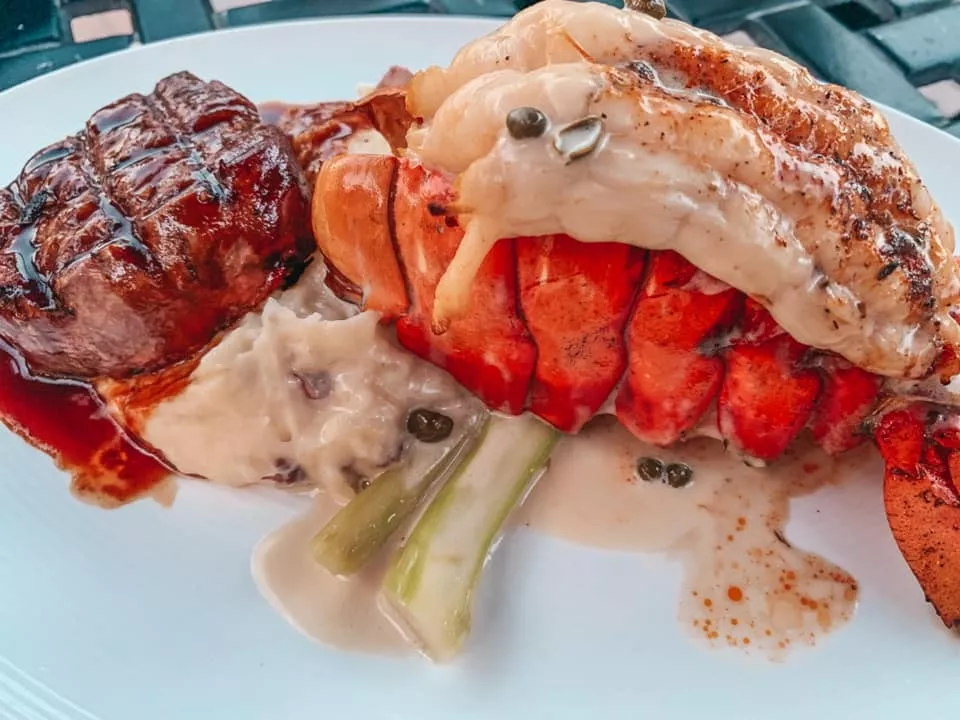 The Urban Stillhouse
Be ready for extraordinary EVERYTHING. Service, atmosphere, music, drinks— truly you're in for a treat at The Urban Stillhouse. Leather sofas, wood-burning fireplaces, an extensive bourbon "library", and an aroma that reminded me of "home at Christmas time" sets the coziest atmosphere.
Definitely make reservations, because this place books up! I have actually only been here for brunch, but their dinner menu looks amazing too. You will love their bloody mary (they even have a caffeine and B12 infusion that will help pick you right up!), fried chicken (best fried chicken I've had since visiting King of the Coop in Seminole Heights), and homemade pickles!
Even if you aren't a bourbon person, it's fun to get a flight for the table to experience. The staff also provides education on the best way to enjoy the bourbon. If possible, you'll definitely want to take a tour of the place! At least wander upstairs to check out "the library".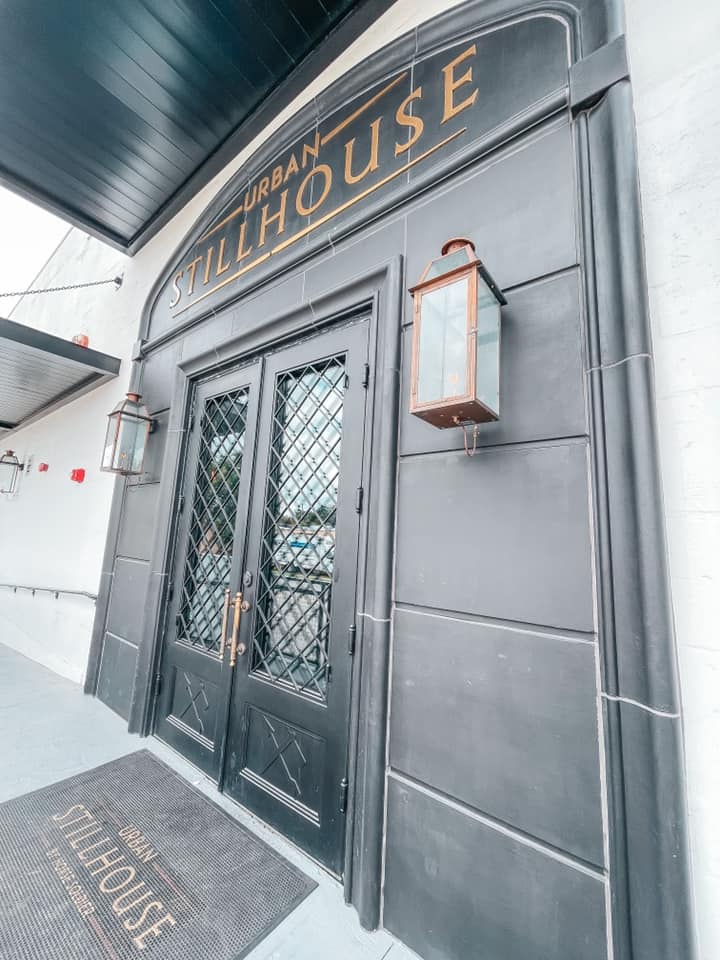 If you're enjoying this post, be sure to check out my Tampa, Florida guide with all of the best bars, restaurants, things to do, and more that Tampa has to offer.
Best happy hour St. Pete downtown restaurants
The Avenue
Half-off bites and shareables? See ya there! Monday through Friday 4-7 PM you can get half off these menu items. From lettuce wraps to buffalo wings, The Avenue is a snacker's dream. Seriously, your favorite classic appetizer is most likely going to be found on their menu, and it's all so good.
If you're with a crew hungover or prepping for a long night ahead get the squad goals which is only $20 and includes pretzels, mozzarella sticks, wings, and chicken tenders.
On top of their happy hour, they also have daily specials you can check out here! Another great thing about The Avenue is that it's right next door to Park and Rec, so you can work up an appetite before snacking or burn off what you just noshed on.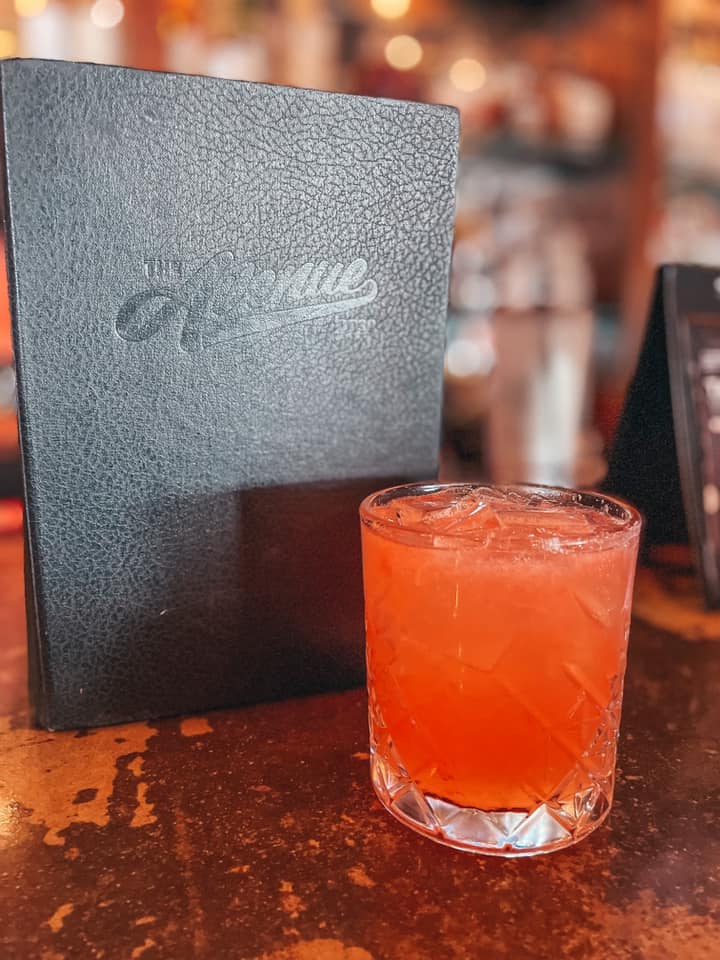 No Vacancy
There is such a fun, lively atmosphere here that you really do feel like you're on vacation. They have happy hour Monday through Friday 4-7 pm and it includes some of their best items (in my opinion) for $6! Wings, sliders, their skinny dip (lobster dip), fiyaaahhh cracker shrimp, and my all-time favorite, their under the sea nachos. Along with food specials, No Vacancy also includes $4 drafts, wine, and bubbles and $5 wells during their happy hour.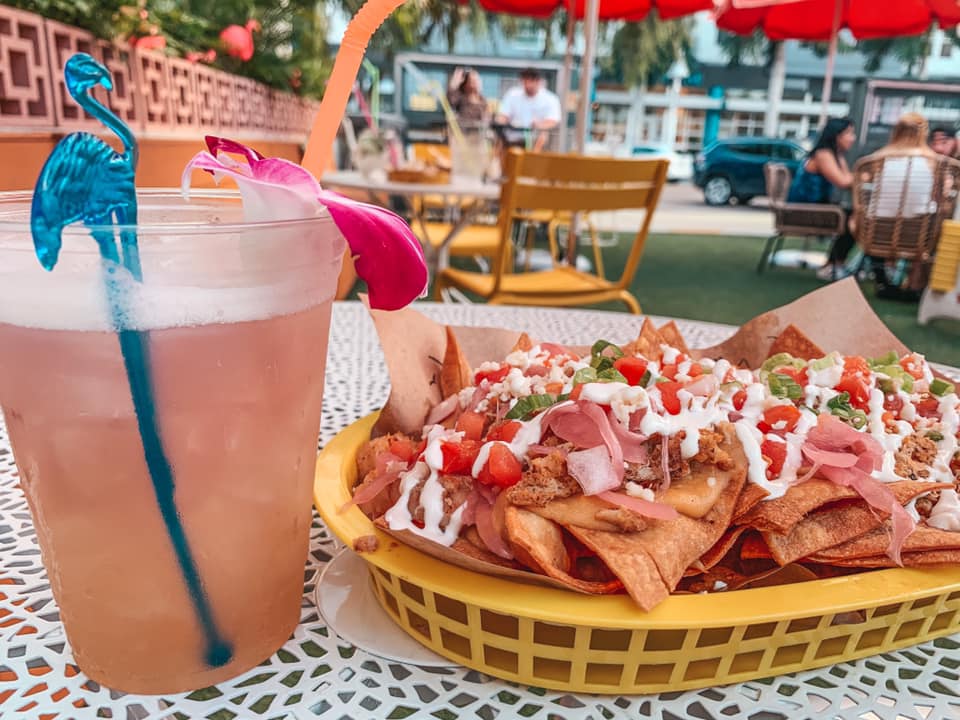 Best brunch in downtown St. Pete
The Library 
You know I couldn't make a list of the best restaurants in St. Pete without including The Library. The Library is my go-to brunch spot. It's also one of my favorite coffee spots in St. Pete. Aside from the beautifully-presented food that is sure to bring your taste buds joy and the coffee you may just gulp down 3 cups of without realizing it (it's just sooo smooth), the aesthetic here is magnificent.
Surrounded by thousands of books that are all slightly different shades of navy blue along with English den-style chairs. Ugh, it's just such a dreamy environment, and as I said, the food will keep you coming back for more and more. They change out their menu occasionally, but if you have the opportunity to try their sourdough French toast, your taste buds will thank you.
The vibes here are great for a St. Pete bachelorette party or girls' brunch!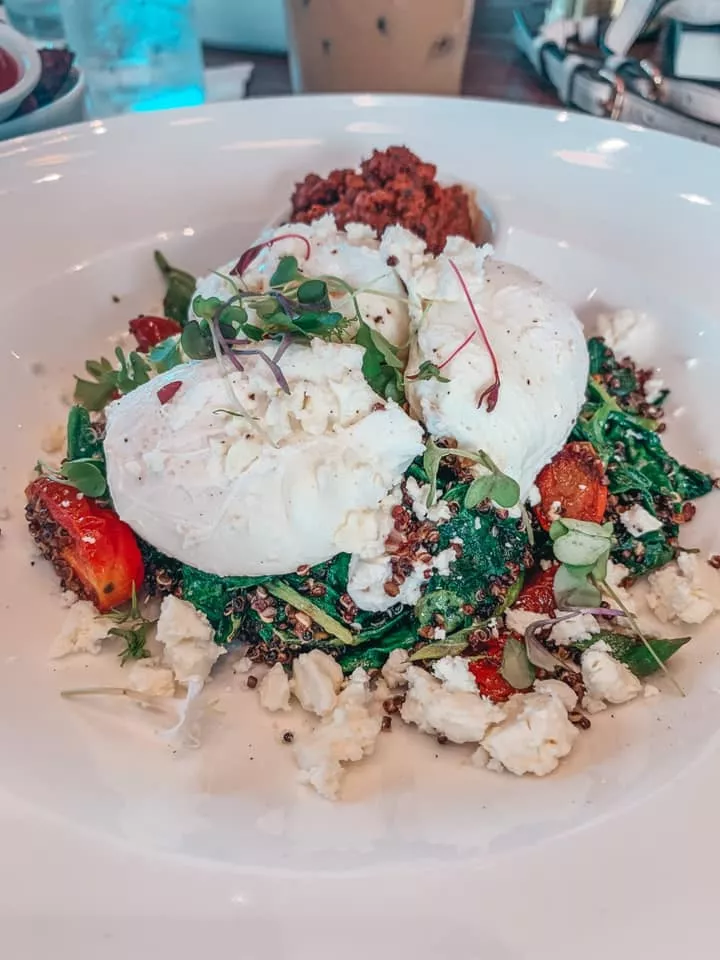 Red Mesa Cantina
Modernized Mexican brunch comin' right up! As I stated, this is usually not my cuisine of choice, but Red Mesa has given me a new perspective. Enjoy your brunch and cocktails in the courtyard Saturdays and Sundays between 10:30 am-3 pm.
Their huevos rancheros and huevos con chorizo are very appetizing. They also have tasty bloody marys, and of course sangrias and a variety of margaritas. Can't decide which to get? They also offer a margarita sangria so you don't have to choose.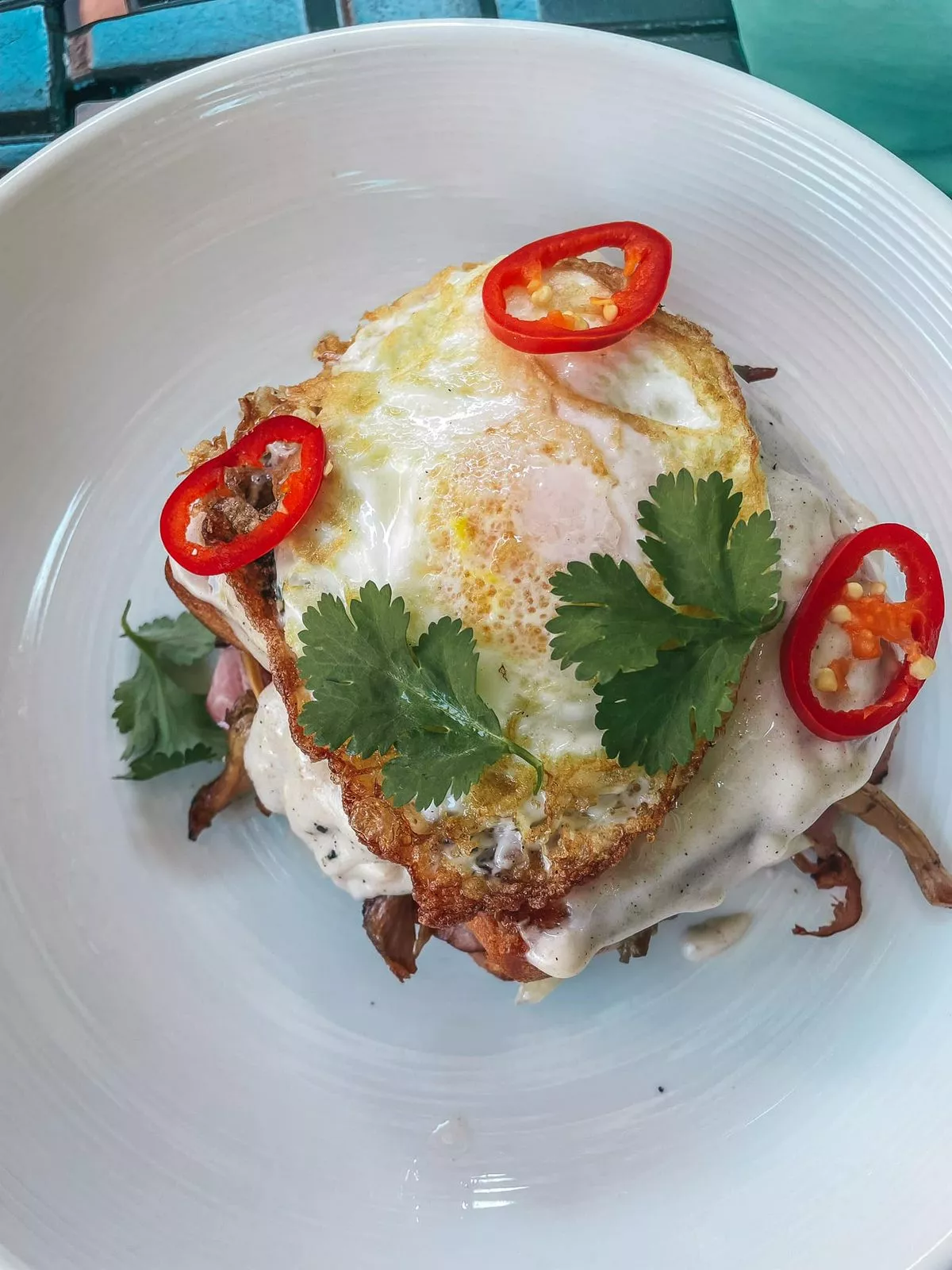 Best New American restaurants in downtown St. Pete
Birch & Vine
Nestled within the stylish embrace of The Canopy in downtown St. Pete, Birch and Vine emerges as a culinary jewel that redefines the art of dining. With a captivating blend of modern design, a breezy patio, and a menu that celebrates New American cuisine, Birch and Vine effortlessly captures the essence of sophistication and culinary innovation.
Having had the pleasure of exploring their menu, from the succulent cocktail shrimp to the heavenly pasta and the phenomenal steak that left a lasting impression, every bite exudes a symphony of flavors that dances across the palate. Their mastery extends to the sea as well, with a remarkable salmon dish that's nothing short of sublime.
Whether you're indulging in a handcrafted cocktail or savoring the seasonal fare, Birch and Vine has mastered the art of delivering a gastronomic experience that's unparalleled. From the first sip to the final bite, their dedication to perfection is evident, promising an unforgettable culinary journey that encompasses the very essence of fine dining—a promise that holds true for every dish, making it a cherished downtown St. Pete restaurant where every choice is the right one.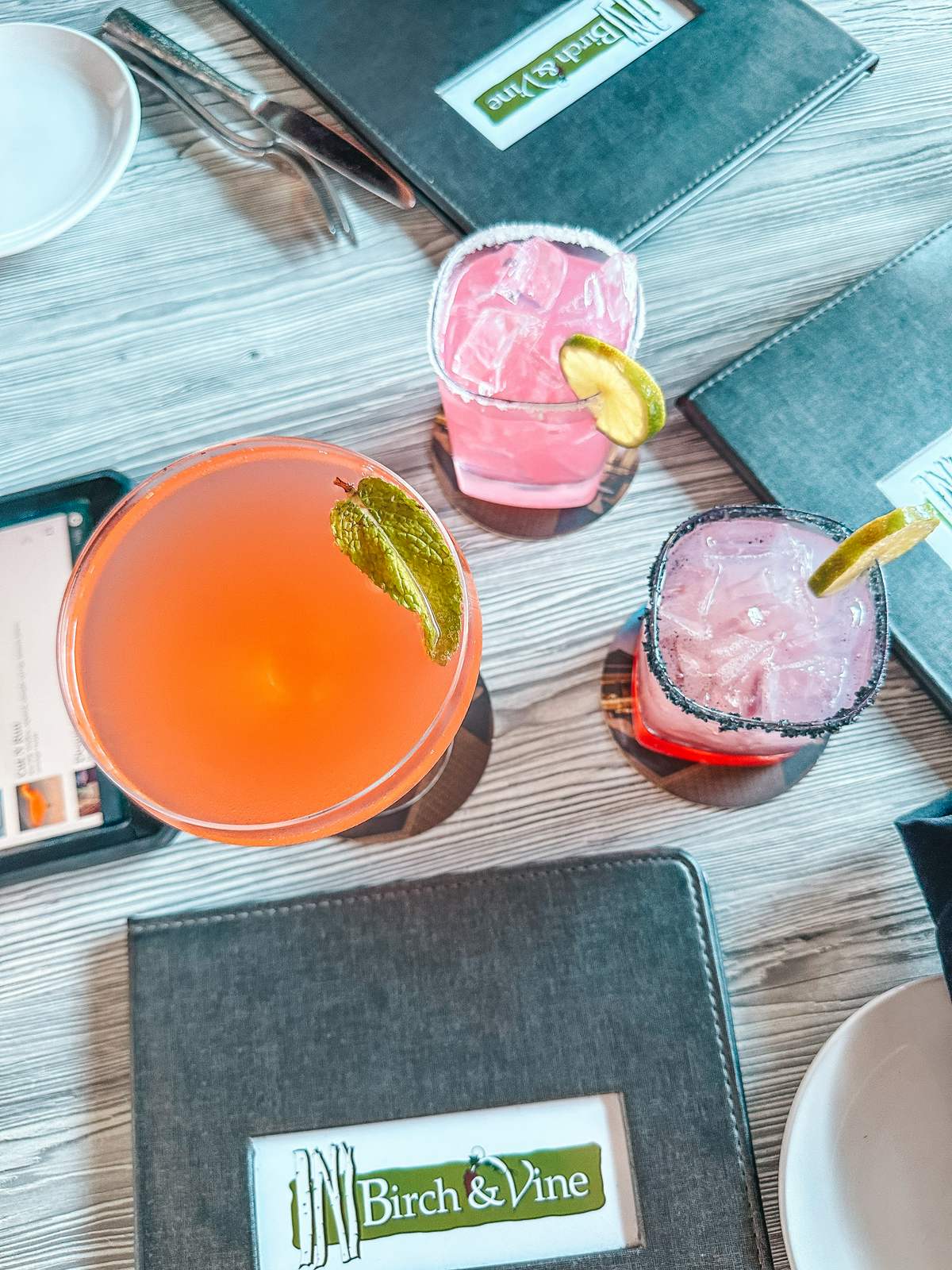 Best Restaurant with Unique Menu Offerings
Wild Child
Wild Child is a lively St. Pete restaurant and cocktail bar founded on fresh, in-season cuisine and friendly service. This chic restaurant serves up an eclectic menu full of internationally-inspired dishes and fun cocktails.
Their Korean fried chicken sandwich is PHENOMENAL and includes unique twists like kimchi mayo and shredded cabbage, and the rosemary fries with garlic aioli are a perfect addition. I also had one of the most unique Caprese salads ever with strawberry and rhubarb, the flavors were phenomenal (last photo)! The tuna tostadas are also a solid choice!
For cocktails, I can never stray from the Lost Weekend which is made with fresh watermelon, lime, and agave. You get to choose your spirit, my vote is for mezcal.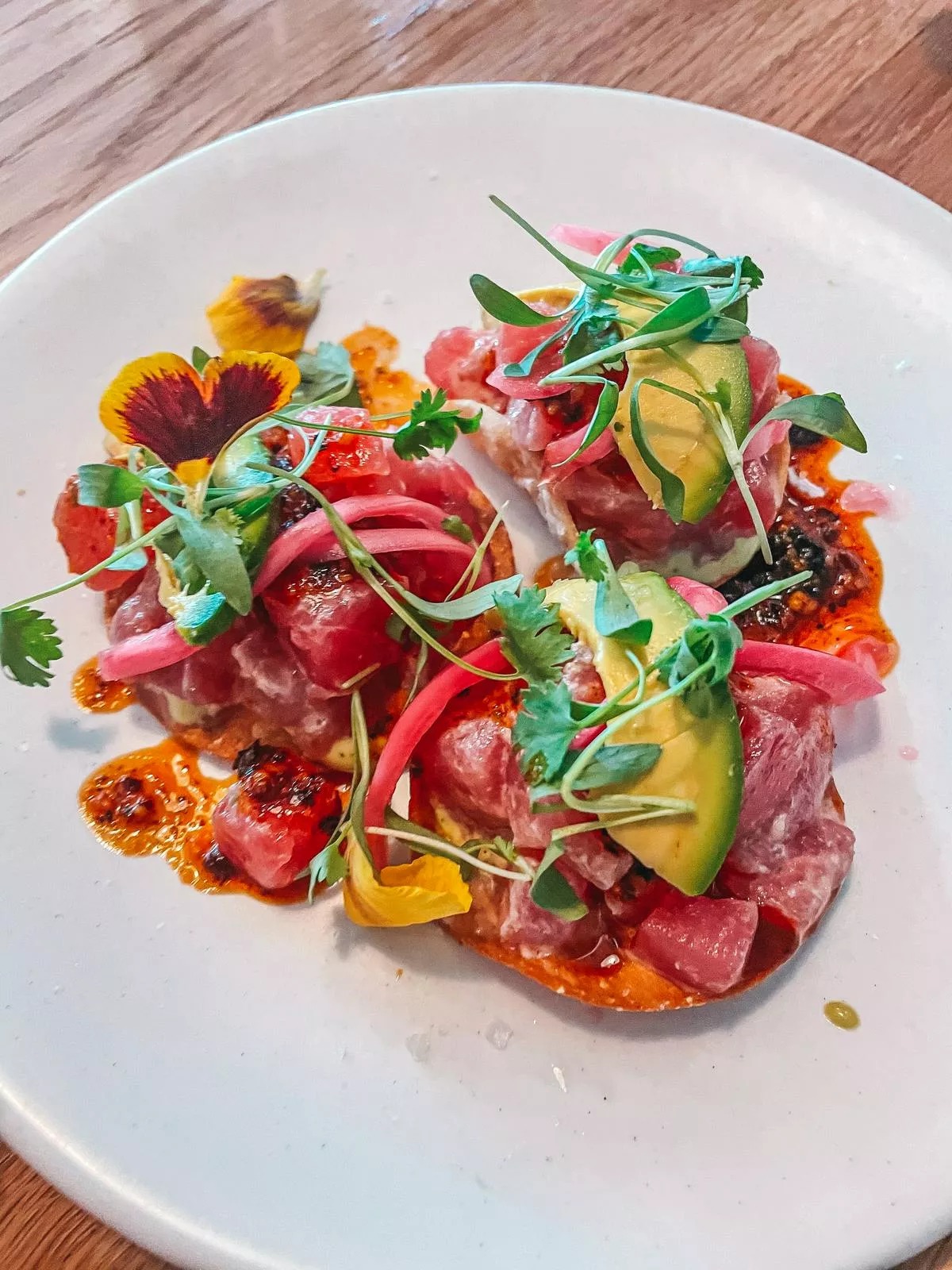 I hope you enjoyed this list of the best downtown St. Pete restaurants! Want more of downtown St. Pete? Make sure to check out some of these fun activities to do in St. Pete! And follow me on Insta for more Tampa Bay food and fun!
Be sure to check out some of my other local posts before you go:
Fun things to do in St. Pete Beach