This post contains affiliate links which means that I will make a small commission if you purchase a product after clicking on any of them, at no extra cost to you.
There are about a million and one things to do on the North Shore in Oahu. I have visited Oahu twice now and spent a good chunk of my three weeks on the North Shore. It is my favorite part of the island! (With Kailua and Kaneohe being runner-ups!)
The North Shore gives a laid-back vibe and is a little less touristy than Waikiki and Honolulu. There is truly so much to do and see in this part of Oahu, so I really hope you have saved a good amount of time to spend here!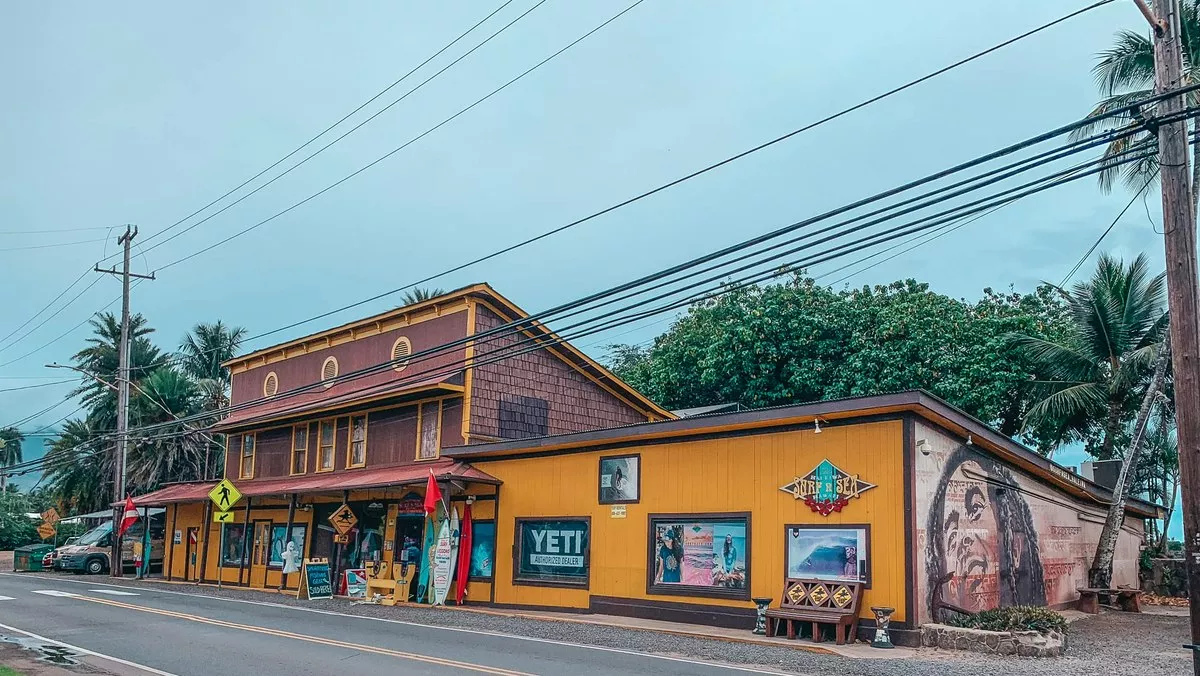 Best things to do in North Shore Oahu
Toa Luau
There are tons and tons of luaus to choose from, and I researched a lot before deciding to go with Toa Luau. They had great reviews and the price was good for what was included. For the most basic package, which is what we got, it included:
a flower lei
cultural activities
a kava ceremony
a luau dinner
a Polynesian show
one drink ticket
admission to Waimea Valley (usually a $20 admission fee)
We went to the luau early to check out Waimea Valley. It was a nice, paved walk through botanical gardens that led you to a waterfall. This waterfall is pretty touristy and they require you to put on a life jacket before entering, but it's a beautiful sight and included in your luau ticket. so I'd say it's worth the look.
Luau tickets are a little pricey, but I really do feel it's something you need to experience in Oahu. You learn a lot about the history and culture of Hawaii, all while enjoying some truly amazing food, drink, and entertainment. I actually made friends with one of the dancers, and he ended up (attempting to) teach me how to surf later in the week!
Activities like this book up quickly, so be sure to book your tickets in advance! If you book here they have the lowest price guarantee, plus you have free cancellation up to 24 hours in advance.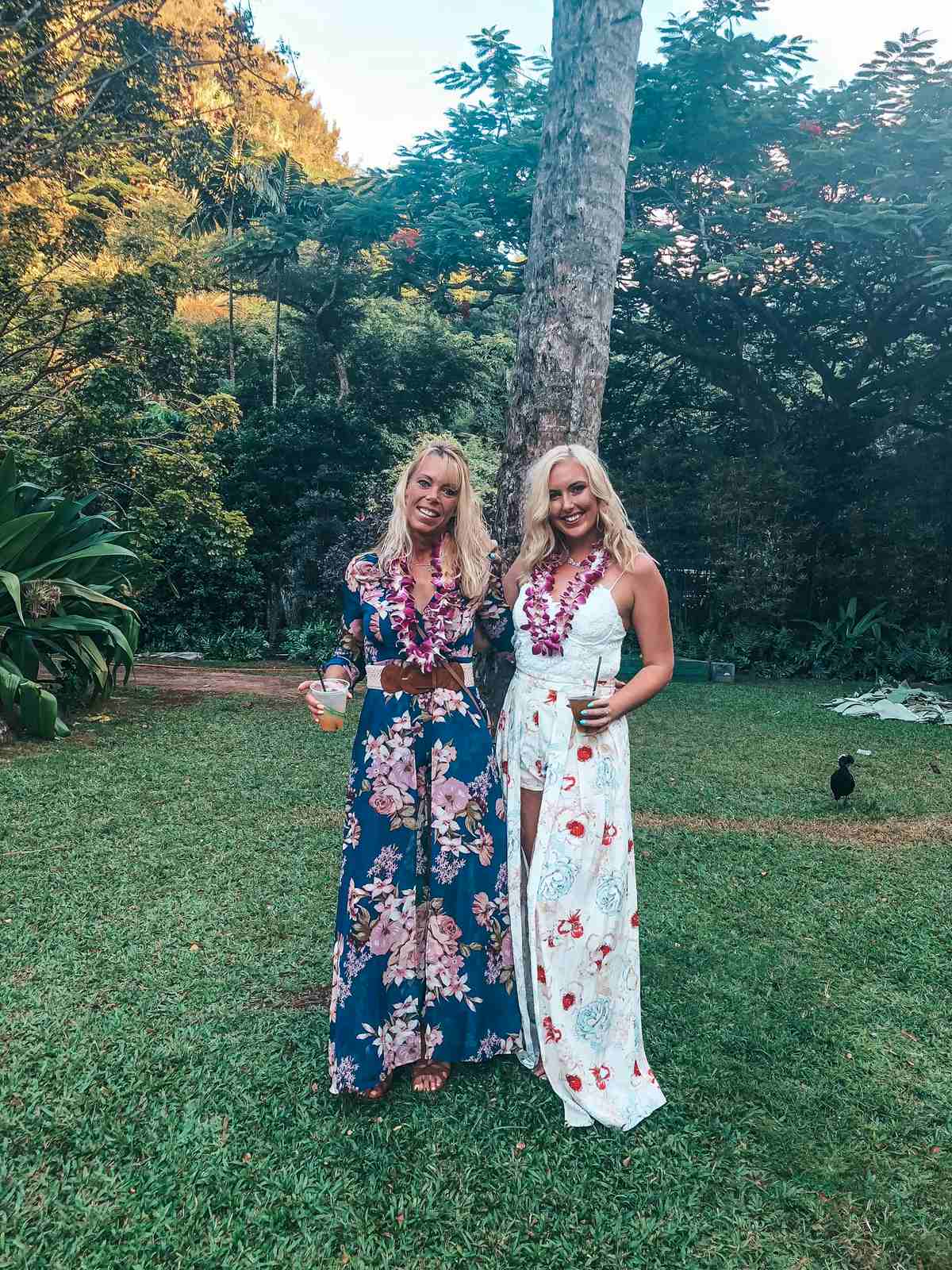 Polynesian Cultural Center
The Polynesian Cultural Center on Oahu's North Shore offers 6 Pacific Island villages and exhibits, and features Hawaii's most authentic luau.
The villages have hourly performances and a chance to engage with natives as they demonstrate their arts, crafts, and traditions. Villages include the following: Hawaii, Samoa, Aotearoa (present-day New Zealand), Fiji, Tahiti, Tonga, and the Marquesas Islands.
You can enjoy a nighttime performance for an additional fee that includes songs and dances from all across Polynesia, and the Lagoon offers a canoe parade that highlights each Polynesian culture's characteristic dances.
As I said, the PCC also has its own luau with Alii Luau ("Royal Feast"). It includes traditional Polynesian food, such as pork cooked in an imu (an underground oven).
If you do want to partake in this luau, it books up months in advance, so don't miss out by waiting!
Waimea Valley
Waimea Valley is a cultural and botanical haven most known for its 45-foot waterfall that flows from the north end of the Ko'olau Mountains on the Windward side of Oahu all the way through Waimea Valley and joins the Waimea River to the ocean.
To get to the waterfall you first have to walk a paved pathway, which goes through Waimea Valley's world-class botanical gardens and historical sites. It's about a 1 ½ mile round trip "hike."
Once you get to the waterfall you're able to swim in it, and the swimming area is pretty large! They even have changing rooms by the falls for you to change in and out of your suit so you don't have to walk in it.
Admission is $20, but if you do Toa Luau your admission is included 🙂 Don't forget the bug spray!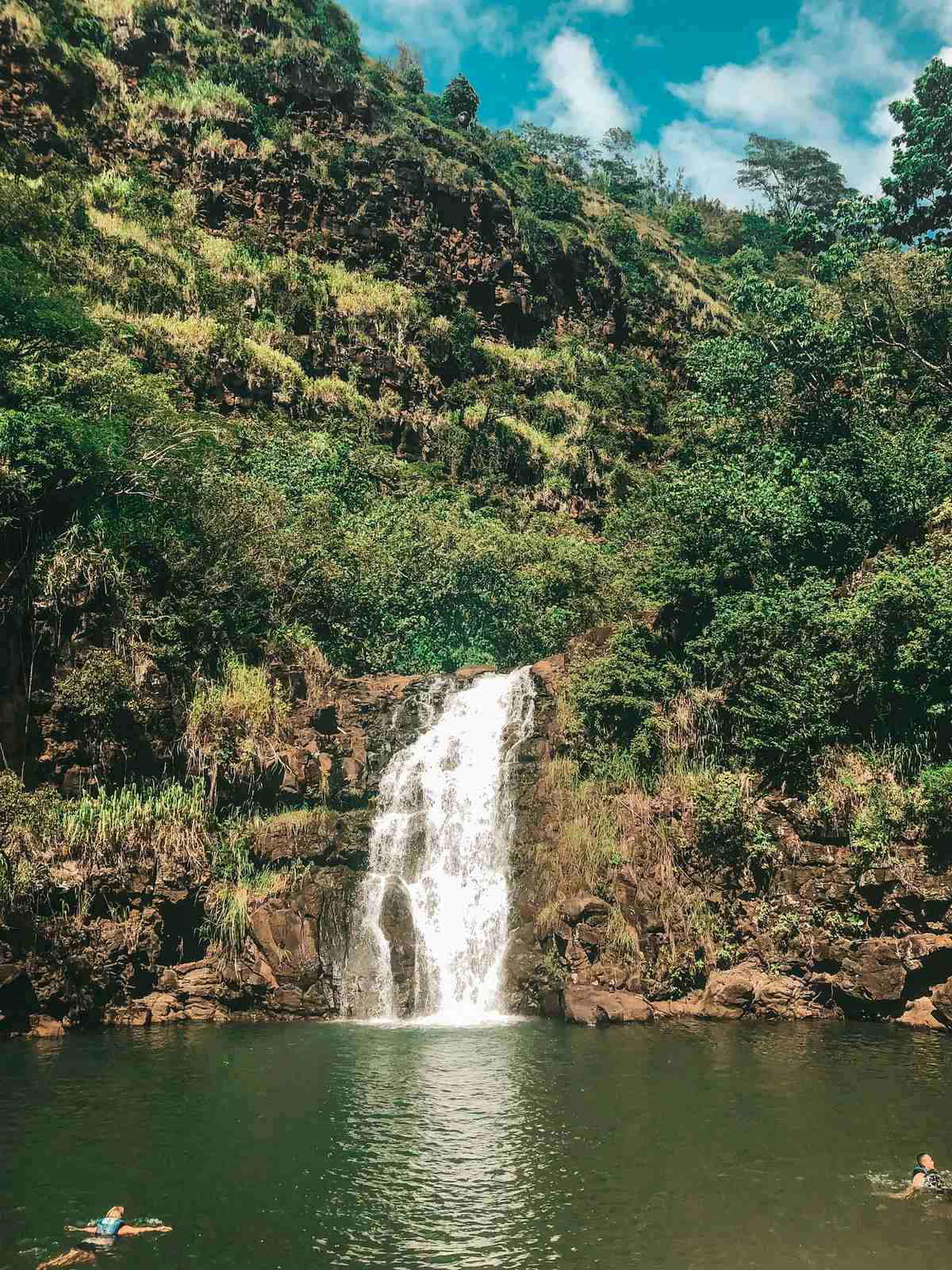 Go cage diving with sharks
Nothing like waking up at the crack of dawn to go cage diving with sharks, right? I highly recommend doing it early in the morning right when you wake up. That way, you're still a little delusional from being asleep in dreamland, and the endeavor seems a bit more doable.
The experience was two hours, but it seemed like an eternity riding in the boat with the cage hanging from the back on the way out to what was going to potentially be my last moments on earth (I'm totally not being dramatic!).
I felt like a total badass booking this excursion, but all I could think of on the boat ride was the movie 47 Meters Down. If you aren't familiar with the movie and want to go cage diving with sharks, just don't watch it.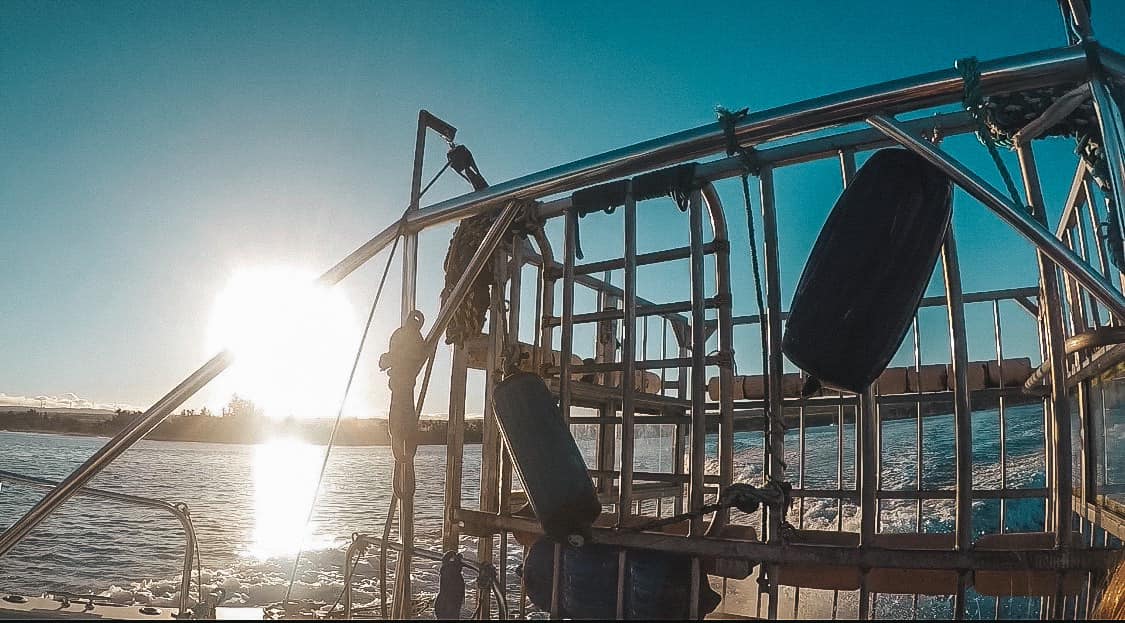 Seriously, though, I was extremely nervous right up until the point I was in the cage submerged in water — surrounded by gigantic sharks. It was the weirdest thing, but once I was in there, I felt very calm.
The guides pointed over to a boat in the distance where people were actually swimming with the same sharks (Galapagos sharks) in open water — without the cage.
I have done this excursion twice when visiting Oahu, and the last time I went I finally got to experience swimming with sharks without the cage (peep the video here)! It was absolutely terrifying, but I would do it again!
Your guides make you feel extremely comfortable and safe. They are watching the sharks' behavior, and you, the entire time. The water was even a little choppier than I'd liked that day, but it was one of the coolest, most thrilling experiences I've ever had.
🦈Want to swim with sharks?🦈
This truly was the adventure of a lifetime!
Click herе to book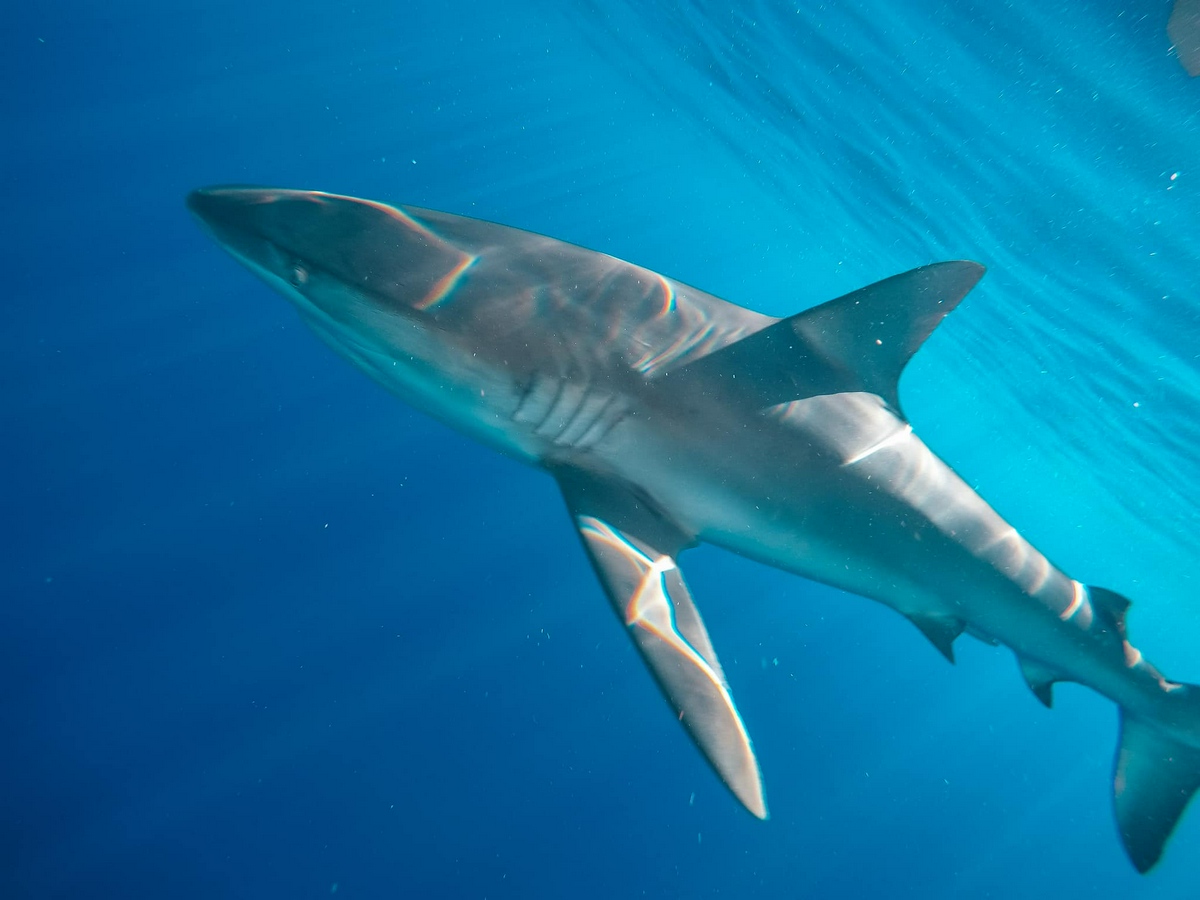 Cliff jumping at Waimea Bay
Even if you don't want to cliff jump, you should still go to Waimea Bay.  This beach is absolutely breathtaking. The gold sand and blue waters are beyond epic! Not to mention it was much more chill than the beaches we visited around Waikiki.
I wouldn't say I'm terrified of heights, but climbing to the top of the cliff and looking over the edge knowing I was about to take that leap definitely shook my nerves a bit.  Even so, the adrenaline I had when shooting out of the water after the jump was so exhilarating that I had to do it several times.
Be sure to check the water conditions before entering. There will be signs along the beach, and this beach does have a lifeguard.
There is a designated parking lot but it can fill up quickly (especially on the weekends), so be sure to arrive early.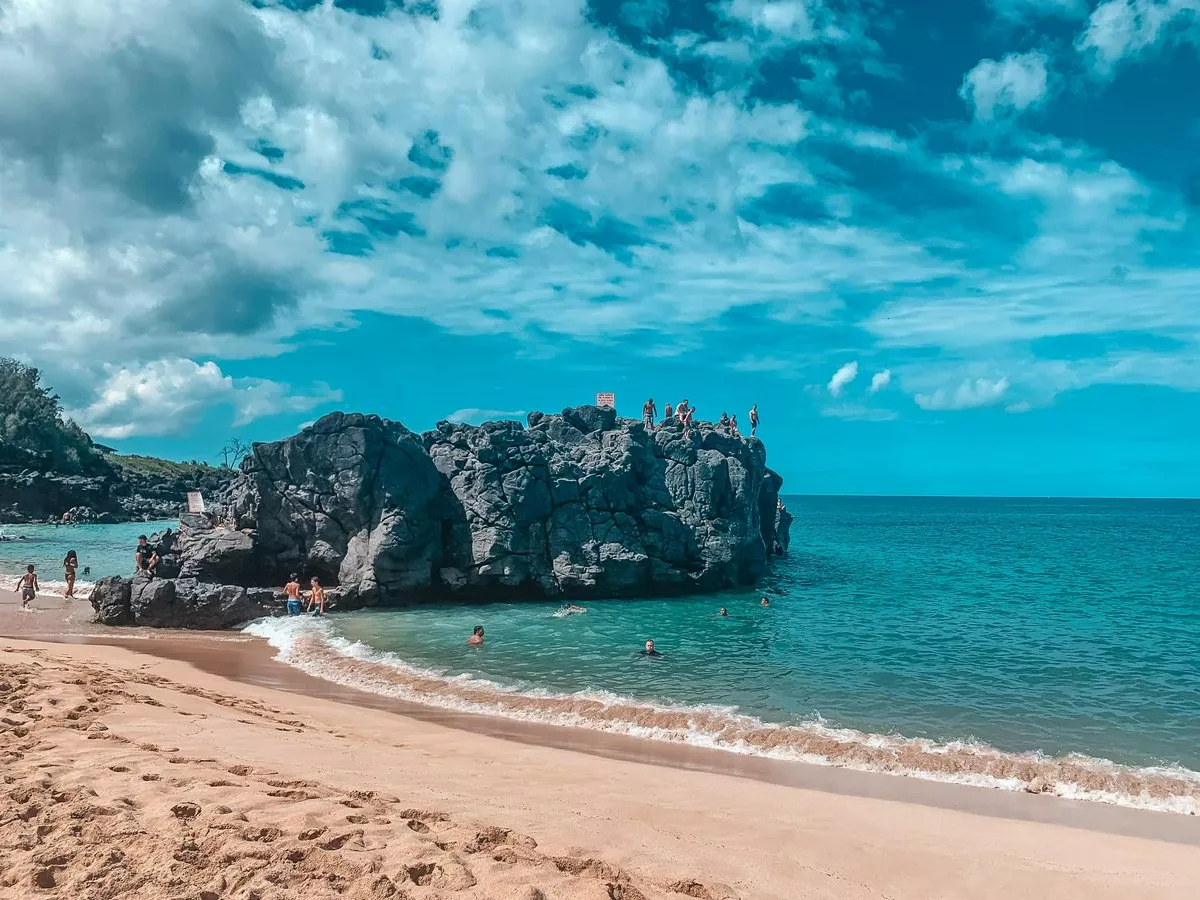 Surf lesson
Taking surfing lessons is definitely one of the most epic things to do on the North Shore of Oahu. This excursion includes a 2-hour surf lesson where they provide your surfboard and other necessary equipment along with a free 15-minute basics practice before hitting the water and turtle tour.
There are a lot of options for paying for a surf lesson experience, but all the better if you can befriend a local who offers to teach you for free! The guys who taught me were so unbelievably patient.
I probably spent a total of three seconds standing on the board out of two hours, but…I had the best time trying. Attempting to surf is just one of those things ya gotta try in Hawaii.
Check out my full list of free activities in Oahu!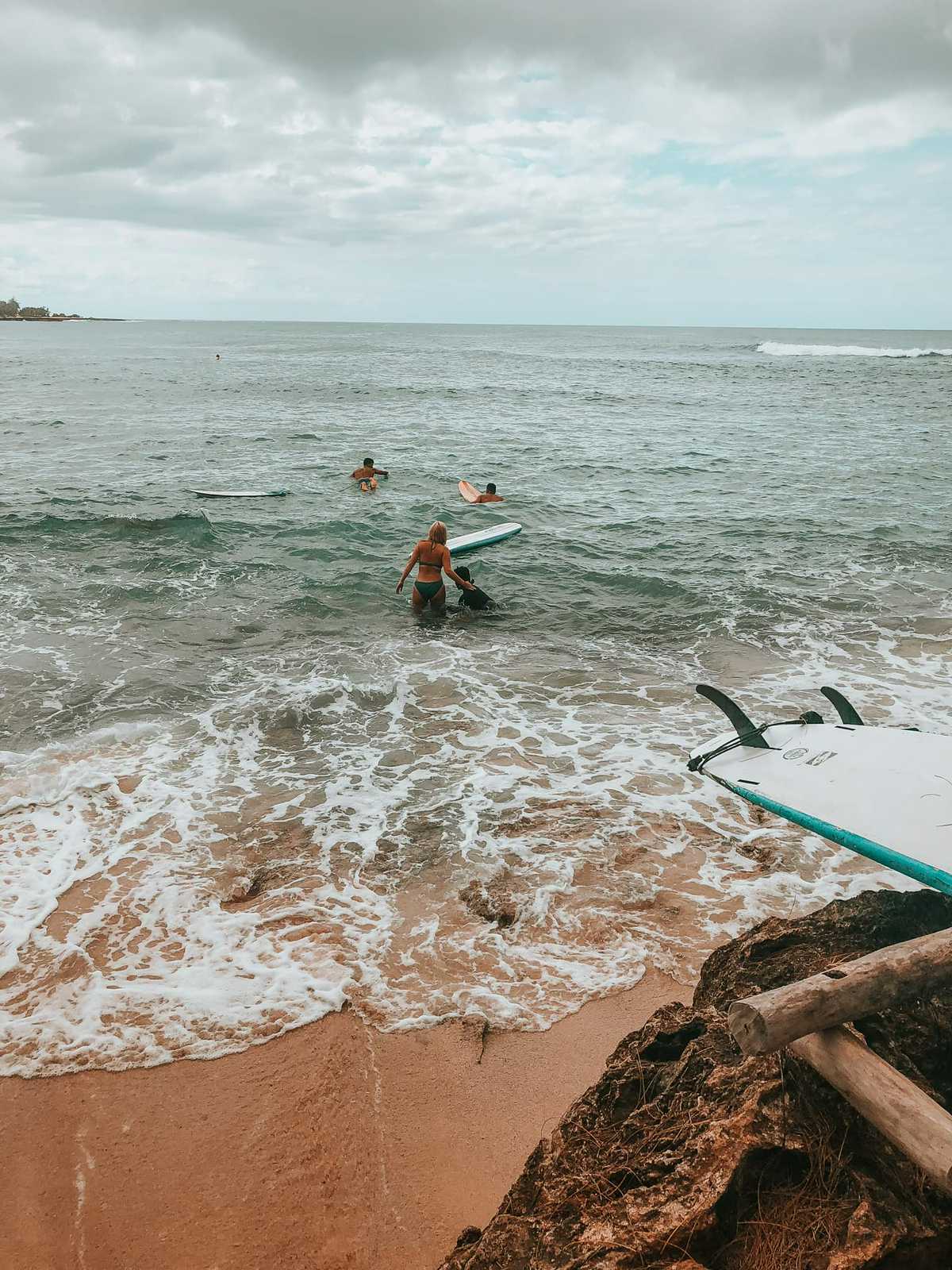 Watch pro surfers at Banzai Pipeline
If you aren't quite up for getting out on the water yourself, it's still really cool to watch surfers do their thing! The Banzai Pipeline is a surf reef break located on the North Shore that's known for massive waves that break in shallow water just above a sharp and cavernous reef, forming large, hollow, thick curls of water that surfers can tube ride.
The months between November and February are ideal for seeing large wave surfing. The waves may rise to 30 feet or more. In January the Billabong Pipeline Masters is held here!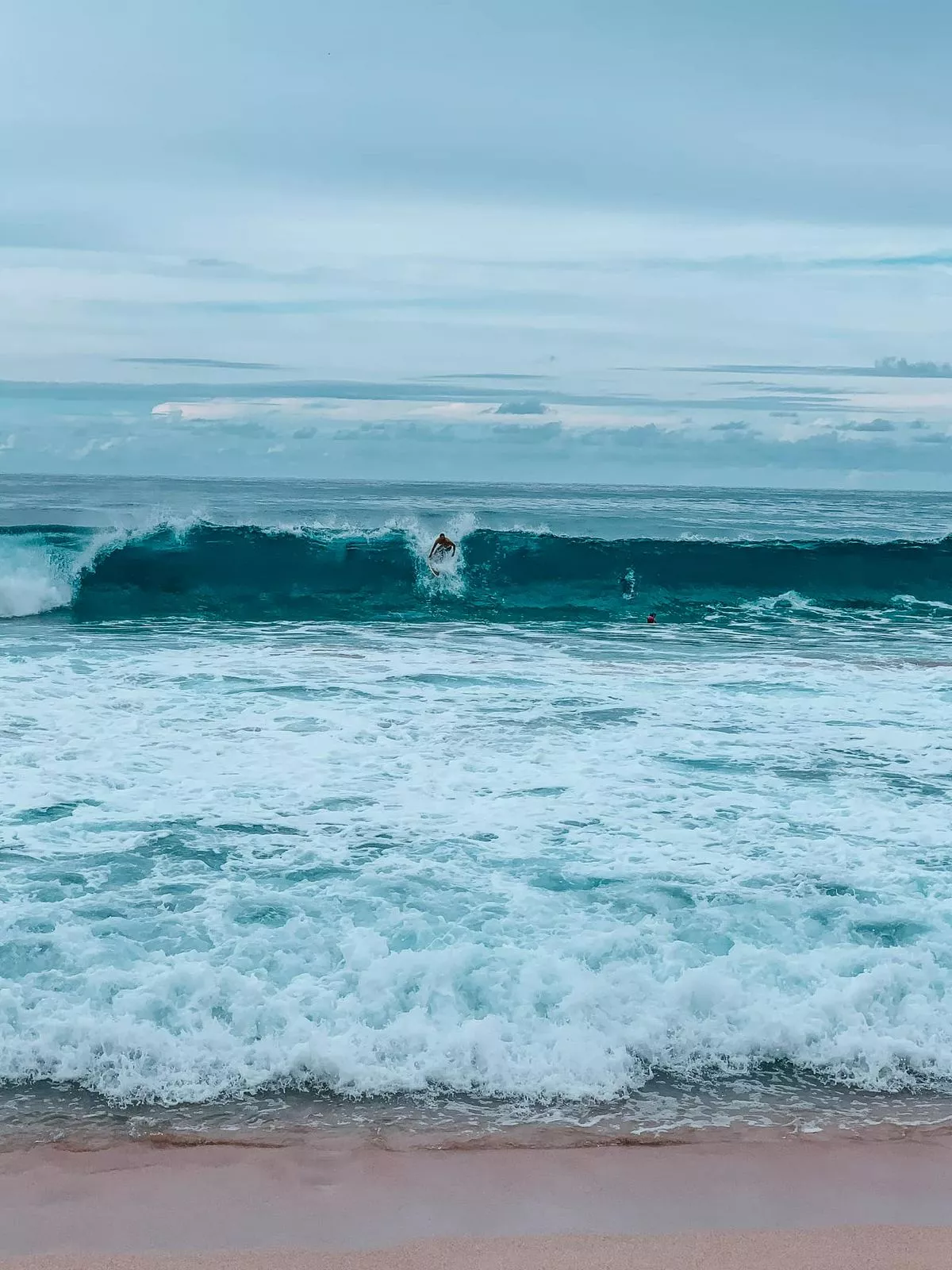 Make a stop at Laniakea Beach
Laniakea Beach, also known as Turtle Beach, is an amazing opportunity to see sea turtles. The Hawaiian green sea turtle actually frequents Laniakea Beach more than any other spot on Oahu!
I've stopped here several times just because as we were passing I saw turtles at the beach from the road. There's usually parking across or along the street.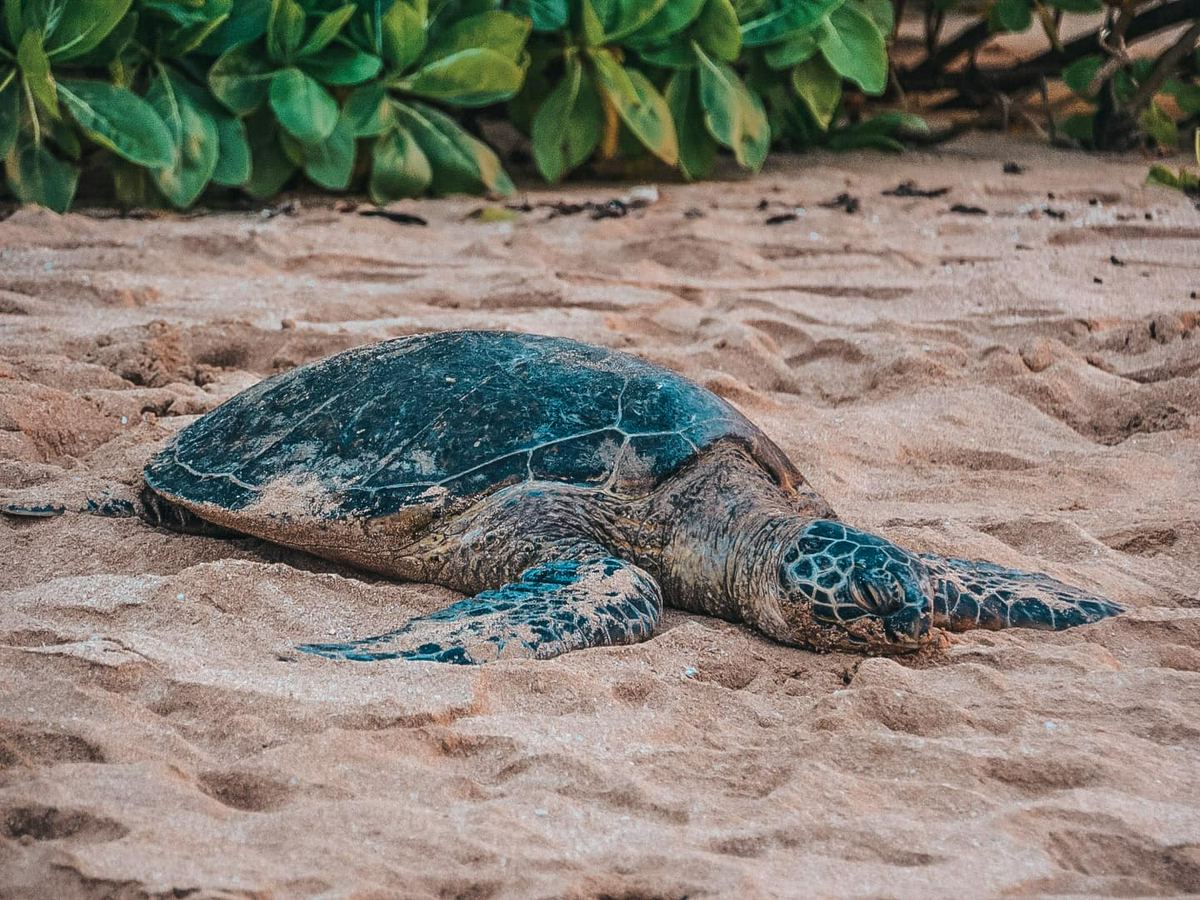 Sharks Cove
Don't worry, Sharks Cove doesn't get its name because you'll find sharks here, but it is one of the best spots for snorkeling in Oahu! And it has a fraction of the crowd that Hanauma Bay gets.
It's a lava-rock beach known for its underwater rock formations and diverse marine life. The water is pretty shallow throughout and you can plan to see tons of tropical fish and maybe even a turtle! It's best to go here during the summer months as that's when the water is calmest and best for snorkeling.
We took these snorkels with us and LOVED them! 10/10 recommend. I also recommend having a good pair of water shoes and reef-safe sunscreen.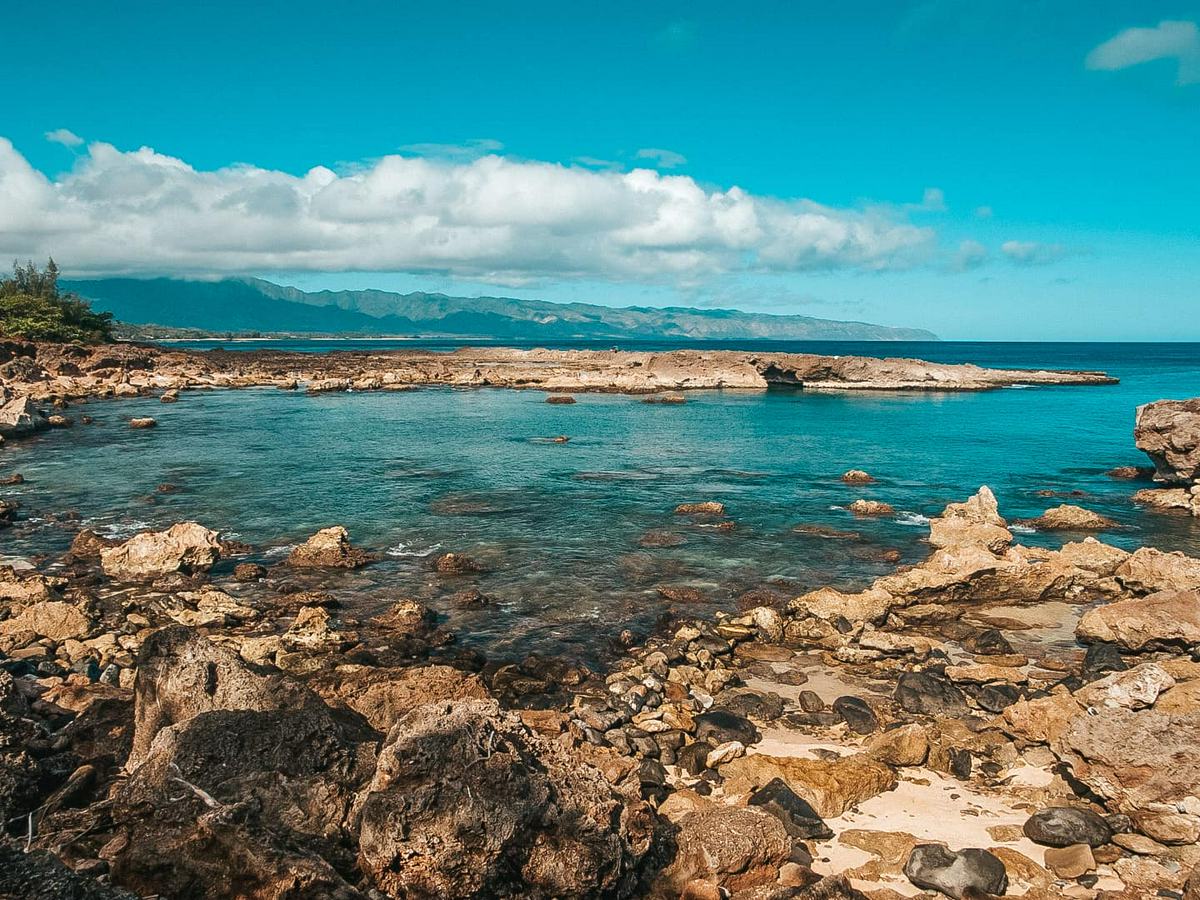 Explore Haleiwa Town
Haleiwa Town is an adorable little sleepy beach town on the North Shore. It's a must-visit Oahu landmark! There are boutiques, amazing restaurants, surf shops, and a local ambiance.
Walk around here, grab a bite to eat, and enjoy the beautiful boards. And of course, you can't leave without snapping a pic at the famous Haleiwa wings.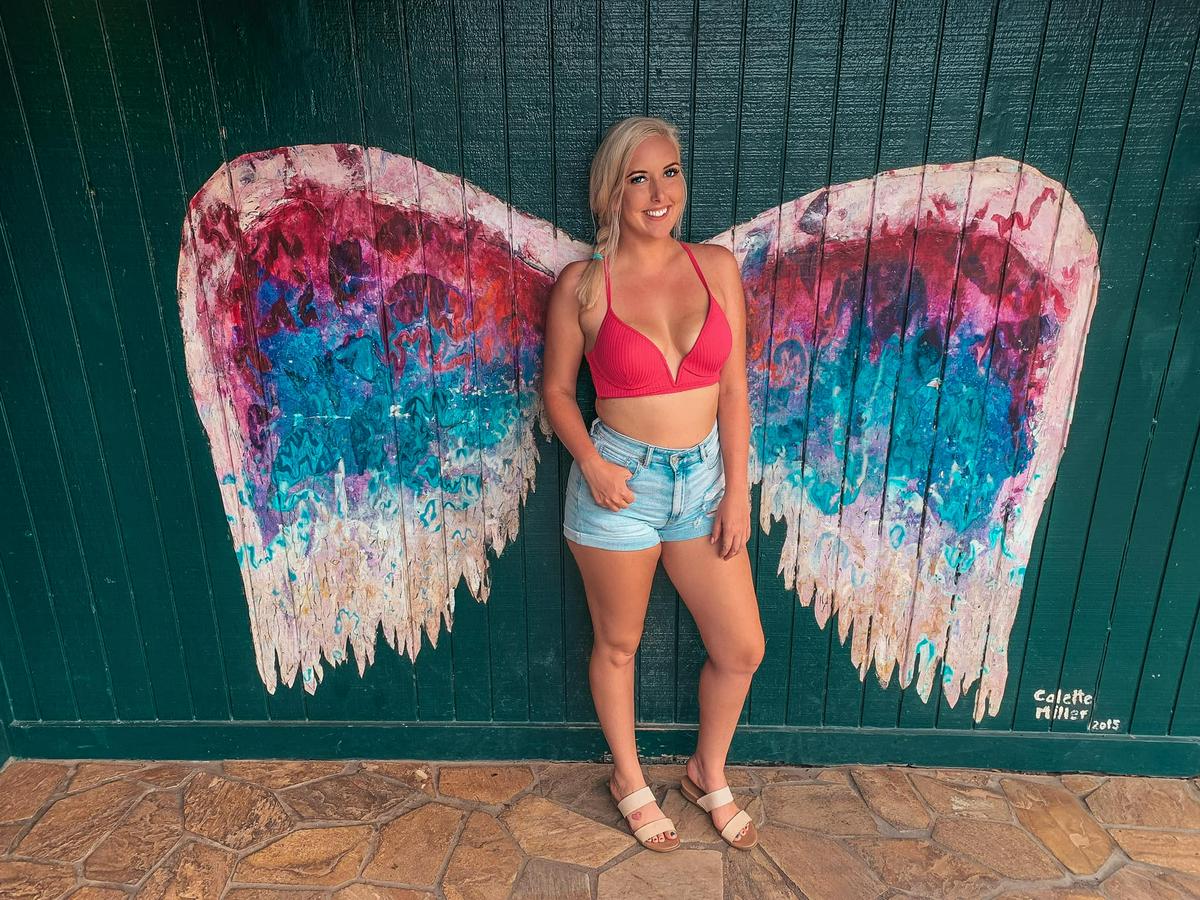 Food truck fare
Food trucks are very popular in Hawaii. It's common to see several of them congregated in somewhat of a food truck food court.  There are actually a slew of them right across the street from Sharks Cove, as well as in Haleiwa.
They have really good shrimp and rice dishes! But beware, in Hawaii all the food trucks prepare their shrimp with the shell on, and it is possible to eat the shrimp with the shell on. I tried it, because, well, when in Rome! I was not a fan, but once I peeled all of the shrimp, I really enjoyed my dish.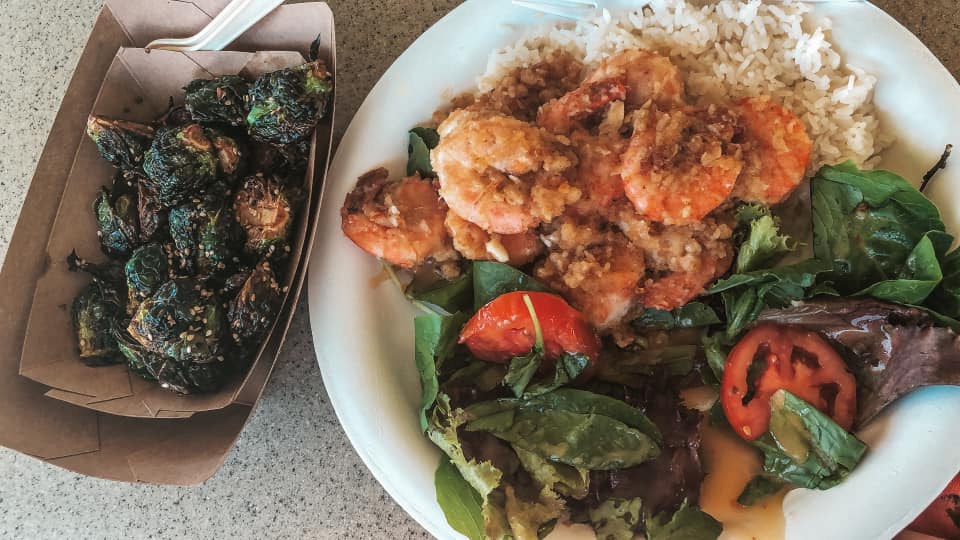 The food trucks aren't the only food spots to check out on the North Shore though! Check out my list of the best restaurants on the North Shore. And be sure to grab an acai bowl while you're over here!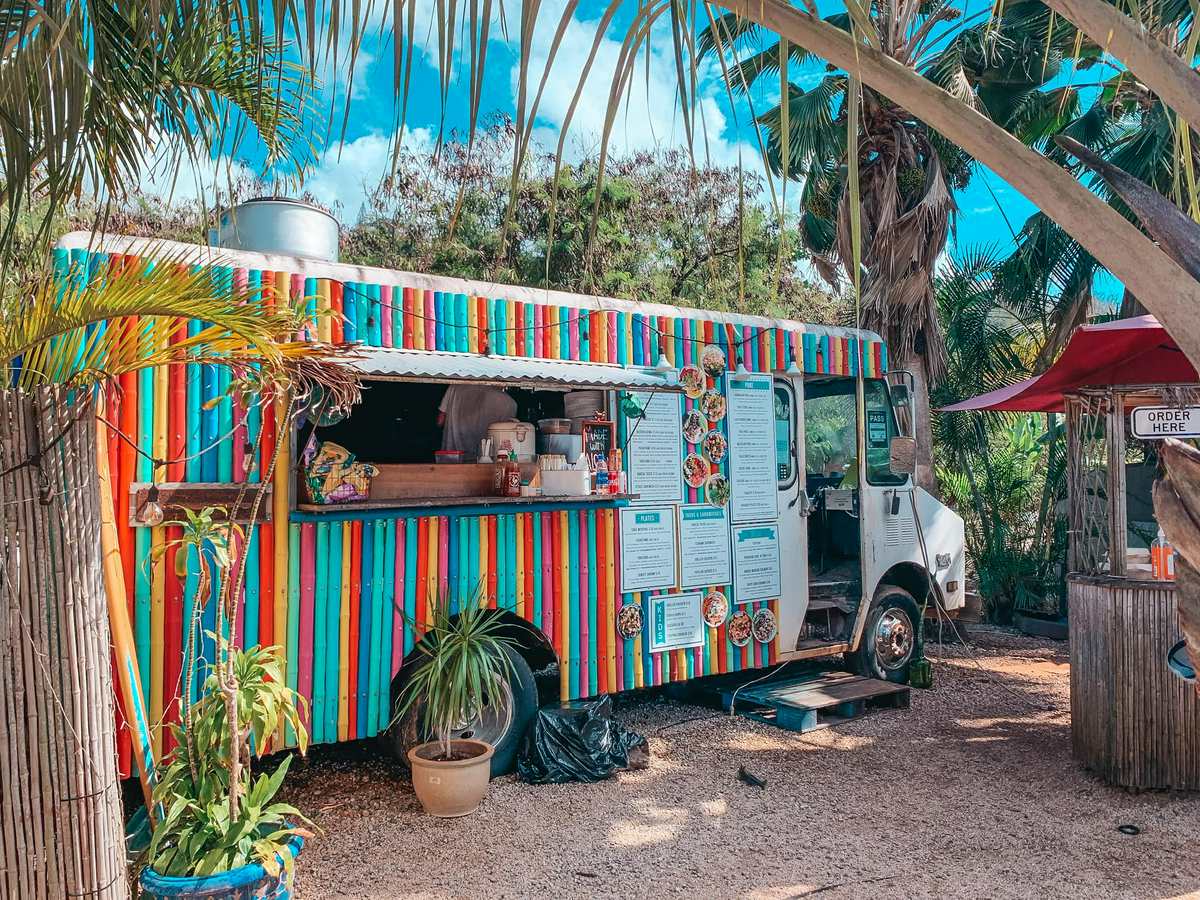 Dole Plantation
In case you didn't know, the Dole Plantation is located on Oahu! You can get a tour, take a train ride, or experience the world's largest maze. Or you can just go there for Dole whip and chocolate-covered pineapple, which is what I did.
I didn't even know that chocolate-covered pineapple was a thing, but it definitely is, and I have been missing out. Also, if you're unfamiliar, Dole whip is soft-serve pineapple ice cream…..WHY HAD NOBODY TOLD ME ABOUT THIS?!
If you don't have a rental car, check out this epic day tour that includes several stops all over the island (including the Dole Plantation) as well as snorkeling!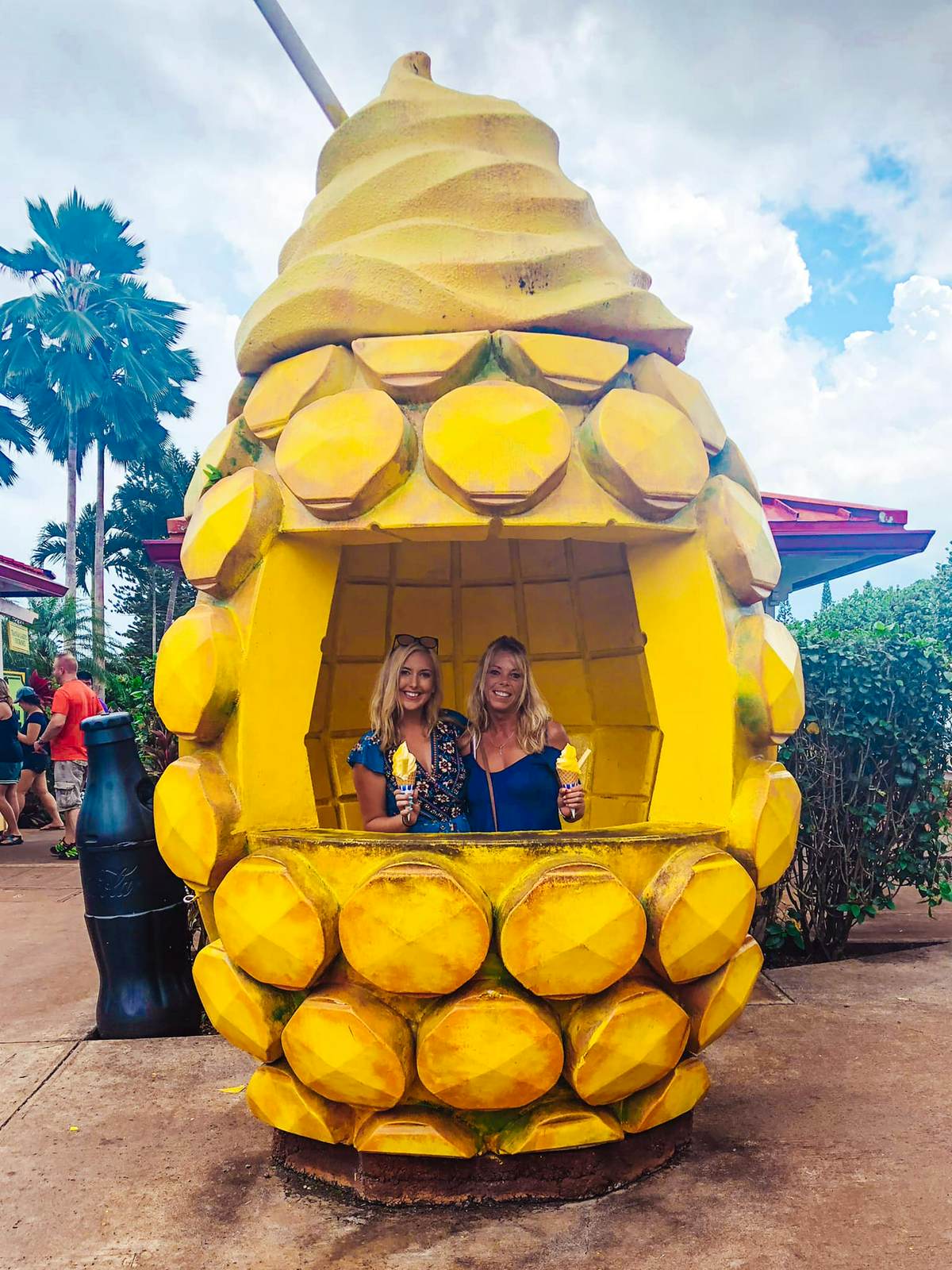 Go ziplining
Read one of the 1,600 5-star reviews for this activity and you'll understand exactly why it's on the list of best things to do on the North Shore.
With this 3-hour ziplining tour, you get to experience 8 adrenaline-pumping zipline runs. The guided tour begins with a quick ATV ride to the top of a mountain where you get to enjoy magical 360-degree views of North Shore's ocean, farms, and lush mountains.
The ziplines range from 500 to 2,400 feet. As you make your way through them, you'll come across rappels, sky bridges, scenic boardwalks, and even a few surprises.
Be sure to wear close-toed shoes if you plan to do this North Shore activity!
How to get around Oahu
Depending on how long you're staying I definitely recommend renting a car to get around! There are so many parts of the island to see.
We got SO lucky when we went when they very first reopened. We only paid around $320 for our rental car for 2 weeks!!
You probably won't get that lucky, but I do recommend booking your rental in advance to get the best rate. Most have free cancellations. Also check out Turo, which has become pretty popular on Oahu.
If you plan on staying in a few different areas on the island, you can also wait to rent a car for a part of the trip. You won't really need one while you're staying in Waikiki, but everywhere else I'd say it's best to have one.
Where to stay on the North Shore Oahu
If you plan on staying on the North Shore, there aren't a ton of options. There certainly aren't any high-rise hotels like you'll see in Waikiki, but that's part of what adds to the North Shore's charm.
You're going to have your best bet finding a place to stay in Haleiwa. Beach Side Studio has excellent ratings, a fully equipped kitchenette, free private parking, and is 200 feet from the beach.
If you're going with a group check out this Hawaii oceanfront beach house which has 3 bedrooms, 2 bathrooms, and a double bed and sofa bed in the living room. It's also beachfront and has free parking.
🏨Want to find the best deal on accomodation?🏨
Check out booking.com to compare prices for places available during your stay! Most stays allow you to cancel with 24 hours notice, so you can secure your spot and adjust later if you find a better deal or change plans.
Click herе to book
Blue Mahina at Sunset Beach is even more stunning with 4 bedrooms that comfortably sleep 12 and 3 bathrooms. Make sure you check out the pictures of this stunning location! I am going to dream about eating dinner with those views the next time I visit.
Most properties book up several months in advance! So don't wait to book.
Well, that covers it! I hope this post has gotten you excited about your upcoming trip to Oahu and you have narrowed down your list of top things to do on the North Shore. If you have any other questions, feel free to reach out!
Check out my Oahu guide on Insta as well as some other Hawaii posts including the best things to do in Kaneohe and Kailua and my epic Hawaii packing list ◡̈) If you plan to island hop check out my other island hopping itineraries: