This post contains affiliate links which means that I will make a small commission if you purchase a product after clicking on any of them, at no extra cost to you.
Tampa is a city that is full of beautiful views, fun people, and trendy bars. Whether you want to enjoy the local scene or have a wild night out on the town, I have just the Tampa bar for you! This list of bars in Tampa includes speakeasies, clubs, rooftop bars, and more and is split up by which area they are located in downtown, Hyde Park, Seminole Heights, SoHo, and Ybor.
Best bars in downtown Tampa
If you're sticking to downtown, you can really get a wide variety of what to expect at the bars. You have upscale joints that offer live Jazz music, or you have 90's-themed retro bars that take you back a few decades. And everything in between!
CW's Gin Joint
CW's Gin Joint is a Tampa institution, and it's easy to see why. The atmosphere at this bar is classic. This is a great place to start the night, as these cocktails are meant to be sipped and enjoyed.
They have a great selection of gins (over 65 varieties!), as well as some other spirits, including whiskey and rum. You can also order food from their eclectic menu. I wasn't too hungry when I went, but I have had and loved their fried artichoke with caviar remoulade and grilled oysters!
Along with great cocktails and food they also have live music Thursday-Saturday which incorporates jazz music as well as an amazing pianist providing a complete experience.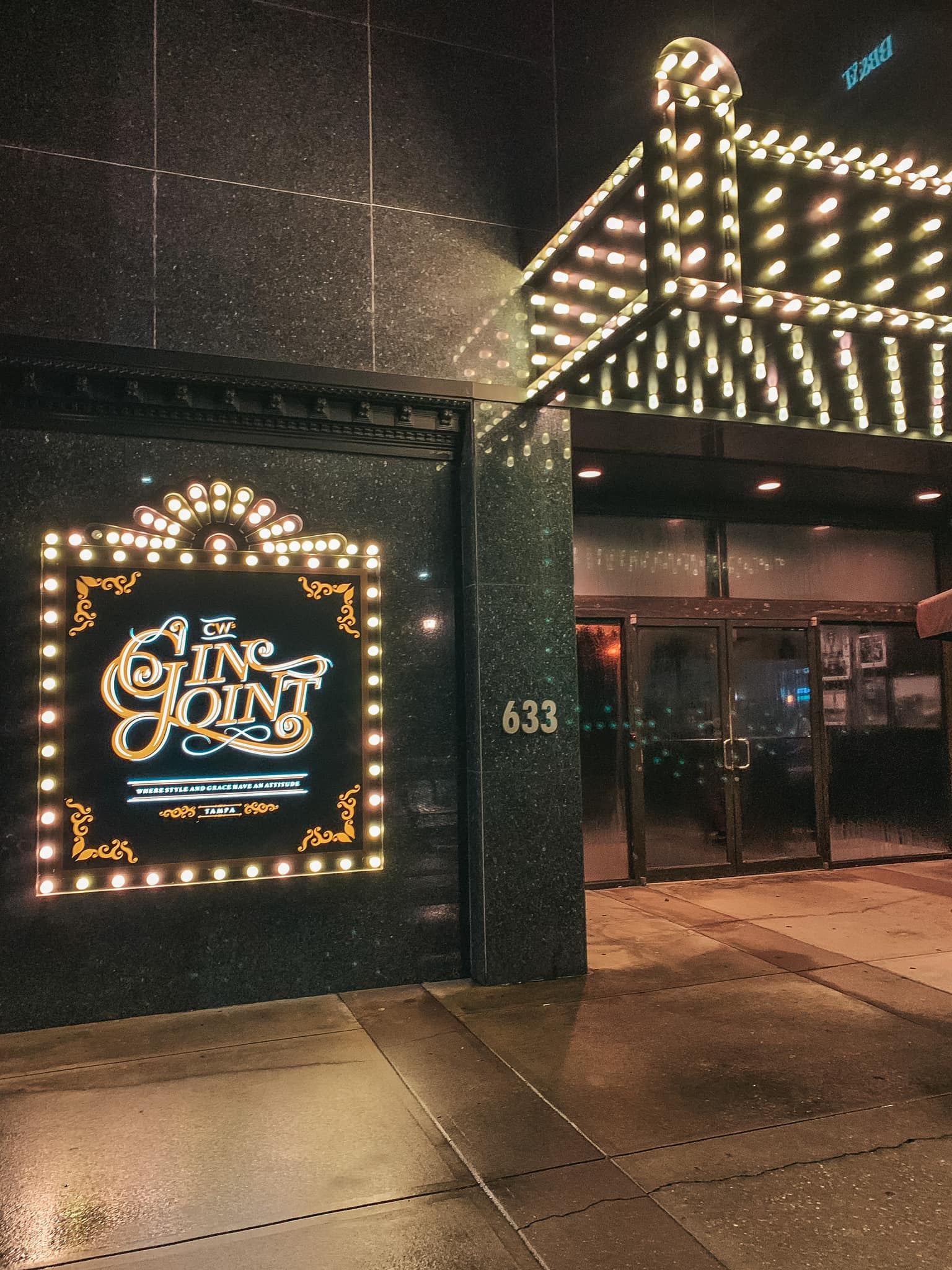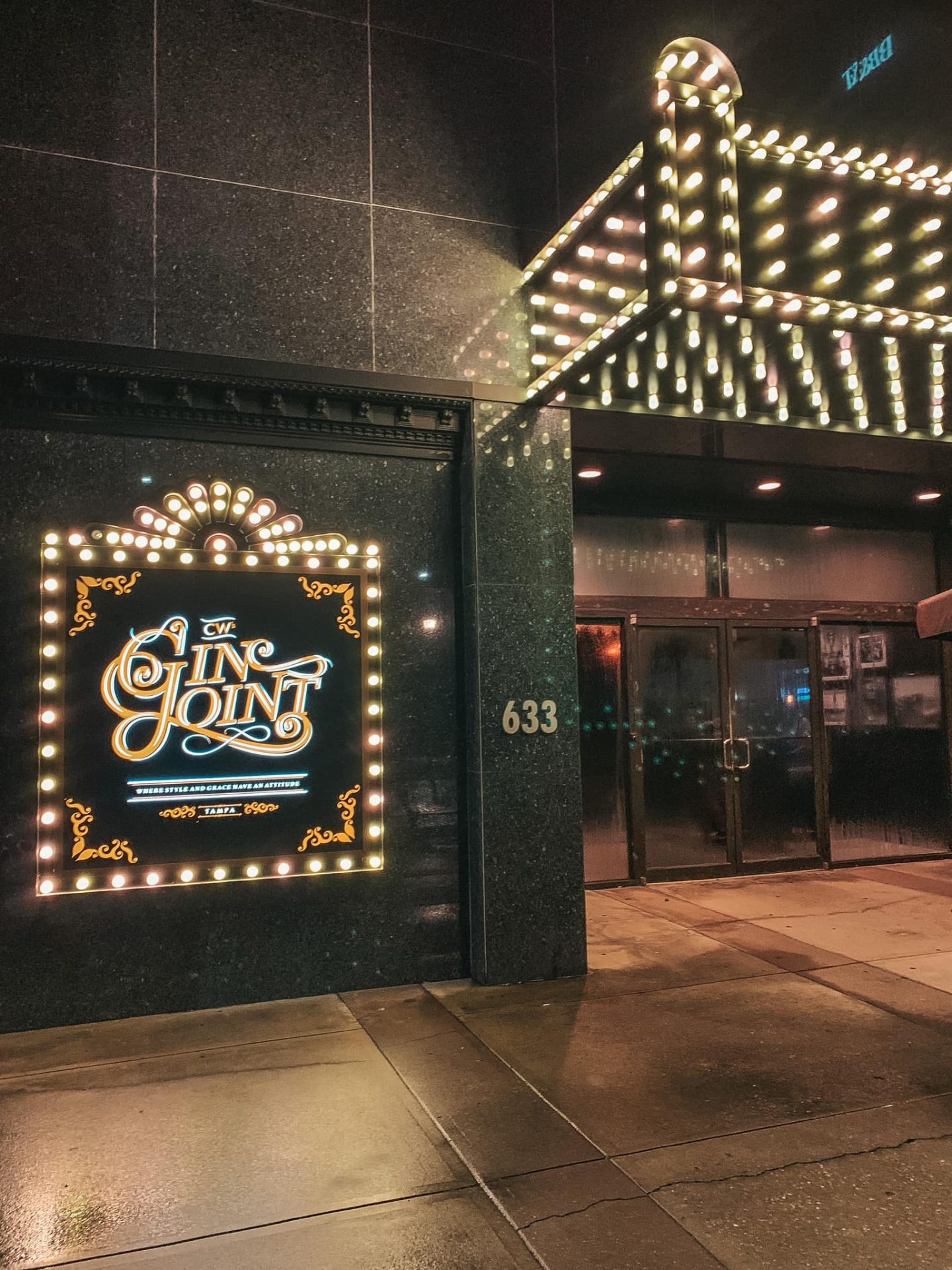 The Punch Room and Arts Club at The Tampa EDITION
The Punch Room is one of seven food and beverage concepts at The Tampa EDITION and the first punch room in North America! Between the stunning walnut paneling and the sapphire and emerald accents throughout this spot definitely sets the tone for a nice pre-dinner cocktail or nightcap. This is another place where you are going to want to just really enjoy and embrace the drink created for you.
The drink menu showcases several different punches that highlight flavors and spirits of the Caribbean and Gulf of Mexico. If two or more people in your party order the same drink it comes served up in a stunning antique punch bowl tableside! I'm a sucker for mezcal so I had to go with the Tampa Punch, and it was phenomenal.
Currently, reservations are required for the Punch Room and it's definitely something you'll need to plan in advance. However, across the hall, you will find the Arts Club. While reservations are highly recommended here, they aren't required. The Tampa EDITION is one of Tampa Bay's new hottest spots so all of its bar and restaurant concepts are typically pretty booked up, especially through the weekends.
Check out my full review of the Tampa EDITION and all of it's offerings!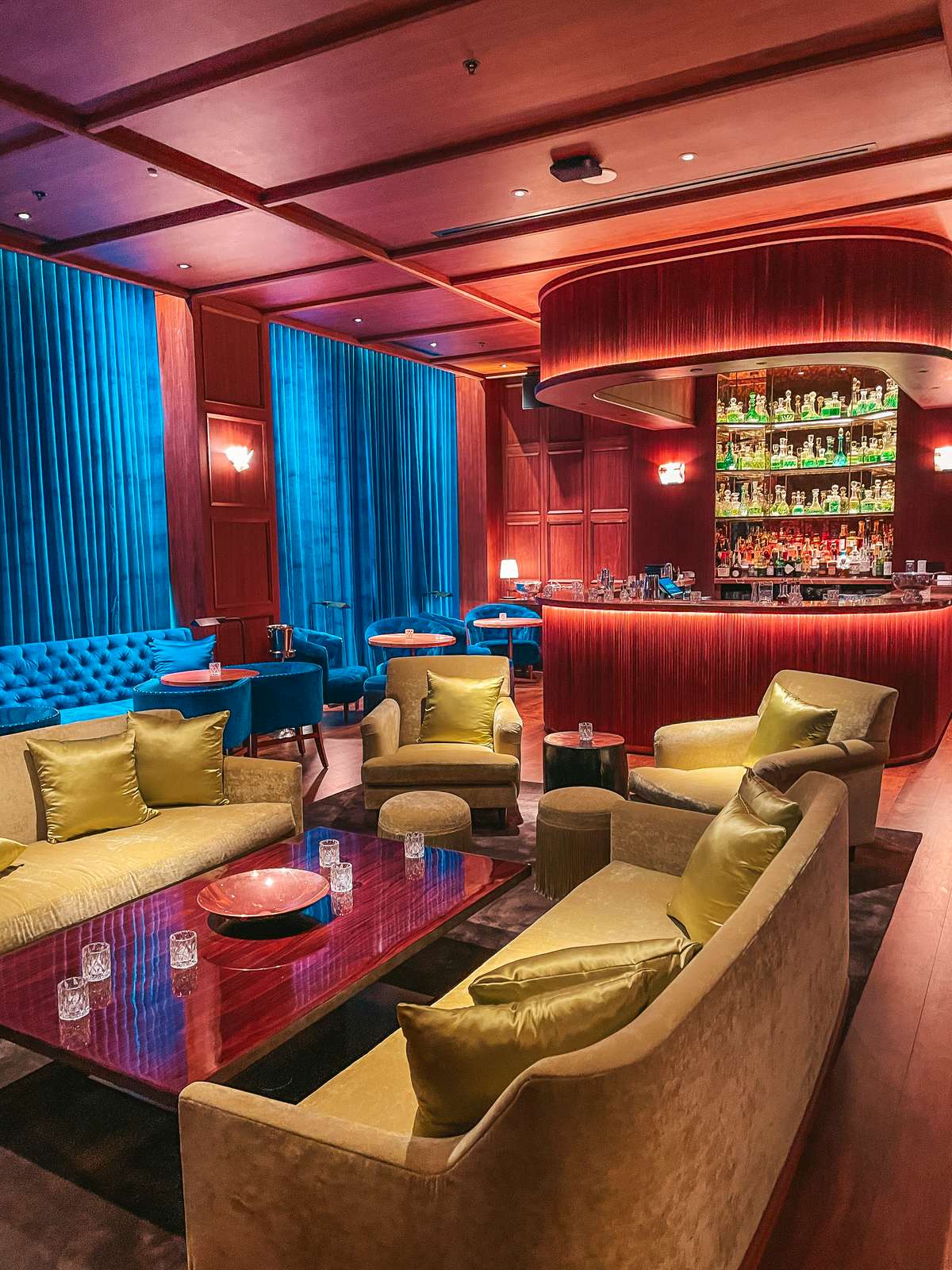 M. Bird
If you need another reason to love Armature Works, M. Bird is it! With views of the Hillsborough River and downtown Tampa, it's impossible not to enjoy sipping a cocktail or sharing some plates as you look out.
They have such unique and delicious cocktails at this Tampa rooftop bar! I personally recommend their Billy Ocean Water. Typically, I never order rum cocktails, but this lime and coconut concoction is so beyond delicious (and beautiful!) I can not resist.
They have fun DJs Thursday and Friday nights, all day Saturdays, and from 3-6 PM for Sunday Funday. It's a great spot for birthday shenanigans, bachelorette parties, or just a fun night on the town!
If you're hungry you can find a number of interesting bites on their menu, such as jerk chicken egg rolls, shrimp Rangoon, and roasted corn tacos (they really cover all of the bases). I love their truffle fries, seared tuna, and hot fried chicken sliders!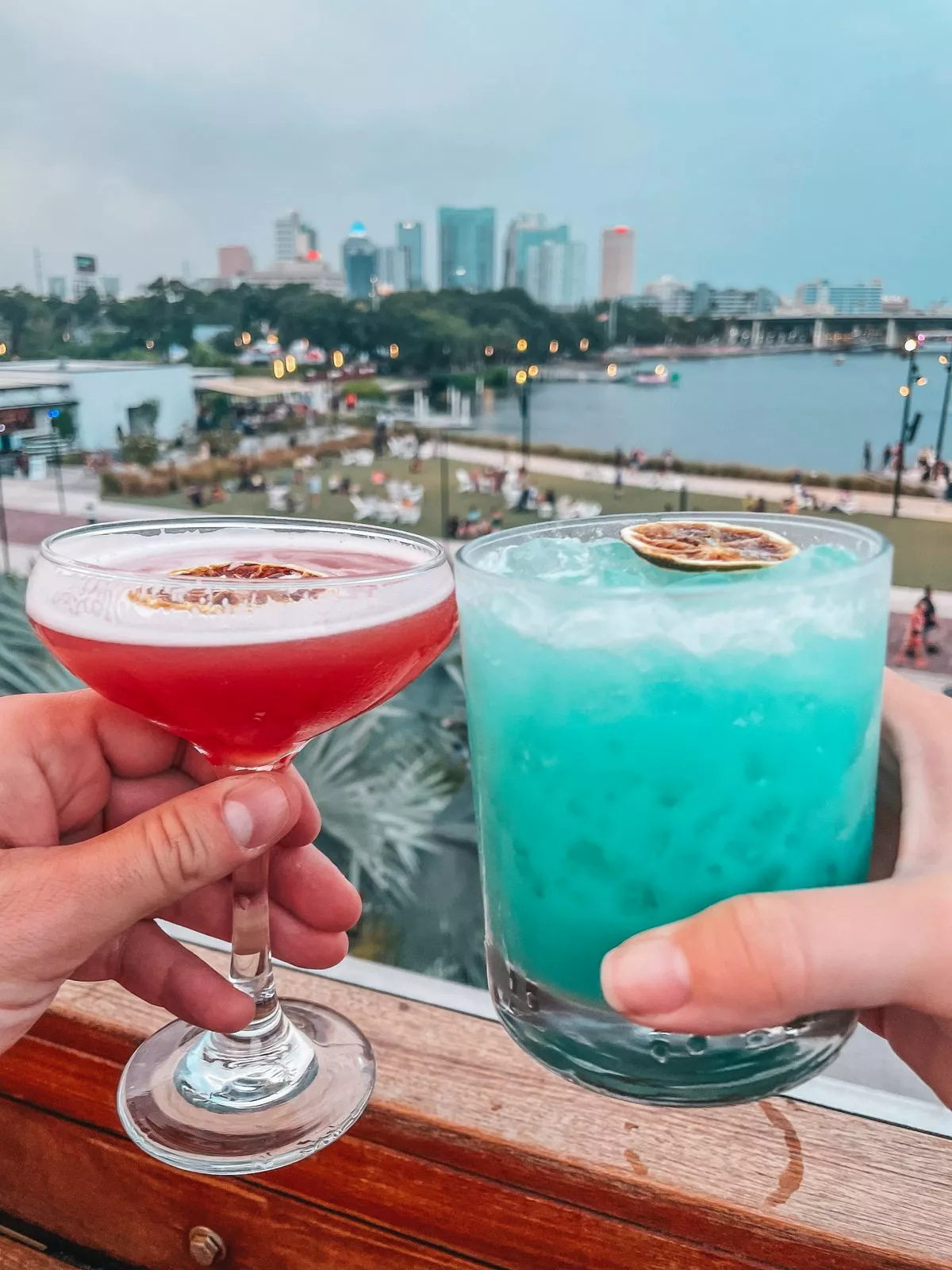 511 Franklin
Step into the sophisticated realm of 511 Franklin, a Tampa bar tailored exclusively for discerning professionals aged 23 and up. As a 30+ year old I love being able to go to a bar downtown where I don't feel like the oldest one in the room.
The cocktails served here are nothing short of exceptional, each a masterful creation that teases the palate and ignites the senses. Among the stars of the menu is the creatively named "I ain't f*ckin leavin'," a Buddy Brew espresso martini on tap that combines the rich allure of espresso with a cheeky nod to cinematic bravado.
Equally captivating is the "Tattooed Hot Moms," a mezcal cocktail that weaves smoky notes with a delightful blend of flavors. And for those seeking a touch of indulgence, their happy hour is amazing, offering an enticing 50% off!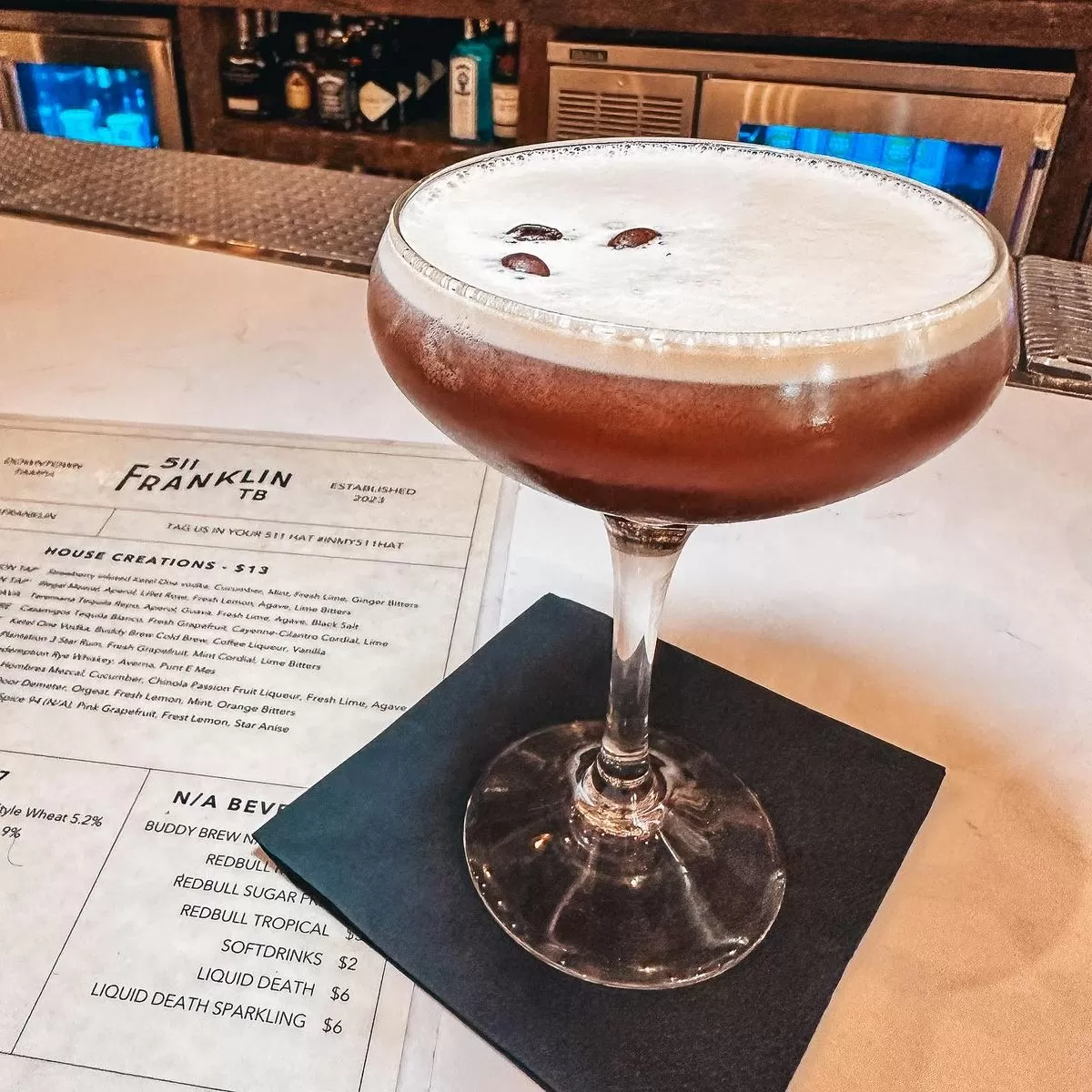 American Social
American Social is a local hot spot located right on a channel of Hillsborough Bay. It's a massive sports bar with scenic views and a fun environment.
With the incredible views of Harbor Island, 4 full-service bars, and an award-winning menu, your visit to this Tampa bar is destined to be a fun one. Because American Social is very sports and music-centric, it draws a lot of crowds who enjoy the laidback vibe with an opportunity to catch the big game. 
Come here to enjoy the incredible atmosphere, happy hour (4 pm -7 pm Monday to Friday), and insanely fun weekend brunch. They also have several other locations including one in Orlando and Miami!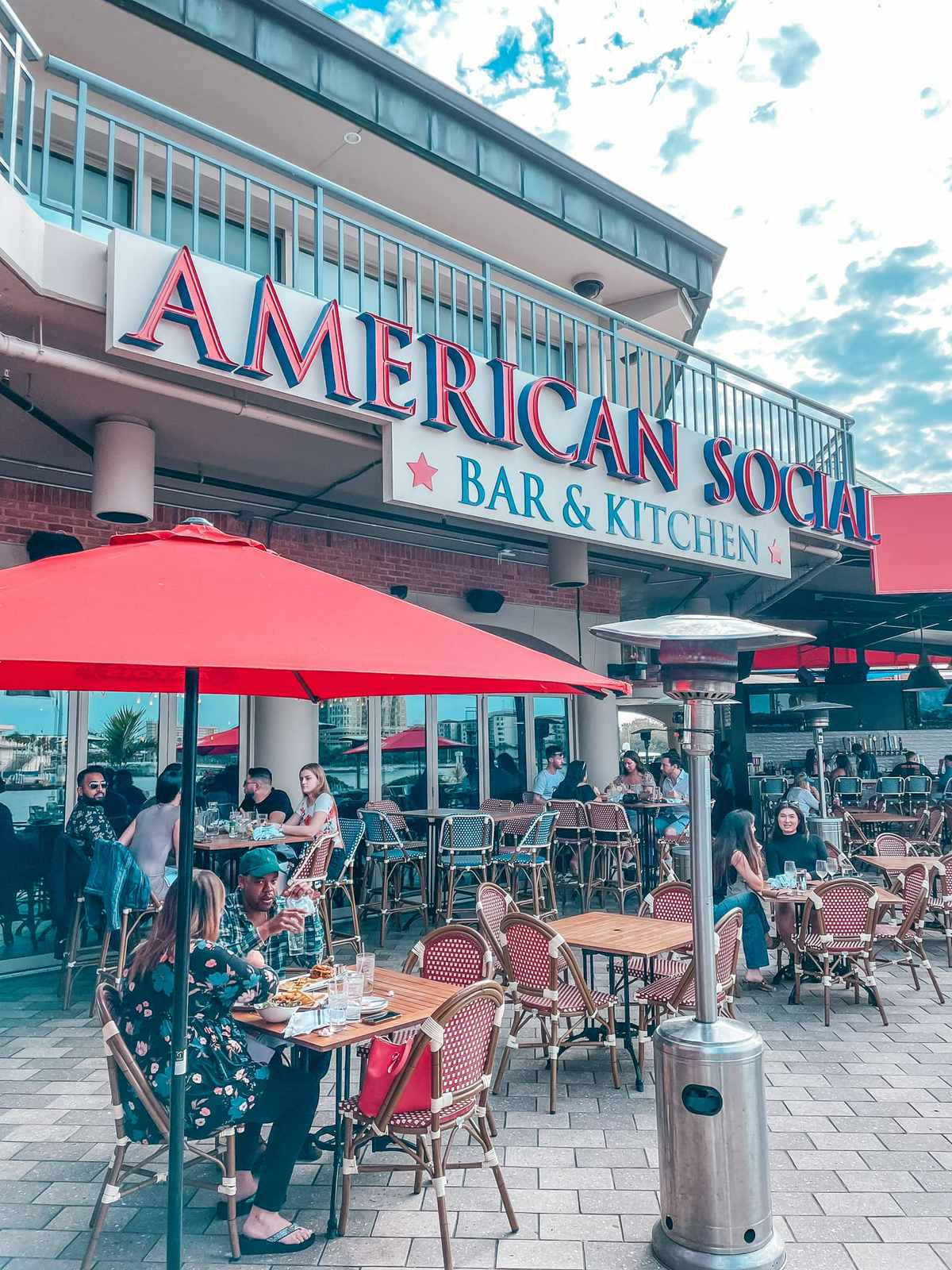 Gen X
GenX Tavern is super unique and easily one of the most fun bars in Tampa. It really made me feel like a kid again walking into it. There's a back room that feels like your childhood bedroom. It has comfy couches for you to sit on, cubbies full of random VHS tapes, old board games, lava lamps, and other random trinkets and toys that'll take you right back to the '80s and early '90s.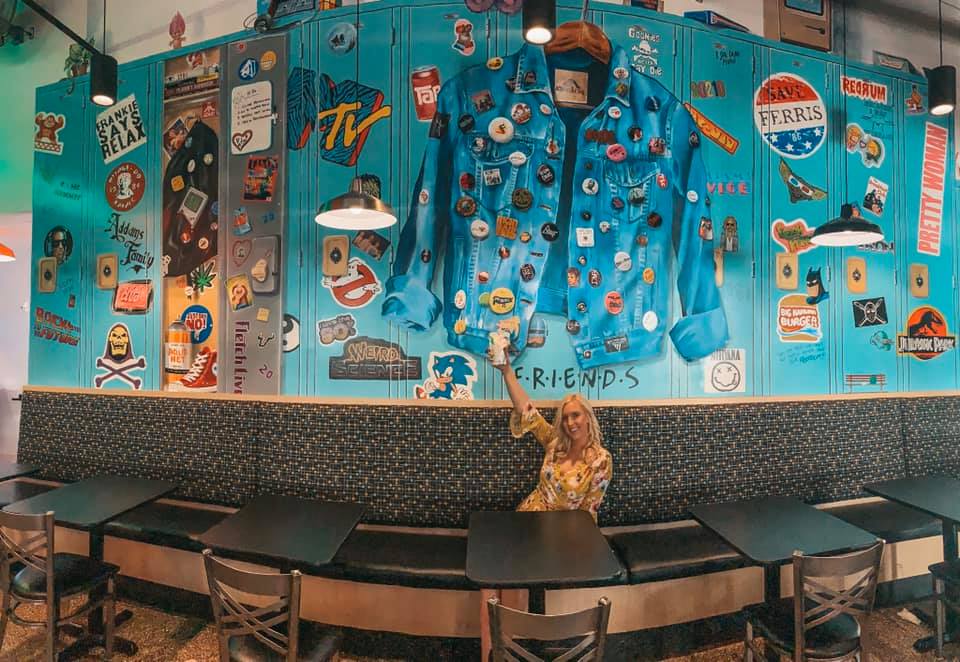 Of all the sights to behold here, the one you can truly get lost in is the giant locker mural, which is so convincing you'll want to pull your Lisa Frank-inspired Trapper Keeper out of it after a few Adult Capri Suns.
This wall is insane, and it's a true treasure trove of all things '80s and '90s, from its Nintendo Game Boy to its Fresh Prince of Bel-Air graffiti to its OG Tampa Bay Buccaneers Pirate rendering.
All of their menu items stayed on theme too, with items such as the Happy Gilmore wedge salad and the classic Dunkaroos if you're up for dessert. The cocktail menu is where they really nailed it. With drinks like the Strawberry Starburst, Gusher, and their most popular, the Adult Capri Sun (in three different flavors), you're sure to put your taste buds through a time machine.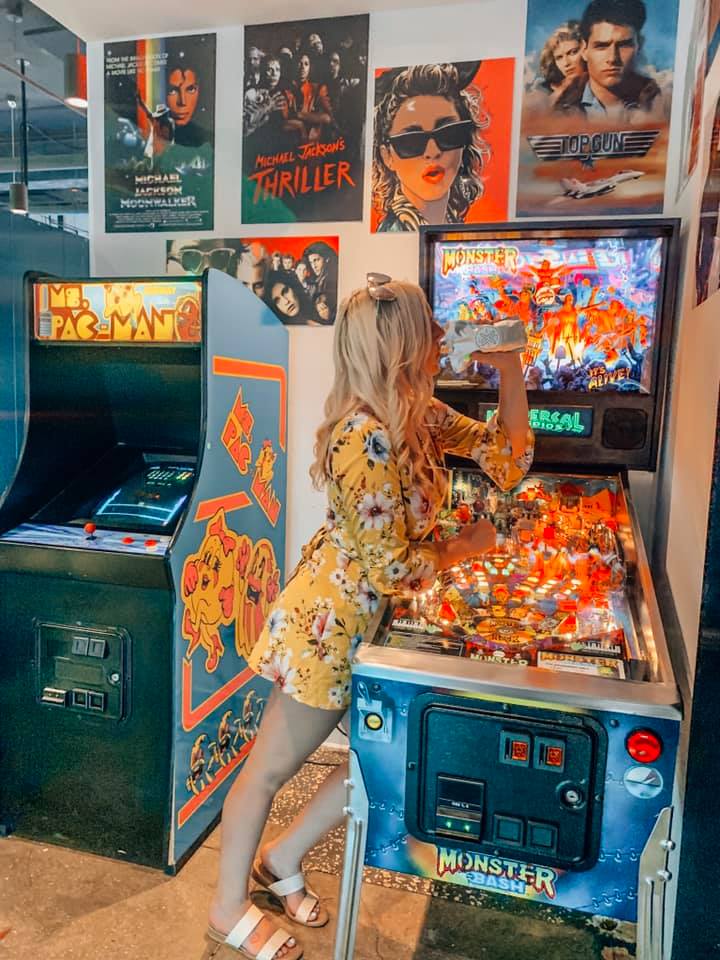 Best bars in Hyde Park Tampa
Ciro's
Ciro's is currently the only speakeasy actually in Tampa, as well as the oldest speakeasy in Tampa Bay. Call or book online to reserve one of their private boots, or enjoy your craft cocktail in their lounge area. I personally love their booths, as they feel very intimate (a perfect date night spot in Tampa).
If you're wondering how to get in, within a few hours of your reservation you will receive a text message for the password you'll need to give at the door. The outdoor area used to be very unsuspecting and my first time ever visiting I really struggled to find it— but that's half the fun!
Now, they, unfortunately, have a valet out front that's a dead giveaway (bummer!). The password aspect and vibe are still lovely though, and it's definitely worth checking out!
They have a small, eclectic menu if you come hungry. Even when I'm not hungry it's hard to resist their duck fat fries (just trust me). For cocktails, they have classic favorites as well as "alluring elixirs" which have a little more pizazz. The Fancy AF is especially fun.
They have a great happy hour Monday-Friday that includes $8 cocktails and a few discounted bites (including $4 duck fat fries!).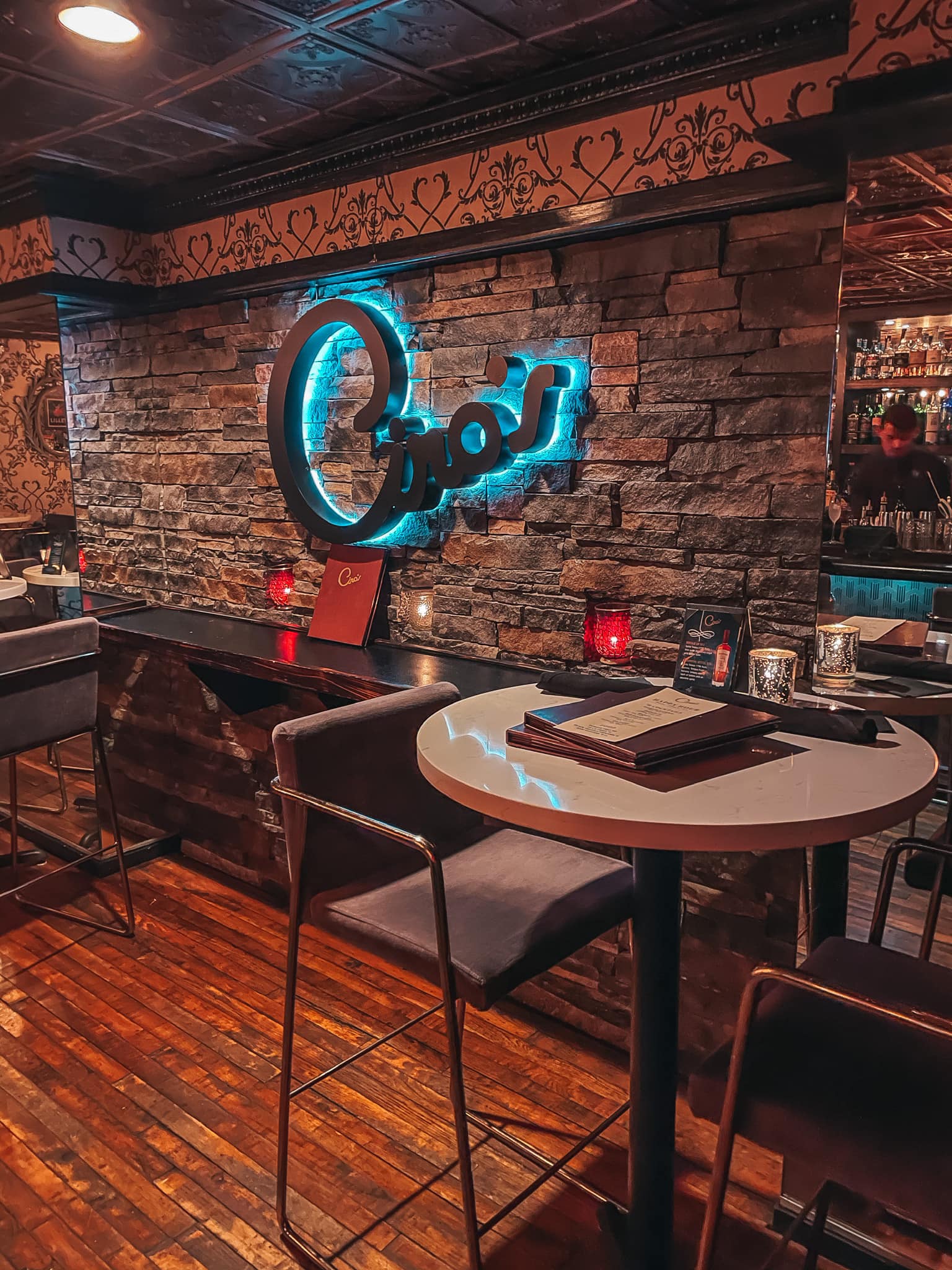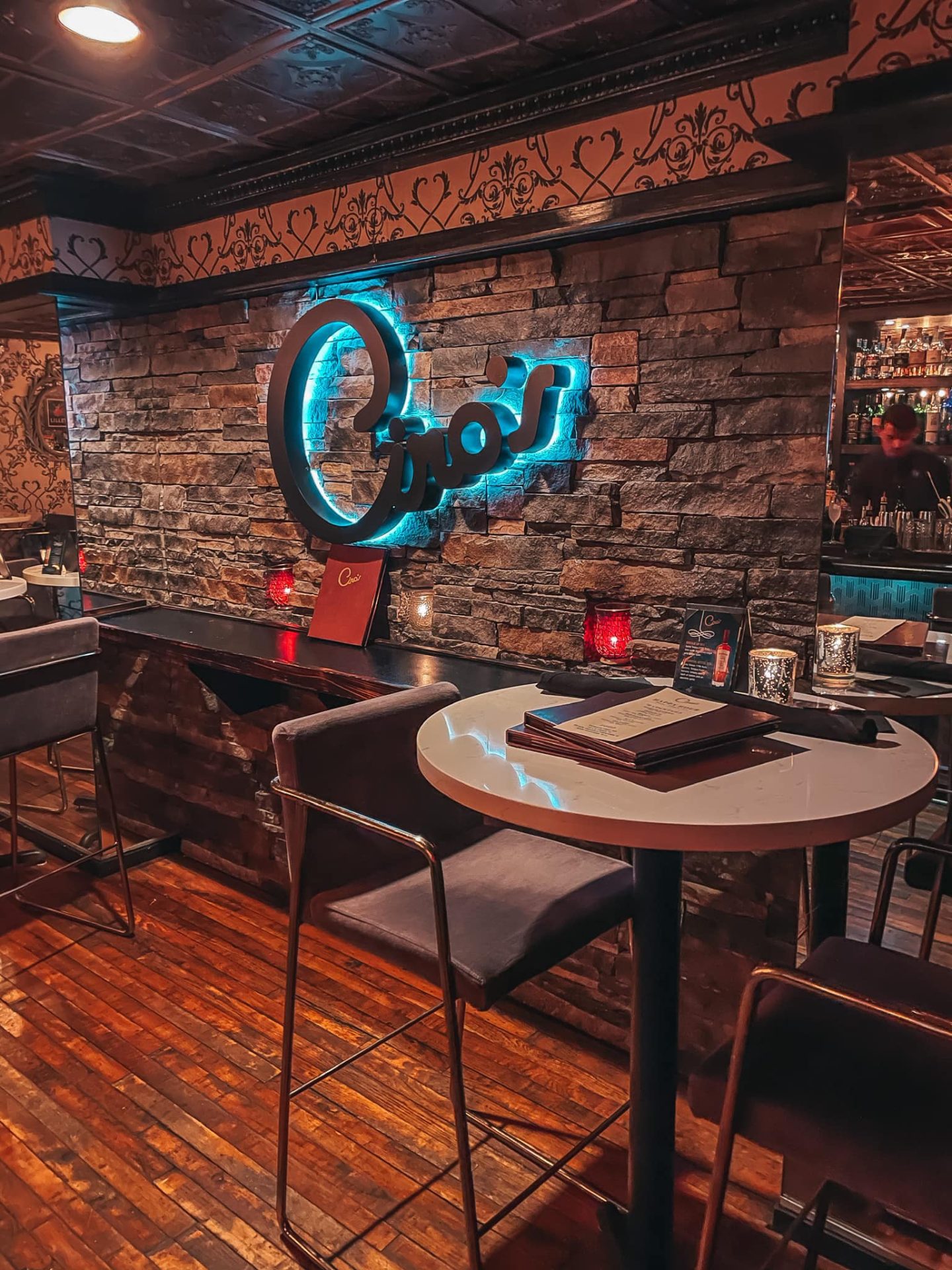 The Lounge at Meat Market
Elevate your evenings to new heights at Meat Market! As a connoisseur of Tampa's best restaurants, you already know that Meat Market is more than just a restaurant – it's an experience. And when the sun sets, The Lounge comes alive, transforming into a haven of refined indulgence.
Step into The Lounge and immerse yourself in a world of elevated nightlife. They have a resident DJ and often showcase live performances by local musicians.
They offer a wide selection of artisanal cocktails, but bottle service is also a fun option to take your Tampa night out to another level!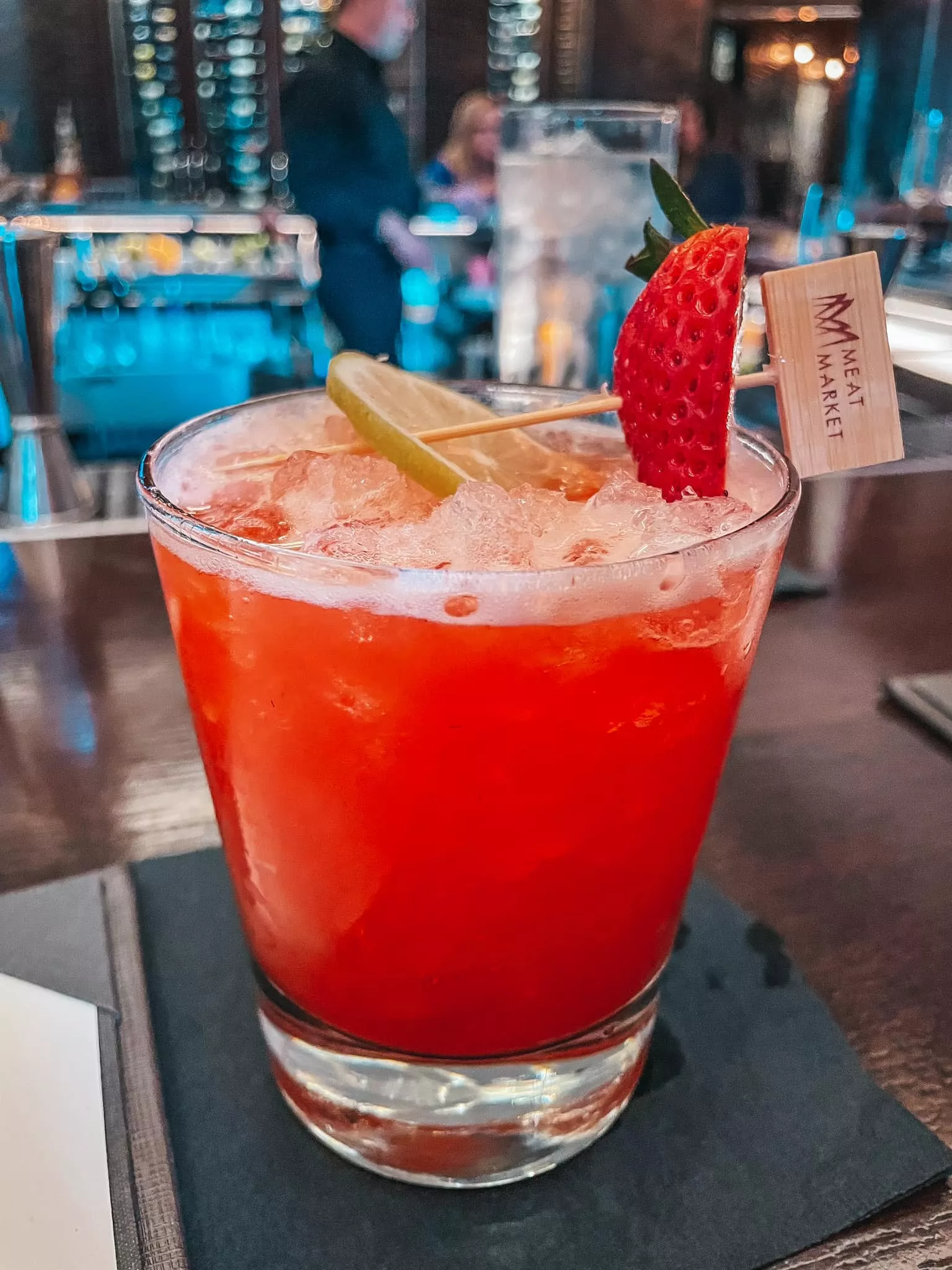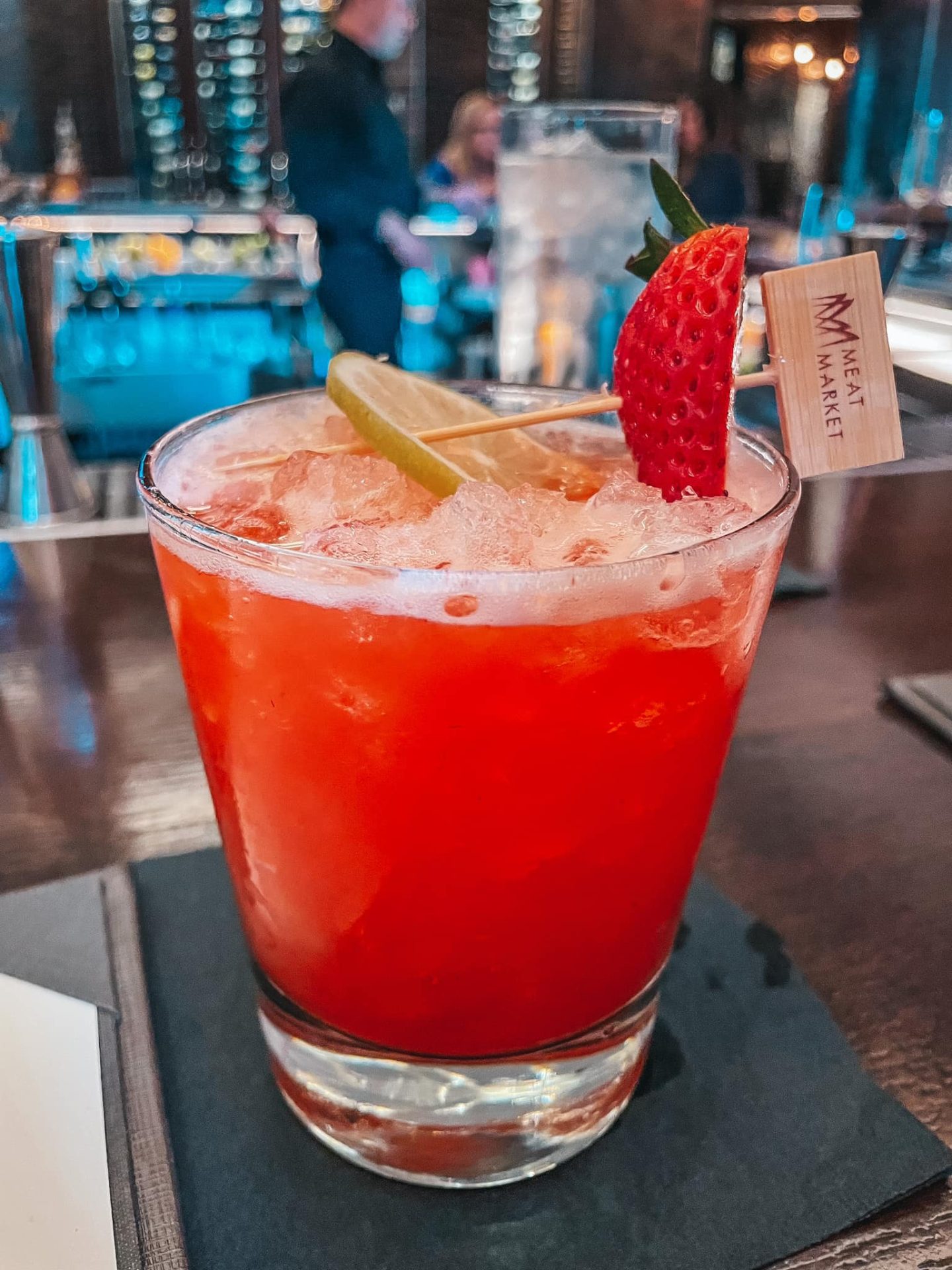 Best bars in Seminole Heights
Mandarin Heights
Mandarin Heights is a whole vibe. It's my number one for the best bars in Seminole Heights. From the aesthetic to the drinks, being here just brings me so much joy. The decor gives a mid-century modern lounge essence and has indoor and outdoor options. The cocktails are super fun and innovative. If nothing on the drink list appeals to you, the bartenders are more than happy to craft something catered to your taste and preferences!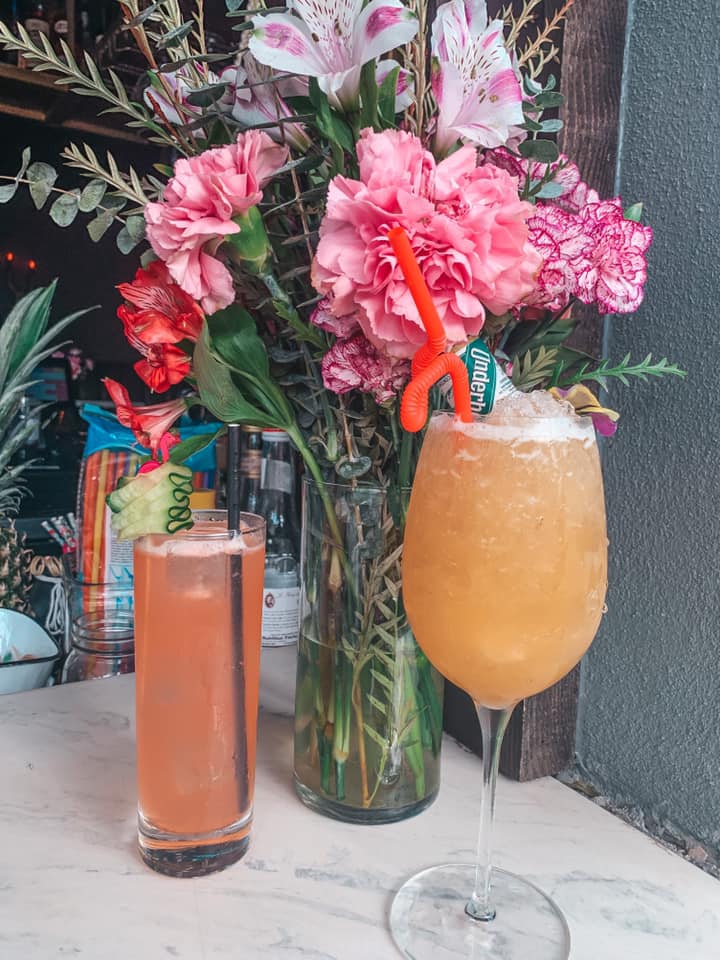 And don't leave without taking advantage of the adorable photo op— they change it up frequently! If you're ever in St. Pete, be sure to check out their sister location, Mandarin Hide. It's one of the best bars in downtown St. Pete, and it gives off speakeasy vibes.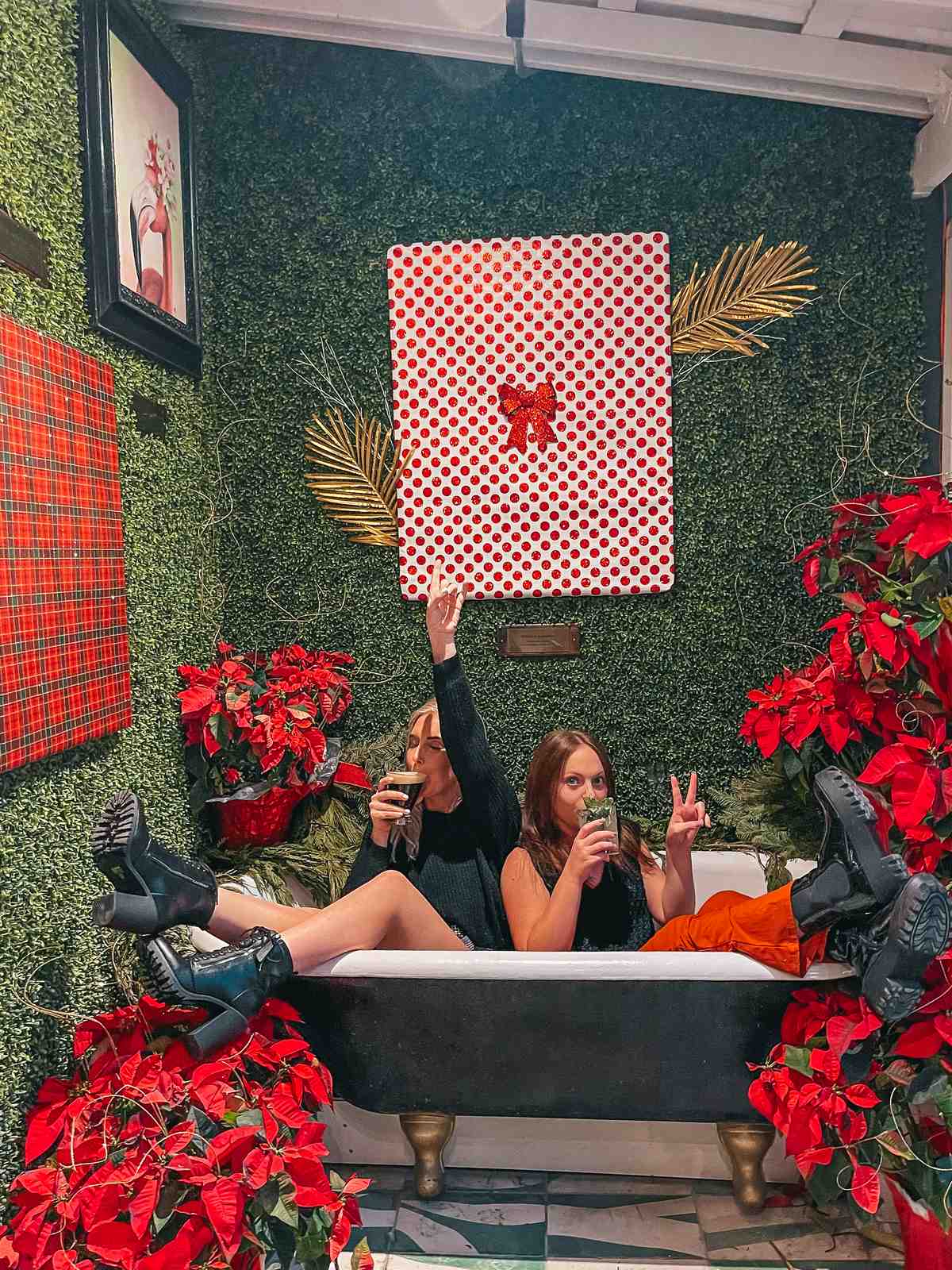 Lowry Parcade & Tavern
If you're a gamer like Remi and me, you'll definitely want to make a pit stop at this Tampa bar, which has classic arcade games, pinball machines, air hockey, and more. We always like to entertain ourselves while we're getting our drink on, and this place did the trick! Make some bets— "the loser has to buy the next round" or "winner gets to pick the next stop!"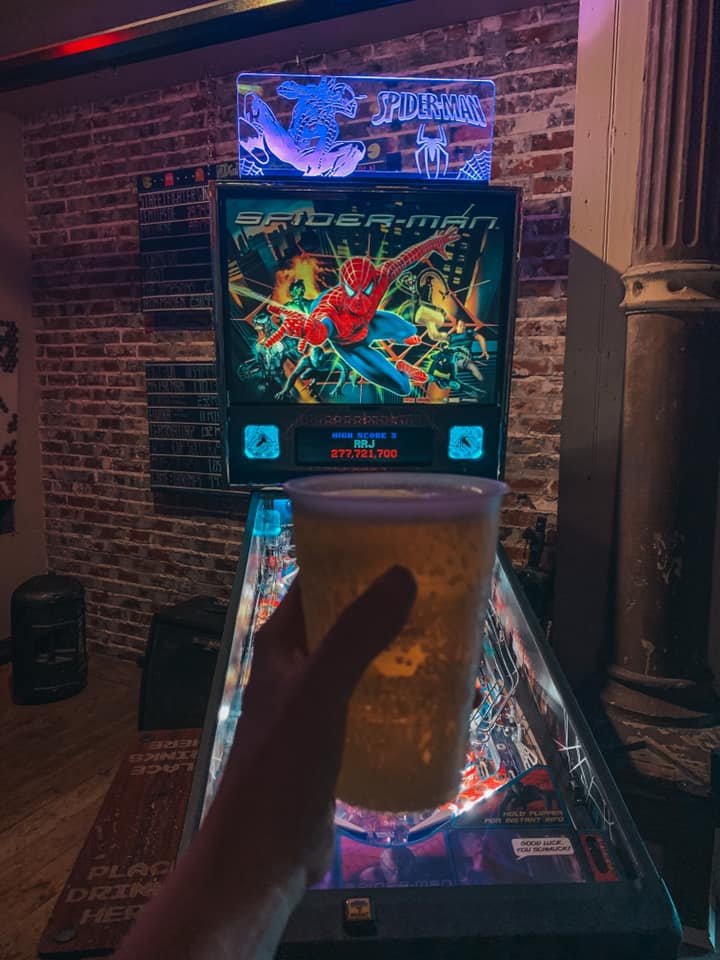 Velvet Gypsy
This bar fits right in with Seminole Heights' eclectic vibe! Depending on the day Velvet Gypsy has live music, a DJ, or watch parties for your favorite sports teams. On the last Sunday of each month, they even host Soul Market which has a variety of local crafters and vendors.
You will love their fun cocktail list, and if you aren't feeling like drinking they even have some exciting mocktails to offer! They have an outdoor patio with games like Jenga and cornhole, plus they're pet friendly!
Be sure to check out their daily specials, or happy hour which is Monday-Friday from 6-8 PM.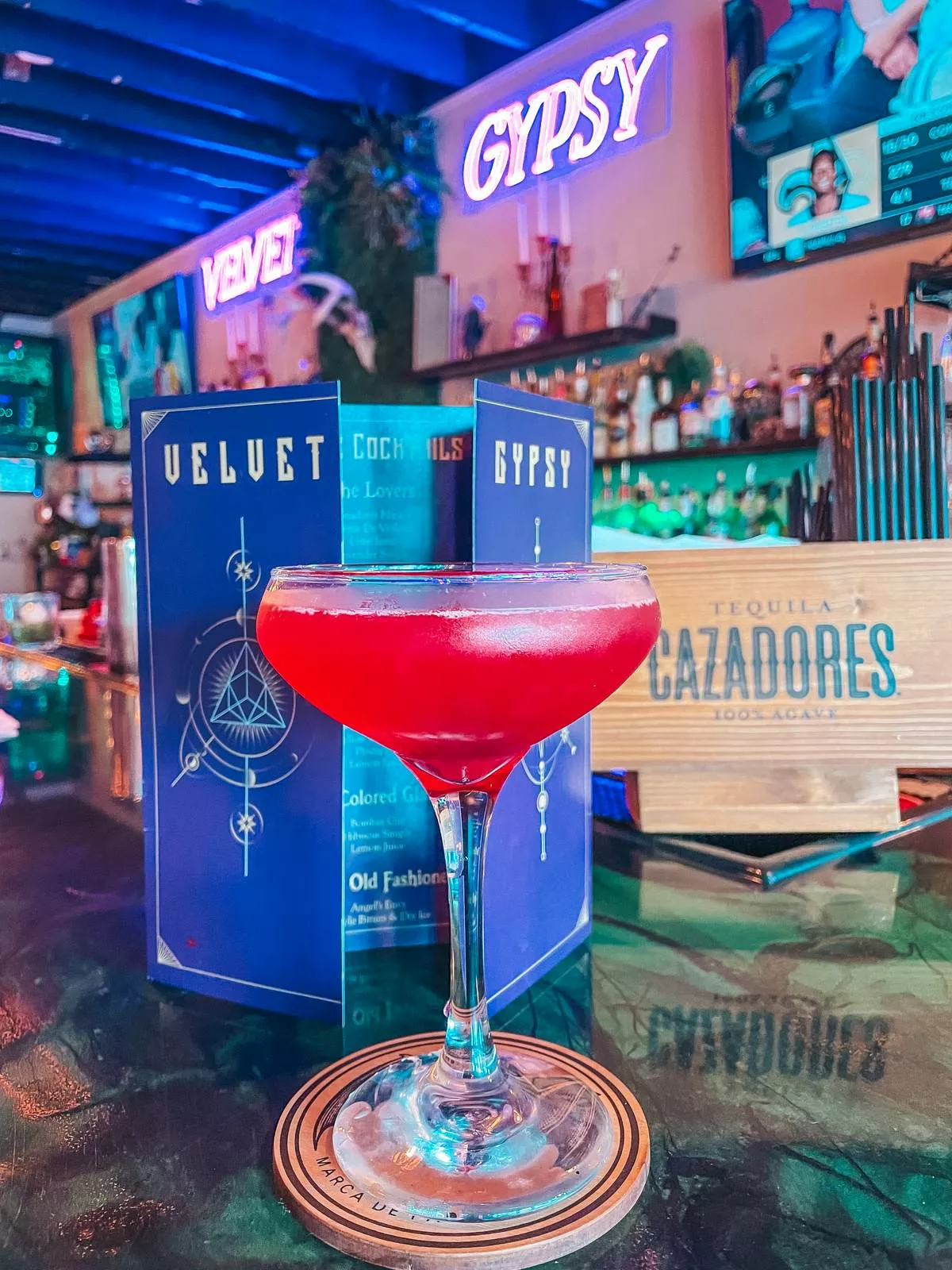 Best bars in SoHo Tampa
SoHo is popular with the college crowd. It's usually bustling with young people ready to cut loose. The great thing about most of these spots is they have large outdoor areas and plenty of dancing. If this is the vibe you're looking for, here are the best bars in SoHo Tampa:
MacDintons
MacDintons is one of the most popular bars in SoHo. The location is perfect for both locals and tourists to enjoy a drink or two at this clubby establishment. It has an energetic atmosphere and they often host fun events such as watch, theme, and holiday parties.
The indoor and outdoor spaces are both pretty large, but still become jam-packed on the weekends. Their DJs are always a vibe, and they also often have other live entertainment. If you want to take a break from the dance floor they have a few dart boards inside so you can show your competitive side.
They also do VIP tables and bottle service. Or if you go here for day drinking and get hungry you can check out some of their pub menu which includes some traditional Irish plates.
Bar HWRD
Bar HWRD is "your elevated sports bar experience". It's a great place to watch the game on one of their three HD LED wall screens, or enjoy a late night full of dancing with bottle service.
They are open Wednesday through Sunday and have events and specials each day. Their football Sunday watch parties include specials like $5 Titos and $3 High Noons. Their outdoor patio even has giant jenga and connect four.
SoHo Saloon
This country themed hangout is another well trafficked bar in SoHo. SoHo Saloon is open 7 days a week until 3 AM, so no matter which day of the week you're trying to go hard they got you covered. While it's a country themed bar, they play more than just country music.
They have an indoor area with games such as pool and darts, as well as a large outdoor patio. They have specials every day of the week including multiple hospitality nights which include 50% off of drinks!
Green Lemon
Green Lemon doesn't just get wild for Taco Tuesday, it also turns up for the weekend (do people still say turns up? Did I just lose credibility?). But seriously, their tacos and guac are top tier. Start your night here with some modern Mexican eats and make your way to tequila shots and some of the best margaritas around (if you're like me sub tequila for mezcal).
They have a fun DJ every day, and obvs you have to get a photo with their iconic photo wall.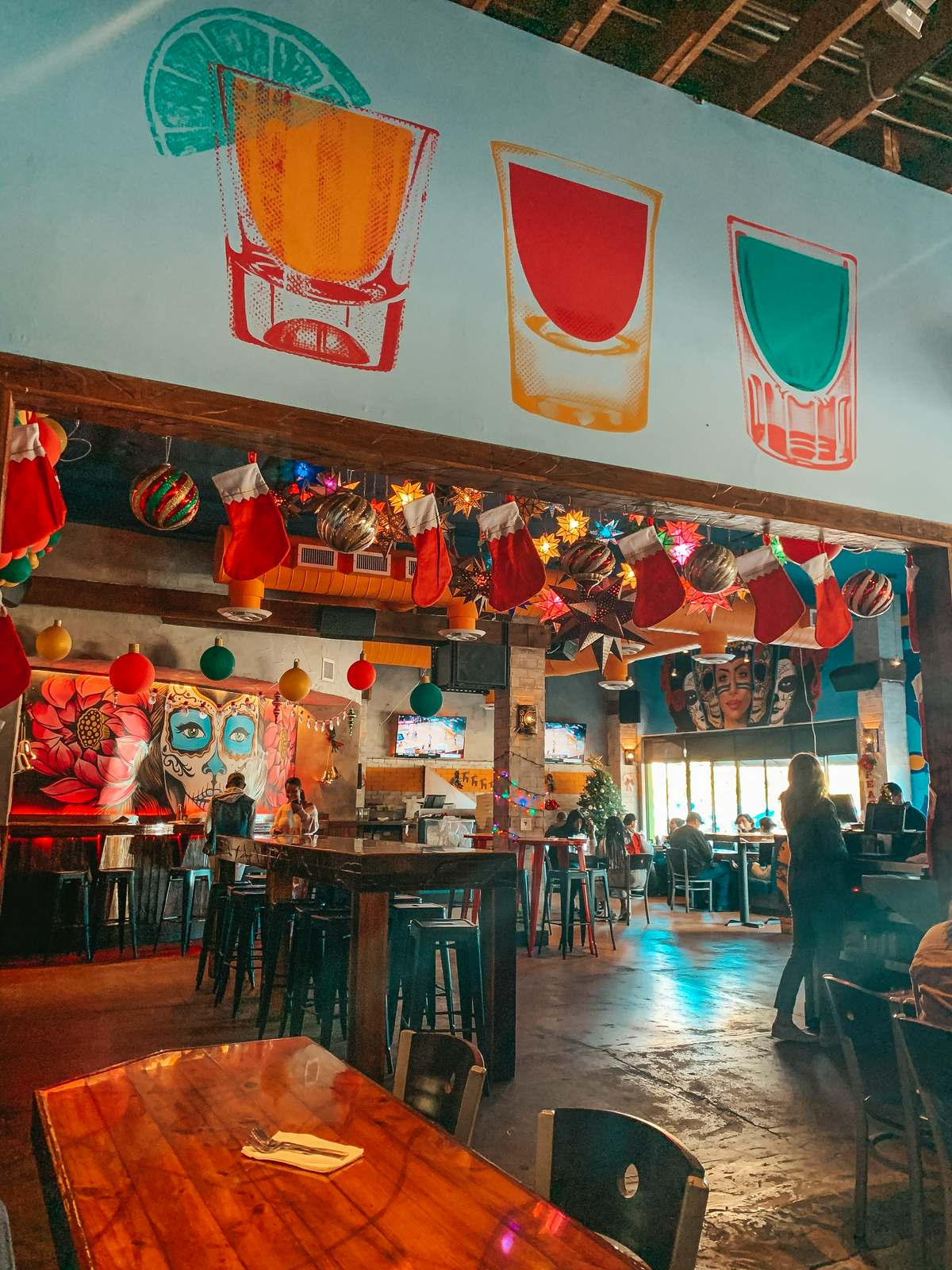 Best bars in Ybor
Tangra
Tangra Night Club is a must-visit destination for those looking for an exciting night out in Ybor City, Tampa. Known for its eclectic and lively atmosphere, the club features a diverse range of music, from EDM and Latin to Top 40, and keeps the party going until late in the evening.
The club boasts three levels of entertainment, offering a variety of options for patrons, including the main club, lounge, and rooftop. Whether you want to dance the night away or enjoy a drink with friends, Tangra Night Club has something for everyone.
Coyote Ugly
Ybor City hosts on of the well-known Coyote Ugly locations, a popular bar known for its female bartenders, lively atmosphere, and bartop dancing. The bar offers weekly specials, such as discounted fishbowls on Thursdays and free beer on Tuesdays.
It is open until 3 am and is a great option for those looking for a fun night out in an exciting bar setting.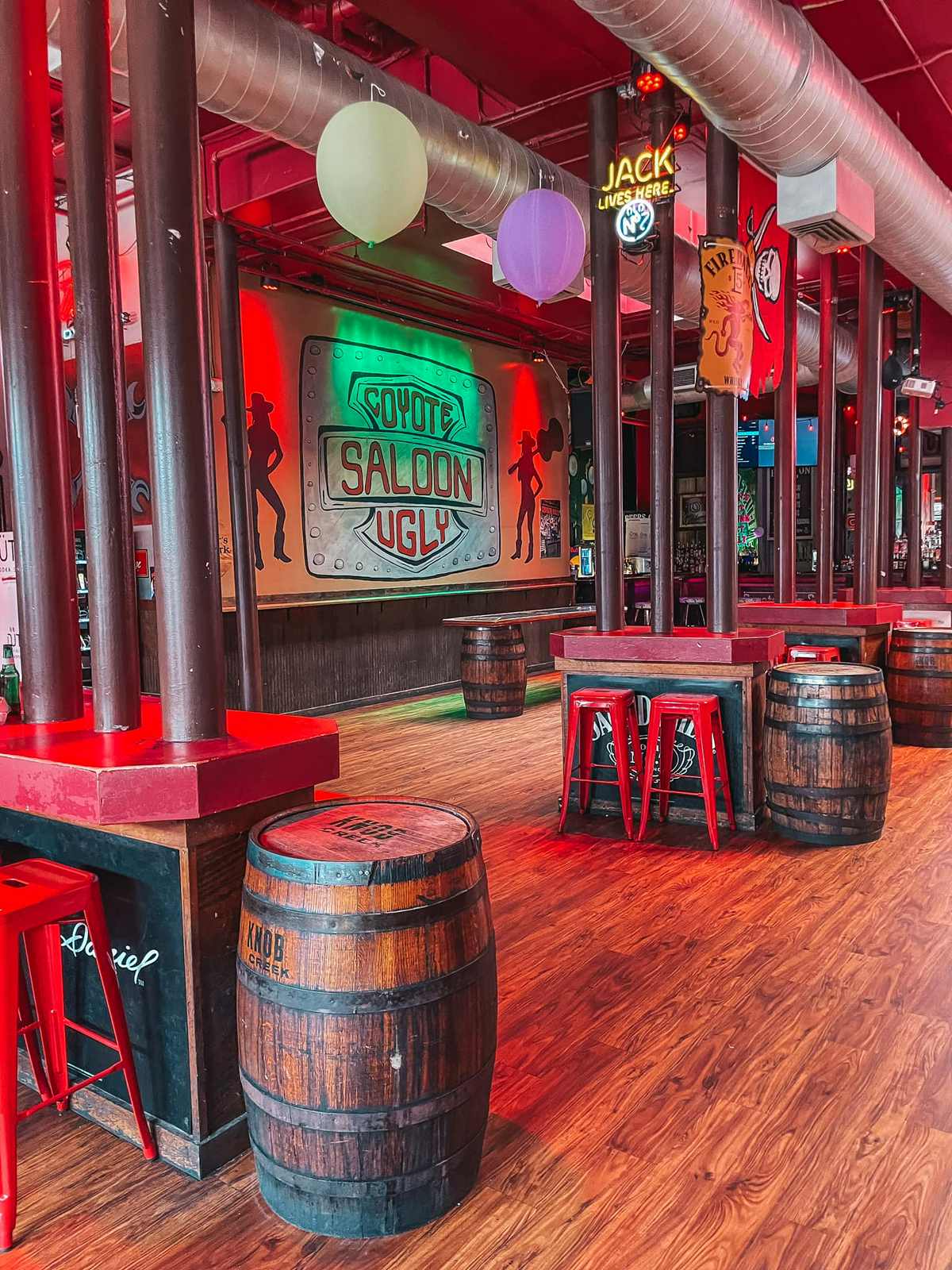 The Ritz
The Ritz is a historic events venue that hosts concerts, special events, and even acts as a nightclub during "takeover" events.
Tickets are required for most events and can be purchased on the website before arriving.  Club-like events include "Mischief Mondays" with BOGO bottle specials and $5 Jameson and $5 Tito's drinks. Other remarkable events include "Pound Fridays" with different EDM artists and 18+ shows.
Going to the DJ shows is one of my favorite things to do in Ybor!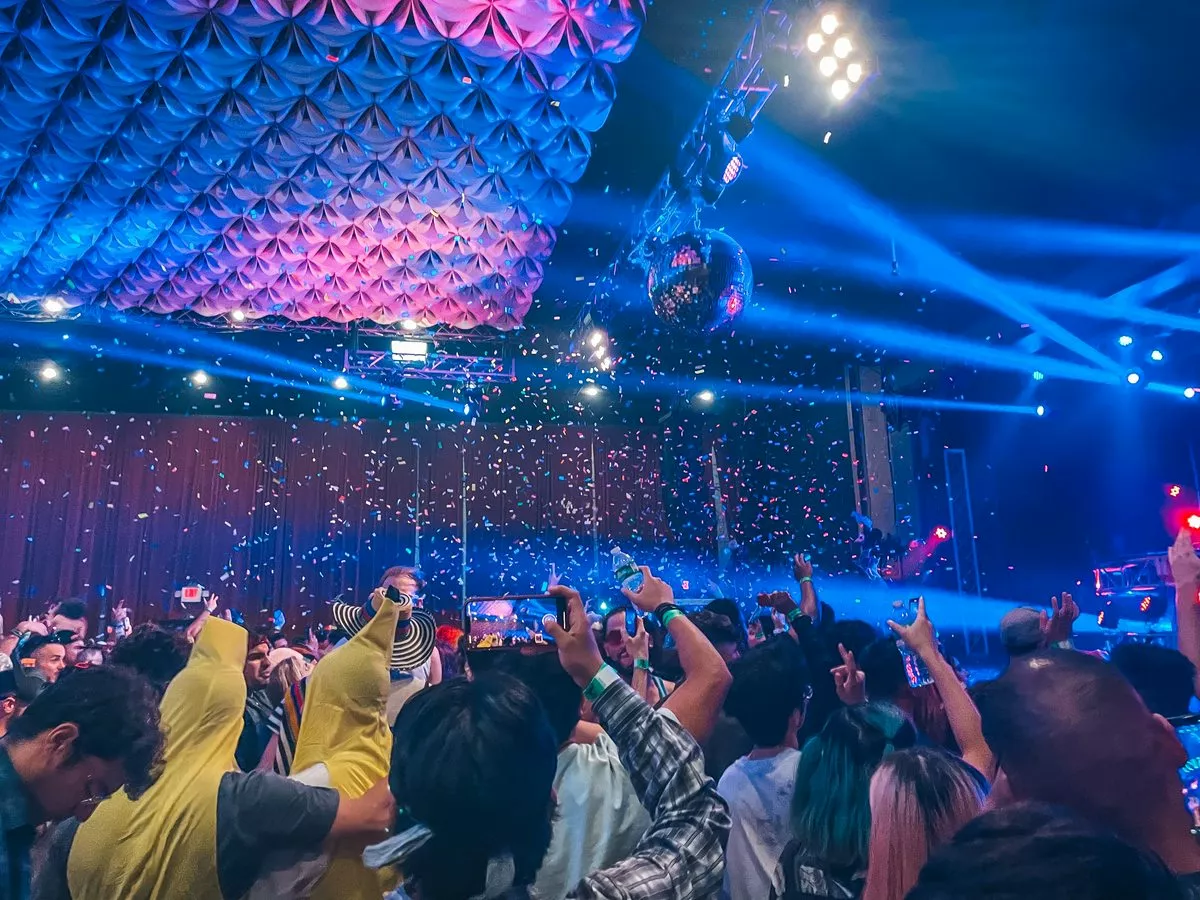 Southern Belle
Southern Belle is Ybors one and only country bar! Equipped with a mechanical bull, plenty of photo ops, and live music on the weekends, this spot is sure to provide a damn good time.
Southern Belle also offers line dancing classes on Fridays and Saturdays from 7 PM – 9 PM (date night?!). They also serve food, and while I can't speak from personal experience, their brunch looks super fun!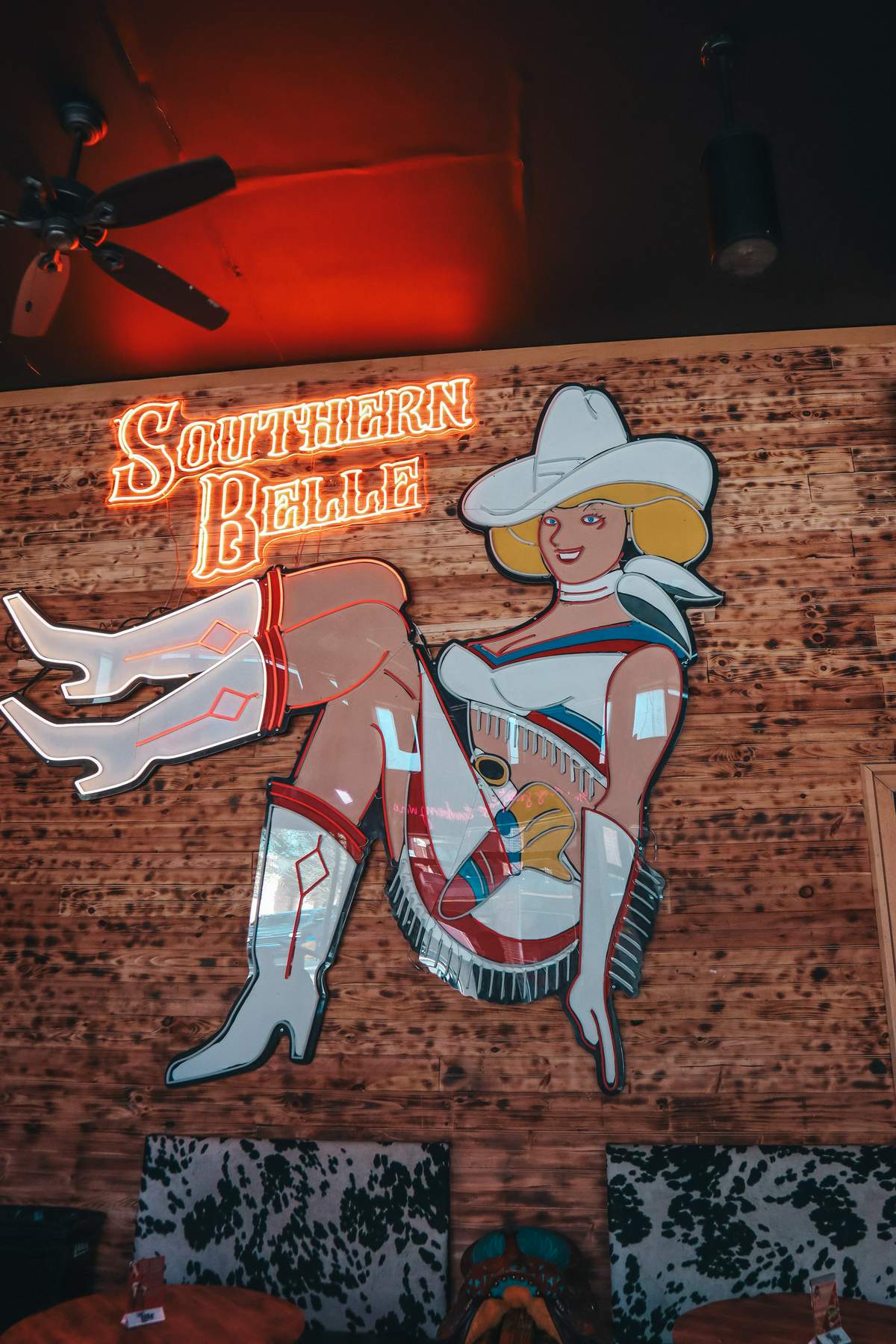 Copper Shaker
If you're looking for a locally owned craft cocktail bar with delicious food in Tampa, the Copper Shaker is your place. They also have another location which just so happens to be one of my favorite bars in downtown St. Pete.
This is the perfect Ybor City Bar to gather with your friends and try different flavors with the excellent cocktail menu.
Options for drinks range from cocktails like an espresso-infused cocktail named The Grind to a rye whiskey cocktail named Smokestack. There is also a great beer and wine list here.
Copper Shaker also offers a happy hour menu every day until 7 pm with $6 drinks and food specials.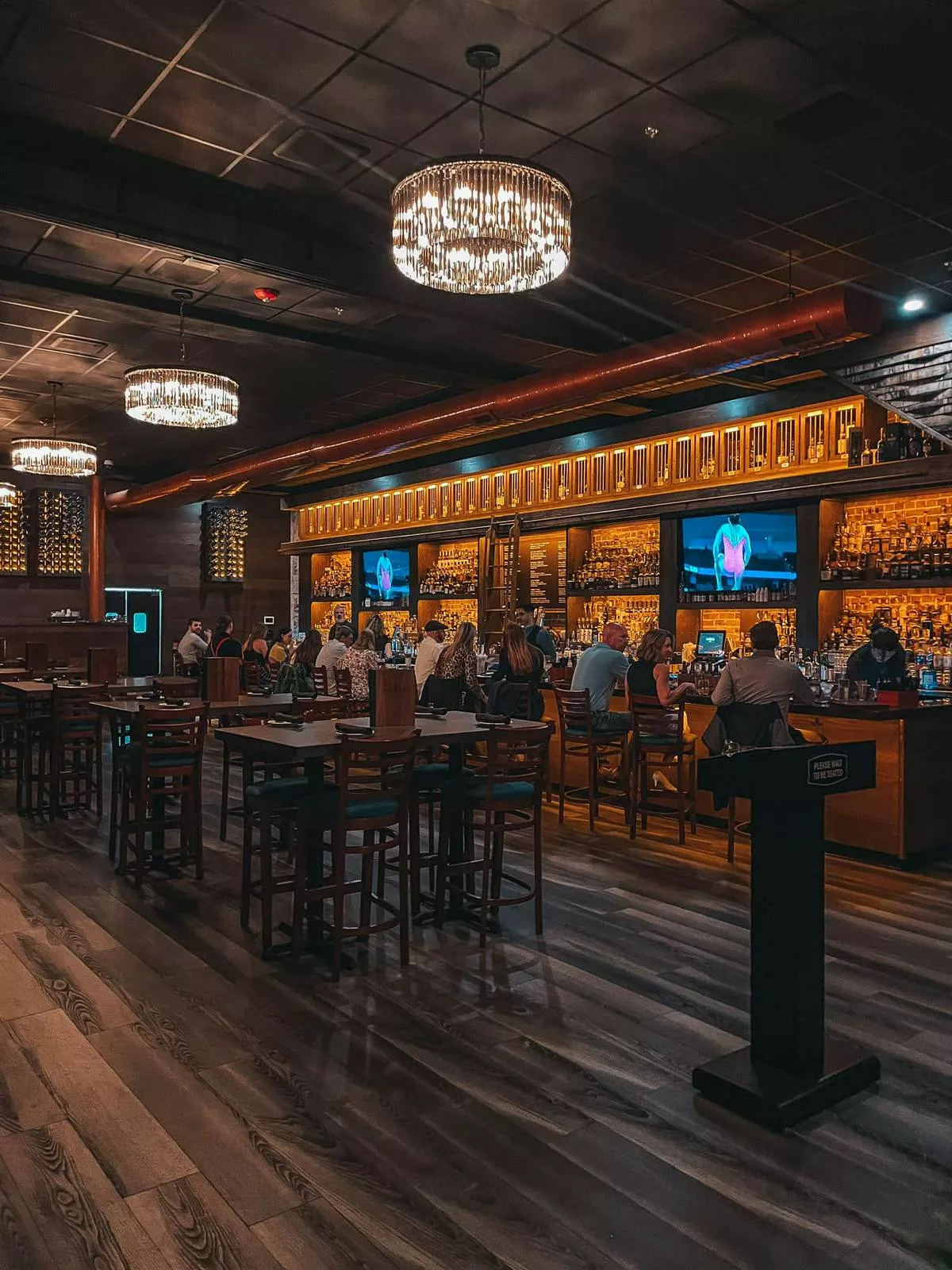 So, there you have it! Tampa has a lot of great bars to choose from and I've tried to cover as many of the best ones in this guide. If you're looking for something new, give one of them a try! And be sure to let me know if I left out one of your favorite Tampa bars that I need to check out 🙂