This post contains affiliate links which means that I will make a small commission if you purchase a product after clicking on any of them, at no extra cost to you.
Note: this is a sponsored blog post but all opinions are my own.
I have been doing so much travel lately, I was yearning for a good local adventure. Exploring the Tampa Bay area is easily one of my favorite hobbies. I have a never-ending list of things to check out and places to experience. Which is exactly why I knew I was overdue for a staycation at The Karol Hotel in Clearwater.
The Karol Hotel is a great location for someone who has an "I want to do it all" mentality (aka me). I actually used to live 5 minutes away from where The Karol is located, and it was my favorite area I've lived in since moving to Tampa. Why? Location, location, location. It's perfect for a weekend getaway from Tampa!
The Karol is 10 minutes from downtown St. Pete, 30 minutes from Clearwater Beach, and about 20 minutes from Tampa. We actually had a 6 am flight the morning after staying here and it took less than 15 minutes to get to the airport.
So if you're traveling to Tampa and want to experience several different areas, and don't want to pack up your stuff and move to a new hotel each time, this location is pretty ideal.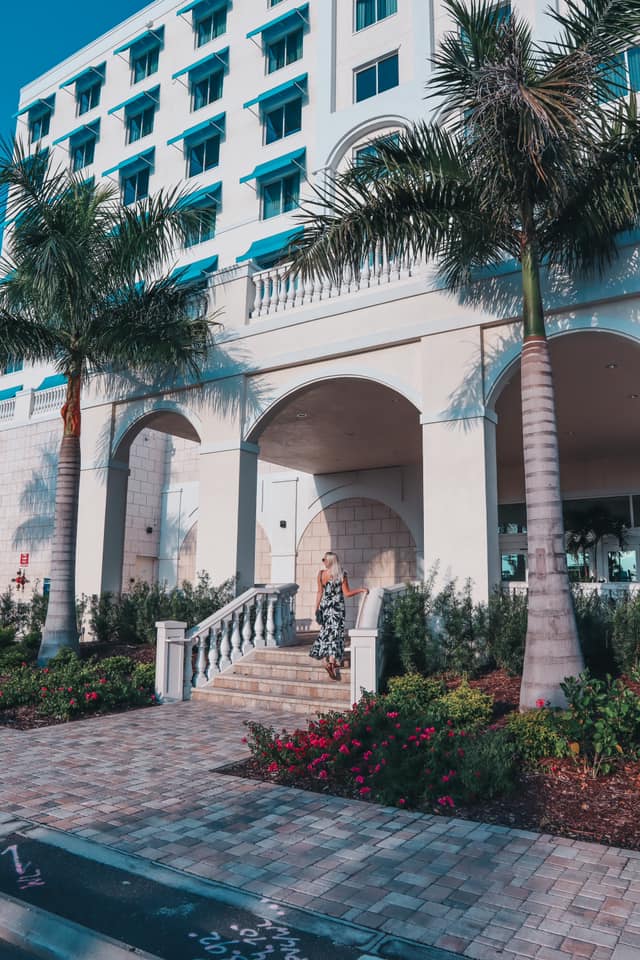 The Karol Hotel in Clearwater overview
When you walk through the doors, be ready to be dazzled. I honestly don't remember the last time I used that word, but that's exactly what I experienced upon entering The Karol Hotel. This boutique hotel focuses on luxury and comfort, and those themes shine through in everything from the rooms to their rooftop bar.
Speaking of themes, if you love a place with a story, you're really going to love The Karol. The Karol Hotel is named after the developers' (Fred Bullard) wife. Karol is a former Miss Florida and local weather girl. So you'll notice things like her Miss Florida photos on the room keys, or the sign at Vantage Rooftop which says "Don't I know you from somewhere?". Which is the first thing that Fred said to Karol when they met.
It's little touches like that that really make a place stand out to me. Our server gave us all the details while we enjoyed our dinner, and I highly recommend you inquire for more of the story while you enjoy your meal at the K Club Bistro.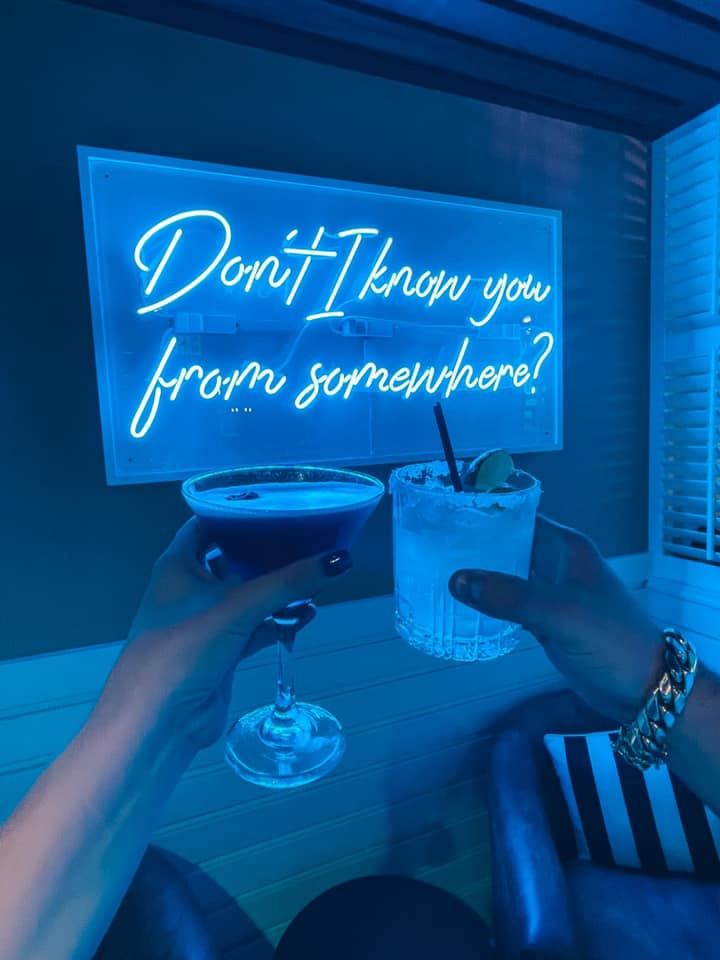 The Karol Hotel in Clearwater rooms and amenities
The Karol Hotel offers several room styles including classic king and double queen rooms, as well as suites, and Bayview rooms.
We stayed in the Classic King, which provided ample space. The bed was extremely comfy, but my obsession is with their stunning marble bathrooms. Talk about interior design inspo!
They have a fitness center, as well as an outdoor pool that has views of the lush greenery and a pond. I've already gushed about the convenience of the location, but you're also close to Carillon Park which has some cute trails around a pond.
And of course, you guys know I'm a huge foodie, so we can't not discuss their amazing on-site bar and restaurant.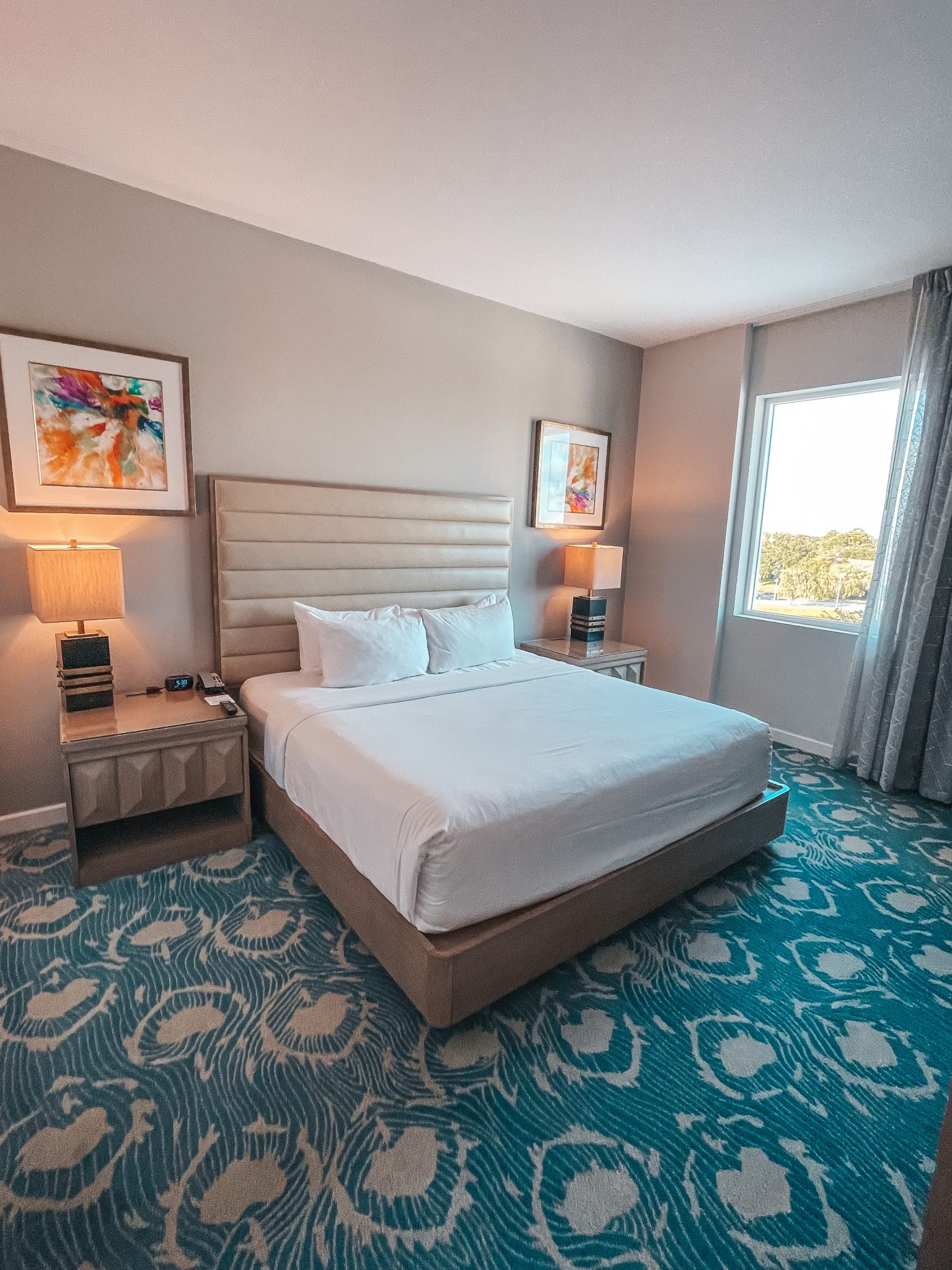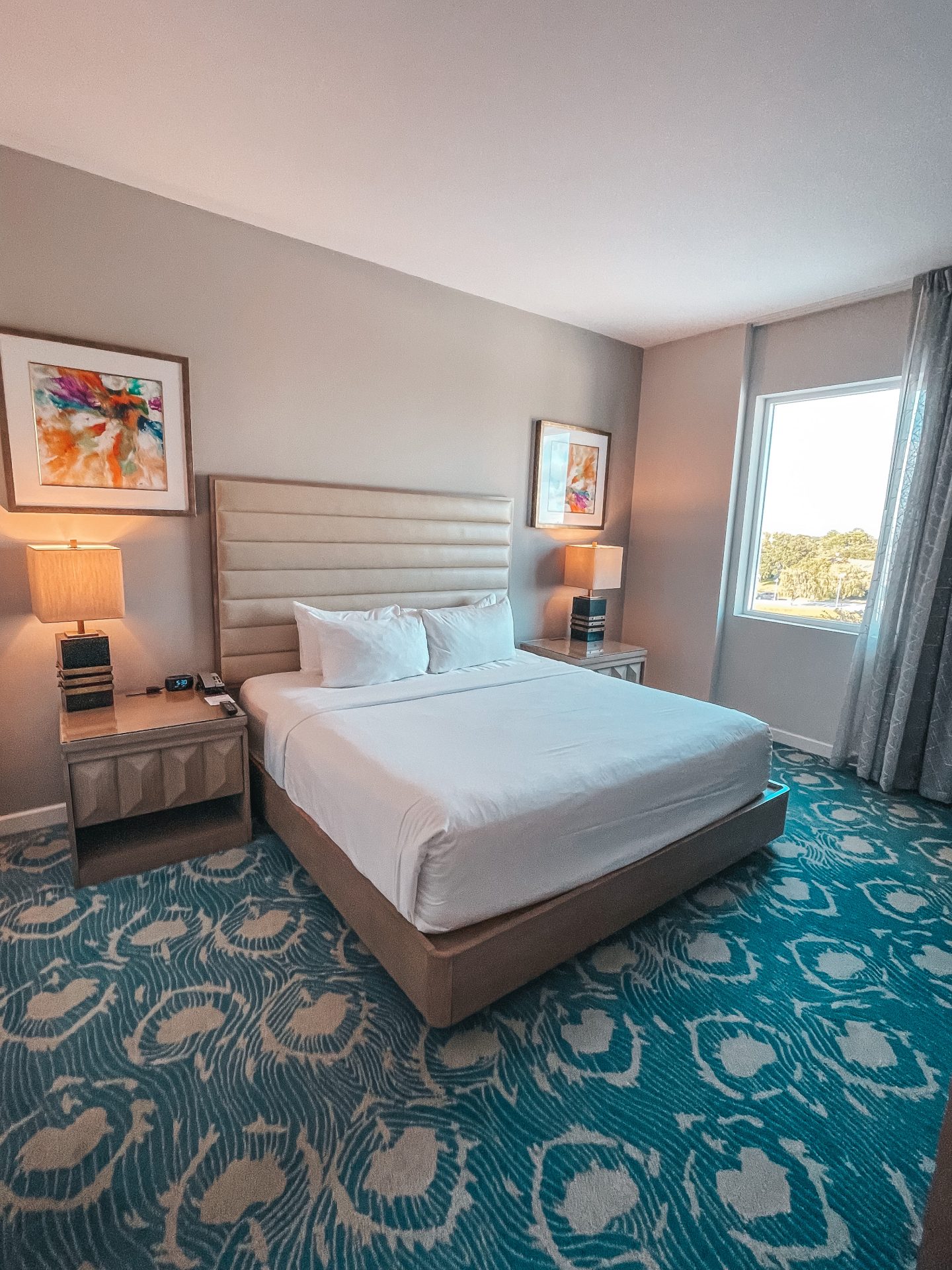 The Karol Hotel in Clearwater on-site dining
Vantage Rooftop Bar
Who doesn't love a good rooftop? Vantage Rooftop quickly became one of my favorite rooftop bars in Tampa Bay. I highly recommend checking them out at sunset. I'm convinced the sunset and moon were paid actors.
The cocktails were very enjoyable. We got the Karol Bliss and Grand Margarita with mezcal instead of tequila. The drinks tasted very fresh, which makes sense since their sour mix and juices are made in-house from scratch!
At Vantage they offer tapas, charcuterie, and some desserts. But I'm warning you, don't fill up before heading to K Club Bistro!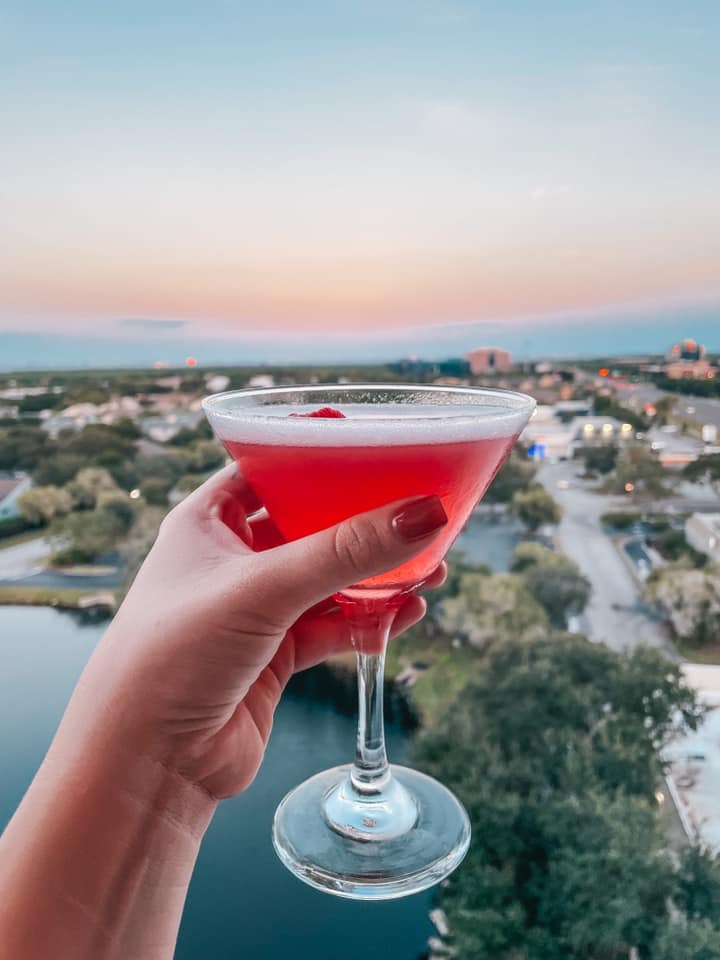 K Club Bistro & Bar
Next up is K Club Bistro. You can get breakfast, lunch, or dinner at the American bistro. You have the option of indoor, or outdoor patio seating. We enjoyed dinner inside, and I can promise it won't be our last visit here. I thought we had to drive to New Orleans if we ever wanted to enjoy good shrimp and grits again.
K Club showed me I can save my gas, and just head there the next time I get the craving! We were truly blown away by the amazing flavors that were presented in front of us with each dish.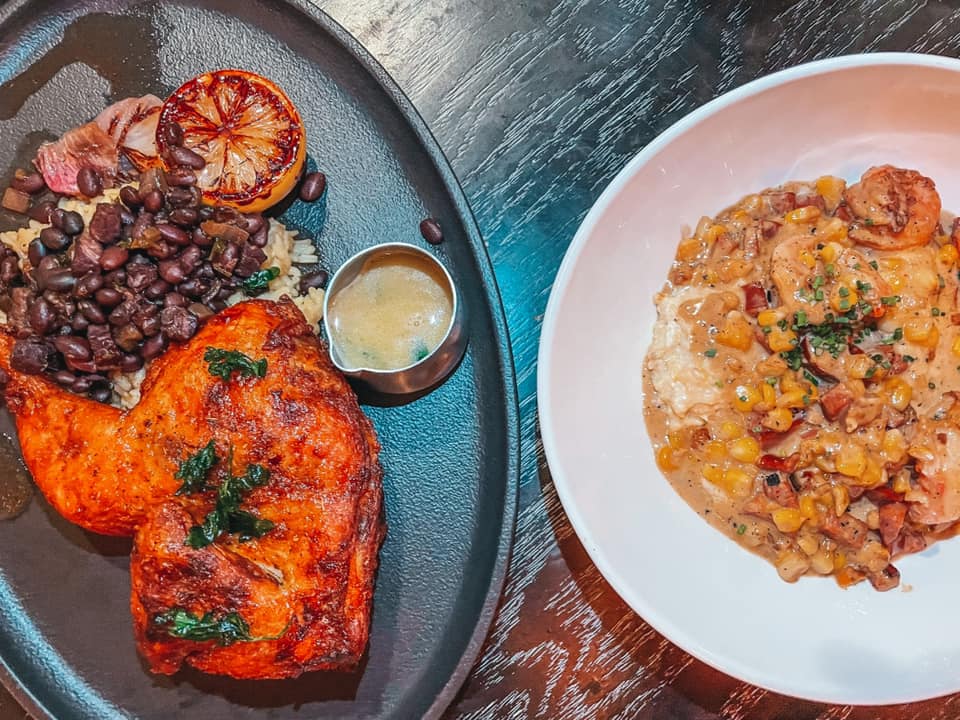 We started with the New Orleans oysters, and got the shrimp and grits (to continue with the creole kick we were on) and roasted half chicken as entrees. They are known for their steak and seafood, so I'm convinced you can't go wrong regardless of what you order.
After dinner, head over to K Club Bar for a little nightcap. They have the same cocktail menu as the K Club Bistro, and Vantage Rooftop, but offers a more intimate and somehow even more relaxing vibe.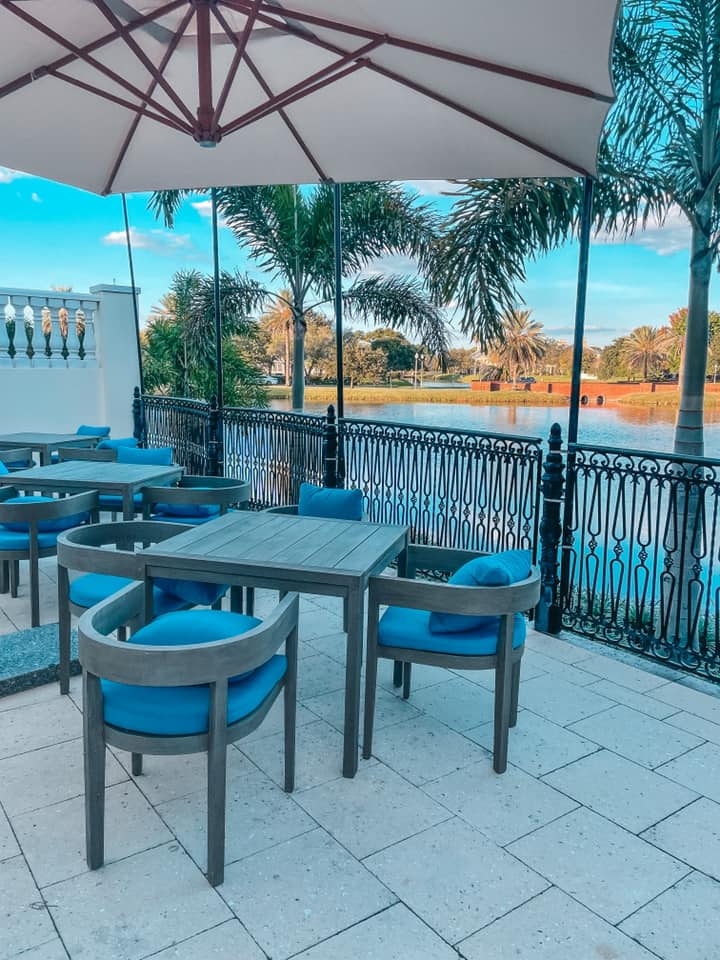 My experience with The Karol Hotel in Clearwater
The Karol was the perfect spot for my and Remi's staycation before heading out on another trip. We bar hopped in downtown St. Pete, came back and enjoyed amazing sunset views at Vantage Rooftop, and then had a lovely dinner at K Club Bistro. Waking up so early for a flight wasn't so bad since we were positioned pretty close to the airport.
I also think that good service and hospitality go an extremely long way. The service here was impeccable. Everyone was so personable and happy to share information about the area and the hotel itself which was nice.
I think this is an excellent option for those wanting to discover several areas in Tampa Bay, but also for locals trying to do a relaxing staycation. The Karol actually offers a 35% discount for Florida residents, plus two welcome cocktails at the rooftop bar! Use promotional code 11130 at checkout.
If you enjoyed this post don't forget to like and share! 🙂