This post contains affiliate links which means that I will make a small commission if you purchase a product after clicking on any of them, at no extra cost to you.
Clearwater is home to America's #1 beach according to TripAdvisor, and it's the place I luckily get to call home. With white sand beaches, clear blue waters, and some of the most stunning sunsets, it's no surprise so many people want to come to this destination.
If you're looking for a little more than just laying out and relaxing on the beach, you're in luck because there are so many epic things to do in Clearwater Beach! I'm here to fill you in on the best Clearwater Beach activities. Rain or shine, near or far, I have a list of recommendations sure to help you fill up your vacation itinerary.
Things to do in Clearwater Beach when it's raining
Clearwater Beach Escape Room
Escape rooms are the perfect thing to do in Clearwater Beach on a rainy day. If you aren't familiar with escape rooms, they are challenges where you are put in a room with clues and puzzles to solve in order to reach an end goal in a certain amount of time.
Reservations are required, so if you're expecting a rainy day during your visit, get ahead of the crowd and schedule a slot before all of the other vacationers have the same idea. There are a number of different themed adventures you can choose from, such as Area 51, a pirate ship, and the Davinci exhibit. Each adventure lasts anywhere from 45 minutes to an hour.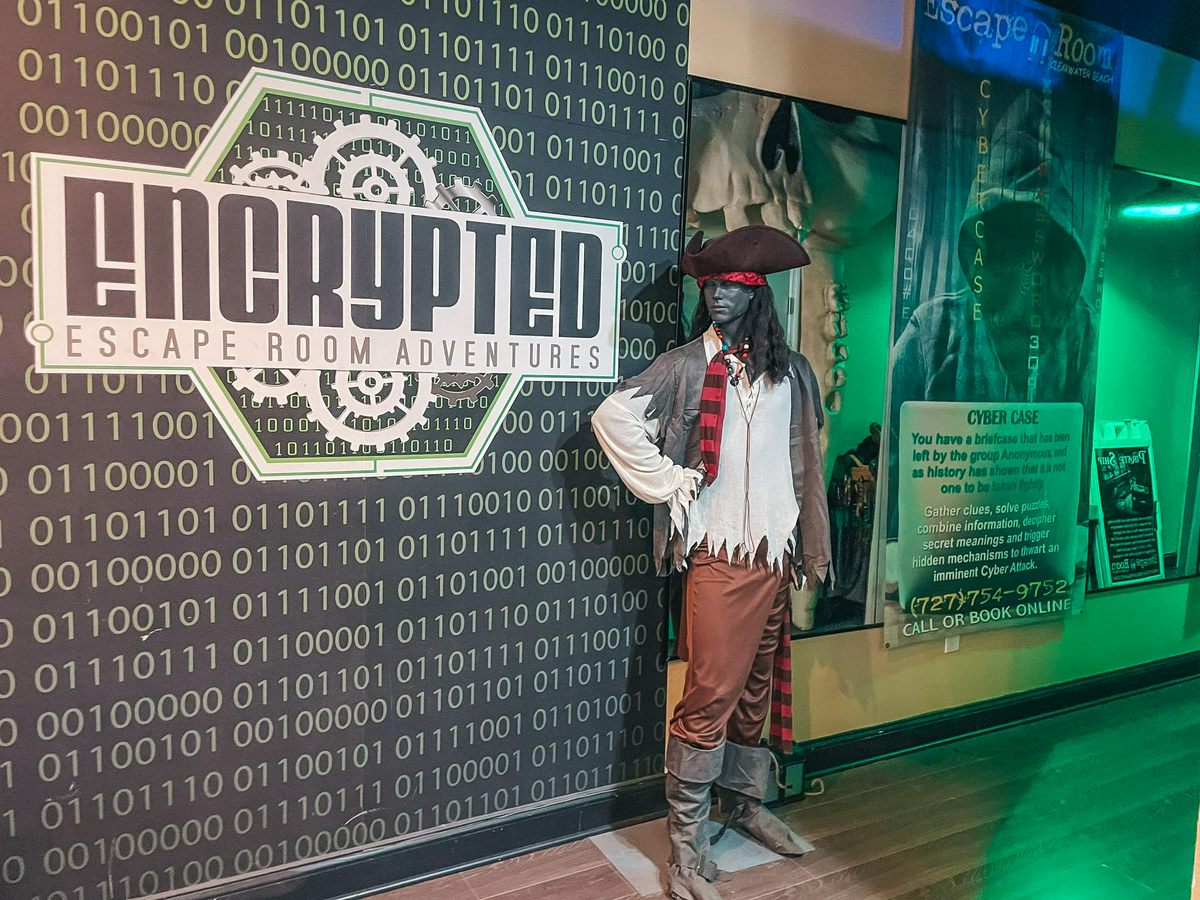 Clearwater Marine Aquarium
You may be familiar with the Dolphin Tale movies. It just so happens the movie was filmed in Clearwater, and the Clearwater Marine Aquarium is home to Winter and Hope, the movie's main stars! It's smaller than your average touristy aquarium because its mission is to rescue, rehab, and release (unless circumstances prevent it) wildlife. It is a very informative experience that's perfect for a rainy day.
If it isn't raining, you can also opt to do the Sea Life Safari Boat Tour. Here you can get a hands-on experience with data collection and a 90-minute scenic tour of the inter-coastal.
Dali Museum
Aside from Europe, St. Petersburg, Florida, houses the largest collection of Salvador Dali's work. Even if you aren't normally into art or museums, the Dali Museum really is a sight to see.
The building itself is a work of art, but the artwork inside is quite interesting as well. Dali explored the Surrealism art style. His paintings are very unusual, almost dreamlike, and I personally really enjoyed attempting to interpret them.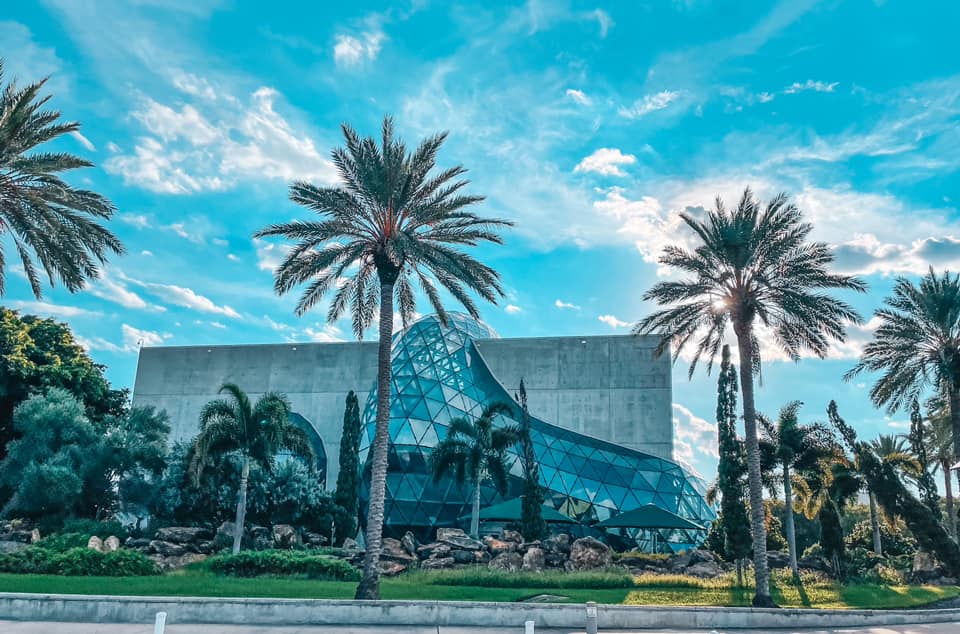 Go to a sporting event
Depending on what time of the year you visit, check out a hockey or baseball game! Tropicana Field where the Rays play is a domed stadium— so rain or shine, you can enjoy the game!
If it's hockey season, the Tampa Bay Lightning are always entertaining to watch. Even if you don't enjoy sporting events on TV (I don't!), they are something to see in person. The Lightning games especially usually get pretty hyped.
This is easily one of the best things to do in Tampa!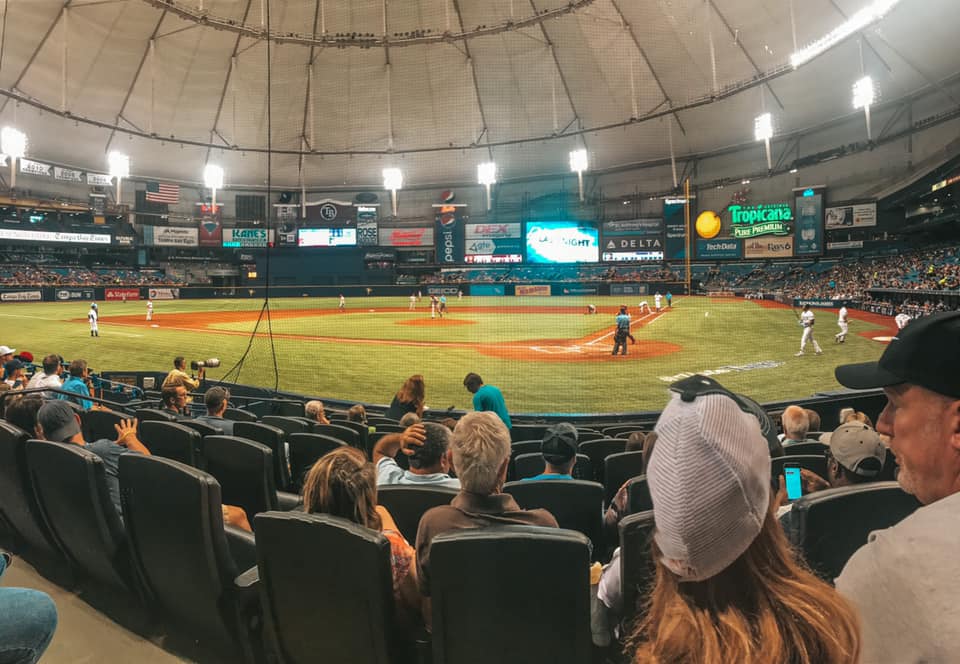 Catch a buzz at some of the fun bars
When all else fails and the weather just doesn't want to cooperate, you can always count on the bars. Grab a few good cocktails, and get your competitive side going with some bar games.
Clearwater Beach has plenty of fun beach bars to be experienced, let me know which one ends up being your favorite!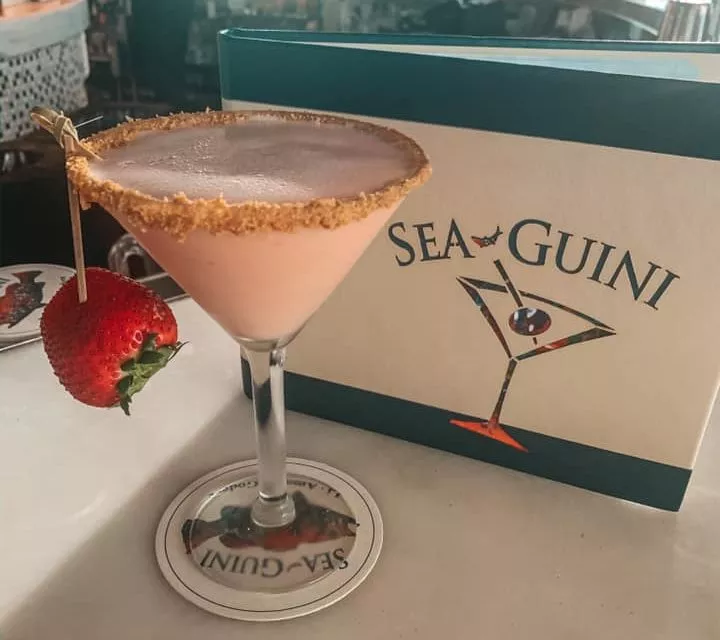 Things to do in Clearwater Beach when it's sunny
Clearwater Beach Scavenger Hunt
I created this scavenger hunt for my 30th birthday, and we literally had the FUNNEST time! This is definitely an adults-only scavenger hunt, but the tasks and challenges are so much fun. It's perfect for bachelorette parties, birthday parties, or just making your beach day a little more interesting.
Clearwater Beach Boat Tours
Clearwater has a lot of options when it comes to dolphin and sunset boat tours. Mega Bite and Little Toot are pretty similar— both go fast enough to create a nice wake for the dolphins to play in and give some information about the area during the tour.
The Sea Screamer, however, is actually a speedboat going up to 35 mph during your excursion! So depending on what kind of ride you're looking for, we have you covered.
Encounters with Dolphins is similar to Mega Bite and Little Toot, but has a little bonus for you! This boat makes a stop at Compass Island for 20-30 minutes. They allow you to do some shelling, swimming, or snorkeling with gear they provide for no extra charge!
Tropics Boat Tour is on a double-decker catamaran, and Kai Lani is a 50-foot, single-deck catamaran. These two boat tours in particular I personally enjoy more for their sunset cruises.
If you're 21+, most boats have drink packages or drink options for purchase. During the busy season, it is definitely recommended to make reservations. All six boats are located in the same area, so you can even check them all out if you'd like!
Check out the best restaurants in Clearwater Beach and the best breakfast spots in Clearwater Beach!
Captain Memo's Pirate Cruise: Initially, I thought this was just for kids, but it certainly is not. Regardless of age, this is a really fun way to spend a few hours sailing the seas. If you're 21 and up, you can get a drink package and enjoy the views from the adult-only third deck.
If you're on a family adventure, the crew has lots of fun planned with a treasure hunt, face painting, water-gun games, stories, and dancing. After I made sure to take full advantage of my drink package, I also discovered that adults can utilize the face painting… I may or may not have left the ship with a mustache and goatee.
A Boat Day: If you're looking for an EPIC boat day in Clearwater Beach, you gotta check out A Boat Day. They're especially great for bachelorette parties. They have a few different options for the type of boat you can rent. Select either one of their deck boats or a funship and rent them anywhere from 4-8 hours. I highly recommend choosing one of their funships which includes a waterslide!
Aside from the waterslide, you can island hop, go shelling, snorkeling, or just cruise for dolphins!
Cruisin Tikis Clearwater: More suited for 21+, this is your own personal floating bar. Cruise around Clearwater on a 1½- to 2-hour cruise. You bring your own booze and snacks, but the tiki provides you with cups, ice, a blender, and a fun way to explore the Gulf of Mexico. This was honestly one of my favorite boat tours, we had a total blast!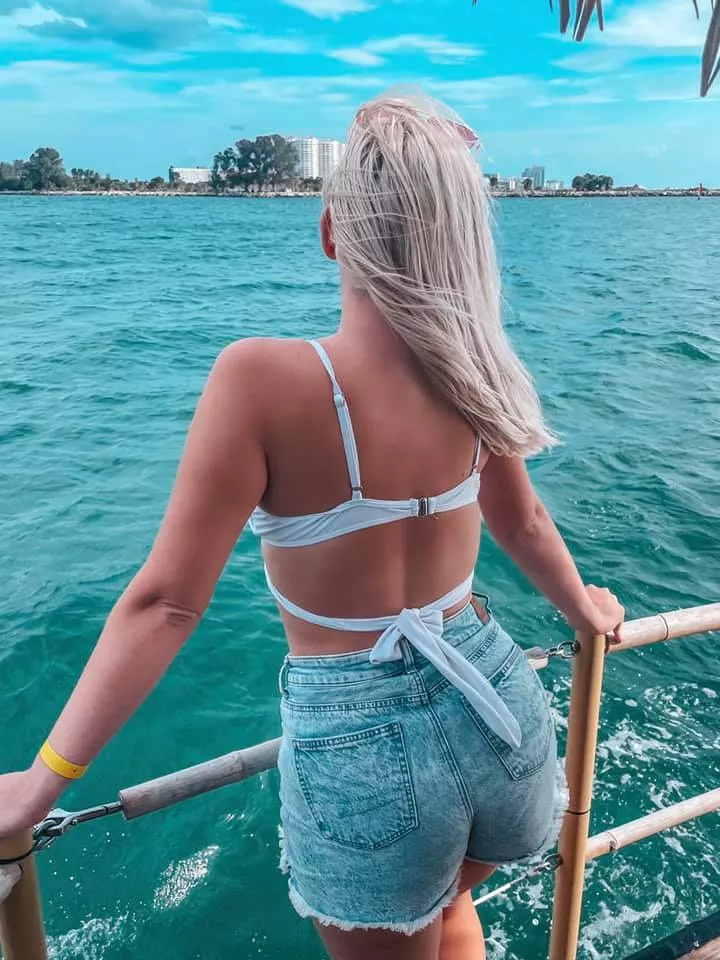 Clearwater Beach Fishing
Off of Pier 60
You don't need to have a fishing license to go here. It's city-owned, so they have their own commercial fishing license that you have to go through. For $20, you get everything you need to be the next Rick Clunn— a pole, some bait, and your license.
Deep Sea
Double Eagle Deep Sea Fishing, Queen Fleet, Above Average Fishing, Charter Boat Two C'S II, and Clearwater Fishing Charters with Captain Rick Reddick are some of your options for deep-sea fishing. Double Eagle and Queen Fleet are bigger boats where you pay per person $32-$87. This rate is dependent on age, half- or full-day fleet, and whether or not you need to rent a rod.
Above Average Fishing and Charter Boat Two C's II are both smaller boats with rates starting at $500-$550 for half-day charters for 1-6 people. Most also offer split groups if you only have a couple of people and are willing to share the boat with another group.
Some charters (Above Average Fishing for sure— maybe some of the others) even offer to fillet and clean whatever you catch for you if you plan to keep it. A lot of local restaurants will even prepare the fish how you like for a fee.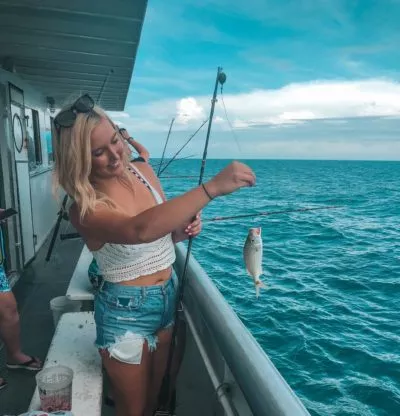 Clearwater Beach Dinner Cruises
Calypso Buffet Cruise has daytime and evening casual dining options. Daytime has captain narrations, and the evening has a DJ along with a tropical buffet. If you have cruise and buffet tickets, then beer, wine, rum punch, and soft drinks are all included.
Yacht StarShip Dinner Cruise is a buffet-style cruise as well. The menu offers seafood and non-seafood options (the miso salmon and strawberry clementine chicken were AMAZING). The price includes your meal and an open bar that's Free at Sea. The open bar includes Bud Light, Michelob ULTRA, Bud Light Seltzer, house wines, and house liquors.
They also have a DJ providing an even more enjoyable evening! Prices vary depending on if you choose to do your cruise in the early evening, happy hour, or at sunset. And you can purchase tickets to do just the cruise without dining as well!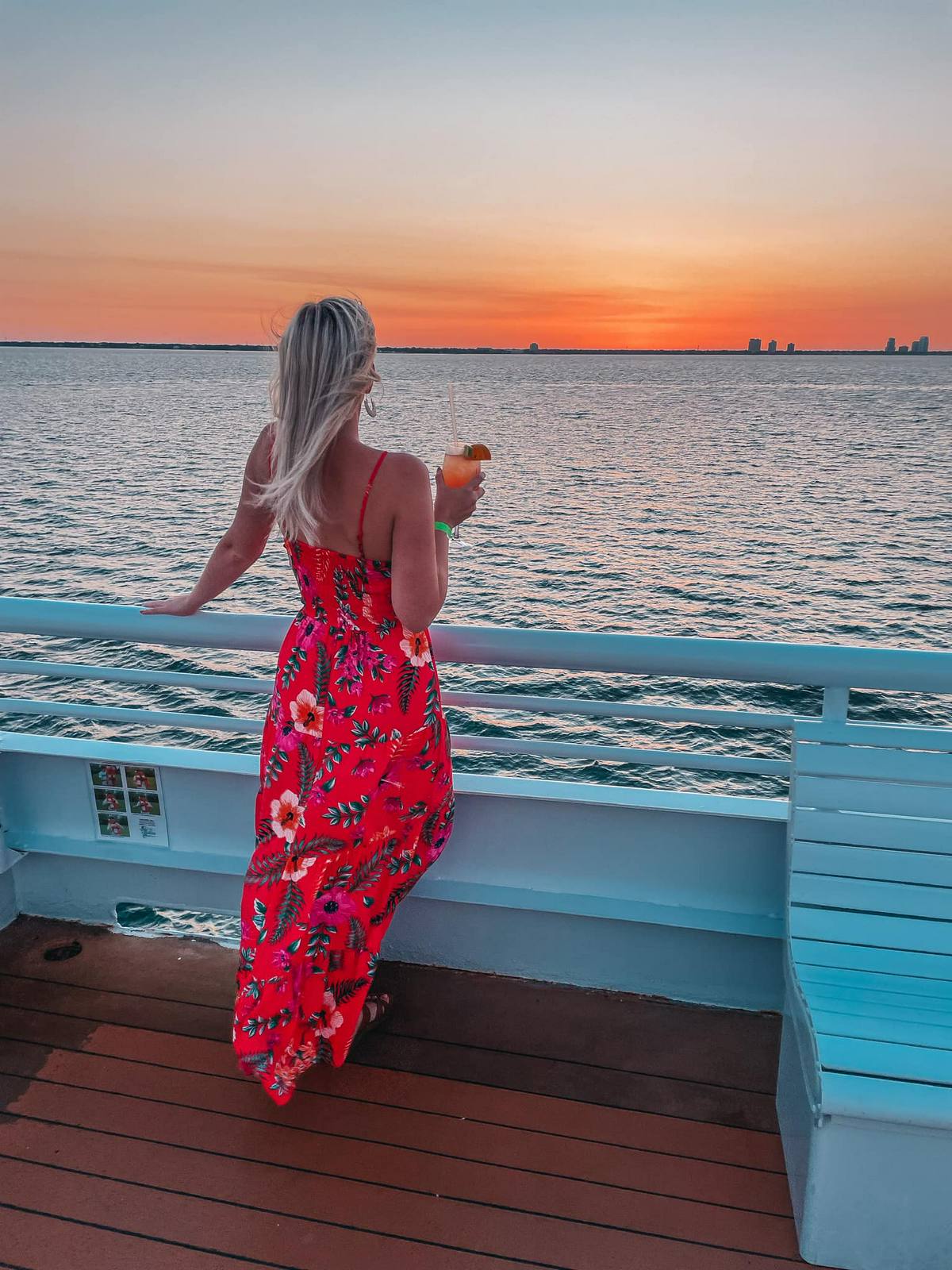 Starlite Dinner Cruise includes dining service, a full restaurant-style menu, and a full bar. With this cruise, you pay an admission fee, and then pay separately for food and drinks. Depending on what you order, it comes out to be about the same as the buffet cruises, so I would just compare menus or think about the dining experience you want to have to determine which cruise to go with.
All cruises have daytime and evening options available, most with the evening options being a little bit more expensive.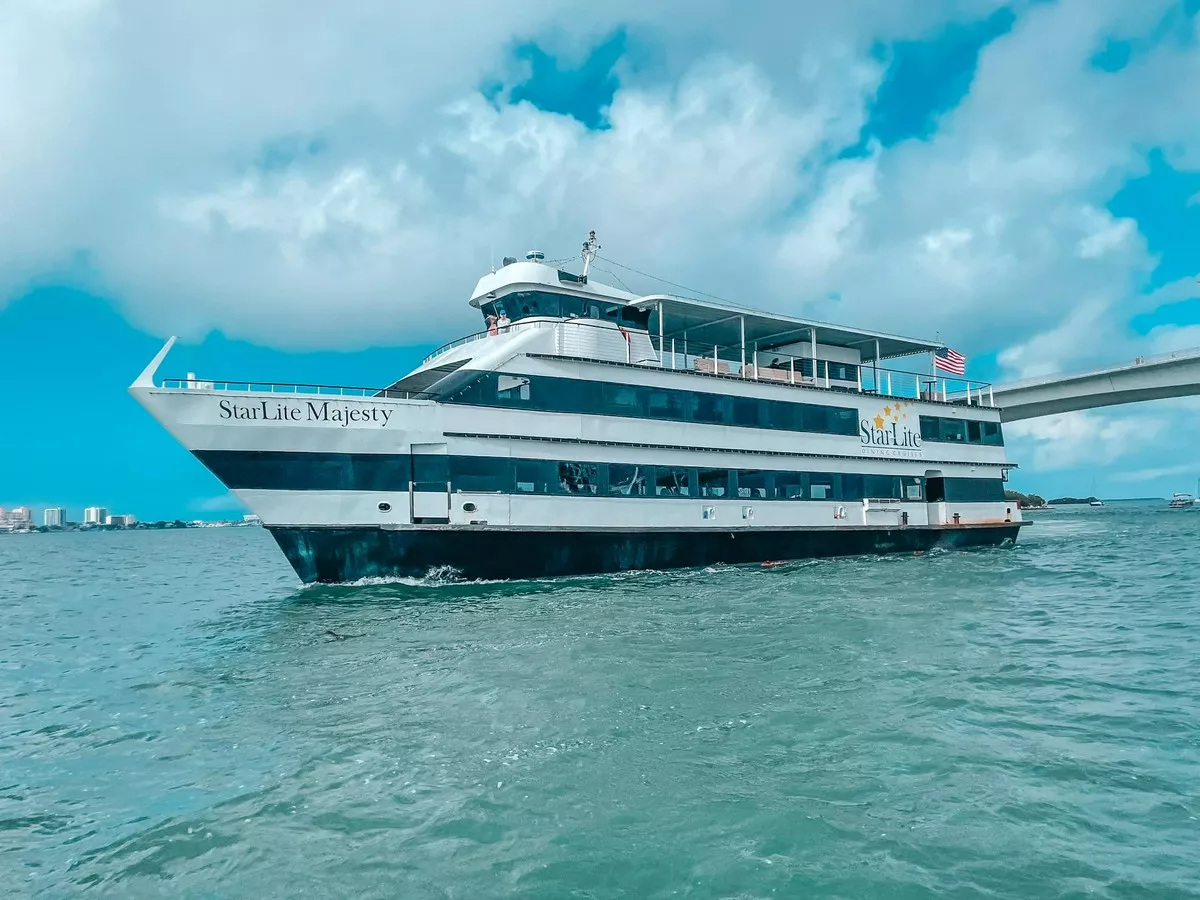 Clearwater Beach Water Sports
Stand Up Paddleboard (SUP) or Kayak
Downsouth Kite and Paddle is a good option if you want to do a tour or a full-day rental. They offer eco tours that are about 2 ½ hours, including sunset tours. They have a few different tours, each with different launch spots. Depending on how many people you have going, they will transport you to the launch spot.
If you don't want to do a tour, you can rent the paddle board/kayak for the day, and the price includes free delivery. They have single and tandem kayaks available. Kayaks are slightly cheaper than SUPs. Depending on what time of year it is, check out their special events, and you may be able to do a SUP yoga class.
Makin' Waves is located behind Shephard's, this company is great if you just want to rent a kayak or paddle board for one to three hours. You go right out on the Gulf and can explore around the Sand Key Bridge area. The last several times I have done their rentals, I have been lucky enough to have a few dolphins swim around me and make the experience extra special.
For Paddle Out Adventures experience, you actually begin on a pontoon boat and are taken out to your paddleboard/kayak destination. These adventures range from 2-4 hours, and the rates are per person, per hour. A boat tour and kayak/paddleboard rental are included.
This is a good option if you want to explore waters you wouldn't get to otherwise— with the pontoon boat, you are able to be taken to secluded beaches, islands, or lagoons.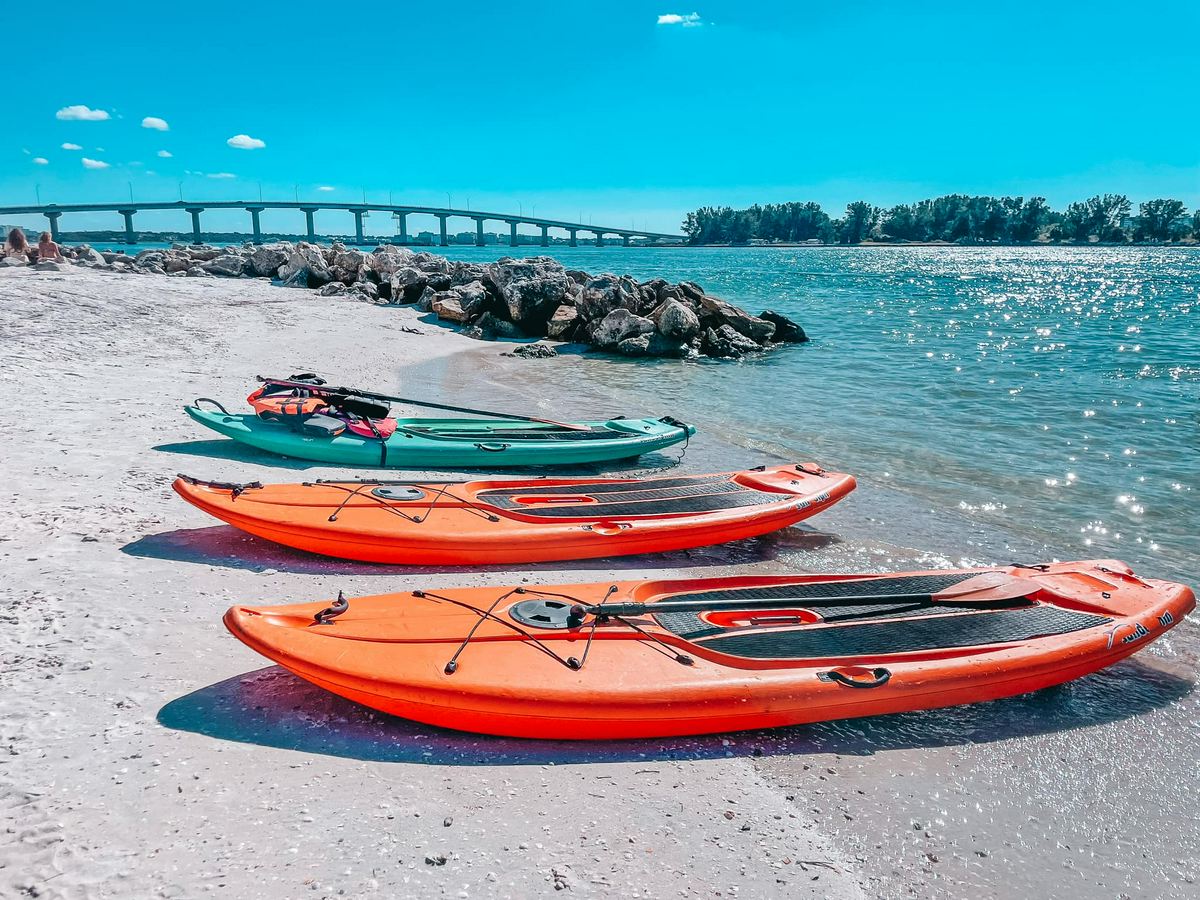 Jet around the waters in a 2-passenger catamaran
These things are pretty much go-karts on the water— I can only explain them so much with words, but you should definitely check them out here to see what they can do.
Learn to sail or windsurf
If you want to pick up a hobby or learn a new skill while you're on vacation, head on over to the Clearwater Sailing Community Center. Whether you want to do a group intro to sailing, private sailing lessons, or learn to windsurf, they have options for you.
Parasail
If you've been to Clearwater Beach, you've most likely seen the giant parachutes being pulled by boats. Soaring hundreds of feet above the Gulf, you get the most amazing views— and quite a thrill!
Clearwater Watersports, Parasail Clearwater, Chute 'Em Up Parasail, and Pier 60 Parasail are a few of the main options. They all tend to be around the same price of $80. I would pick whichever one is closest to the other activities you plan to do that day. Clearwater Watersports is right by Shephard's on South Beach. Chute Em Up Parasail and Pier 60 Parasail are near Pier 60. Parasail Clearwater is a little further down North Beach by Frenchy's Rockaway Grill. Some may offer discounts in hotel coupon books!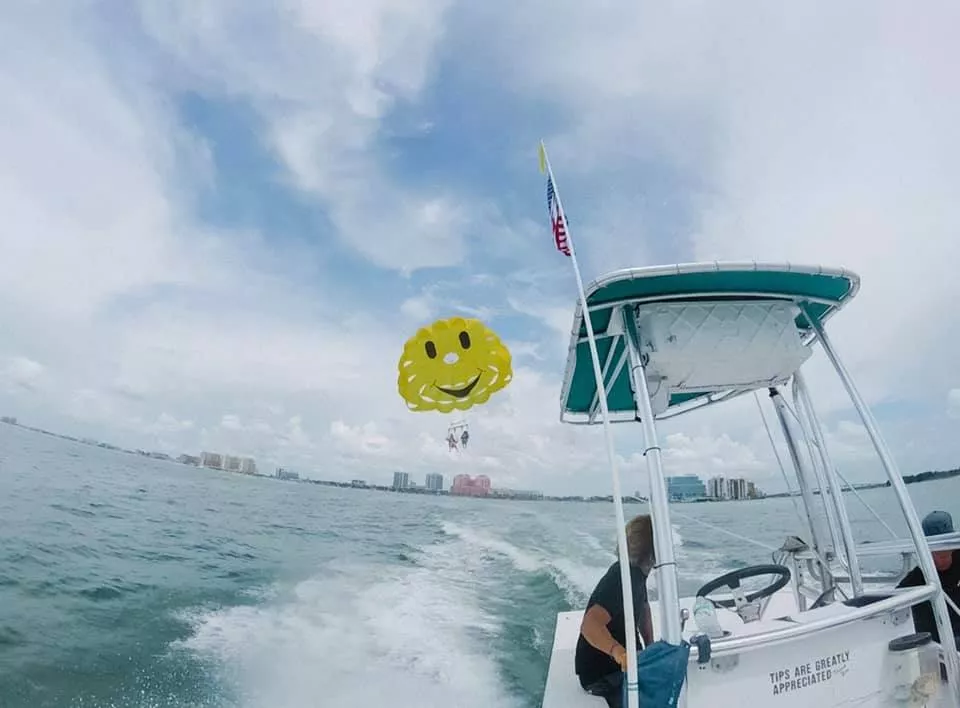 Jet ski
There are several jet ski rental places all over the beach, so again, this kind of just depends on the area you're going to be spending your time in. Shephard's has rentals at Makin' Waves, and if you rent before noon, they give you $10 off the price for a half-an-hour or an hour rental. This option also has the largest free-riding area on the beach.
If you prefer to do a jet ski tour, you can also do that by reservation. Clearwater Water Sports is in the same location and does half-an-hour or full-hour rentals as well, with no guided options.
H20 Jet Ski Rentals and Clearwater Beach Wave Runner Rentals are more on North Beach in the area where Pier 60 is located. H20 takes you on a 1½-hour tour all through the intercoastal and Gulf. You also have the option for up to 30 minutes to ride around the area freely. Clearwater Beach Wave Runner Rentals has a 1-hour ride rental, 1½-hour Island Adventure, or a 2-hour Dolphin Safari option.
I have personally done the H20 Jet Ski Rental, and I really enjoyed it. I get nervous driving jet skis, but they explained everything very clearly when it came to safety precautions and how to control them. It was nice getting a tour of the area on a mode of transportation where you are so close to the water— I literally had a dolphin so close I could reach over and touch it (if I wasn't terrified of tipping the thing).
On top of the tour, it's nice to have that free time in the middle of the tour to just drive around on the jet skis— and if you don't care to spend too much time doing that, you just carry on with the tour!
For any jet ski rental, if you plan to be the driver, you must have a boating license or get a temporary boat license (typically available for a small fee at the rental location) if you were born on or after Jan 1, 1988.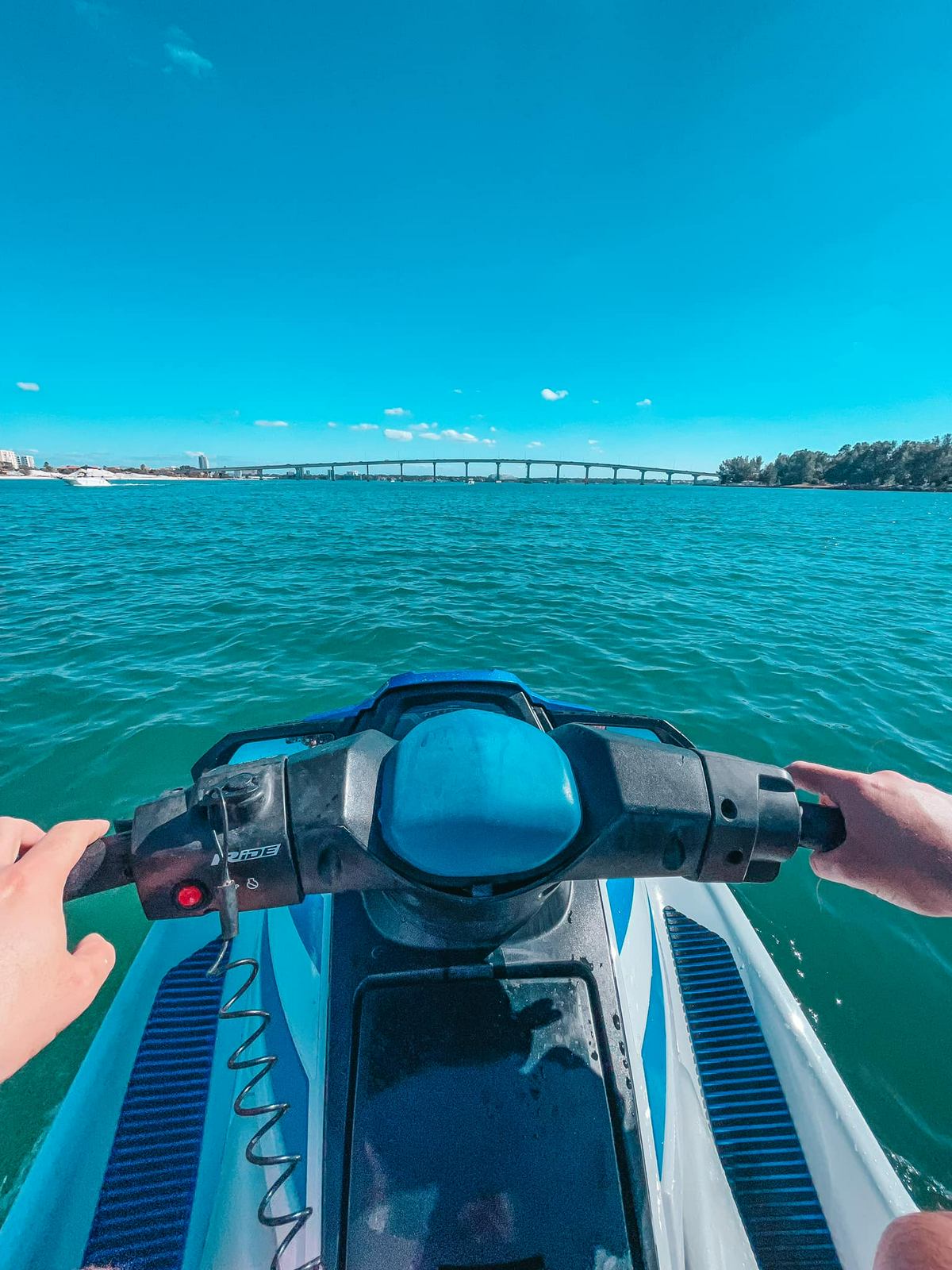 Sand Key Park
This is a great place to have a beach day. You have a beach area with cabanas and bathhouses. Then once you're done sunbathing, you can head to the park area that's equipped with grills, picnic shelters, and a dog park for your furry friends. Kayak and bicycle rentals are also available in the park.
In Sand Key, you can experience nature a little more than you would on Clearwater Beach. Check out all the amenities the park has to offer here.
Pier 60
During the day or in the evening during their sunset celebration, Pier 60 is a necessity for your Clearwater Beach experience. During the day and into the evening, there are performers of all kinds, along with crafters, face painters, and musicians— not to mention the most beautiful, untainted views of the sunset.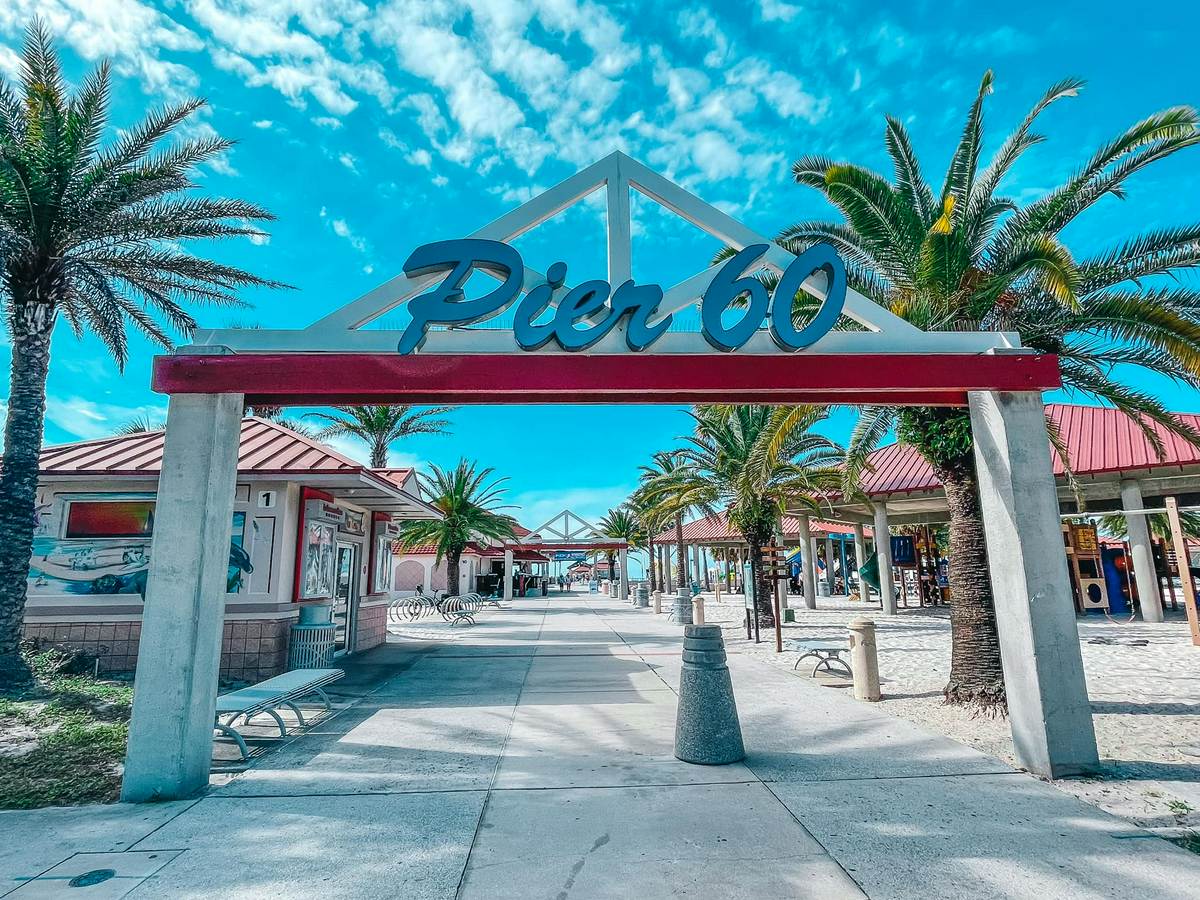 Explore Clearwater Beach with a fun ride
If you don't want to walk and don't have a rental car, no worries. There are plenty of unique ways you can explore the area, including golf carts, scooters, surreys, cruiser bikes, mini Segways, and more— just pick your ride and decide how long you want to rent it for.
Rentals start at one hour and go up to a full day. Check out Fun Ride Rentals rates here. They have locations on both North and South Beach.
Mini-Golf
Captain Bligh's Landing Mini-Golf is an 18-hole mini-golf course with amusing obstacles such as caves and waterfalls, along with an arcade room for added fun.
Best day trips from Clearwater Beach
Weeki Wachee Springs
Weeki Wachee Springs is a 1½-hour drive from Clearwater Beach and my absolute favorite day trips! If you have a chance, I can not encourage you enough to spend a day here. You will most definitely need a reservation if you plan to kayak or paddleboard the river.
Personally, that is my favorite thing to do here. You can bring a cooler with snacks and non-alcoholic beverages to take down the river with you. The water is pretty shallow for most of the route, and the water is crystal clear. Nine out of 10 times I have gone, I have been able to be up close and personal with manatees.
While you are not able to actually touch these gentle giants, they have no problem swimming right along or under your kayak. A few times, I was actually outside of my kayak taking a dip in the water when a momma and a baby swam right past me.
Book one of these awesome clear kayaks for your trip!
Aside from spending the day on the river, you can also spend some time enjoying Buccaneer Bay Waterpark— three of the four water slides drop you off into the natural spring. And you absolutely can't leave without seeing the famous Mermaid Show.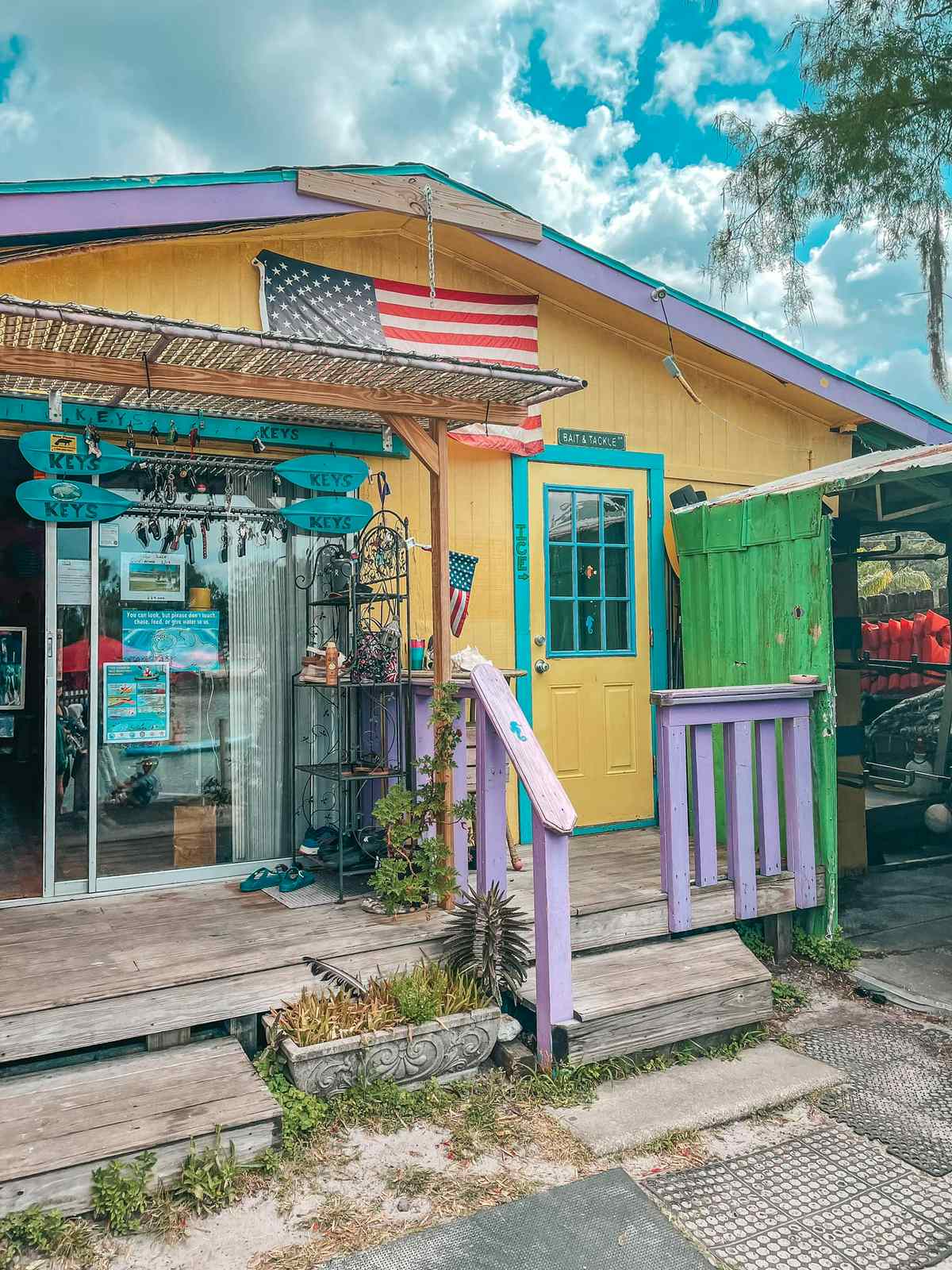 Disney or Universal
I don't think I need to explain what either of these places are. Staying in Orlando and doing the parks multiple days can get pretty expensive. You can save a bit of money by staying in Clearwater and making the 2-hour drive one of your vacay days.
Harry Potter World at Universal is definitely a must, and the Avatar Flight of Passage Ride at Disney was like nothing I have ever experienced in my life.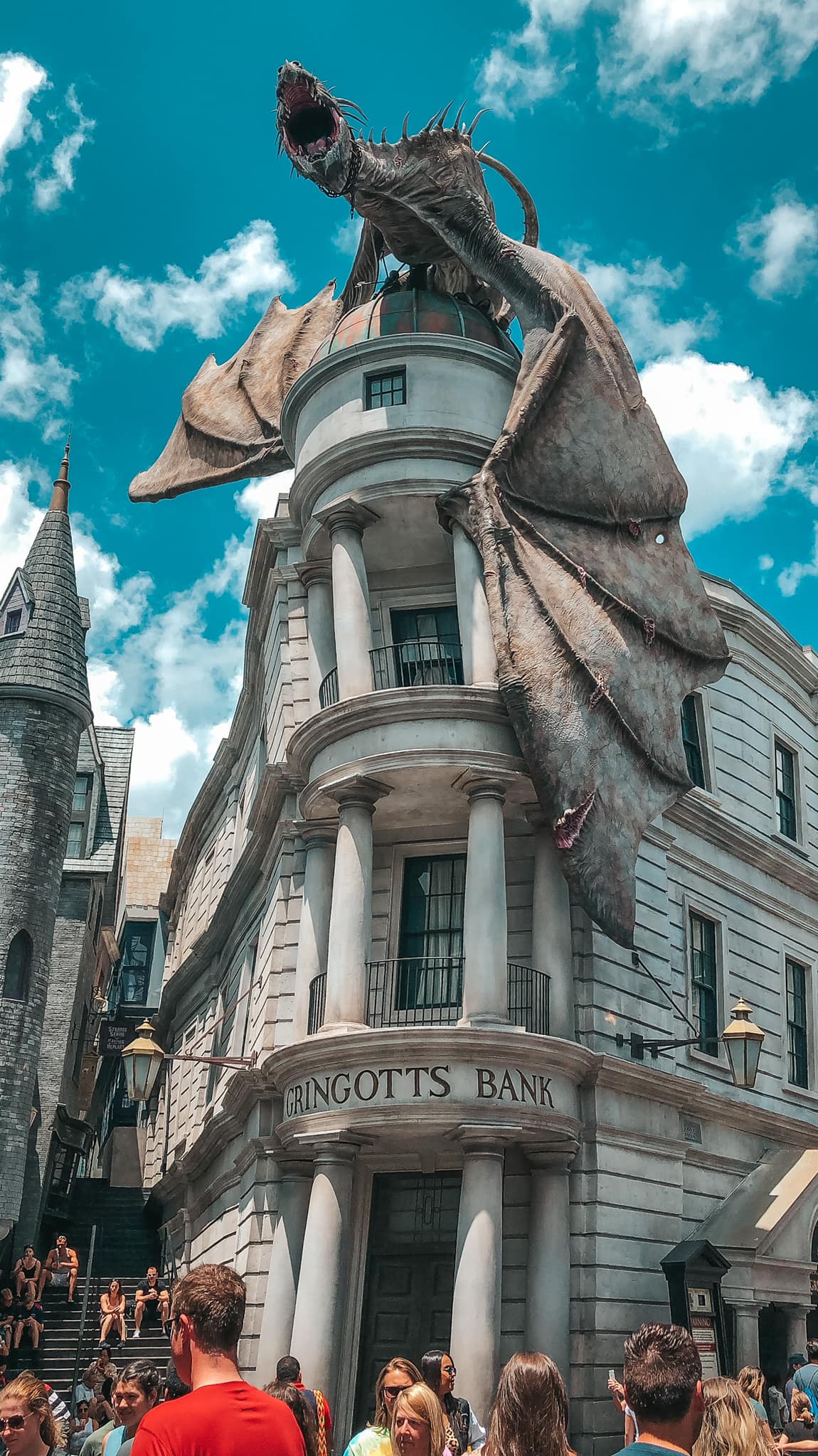 Explore St. Petersburg
There is so much to see and do in St. Pete thanks to a ton of adorable boutiques, fun bars, an amazing variety of cuisine (including some of the best brunch spots around), some awesome breweries, and the cutest coffee shops— not to mention the art scene. (There are also some breweries in Clearwater if you don't feel like leaving the area.)
I mentioned before that the Dali Museum is a great rainy-day activity, but if you make your way to St. Pete, it's definitely worth checking out even when the weather is nice. If you don't have enough time for the museum itself, don't worry— the streets of St. Pete are lined with murals and street art of all sorts!
They also have frequent markets and festivals downtown. See what events are going on during your visit. There is honestly an endless amount of things to do in St. Pete, for some more specific suggestions and details check here!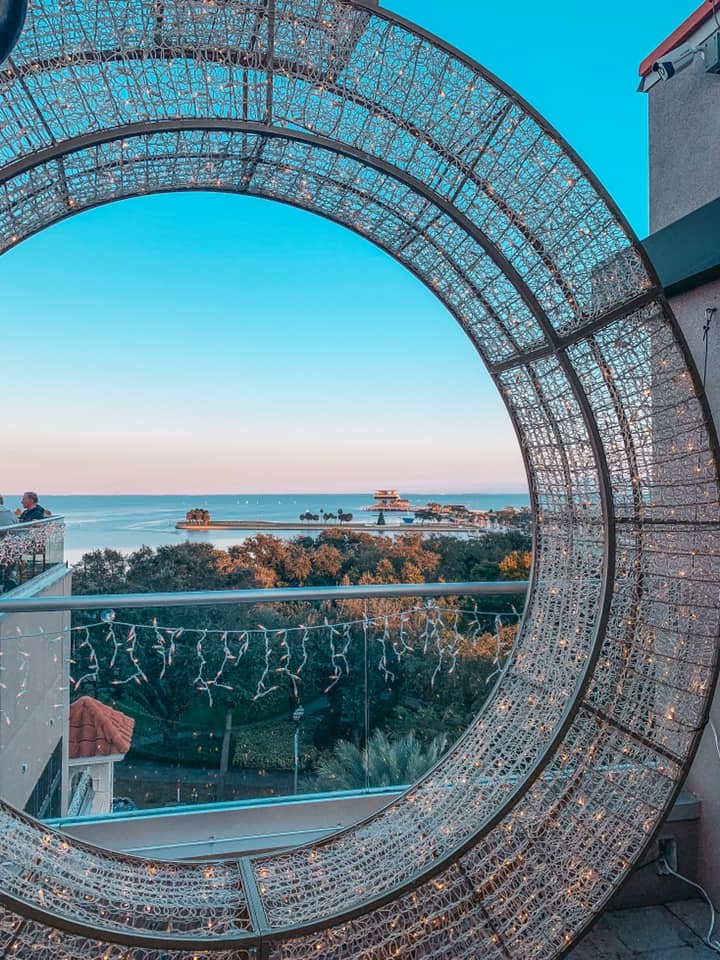 Check out Dunedin
A short, 20-minute drive from Clearwater Beach and having a quainter, chiller vibe, downtown Dunedin is home to cute shops and restaurants. If you're into breweries, do their Brew Map and walk to all of their fun breweries.
Once you're done exploring the downtown area, make sure you check out at least one of the beaches of Honeymoon or Caladesi Island. Honeymoon Island State Park has some of the most beautiful sunsets, and Caladesi Island is a must if you enjoy shelling.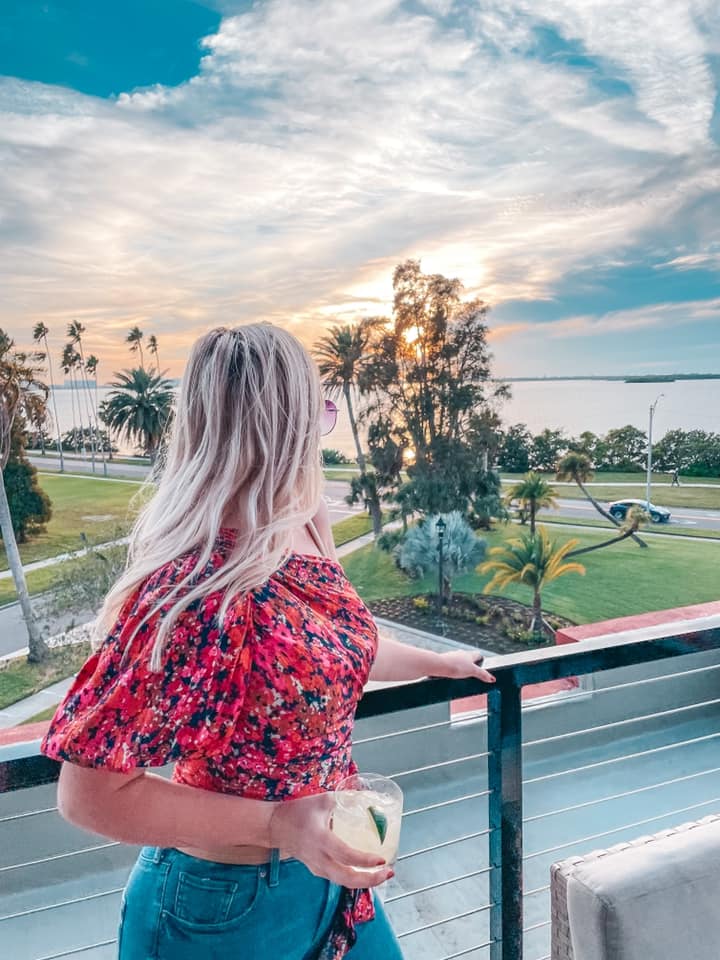 Busch Gardens
Roller coasters, water rides, and animal attractions— I love Busch Gardens because it's so much more than just an amusement park. It also doubles as a zoo with over 200 species of animals! And my favorite inclusion of the park is the Serengeti Safari Tour, which you absolutely must do. You get up close and personal with African wildlife and even get to hand feed giraffes!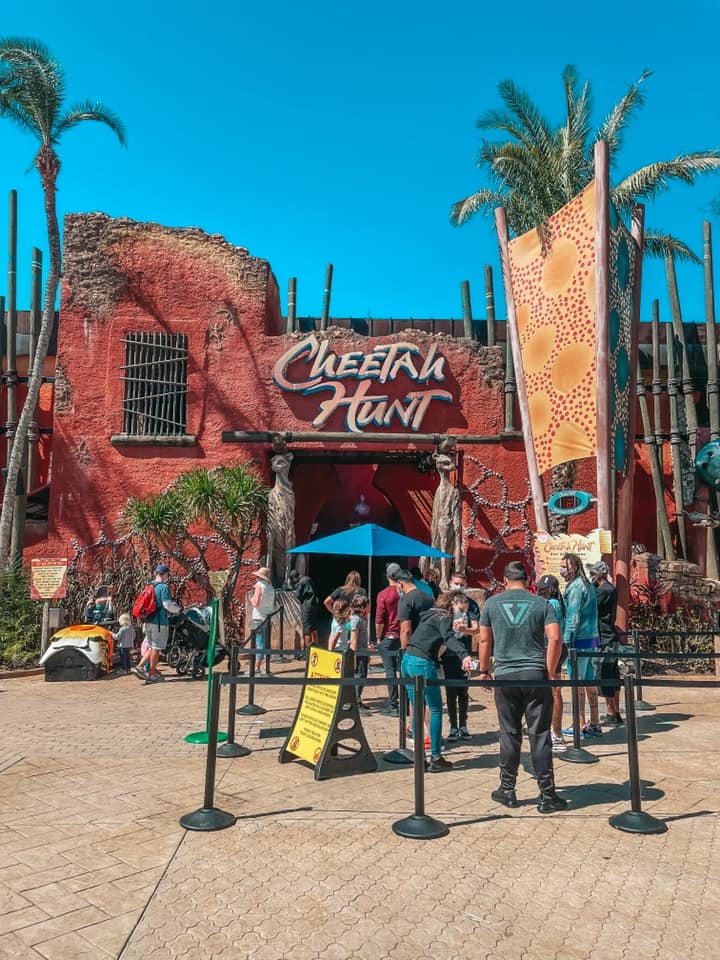 Adventure Island
If water parks are your thing, check out Adventure Island for its waterslides, pools, and lazy rivers. The water park is conveniently located right across the street from Busch Gardens.
Family-friendly things to do in Clearwater Beach
Looking for a quick list of things to do in Clearwater Beach with the whole gang? Here's my roundup of all of the activities and destinations I've talked about in this guide that are perfect for families:
Clearwater Beach Escape Room
Dali Museum
Check out a sporting event
Boat tour

Especially A Boat Day, Captain Memo's Pirate Cruise, Mega Bite, Little Toot, Encounters with Dolphins, and Sea Screamer (age dependent)

Go fishing on a deep-sea fishing charter or off Pier 60
Kayak
Parasail
Sand Key Park
Pier 60
Cruise around the beach in a fun ride
Mini-golf
All of the rental-car day trips
I think that I've left you with enough ideas in this ultimate guide to Clearwater Beach to fill up your vacation itinerary! Let me know your favorite adventures from the list!
Where to stay in Clearwater Beach
If you want to stay on Clearwater Beach, most of the time it's not going to be super cheap. Check out Booking.com for the best deals for the time you plan on visiting! Most places have free cancellations when you book through booking, which is why I use them frequently.
Personally, I love IHG brand hotels. I have the IHG credit card which has some great perks including frequent free upgrades. The Holiday Inn on Clearwater Beach is not the most updated hotel, however, it is one of the more affordable options.
It has amazing views, a bomb restaurant that is inside the hotel, and if you have children kids eat free off of the kids' menu! The restaurant (Jimmy's Fish House) is right on the water and does a fun sunset celebration each night where adults get a free sunset shot and everyone toasts together! If you like Bloody Mary's you have to try theirs!
They also have a lovely pool area, with a fun tiki bar! This hotel is super family-friendly and in a good location.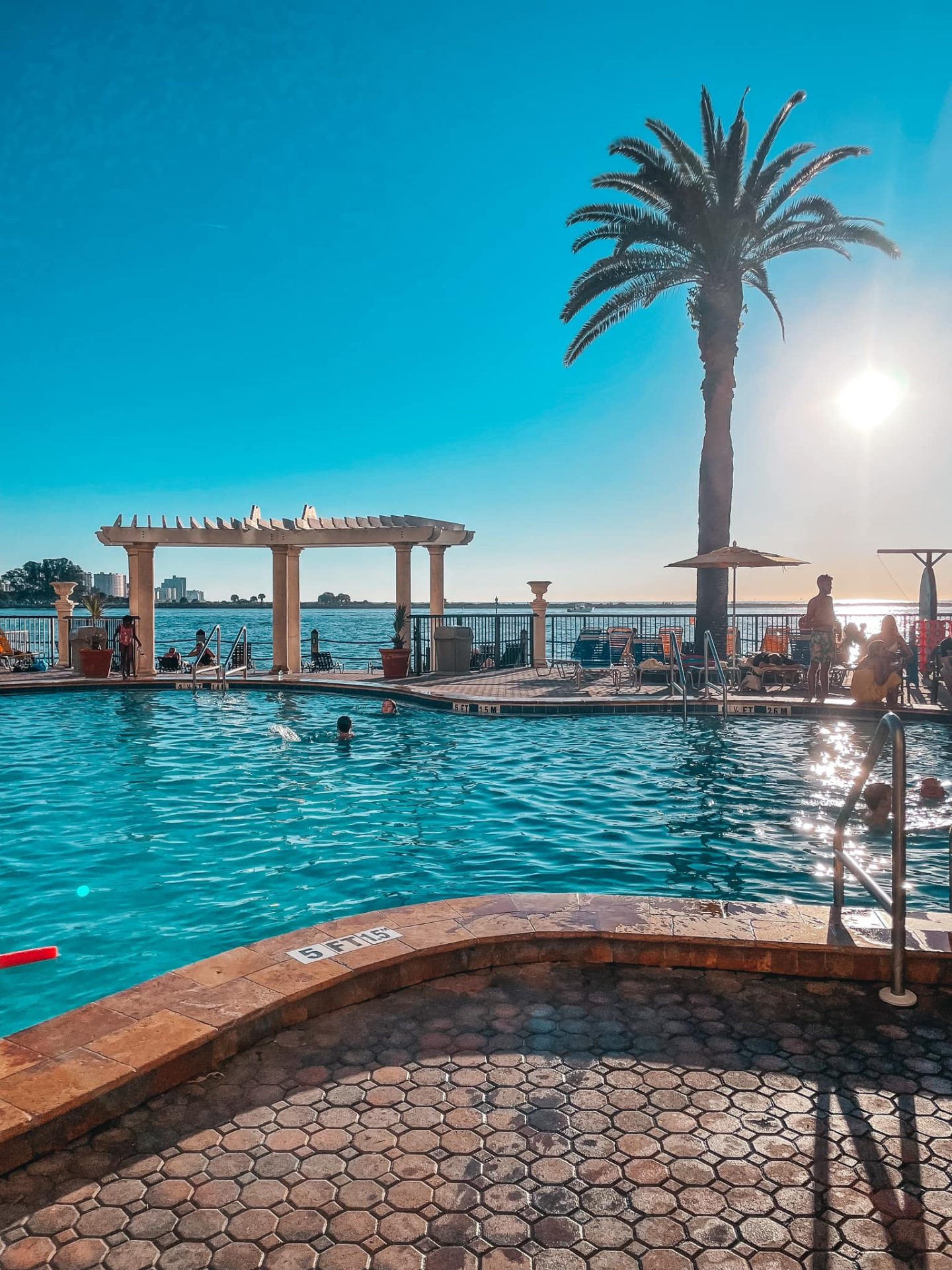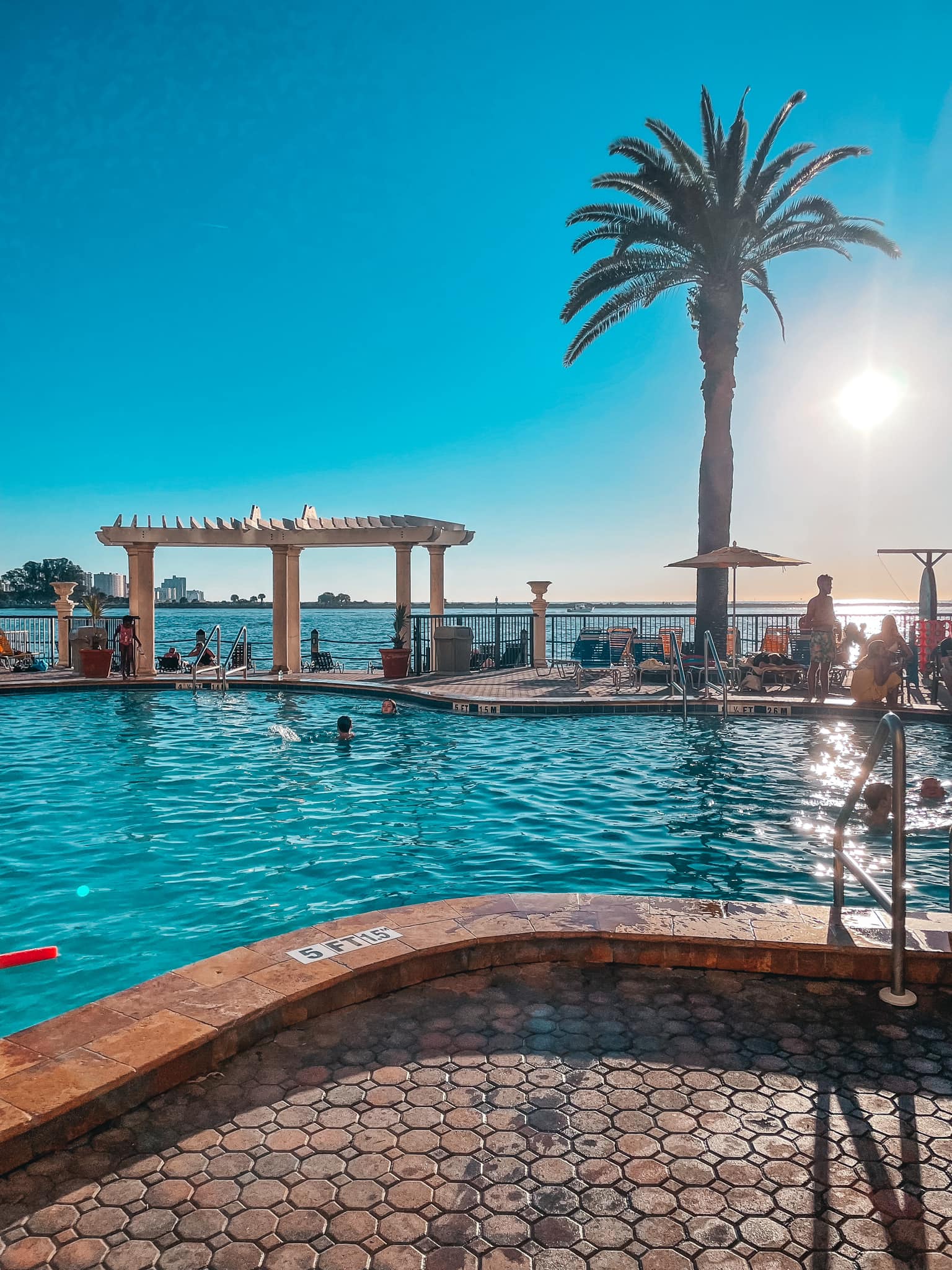 Be sure to check out my other Florida posts, and follow me on Instagram @guidedbydestiny for more Tampa Bay and travel content! And if you enjoyed this post don't forget to like and share 🙂