This post contains affiliate links which means that I will make a small commission if you purchase a product after clicking on any of them, at no extra cost to you.
Located on Florida's stunning Gulf Coast, Sarasota is a vibrant and picturesque city that's rich in history and culture. With its white-sand beaches, warm weather, and thriving arts scene, Sarasota has something for everyone. Whether you're an art lover, a foodie, or an outdoor enthusiast, this city has plenty of attractions and activities to keep you busy.
I will say my weekend getaway to Sarasota really changed my mind. (Add it to the list of Florida cities I've underestimated, sorry Lakeland and Dunedin!) Sarasota is such a beautiful area, and I can't wait to tell you why Sarasota is officially one of my favorite weekend trips from Tampa and top Florida bachelorette party locations in this visitor's guide!
Fun things to do in Sarasota, Florida
Check out the painted bicycles around the city
That sounds odd, right? What do I mean check out the painted bicycles? Well, once you begin walking around Sarasota you may begin to notice some oddly painted and uniquely decorated bicycles in truly random spots.
I love when cities have quirks like this and knew there had to be an explanation behind these random bicycles— and of course, there was! This is definitely one of the quirkiest things to do in Sarasota.
You can read the full story here, but long story short, Dr. Nik is a bit of a packrat who began hoarding bikes. He would add funky touches to them (one had 44 flamingos on it) and noticed one day when he locked it up how much joy and interest it brought people. So in the last 10 years, he's placed about 36 of these fun, uniquely decorated bicycles throughout Sarasota!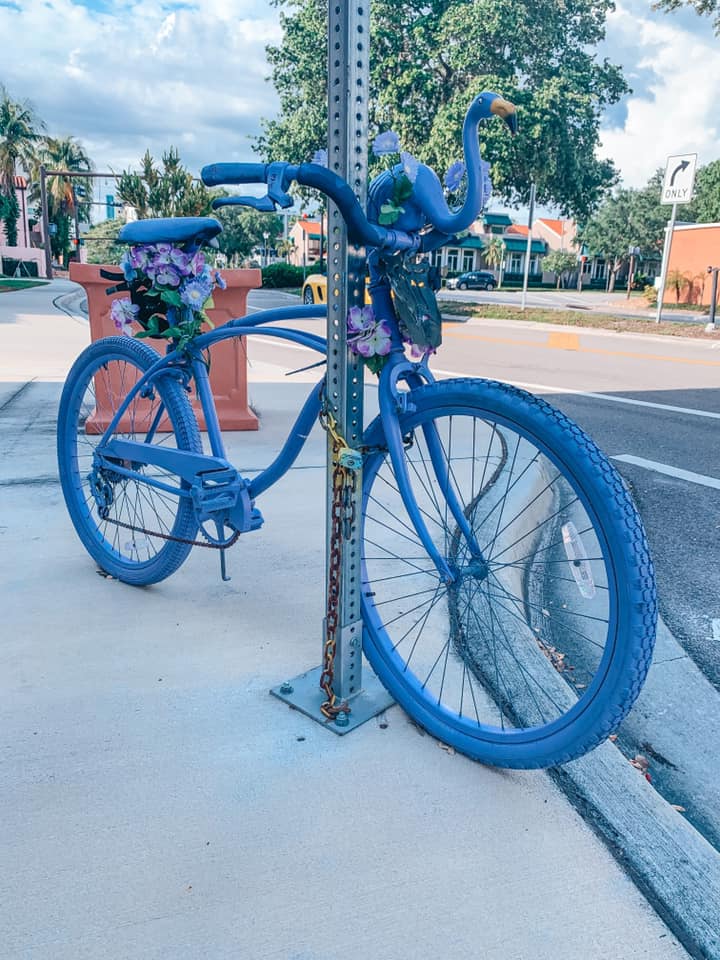 Ca' d'Zan & The Ringling
This is one of my personal favorite things to do in Sarasota. There is so much beauty just in exploring the grounds here. You will undoubtedly be in awe as you explore the gardens and the area surrounding Ca' d'Zan (John and Mable Ringling's insane mansion) and the museums. Ca' d'Zan has Venetian-inspired architecture that will truly make you forget you're in Florida from looking at it— there's even a dock for a gondola in the back.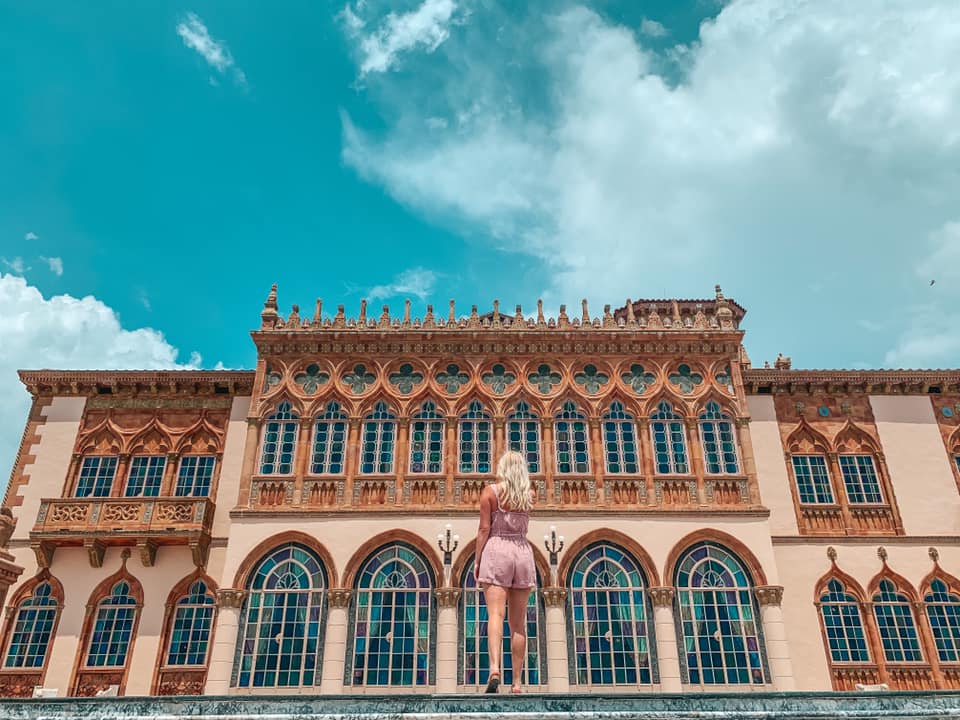 We opted to just explore the grounds and Bayfront Gardens since we had limited time in Sarasota, and exploring that alone took up a good amount of time. Admission to the grounds costs $5. If you have the time, I recommend checking out the museums.
Admission is $35 and includes entry to the Museum of Art, Circus Museum, and Bayfront Gardens as well as entry to Ca' d'Zan. If you don't care about entering Ca' d'Zan, you can do a $25 admission.
Get the best views of Sarasota on a trolley tour
🚋 Go on a sightseeing trip and see the main attractions including the Ringling Museum and College, Selby Library, and the Sarasota Opera House.
Book your tour here!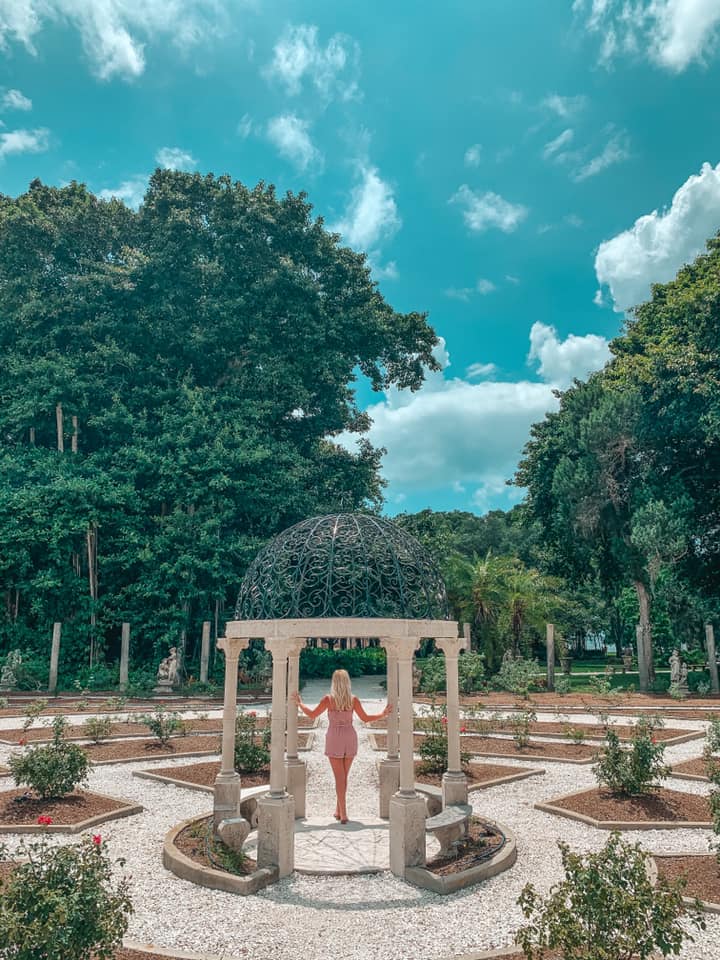 Pro tip: on Mondays, the Museum of Art and Bayfront Gardens are free to the public!
St. Armands Circle
St. Armands Circle is full of boutiques, specialty shops, galleries, spas, restaurants, and more. I'm not one to do much shopping when I'm on vacation, but this place was on everyone's Sarasota must list, so I had to check it out. It was an absolutely beautiful shopping area, and we definitely enjoyed strolling around there. We stopped in a few shops and grabbed a drink to enjoy on the second level of Tommy Bahama!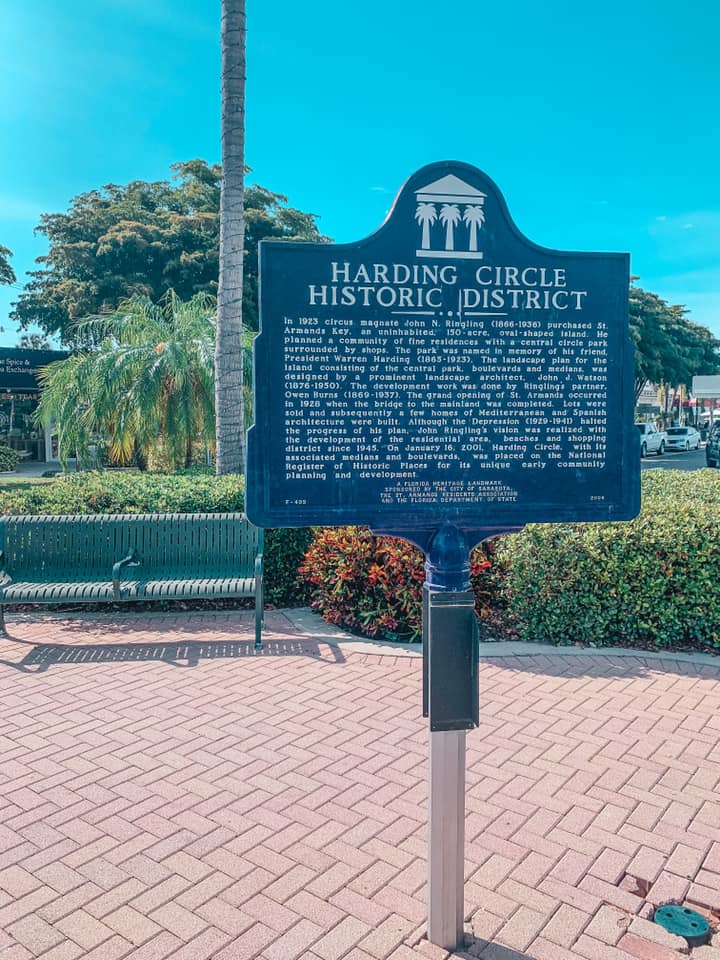 Marie Selby Botanical Gardens
I've been to quite a few botanical gardens, and this was definitely up there with my favorites. This is the first that I've gotten to experience that was right on the water! I loved being able to walk through and get some occasional views of the bay.
Like museums, Marie Selby Botanical Gardens will often change up its exhibits, so even if you've been before, it may be totally different if you choose to go again (we will definitely be going back). When we went, they had a Dali exhibit, and it was AWESOME. We have the Dali Museum in St. Pete, and I find his work to be so interesting, so I loved that they had this exhibit.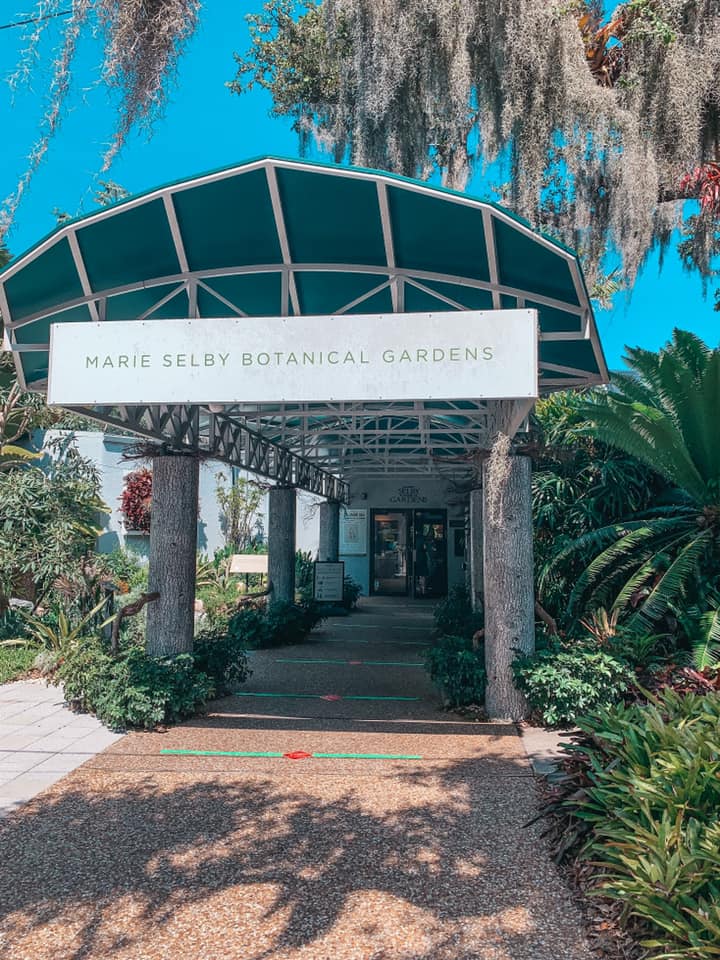 Myakka River State Park
It began to rain after we left the gardens, so we didn't get to check this spot off, but we will next time. To enter, it costs $6 per vehicle ($4 single occupant vehicle) or $2 for pedestrians. Myakka River is the only river in Florida to be designated a Florida Wild and Scenic River.
You can rent bikes, canoes, or kayaks, or just enjoy some trails on foot. They also offer boat and tram tours, where you may just be lucky enough to spot a gator while learning about the area from your guide. No matter which way you choose to explore this beautiful park I am sure you will be in for a treat. I will be reporting back once I finally get the chance to check this spot out!
| Tip
🚲 Explore Myakka State Park on a guided e-bike safari. Unforgettable experiences and photos from the best views are guaranteed!
Spend a day at Anna Maria Island
Ugh. You guys. AMI deserves a whole post to itself, but if you are just in the area because you are visiting Sarasota, you really should try to spend a day (morning and afternoon at least) exploring this oasis.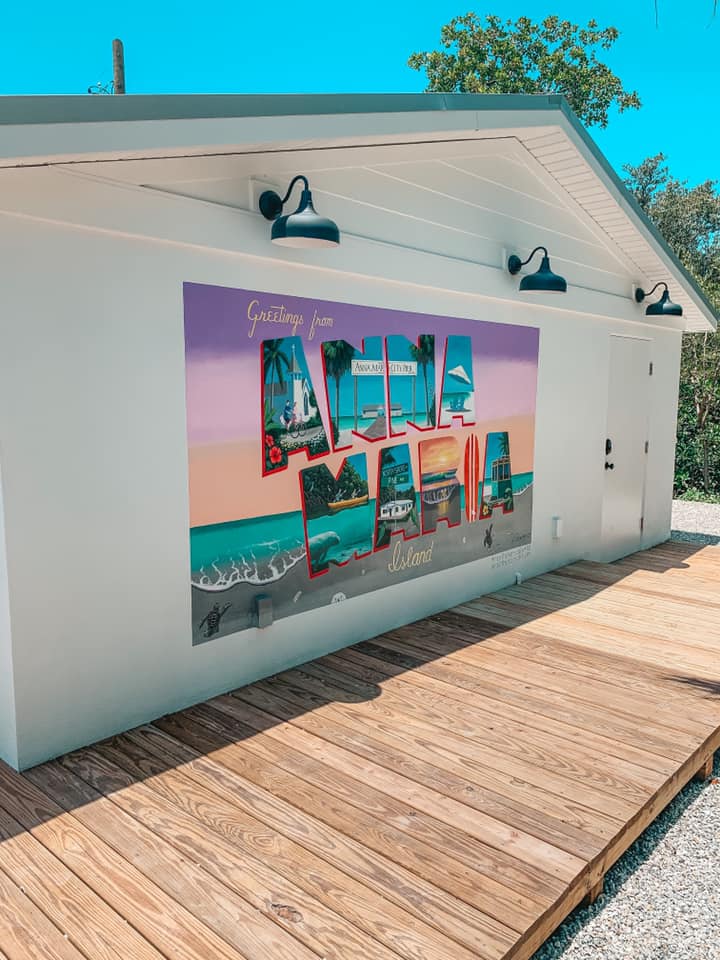 A few of my favorite activities: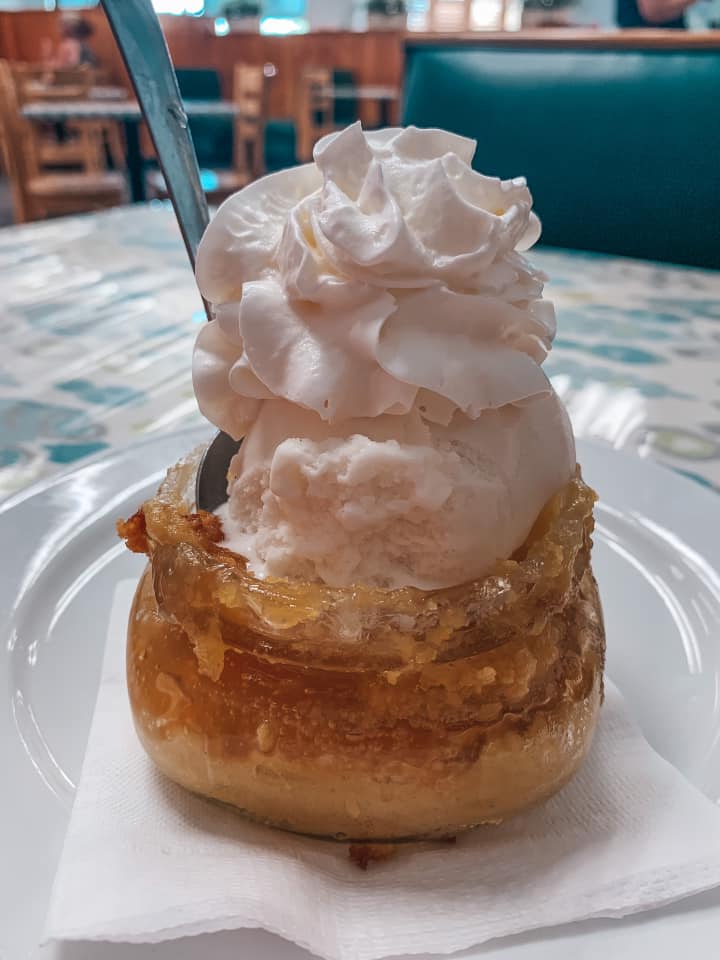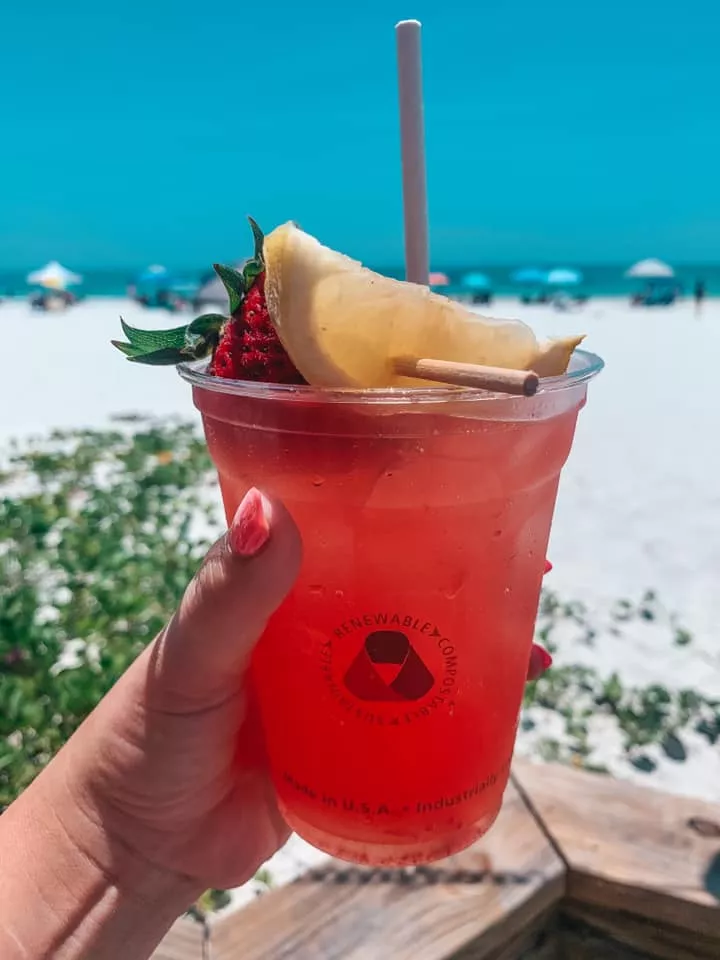 If you want a nice dinner while you're in the area, Beach Bistro sounds and looks PHENOMENAL. This too was closed while we were there so we didn't get to experience it, but I am dreaming of the day when we do get to check it out. It's more than just beautifully-plated dishes here.
The outdoor seating is right on the sandy beach and is done so elegantly. It's a setup for what I'm sure would be a truly romantic evening. So if that's a vibe you're looking for, you're going to want to make reservations here.
| Tip
🥗Don't miss a chance to feel like a local – join this small-group tour and follow your guide to popular Sarasota restaurants to sample the unique culinary offerings.
Downtown Sarasota restaurants and bars
Buddy Brew
I will scream it from the rooftops until my voice is gone: If a city has a Buddy Brew, you can bet your bottom dollar I'll be stopping there! It's some of the best coffee in the Tampa Bay Area, and the shops are always adorable!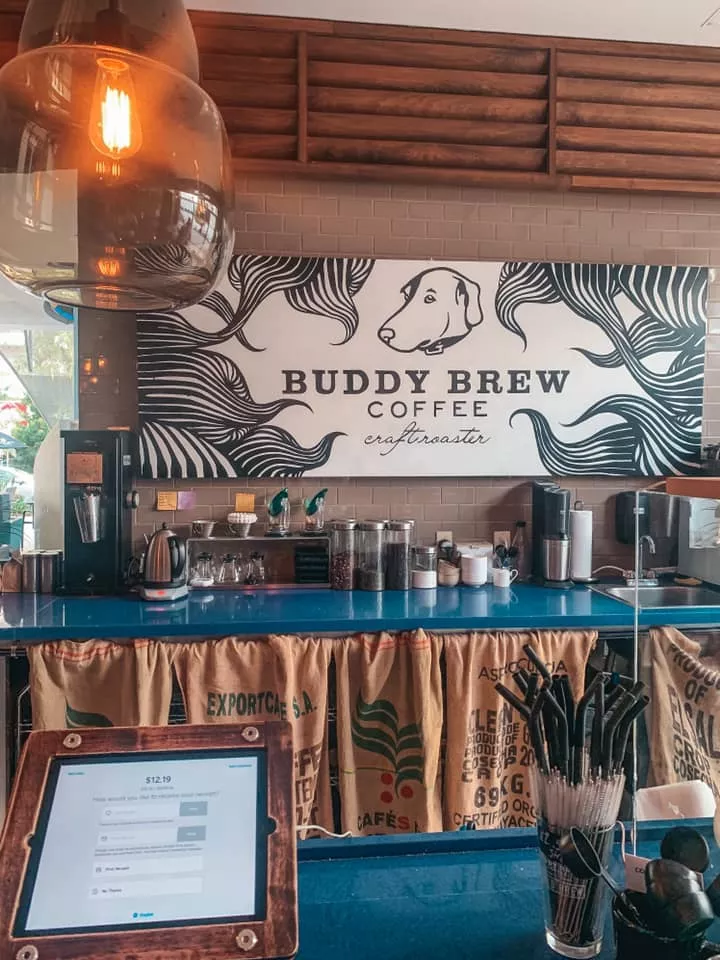 Some other cute coffee spots that I want to try next time: Perq Coffee Bar and Project Coffee (which is 100% vegan!).
Owen's Fish Camp
Do not leave without stopping to check this downtown Sarasota restaurant out. Food, history, and my Achilles heel— oyster shooters! Step to the back patio to enjoy the fun environment! You'll find eclectic and funky décor, fresh seafood options, and oftentimes, live music.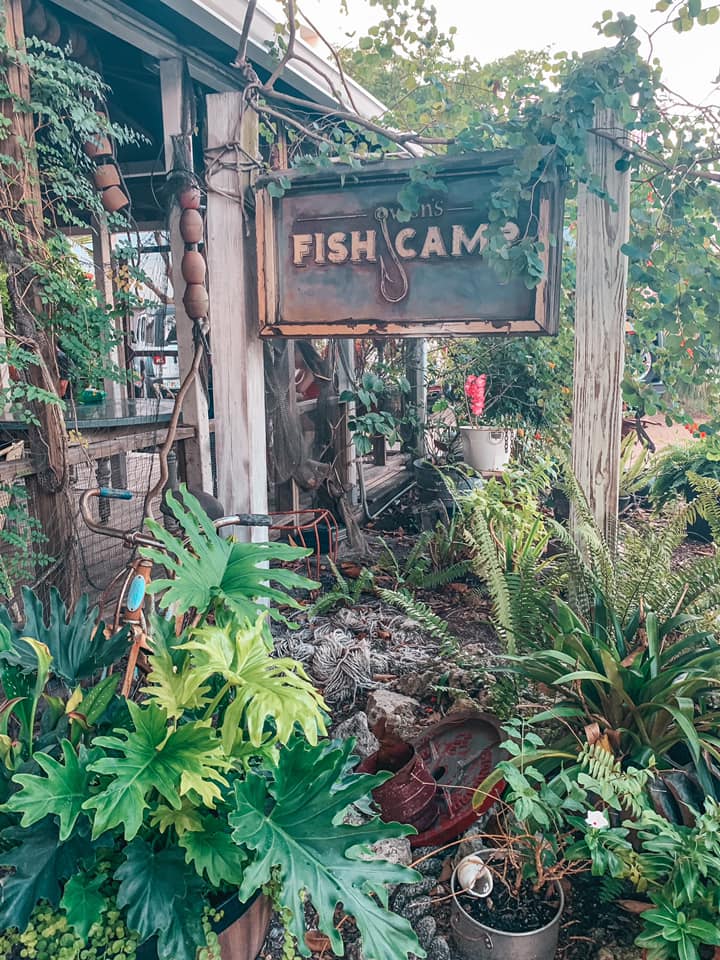 We had Murphy's Famous Bloody Mary Oyster Shooters to start and then moved on to oysters Rockefeller, their pan-fried crab cake, and garlic snails with chorizo, sweet wine, and grits. I'm not going to lie, snails are not my thing— but Remi has not stopped talking about this dish and it's been seven months since we were there. I loved the oysters, and the shooters were a fun, interesting take!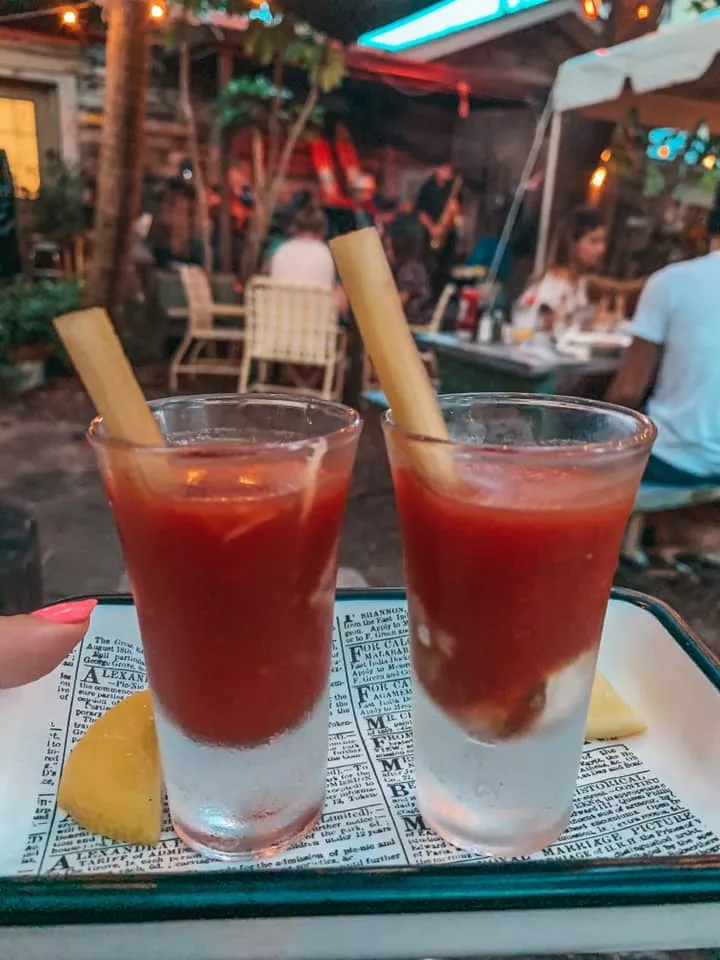 You'll notice a large banyan tree when you walk in— that tree was given to Sarasota developer Owen Burns by Thomas Edison! The staff is more than happy to give you a quick history lesson about the place on your way out (or in)!
Duval's Fresh. Local. Seafood.
If you're wanting to get in a nice dinner during your trip, Duval's will definitely provide that with their indoor or outdoor street dining. We went outdoors to enjoy watching the nightlife occurring in the downtown area, plus the weather was perfect!
Usually, only a couple of menu items stand out to me, but that was not the case here— everything sounded SO good! We ended up sharing the Duval's Seafood Sampler which included lobster, scallops, and shrimp (all cooked to perfection)! I really enjoyed the service, meal, and ambiance.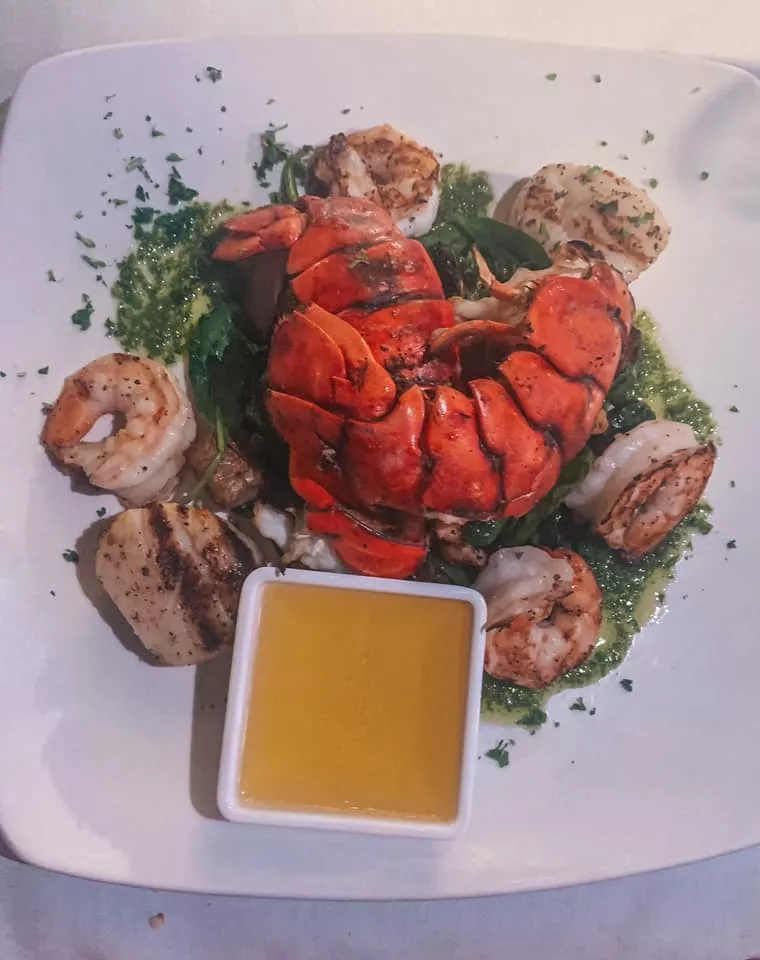 Jack Dusty
Another suggestion if you're looking for a nice dinner is Jack Dusty, which is located inside the Ritz Carlton. So even if you can't stay there, you can at least enjoy a meal there! We didn't get to check it out this time, but it's definitely on our list for next— craft cocktails, coastal cuisine, and waterfront views can all be found here!
The Reserve
This place was so neat! This venue really had such a variety of offerings, including a restaurant, bar, coffee shop, wine shop, bookstore, and Airbnb! We stopped here for a glass of wine and a beer and enjoyed them on their beautiful outdoor patio.
They have open mic nights on Fridays and live music on Saturdays as well as a Sunday brunch. I think there is definitely something for everyone here, so make sure to check it out!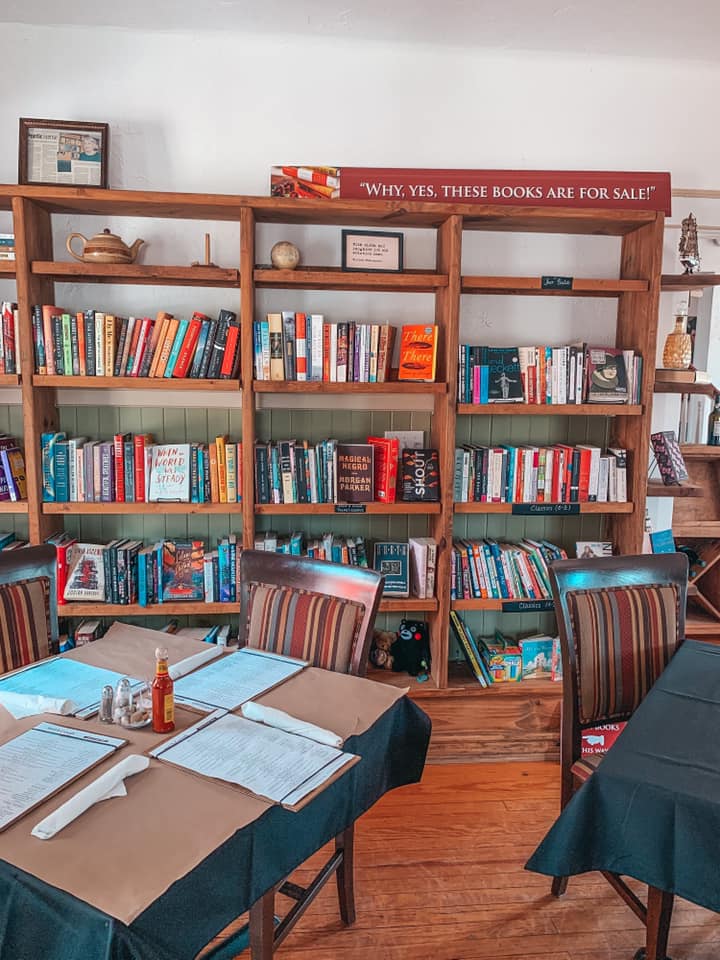 Perspective 
Rooftop bars are a must for me, and Perspective did not disappoint. Beautiful city views, bomb cocktails, AND frose! I don't know about you, but drinking frose at a rooftop bar is an absolute mood for me.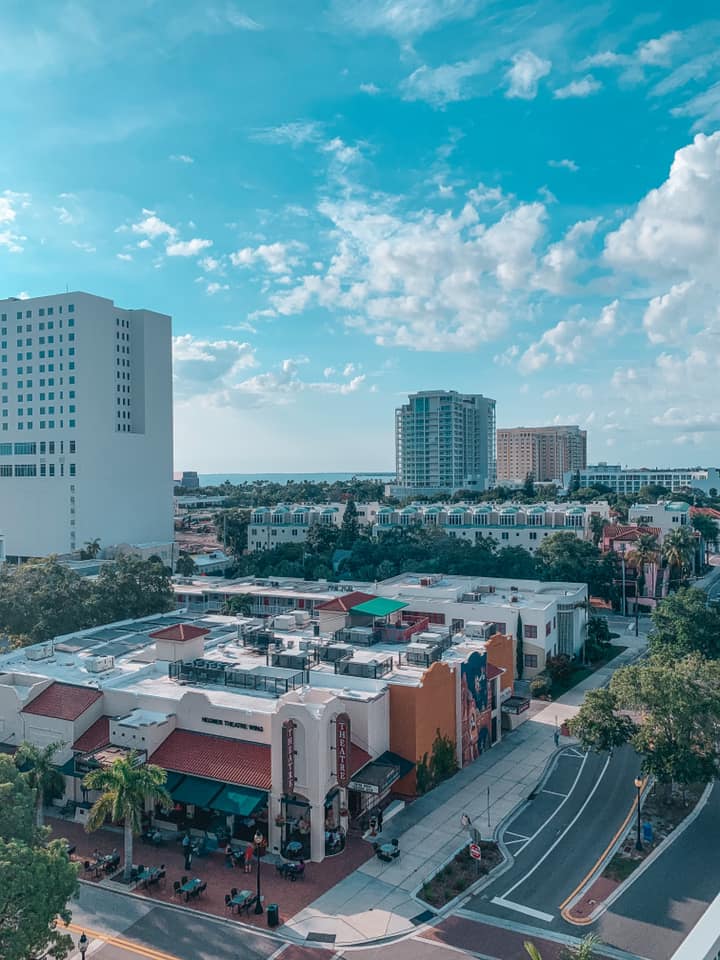 Smokin' Joes Pub
This is just a fun place to end the night. We came here to play some games (they have pool and darts) and listen to good music. It's a super fun environment, and BONUS, they have all sorts of drink specials throughout the week!
Pangea Alchemy Lab
If you know me, you know that I LOVE speakeasies— they're my jam! So I was beyond excited when I read about Alchemy in Sarasota. However, they were unfortunately closed at the time we went. But if you look at their image gallery on Google, you'll have every reason you'll ever need to add this place to your list of must-stops in Sarasota!
Let me help you pack with ease! Check out my Amazon storefront for some of the beach essentials you should have on your Florida packing list!
Where to stay in Sarasota, Florida
Sarasota Modern
There was so much to love about this luxury boutique hotel. The price was midrange, but you can also use Marriott points to cover it (that's what we did)!
The interior was super sleek and had that clean, bright look, which I absolutely loved. They have an awesome pool and jacuzzi with a pool bar.
The location was just a couple of blocks away from the downtown area, but the walk was really enjoyable! If you don't want to walk, much like the Fenway Hotel in Dunedin, they offer complimentary bikes you can take downtown!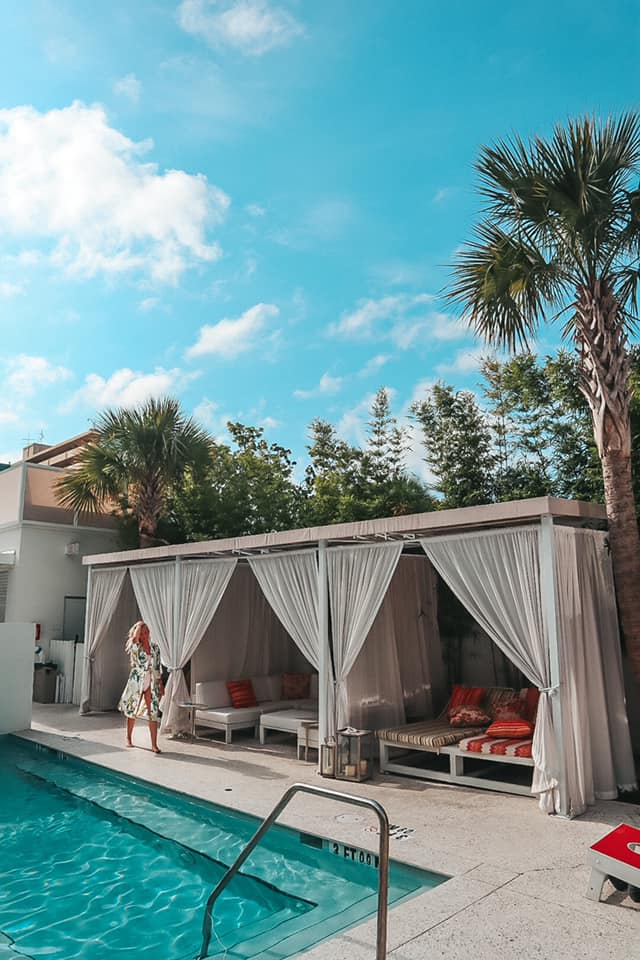 If you're down to splurge, the Sarasota Ritz Carlton is an absolute DREAM, and it's Gulf front. I don't even know how to describe this luxurious beaut, but see for yourself here. If you have a Bonvoy card you can stay here for just 50,000 points on some nights though! Even if it's just a 1-night experience it'd be worth it.
✨TREAT YOURSELF TO LUXURY✨
Experience the finer things in life at the Sarasota Ritz Carlton
Click herе to book
If you want to stay on the beach, you can get a room at the Holiday Inn on Lido Key, but it will most likely be a little more pricey than the downtown hotels. If you have an IHG rewards card you can also book this hotel with points!
Check out my ultimate guide to travel credit cards to explore all of the perks and learn how to get free nights and free flights!
It could be worth it to stay part of your trip on the beach, and part of it downtown, because both areas need to be explored! They are just a short drive from one another though.
I hope this post convinced you that Sarasota has a lot more to offer than what may meet the eye! There are plenty of amazing restaurants, bars, and fun things to do in Sarasota!
I know I'm already excited to go back!
If you do any of these suggestions, tag me on Instagram with the hashtag #guidedbydestiny so I can share it with my followers 🙂
Check out some of my other local guides before you go!
20+ free things to do in Tampa