This post contains affiliate links which means that I will make a small commission if you purchase a product after clicking on any of them, at no extra cost to you.
St. Petersburg is part of the Tampa Bay area located on the west coast of Florida and is a trendy part of the state, full of fun activities, sunshine, and outstanding eateries.  Given the nickname St. Pete by locals, this city has so much to offer everyone. No matter what type of cuisine you're into, this town has something to offer every appetite. Here are some of the best brunch spots to try in downtown St Pete: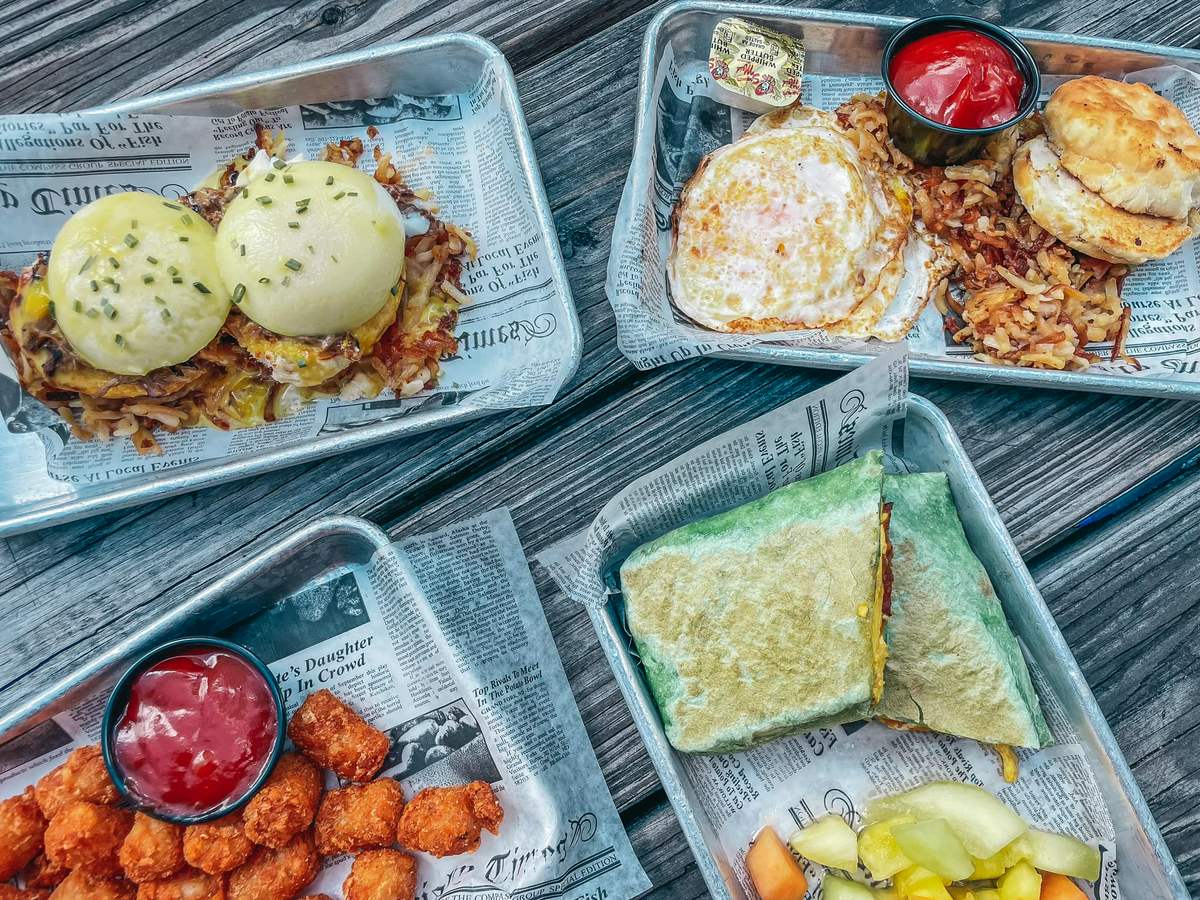 Best brunch spots in downtown St. Pete
1. The Avenue 
Located in the effortlessly cool Waterfront Arts District in St. Pete, The Avenue is the best neighborhood hangout and one of the best bars in St. Pete. It has over 30 TVs and 2 bars, with a great weekend brunch. Come with friends or bring your family. It doesn't matter as this restaurant has enough space for everyone to be happy.
All brunch options come with the choice of tots or fruit for a side, so you're off to a great start. Some of the great food offerings include breakfast tacos with peppered bacon, smokin' hash, and waffles with caramelized banana and fresh berries.
Of course, the best thing about brunch at the Avenue is the bottomless bloody mary and mimosa for $20.  Other unique booze options include Froze and Chambong, a bong filled with Champagne.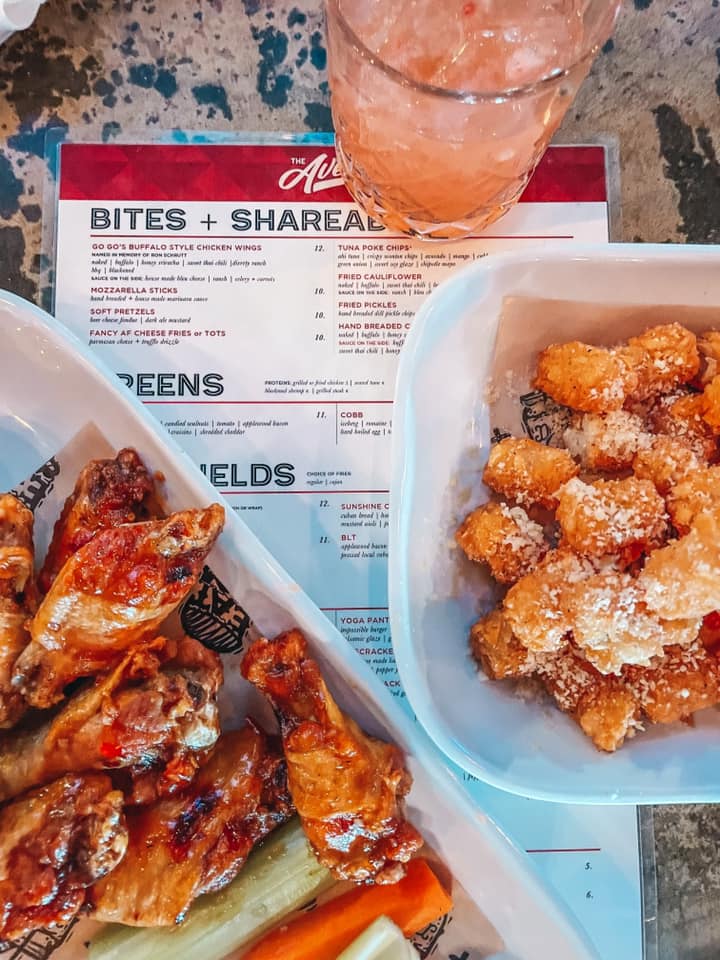 2. The Library
The Library not only tops the list for one of the best brunch spots in downtown St. Pete, but it's also one of the best coffee spots! Serving up my favorite, Buddy Brew.
This spot looks precisely like it sounds. Once you take a step inside, you will feel like you are inside of a luxurious library.  This fancy eatery has outdoor seating and a fantastic brunch menu to satisfy the hungriest customer. So make sure to stop by this well-known spot for a bite to eat!
Known for its specialty cocktails like "The Bookmark" and "The Librarian," this restaurant's creativity also extends to its brunch menu.  Guests can enjoy breakfast favorites such as cinnamon buns, their seasonal pancakes, or my personal favorite, their French toast!
You really can't go wrong with this brunch spot in downtown St. Pete. Their sister location Oxford Exchange in Tampa is also worth checking out! Both are excellent locations for a bachelorette party or birthday brunch.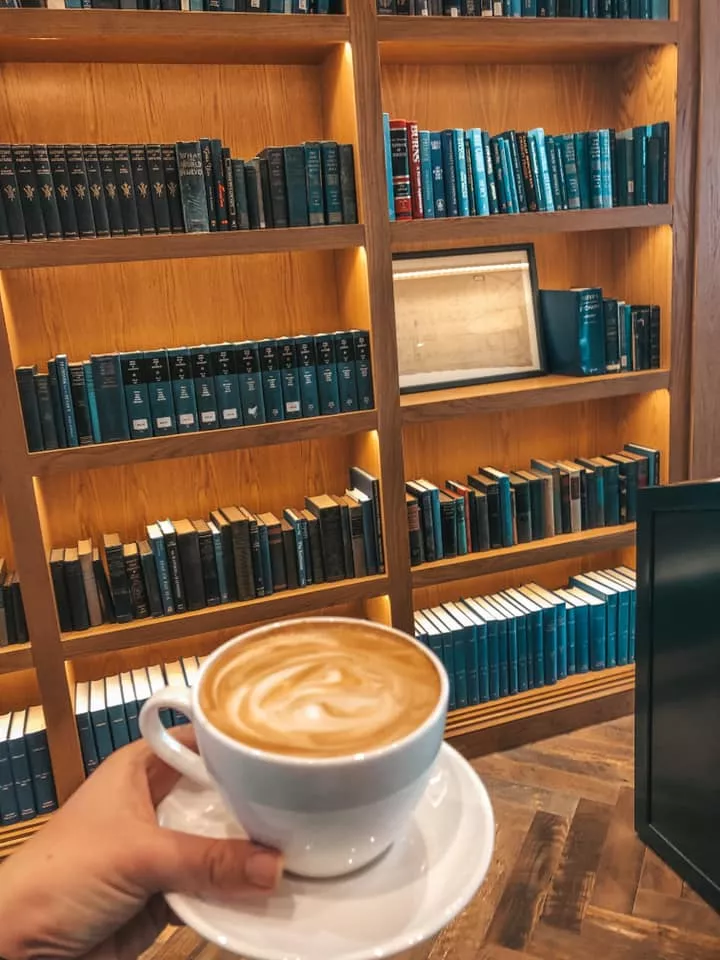 3. Oak & Stone
Oak & Stone provides craft beer (check out St. Pete's best breweries if that's your thing), artisanal pizza, and even offers guests the chance to create their own experience with the area's largest self-serve brew wall. In addition, this unique spot offers Sunday brunch from 11 am – 3 pm and has an abundance of drink options to satisfy everyone in your group.  
Oak & Stone offers bottomless mimosas and bloody marys for $15.  In addition, they offer growlers to go, wines by the glass, and an abundance of craft cocktails ranging from $9 to $10. Another fun option is their bourbon flights at $25, where guests can create their flights by choosing four whiskeys or bourbons.
The most popular breakfast here is the Eggs Benny Pizza which includes garlic sauce, white cheddar, Taylor pork roll, crispy bacon, caramelized onion, sunny eggs, and house holland! I personally cannot resist their cauliflower and buffalo pizza!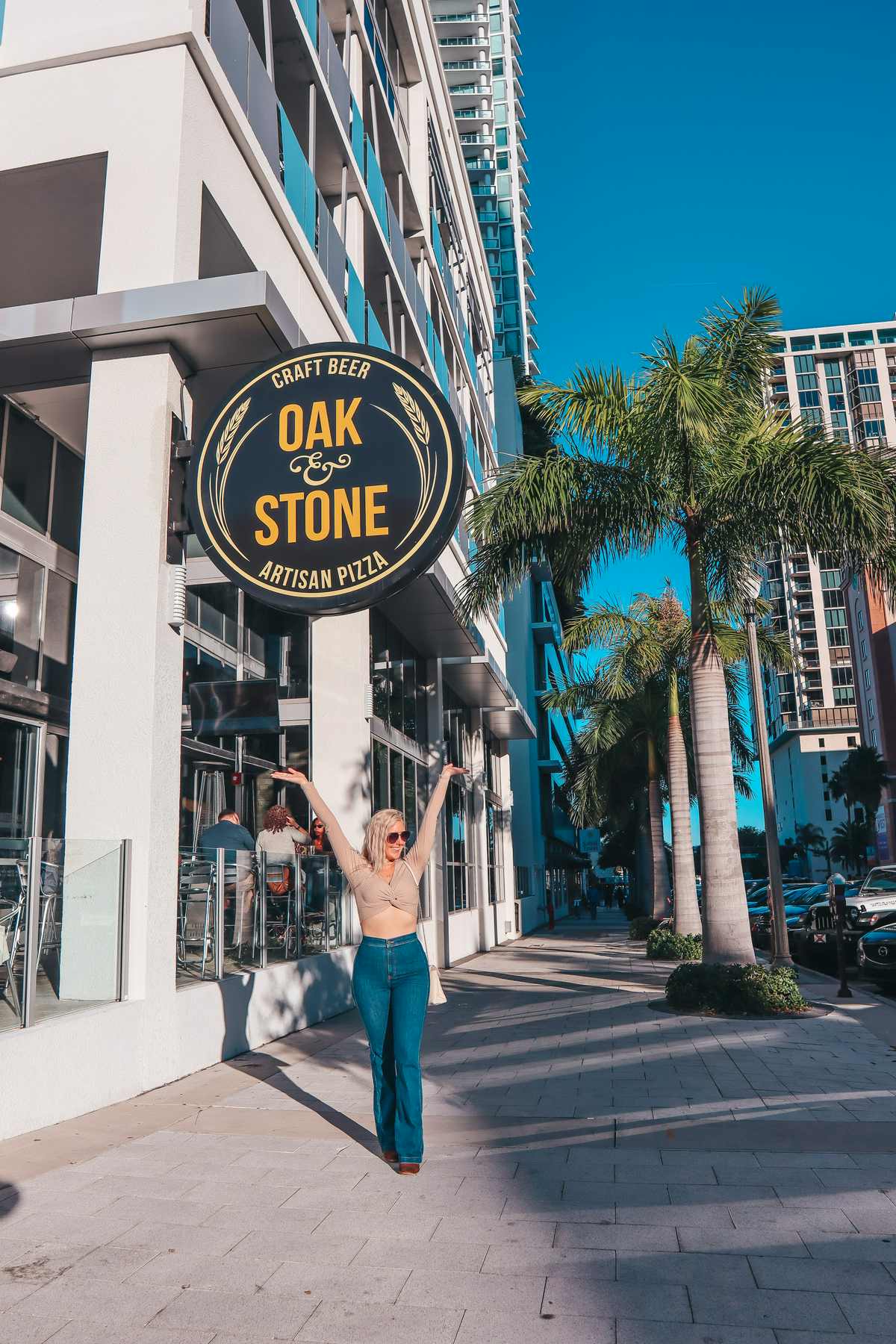 4. Red Mesa
If you're craving Mexican food and want an excellent place for weekend brunch in downtown St. Pete, Red Mesa is the perfect spot to pick!  This restaurant won a TripAdvisor Travelers' Choice in 2021 and is much loved in the area for its great egg dishes mixed with the right amount of spice.
Honestly, the flavors of the dishes here blow my mind every time! The huevos rancheros are my go-to, but the brunch tacos, tamales & eggs, and chicken & churros are also popular dishes. We were lucky enough to visit when the Habana breakfast sandwich was being offered as a special and OH MY GOSH. The flavors and textures were just absolutely heavenly!
Red Mesa also offers a ton of drinks including $5 bloody marys and mimosas, or an $11 mega-mosa, a much larger size.
Or switch things up and go with a michelada! Which is your choice of any beer with a sangrita, lime juice, and house seasonings.  It comes served on the rocks with chili salt on the rim. So if you're looking for unique flavor and fun drinks, this brunch spot is a must!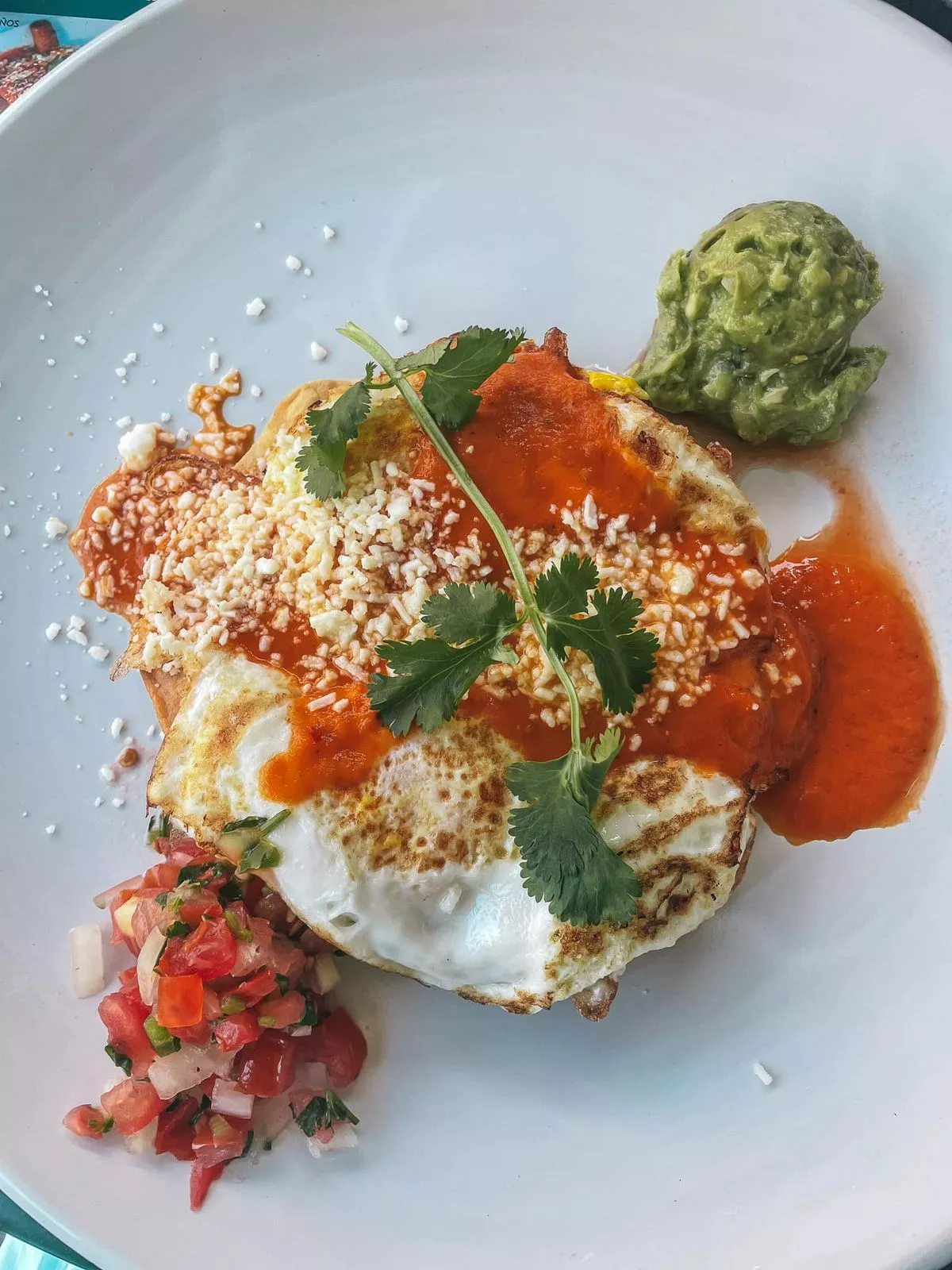 5. Datz
Datz is all about comfort food and American favorites, located in a typical restaurant and bar setting. However, this laid-back atmosphere comes with an extensive brunch menu and sharable drink pitchers, making it the perfect brunch location to take your friends. You can't go wrong with this spot for brunch in downtown St. Pete.
Some of the best brunch cocktail options include the sharable mimosa pitchers, champagne supernova, and the instaworthy prickly pear mimosa.
Some fan-favorite food options include the Nashville chicken doughnut, chicken n' waffle Benedict, monkey bread, and shrimp n' grits. You can also order other house favorites for brunch, such as Datz's famous stuffed meatloaf, as seen on the travel channel, and the cheesy todd as seen on Good Morning America.
6. Urban Stillhouse
This large and luxurious spot, owned by Horse Soldier, is an elevated experience where you can dine in an upscale eatery located in St. Pete.  Urban Stillhouse offers a great experience to all guests, but be sure to make reservations.  Most guests come for drinks and enjoy the food, but it all has fantastic reviews.
The first item listed on the brunch menu is the Horse Soldier Bourbon tasting flight for $20, where you can try all three of the bourbon offerings.  There are also six unique brunch cocktails for $12 that come in really unique flavors.  For example, the "hair of the dog" is bacon fat-washed Horse Soldier Bourbon, house-blended bloody mix, and bacon.
Food favorites here include Waygu beef carpaccio, pumpkin waffle, smoked salmon frittata, and Stillhouse wood-fired burger. Anything with their delightful fried chicken (and homemade pickles) is a win in my book!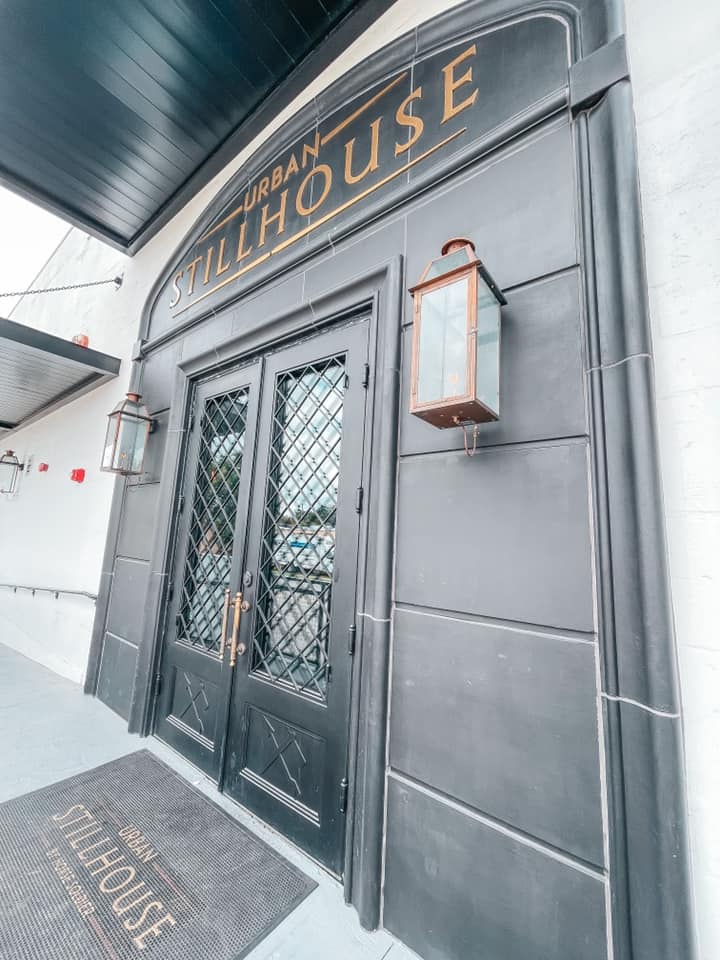 7. The Oyster Bar
Fresh and raw is what The Oyster Bar is all about. With abundant outdoor seating, this is a great place to enjoy an early afternoon with your friends or family while appreciating all the great food The Oyster Bar offers. 
For $20, guests can get bottomless mimosas, and for $25, bottomless bloody marys.  The featured menu items include crab cake benedict (my personal favorite), shrimp and grits, and fluffernutter French toast. The raw bar and oysters have several offerings, including boutique oysters. Plus, you already know how I feel about their oyster shooters!
This is the perfect spot for brunch in downtown St. Pete for those who love seafood.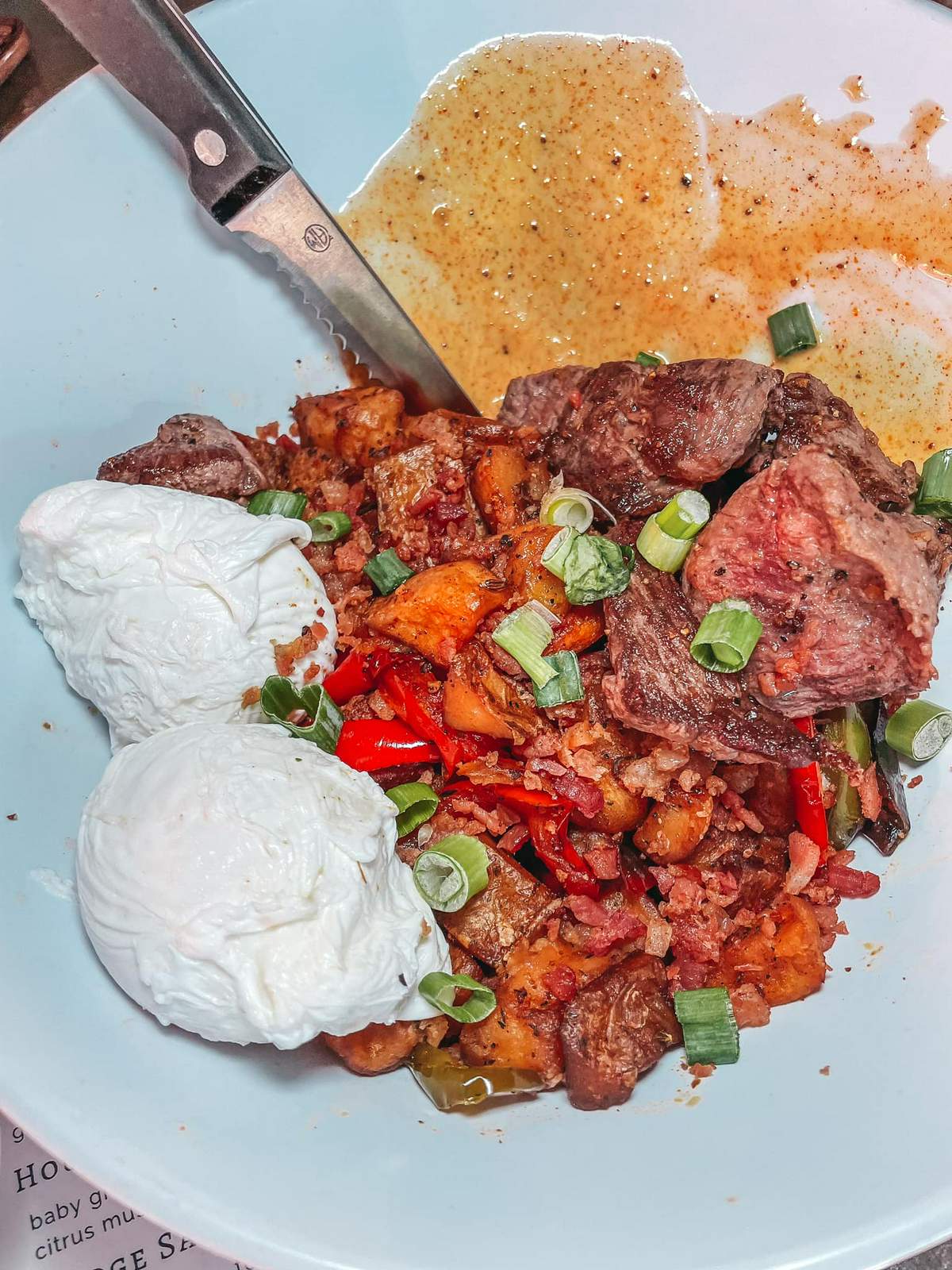 8. Noble Crust
Noble Crust effortlessly combines fine Italian recipes with Southern ingredients in their great restaurant that features local seasonal vegetables.  Look no further than this great restaurant if you want a brunch spot with a great outdoor patio to enjoy your mimosa bucket on.
That's right, start your brunch off right with a mimosa bucket which includes two bottles of Zonin Prosecco and two bottles of Charles De Fee Cuvee alongside orange juice, peach juice, and fresh strawberries.
Well known for their brunch pizzas, guests can order the brunch pizza that features pancetta, spinach, tomatoes, and two sunny-side-up eggs. I fell in love with their short rib benny and strawberry cheesecake French toast.
The restaurant menu has some seasonal alterations because they focus on using fresh in-season ingredients. At one point peach cobbler French toast was on the menu, and I will most definitely be heading here for brunch again when that makes its way back!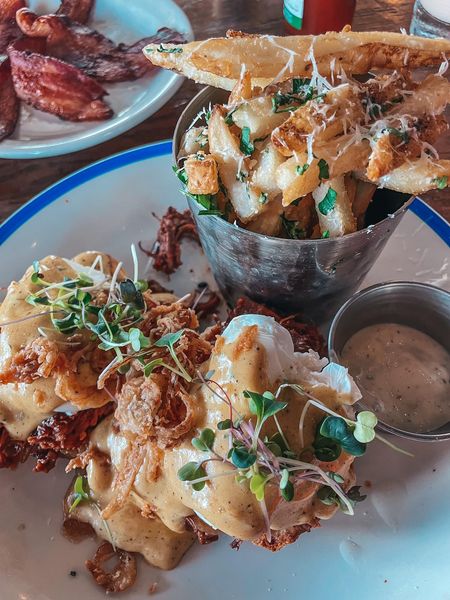 9. Thirsty First
This laid-back sports bar also offers a killer weekend brunch with bottomless mimosas in downtown St. Pete for just $15!  Beyond the orange juice and bubbly, this bar has a ton of other fun drink offerings to enliven your brunch experience, ranging from cereal breakfast shots to "bromosas" for the gentlemen in the group.
Not to mention their elaborate bloody mary fully equipped with an entire brunch meal on a skewer.
Thirsty First offers a whole list of brunch options that are mostly prohibition-themed.  You can choose meal options ranging from The King to Cannonball Run, Capone's Scram, Bootleggers Toast, Gangsters Sweet Spot, Jb Bene, and the Mob BLT. So be sure to take advantage of this fun location for your next brunch experience.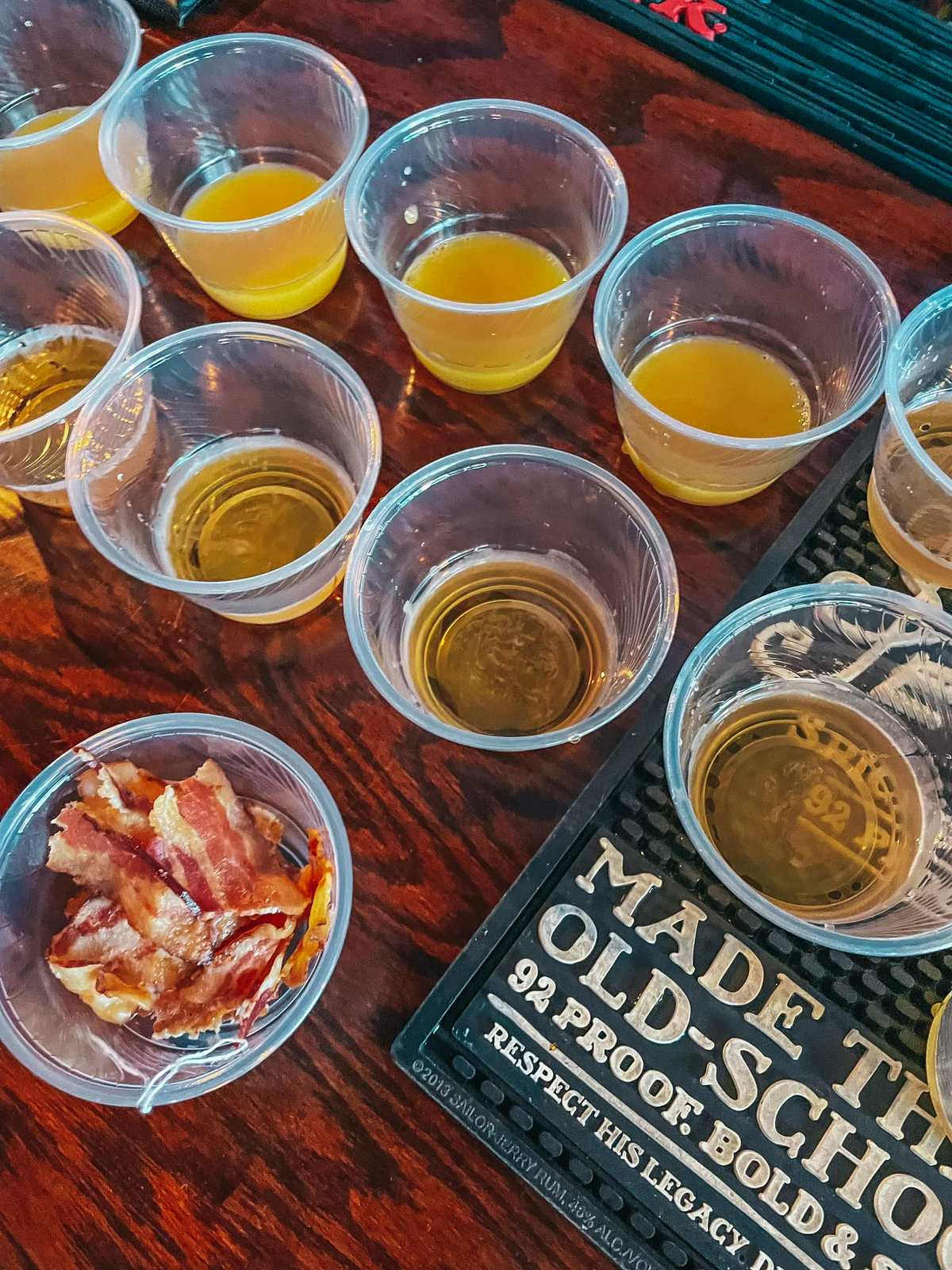 10. Allelo
I finally made it to Allelo's brunch, and it was 100% worth the hype! If you're looking for a delicious brunch in St. Pete that is sure to fill you up, head to Allelo for their family-style brunch!
For $34/person and you get to pretty much try half of the menu. It started off light and refreshing with the cucumber and feta salad, dips, and deviled eggs.
Then we worked our way to the cardamom French toast (one of the stars of the show), Neuske thick-cut bacon, and patatas bravas (we added these but they were SO good and flavorful!).
The ending was shakshuka which we were so full for, we could only try a bite. This spot never ceases to amaze me with their delicious dishes!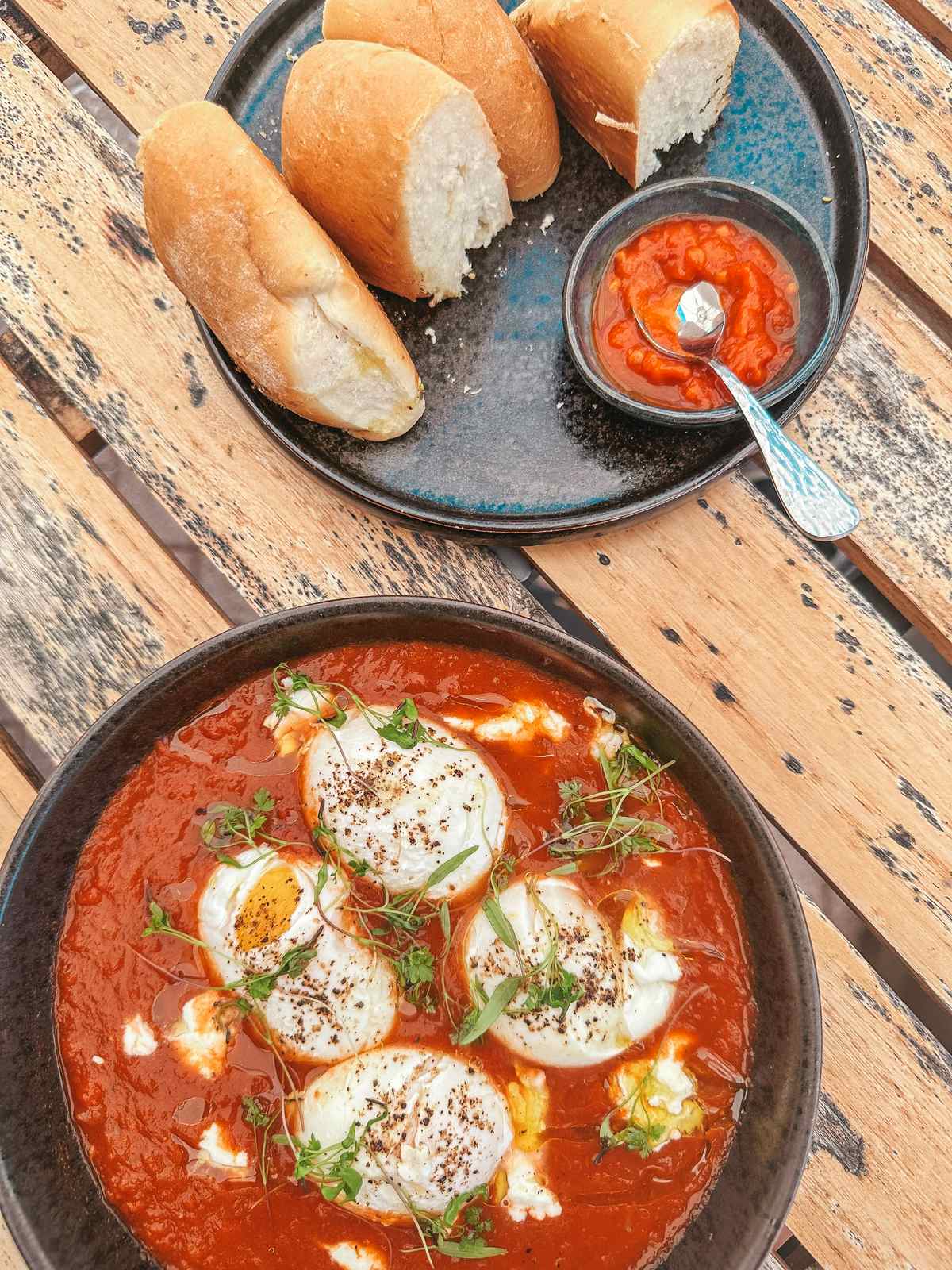 No matter what type of experience or cuisine you are looking for, St. Pete has it all and more! Hopefully, this list provided more insight into the wonderful brunch restaurants in the area to narrow down where you'd like to go.
Of course, you'll have to try them all with so many delicious options! Be sure to follow me on Insta @guidedbydestiny for more Tampa Bay content 🙂