This post contains affiliate links which means that I will make a small commission if you purchase a product after clicking on any of them, at no extra cost to you.
You could say that I have a little bit of a coffee addiction. And I don't think I could find a more perfect place to live to indulge it than St. Petersburg. There are nearly 30 non-chain coffee shops in this city alone! Not to mention the crap ton more right next door in Tampa (I see more coffee research in my future). How amazing is that? Each one is so different from the last. It took me weeks to test out all of these places for this post. It was a lot of work, and a lot of lattes were drank, but I finally narrowed it down to my eight favorite coffee shops in St.Pete.
I'm sure you're wondering, "What makes a coffee shop one of the best?" Well, obviously, great coffee. But, for me, I also consider the environment…and okay, bonus points if they make a design on my latte. I know that not everyone cares, but I also like when a spot has a lot of flavor options, especially seasonal (yes, I'm basic and love pumpkin spice).
So basically, I selected these coffee shops based on if they tantalized my tastebuds, were a good spot to hang out and/or be productive, and had a unique environment. Plus, bonus points for lots of flavor options, beautifully crafted drinks, and other quirky features.
Top 8 Coffee Shops in St. Petersburg, Florida
The Library
The Library is my number one pick. If you follow me on Insta, you've seen my posts about this spot before, and I'm not going to stop talking about it anytime soon. The cappuccinos here are soo smooth. They use Buddy Brew Coffee, which is probably one of my all-time favorite coffees. Buddy Brew's products come from beans that are thoughtfully selected directly from the best coffee farmers throughout the world. The beans are then skillfully roasted in their own facility.
The Library doesn't always have seasonal flavors, but they do have the most important one to me (pumpkin spice, obvs) during the fall and some of the winter months. You can get vanilla, caramel, and mocha at any time. I will personally vouch for the vanilla, it is fireeeee. I usually get a design in my drink, but occasionally, they don't add one (I think it just depends on who's working).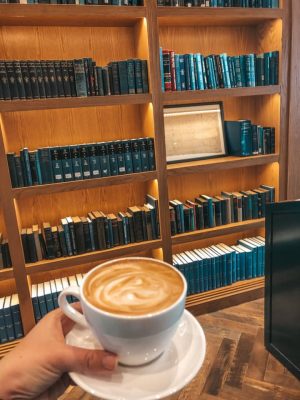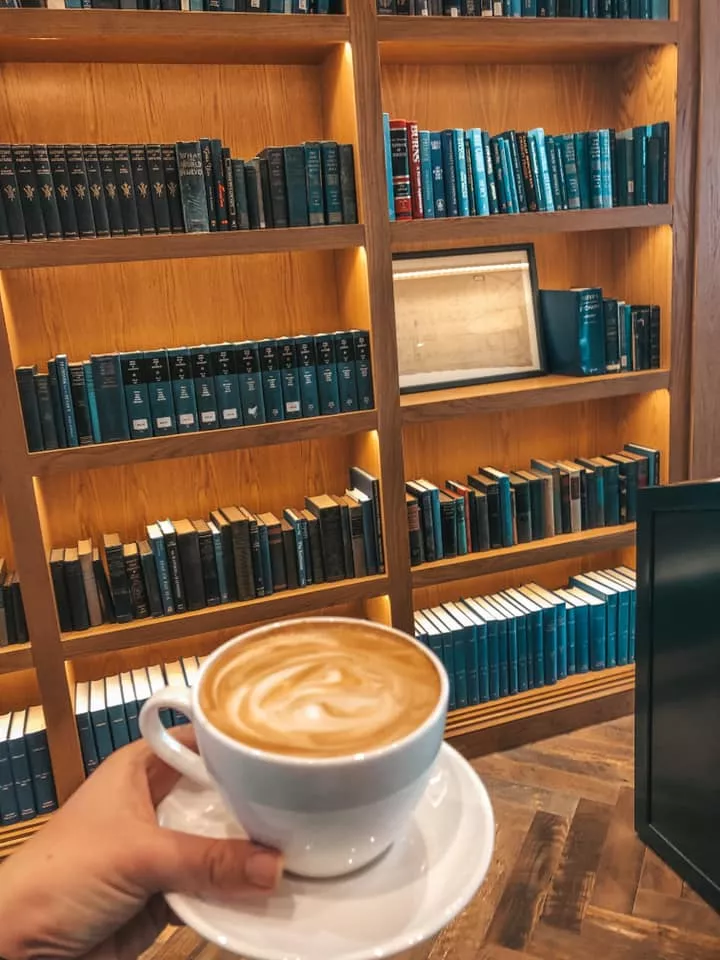 As far as the environment goes, it's typically somewhat heavily trafficked, but it still remains decently quiet. It's a great spot for meeting a friend for a cup of coffee and catching up, or being productive. On days they're really busy you can almost always find a spot at their community high top table.
The only problem I have with The Library is the coffee is so delicious and goes down so smoothly that all of a sudden, you're three hours into working on stuff just to realize you've had seven cappuccinos. Oops.
Take a peek at their menu too if you're hungry. I've had at least half of the menu items, and I have yet to be disappointed.
Black Crow Coffee Shop
Black Crow could not be more different from The Library. The Library has this sophisticated, put-together vibe, and Black Crow is more of what I imagine the inside of my brain looks like. It's an extremely eclectic, artsy atmosphere with the most random seating arrangements and things hanging on the walls. No two chairs are the same here. It's like the owners went to multiple estate sales, and just grabbed whatever was there and threw it in the coffee shop. And you know what, it's genius. It totally works— you just feel at home here.
The coffee is pretty yummy— no design on your latte, but the flavor is good. They have mocha, vanilla, hazelnut, caramel, banana, almond, mint, and cherry. They also have their own named concoctions with flavor combinations like Black Forest, which is cherry and chocolate.
Black Crow is so much deeper than being just a coffee shop.
This place really holds true to the Keep St. Pete Local mantra that the city has. Every first Saturday of the month, they have an art premiere with live music. The art premiere showcases local artists who have submitted their work to be displayed and sold throughout the month until the next premiere. They have poetry events and open mic nights throughout the month as well.
The blend they locally roast changes periodically, but the beans are all fair trade, single origin, and organic. Black Crow was the first coffee shop in Florida to be zero waste. This means that 90% of their waste stays out of landfills. All of their to-go products are compostable (even the coffee bags they have for the coffee beans). If you want a straw you have your choice of pasta or metal. They even compost their coffee grounds.
A random patron sat down at the piano they have placed in the corner and began to play while I was enjoying my coffee. How many coffee shops can you get that at?
Gypsy Souls
Gypsy Souls Coffeehouse is a mom and pop shop. It was peaceful here, and not overcrowded. I found it to be an excellent spot to spend some quality time with the laptop.
Their beans are single origin and never blended or flavored. They get them from all over the world, but roast them locally.
They have quite the selection of flavors to choose from, and I'm determined to try them all. I did the raspberry white mocha, and I also tried the pistachio. The raspberry white mocha was super sweet, but not in a bad way if you're into sweets— I was definitely having some sweet tooth cravings at the time, so it worked for me. The pistachio was much less sweet, and very yummy and different. I had never had a pistachio cappuccino before. A few of their other random flavors include toffee nut, lavender, and toasted marshmallow. Also, if it's your thing, they have CBD-infused espressos, lattes, and cappuccinos.
The staff here was extremely perky and friendly. They're very eager to help you select the right flavor and answer any questions you may have about the shop or the area.
Beans & Barlour
Beans & Barlour is a craft coffee bar and dessert lounge. The whole place gives you this old-timey, Willy Wonka vibe. They even have an old-fashioned espresso machine imported from Italy.
I loved that they have their own house made flavored syrups. They have specialty latte flavors that include lavender, rose, orange clove vanilla, and dirty chai. Not to mention their Creme Brulee Cappuccino and Campfire Story, which uses a glass filled with smoke of torched hickory wood chips. If you can find this stuff anywhere else, please let me know because I'm shook. You can add alcohol to any of these drinks, and they have amazing alcohol-infused, boozy desserts…but we'll save that for another blog post.
The vibe here is dimly lit and romantic in the back room, and a little brighter in the front— so pick your vibe! The baristas are extremely enthusiastic and eager to give recommendations. I really don't think there is a wrong choice.
Bandit
You walk into this location and you just know the coffee has to be good because of how busy it is. I went on a Tuesday afternoon and it was bustling. They have good music goin' in the background too.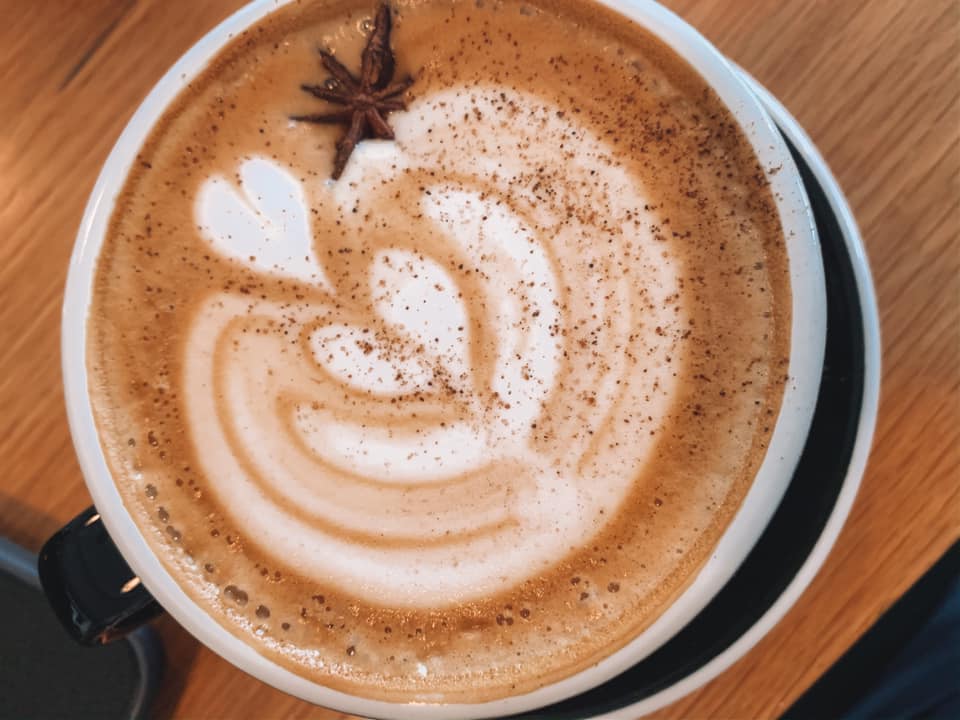 The vibe here is very bright and clean. This may not be the best place to get work done, but it is a great spot to meet up with a friend and catch up, or just unwind and people watch with one of their amazing lattes. They have a couple of your standard flavors, like vanilla and mocha, as well as occasional seasonal flavors. Not just your typical seasonal flavors, though. I went in the fall and had a maple bourbon latte, and my mouth is watering right now just reminiscing on it— and look at that design!
The Bikery
Cyclist or not, you will see the charm of this local shop. The shop is filled with bikes and gear. So aside from being a coffee shop they also do bike fittings, rentals, and repairs.
The staff is sweet and helpful. You really feel their warmth.
The Bikery really takes pride in their coffee, and it really shows through in the finished product. I had a pumpkin spice latte that was extremely smooth and perfectly flavored. They get their coffee from a couple of different roasters— Onyx Coffee Lab (Arkansas based) and Zeal Coffee Roasters (Tampa based).
As I was scoping out the shop, the baked goods in the window caught my eye. I'm a sucker for carrot cake, and they had a gluten-free, vegan carrot cake cupcake— consider me intrigued. It paired so well with the coffee, and to be honest, had I not read it was gluten-free and vegan, I never would've known.
They have a signature latte called the Honey Badger— flavored with honey, vanilla, and cinnamon that is also worth a try. Or, if you're craving a craft beer instead of caffeine, they have a local selection on tap for ya!
Campus Grind Coffee Bar
Bonus points to Campus Grind for being nuzzled in USF's St. Pete location and allowing me to relive my glory days by setting foot on a college campus again. Okay— you don't actually have to walk through the campus to get to Campus Grind, but it's a beautiful stroll if you do want to check it out.
Aside from location, this may have been my favorite latte I had out of all of the places. I had their house-made pumpkin spice latte. Before creating the design, they sprinkled the latte with a ton of nutmeg, and having that with every sip I took the flavor over the top for me. Total game changer.
There's outdoor seating for nice days, or high tops, normal tables, and even comfy chairs and couches if you're feeling like just cozying up with a good book and your latte.
Brew D Licious
This place is somehow easy to pass. I walked past it multiple times, and even went to the back alley to see if there was a door for it back there, but once you spot it, you'll never miss it again. Hint: look for the small silver-lined garage door (unless the weather is so nice it's open— then you won't be able to miss it).
Showcasing walls covered with sarcastic, quirky, and some even provocative sayings and quotes, we have another location that is full of randomness with an eclectic, cozy vibe.
They unfortunately don't have wifi.
So, this may not be the spot for you to be productive (unless you wanna use your hotspot), but it allows you to enjoy the wit and charm of the baristas and the flavor of your No Name Java.
If you aren't sure what you want, tell the barista what you typically have or what you're craving, and they will throw some suggestions your way. It really does make a world of difference having a knowledgeable barista.
I told you I give bonus points for flavors. Imagine my delight when I asked the barista the flavors they had, to which her response was, "What are you craving? We have just about any flavor. I can most likely mix a few to create what you want if we don't have it." I'd never gotten that response before, and I was overwhelmed with the endless opportunity my taste buds had. So naturally, I froze and just ordered hazelnut. It was awesome, though! I've heard they have a drink called "Pepe", which is creme brulee in the form of coffee. They actually sprinkle sugar on top and burn the sugar to give the topping that caramelized crunch. I am now dying to go back and try it.
Share your spots
Okay, y'all, so that is my list. I really hope you get the chance to check each of them out, because each one of these places has such special characteristics that give you a unique experience. If you've been to some of these spots, let me know your thoughts in the comments! Or if you have some recommendations for awesome coffee spots in your city, share 'em with me so I can check them out 🙂
Like this post? Pin it & share it with others! 🙂