This post contains affiliate links which means that I will make a small commission if you purchase a product after clicking on any of them, at no extra cost to you.
There is plenty of fun to be had in Tampa, but if you're visiting there are so many other awesome surrounding areas to see too! This list of the best day trips from Tampa isn't just for visitors though. This list is also for my fellow locals who are looking for a change of scenery!
I say it often, but I'll say it again. We are so lucky to live in Tampa Bay where there are so many unique surrounding areas and neighboring cities that all offer their own quirk and charm. Here are the best day trips from Tampa!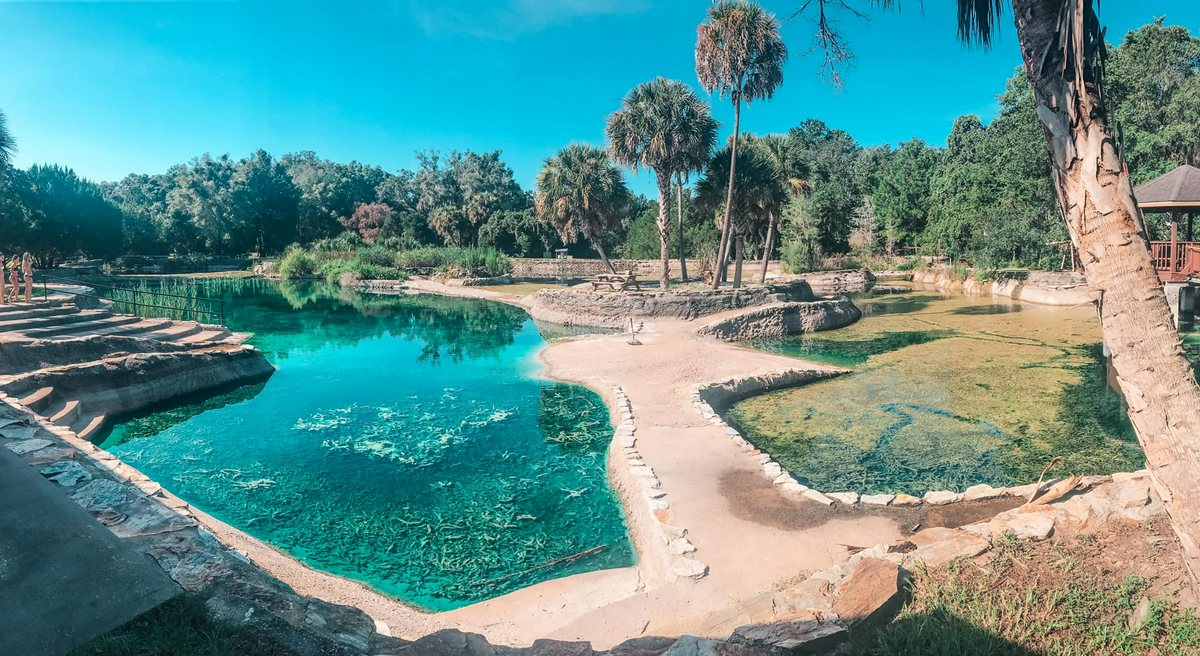 16 Best Day Trips From Tampa
Weeki Wachee
Distance of day trip from Tampa: 1 hour
Weeki Wachee Springs is my absolute favorite place that I have found in Florida, so it's at the top of my list for best day trips from Tampa! If you have a chance, I cannot encourage you enough to spend a day here. You will most definitely need a reservation if you plan to kayak or paddleboard the river if you take this day trip during the summer months.
Personally, kayaking is my favorite thing to do here. You can bring a cooler with snacks and non-alcoholic beverages to take down the river with you. The water is pretty shallow for most of the route, and it's crystal clear!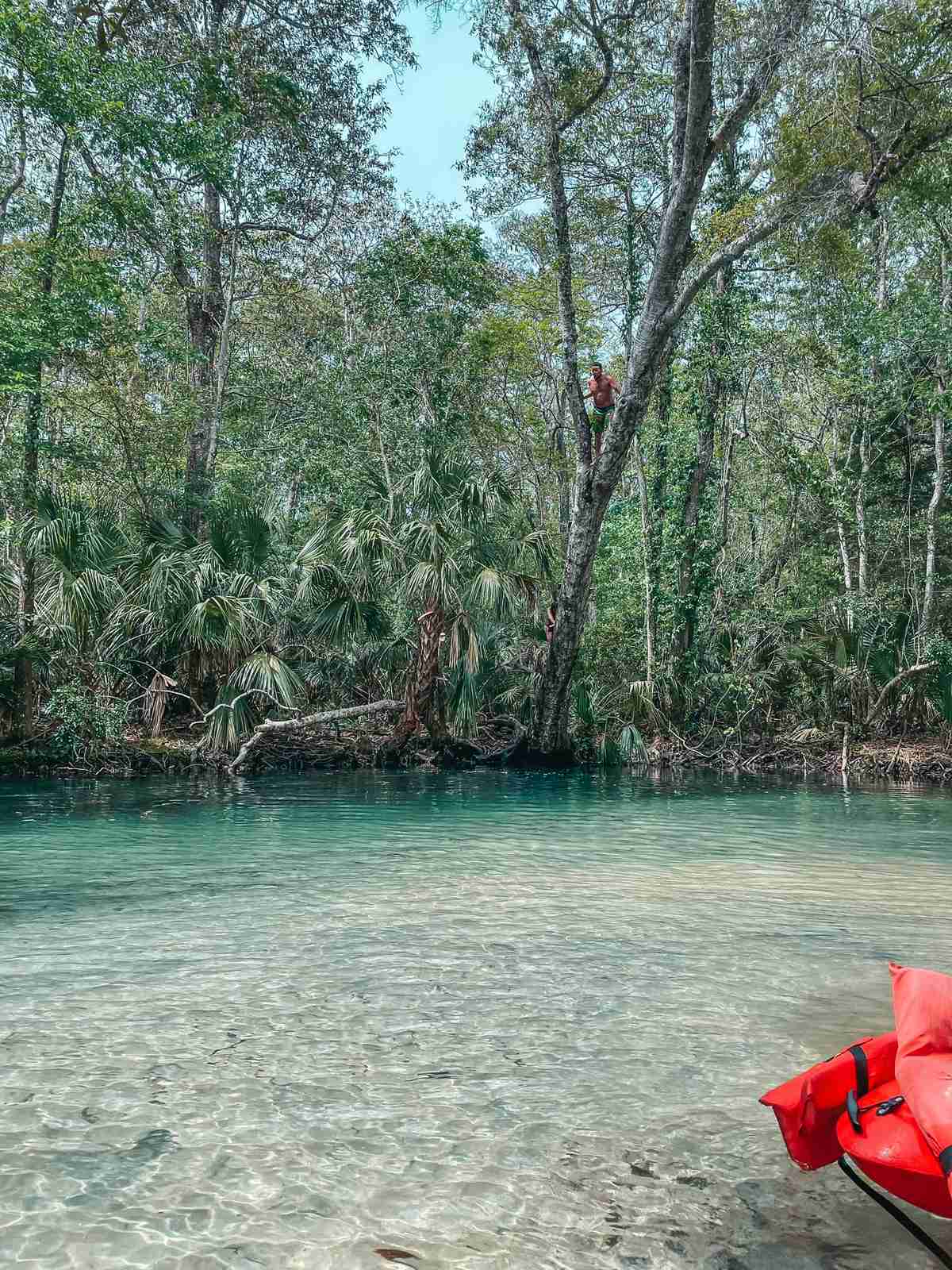 Nine out of 10 times I have gone, I have been able to be up close and personal with manatees. While you are not able to actually touch these gentle giants, they have no problem swimming right along or under your kayak. A few times, I was actually outside of my kayak taking a dip in the water when a momma and a baby swam right past me.
Book a clear kayak for your Weeki Wachee trip here!
Aside from spending the day on the river, you can also spend some time enjoying Buccaneer Bay Waterpark— three of the four water slides drop you off into the natural spring. And you absolutely can't leave without seeing the famous Mermaid Show.
This is such a fun day trip from Tampa, especially for my nature lovers out there!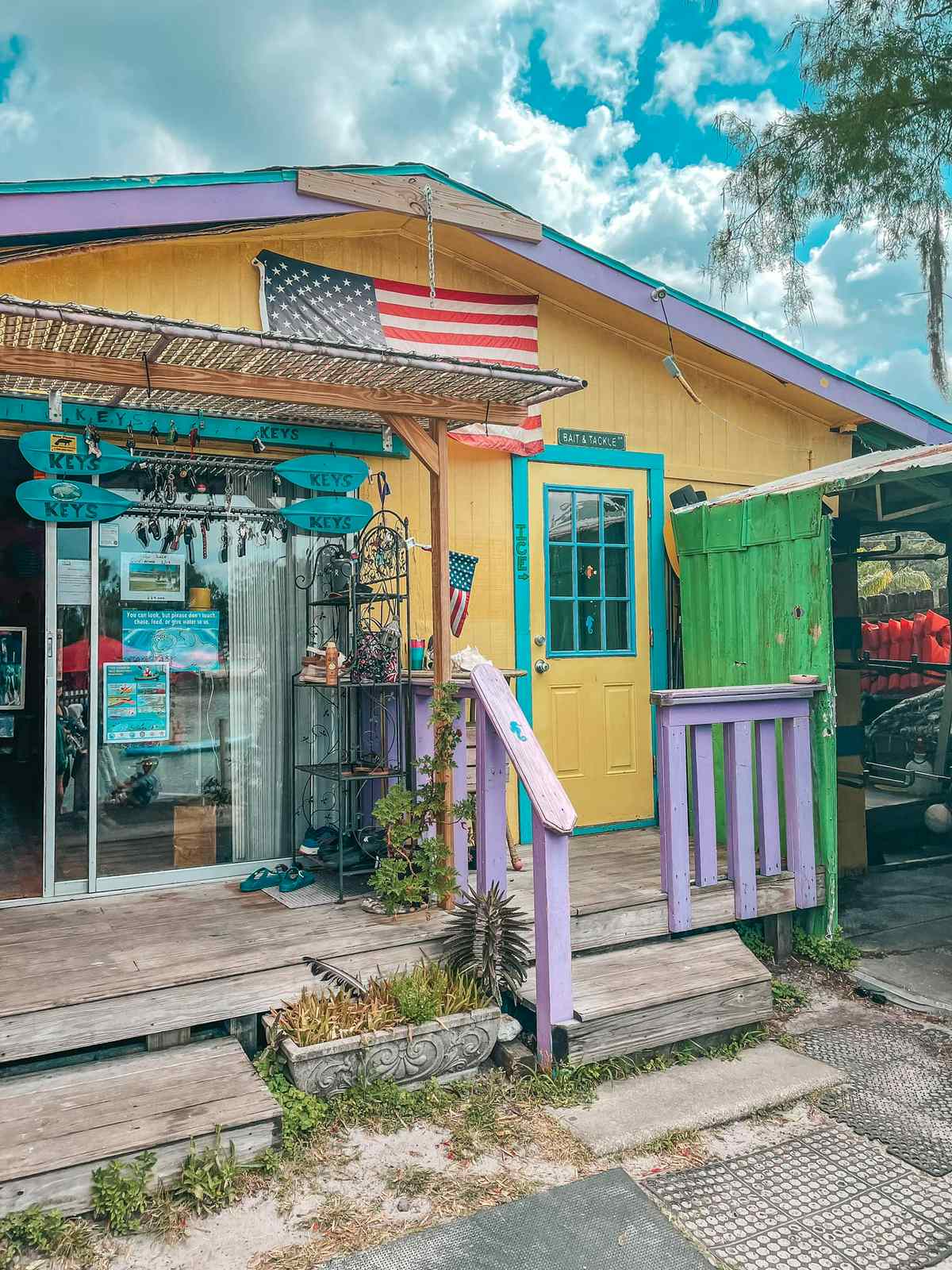 Safety Harbor
Distance of day trip from Tampa: 30 minutes
Safety Harbor is such an adorable Florida gem. Coastal and colorful, it's the perfect day trip if you're looking for something to do and it's just about 30 minutes outside of Tampa.
Check out Main Street— Main Street is full of adorable shops, dining, and galleries. You will see plenty of bistro-style seating and lots of people strolling and enjoying the fresh air. 
Enjoy a craft beer or two at some breweries— Crooked Thumb and Troubled Waters Brewing are must-stops if you're exploring the area!
Catch a movie at Gigglewaters— Gigglewaters is a super cute venue and unique experience with food, craft cocktails, and movie screenings. Check out their upcoming screenings and head over to check them out!
Experience the magic of Whimzeyland— Just a little walk from Main Street, you will find Whimzeyland. You may be asking yourself, "What on earth is Whimzeyland?" I asked myself the same thing. Bright colors, tiled mosaics, junk art animals, and over 800 painted bowling balls all come together to create Whimzeyland. 
Grab a bite at Bar Fly— If you're hungry, Bar Fly is a local favorite! And for good reason. They serve sandwiches, tacos, and delicious bloody marys. It's definitely a great lunch spot. They offer indoor or outdoor seating with colorful, fun decor.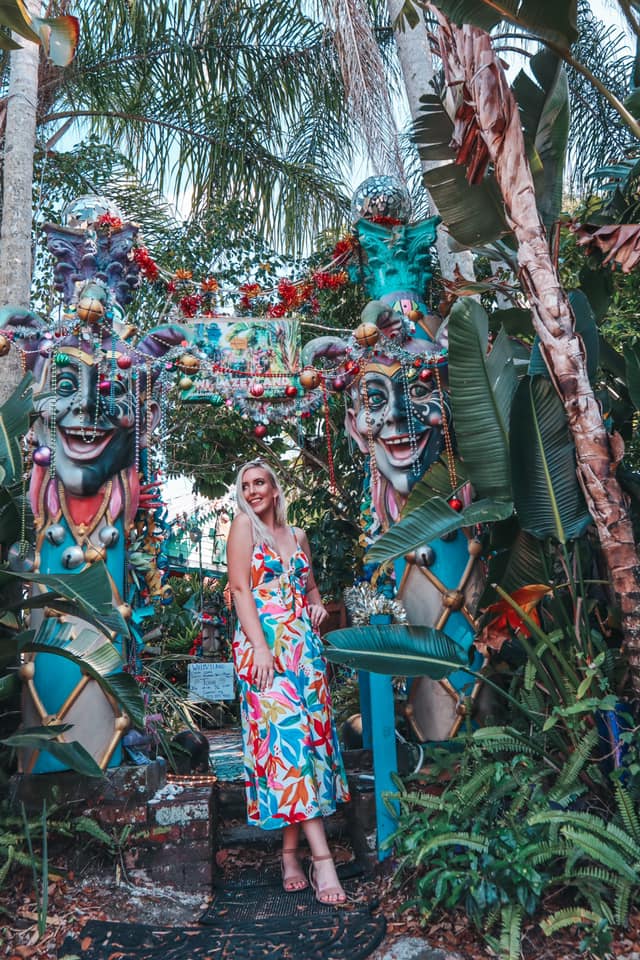 Ybor City
Distance of day trip from Tampa: 10 minutes give or take
Ybor City, located just northeast of downtown Tampa, is a vibrant and historic neighborhood that offers a variety of activities and sights for visitors to enjoy. One of the main draws of Ybor City is its rich cultural heritage. The neighborhood was founded in the late 19th century by cigar manufacturers, many of whom were immigrants from Cuba, Spain, and Italy.
Today, the area is home to numerous landmarks and museums that commemorate this history, such as the Ybor City Museum State Park and the Centro Ybor shopping and entertainment complex.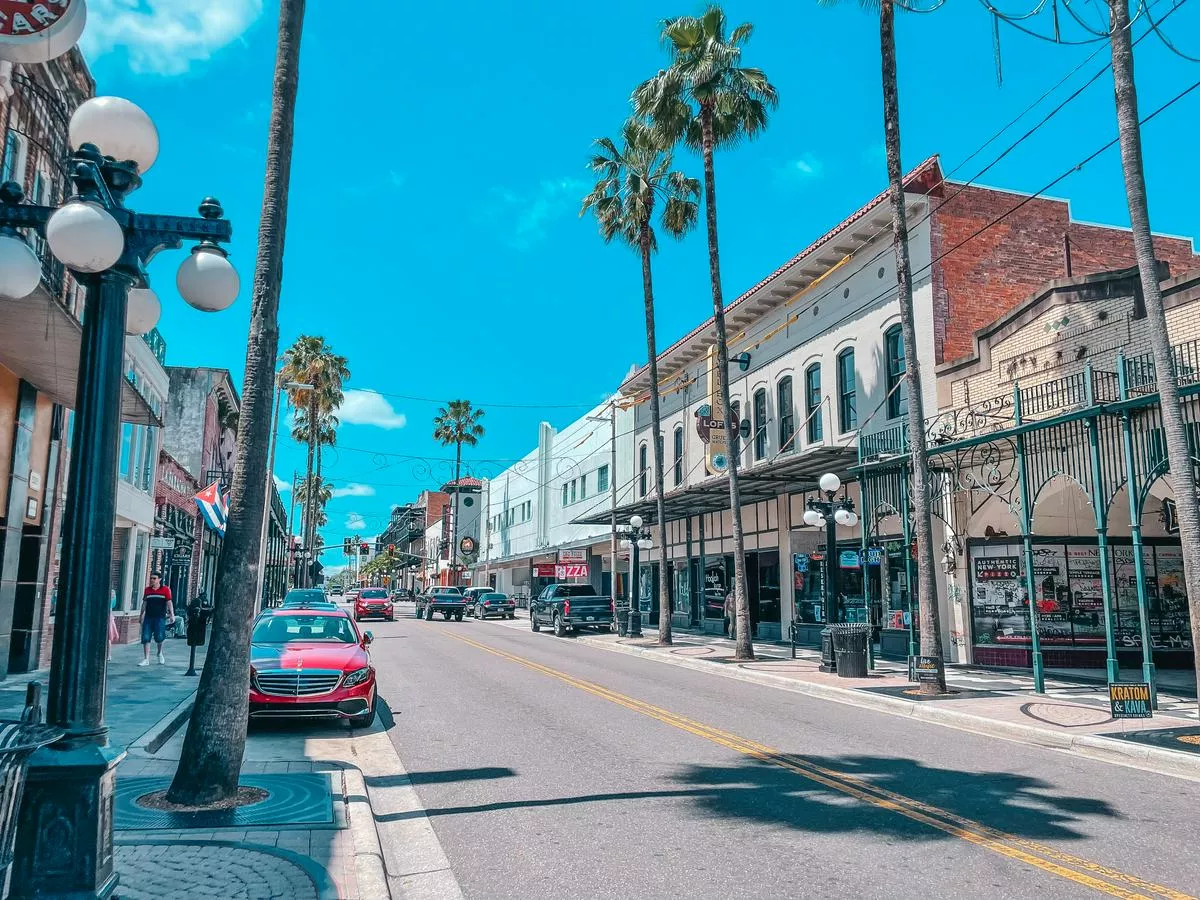 Another reason why Ybor City is a great day trip from Tampa is the variety of dining options available. The neighborhood is known for its authentic Cuban cuisine, as well as a wide range of other ethnic restaurants, bars, and cafes. Visitors can enjoy traditional dishes such as Cuban sandwiches and ropa vieja, as well as more contemporary fare, and a thriving craft beer scene.
Overall, Ybor City offers a unique blend of history, culture, dining, and entertainment options, making it a perfect destination for a day trip from Tampa.
Check out my full guide for fun things to do in Ybor City!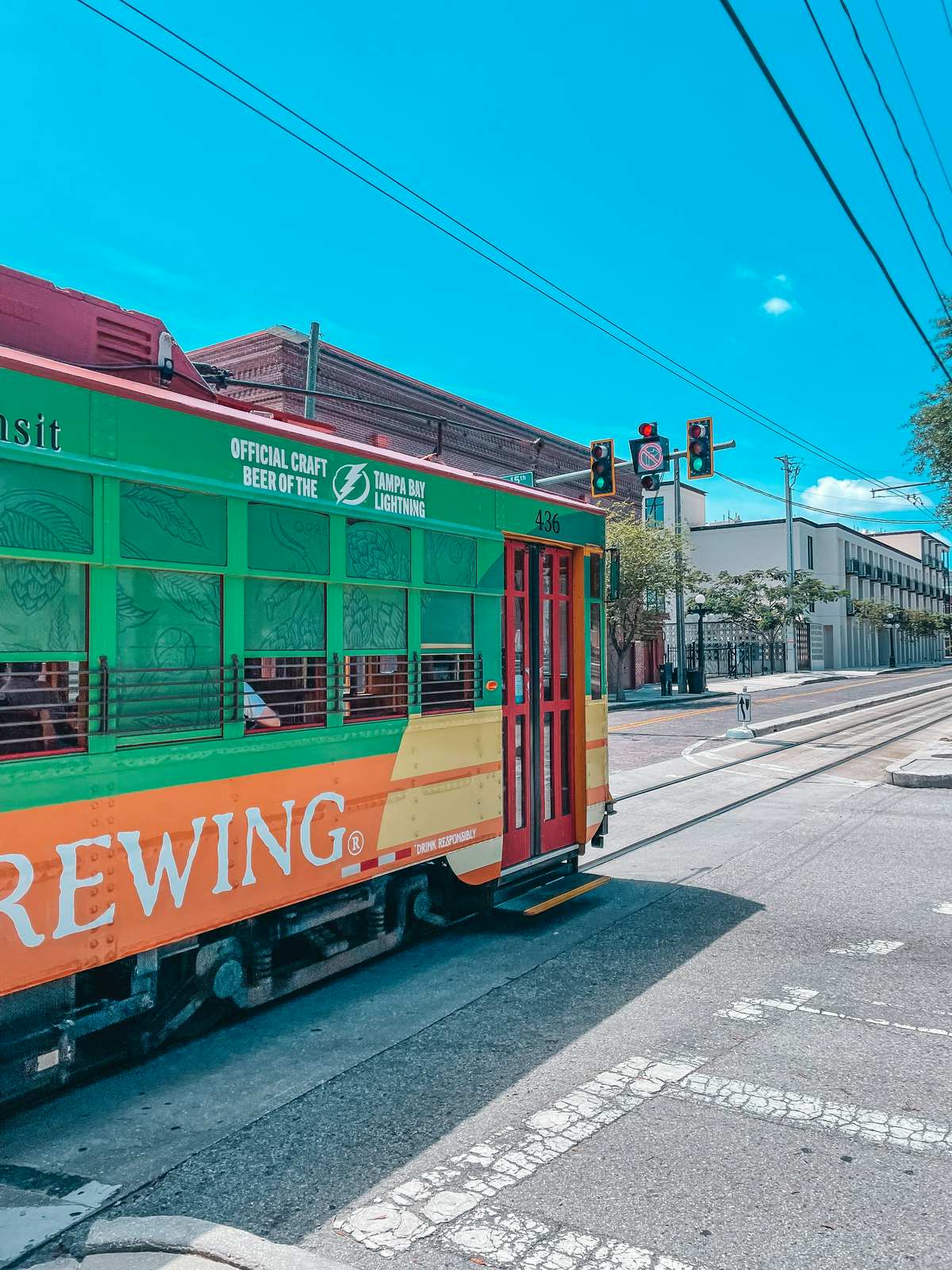 Dunedin
Distance of day trip from Tampa: 40 minutes
Dunedin, Florida is one of the most underrated places I've experienced here in Florida. 
Dunedin is very similar to downtown St. Pete, but it's by the water and has even more of a local vibe than the beloved St. Pete. It is my goal to call this place home someday, that's how much I love it!
The best part is while Dunedin is somewhat chill and laid back (don't worry— they still know how to have a good time), you can head right next door to Clearwater Beach if you're wanting even more excitement! You can even take the Jolley Trolley to get there.
For my nature lovers visiting Dunedin, you're going to want to check out Honeymoon Island, the Dunedin Causeway, and Caladesi Island. All of these are great for a beach day and water activities.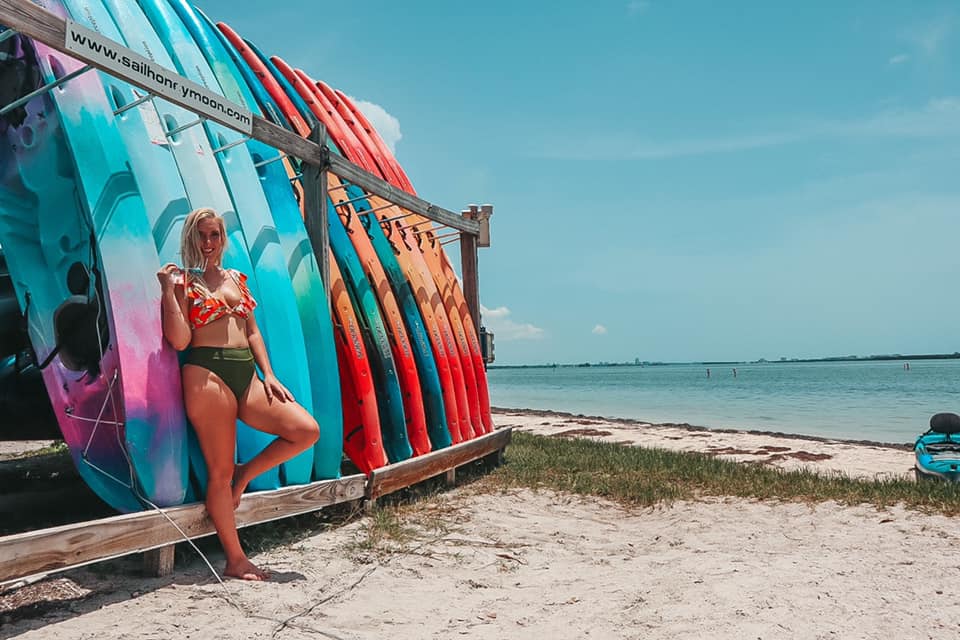 If you're not up for a beach day, bike the Pinellas Trail! Dunedin is so cool because they have several breweries and restaurants to check out right on the trail! So you can do your own little foodie tour.
Biking or not, the foodie scene in Dunedin is out of this world. I really recommend not filling up at just one restaurant, but instead hopping around and sharing small bites from a few spots. And naturally, you gotta check out at least one of their adorable coffee shops!
Also, be sure to check out Sonder Social Club or The Nest for craft cocktails and speakeasy vibes or Reboot for a fun, retro nightcap. They have so many fun games to play like pinball, OG arcade games, board games, and game systems new and old throughout the entire place. It's the best way to end your day trip in Dunedin.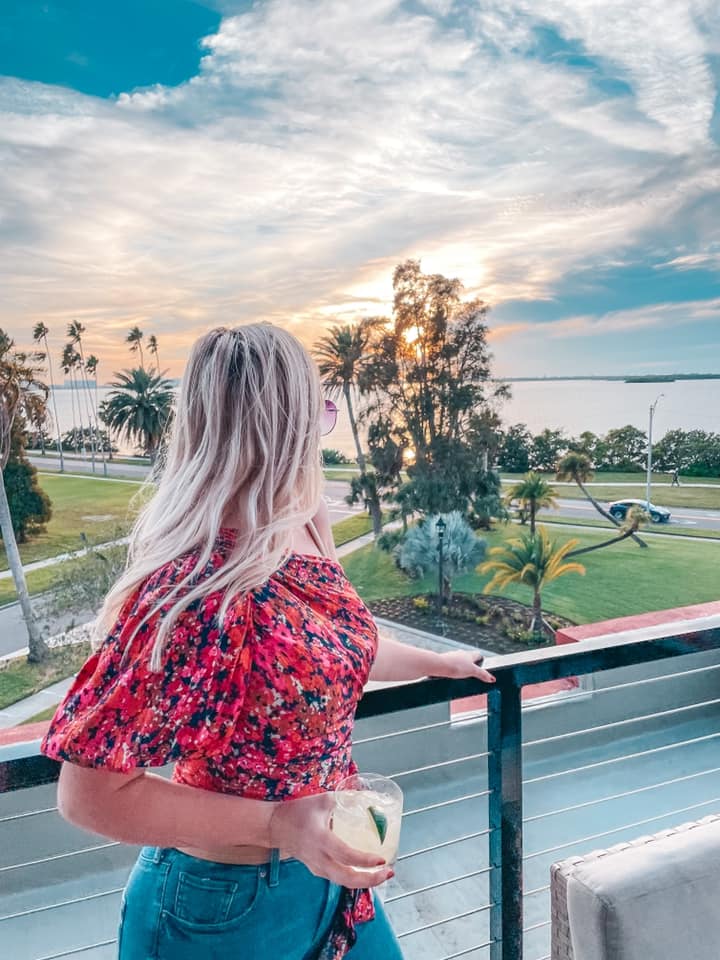 Clearwater Beach
Distance of day trip from Tampa: 40 minutes
Clearwater is home to America's #1 beach. With white sand, clear blue waters, and some of the most stunning sunsets, it's no surprise so many people want to come to this destination (it's even growing in popularity as a bachelorette destination)!
If you're looking for a little more than just laying out and relaxing on the beach, you're in luck because there are so many epic things to do in Clearwater Beach!
Cruisin Tiki's— More suited for 21+, Cruisin Tiki's is your own personal floating bar. You bring your own booze and snacks, but the tiki provides you with cups, ice, a blender, and a fun way to explore the Gulf of Mexico.
Pier 60— Pier 60 is one of the most iconic things to do in Clearwater Beach. Whether you visit during the day to check out the views or go fishing, or in the evening during their sunset celebration, Pier 60 is a necessity for your Clearwater Beach experience.
Check out the fun beach bars and relax on the beach— There are so many fun beach bars with delicious beach-inspired cocktails and fun, lively environments. Shephard's has a great outdoor venue with live music, a dance floor, and even some games, or check out one of the beach's awesome rooftop bars!
Eat fresh seafood— There are so many amazing restaurants in Clearwater Beach with fresh seafood! Crab legs, grouper, snapper, oysters! They've got it all! You can even start your morning with some lobster eggs Benedict from one of Clearwater Beach's yummy breakfast restaurants.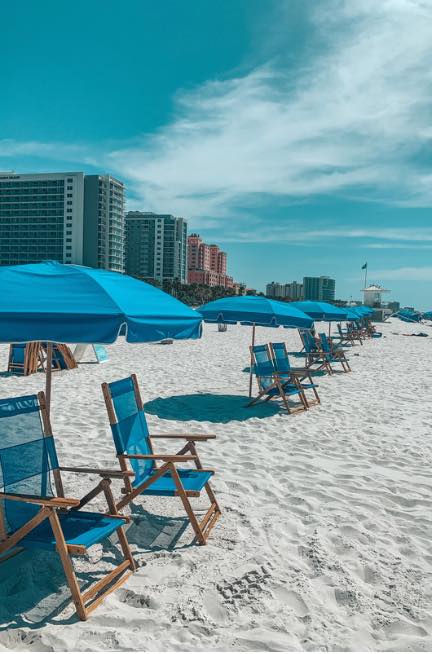 St. Pete Beach
Distance of day trip from Tampa: 40 minutes
Start your day trip by grabbing a coffee from Surf, Grove, and Coffee. Their lattes are delicious, especially their seasonal ones! It's also a really cute boutique if you're in the mood to do a little bit of shopping.
For our last St. Pete Beach day, we actually rented a Polaris from Scoot Scoot Rentals to drive around and it was SO MUCH FUN!
There are so many restaurants on St. Pete Beach it can be pretty overwhelming. If you're in the mood for delicious and fresh seafood check out Shells, Brass Monkey, or one of the amazing restaurants in Pass-A-Grille!
If you want a nice dinner, Spinners is one of my favorite rooftop restaurants in St. Pete and date night spots. The restaurant literally spins, giving you 360-degree views of St. Pete Beach! Don't worry, the movement is very slow, so you'll hardly notice!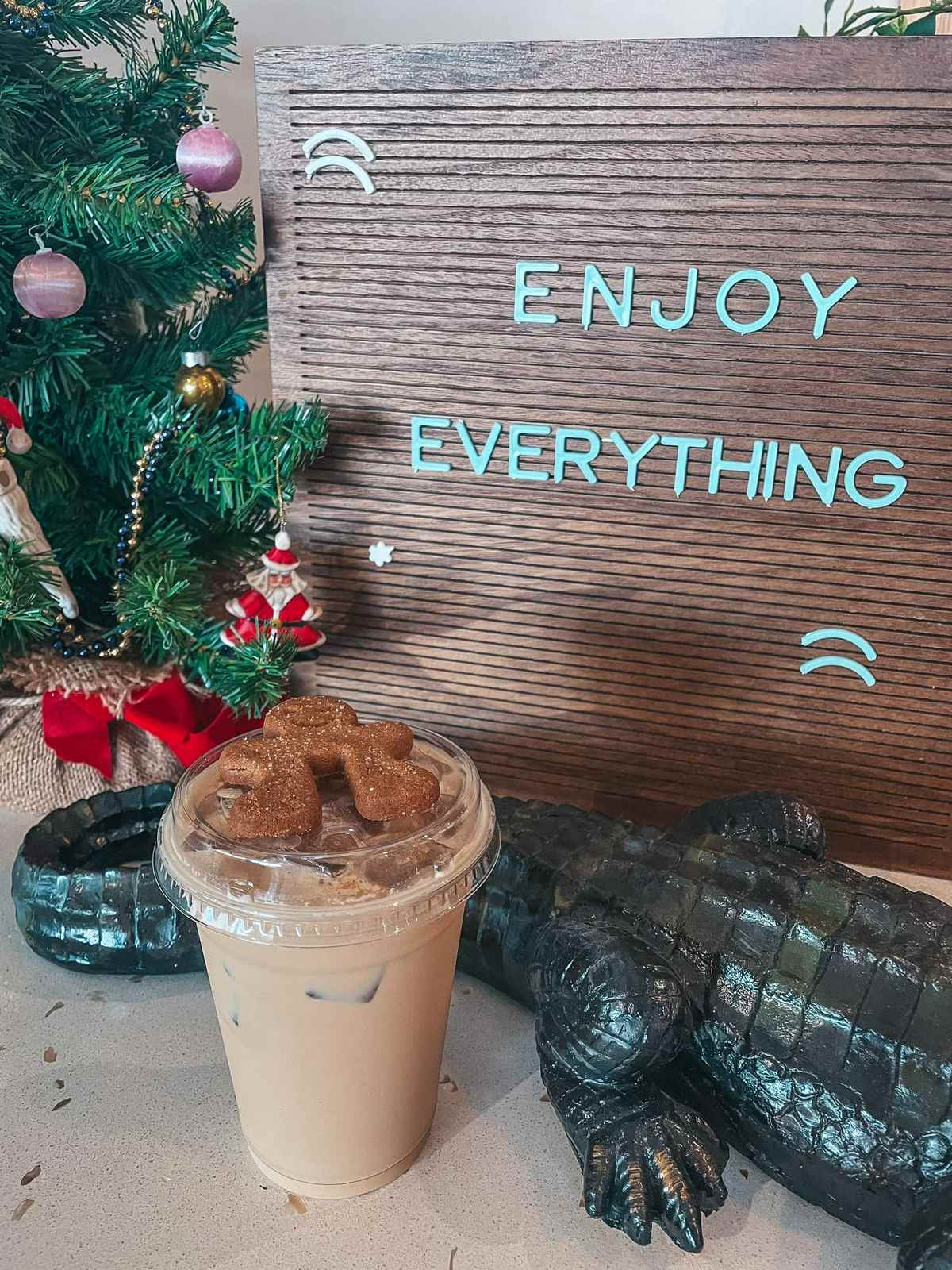 Water activities and relaxing on the beach are the focus of this day trip. So check out eSUP Adventures for a motorized SUP adventure to Shell Key, or post up in front of Coconut Charlies. They have fun drinks, good food, and tons of games such as beach volleyball, giant pong, and Jenga. It's one of my favorite St. Pete Beach bars!
If you want your beach setup to be next level, check out the Cabana Club! They provide the most adorable beach setups with a cooler, shade, towels, a speaker, and everything else you'd need for your perfect beach day. All you gotta do is show up!
Take a break from the beach at Florida Orange Groves Winery, one of my favorite wineries in Tampa Bay! They produce over 43 varieties of tropical and fruity wines, and they have tastings and tours daily.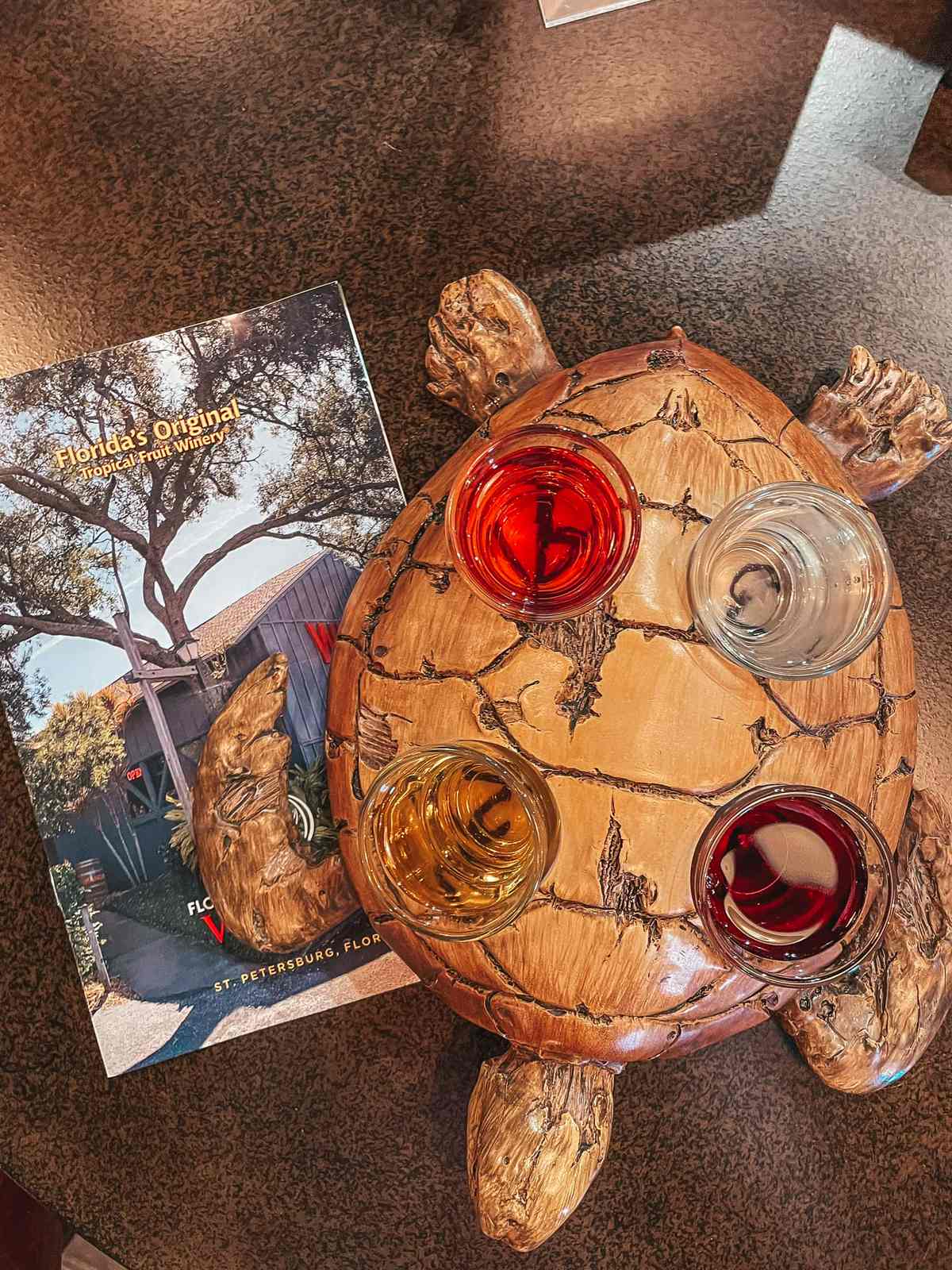 Downtown St. Pete
Distance of day trip from Tampa: 25 minutes
The Sunshine City! Downtown St. Pete is full of sunshine, history, culture, art, amazing food, adorable shops, unique breweries, and more. It's everything you could ask for in a downtown area. Not only that, there is constantly something new popping up to check out! I honestly take this day trip from Tampa at least once a week because I love the area so much.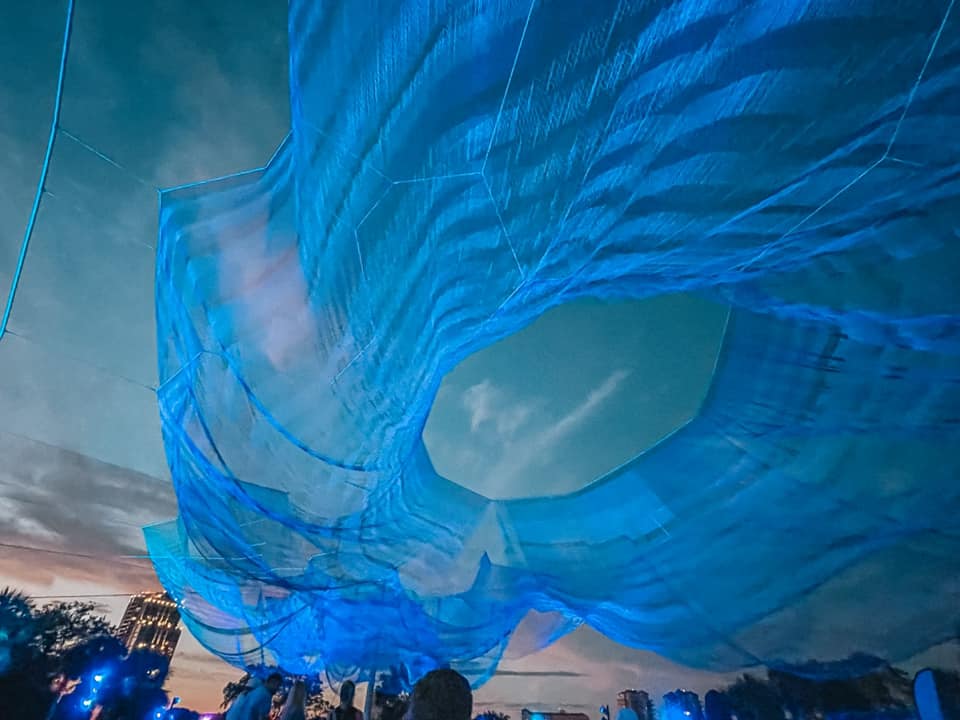 Dali Museum— The Dali is really a must if you're in St. Pete. Aside from Europe, St. Pete houses the largest collection of Salvador Dali's work. Dali focuses on Surrealism, and his paintings are often dreamlike, making it really fun to attempt to interpret them. It's truly a unique experience, and there are always new exhibits for those who have already visited before!
St. Pete Pier— The St. Pete Pier is absolutely stunning! Go during the day and catch some people fishing, or head there in the evening to enjoy the sunset. You can find a mix of art, history, and some cool restaurants and bars here.
Brewery and bar hop— St. Pete has some of THE BEST bars and breweries. Each one brings something different to the table. 3 Daughters is my favorite brewery in St. Pete. It's dog friendly, has a huge venue, games, live music, and offers a good variety of beers, hard seltzers, and ciders. Their ciders are the best in town— if the blueberry peppercorn is on tap, make sure you try it!  There are always so many delicious flavors, your best bet is to do a flight! As for bars, definitely check out some of St. Pete's speakeasies like The Saint and Dirty Laundry.
Cruisin Tiki's— I mentioned it above for Clearwater Beach, but they also have one in downtown St. Pete! I really do love this floating bar. You can get out on the water and see the downtown from a different view. They even stop at a sandbar where you can get in if you'd like. If you're lucky you may even see some baby sharks! Book here!
Once you've worked up an appetite you're going to be surrounded by amazing restaurants that will surely satisfy your hunger. Fresco's is great for waterfront dining and fresh seafood, The Lure has some of the best sushi in town, and No Vacancy is great for a chill vibe and light bites (the seafood nachos are an absolute must).
You also can't leave without checking out one of St. Pete's adorable coffee shops!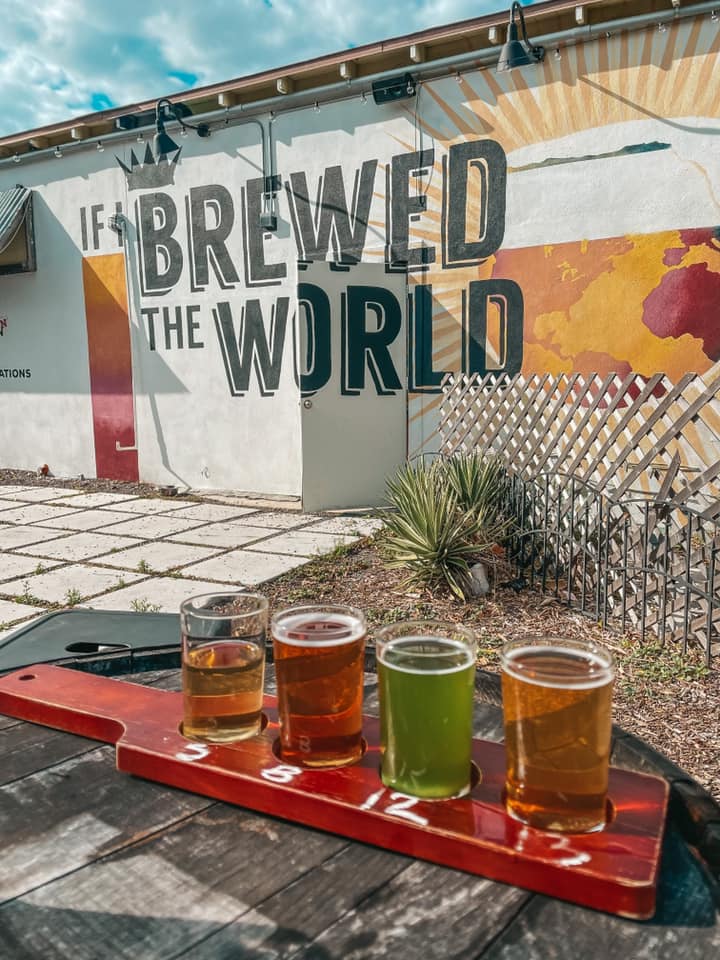 Tarpon Springs
Distance of day trip from Tampa: 45 minutes
Tarpon Springs is one of the lesser talked about parts of Tampa Bay. It is rich with history and Greek culture, and is perfect for a day trip!
Tarpon Springs actually has the highest percentage of Greek Americans of any city in the US— how cool is that?! The sponge industry in Tarpon was so big at one point that it even exceeded citrus and tourism.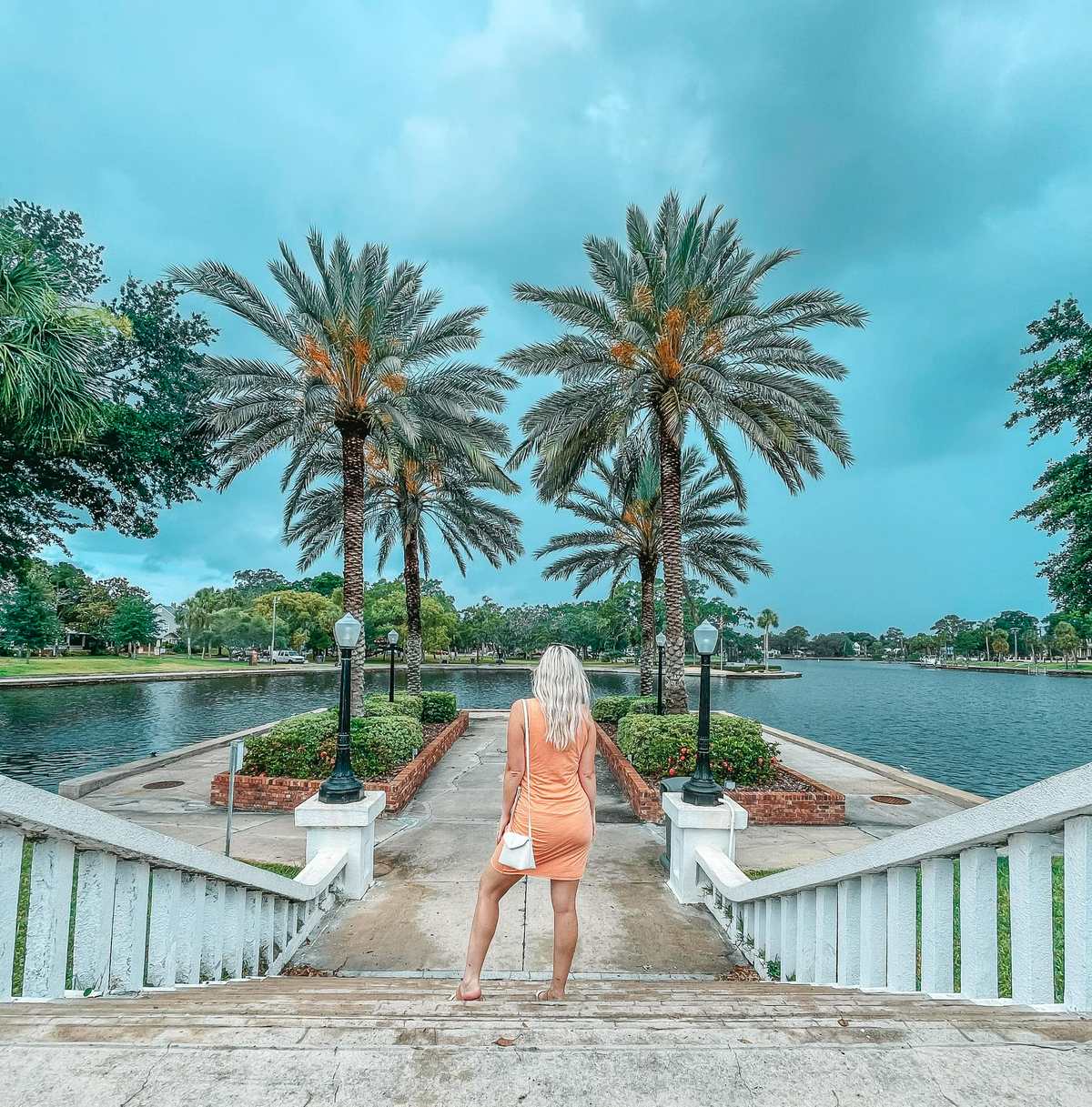 Some things you must do in Tarpon Springs include:
Check out the sponge docks and Dodecanese Blvd— stroll this adorable area and admire the shops, restaurants, and boats!
Visit the Spring Bayou— this spot was gorgeous even on a cloudy day. Look up the Epiphany Celebration that's held here annually!
Eat authentic Greek cuisine— we ate at Hellas Restaurant and loved the food and cocktails (the chocolate baklava martini gave me life).
Scope out the wineries and breweries— Hit up Brighter Days Brew Co, Two Frogs Brewing, and Tarpon Springs Castle Winery to name a few.
Get your game on at Replay Museum— Replay Museum isn't just any museum, it's an interactive museum where you get to play all the classics! Go get your game on— loser buys the next round of baklava martinis 😜
And before you leave, make sure you grab some souvenirs! You've gotta take home your own sponge and handmade soap! I've used mine every day and I'm obsessed.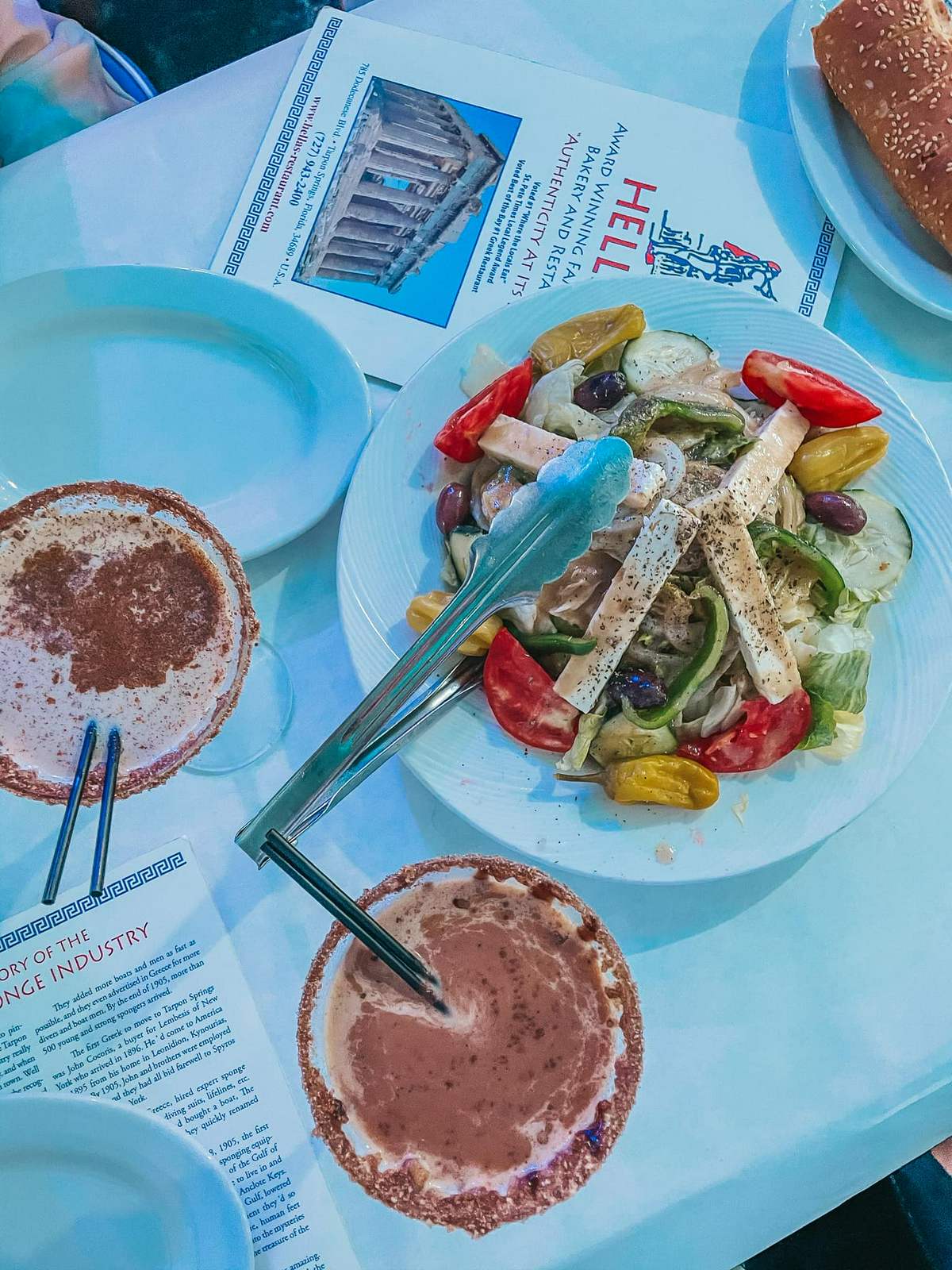 Hyde Park
Hyde Park is technically Tampa, but I just feel like it's its own little nook that it deserves a spot on the list of best day trips from Tampa, because you can easily spend an entire day here.
There are plenty of shops, restaurants, and adorable photo ops scattered throughout Hyde Park, and all are worth a visit!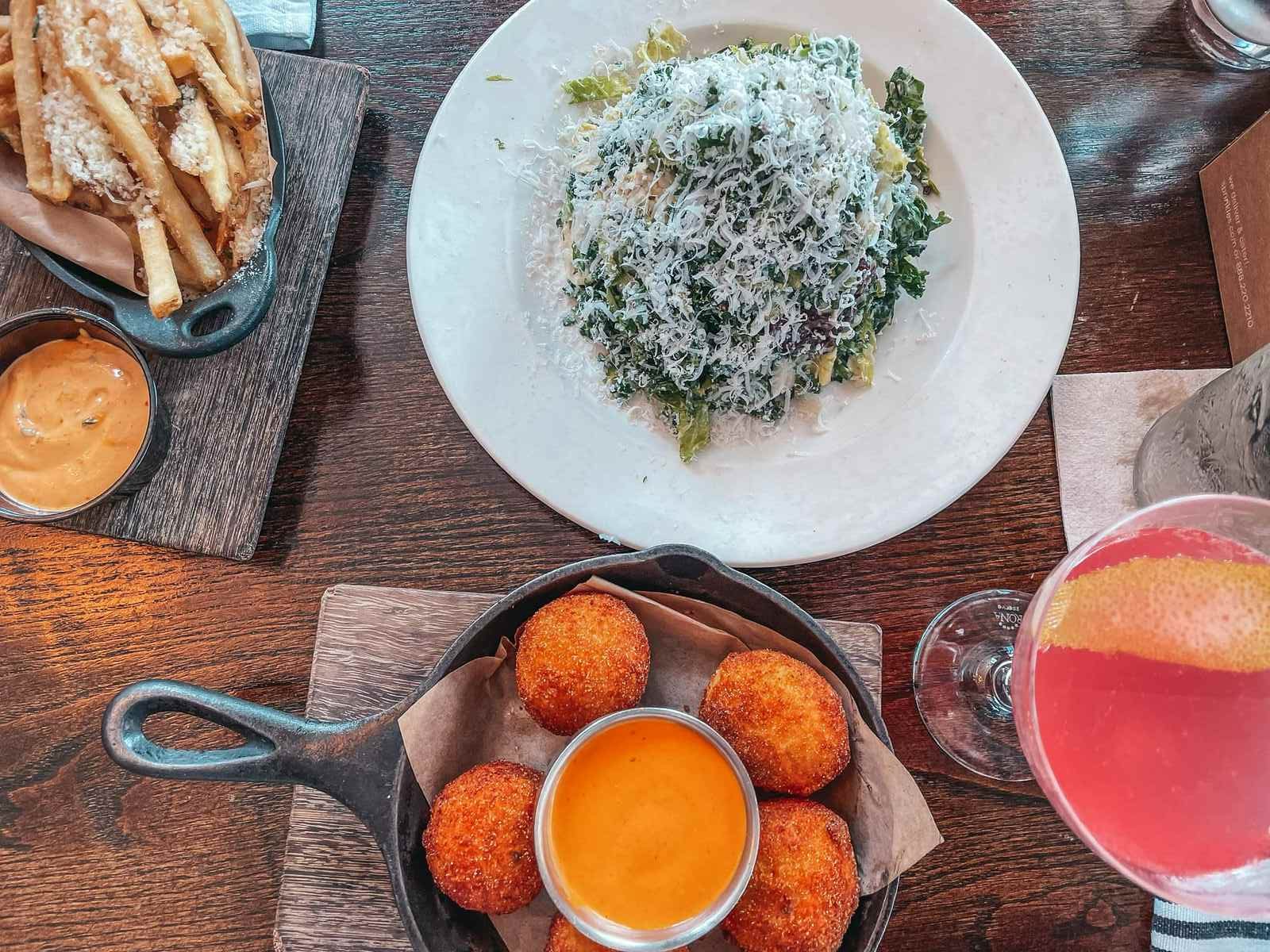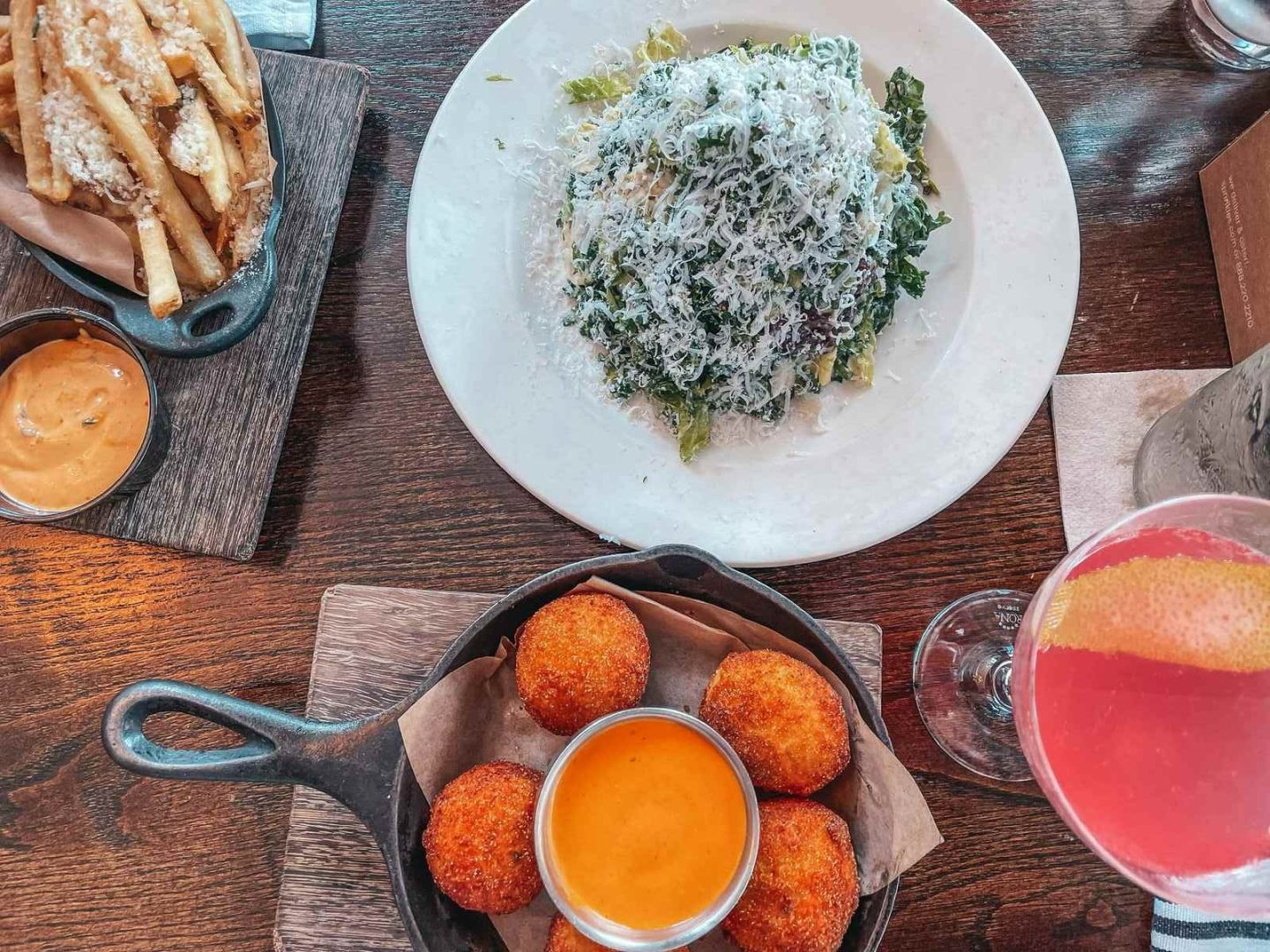 Where to eat in Hyde Park
Buddy Brew— First things first, we need coffee, and Buddy Brew is a must! It's an adorable Tampa coffee shop, and the coffee is some of the best in the area.
On Swann— If you're looking for a delicious brunch, this spot has what you're looking for. The kale salad exceeded my expectations, and the cocktails are lovely too!
Bartaco— The tacos are great, but their mezcal cocktails stole my heart. They make their drinks with freshly squeezed juice and they taste so light and refreshing.
Meat Market— My experience here was so good I literally didn't want it to end. The food, the drinks, the service, and the atmosphere are all top-notch. It's definitely one of my favorite restaurants in Hyde Park.
Forbici— Forbici is a modern Italian restaurant, with some of the best calamari I've had! I actually go there frequently strictly for the calamari. They even have an amazing happy hour every day from 3 – 6 PM which includes $8 cocktails, and their calamari for $8.
Sprinkles Cupcakes ATM— You read that right, a cupcake ATM. It's adorable, quirky, and a Tampa dessert spot worth checking out!
For shopping, they have a large selection and variety of shops! Some of the most popular are Kittenish, Leafy Luv Affair, The Candle Pour, Sur La Table, Fig & Julep, Anthropologie, Francesca's, Kendra Scott, and Lululemon.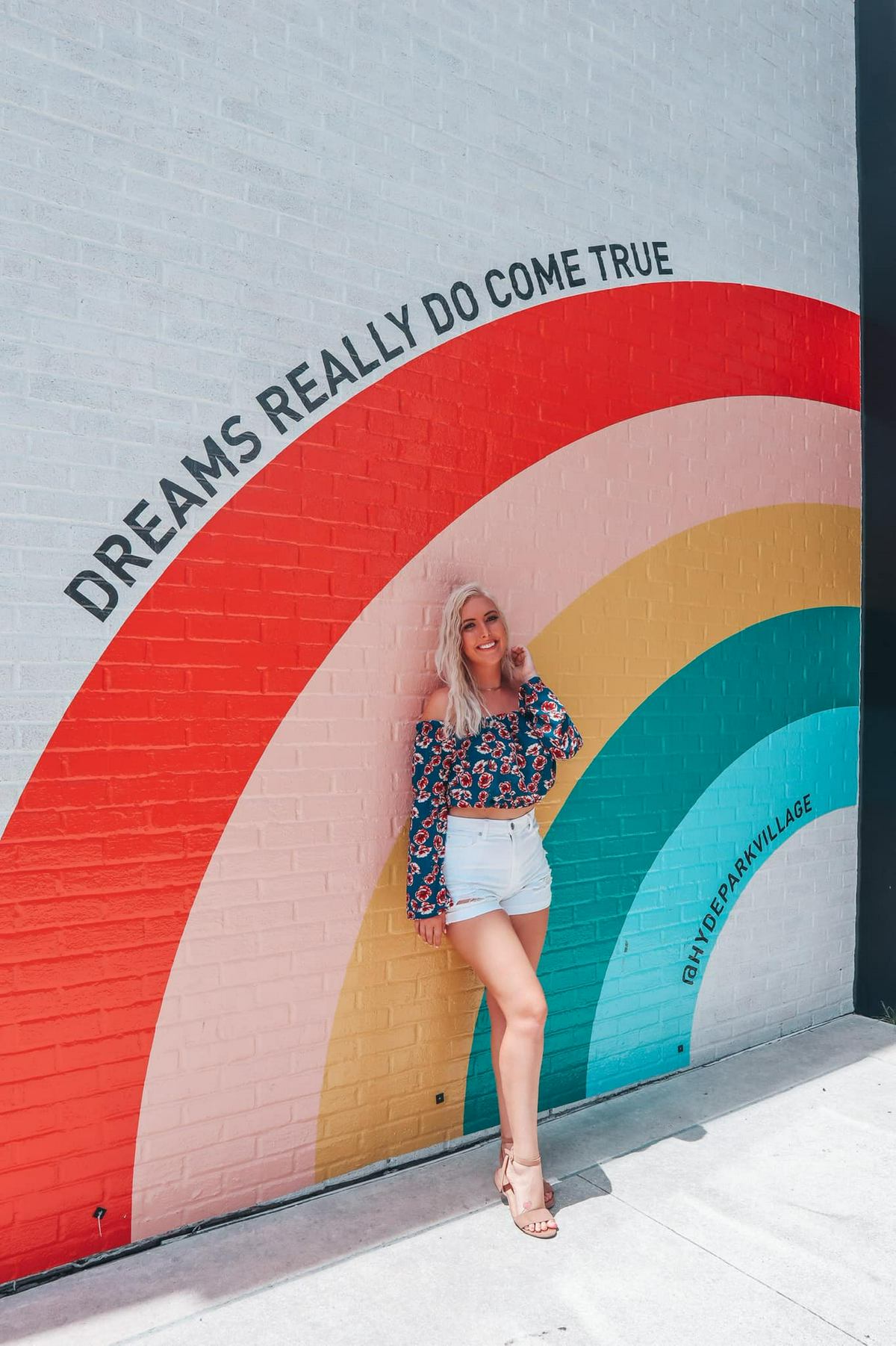 Indian Rocks Beach
Distance from Tampa: 45 minutes
Indian Rocks Beach is Clearwater Beach's quieter cousin. It's not too quiet, but it definitely gives off much more of a local vibe. I used to be lucky enough to live right across the bridge from IRB, and it was the beach I most frequented.
One of the best things to do in Indian Rocks Beach is truly just to relax on the beach and then snag a drink and a bite from Crabby's. If you're looking for more excitement you can always rent a boat, kayak, or SUP from Island Marine Rentals. Or spend the afternoon at Splash Harbour!
There are plenty of great restaurants in IRB to enjoy too! As I mentioned, Crabby's is a pretty solid option for seafood and a fun local vibe, but if you're craving something different, Kooky Coconut has great Cubans (can you tell I have a thing for Cubans?)!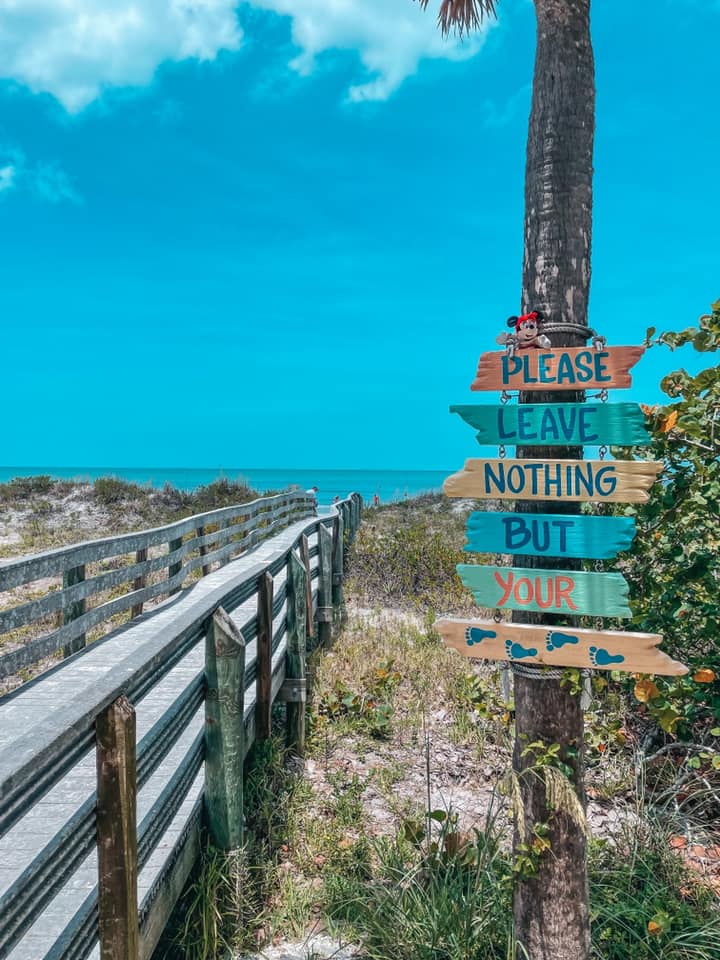 Lakeland
Distance from Tampa: 40 minutes
There's no way I could not include Lakeland as one of the best day trips from Tampa! My first time here I fell in love with its charm. There are amazing restaurants, adorable festivals and markets, fun bars, unique antique shops, and Hollis Garden.
Something that I loved about Lakeland is that parking was FREE and easy to find. The area was super walkable too!
Start your day trip by grabbing a coffee from Black and Brew before heading to Nineteen61 for some delicious Latin bites. Don't fill up! You've got a lot of food to eat in Lakeland.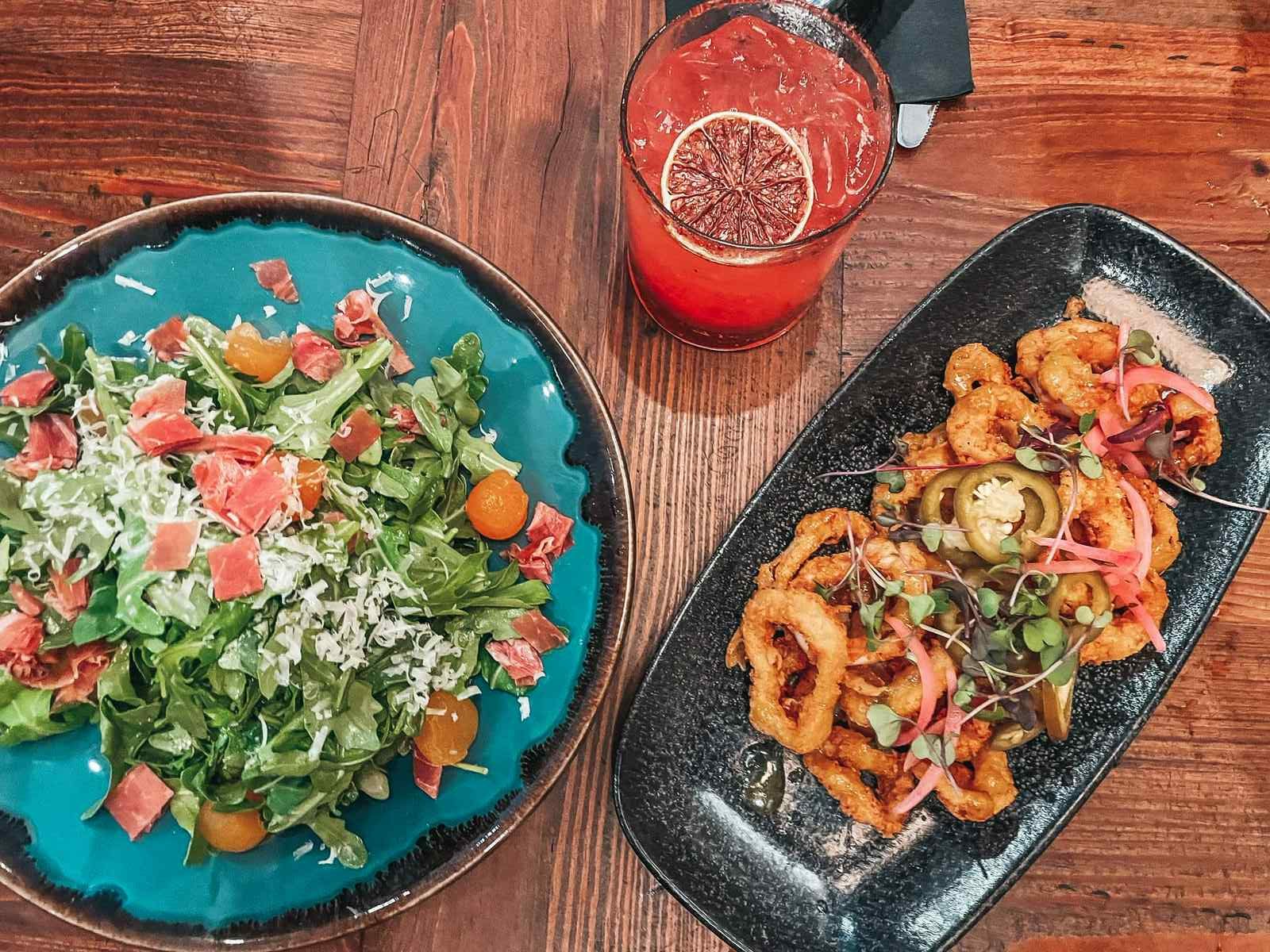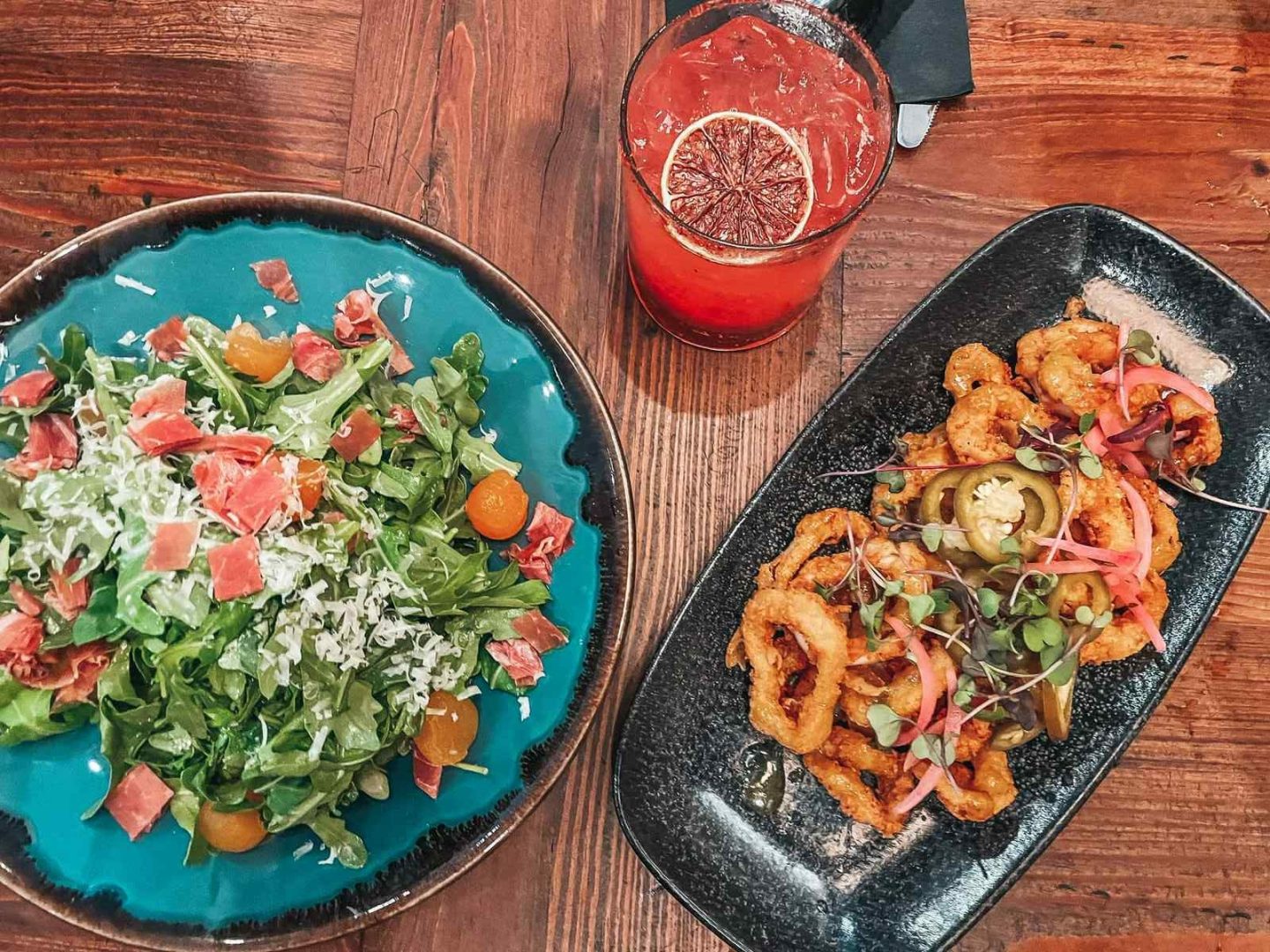 Hollis Garden is a can't-miss free activity in Lakeland. It's a botanical display garden set in a neoclassical architectural environment and is home to over 10,000 flowers, beautiful fountains, a Grand Staircase, and a picturesque view of Lake Mirror.
Next head over to the Rec Room to get your game on. This is one of my personal favorite things to do in Lakeland! They have your typical arcade games, Guitar Hero, Skee Ball, and even a ping pong room! Once you've worked up a sweat you can treat yourself to a delicious craft cocktail from Revival. You'll feel so at ease at this spot you'll want to lounge here all day! The atmosphere and staff were also notable and added to the experience.
Federal Bar is great for live music and a quick shot, and for dinner, I recommend Mojo Federal for BOMB BBQ or The Joinery for an experience similar to Armature Works in Tampa where you have a food hall style meal.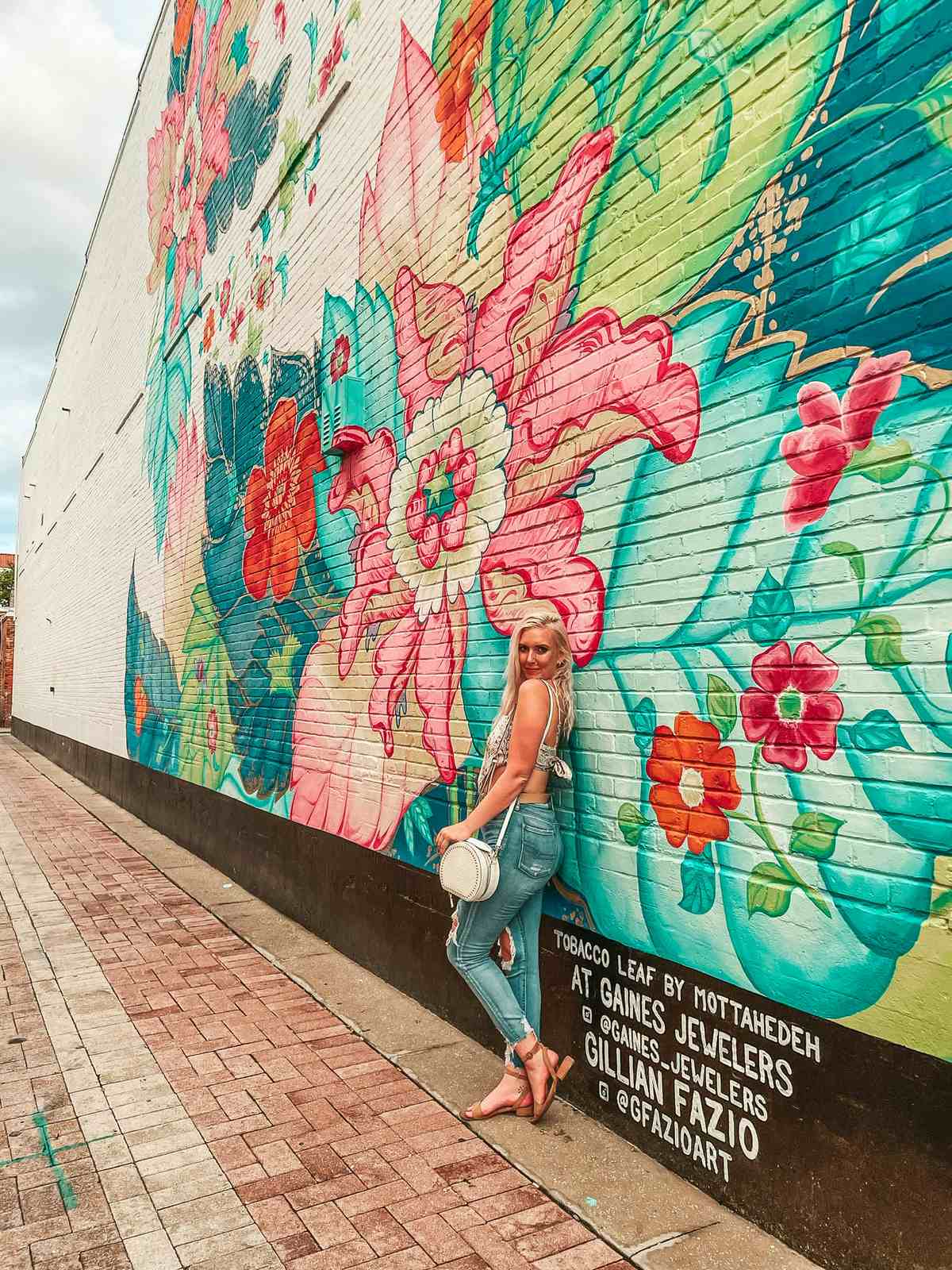 Fort Desoto
Distance from Tampa: 40 minutes
Fort Desoto is the largest park in the Pinellas County Park system and is home to a diverse and complex ecology. There are historic forts, 7 miles of trails, 2 fishing piers, and 3 miles of white sandy beach.
Explore the area via canoe or kayak. They are available for rent by the hour or the day. Or you can take a guided eco-tour to learn interesting facts about your surroundings.
Fort Desoto also has a ferry service you can take to Egmont Key or Shell Key. I recommend Egmont Key as it's great for shelling, swimming, and snorkeling. It's also fun to explore because there is a large fort (Fort Dade) you can access, and the island is home to a large population of native gopher tortoises.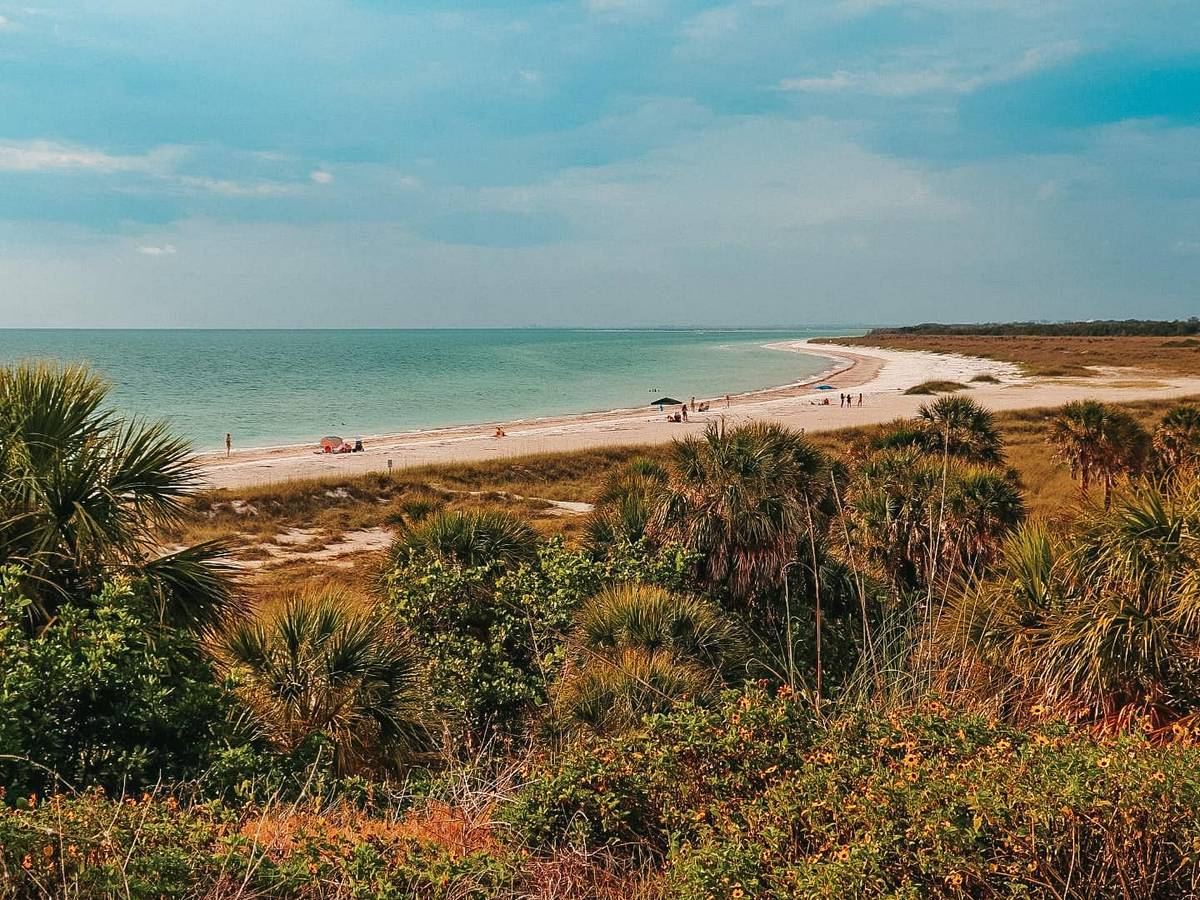 Gulfport
Distance of day trip from Tampa: 30 minutes
Gulfport is absolutely adorable! It's extremely walkable, and there's plenty of free parking! It's a very colorful little area. Comparable to Dunedin, but I felt like it was a little bit smaller.
Start your day with coffee from Gulfperk Coffee Bar! Next head over to Anani Bistro and build your own acai bowl as you lounge and read or work.
We really enjoyed riding our bikes around town, venturing from place to place while enjoying the colorful homes. If you don't have a bike, you can rent one from Cruiser Bike Rentals.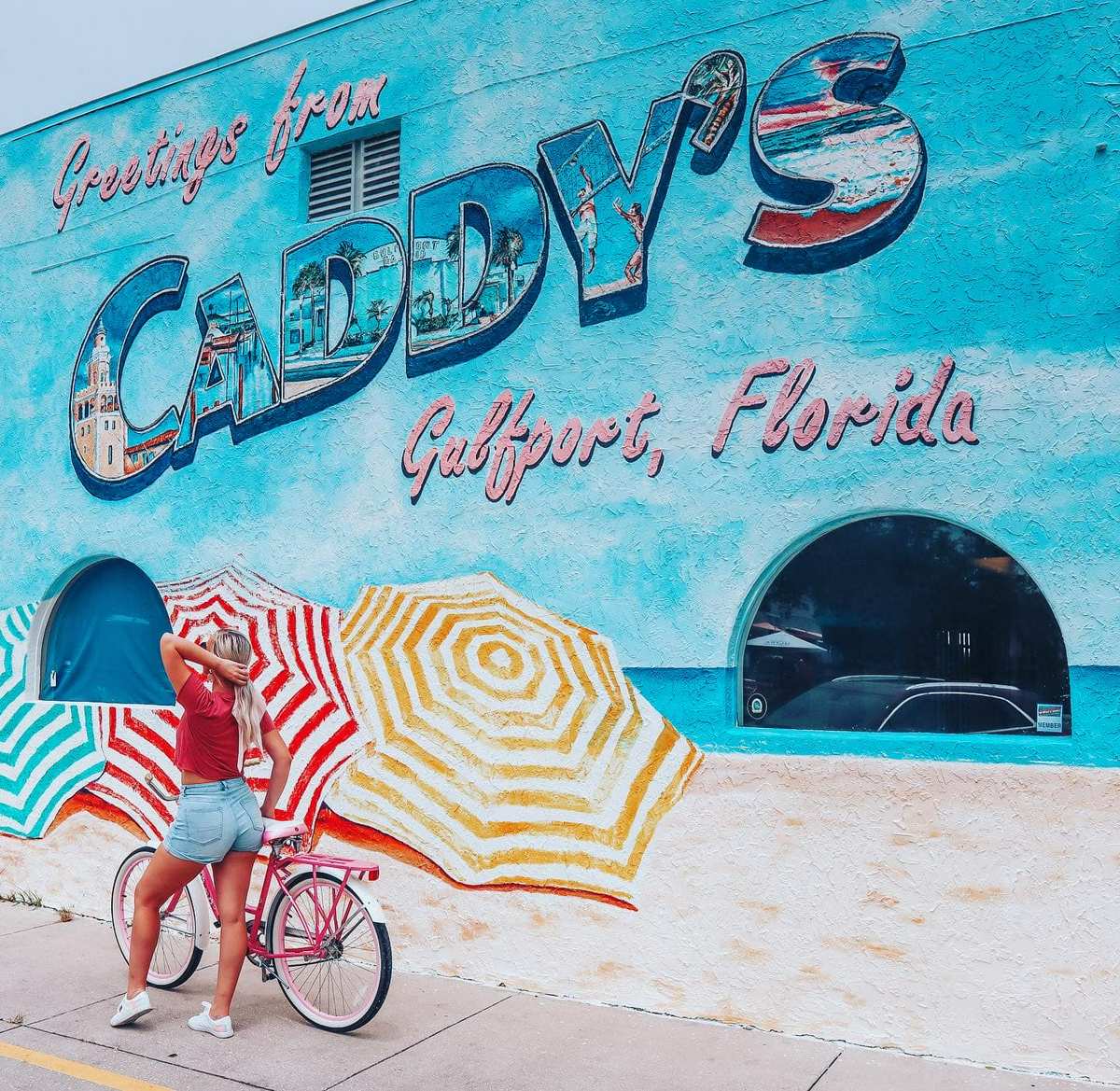 Two places that are absolute must-stops for food are Seadogs Cantina, they literally have THE BEST nachos I have ever had in my entire life! I mean it.
And the other spot is Pia's. Truly some of the best Italian food I have ever had! Not to mention they had grilled calamari! Something I haven't been able to find since coming back from Italy. The ambiance here is amazing too, perfect for a date night!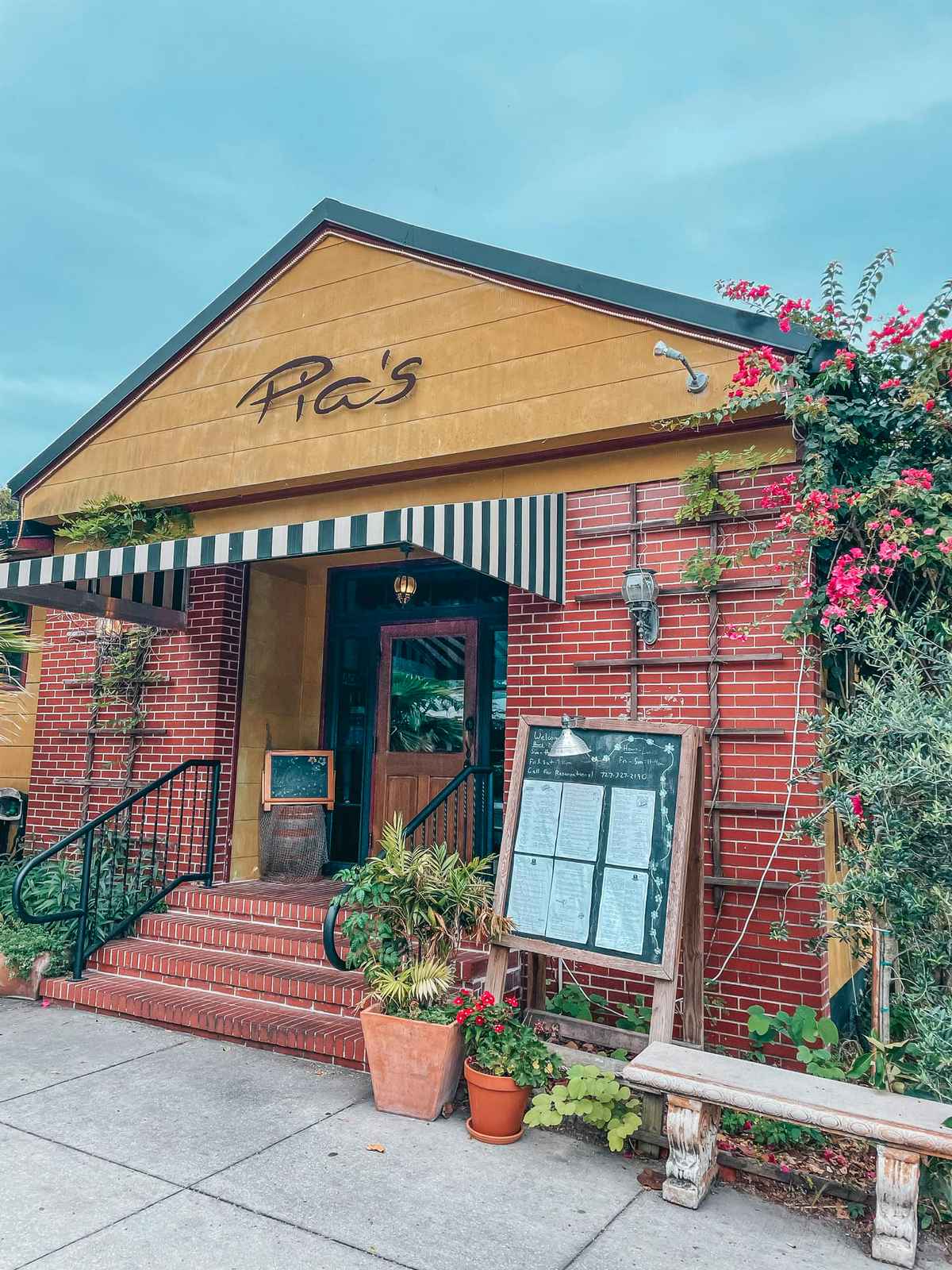 Sarasota
Distance of day trip from Tampa: 1 hour
Sarasota is a little over an hour from Tampa, and honestly if you can make this a weekend getaway or overnight trip, I would! There is so much to do here, plus you're close to AMI which deserves a day trip for itself, but better yet if you can explore both!
Let's start off at The Ringling Museum. You can pay to explore the museums, or you can explore the grounds for free. There is honestly plenty of beauty in just exploring the grounds, I can assure you of that!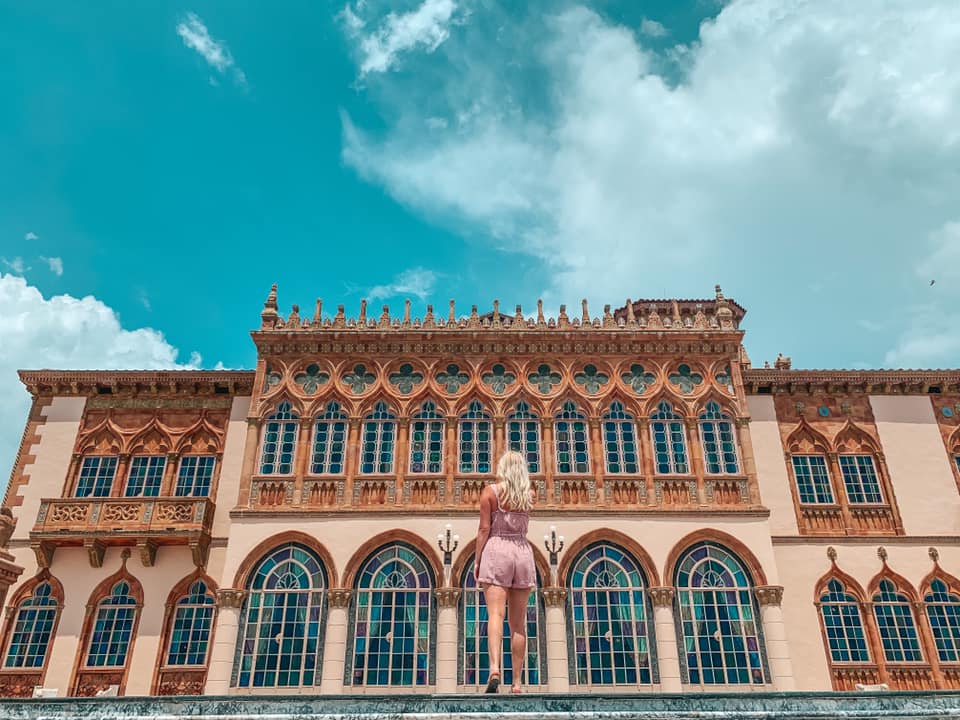 Selby Botanical Gardens is another must-do in Sarasota. It's one of the best botanical gardens I've personally been to. It's right on the bay which was so unique, and they always have extremely interesting exhibits.
If you like speakeasies as much as I do you gotta check out Pangea Alchemy Lab! Once you find out how to get in, I think you'll really enjoy their creative cocktails.
St. Armond's Circle is great for shopping, and of course, there's always the beach! The downtown area is really cute too and it's nice just strolling the main street checking out the shops, bars, and restaurants.
Speaking of restaurants, I recommend Owen's Fish Camp for a fun, relaxed atmosphere with great seafood and history, or Duval's for a nice sit-down dinner and more delicious, fresh seafood.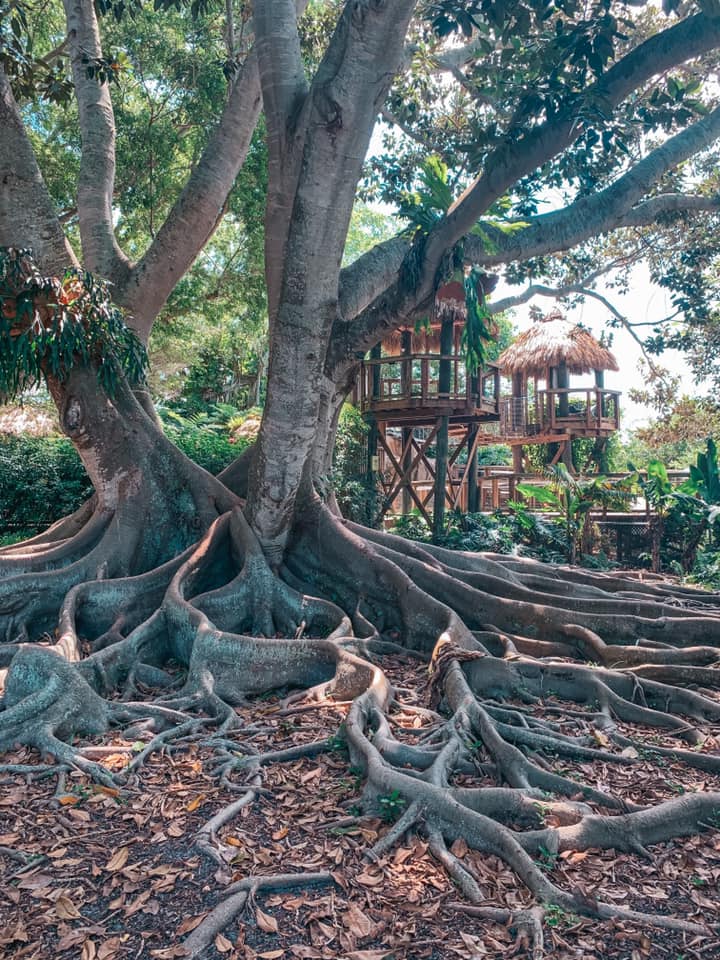 Anna Maria Island
Distance of day trip from Tampa: 1 hour 10 minutes
AMI is a total oasis. This barrier island is surrounded by beautiful beach. It's one of the few beach areas in Florida that isn't built up by hotels and resorts and has kept its old Florida charm. You'll even notice people mostly getting around via a golf cart!
That being said, an obvious suggestion for AMI is renting a golf cart from AMI Beach Fun Rentals and using it to get around the beach.
Catch some rays at Bean Point, or catch the sunset here! Another great place to enjoy the beach is by The Sandbar Restaurant. Splash around in the ocean and then grab a cocktail and a bite. The Kokonut Hut is also a solid spot for this.
If you're starting early at AMI have breakfast at Peach's— and don't you dare leave without getting the best peach cobbler your taste buds have ever encountered!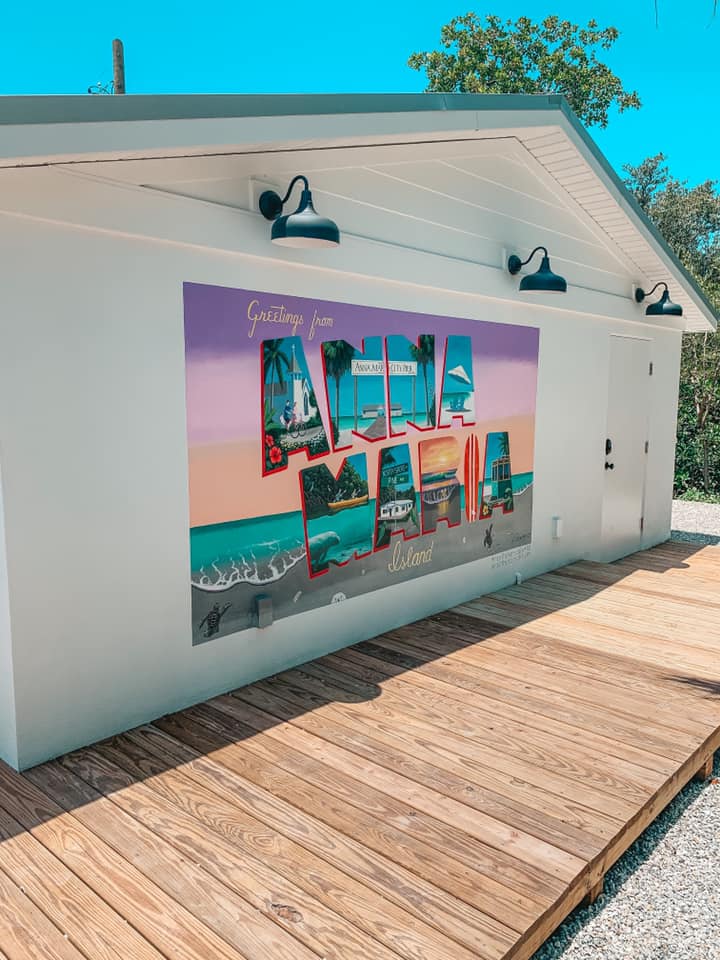 Devil's Den
Distance of day trip from Tampa: 2 hours
Devil's Den is the longest drive on the list of day trips from Tampa. That being said, it's also probably one of the most unique day trips! If you're unfamiliar, Devil's Den is a prehistoric spring that serves as a unique snorkeling and scuba diving site.
The Den isn't just your typical spring though, it's in an underground cave that is only accessible via narrow stairs that end underwater. There is also an opening at the top of the cave where you can look down into the snorkeling area.
Since it's a spring, the water temp remains 72 degrees Fahrenheit year-round. If you visit on a cold Florida winter morning you can see steam rising from the opening.  This is how Devil's Den got its name.
Admission costs $15 on weekdays and $22 on weekends. This admission fee does not include your snorkeling equipment (mask, snorkel, and fins) which is required. Bring your own, or pay an additional $12 to rent some.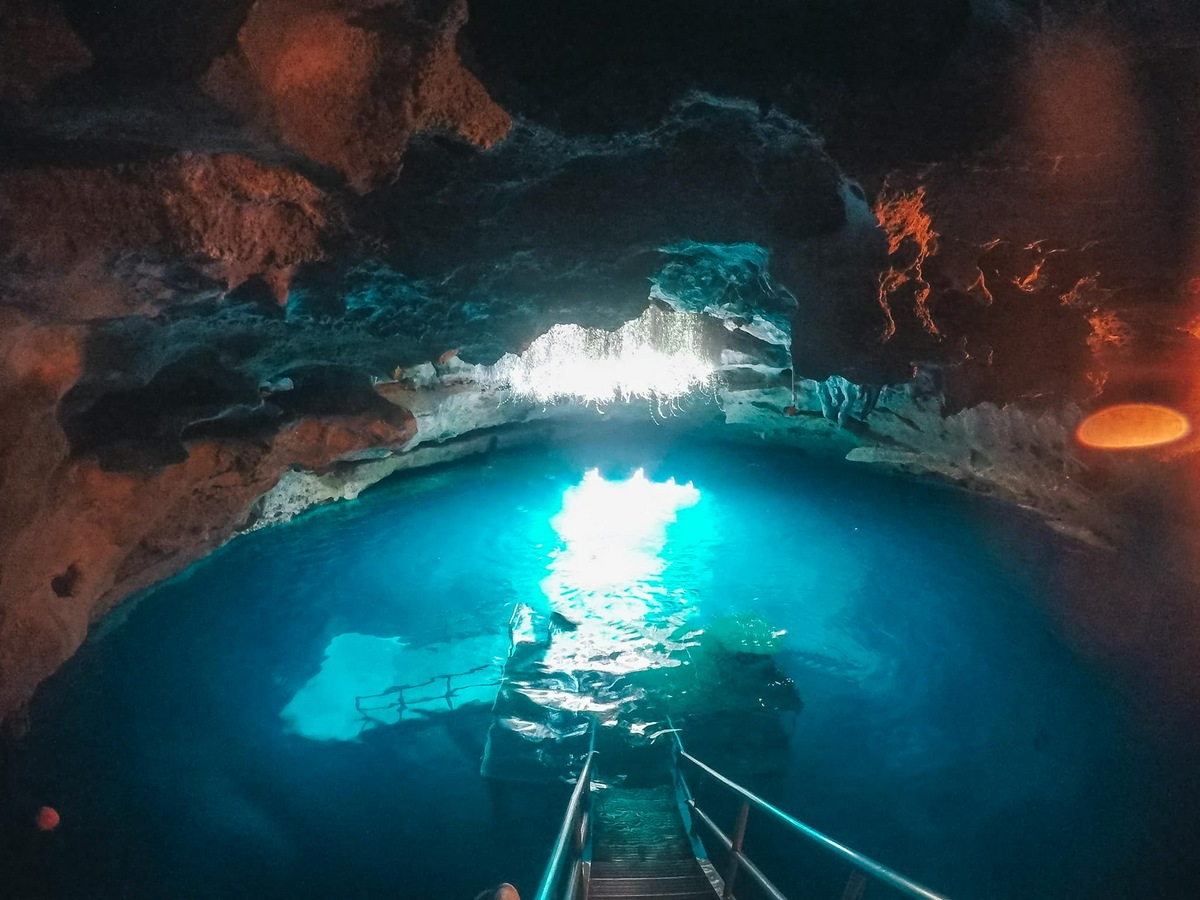 Which day trip from Tampa are you checking out first?
I hope you've gathered from this list of epic day trips from Tampa that it's dang-near impossible to be bored in this area, and there is always something new to discover and explore! Let me know your favorite day trip from Tampa or which you're most looking forward to doing in the comments 🙂
Be sure to follow me on Insta @guidedbydestiny for more Florida content! Here are some other local posts to check out before you go:
Free things to do in Tampa, Florida
Best Seminole Heights restaurants