This post contains affiliate links which means that I will make a small commission if you purchase a product after clicking on any of them, at no extra cost to you.
I firmly believe one of the reasons Clearwater Beach is consistently named Florida— and even America's!— number 1 beach is along with the beautiful white sand and emerald waters, there are a TON of fun things to do in Clearwater Beach!
There are boat tours, beach bars, water sports, and more. Deciding how to best spend your time for your beach vacation can be the trickiest part. That's why I've narrowed it down to the 10 best things to do in Clearwater Beach.
If you're coming between the busy season of March through early August, be sure to book the tours I mention in advance!
Related read: If you want a full list of all that Clearwater Beach has to offer, check out my list of 30+ activities in Clearwater Beach
When is the best time to visit Clearwater Beach?
If you prefer to visit in the off-season when things slow down and hotels are typically cheaper, I suggest coming end of August through October. The water is still warm, and the beach has died down quite a bit since the kids are back in school.
March is pretty crazy for spring break and spring training. Hotel rates skyrocket and the beach traffic is pretty horrid. Summer months are busy but not as bad as March.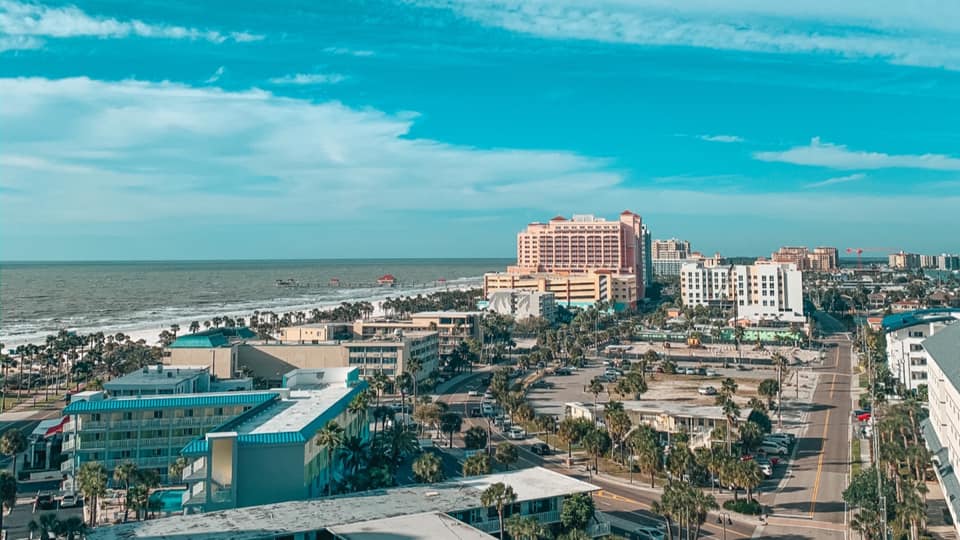 Best Things to Do in Clearwater Beach
Check out the fun beach bars
There are so many fun beach bars, with delicious beach-inspired cocktails and fun, lively environments. Shephard's has a great outdoor venue with live music, a dance floor, and even some games. At night on the weekends, you can head inside to The Wave to experience Clearwater Beach's only nightclub.
Toucan's, Jamminz, and Brown Boxer are all within walking distance from each other and are all a blast! Brown Boxer even has an arcade with a ton of games for you to bust out your competitive side. Or if you love rooftop bars, check out Bar Tiki, Jimmy's Crow's Nest, or Jimmy's on the Edge.
Wanna make your bar hopping experience even more fun and entertaining? Check out my Clearwater Beach scavenger hunt (adults only)!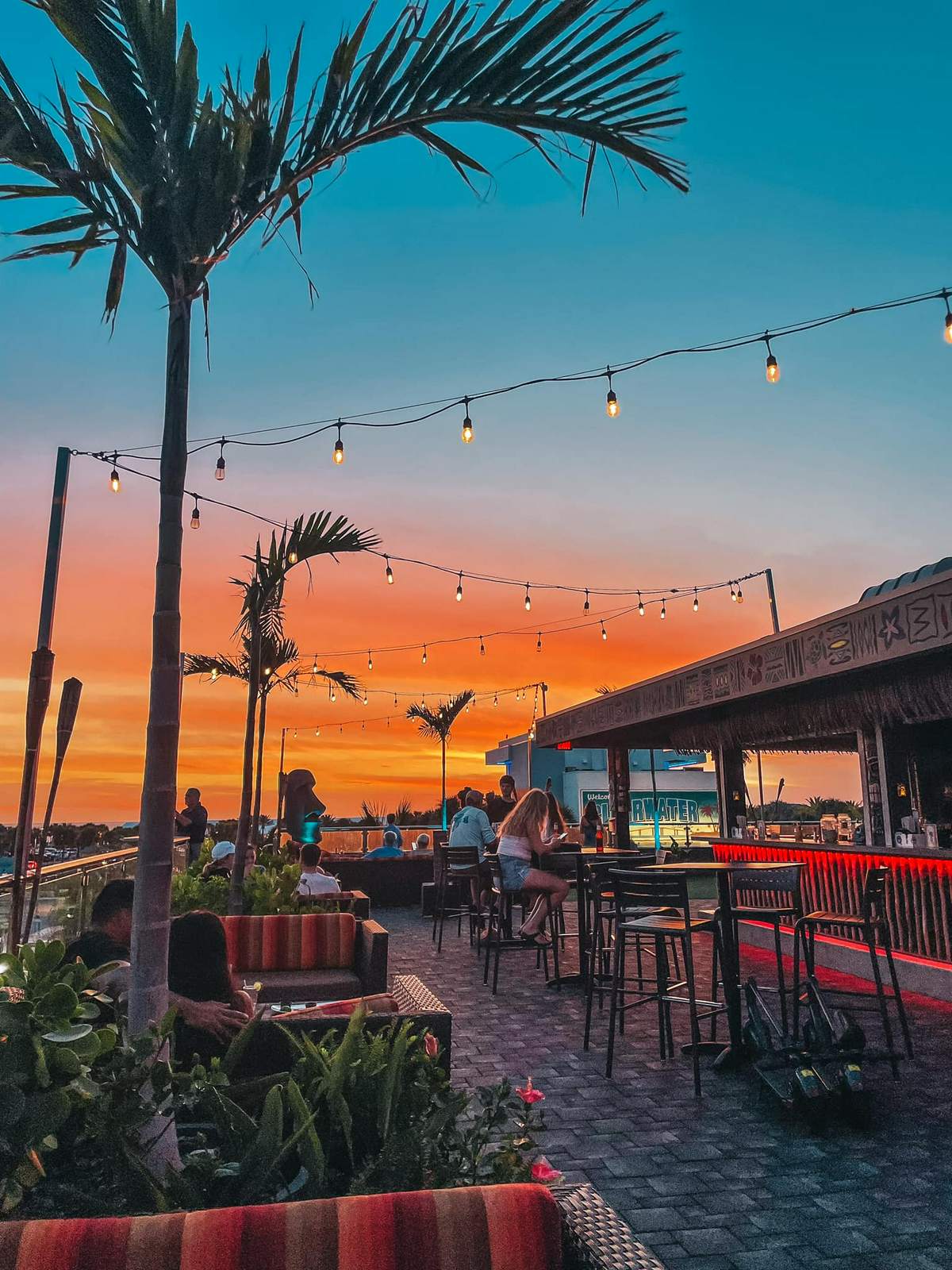 Check out my list of fun beach cocktails and the best beach bars to get them at!
The best part about this Clearwater Beach activity is you can partake in this fun rain or shine!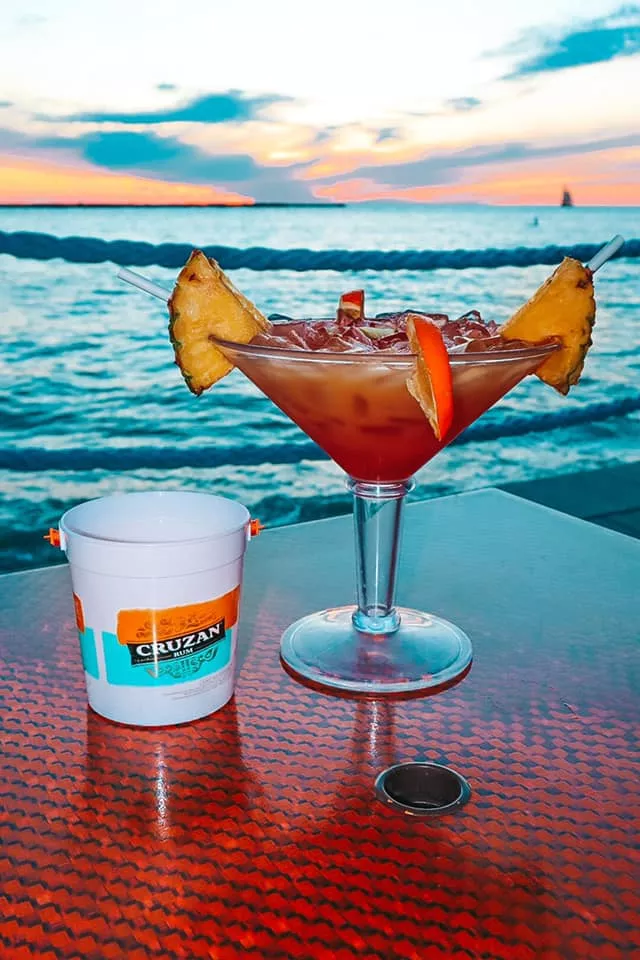 Captain Memo's Pirate Ship
Initially, I thought Captain Memo's was just for kids, but it certainly is not. Regardless of age, this is a really fun way to spend a few hours sailing the seas.
If you're 21 and up, you can get a drink package and enjoy the views from the adult-only third deck. If you're on a family adventure, the crew has lots of fun planned with a treasure hunt, face painting, water-gun games, stories, and dancing.
After I made sure to take full advantage of my drink package, I also discovered that adults can utilize the face painting… I may or may not have left the ship with a mustache and goatee.
Cruisin Tiki's
More suited for 21+, Cruisin Tiki's is your own personal floating bar. Cruise around Clearwater on a 1½- to 2-hour cruise. You bring your own booze and snacks, but the tiki provides you with cups, ice, a blender, and a fun way to explore the Gulf of Mexico.
This was honestly one of my favorite boat tours— we had a total blast! You can do it early in the morning, afternoon, or at sunset. We saw so many dolphins when we went in the afternoon; it was the cherry on top! Book your adventure here!
It's also one of my favorite things to do in downtown St. Pete!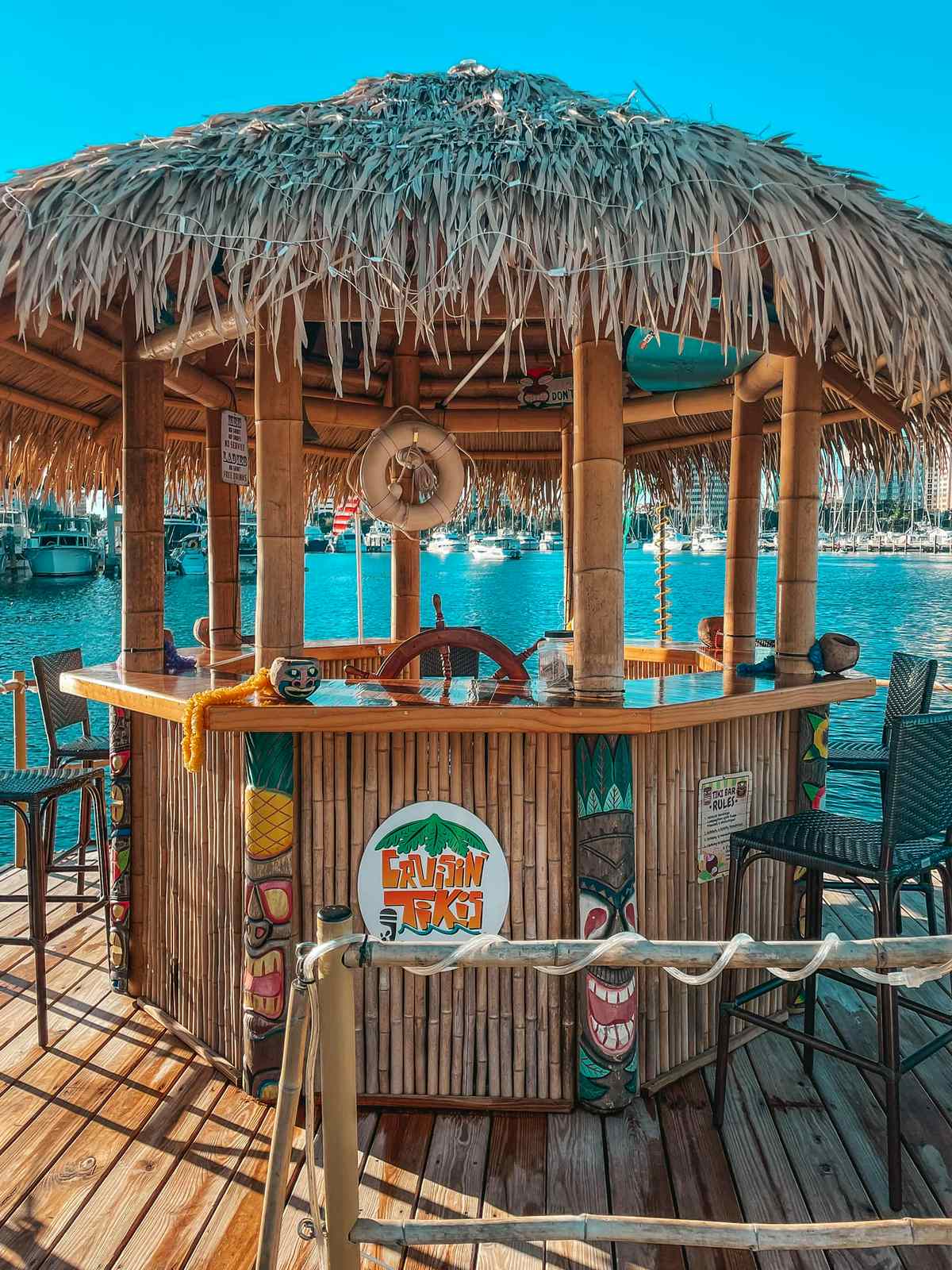 Do a private boat tour with A Boat Day
If you're looking for an EPIC boat day in Clearwater Beach, you gotta check out A Boat Day. They have a few different options for the type of boat you can rent. Select either one of their deck boats or a funship and rent them anywhere from 4-8 hours. I highly recommend choosing one of their funships which includes a waterslide!
The boats occupy anywhere from 6-10 people and the charters are private meaning it's just you, your crew, and your captain (we loved our captain— shoutout to Captain Marcos).
Spending a day with A Boat Day was truly one of the funnest boat days I've had. I was worried I would be scared to do the slide, but once I did it once I didn't want to stop! Aside from the waterslide, you can island hop, go shelling, snorkeling, or just cruise for dolphins!
This Clearwater Beach activity is perfect for all ages and occasions.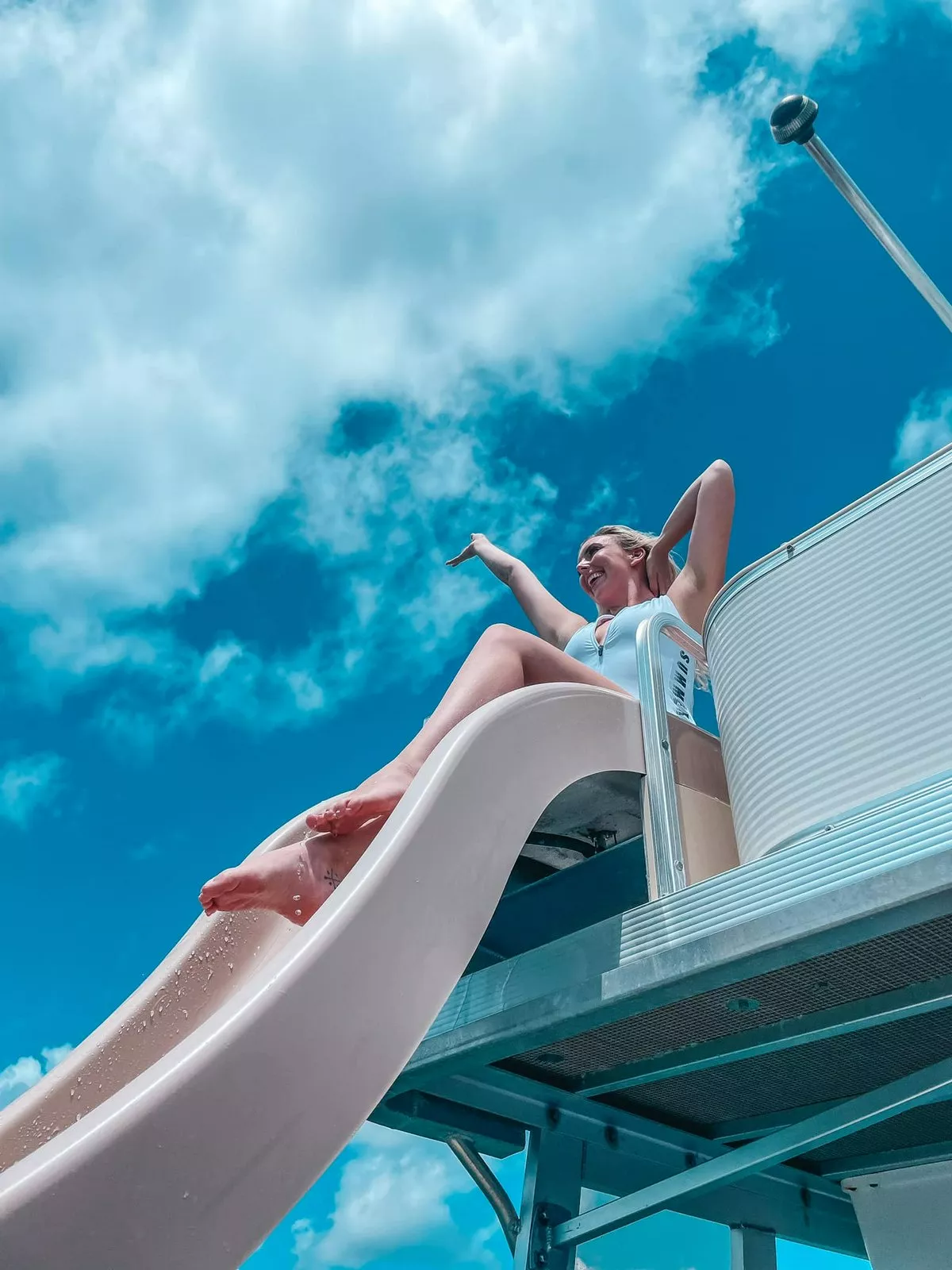 Pier 60
Pier 60 is one of the most iconic things to do in Clearwater Beach. Whether you visit during the day to check out the views or even go fishing, or in the evening during their sunset celebration, Pier 60 is a necessity for your Clearwater Beach experience.
The great thing about fishing here is you don't need to have a fishing license. It's city-owned, so they have their own commercial fishing license that you have to go through. For $20, you get everything you need to be the next Rick Clunn— a pole, some bait, and your license.
For Pier 60's Sunset Celebration, which occurs 2 hours before until 2 hours after sunset, you can expect performers of all kinds, along with crafters, face painters, and musicians— not to mention the most beautiful, untainted views of the sunset.
There are also tons of other fun activities right next to the pier such as large inflatable water slides, bungee trampolines, and a bubble ball (it basically looks like a giant hamster ball for humans).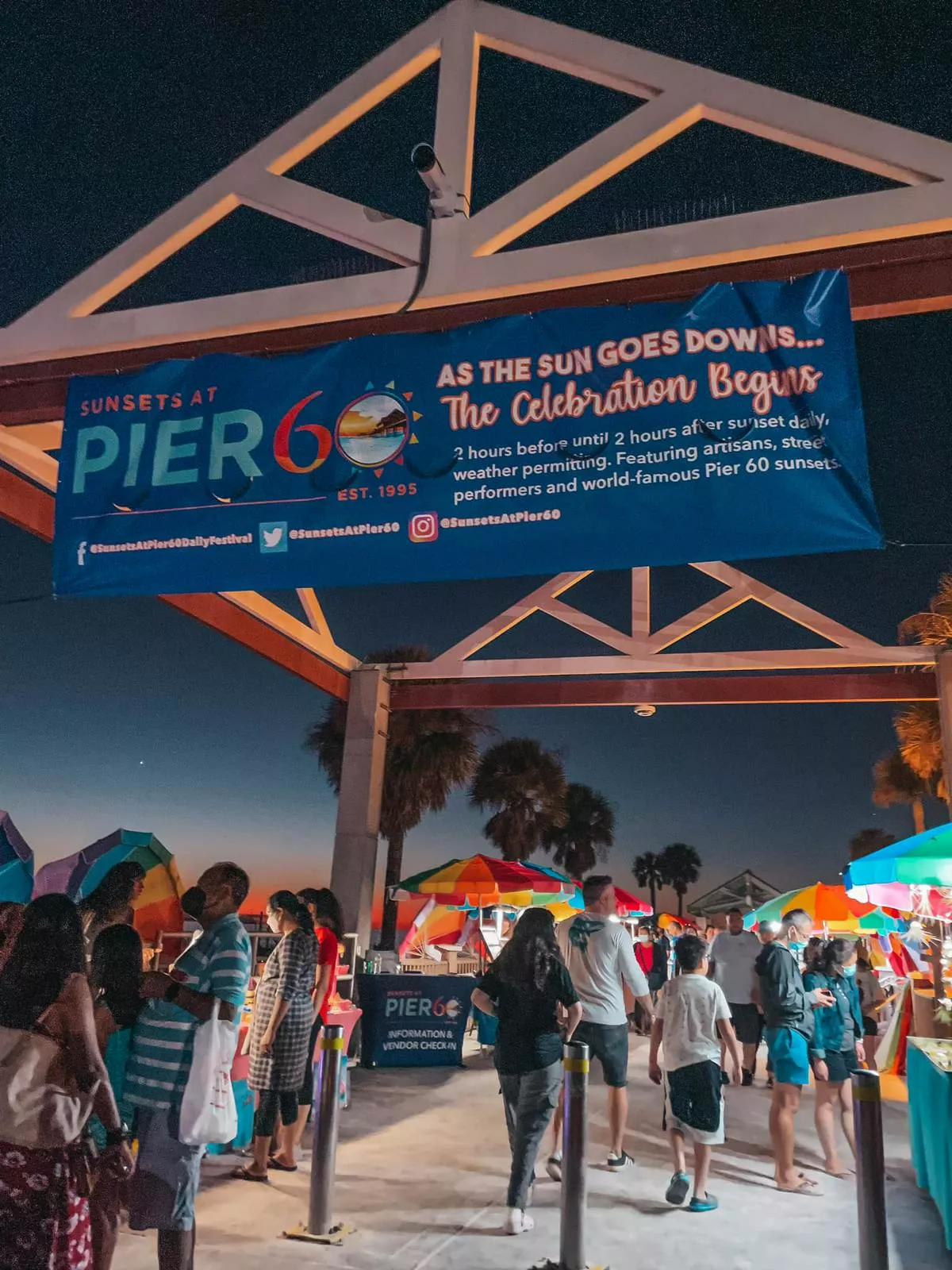 Kayak (or paddleboard)
Personally I prefer to kayak, and I find it to be much easier than paddleboarding, but whatever floats your boat! Most rental places offer both options.
Downsouth Kite and Paddle is a good option if you want to do a tour or a full-day rental. They offer eco-tours that are about 2 ½ hours, including sunset tours.
If you don't want to do a tour, you can rent the paddleboard/kayak for the day, and the price includes free delivery. They have single and tandem kayaks available. Kayaks are slightly cheaper than SUPs. Depending on what time of year it is, check out their special events, and you may be able to do a SUP yoga class.
Makin' Waves is where I usually rent my kayak from. It's located behind Shephard's, and they're great if you just want to rent a kayak or paddleboard for one to three hours. You go right out on the Gulf and can explore the Sand Key Bridge area. The last several times I have done their rentals, I have been lucky enough to have a few dolphins swim around me and make the experience extra special.
For the Paddle Out Adventures experience, you actually begin on a pontoon boat and are taken out to your paddleboard/kayak destination. These adventures range from 2-4 hours, and the rates are per person, per hour. Boat tours and kayak/paddleboard rentals are included.
This is a good option if you want to explore waters you wouldn't get to otherwise— with the pontoon boat, you are able to be taken to secluded beaches, islands, and lagoons.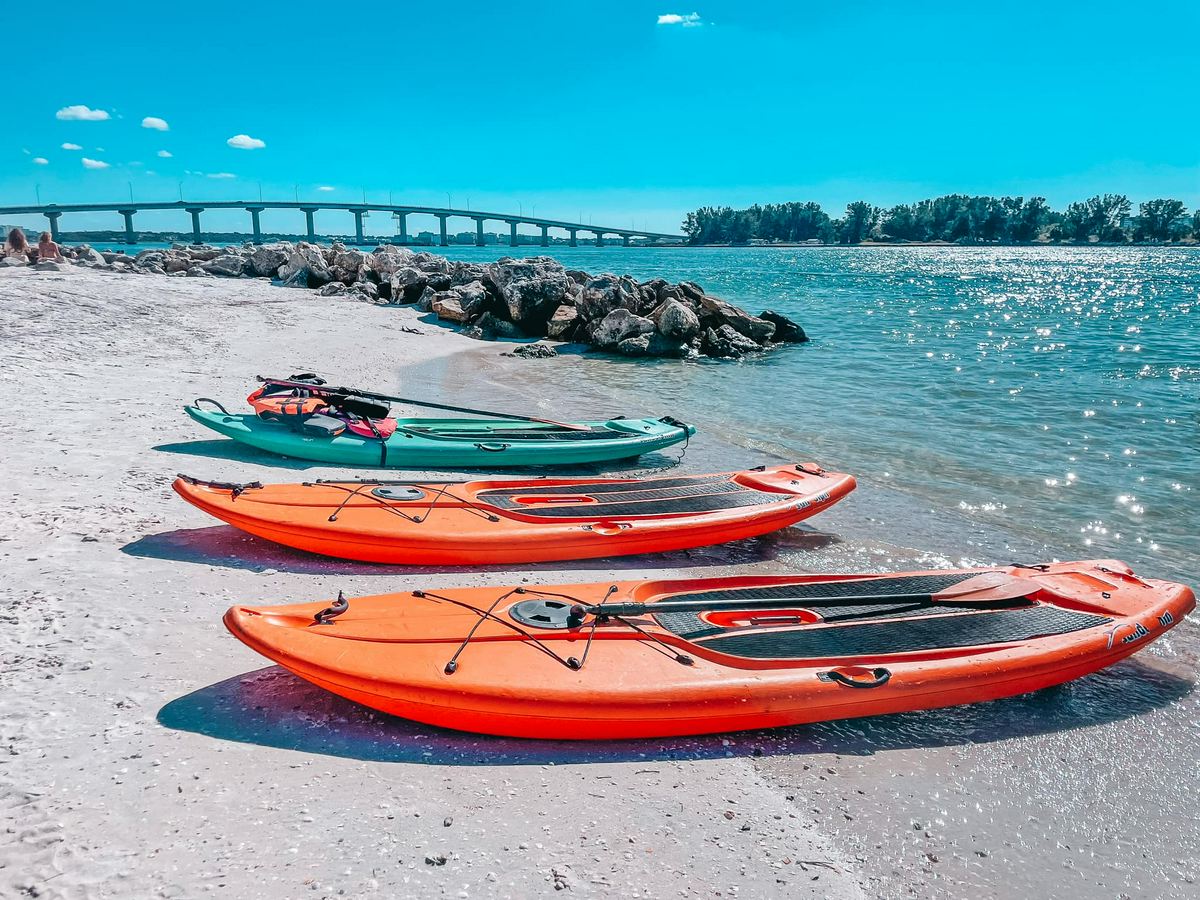 Parasail
If you've been to Clearwater Beach, you've most likely seen the giant parachutes being pulled by boats. Soaring hundreds of feet above the Gulf, you get the most amazing views— and quite a thrill!
Clearwater Watersports, Chute 'Em Up Parasail, and Pier 60 Parasail are a few of the main options. They all tend to be around the same price of $80.
I would pick whichever one is closest to the other activities you plan to do that day. Clearwater Watersports is right by Shephard's on South Beach.
Chute Em Up Parasail and Pier 60 Parasail are near Pier 60. Parasail Clearwater is a little further down North Beach by Frenchy's Rockaway Grill.
Some may offer discounts in hotel coupon books!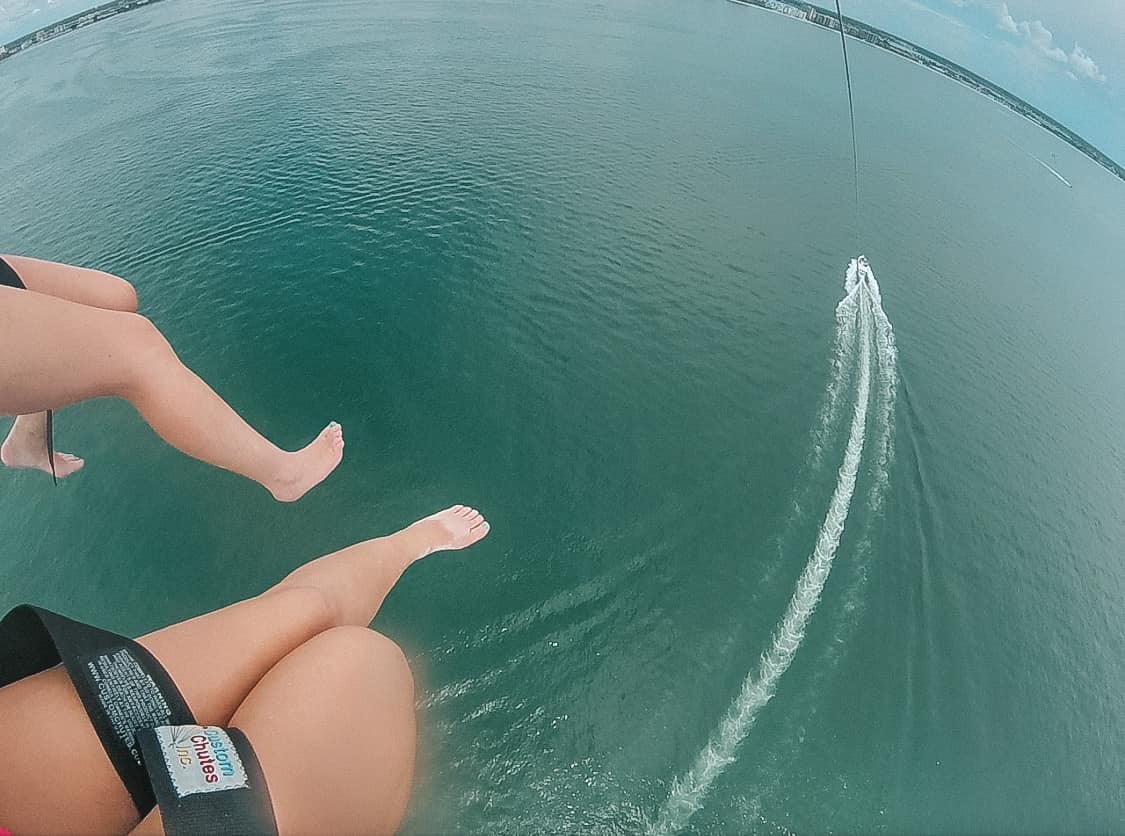 Relax at the beach
One of the best things to do in Clearwater Beach is of course JUST RELAX! Pack up your cooler, grab your sunscreen, and enjoy the pristine white sand and calm waters.
Most people just lay out on the area of the beach that is closest to their hotel, but I will give you a couple of suggestions if you're looking to venture out.
I usually prefer to layout on South Beach by Shephard's. I find it to be a little less crazy as it's on the intercoastal. The water is very calm here, and while it still may be crowded, it's typically a little less crowded than the main beach by the pier. It's also conveniently located by Makin Waves, which is where I like to get my kayak and Jet Ski rentals.
While it may be busier, near Pier 60 is also a great place to relax at the beach. There are tons of fun activities and great restaurants nearby. You're very centrally located so you have pretty easy access to everything.
If you enjoy beach volleyball, head down by Frenchy's Rockaway and get your game on! Work up an appetite and then get one of the best grouper sandwiches on the beach.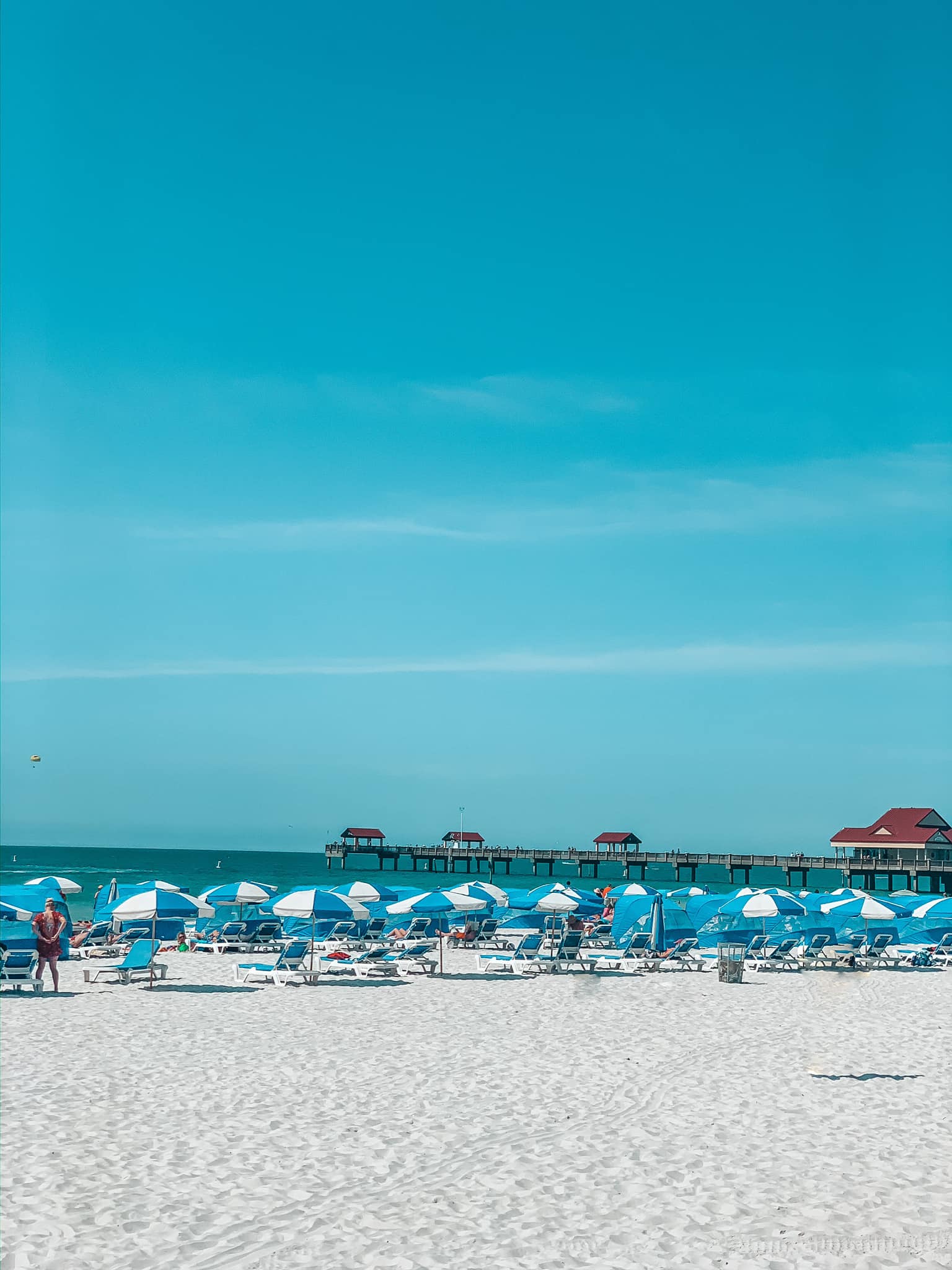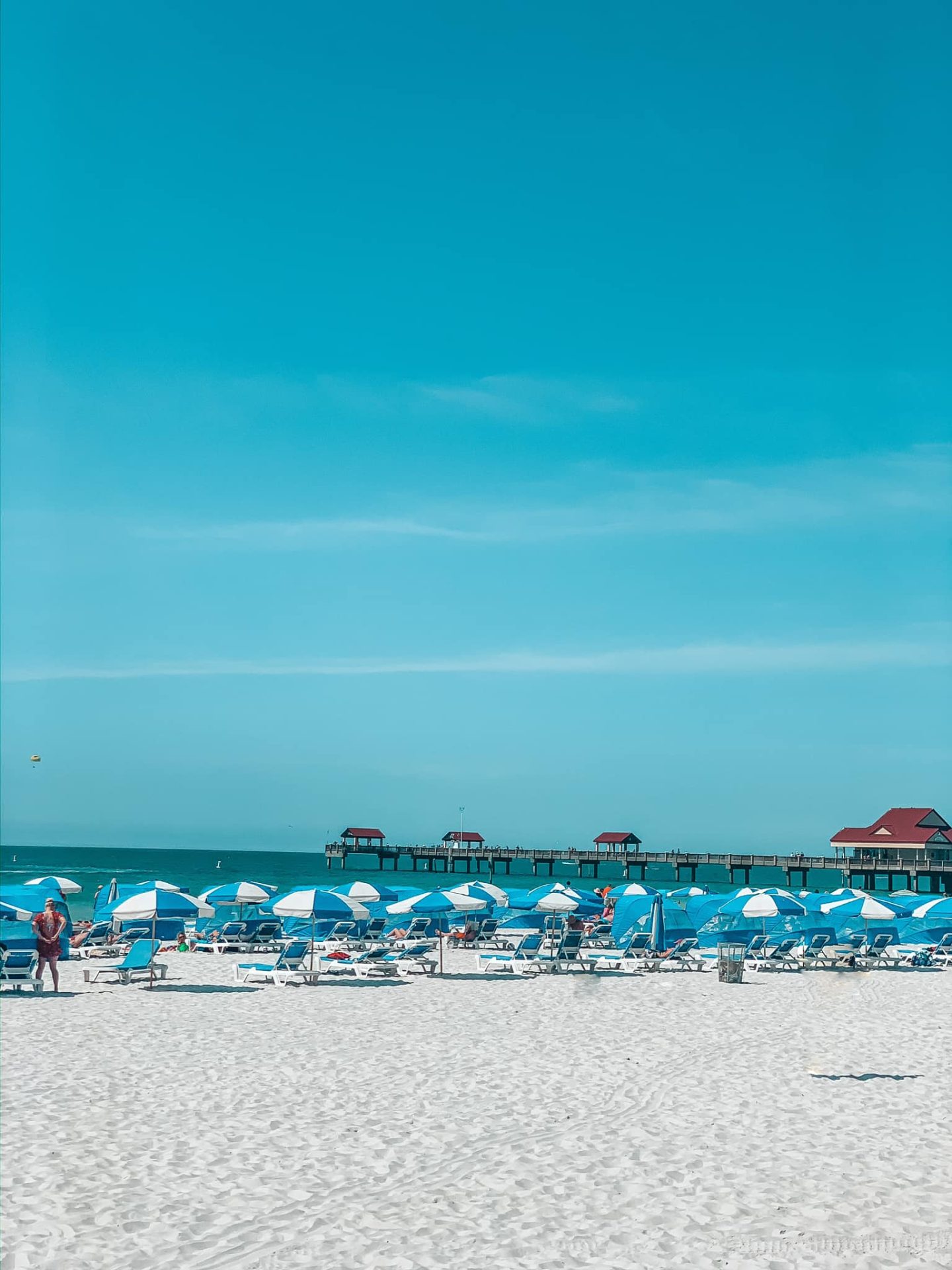 Enjoy the sunset
I used to work on Clearwater Beach, and I swear I witnessed some of the most beautiful sunsets I have ever seen. Each night was something different, but magical in its own way.
Of course the beach is one of the best places to witness it, but if you're wanting to do a sunset dinner, Jimmy's Fish House is such a great place to eat with waterfront dining while enjoying the sunset.  The restaurant even does a nightly sunset celebration where they pass around free sunset shots to all of their guests!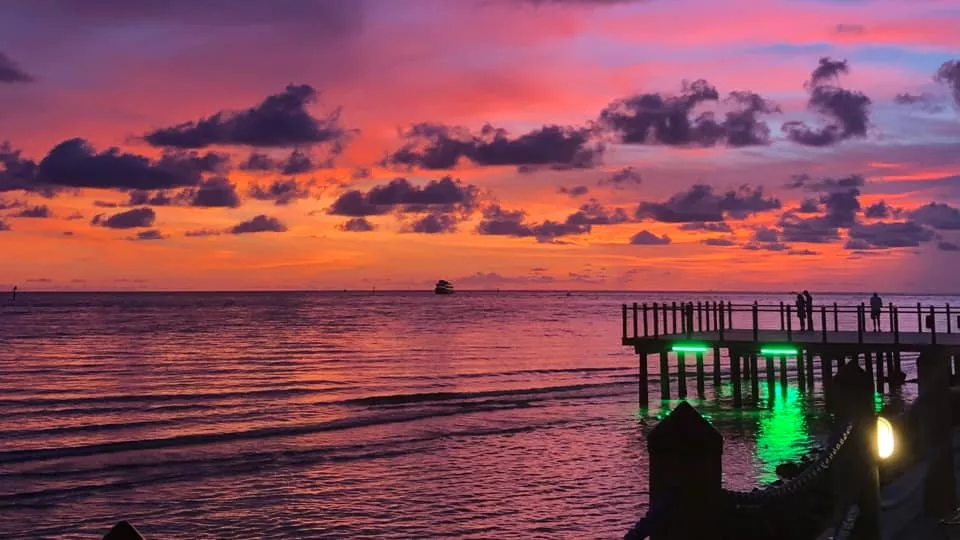 Go next door to Dunedin
A short, 20-minute drive (or Jolley Trolley ride) from Clearwater Beach and having a quainter, chiller vibe, downtown Dunedin is home to cute shops and restaurants. If you're into breweries, do their Brew Map and walk to all of their fun breweries.
Once you're done exploring the downtown area, make sure you check out at least one of the beaches of Honeymoon or Caladesi Island. Honeymoon Island State Park has some of the most beautiful sunsets, and Caladesi Island is a must if you enjoy shelling.
If you don't mind venturing out a little further, I also suggest checking out downtown St. Pete or Tampa! There really are a great number of day trips you can check out all less than an hour's drive away!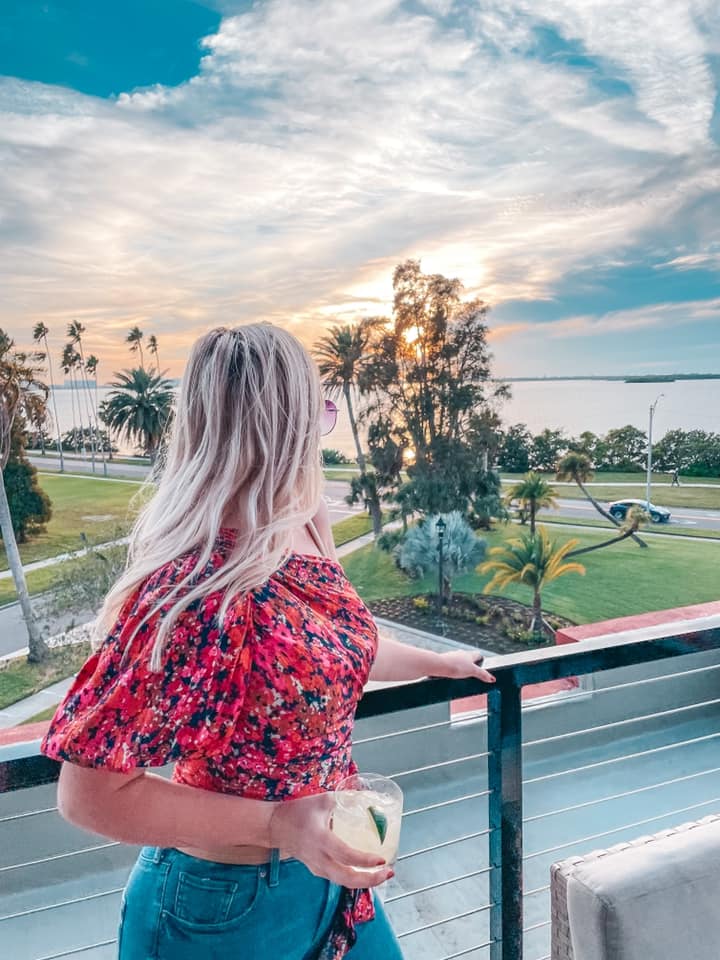 Where to stay in Clearwater Beach
If you want to stay on Clearwater Beach, most of the time it's not going to be super cheap. Check out Booking.com for the best deals for the time you plan on visiting! Most places have free cancellations when you book through booking, which is why I use them frequently.
Personally, I love IHG brand hotels. I have the IHG credit card which comes with some awesome perks, including frequent free upgrades. Check out my travel credit card guide to discover the world of perks from free nights to upgrades!
The Holiday Inn on Clearwater Beach is not the most updated hotel, however, it is one of the more affordable options. It has amazing views, a bomb restaurant that is inside the hotel, and if you have children kids eat free off of the kid's menu! The restaurant (Jimmy's Fish House) is right on the water and does a fun sunset celebration each night where adults get a free sunset shot and everyone toasts together!
They also have a lovely pool area, with a fun tiki bar! This hotel is super family-friendly and in a good location.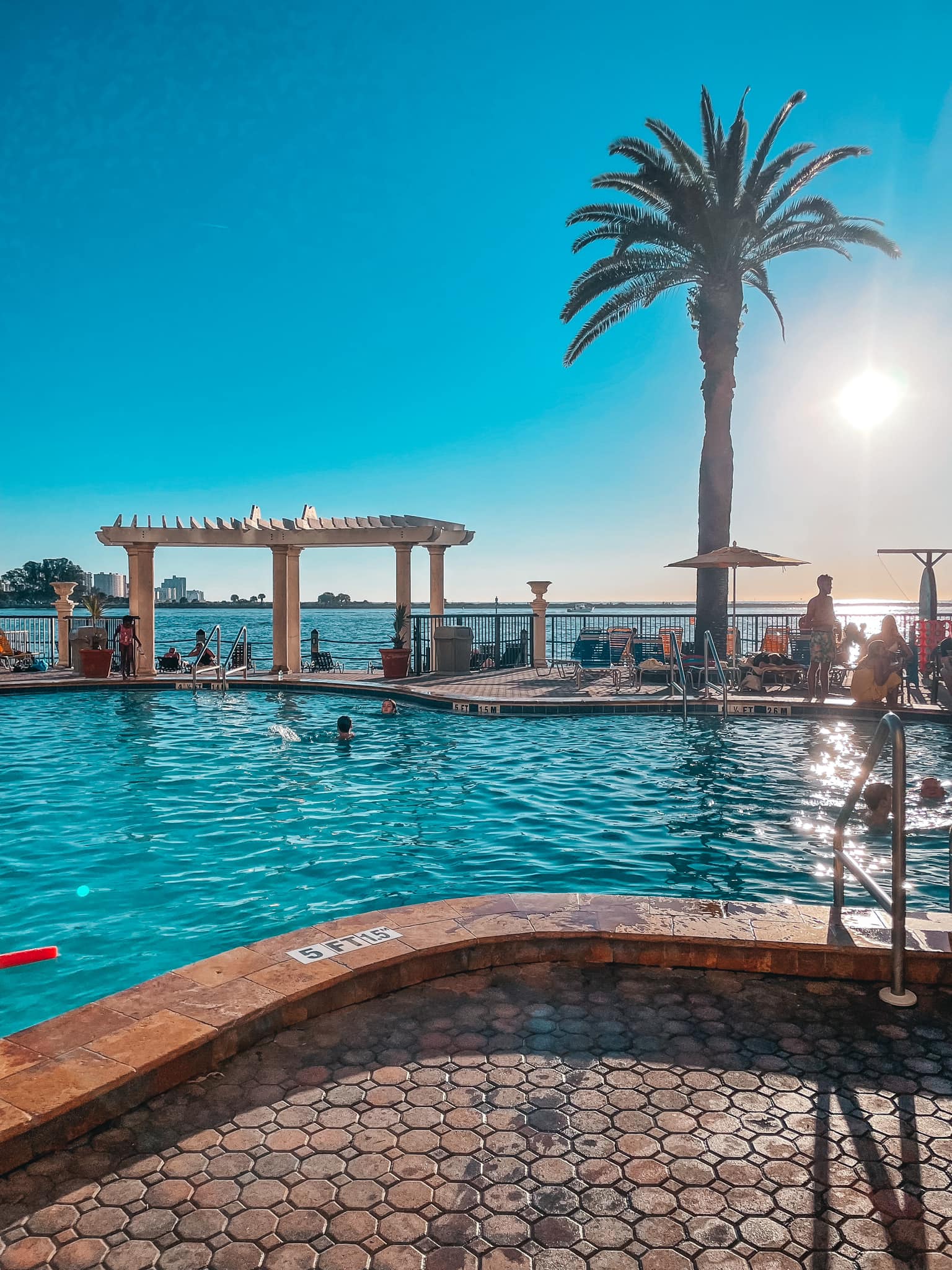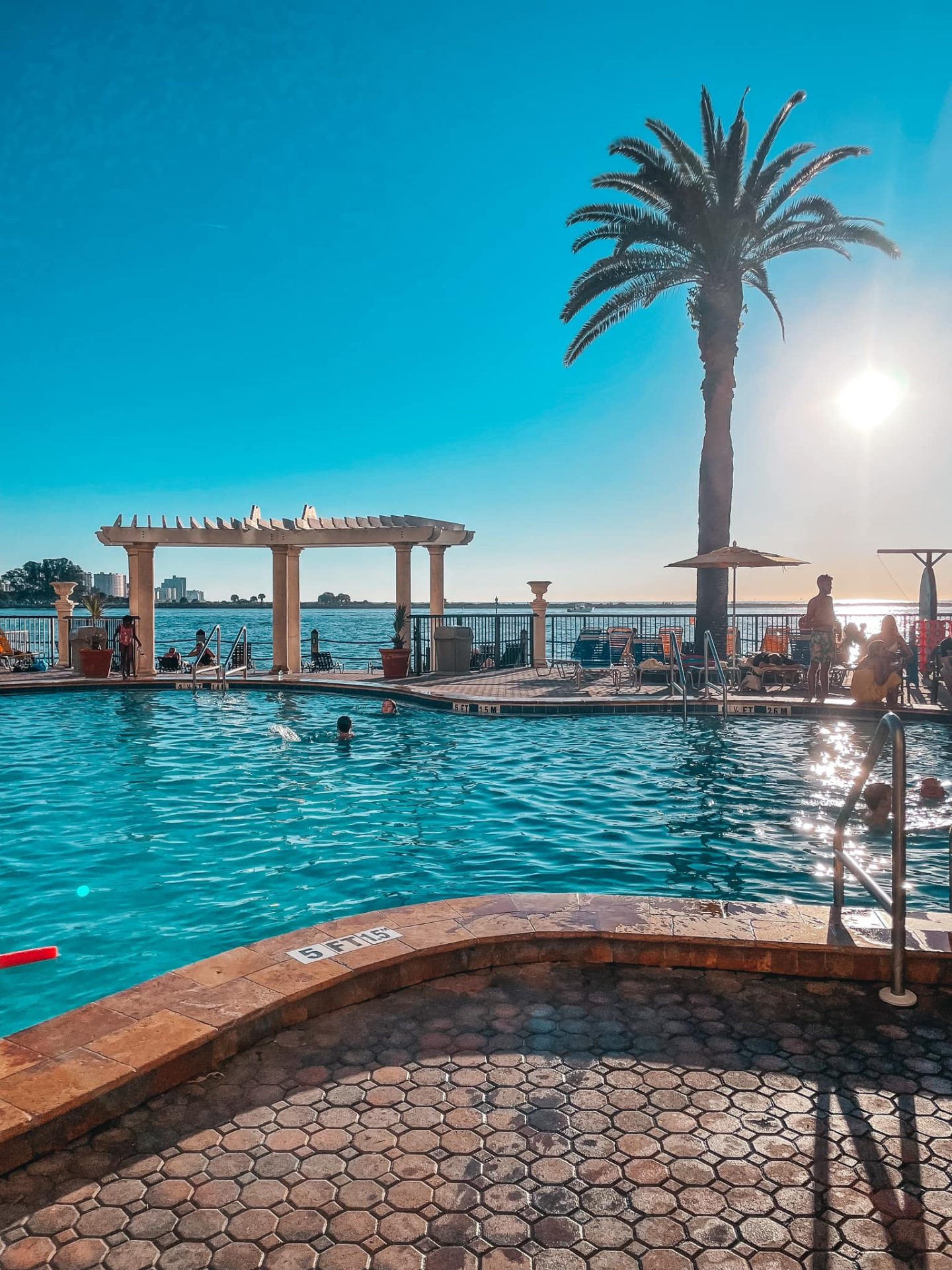 Getting around Clearwater Beach
Beach traffic is no fun, so if you can avoid driving, I would. The beach is pretty walkable, but if you do want to catch a ride, try calling Florida Free Rides at (727) 424-5458. They work based on tips, but you may have a bit of a wait so call well in advance.
You can also take the Jolley Trolley for less than $5 a ride, or $5 for an all-day pass.
While both of these options may require patience, they could still potentially save you even more time (and money) from trying to find parking on the beach.
I hope that you're excited about your beach getaway and that I have shown you there are plenty of fun things to do in Clearwater Beach! If you have any other questions about the area feel free to DM me. Enjoy your trip 🙂
Be sure to check out my other Florida posts, and follow me on Instagram @guidedbydestiny for more Tampa Bay and travel content! And if you enjoyed this post don't forget to like and share 🙂